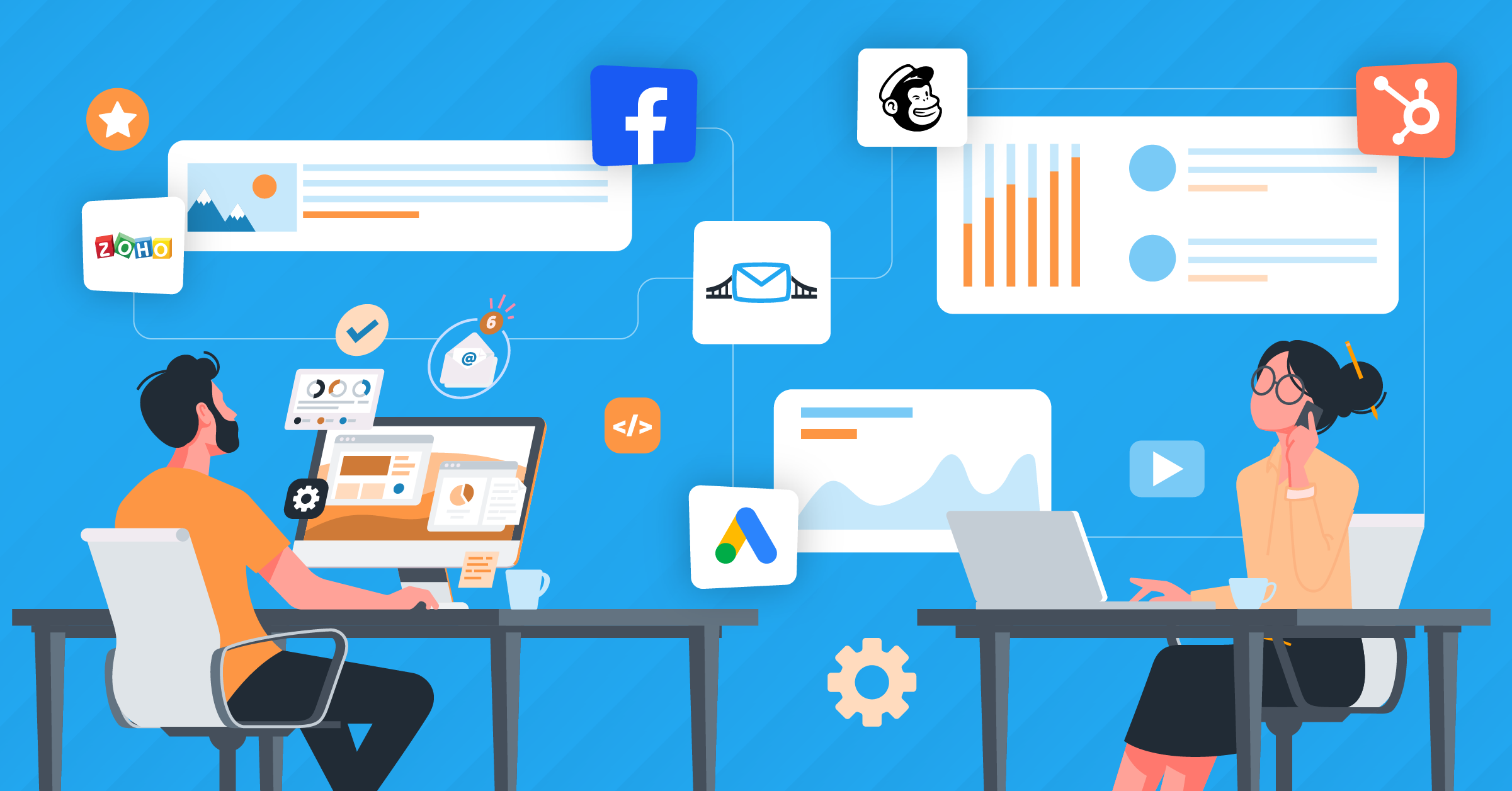 The marketing industry has evolved immensely in recent years. With this evolution comes the change in the tools to accommodate the most recent marketing practices, including the use of email funnels, highly-targeted Facebook ads, short-form videos, CRM tools, and so on. And as strategies evolve and the audiences that they target along with them, more and more tools have helped make these strategies even more practical.
Marketing systems help businesses market their goods and services adequately. Today, effective B2B marketing tools have become a staple across various industries. These resources could aid businesses in starting marketing campaigns and monitoring their results. This article looks at the best B2B marketing tools and integrations that simplify your business's systems and processes, such as:
1. CRM
CRM or customer relationship management tools have been growing in use and popularity over the years. About 62% of marketers use a CRM platform of some sort. CRM is a technology that helps you manage all of your business's interactions and relationships with current and potential clients.
The objective is straightforward: strengthening business ties and improving customer lifetime value. CRM systems assist businesses in maintaining contact with customers, streamlining procedures, and boosting profitability, making it one of the best B2B marketing tools you can use.
HubSpot CRM is best known for its CRM and inbound marketing software. It also has an email marketing feature that's simple to use, has high deliverability, and is fully integrated with all other HubSpot products. Using LeadsBridge integrations, you can get notified instantly as your leads come in and increase your conversions with data bridges such as:
Zoho CRM
Zoho CRM has developed a cloud-based customer relationship management platform in order to manage the sales, marketing, and customer support aspects of B2B and B2C engagement strategies. This CRM has a contact management tool that can keep track of contacts and associated information in a single, central database that can be tailored to their needs using a drag-and-drop interface. With LeadsBridge's Zoho integrations, you can receive notifications from your connected marketing apps on a single page, and streamline your data management processes:
Zendesk
Zendesk is an established customizable customer support platform. This robust cloud-based help desk software is used by a wide range of businesses, from large businesses to small startup companies. Because it is designed for different types of users, you can use Zendesk features regardless of your business. Additionally, you can connect the data points across your business by integrating your marketing tools with Zendesk through LeadsBridge.
2. Online advertising
Online advertising is a way of driving traffic to websites and targeting and communicating with potential customers. Online advertising aims to define markets through special and practical uses. It helps you manage various PPC ad campaigns on diverse platforms.
Google Keyword Planner
Google Keyword Planner is an excellent resource for developing sturdy keyword lists and kicking off your PPC campaign. Google Ads' free tools for developing keyword suggestions and offering estimations can assist you in devising your marketing plan.
AdStage
AdStage provides confidential reporting and automation software to lead generation marketers. They provide marketers with the paid search, paid social, web analytics, and conversion data they require to analyze performance, build reports, and scale campaigns.
AdRoll
AdRoll gives ecommerce brands a single platform to easily launch display ads, social media ads, and email campaigns. AdRoll's product analyzes your website's present customer information for intent signals such as previous purchases, product pages, and event registrations using artificial intelligence.
3. Lead capture and conversion
When website visitors turn into leads, a process known as lead capture takes place. This often involves collecting a lead's contact information— often an email or mobile number— and adding them to a sequence that upsells offers. Usually, this happens by giving something of value in exchange for a lead's information. 53% of marketers say that free webinars are one of the most result-oriented forms of lead capture.
Typeform
Typeform is a web-based platform that allows you to create anything from surveys to apps without writing a single line of code. Typeform transforms online experiences into human connections by providing user-friendly forms, quizzes, surveys, and asynchronous video strategies. Using these automation integrations, connect Typeform with your everyday marketing apps to create exceptionally compelling and interactive forms:
Sumo
Sumo is a set of tools that helps automate your website's development and expand your crucial email list. These are some of the best marketing and email capture tools on the market for increasing newsletter signups, increasing site traffic, and growing social velocity. Leverage your marketing campaign for the best performance with Sumo integrations through LeadsBridge. Join the waiting list be get notified about our integrations with Sumo:
OptinMonster
OptinMonster is the best lead-generation plugin for WordPress, where over 1,000,000 websites benefit from their brilliant system. OptinMaster allows you to design visually appealing opt-in forms. Boost your lead generation tool by connecting OptinMonster with your favorite marketing or CRM tools, using LeadsBridge integrations:
4. Lead generation
The best B2B marketing platforms help in lead generation and the process of finding prospects. Great lead generation has a clear call to action and uses a tool to target them effectively.
Leadpages®
Leadpages® is an online generating leads software platform that empowers entrepreneurs and marketers to quickly and effortlessly publish websites and landing pages in order to convert clicks into customers. By connecting Leadpages® to your favorite marketing apps, you can start and grow your online business efficiently, create automated workflows, optimize your marketing strategy, and more.
Unbounce
Unbounce is a one-stop shop that enables businesses to create high-performing, operational landing pages that convert. The best part is that you don't have to hire a developer. Their drag-and-drop feature makes it extremely simple to use. They also provide a variety of landing page support features, such as popups and sticky bars. Use LeadsBridge integration to link Unbounce to any other marketing automation tool instantly.
Instapage
Instapage is a software service that allows you to easily create landing pages for your online marketing and promotion campaigns. It has unique features such as A and B testing, multiple campaign management, simple page creation, and much more. Using LeadsBridge, you can send data between Instapage and your app of choice automatically and stop your leads from falling through the cracks:

Demio
Demio is a webinar platform built for engagement and simplicity. It is an easy-to-use, no-download webinar experience for Marketing, Sales, and Customer Success teams. It makes engaging attendees easy and effective and provides multiple integration options that generate better business results. Host your next live, on-demand, hybrid, or automated webinar with Demio.
Hunter
Hunter is one of the leading tools for cold outreach lead generation. With Hunter, you can automate the entire lead generation process: from finding and verifying prospects' email addresses to sending personalized cold email sequences and tracking campaign performance.
5. Marketing automation
In addition to replacing the manual handling of each communication, marketing automation enables you to manage marketing processes and campaigns across various channels. One of the wonders of B2B marketing automation tools is the ability to successfully scale or grow your marketing efforts.
LeadsBridge
LeadsBridge is an automation solution that helps marketers and advertisers improve their omnichannel strategy and create their own connected marketing ecosystem. It's designed for businesses looking to streamline their advertising activities by integrating their marketing stack with Facebook and Instagram ads, Google ads, LinkedIn ads, and TikTok ads.
Drip
Drip collects and organizes customer data before empowering ecommerce retailers to use it to create personalized omnichannel customer milestones at scale. With the help of LeadsBridge integrations, gain deeper insights across your campaigns, automate data sync between a variety of platforms, and cut off the manual tasks altogether.
Marketo
Marketo creates marketing automation software that offers services such as inbound marketing, social marketing, CRM, and more. It mainly serves SMB (Server Message Block) to enterprise-level B2B marketers, as well as some B2C considered-purchase marketers. To automate the entire workflow, integrate Marketo with your favorite apps through LeadsBridge:
6. Social media management
Social media management involves assessing social media audiences and developing a strategy customized to them. Social media management tools are some of the most powerful B2C and B2B marketing platforms, bringing exponential results.
Sprout Social
Sprout Social integrates the power of social into every aspect of a business, allowing social leaders at all levels to extract valuable data and insights that propel their company forward.
BuzzSumo
BuzzSumo is the highly preferred content marketing tool for creators worldwide. Users can easily spot trends, comprehend your audience, and keep tabs on your brand with this tool, which has gathered billions of articles and trillions of social engagements into one searchable app.
Buffer
Buffer, a versatile social media marketing software, offers several features for drafting and scheduling posts for sharing on multiple social networks, such as Facebook, Instagram, Twitter, LinkedIn, and Pinterest.
7. Content creation and design
This refers to the process of producing effective content expressed through an eye-catching design. Having excellent content and design is one of the simplest B2B marketing tactics. Using this tool helps you create different types of designs that best convey your content.
Canva
Canva is a highly creative design tool that can be used in schools to produce projects that not only impress students but also assist in teaching them the fundamentals of digital design. Companies use this tool for a variety of tasks such as logo creation, building banner designs, photo editing and more. With the help of this free tool, students, teachers and marketers can work on photo editing, design layout, and other tasks on an intuitive platform.
Check out this article to learn more about the best presentation apps to create amazing presentations.
Adobe Spark
Adobe Spark can create stunning web stories that combine text and graphics using Adobe Sparks. A new, radically simpler way to make animated videos is provided by Adobe Spark. No filming is necessary; simply tell your story while incorporating themes, images, icons, and text.
Piktochart
Piktochart helps you to create infographics, presentation slides, reports, flyers, posters, and more for both print and online audiences. Users can quickly create their own designs and present information using the drag-and-drop interface by combining charts, graphs, text, and built-in graphics.
Final thoughts
The above marketing tools for B2B businesses are just some of the many that can help you in your content marketing efforts. You can check out this list of 20 best marketing tools to see all the other marketing software you can use to grow your business.
Utilizing the right marketing tools should help your business grow and thrive in this digital age. With the right marketing tools in place, it's only a matter of time before your business reaches its corporate goals and exceeds your milestones.
Discover all the possible automation integrations through LeadsBridge to make the most of your marketing efforts.