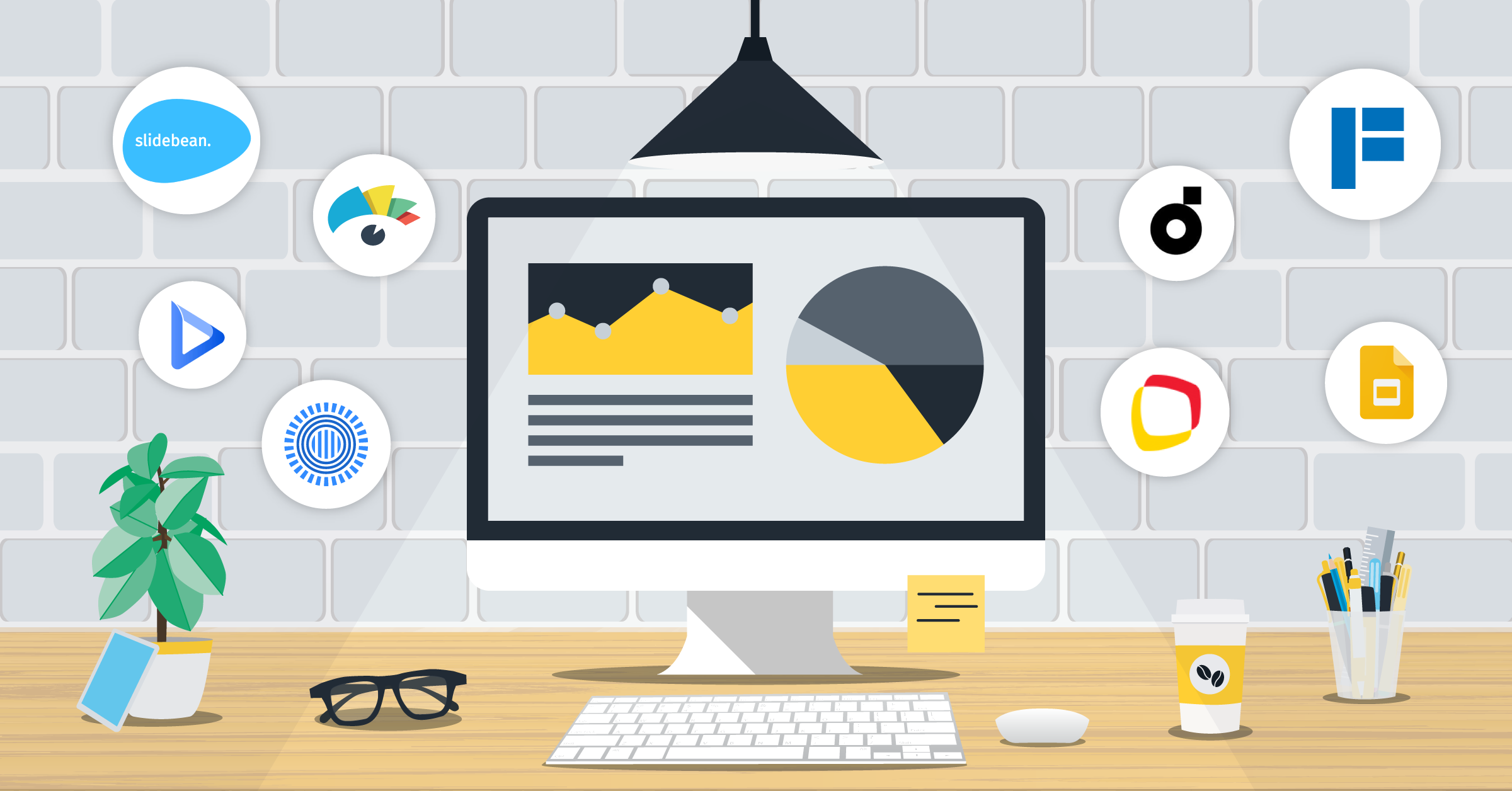 Creating presentations is one of the most challenging tasks you have to face when working a high-powered job or running a small business. You need to impress the people sitting in front of you and you need to get your message across in a direct and hard-hitting way. To do that, you're going to need the right tools to make it work. You need to know about the best presentation apps and the best PowerPoint alternatives before you plan your next presentation.
There are a lot of them out there, but not all of them offer the kind of quality you probably need right now. We're going to discuss the best PowerPoint alternatives here today. Some of them actually offer more than PowerPoint can, and you'll find new ways to organize your presentations going forward.
In this article, we will review the best presentation apps alternatives to PowerPoint, such as Polymer Search, Visme, and Prezi with a special focus on Prezi free alternatives. Each of them is worth considering, and you can find out all about the major pros and cons before trying them out yourself.
Before you read on to find the best free PowerPoint alternatives, make sure to check out these posts we wrote for small business owners:
1. Polymer Search
Polymer Search is an AI-powered tool designed specifically for data presentation.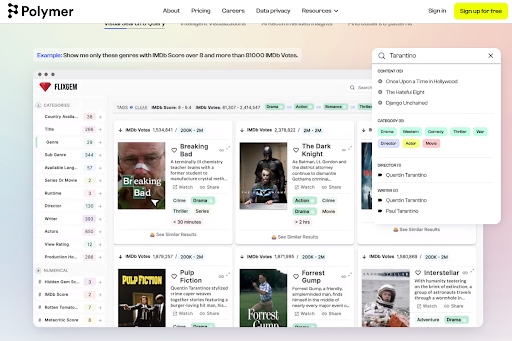 Instead of static Powerpoint slides with graphs/charts on them, Polymer offers a more powerful way to showcase your data: by creating "Polymer Sites."
Pros
"Polymer Sites" are a way to make data beautiful, interactive and searchable. The look and feel of a Polymer Site is very professional and will more than likely impress the audience.
It also only takes a few seconds to create a Polymer Site (examples here): Take a spreadsheet, upload it onto Polymer and the AI will transform the spreadsheet into an intelligent, interactive website. Polymer Sites can be shared through a URL.

Cons
Polymer is a tool primarily for presenting data. It's not ideal for presenting the information.
Although it is free to create presentations, there are also a few limitations, such as 5000 rows of data and a limited number of visualizations.
2. Visme
Visme is one of the best presentation apps. It is not only suitable for presentations, but also for other visual content creation needs. With it, you can create flyers, reports, interactive ebooks, learning resources, survey results, charts, and graphs. It has a full library of illustrations and characters.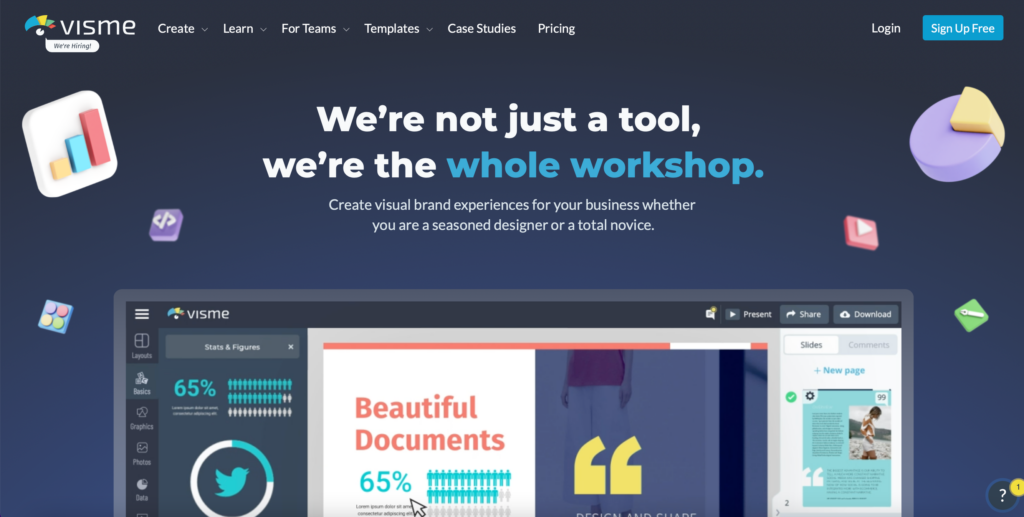 Visme brings life to your presentation through engaging and interactive multimedia such as images, videos, and sounds. Visme is cloud-based, so you can use it anywhere with an internet-connected computer. This is why 93% of customers using Visme said they are likely to recommend it to other professionals.
Pros
Visme is a valid alternative to Prezi and PowerPoint. It is suitable for any skill level with an intuitive drag-and-drop interface. It doesn't matter if you are a newbie or an experienced designer, you can use it to create amazing presentations. Visme, such as Keynote, has hundreds of different beautiful templates and built-on presentation slides that enable you to create stunning presentations. With Visme, you can take your presentation offline or online. All you need is to create an online link for the presentation or download it as an offline HTML5 file. Visme is much more than a presentation app, it is also suitable for creating infographics, social media graphics, and interactive online content. You can also use advanced graphic design software to make your presentations more informative and bring your point across more effectively.
Cons
It takes a little longer to learn Visme because of its robustness. It is not easy to change, clone, and move sections in Visme. Although it has lots of free images, you can use in your presentations and infographics, it lacks photo elements on transparent backgrounds.
3. Prezi
Prezi is one of the best apps for interactive presentations. Prezi uses a zooming User Interface (ZUI) that allows users to zoom in and out of presentations. With it, you can create interesting and engaging visuals quickly and then appear beside them as you present them. You can record the presentation and share it later or go live with your videoconferencing tools.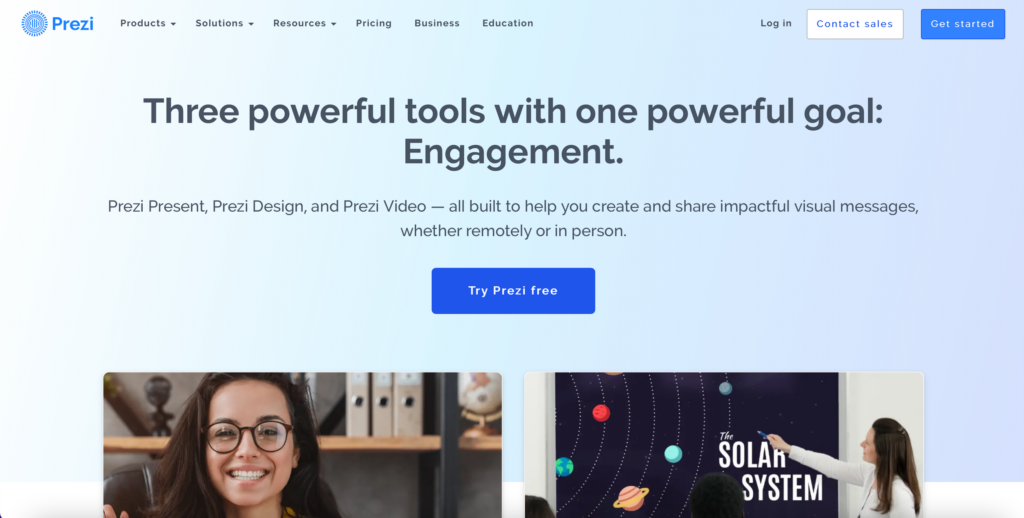 Prezi works with other tools such as Zoom Webinar, GoToWebinar, GoToWebinar simulated live, and Google Meet. Take a look at LeadsBridge's most popular integrations for Zoom Webinar, GoToWebinar, and GoToWebinar Simulated Live.
If you'd like to look for specific integrations with Zoom Webinar, GoToWebinar, or GoToWebinar Simulated Live, you can easily do so yourself by typing your desired source below.
Pros
The zoom feature in Prezi makes it one of the most desired presentation software available. It enables users to zoom out with a mouse click. This helps you to zoom in on a specific topic in any part of the presentation, especially when you want to emphasize an idea. Prezi is a non-linear software. This means it is flexible. It is also cloud-based, so you don't have to be in possession of your computer or hard drive to deliver your presentation. All you need do is log into your account on an internet-connected computer and pull up your presentation. The presentations on Prezi are embeddable on a website or blog.
Cons
Prezi requires a learning curve because it is relatively new among the best apps for interactive presentations. To use your Presentation offline, you need to buy the Prezi desktop which is very expensive. In Prezi, you cannot edit the templates.
Prezi free alternatives
There are apps like Prezi available for free, that you can consider for your presentations. Find them listed below.
Canva
Canva is one of the free alternatives to Prezi that allows you to create beautiful presentations that will engage your audience.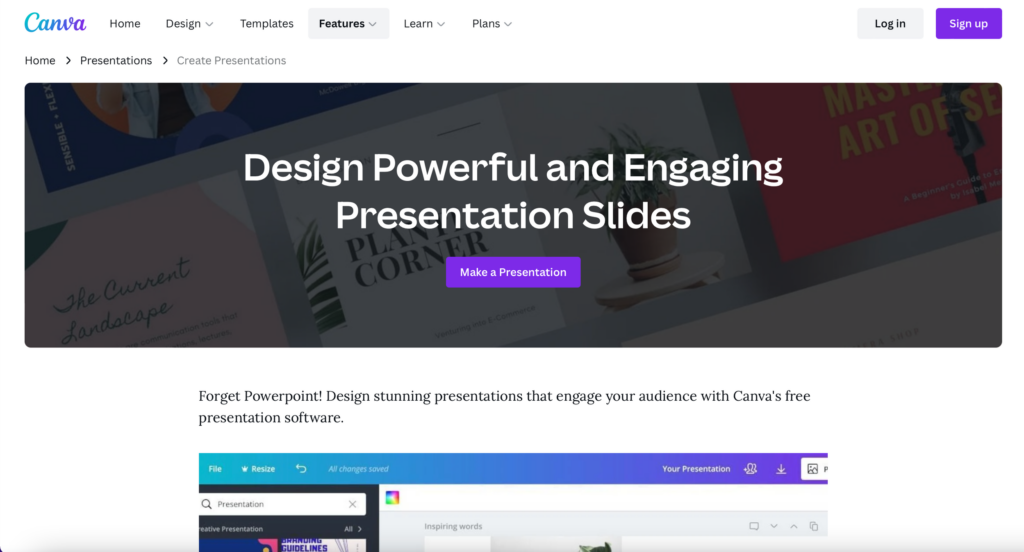 Canva has hundreds of presentation templates on different topics you can use to design your presentation. All you need to do is select the images, fonts, and colors to make your presentations pop. It is highly loaded with the tools you need to create presentations in minutes, such as frames, shapes, illustrations, and grids.
Pros
Canva provides stock library photos you can add to your presentation to enhance its look and feel. You can also upload your own photos into Canva to create your presentation. The software allows you to brand your presentation using your company logo, colors, and fonts.
Collaboration with teams on presentation creation is allowed in Canva. All you need to do is create a team, select the people to collaborate with, and invite them to the presentation. Then, they can leave comments and work on suggestions from the Canva editor.
You can access your presentation anywhere since it is a web-based platform and download your presentation in PowerPoint format.
Cons
Although it is free to create presentations, if you need quality photos, you will need to pay $1 per photo. Canva is not designed for advanced presentation designers. Customizing slides is also slow on the platform.
Beautiful.ai
Beautiful.ai is a smart ai-powered presentation software that visual designers love. It is easy to use and a great app to create beautiful presentations. It is a free Prezi alternative you can use for your presentations. It has over 50 smart presentation templates that help you create presentations with a few clicks. This helps you enhance productivity and profit.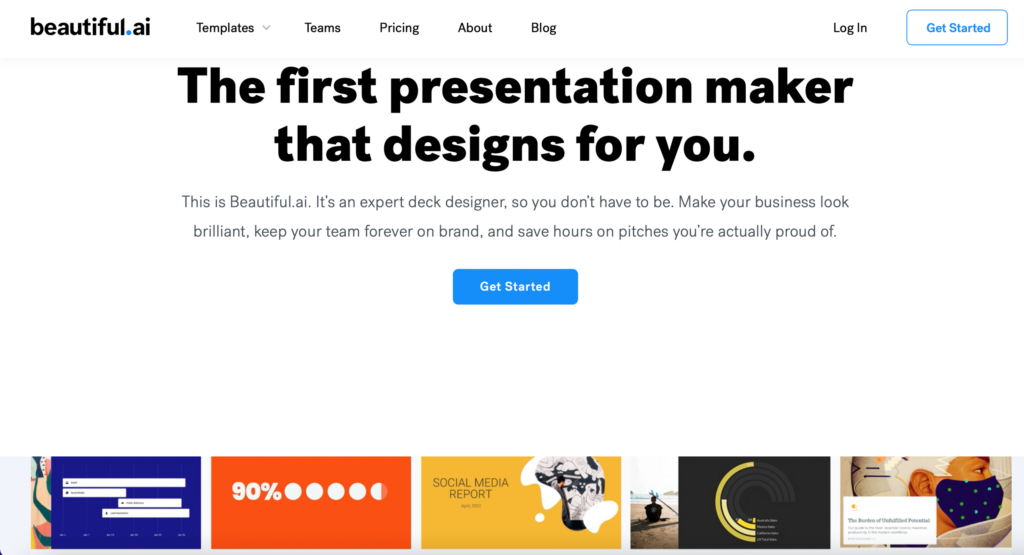 The Beautiful.ai presentation fulfills the meaning of its name: it allows you to create beautiful presentations, and artificial intelligence helps you translate your ideas into beautiful visuals.
Pros
It is accessible anywhere because it lives in the cloud. You don't have to store your presentations on a hard disk or external drive. This helps to protect your work and saves costs. Beautiful.ai offers collaborations in the workplace. Team members can send, receive, edit and view projects at any time.
The Beautiful.ai allows you to customize your presentations to your brand. This means you can use your brand's logo, font, and color schemes.
Cons
As good as the Beautiful.ai sounds, it has layout limitations, non-editable export, and a lack of integration.
Powtoon
Powtoon is a powerful presentation and video creation tool. It allows you to create professional presentations and videos, images, characters, or animations your audience will love. With Powtoon, you can collaborate with teams on projects and share your presentations on marketing platforms.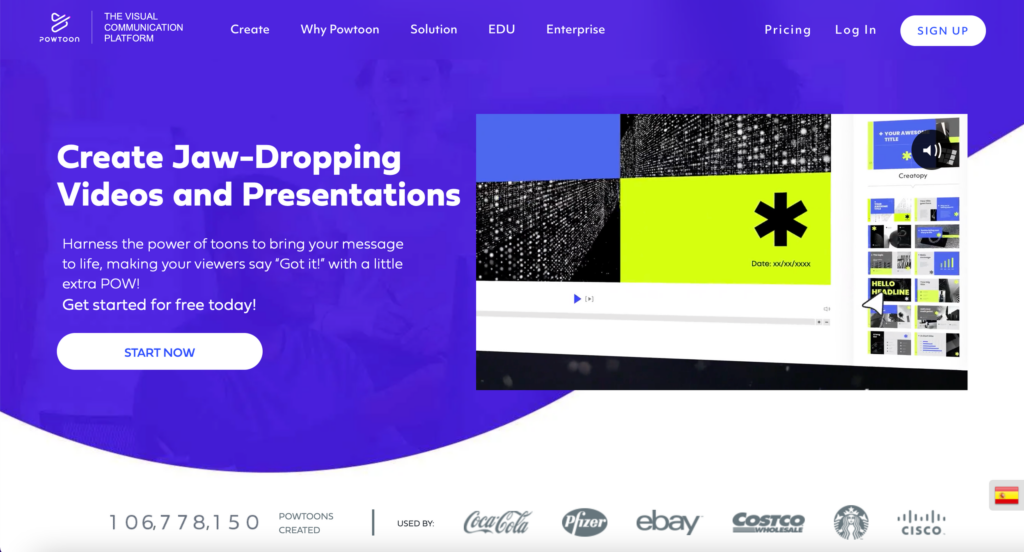 Powtoon presentation is great for enterprises, education, government marketing agencies, and small businesses.
Amongst 380+ available integrations, LeadsBridge offers specific automation solutions for all these kinds of industries. Check out our dedicated integrations below:
Pros
Want to use Powtoon for education purposes? It is extremely useful to help teachers create storytelling presentations that will educate the entire class. There are different selections of school-friendly footage, animations, scenes, characters, fonts, and music to help you create lovely presentations that will engage your students.
It is also useful for creating visual marketing for brand awareness and explainer videos to share reports and marketing plans.
Cons
The free version of Powtoon has a background with a watermark and the timing of the animation is only set to 1/2 seconds. Most times, you need more than that to show animations on your presentations or videos.
4. FlowVella
If you're looking for the best presentation app for people who use tablets to do this kind of work, you don't need to look much further than FlowVella. It's been specifically designed and developed for tablet usage. It uses smart gesture technology and makes it easy to integrate media from all kinds of different sources, offering you more options than you could ever know what to do with.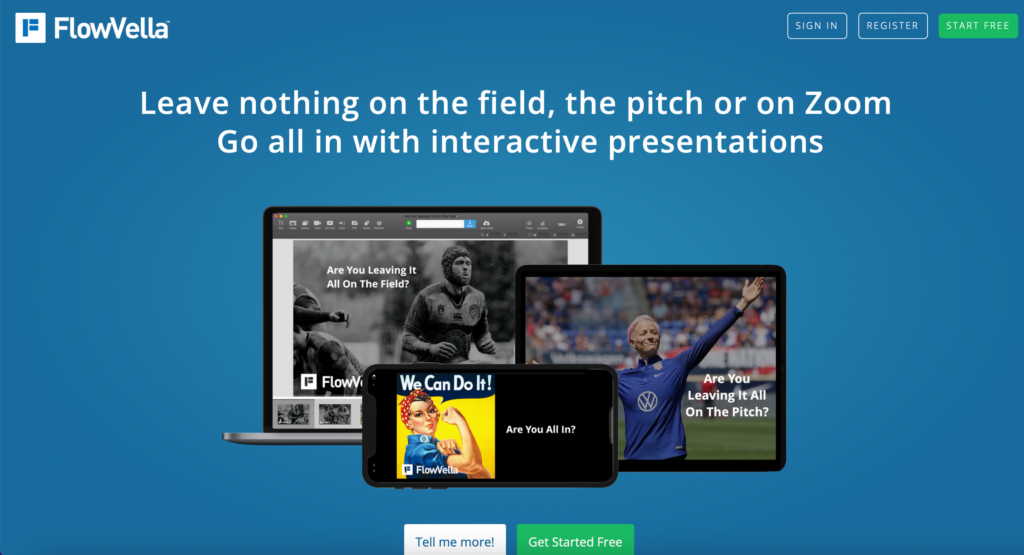 The cloud storage options are good for anyone who likes to do things on the go and be able to download and save their progress at any time of the day or night, no matter where they are. It's this that causes people to call it one of the best PowerPoint alternatives. The app has been around since 2005 and it managed to retain its appeal all this time, thriving and improving over the years.
Pros
As we've mentioned, the major pro of the FlowVella app is that it allows you to work how, when, and where you wantwithout having to worry about any difficulties. It's the best presentation app for that kind of thing, and you can integrate graphs, charts, and analytics in very easy and straightforward ways too. The free templates you can use and edit on are really impressive as well, making it one of the best PowerPoint alternatives.
Cons
This is an app for Apple and Mac users, so it's not going to be for everyone. If you use other devices, it's going to be difficult for you to get the most out of it. There is a web app, but other tablets are not supported. It's up to you whether this stops it from being one of the best Powerpoint alternatives or not.
5. SlideModel
SlideModel is a platform that gives individuals and businesses ready-made slides and editable templates for their PowerPoint presentations. Designed with an easy-to-use and easy-to-edit approach, the platform lets you prepare presentations faster and simpler. The slides can be fully edited on Microsoft PowerPoint, Google Slides, Keynote, and OpenOffice. Users can easily customize the size, color, and layout of advanced editing objects with no design skills. SlideModel's gallery offers a broad range of templates in various categories for different professional profiles.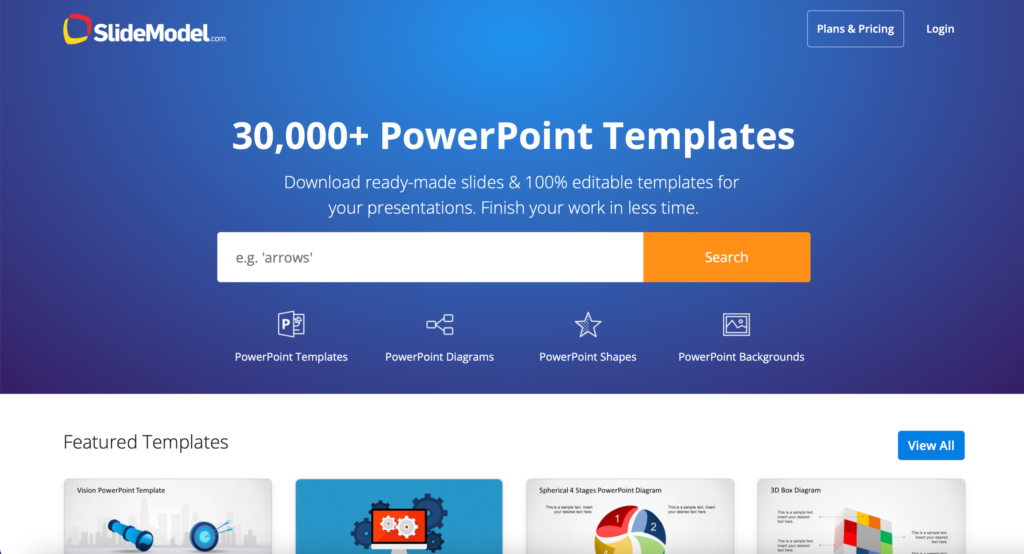 If you want to impress the audience with your achievements, it makes sense to show numbers. However, make sure such figures don't create confusion but work the opposite way. The human brain loves pictorial interaction, so don't hesitate to use diagrams, graphs, etc. Highlight the numbers you want people to remember.
Pros
The company offers clients completely customizable templates, so you can download the option you like and then modify it so that it will echo with your business or brand. Typically, a template has shape & text boxes and you are free to alter its colors and apply special effects. Few people really like seeing numbers on a slide, so you have to come up with another way of delivering this data. Fortunately, SlideModel offers an impressive collection of graphs, diagrams, and tables, which you can fill and customize to present statistics.
Cons
Overall, SlideModel is a great platform, the only con that we discovered is that free templates lag behind paid options.
6. Depositphotos
If you already have a favorite tool to compose presentations and your main difficulties are related to high-quality visual content for them, Depositphotos is a helpful platform for you. It hosts one of the largest libraries of stock content globally (210 million files!), which includes photos, vectors, static and dynamic graphic templates, videos, and music.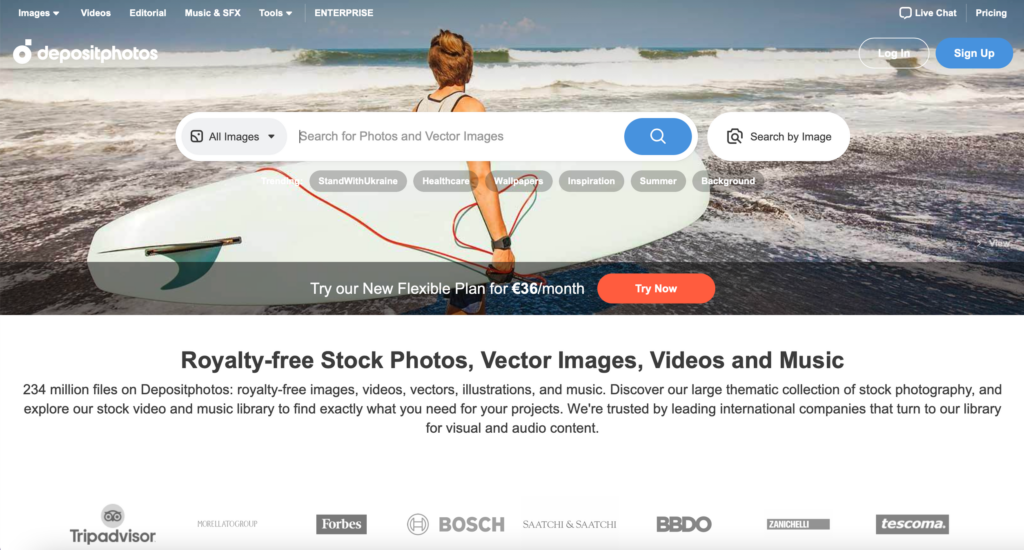 You can even use the library of free content on Depositphotos. This library is updated with trend files every week and is formed by the platform's content curators.
Pros
Depositphotos has an AI-powered search engine that saves you time searching for presentation visual or audio content. On the website, you will also find a section with astonishing curated collections on various topics.
Every month, 5 million new files are uploaded to the platform by the community of Depositphotos contributors, and everything that becomes available to you is quality tested. It makes Depositphotos a reliable source of any type of stock content on any topic. Moreover, at Depositphotos, you will find ready-made design templates, including those for presentations.
Cons
Depositphotos is not a presentation app but a reliable source of stock files to design almost any presentation. At the same time, Depositphotos has long started building infrastructure for creatives based on its powerful library. For example, you can use the Crello editor (available under subscription) to create presentations based on files from Depositphotos.
Note that 70,000 free files are put together on the free library page. All 210 million files are available to users with paid plans.
7. Google Slides
Google Slides is something that many people flock toward because we all know Google. If you already use Google Docs and Google Sheets, it kind of makes sense to use Google Slides. People trust the brand, and it gives them an edge over many of the competitors who don't have that global recognition. It's free software and it's easy to use, so it's not just about the brand.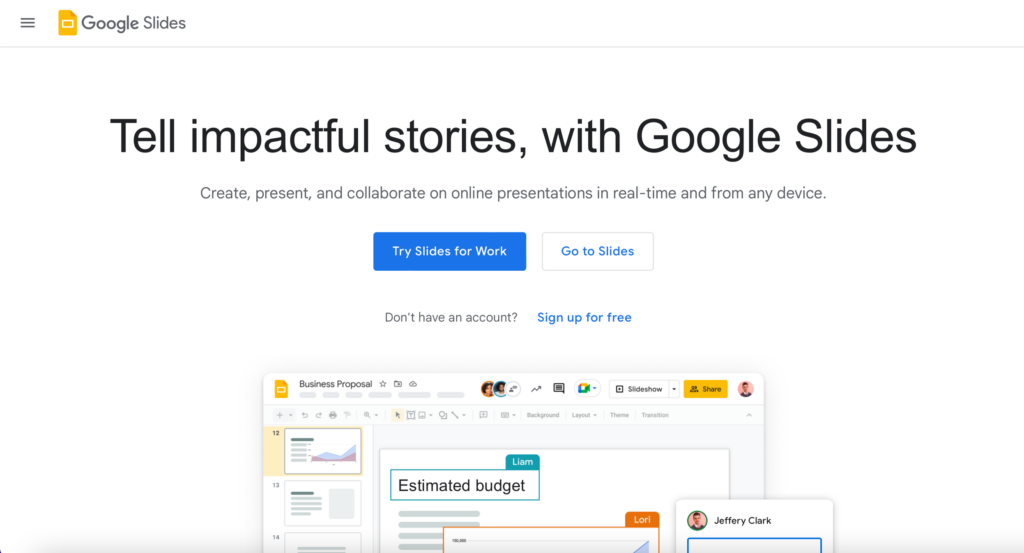 You can even open PowerPoint content in Google Slides, so it's an obvious choice for people looking for the best PowerPoint alternatives. It makes the transition between the two platforms much easier. It's also the kind of platform that you can start using straight away because there's nothing particularly complicated about picking it up for the first time.
Pros
It's extremely easy to jump in and start using Google Slides right away, with no particular knowledge. Like all of Google's other similar platforms, you don't have to spend any money on it. With that in mind, the value offered by Google Slides is undeniable. It looks like the best presentation app, even compared to the ones you have to pay for. It might even be one of the best PowerPoint alternatives you can choose to use at the moment.
Cons
There are some reasons to be cautious before picking up Google Slides though. For a start, you need to be connected to the internet for it to function properly, which might be a problem in some circumstances. A lack of themes and the inability to embed videos are problematic, because most of the other platforms allow this.
8. Slidebean
There are lots of surprising features that Slidebean can offer that many other platforms don't offer. It's regarded as one of the best PowerPoint alternatives out there, and even though it remains small, more people are using it by the day. The images and GIFs available to use on the platform make it fun to play around with and potentially the best presentation app available.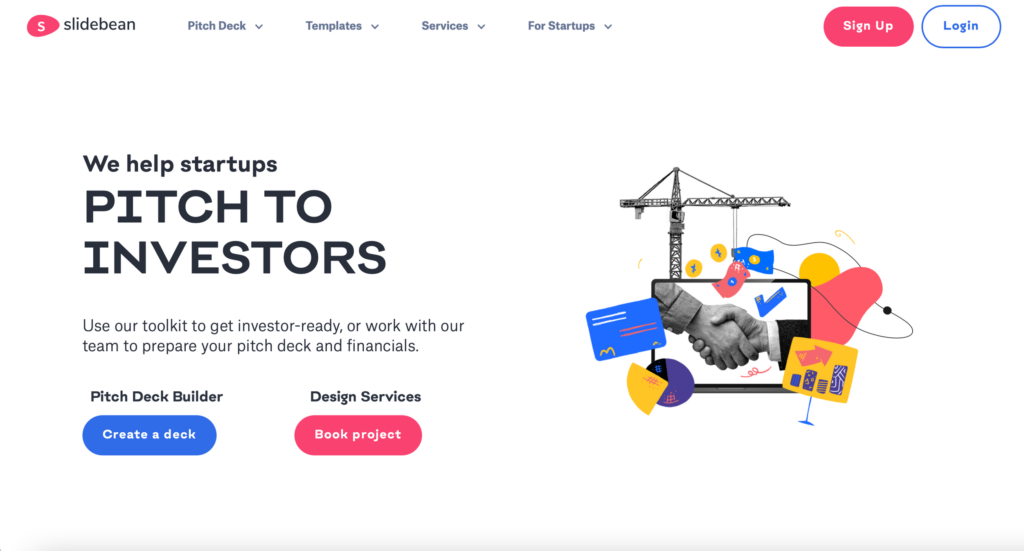 If you have to include data and analytics in your presentation, this could be the best presentation app for you. There are plenty of customization options so you can make your presentation exactly how you want it to be, and that's obviously important.
Pros
You're really in the driving seat when you choose Slidebean. The power is in your hands and you can create a presentation that can't help but impress. You can make your presentation unique to you and the points you're trying to make, and that's pretty much all you can ask for.
Cons
Some would say that the app is a little more expensive than it needs to be, but you do get what you pay for. There are cheaper or even free options that can give Slidebean a run for its money though. That's something that you do need to take into account.
9. Keynote
Keynote is Apple's very own alternative to PowerPoint and is just about everything you would expect from an Apple product: sleek, sophisticated, and intuitive.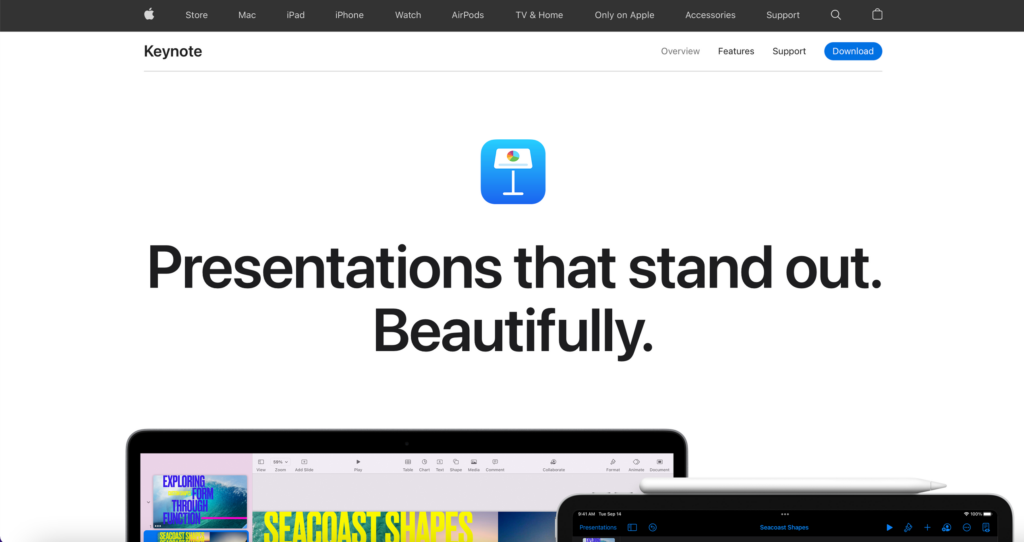 It presents incredibly powerful features – such as the ability to create interactive charts, and add reflections and picture frames – making it easy to create presentations with cinematic-like transitions between slides.
Presentations are then stored in the cloud and available on all devices.
Pros
Keynotes – which is free for all Mac computers – allows you to access more than 30 cinematic effects for text and objects, allowing you to create interactive and animated charts.
You can view and edit your presentations directly from your iPad or iPhone, easily sharing them and collaborating on them with the rest of your team.
Keynote is compatible with PowerPoint and it allows you to import and edit PowerPoint files.
Cons
Keynote lacks a slide library and is exclusively accessible only to Apple users.
10. Slides
Slides is a cloud-based presentation app that offers a solid and user-friendly alternative to PowerPoint. Its sleek editor workspace allows you to add background images, use a variety of designs and themes, collaborate easily with others, and customize any of 10 default slide templates.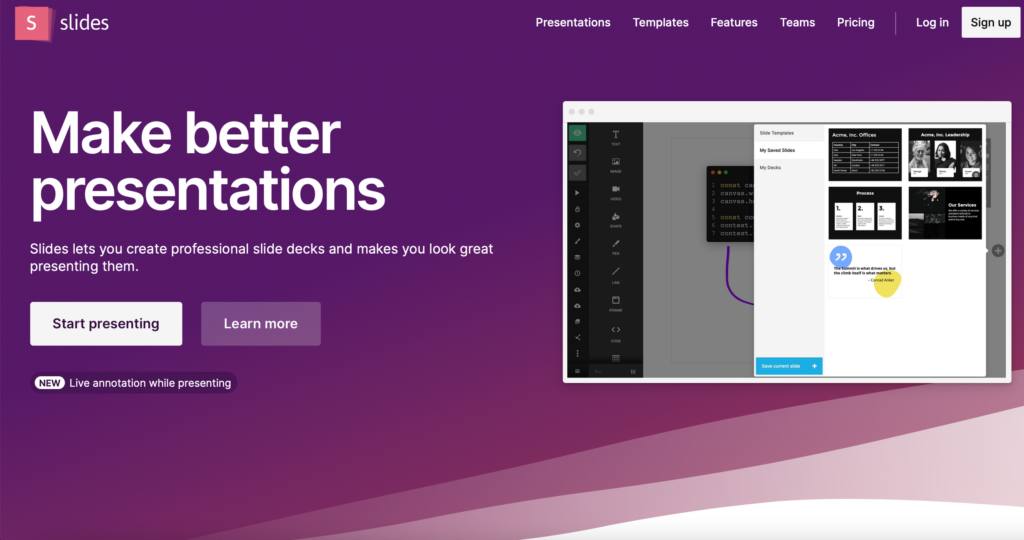 You can even take other people's presentations and use them as a template. You can edit and access presentations from any device, and don't need an internet connection to present.
Slides gives you access to analytics and revision history, which can help you improve your presentation.
You can define your own theme with a custom CSS editor, and add GIFs from Giphy and images from Unsplash to make it more personal.
Slides is especially suited for startups, students, teachers, and individuals.
Pros
It's extremely user-friendly (with beginners' tutorials) and the paid plans are very cheap, starting at $5/month per user, billed annually.
Cons
It allows you to create only linear presentations, with limited design options. Graphs and infographic widgets are not available.
Best practices & creative presentation ideas without PowerPoint
Before diving head first into assembling your slides, there are a series of creative best practices and presentation ideas that will help you get started without PowerPoint. Here are a few of them, listed below:
We remember 10% of what we read, 20% of what we hear, 30% of what we see, 50% of what we listen to and look at, 70% of what we say, and 90% of what we do. So, if you really want to be unforgettable, you have to make your audience take action.
Data and statistics can help you build trust and credibility, sure, but emotional communication is what will really ensure engagement.
Rely on videos, gifs, interactive infographics, external content, and interactivity with pop-up windows to give movement and dynamism to your slides.
It has been demonstrated that our brain lights up like a Christmas tree when we're listening to stories. Leverage this in your presentation by using more storytelling.
It's ok to be creative, but when it comes to fonts, it's better to pick an elegant, simple, and readable font. Avoid handwritten or script typefaces and go for something that everybody can read without getting a headache.
Remember: One slide, one idea, one sentence. Avoid long paragraphs and texts with small fonts because if your audience is focused on reading, they won't be able to listen to what you're saying.
Fantasy and textured backgrounds are cool, but they're also the greatest enemies of easy reading. Instead, go for white or solid color backgrounds.
Apply the 5x7x7 rule. Titles shall be no longer than 5 words. Paragraphs shall not use more than 7 lines. Lines shall not be constituted by more than 7 words.
Numbered lists are more likely to catch your audience's attention than regular bullet points.
You are the number 1 visual element of your presentation.
When you have all this figured out, you can go ahead and start drafting your presentation!
Conclusion
Above are 10 of the best presentation apps. Each one of these apps could turn out to be the best presentation app for your business. These examples cover the best PowerPoint and Prezi free alternatives available on the market right now, and they can really help you hit the mark when it comes to making your point in a presentation scenario. So make the most of these ideas and try them all to see which you regard as the best presentation app.
Do you want to improve your productivity? Discover LeadsBridge integrations and start automating your marketing stack now!