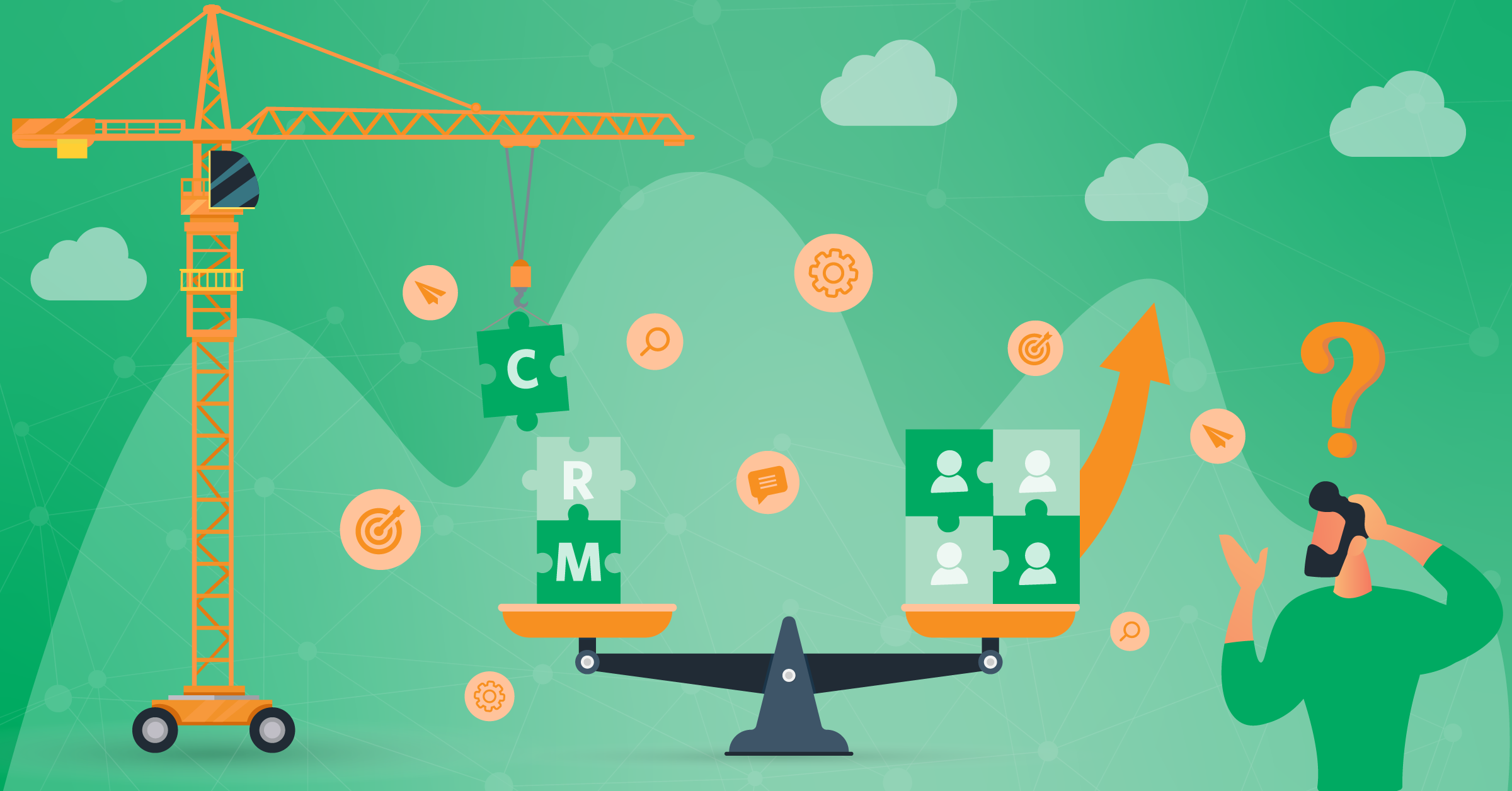 Nowadays, all businesses need a CRM in order to run their marketing & sales operations properly. No matter how big or small your company is, a CRM is vital if you want to make your business more successful.
For example, a CRM allows you to track leads & potential customers through your sales funnel, make sure they receive timely attention, measure the effectiveness of your marketing & sales activities, optimize your marketing efforts by showing you which lead sources are generating the most revenue, and much more.
So the question is: do you build your own CRM, or do you go for an off-the-shelf solution?
As we will see throughout this article, there is no definitive answer. Each option has its pros and cons, and according to your needs, one is more suitable than the other.
Fortunately, LeadsBridge is equipped to assist you with automated integrations in both cases. Whether you have a custom CRM or a ready-made CRM software solution (such as HubSpot, Zoho CRM, or ActiveCampaign for example) we are able to provide you with your desired CRM integration.
See for yourself! For example, take a look at all available integrations for some of our most popular tools. All you have to do is type your desired destination below.
If you'd like to search for any other integration available, you can easily do so yourself by typing both your desired source and destination below.
Keep reading to explore off-the-shelf VS in-house CRM advantages and disadvantages.
What is a custom CRM?
A CRM (Customer Relationship Management) is a tool that allows you to keep track and measure your potential customers' and clients' interactions, by gathering data, throughout their entire customer lifecycle.
A custom CRM software is a kind of CRM built from scratch by in-house software developers or a contracted development team. The purpose of building your own CRM stands in the fact that the final product is built to accommodate your company's specific needs. This should facilitate your team's lives, allowing them to not have to navigate around extraneous features or spend time customizing an off-the-shelf tool, to fit the way they work.
The option to build your own CRM sounds appealing when your company's sales model is particularly complex or doesn't really fit with a typical sales model. However, you have to consider that there are a few significant downsides that make the DIY route not necessarily the best way to go.
Building your own CRM: What does it take and is it worth it?
Before you start building your own CRM, here is a list of all the aspects you need to consider.
1. Define your business goals
Before embarking on such a demanding project, you should have a crystal clear idea of what you need a custom CRM for. According to the foundational reason why you need a custom CRM, you will focus on the development of different features.
2. Identify a must-have set of features
Identify specific features and set clear expectations about what your custom CRM should do, put them all down in a document, and share this with your software engineers. Keep in mind that the more features you need and the more complex they are, the more money you will have to put into this project.
3. Define specific roles inside your custom CRM
It would be a good idea to break down the CRM structure according to specific roles: marketing, sales, support. This will allow teams to have access to only certain functionalities and information, specific to their role inside the company.
4. Make sure you comply with quality standards and law restrictions
Put down a list of all the quality requirements you'd like to see in your custom CRM, such as speed of operation, security access, analytics, to comply with quality standards. Also, make sure to meet all privacy policies when you define the process of collecting users' data.
5. Account for employees' onboarding & training
You have to make sure you have a strong software development team in place. In case you are lucky enough to have software developers already available in-house, you still have to make time for them to focus on the development of your in-house CRM system, which means taking time off of other tasks.
If you don't have a team of developers available, you have to hire them, which is obviously more time-consuming and costly. Also, once the custom CRM is done, you have to train the employees who are going to utilize the custom CRM software on how to properly use it.
6. Evaluate custom CRM development costs
Building your own CRM is certainly not cheap. Even though it's hard to make an accurate estimate of a custom CRM's price, we can assume that it ranges from $30K to $300K and up. The price mostly depends on the complexity of the CRM software and the region where you employ developers.
Is going through all of this worth it? Again, the answer depends on your specific needs. We just want to present both options, to help you make an educated decision.
Pros and cons of developing CRM in house VS choosing a ready-made software
As we said above, both options – building your own CRM and getting a ready-made CRM – have pros and cons. Let's compare them below.
In-house CRM advantages
In this scenario, you have a team of developers already available within your company and rely on them to build your own CRM. Here, all responsibilities for recruiting, professional coaching, and managing the project and the team fall solely on you.
Here are the pros of building your own CRM:
You have full control. As the owner of the project, you have the entire control over the implementation project, from start to finish.
You define the timeline. Once you've set everything up, you decide when to start working on your custom CRM and also define a timeline according to your own pace.
You know your business better than anybody else. Amongst in-house CRM advantages, stands out the fact that your own team of developers obviously has greater knowledge of your business' needs and processes.
You have the opportunity to develop your talent. By assigning them the project of building your own CRM, you give your employees the chance to acquire new skills and grow professionally, which can help boost employee satisfaction.
In-house CRM disadvantages
On the other hand, let's take a look at the cons of building your own CRM:
You're responsible for creating & managing the team. Not only are you responsible for training or hiring your own team of software developers, but you are also responsible for managing their workloads and making sure that their regular tasks have been equally redistributed amongst your other employees, who are not involved in the custom CRM implementation.
You're responsible for managing the project. Responsibilities aren't over! Just as much as you are responsible for the team, you're also responsible for the success of the entire project. This means that if anything goes wrong, you're the one who has to come up with a solution to fix it.
It's expensive. As we said above, developing your own CRM is not cheap. Some examples of the major costs that you need to evaluate are recruitment, salaries, training, equipping the workplace for every new employee, and investing in hardware and software for the implementation.
It's time-consuming. Considering that every minute your software developers spend on building your own CRM is a minute they are not spending on other tasks, you understand how dangerously time-consuming this project can be. Keep in mind that in order to build your own CRM you need months, if not even years – especially without a dedicated team.
Software updates. Once your custom CRM software is up and running, it doesn't just end there for you. Consider that a custom CRM needs the constant attention and support of software developers, who have to keep it updated, fix bugs, and improve features' usability. It really is a neverending effort.
Inconsistent UI. Ready-made CRMs are built around a tried and tested history of trial and error, user experience studies, and feedback. This guarantees a clear and easy-to-use tool, for everyone. When you build your own CRM, you have to go through your own trial and error process, with all the risks associated with an inconsistent user interface.
At LeadsBridge we have a motto that says "Don't reinvent the wheel". So, if your business has a smaller budget, simpler needs, and no development expertise, know that you can always rely on ready-made CRMs.
Ready-made CRM pros
In this other scenario, you turn to an external company to get a CRM software that fits your needs. This company will work with you to help you set up your CRM, personalize it, and use it at best.
Let's take a look at the advantages of an off-the-shelf CRM:
You don't have to hire new employees. By choosing a ready-made CRM, you don't need to hire software developers, nor ask your own team to focus on such a demanding project, neglecting their other tasks.
It's more cost-effective. By eliminating all the costs associated with recruitment, additional salaries, and new equipment, you are left with only a monthly fee that is likely to be much cheaper than building and maintaining a custom CRM.
They handle onboarding & support so you get time back. Usually, onboarding sessions and live support are included in your CRM package deal. This means that you don't have to worry about trying to figure out how the software works, they show it to you – through video tutorials, online webinars, or how-to guides that your team can watch at any time. And if you happen to have any issues, they'll take care of it for you, allowing you to spend your time focusing on other tasks.
It's quick and easy to set up. Compared to the months – if not years – needed to implement a custom CRM, a ready-made CRM is usually pretty quick to set up, with a step-by-step straight-forward process.
You can test it for free before subscribing. Most CRMs offer a free trial or a live demo to let you test out the platform and give you the opportunity to decide whether it meets your needs or not.
It's an affordable product. While an in-house CRM system is a very costly effort, a ready-to-use CRM tool usually has very competitive prices, especially for those users who are signing up for the first time.
Ready-made CRM cons
Here below are listed the disadvantages of a ready-made CRM software:
It's not specific to your business needs. Obviously, a ready-made tool is not 100% tailored to your specific business needs and model.
It may have features that you don't need. CRMs have a large number of features, and it's very likely that your team won't need to use all of them daily, if not ever.
All extra features are to be paid on top. On the other hand, any extra feature that is not included in the "standard" CRM package is invoiced on top of your subscription.
Customization is limited. If a custom CRM is 100% customizable, a ready-to-use CRM is not as flexible, and you are not able to tweak and tune it as you wish.
Custom CRM VS ready-made CRM: Which one is better?
Again, there is no right or wrong answer here. Both approaches are viable options, the only difference between the two lies in which one is better for your business needs.
If you have the means and resources to hire a dedicated team of software developers and manage the whole implementation process within your company, while guaranteeing efficiency and productivity, then keep it in-house. If you don't have the resources or expertise and you're not opposed to testing out a ready-to-use CRM tool, then try it.
LeadsBridge can integrate with both custom and off-the-shelf CRMs
Fortunately, LeadsBridge is able to integrate both custom CRMs and ready-made CRMs.
As of now, LeadsBridge counts more than 380 integrations between all top advertising platforms – Google, Facebook, LinkedIn, and TikTok – and the most popular marketing tools available on the market. You can check out our full integration list here.
Thanks to our integrations, LeadsBridge allows you to connect a source with a destination of your choice, to build an interconnected system that shares lead data automatically and in real time.
For example, if you're running lead generation campaigns on TikTok, you can connect TikTok Lead Generation to your custom CRM or your ready-made CRM and have leads automatically transferred into your system in real time. This way, you can work on your newly acquired leads right away, as soon as they interact with your business, getting a head start on your competitors.
Try for yourself! Take a look at all the integrations available for TikTok Lead Generation and start moving leads now, for free. All you have to do is type your desired destination below.
In case you're running lead generation campaigns on other ad platforms, here are a few of our most popular integrations with the rest of our partners:
Let me give you another example of what you can do with LeadsBridge. Let's say you want to run a retargeting campaign on Facebook. With LeadsBridge, you can connect your custom CRM or off-the-shelf CRM to your Facebook Custom Audiences and share your customers' lists and segments in real time to create accurate custom audiences and lookalike audiences for your retargeting campaigns. Thanks to LeadsBridge, your custom audiences are always updated in real time, automatically excluding opted-out leads.
Give it a try yourself! Take a look at all the integrations available for Facebook Custom Audiences and start sharing lead data now. All you have to do is type your desired source below.
In case you're running retargeting campaigns on other ad platforms, here are a few of our most popular integrationswith the rest of our partners:
In-house CRM integration VS the LeadsBridge solution
When it comes to building integrations for your custom CRM, why do you have to invest more time and more money to develop them in-house when you can turn to LeadsBridge to do it for you?
Here is everything you would have to go through with an in-house custom integration:
Build your team from the ground up, which means more money and longer timelines;
Be aware of unpredictable hidden costs;
Allocate developers and resources to build the solution, and have a team at hand at all times to maintain and update it regularly;
Have full control and responsibility for product vision and direction.
On the other hand, choosing LeadsBridge to develop tailor-made integrations for your custom CRM has a number of advantages:
You can rely on our developers' years of experience and high tech knowledge around the advertising platforms ecosystem;
as Meta, Google, LinkedIn, and TikTok Partners, we have direct support and access to the ad platforms, which allows us to help our managed customers if any issues occur;
Integrations are always up-to-date;
Costs are predictable and timelines are well known.
Our team of developers is fully equipped to build a tailor-made solution specifically developed to fit your business needs. You can easily request a tailor-made integration here.
Advantages of LeadsBridge Business plan & managed service
If your goal is to go for a completely customized solution for your custom CRM, you can choose our Business planand enjoy all the advantages of a managed service.
Or, you can even go for a 50/50 solution. Let me explain: If you're using a ready-made CRM but with a very highly customized set-up, even then we are able to help you with a tailor-made integration and a managed service.
You can customize your Business plan as you wish – build as many bridges and move as many leads as you need – and rely on a dedicated CSM and the support of a Solution Engineer to help you set up and get started with your tailor-made solution.
Learn more about our Business plan here.
Access custom integrations with the self-service Pro plan
Or, if you need a custom integration but still want to run your bridges on your own, LeadsBridge offers custom integrations also for users who subscribe to the self-service Pro plan.
Here they are, listed below:
HTTP Request: this integration allows to perform a simple HTTP request to a certain endpoint, letting the user set up some basic configurations such as headers and body of the call.
Webservice SOAP: this integration works similarly to the first one, meaning that it allows users to perform a simple HTTP request. In this case, however, when setting it up, we can add a WSDL for a SOAP Webservice.
HTML Form: this integration allows to simulate the submission of an HTML form that has been installed on a certain web page. Many CRMs allow you to create forms and, in this way, the user is able to send the leads that arrive from these forms directly to the CRM.
Email grabber: this integration allows to freely map the body of an email with the fields and values that are received from the source. Many CRMs allow inserting new leads by receiving an email to a certain address.
ADF/XML: this integration works similarly to the Email grabber – meaning that it is able to send an email to a certain address and to format its body in a certain way. In this specific case, however, the format is the popular ADF/XML, which is particularly used in CRMs within the automotive industry.
Database: this integration allows to connect to a MySQL database in order to either retrieve data from it or to write data into it. Direct database connections can be useful when everything else fails.
A self-service user who has subscribed to the Pro plan is free to test these custom solutions and see if they work for their business needs.
The Pro plan starting point includes 3 bridges and 800 leads per month, for only $22 a month (paid annually). From there, you can fully customize your plan with up to 300K leads per month and 500 bridges. The monthly fee adjusts accordingly.
You won't have all the benefits of a managed plan, but you will have access to a custom integration that will move all your lead data in and out of your custom CRM automatically and in real time.
You can try the Pro plan for 14 days for free, no credit card required.
And if for some reason these custom integrations don't work for you, you can get in touch with us and we will help you build a tailor-made solution, moving you from a self-service to a managed plan.
Final thoughts
We looked at all the pros and cons of developing CRM in-house VS picking a ready-made CRM software and ultimately they are both viable options, it all depends on what your specific needs are.
One thing that you could do is: Try out a ready-made CRM and see if it works for you. If after a time of testing you can actually see that it's not serving your business as you would want to, you can start putting down a project for a custom CRM and move in that direction.
Fortunately, you can always rely on LeadsBridge to build custom integrations for you, regardless of the platform you're using.
Check out all our integrations for: