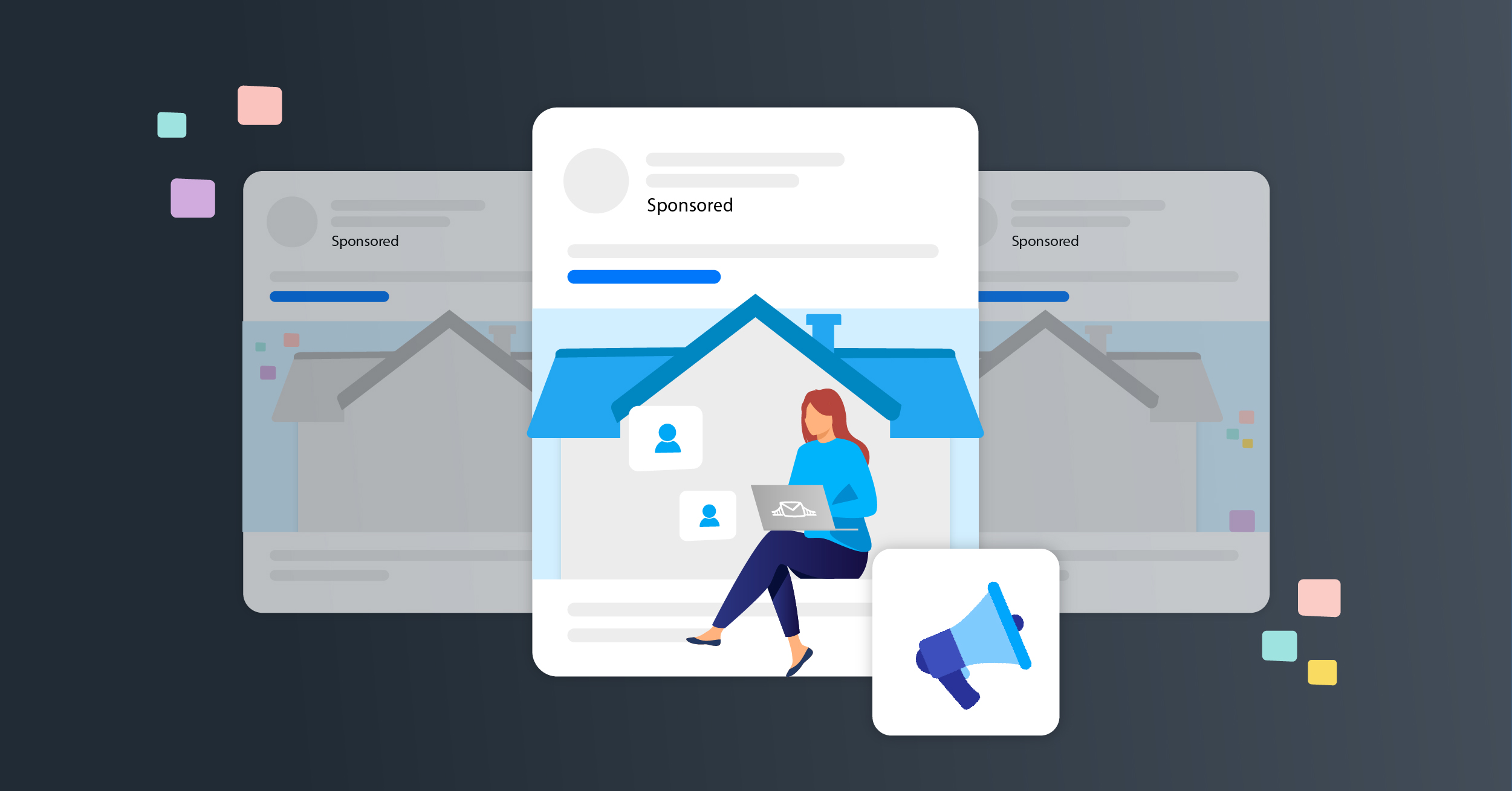 Are you a real estate agent that has spent a lot of money advertising on Zillow with little ROI? Have you tried your hand at other online marketing strategies with little to no results? If your answer to either of those questions is "yes," then you need to try Facebook ads.
Facebook ads for real estate are an effective way to generate leads cheaply and quickly. Do you know that the average user spends 38 minutes per day on Facebook? That gives you enough time to show your Facebook ads for real estate to the right audience.
To generate good results, take a page out of the strategy book of successful brands who've already created successful real estate Facebook ads.
This article is a list of 19 successful real estate Facebook ads examples you can learn from.
Let's get started.
1. Vakil Housing – Address customer pain points
Our first real estate Facebook ads example comes from Vakil housing. This real estate company uses the customer's pain point to create an effective real estate ad. Check it out below: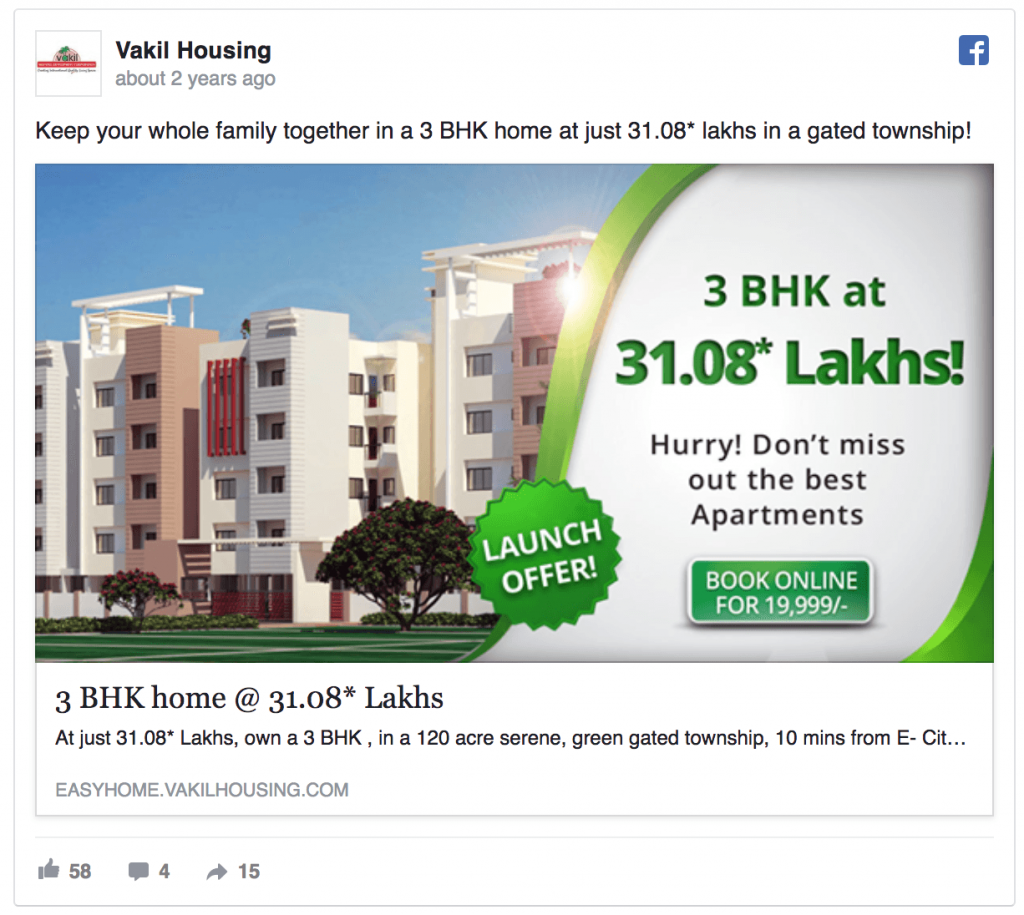 Source: Vakil Housing
The text of the ad reads "Keep your whole family together." For some real estate prospects, finding a space that will accommodate their whole family is a significant pain point. For example, expectant parents who might be looking forward to starting a new family in a bigger space.
Using the customers' pain points to create Facebook ads for real estate is very effective.
To do this well, you need an in-depth understanding of your target customer. By understanding them, you will be able to answer questions such as:
What problems do they face when searching for a home to buy?
Why would they want to sell their current home?
What are their interests and key features they're looking for?
Answering these questions and using them to create effective real estate ads will produce interest in your offering.
The truth is, your real estate prospects are not on Facebook just to browse away, some of them are looking for how to solve their housing problems. So, using the customer's pain points to create Facebook ads for real estate will help your audience to connect with your ads on a personal level.
2. JSP Realtors – Use satisfied customers testimonials
JSP Realtors compiled the testimonials of customers who have bought or sold their homes through their company to create effective Facebook carousel ads.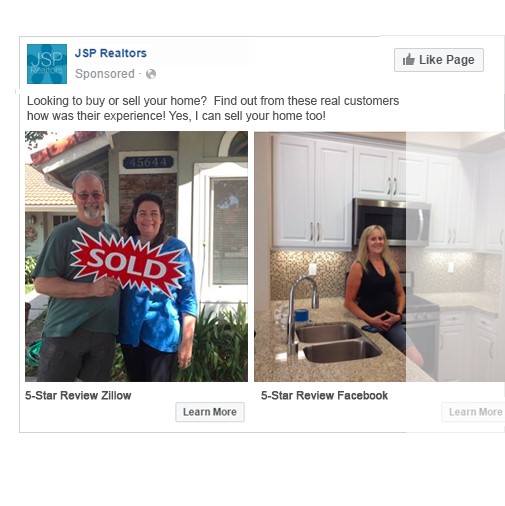 Source: JSP Realtors
It's fine to tell people about your real estate services and how effective they are, but it's even better to let your existing or previous customers do the talking. This strategy leverages social proof to build your brand's credibility. People tend to believe the testimonies of other people who have used the same service they're considering.
You can use your customers' testimonials to create stunning Facebook ads for real estate that will build brand awareness and trustworthiness. It is a great way to break down every objection your prospects might have.
3. John and Mellissa Steele – Use Facebook Live to create a virtual tour of a property
This third real estate Facebook ad example is from John and Mellissa Steele, San Diego Realtors. Melissa used Facebook Live to create an eight-minute personal live tour of the home they wanted to sell. It was a detailed virtual tour of the property.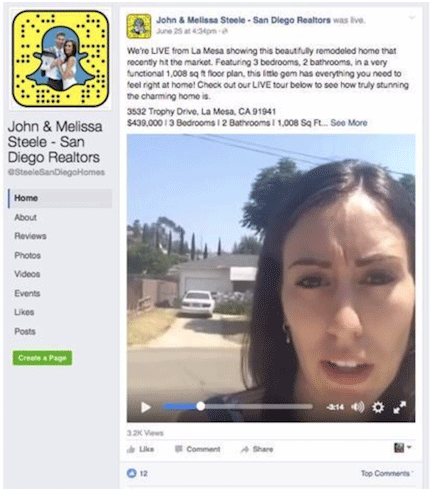 Source: Team Steel
Facebook Live is the native live streaming video tool on Facebook. As a real estate agent, you can use Facebook Live to create a virtual tour of a property or stream live from an open house while you address your prospects. You can also use it as promotional content.
The real-time, in-person feel of Facebook Live ads helps to build brand awareness and trust for your business.
4. Daft.ie – Take advantage of the carousel ad format
Daft.ie, a real estate company in the UK, used the carousel ad format to show the different listings of available properties that prospects can check out. They also use it to show different rooms and features of a single house to build interest in the property.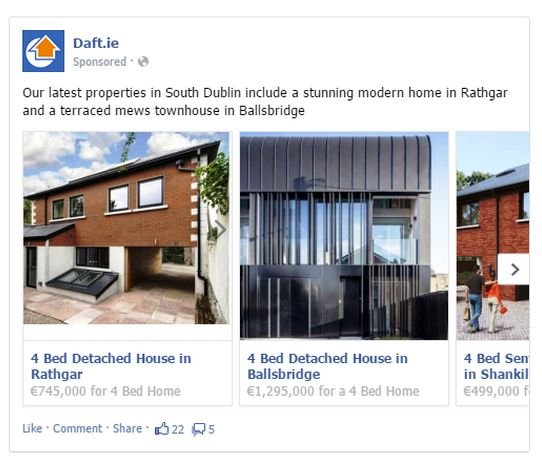 Source: Daft.ie
(Above) Daft.ie carousel ad format for different listings.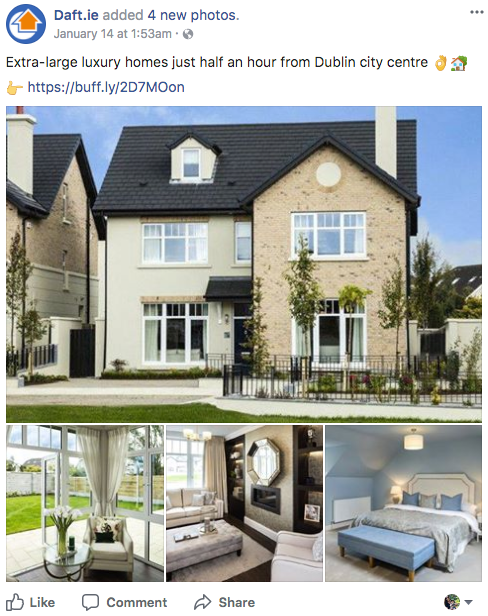 (Above) Daft.ie carousel ad format for different rooms in a single house.
Facebook's carousel ad format is a great format for creating effective real estate ads because it's very visual, which is a huge factor in capturing your prospect's attention.
5. QuintoAndar – Effectively use retargeting to bring back prospects
The fifth real estate Facebook ad example is from QuintoAndar. They used Facebook's dynamic ads to retarget website visitors who browse different home listings.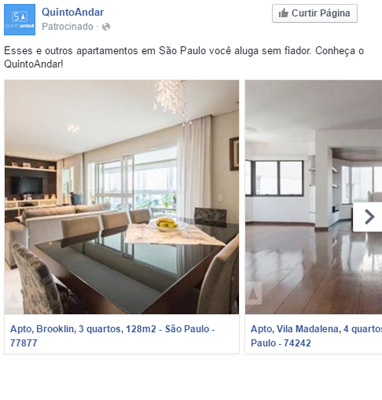 Source: QuintoAndar
The Facebook dynamic ad allows realtors to take make their home listings into ads to show to people who have already viewed those listings on your site. Retargeting prospects like this is a great way to gently nudge someone who's expressed interest but hasn't taken the leap to become a lead yet. The great thing about these dynamic ads is that they can include all sorts of valuable information about the property that prospects will want to know up front, like address, price, type of home, etc.
6. Holley Real Estate- Use drone footage
Our next example of a great real estate Facebook ad comes from Holley Real Estate. They use impressive drone footage to showcase properties and the surrounding area.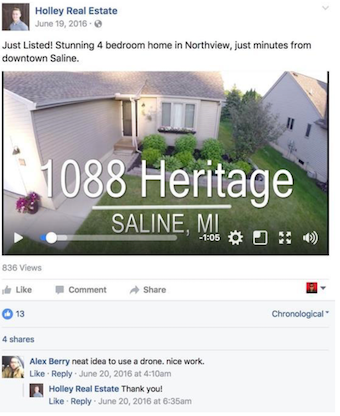 Source: Holley Real Estate
Drone footage produces high-quality photography and video. You can use drones to take pictures of landscapes, beautiful home exteriors, and the surrounding environment.
Use your drone footage when creating your Facebook ads so that prospects can get a big-picture view of the property and understand why they might be interested. Think of it as an upgraded version of the classic video ad.
Facebook loves video. As a format, video generates the most clicks and views on social media over photos and graphics. Did you know that listings with a video receive over 400% more inquiries than those without?
7. Roger Prasad – Offer a free Home evaluation
In this example, Roger Prasad — Silicon Valley Real Estate uses free home evaluation ads to invite their prospects to value their homes.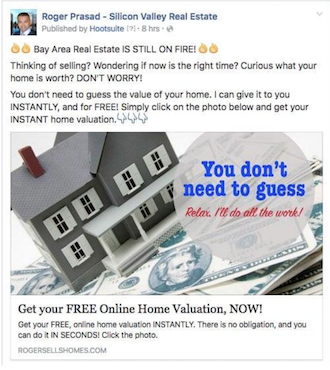 Source: Roger sells homes
Home valuation ads are an effective real estate technique that can help you to earn free leads without cold calling. Get people's attention by showing them what other homes like theirs are valued at while offering them something of value before asking for anything in return. This builds trust with your prospects and makes them more likely to work with you when they do decide to sell their home.
8. Zephyr Real Estate – Write short but powerful descriptions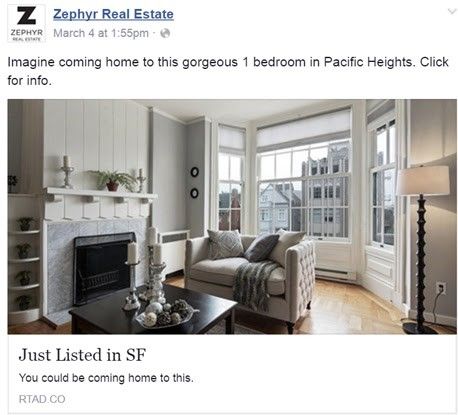 Source: Zephyr Real Estate
Zephyr Real Estate gets the customer's imagination churning and puts them in the shoes of a new homeowner with their ad copy. Take for example this Facebook real estate ad, which asks the viewer to imagine this property is their home, evoking a strong emotional response.
The description copy and the link description work together to drive that point home, making sure no text or visual space is wasted. Add the urgency implied by the header, "Just listed in SF" to seal the deal.
9. The Corcoran Group – Add the right content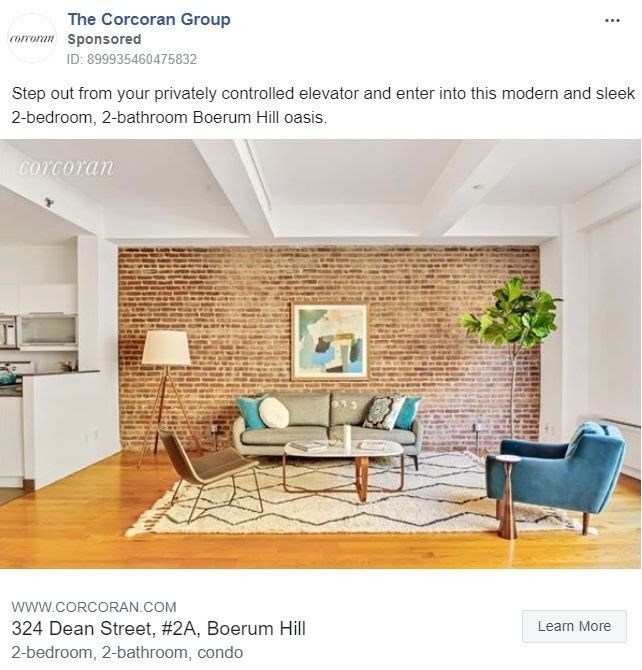 Source: The Corcoran Group
The Corcoran Group has mastered real estate Facebook ad descriptions. With just a few words, you understand the size of the property, the overall style, and the fun fact that it has a privately operated elevator.
But the key with this Facebook real estate ad is that it doesn't give too much away. The images are stunning and the description is great, but it leaves the customers wanting more – which is exactly what a real estate agent wants out of an ad.
10. MyHome.ie – Give the grand tour with your ad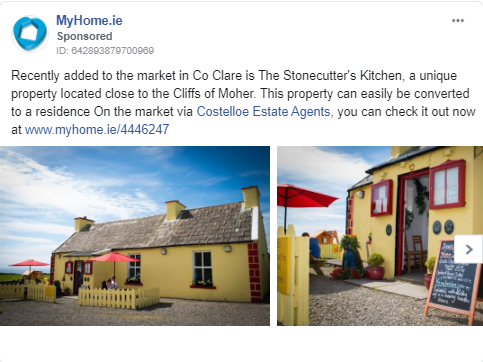 Source: MyHome.ie
What's most unique about MyHome.ie and their Facebook real estate ads is that they not only show the interior but the exterior and surrounding areas. This is something that not every real estate advertiser thinks about, but it is certainly something that potential buyers are concerned with.
Adding eye-catching images of the scenery and views from the property that's listed for sale can generate a lot of curiosity. After all, who wouldn't want to see that view every day?
11. Houwzer – Adapt with the times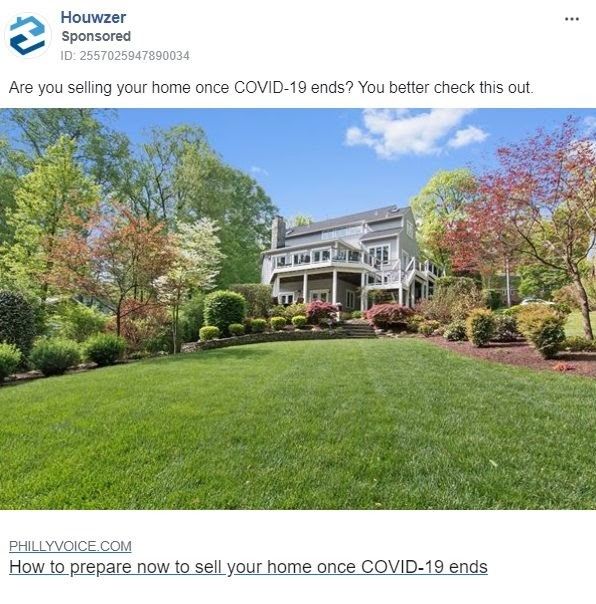 Source: Houwzer
Not every real estate Facebook ad is about selling a house directly. Some, like this informative ad by Houwzer, are there to provide helpful information for the housing market and general market research.
This ad is a prime example of successful real estate ads on Facebook because it applies to anyone even thinking about buying, selling, or renting a house at the time it was posted.
12. One Smart Penny – Think outside of the box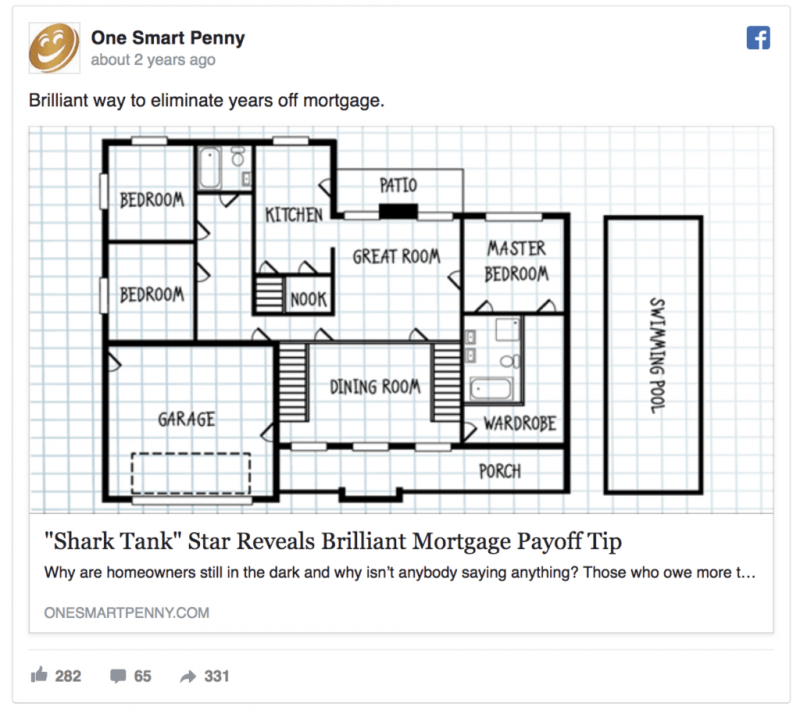 Source: One Smart Penny
Even with good photography, it can be hard for some to visualize the layout of the property that they're interested in. In this example, One Smart Penny offers little extra insight into the property by posting images of the entire floor plan.
In addition to being helpful to those who want to see the layout of the house, the image itself also stands out quite a bit among other real estate-related images.
13. Northern Atlanta Real Estate – Target a specific audience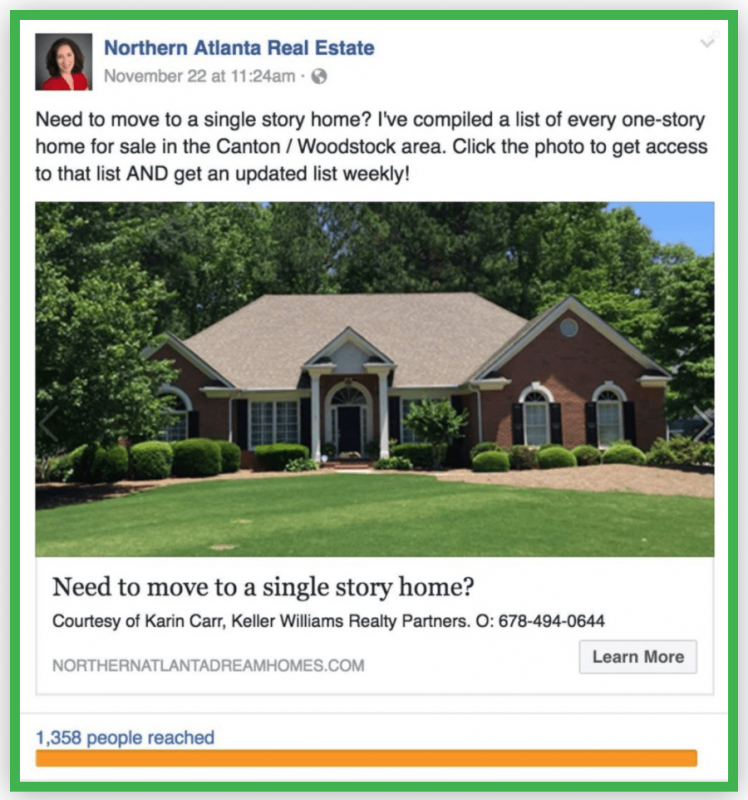 Source: Northern Atlanta
Northern Atlanta Real Estate has targeted a specific audience and provided exactly what they were looking for. By compiling a list of all single-story homes in the Canton/Woodstock area, not only are potential buyers most likely going to click on "Learn More", but they also have a specific real estate agency and agent in mind.
Targeting an audience based on their location is the perfect strategy for real estate, and that's exactly why this particular real estate Facebook ad is so successful.
14. Realtor.com – Optimize your video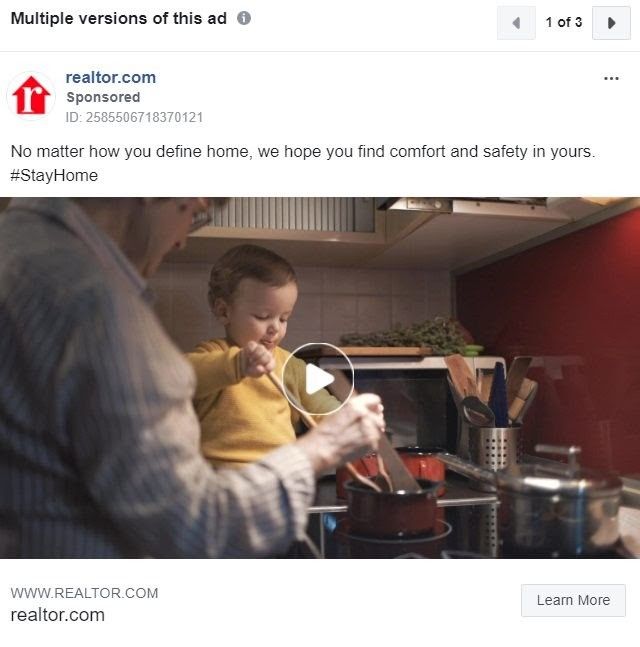 Source: Realtor.com
Video ads have proven to be an effective advertising tool for years now. Realtor.com has mastered the art of bringing impactful video content to the real estate market.
Not only is this real estate Facebook ad successful for its video format, but it also touches a personal note in a lot of home buyers, making it seem like native content, and not just another ad.
15. Flyhomes – Target first time home buyers with your ads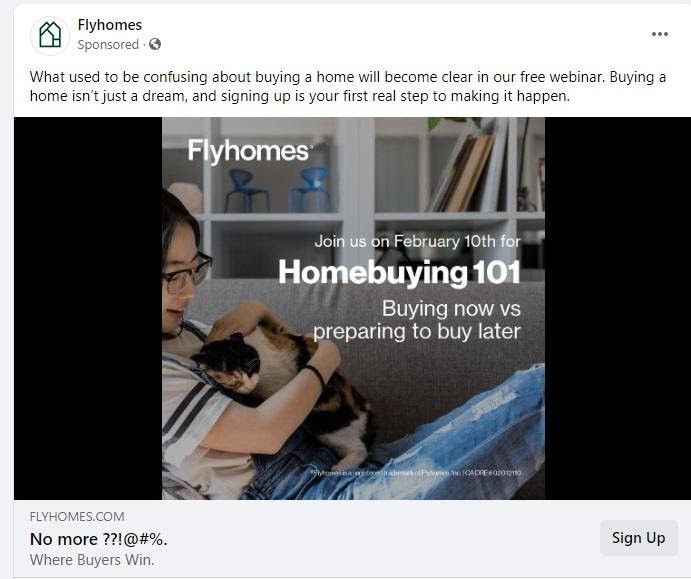 Source: Flyhomes
Flyhomes created first-time home buyer ads inviting Facebook users to their free webinar tagged Homebuying 101. The ad targets people who aren't necessarily looking to buy right now but are interested in learning about home buying to avoid potential confusion and headache later.
It has an actionable CTA i.e. "Sign up", to drive users to the free webinar where they can become leads. When they sign up, Flyhomes can collect their information and continue to nurture them through email marketing, retargeting, and more. The prospects are likely to remember Flyhomes when the time comes for them to purchase a home in the future.
16. Nevada Real Estate News – Tap into the luxury home market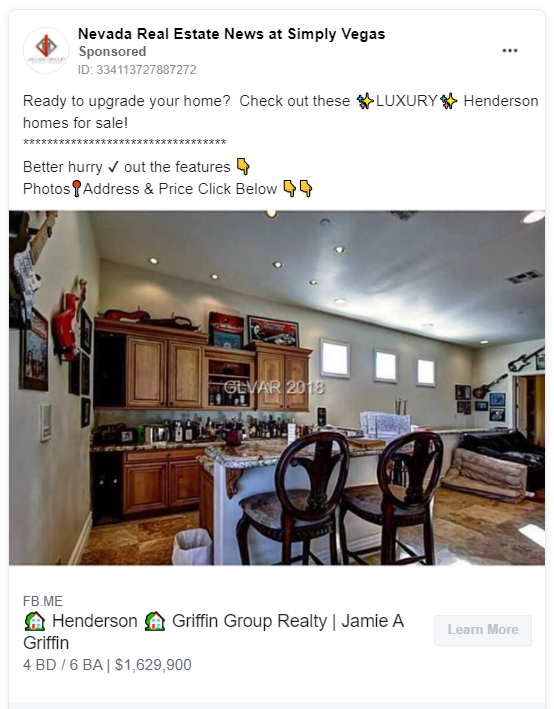 Source: Nevada Real Estate News
Nevada Real Estate News created luxury real estate Facebook ads for one of their homes on sale – Henderson homes. The ad contains the word luxury in its description to inform buyers about the type of home it is. Users are directed to click the Learn more button to know more about the home.
17. Hughes Group – Best real estate video ads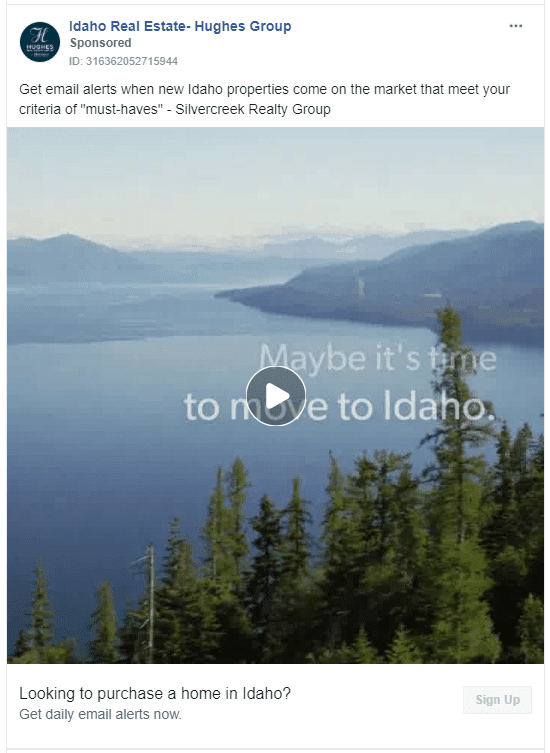 Source: Hughes real estate Group
The Hughes Group in Idaho created one of the best real estate video ads showing native Idaho. The ads are targeted at people who are looking forward to purchasing a home in Idaho. It has a call to action asking prospects to subscribe to a listing alert so they will be the first to know if there are houses available for sale in the area. The video itself is not of a single property, but instead showcases the beautiful scenery of Idaho, inspiring users to want to live there.
18. The Jennings Real Estate Team at ReMax – Feature new construction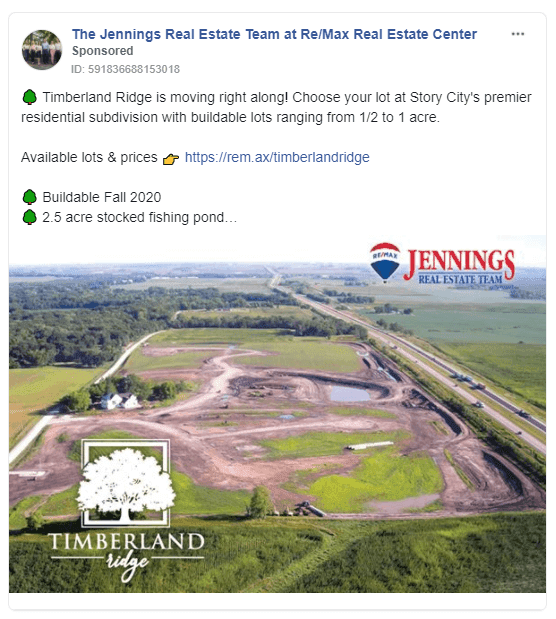 Source: Jennings real estate team
Jennings Real Estate Team designed an ad for new construction in Ames, Iowa. The new construction ads show the location of the new construction, the size of the properties, and a link to the pricing page that shows available new construction listings.
19. Weaver Homes – Advertise your open house
Open houses are a great way to connect with real estate agents and prospects, helping you to collect more buyer leads. A good example is from Weaver Homes.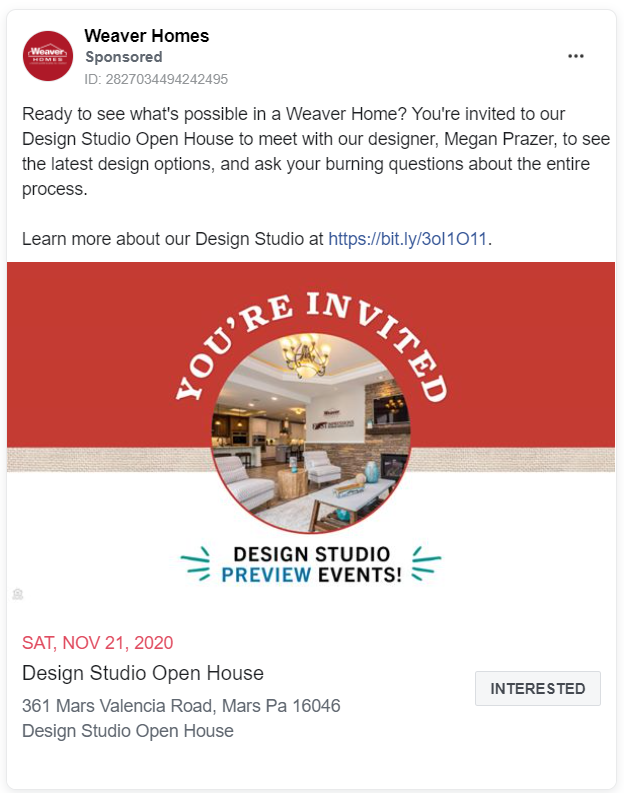 Source: Weaver Homes
They created an event ad for an open house, which made it easy for prospects to join and receive notifications for the event right in the app with the Facebook calendar.
How Real estate agents can find new customers with Facebook Lead Ads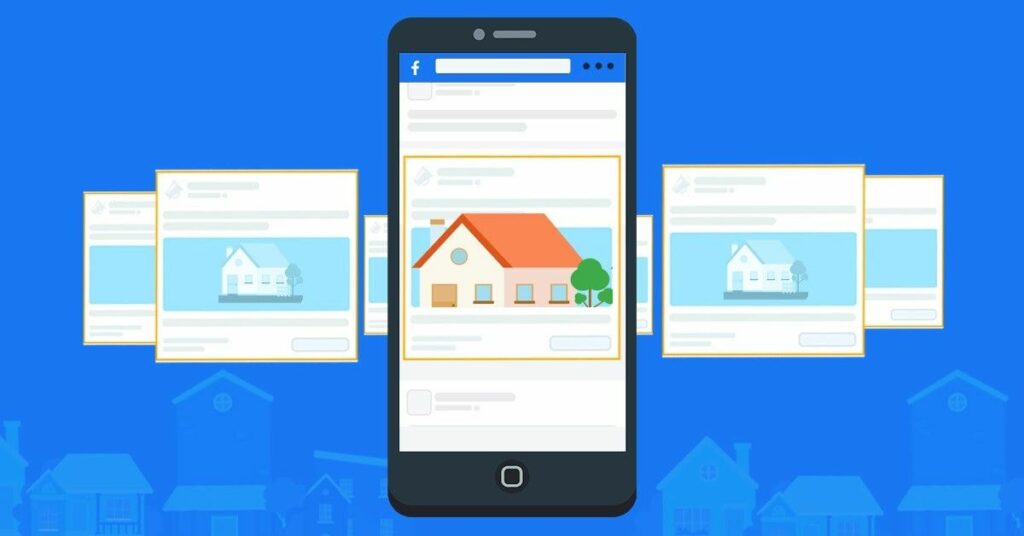 The results of Facebook Lead Ads are really amazing both in terms of conversion rate and cost per lead. In this section, we'll explain how advertising on Facebook can help you to create a successful real estate lead generation campaign and everything you need to know about Facebook Lead ads: the good (which is almost everything), the bad, and how to fix the bad, thanks to LeadsBridge.
The lead generation cost problem
So, you run a real estate business and you're looking for new clients.
A lead is nothing more than a potential new client, and today the fastest way to collect a lot of them is the internet… however, this is much easier said than done. The number of businesses realizing the potential of online advertising and starting to learn how to leverage it is growing all the time. The bad news is that platforms like Google AdWords and Facebook ads work with a bid system and in the most competitive markets (like real estate), the cost per click can be very expensive.
Facebook is nonetheless a very powerful tool for any real estate agent, giving you the opportunity to build awareness, drive traffic to your real estate website, and, in the end, find new potential clients. With an advertising campaign, you'll be able to target the exact type of people you want to reach, thanks to all the information Facebook knows about us. For example, you can choose to show your ads just to people with higher household incomes, or to those who recently had a major life-changing event, because someone who just got married or had children is likely to be interested in purchasing a new home in the near future. These kinds of insights are invaluable when targeting your ads.
How do Facebook Lead Ads actually work?
With Lead ads, users will give you all the information you need without even leaving Facebook. This means a faster, more streamlined experience. But as good as that sounds, it's actually even better. When a user clicks on a lead ad he will get a form pre-filled with data based on his Facebook profile information.
Yeah, that's right: no more manually filling out forms!
This is a big deal, especially on mobile!
For more information on Facebook Lead generation ads — read this guide — The Step-by-Step-Guide to Facebook Lead Generation ads.
The Lead Ads pain point and how LeadsBridge will fix it for you
So, Lead Ads are amazing… but they have one major catch. Facebook only lets you download all the leads you've gathered through a CSV file. This clunky manual method is the only way you've got to work with all the great information you've just paid for.
Working with CSV files means spending a lot of time importing and exporting data, and what you really need is the ability to send an email or give a call at the exact time you get that new lead. If you wait two days, the person who clicked on your ad might already have completely forgotten about you or worse, gone with one of your competitors. You should start developing a relationship with your lead immediately after he expressed interest in your business by sending his personal information.
Luckily, we've got this!
With LeadsBridge, you can instantly synchronize all your new leads with your CRM or email marketing software and get in touch right away! This can really help you to streamline your real estate marketing automation. Here are blog posts to check out on Facebook Lead Ads integrations: The best Facebook Lead Ads integrations for your marketing campaigns and Facebook Leads Ads CRM integration examples.
How do you know if your CRM is integrated with LeadsBridge? Well, we have over 40 of the most popular CRM and email marketing software available as integrations: Hubspot, Silverpop, Salesforce, Mailchimp, Aweber, GetResponse… just to name a few. And we're not scared about custom solutions, either, so we're confident that we'll be able to work with your system to get your leads to you quickly and seamlessly.
Check out all our native integrations and our custom integration promise here.
Find some examples below:
a. Facebook Lead Ads integration with Salesforce®
b. Facebook Lead Ads integration with GetResponse
c. Facebook Lead Ads integration with HubSpot
Be friendly with Lead MetaData
As a real estate agent, you probably already receive emails from different sources with lead information. These emails have different formats and you know that trying to set up an automatic process in order to extract lead information and put them in the right spot of your database is far from easy.
In the future things are hopefully going to be smoother thanks to the Real Estate Lead Metadata Specification, an industry-standard approach for portals to communicate lead information with the goal of having 100% accurate transmission of lead details.
And good news: LeadsBridge integrates with Lead MetaData. For example, here's how to integrate FiveStreet CRM and Top Producer CRM.
The one thing you shouldn't forget: a welcome email
As we already mentioned, getting in touch as soon as possible with those who clicked on your Lead ad on Facebook is a key success factor. People expect news from you the very moment they've sent their personal data, so a welcome email is mandatory to establish a relationship with your new potential customer and to keep him on track about what's happening next.
Welcome email through LeadsBridge
LeadsBridge syncs in real-time with your CRM/autoresponder, so you can set it up in order to send a welcome email to all new leads coming from your Facebook campaign.
If you can't send an email with your CRM we've got you covered! You can send a welcome email directly with LeadsBridge!
Email Notification app
The email notification app helps you to receive email notifications when a lead subscribes to your email list from your lead sources such as landing pages and forms. Fortunately, at LeadsBridge we have integrations for it. For example, there is an email notification app that you can integrate with Hubspot and other CRMs.
a. Email notification integration with HubSpot
b. Email notification integration with Zoho CRM
You'll find all the customization options you need to deliver a white paper, a coupon, or just to inform prospects that you've received their contact details and that you'll get in touch soon.
Give it a try!
Register on LeadsBridge and you'll get a 14-days free trial to sync up your leads with your CRM or simply receive them via email.
Conclusion
We hope that the nineteen successful real estate Facebook ads examples above have gotten your creative juices flowing.
If you're using the Facebook Lead Ads feature for your advertising campaign, don't miss out on our dedicated Facebook Leads Ads sync tool!
And if you're just getting started with the Facebook lead ads feature, don't worry! We've prepared an in-depth guide on this topic along with some tips to improve your performance with this Facebook feature, don't miss out on our step-by-step guide here.