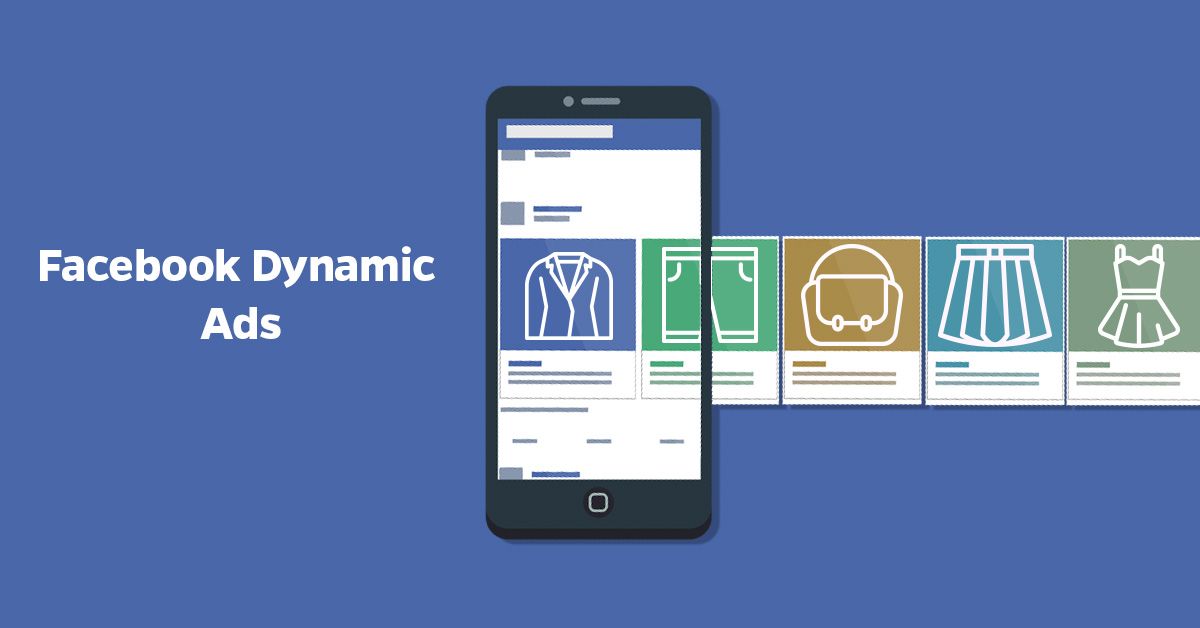 Facebook has 86 percent of marketers using the platform for advertising. The massive number of advertisers is because Facebook regularly creates great advertising products to help companies get better results on its platform. One of these products is Facebook Dynamic Ads, a tool that helps take Facebook remarketing one step further by giving the ability to combine the effectiveness of Facebook remarketing with marketing automation. This article will provide you with an in-depth guide about Facebook Dynamic Ads.
Table of Content

1. What are Facebook Dynamic Ads?
2. Benefits of using Facebook Dynamic Ads
3. How Facebook Dynamic Ads work
4. Are Facebook Dynamic Ads good?
5. Are Facebook Dynamic Ads worth it in 2021?
6. Dynamic Ad requirements
7. How to set up Facebook Dynamic Ads
8. Facebook Dynamic Ads and the automotive industry
9. Instagram and Facebook Dynamic Ads
10.Conclusion
What are Facebook Dynamic Ads?
Facebook Dynamic Product Ads are ads that change to show content and promotions to users who have shown interest in a specific product or service. According to Facebook:
"Dynamic Ads automatically promote your inventory to people who have expressed interest on your website, in your app or elsewhere on the Internet. Dynamic Ads look exactly like other single image ads, carousel ads or collection ads on Facebook, Instagram and Audience Network. However, instead of individually creating an ad for every item you promote, you create an ad template that automatically uses images and details from your catalog for items you'd like to advertise."
With Dynamic Product Ads, you can retarget visitors who have been to your website but did not complete a  purchase. You can create personalized campaigns for your website users, showing the products they viewed on your website and other related products. This will create more awareness for the user and thus increase the chance of them returning to your website to buy.
You can create Dynamic Ads to show product offers, blog posts, reviews, and benefits associated with doing business with your company.
Below is an example of a Facebook Dynamic Product Ads from Eton shirts. 
Benefits of using Facebook Dynamic Ads
1.   Highly personalized ad content: The Dynamic Product Ads shows specific and relevant products and promotions to website users who visited your website. This makes it easy to convert them to customers.
2.   Exclude, up-sell, and cross-sell past customers: Dynamic Ads make it possible to exclude people that have purchased your products before. It removes them from the ads and helps to save money on ad spend. Secondly, if you sell related products, you can cross-sell and up-sell to past customers, helping to increase sales and lifetime values. 
3.   Cross-device targeting: Dynamic Ads are optimized to target website users on every device such as the desktop and mobile devices on Facebook, Instagram, Messenger, and the Audience Network. For instance, a visitor that browses your website on a desktop device and then visits it again on their mobile device can still see your ads on Facebook, Instagram, Messenger, and the Audience network.
4.   Drives targeted social traffic: The Product Ads drive social traffic to your product pages on your website. This makes it targeted traffic of users who are likely to make purchases rather than simply browsing.
How Facebook Dynamic Ads work
Facebook gives you a pixel to set up on your website and Facebook SDK on your mobile app. The pixel and SDK help Facebook to track visitors and actions on your website and mobile app. After setting up the codes, Facebook allows you to upload your product catalog to the platform. This is a list of your products with information such as price, location, and availability. 
Users that visit your website and view products but did not make any purchases will have their information sent to Facebook. The pixel and the catalog work together to tell Facebook who has seen which product on your website. The next thing is to create a Dynamic Ad for your products.
Facebook will add them to an audience, and when the user logs into Facebook, they will see ads on the same or similar products they saw on your website. They can click the ad to return to your website to make purchases.
It is also possible to target visitors who have never been to your website through their browsing history. For instance, if a user has never been to your product website but has viewed and purchased related products, Facebook can show them similar items or services from the catalog you uploaded to the platform.
Facebook Dynamic Product Ads also help you promote your products to a wider audience who have never interacted with your website by using broad audience targeting. 
Are Facebook Dynamic Ads good?
This may seem like an obvious question, but in many ways, it is not. Facebook's Dynamic Ads are a great way to give visibility not only to products and services you offer but also to your business.
Facebook Dynamic Ads offer a more comfortable and faster way to create excellent quality Advertising Campaigns. This is because Facebook helps users by suggesting them images, budget, and audience to target Dynamic Ads.
Facebook Dynamic Ads offers users a complete customization system to make critical elements such as URL parameters and targeted audiences to work with a relatively small amount of knowledge required.
Are Facebook Dynamic Ads worth it in 2021?
Yes, Even if you have a limited budget, you can achieve real sales improvement by setting up a Facebook advertising strategy with essential campaigns.
In any case, a high cost per conversion does not mean that a Facebook campaign is excellent and worth it.
To accurately determine it, you need to know what the expected return on spend will be.
Even though Facebook's cost per click is cheaper than many other online advertising platforms, deciding whether or not Facebook is right for your business is less about CPC and more about ROI.
Simply put, though, it's more than possible to create your success with Facebook advertising. The trick is to focus on what you need, use your analytics to target ads, and engage in a little experimentation and don't expect to see outsized results overnight. Plus, in case of want, you can disable comments on Facebook ads.
Also, a good tip plus be to augment your Facebook campaigns with funnel conversion software to streamline the process of generating and converting new leads.
Dynamic Ad requirements
The requirements for setting up a Dynamic Ad are:
1.   A product catalog. A product catalog is a list of products with their details such as pricing, availability, and descriptions. 
2.  Facebook Pixel and/or Facebook SDK: The Facebook Pixel is a code you need to install on your website. It helps to track, measure, optimize and build audiences for your Facebook Ad campaigns. The Facebook SDK works on your mobile app ads. 
How to set up Facebook Dynamic Ads
To set up the Facebook Dynamic Ads, follow the steps below:
1.   Install the Facebook Pixel and add the events
The first step you need to take is to create the Facebook Pixel and install the code on your website. To do that follow the steps below:
a.  Go the Ads Manager and click on Pixels
b.  Click on create pixels
You will see a code snippet that you need to copy and add to the header section of your website. If you are not tech-savvy, email the installation instructions to your developer, use a partner integration or a tag manager. When you are done, you need to test the pixel to see if it is working or not. To do that, click on send traffic. If it works, the status reads "active". 
c.   Add the events
Events are common actions website users take on your website such as viewing a product, filling a sign-up form or making a purchase. Setting up the events makes it easy for the pixel to capture the most important events that you want to track for your business. As seen from the image below, there are different events you can add to your pixel. However, the most important events are the View content, Add to cart and Purchase. The pixel events help you to create a targeted audience of people who have viewed your products but did not purchase them.
2.   Create your Facebook Product Catalog
The second step is to set up the Facebook Product Catalog. This is a database of your products with details such as the name, price, description, image, and brand. You will need to move the data to Facebook, so you can convert it into ads. To set up your product catalog, follow the steps below:
a.   Go to the Ads Manager and select Catalog under assets
b.   In the catalog manager, choose the category that best describes your business and click next.
c.   Upload and configure your catalog settings 
This is where you either upload your product information using a form, data feed or Facebook pixel or connect e-commerce platform to import your products automatically. The manual upload is affordable if you operate a smaller business while the automatic imports from the e-commerce platform are good for businesses that are big as it saves time and effort. You can also use Catalog Sync by Leadsbridge to upload your products automatically to Facebook.
d.   Type in a name for your catalog and click "create". From there, you will see the page below displayed.
That is all about setting up your Facebook Dynamic Product.  The second part is to set up your Dynamic Product Ads.
Follow the steps below to do that:
1.   Create a product set
The product sets help you segment your products into different sets so show different products when running your campaigns. Still, on the last page, click on the product set as shown below. 
Then click on "create product set". Now, it is time to set rules for your campaign and the parameters for your products to be shown to users. For example, you can choose to retarget people who viewed a product but did not purchase it. 
2.   Choose your audience
It is recommended to start with a broad audience so that Facebook can have campaigns and user feedback data. This will help Facebook decide who sees what product once your ads run. You have two options here – retarget people who have been to your product pages, or prospect to new users.
3.   If you select retargeting, you have four different options such as:
*  View or added to cart but not purchased: This option helps to promote your products to users who viewed a product or add your products to cart but not purchased within a specified time window (i.e. days, week or month).
*  Added to cart but not purchase: This option promotes your products to users who added products to their cart at a specified period.
*  Upsell products: This helps to promote your products to people who viewed products from a set and see products from another set at a specified period. 
*  Cross-sell products: This option shows your past customers other complimentary products they can purchase.
4.   If you choose the second option – Show relevant products to prospective customers: It requires in-depth research of your buyer persona to help you create relevant product sets for them.
5.   Choose the ad placements and budget: Facebook recommends that you use automatic placements. The budget depends on your products and goals. The minimum daily budget is $5.00.
6.   Set the optimization for ad delivery to "Link clicks" and click on "continue".
7.   Choose the Facebook business page and Instagram account you want to use to run your campaign.
8.   Select the ad format. There are three different options such as the carousel, a single image, and collection.
9.   Fill out the ad copy. Start with the product description, then choose the product name. For news feed, link description, select short description. When you are done with the copy, click on Confirm and you are done.
Facebook Dynamic Ads and the automotive industry
Facebook marketplace is a go-to when it comes to buying and selling cars. Dealers can now list their inventory on the marketplace. One of the best ways to leverage this platform is by using Facebook Dynamic Ads. With this tool, dealerships can upload their inventory of vehicles with details like the make, model, year, location, vehicle state, pricing, etc).
After uploading the inventory, you can create an advertisement. Facebook then inserts vehicle images and details from your inventory and shows it to users both on Facebook and Instagram to help you generate potential leads to your website or lead form submission. This will save you the time you would have spent uploading the details of each vehicle every time you need to create an ad.
Leadsbridge makes it easy to take your automotive business to another level. It naturally supports Facebook Dynamic Leads Ads for Automotive. With it, you can retrieve the leads generated by Dynamic Ads and sync it to the CRM. You can also distribute the leads based on their geographical location or the rep's location.
For more details about the LeadsBridge integration with Facebook Dynamic Ads for automotive, feel free to request a Demo.
Instagram and Facebook Dynamic Ads
Instagram is one of the popular placement options for Facebook Dynamic Ads. With this option, companies can promote their product inventory to Instagram users based on their previous actions and interactions in the shop. You don't need to create an ad for each product, you can simply create a single ad template featuring your products from the Facebook catalog.
About  Facebook Dynamics Ads optimization 
The optimizations suggested here will help you take your Facebook Dynamic Product Ads
1.    Segment users who view your product page from users who add your product to cart
There is a great difference between a user who views your product and leaves your website and a user who views your product and add it to the cart. The users who view your product and leave can just be in a window shopping mood and not ready to buy or they are comparing prices from one place to another. For these users, show ads that will help them know your brands more than they move through the sales funnel.
The users who view your product and add it to the cart are ready or close to making a purchase. This is why you need to segment them so you can show relevant ads to the two segments. Second, for users who view and adds your product to the cart, you can create a special discount for the product to entice them to buy. To do this, you will need to use Facebook's custom combination shown below:
Clicking on this feature gives you the ability to create a list of visitors who viewed your product but did not add it to the cart. This will help you create relevant and targeted ad campaigns for them.
2.   Keep your ads fresh by testing and tweaking ad copy
The ad copy is a very important section of your ad campaign. You need to create an attractive and click-worthy headline. Monitor, test and tweak it to keep it fresh. This will help to increase your click-through and conversion rates. When creating your ad copy, ensure you promote product benefits and ensure they match with your image and product page.
For the Call To Action  (CTA), test a message that creates a sense of urgency and use an action word. Keep the ad copy concise and ensure its focus on a particular stage of your sales funnel. Your ad copy must be strong enough to stop people in their feed to engage and go to your website to make a purchase. 
3.   Create eye-catching images
Images are very important because you have a limited time to grab users' attention and you need to show images that are great. The images should have a good quality, sized correctly and possibly placed on a white background. This will help you attract users' attention. Try to test different images to get the best one that brings in most conversions. 
Dynamic Ads show in Facebook feed, marketplaces, right columns, Instagram feeds and stories, audience network, and Messenger, so your images should attract users in each of these mediums. 
Below are Facebook guidelines for Dynamic image specifications.
4.   Replace products that are labeled "out of stock" with "Available for order"
Out of stock product labels can make you lose customers. This is because Facebook ensures that ads for products labeled out of stock are not added to your campaign.
This is the right thing. But it becomes wrong as Facebook assumes that you will not restock the product soon, even if you plan to. You can lose sales this way when you eventually restock the products. 
The solution to this is to mark the products' availability as "available for order" if you intend to restock soon. This will help to build up momentum for the product as you restock.
Conclusion
Facebook Dynamic Ads should be part of every marketer's strategy. It provides a personalized way to reach your website visitors and customers with relevant and targeted ads. The ads can run automatically as long as you monitor the frequency. It literally does the heavy lifting for you. This helps to save time, boost ROAS, increase KPIs and decrease CPAs.
It doesn't matter whether you run an eCommerce store with a large product catalog or you are a small business with a small product catalog, Dynamic Product Ads will help to optimize your ad campaigns to deliver relevant content that will increase your conversion rates to users.