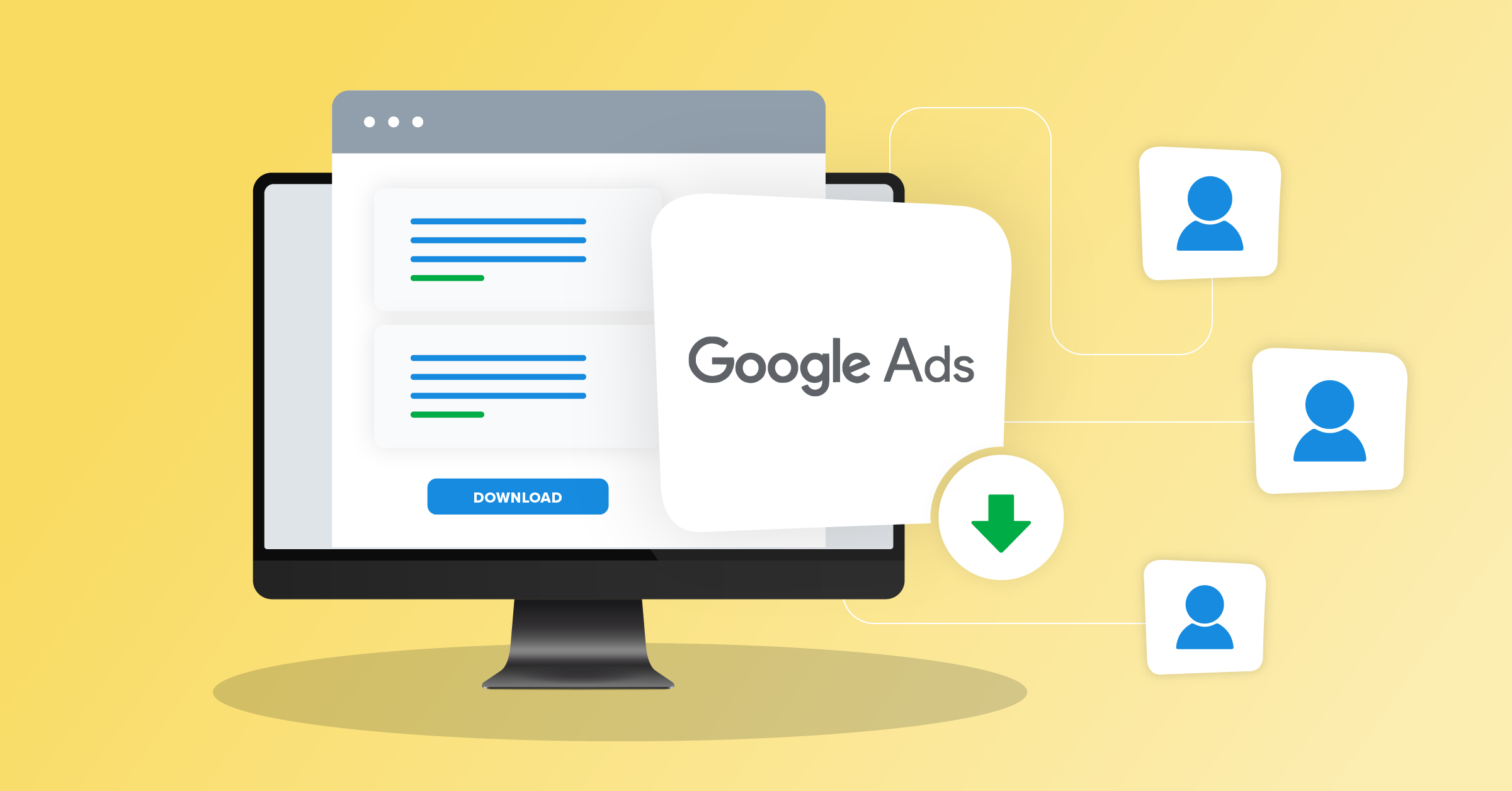 Google is one of the most powerful tools for any marketer in any industry. Google averages 89.3 billion site visits per month easily making it the most viewed website in the world. With billions of consumers visiting every day, Google decided to create an advertising platform to allow you to capitalize on this vast audience.
Enter Google Ads.
What is Google Ads?
Google Ads is an advertising model primarily operating on a pay-per-click (PPC) structure. This structure allows you to bid on specific keywords related to your company, product/service, or industry so that when consumers search based on those keywords, your relevant ads will appear.
The Google Ads model allows marketers to create and share ads (ad options: text, display, and video) that will appear on Google's search engine results page (SERP) when appropriate. These ads can also appear across other websites and apps that fall under the Google Display Network umbrella.
Benefits of using Google Ads
Google Ads is a user-friendly platform that offers a variety of performance-tracking tools and metrics for every advertising campaign. With Google Ads, marketers can easily keep track of impressions, clicks, click-through-rate, conversions, and overall ROI. By utilizing these up-to-date insights from Google Ads, marketers can refine their approach when needed to keep every campaign optimized to further guarantee success.
Besides the apparent exposure and ease of use, Google Ads is a cost-efficient advertising strategy with proven results of driving high-quality traffic. Google Ads delivers an estimated average ROI of 8:1–that is, for every $1 you spend on ads, you turn a profit of $8. Given this ROI, Google Ads has been consistently found to be marketers' top-performing digital advertising platform.
Google also offers a lead generation source –similar to LinkedIn, Facebook, and TikTok– to help get Google leads called a Google Ads lead form extension.
Google Ads vs Google Ads lead form extension
Google Ads lead form extensions differ from Google Ads in the sense that the primary purpose of Google Ads is to promote a specific product/service, company, or industry, while lead forms are designed to gather information and create viable leads. Per Google, "Lead form extensions help you generate leads by letting people submit their information in a form directly in your ad."
Google Ads lead form extensions can be attached to advertisements to help capture more leads from specific ad campaigns when a consumer clicks on your ad. After a consumer clicks on your ad, these extensions create a lead form that consumers can fill out and submit with their specific contact information.
Unlike most Google Ads, lead form extensions remove a barrier to entry by not requiring a website redirection. Furthermore, these lead forms can come pre-populated with information relative to the user's Google account, making it even easier to complete and submit the form in minutes.
The only drawback to lead form extensions is that you can only run these specific campaigns if you have spent more than $50k in Google Ads and have demonstrated a history of compliance policy obedience.
If your company relies on lead generation to drive sales, these extensions can serve as lead-generating gold mines. Furthermore, once you have mastered how to get Google leads, they are not difficult to transport into your CRM especially if you automate the process.
Step-by-step on how to download leads from Google Ads Lead Form Extension
When your campaigns generate leads, you can then download the leads directly from Google Ads or send them directly to your CRM, depending on the option you choose. But first, you will need to ensure that you have "Standard" or "Admin" access in order to download leads.
Be on the lookout for other access level designations such as "Billing," "Read only," or "Email only." These designations will not permit you to download leads. Once you have verified your access, three primary options exist to download leads from Google Ads.
1. CSV
The first download option creates a simple CSV with translated column headers. To download these into a CSV:
Go into your Google Ads account and click the "Campaigns" icon.
Click the "Assets" drop-down option under the "Ads & Assets" section menu.
Click "Assets."
Click "Lead form" on the "Assets" page.
Below the lead form asset, click the "CSV" option.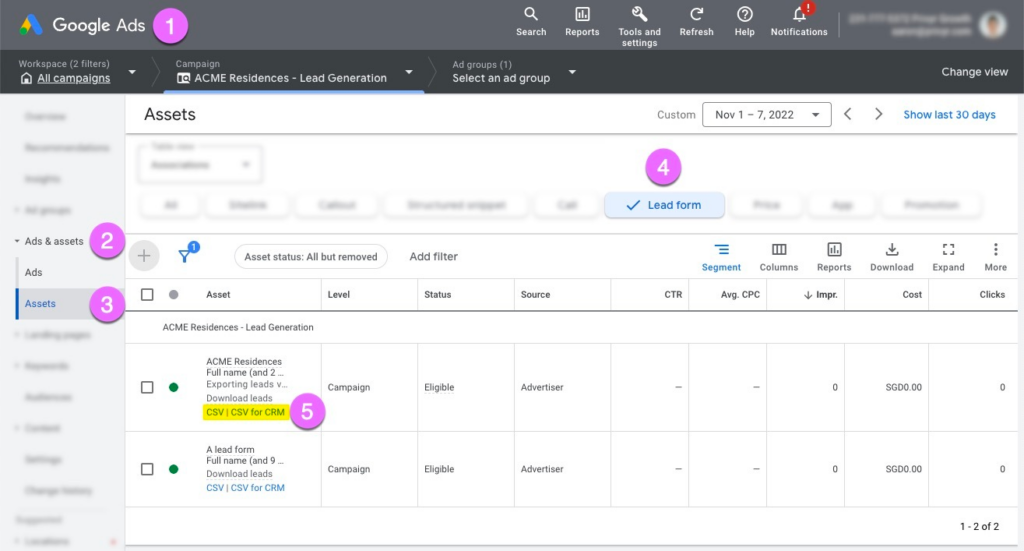 2. CSV for CRM
In order to create a more advanced CSV and transport it into your CRM, you will follow a similar path to the first option. With the more advanced CSV, the columns are more detailed and organized by specific field names.
The steps are identical to the first option except in step five, simply select "CSV for CRM" and import the CSV into your CRM.
3. Third-party integrations
Available third-party integrations such as LeadsBridge can automatically send your lead data directly to your CRM. LeadsBridge is an official partner of Google and can easily be integrated with the following steps:
Sign in to your Google Ads account.
Navigate to the page menu and click "Ads & Assets."
Click "Assets."
Select a Lead form from the list you see.
Hover over the lead form asset and click edit (the pencil icon).
Search for the App you want to link to on the "Export leads from Google Ads" tab.
Authorize LeadsBridge.
Select your LeadsBridge data integration.
Integrate Google Ads lead form extensions with your CRM using LeadsBridge
Another way to automatically send your leads data directly to your CRM is through the LeadsBridge app (if you don't have an account yet, you can easily create one for free).
As an example, here is a step-by-step guide to setting up the integration between Google Ads lead form extensions and Hubspot.
Step 1: Create a new bridge
Once you're logged in, click on Create new bridge at the top left of the screen.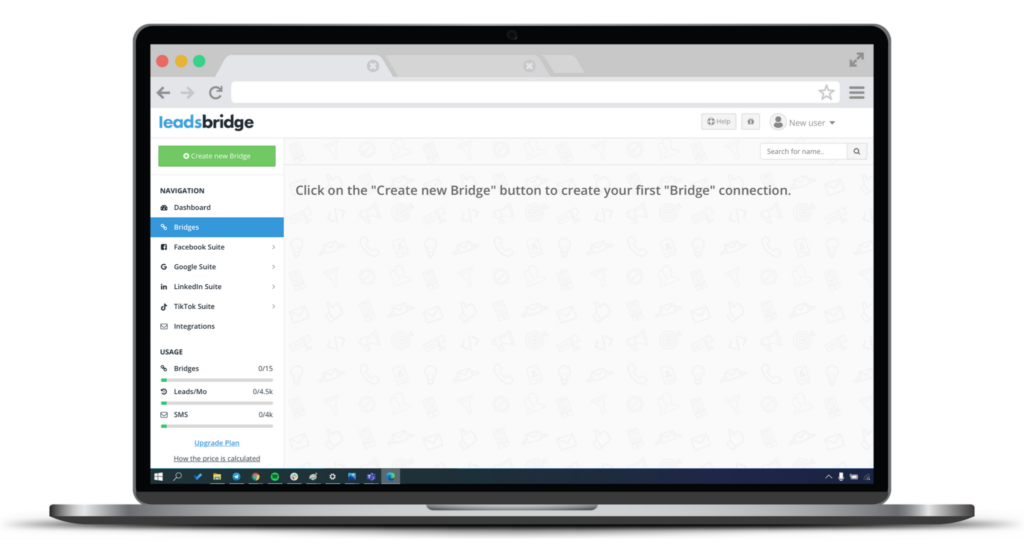 Step 2: Select the source & destination
In the search bars, select Google Ads lead form extensions as a source and HubSpot as a destination. Click Continue.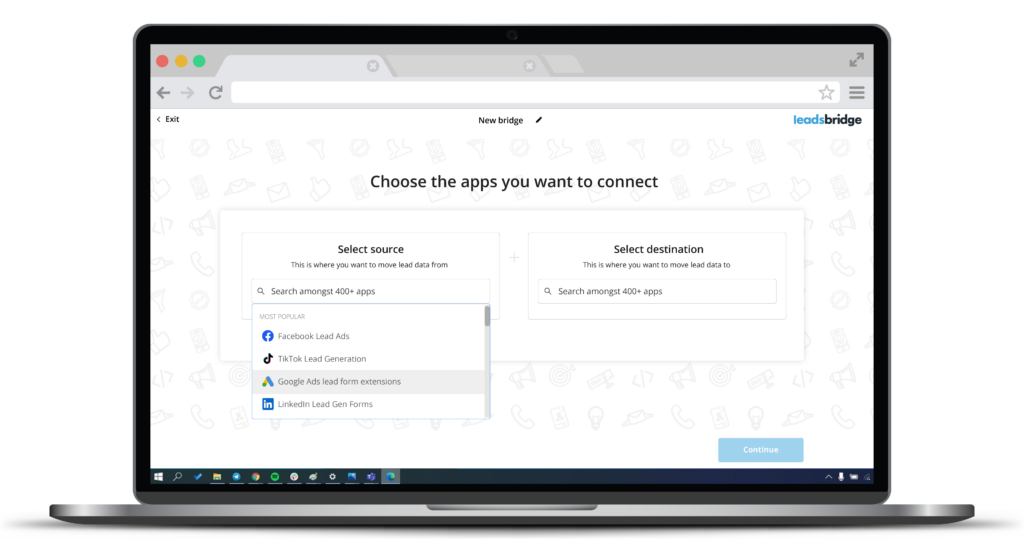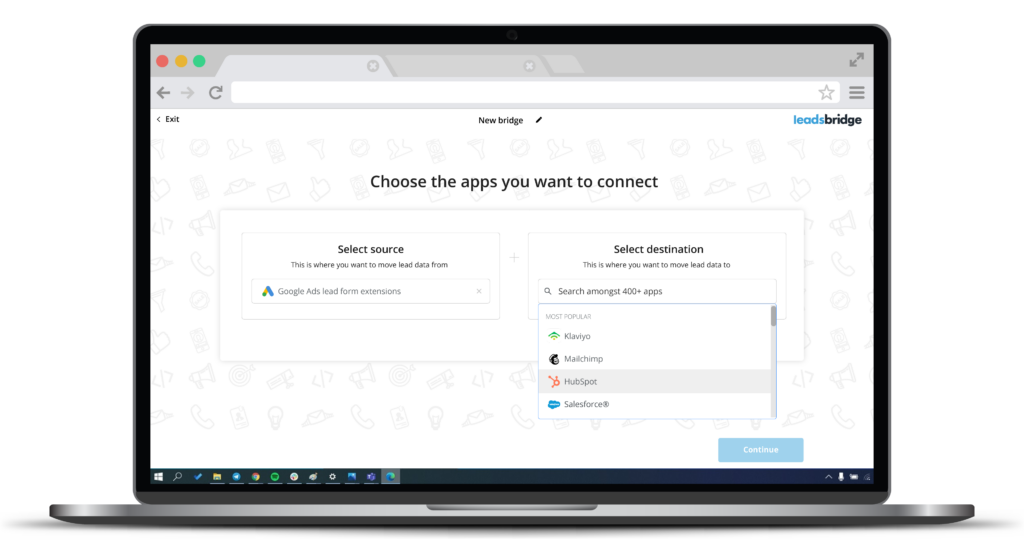 Step 3: Connect your accounts
Now, you must allow LeadsBridge access to your Google Ads and HubSpot accounts. Follow the steps provided by each platform to connect them to LeadsBridge.
Select your Google Ads account and authorize LeadsBridge to connect to it.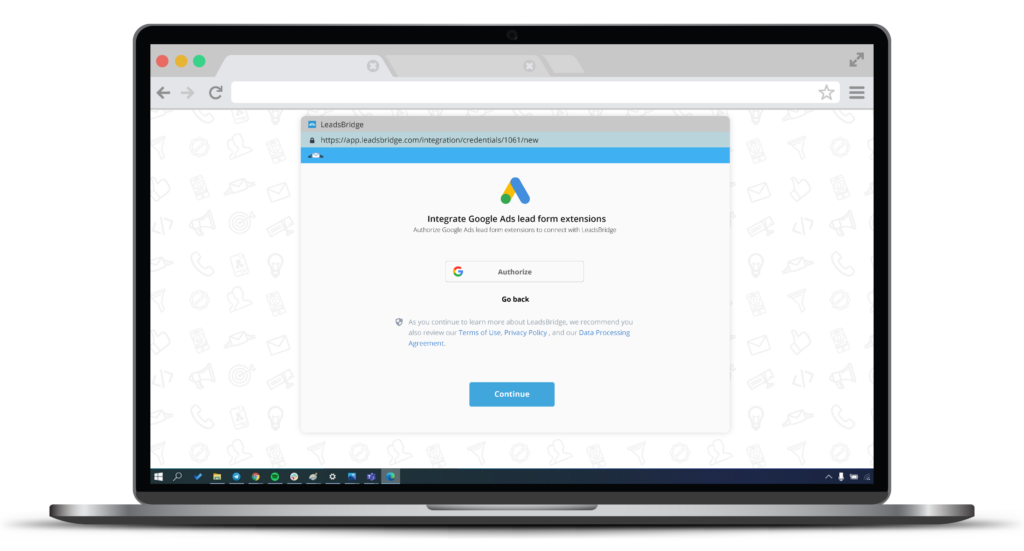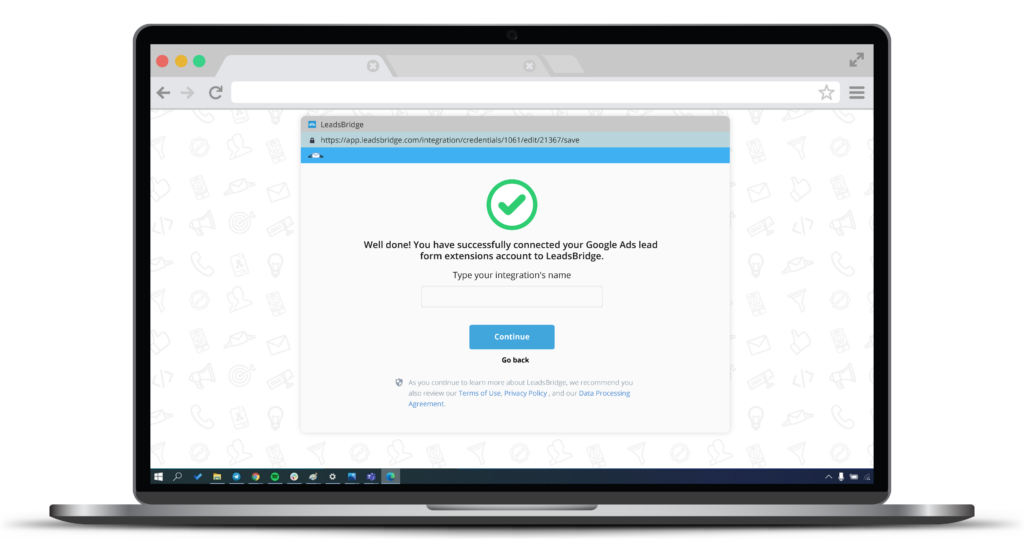 Then, click on "Continue" and do the same with your HubSpot account.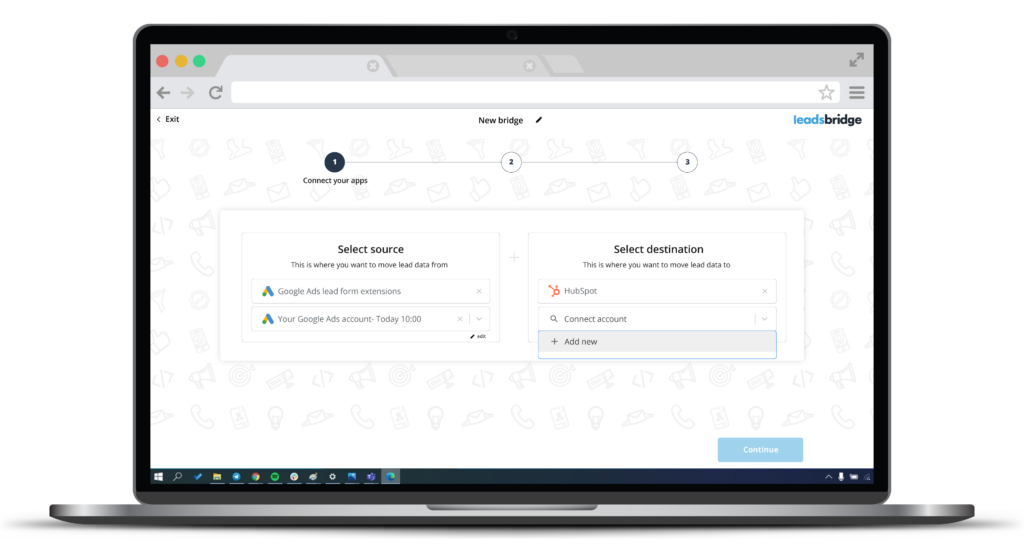 Select your HubSpot account and authorize LeadsBridge to connect to it.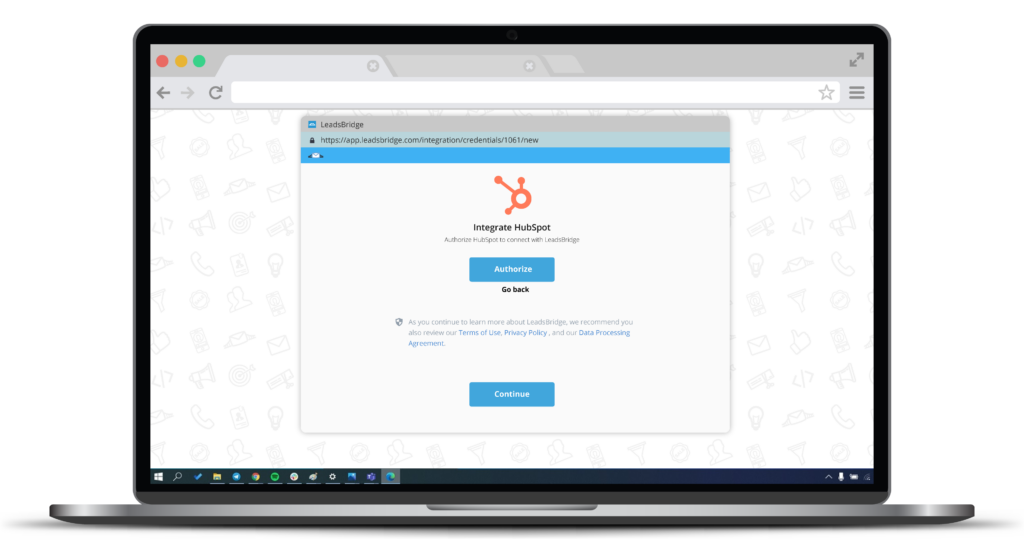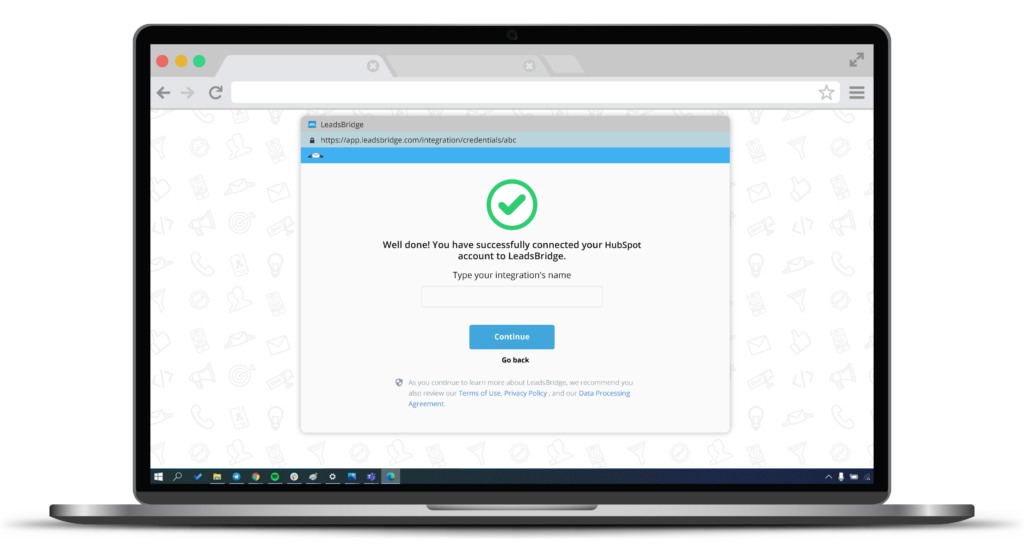 Step 4: Match fields
Make sure all fields are mapped correctly for a perfect data match & transfer across the two platforms. Click Continue.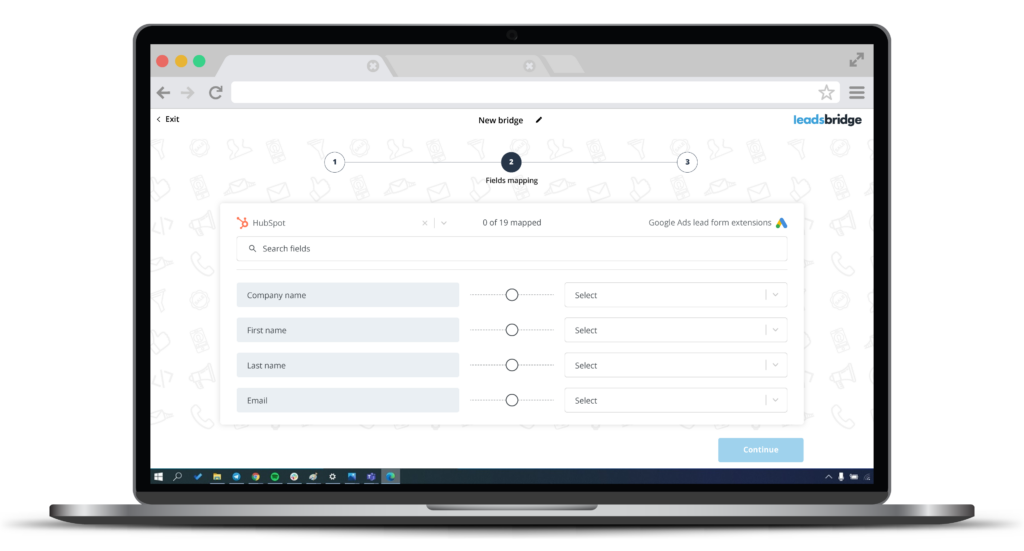 Step 5: Bridge created
Done! You successfully created a new bridge. Lastly, switch the button at the bottom of the page if you want to receive a notification via email each time a new lead submits your lead ad form.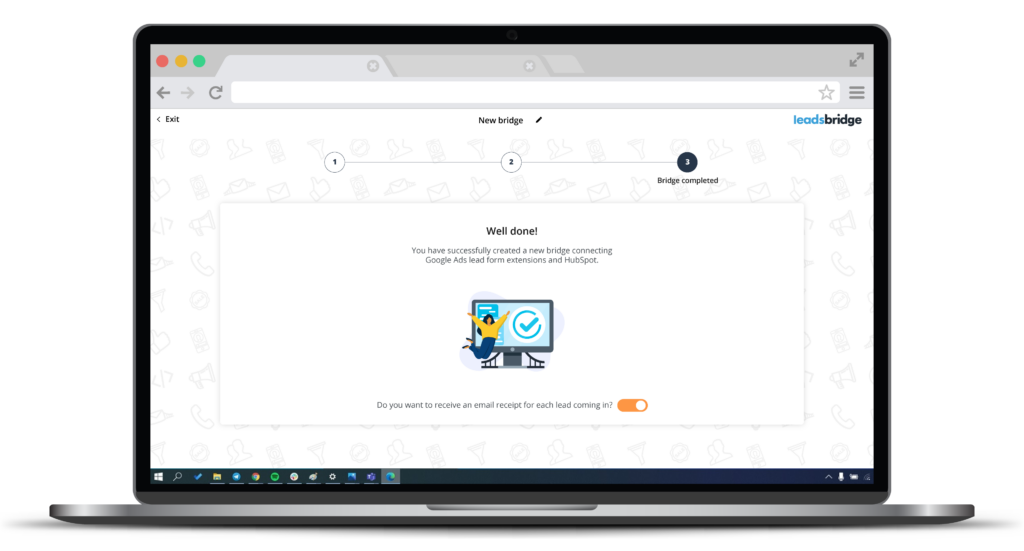 Final thoughts
A Google Ads campaign should be one of the pillars of your advertising efforts because of the campaign's reach, performance-tracking tools, and cost-effective nature. With proper implementation and diligent tracking, an efficient Google Ads strategy can evolve into one of your greatest lead-generating resources with the leads form extension.
In order to efficiently capitalize on this influx of leads, an automation tool such as LeadsBridge can help augment the transition of leads directly into your CRM, thus saving you time, keeping track of every interested lead, and helping you convert as many leads as possible.
LeadsBridge can help optimize every stage of your Google Ads sales funnel and offers several different integrations to strategically align all of your Google Ads efforts.
Discover all of the possible Google Ads integrations powered by LeadsBridge.