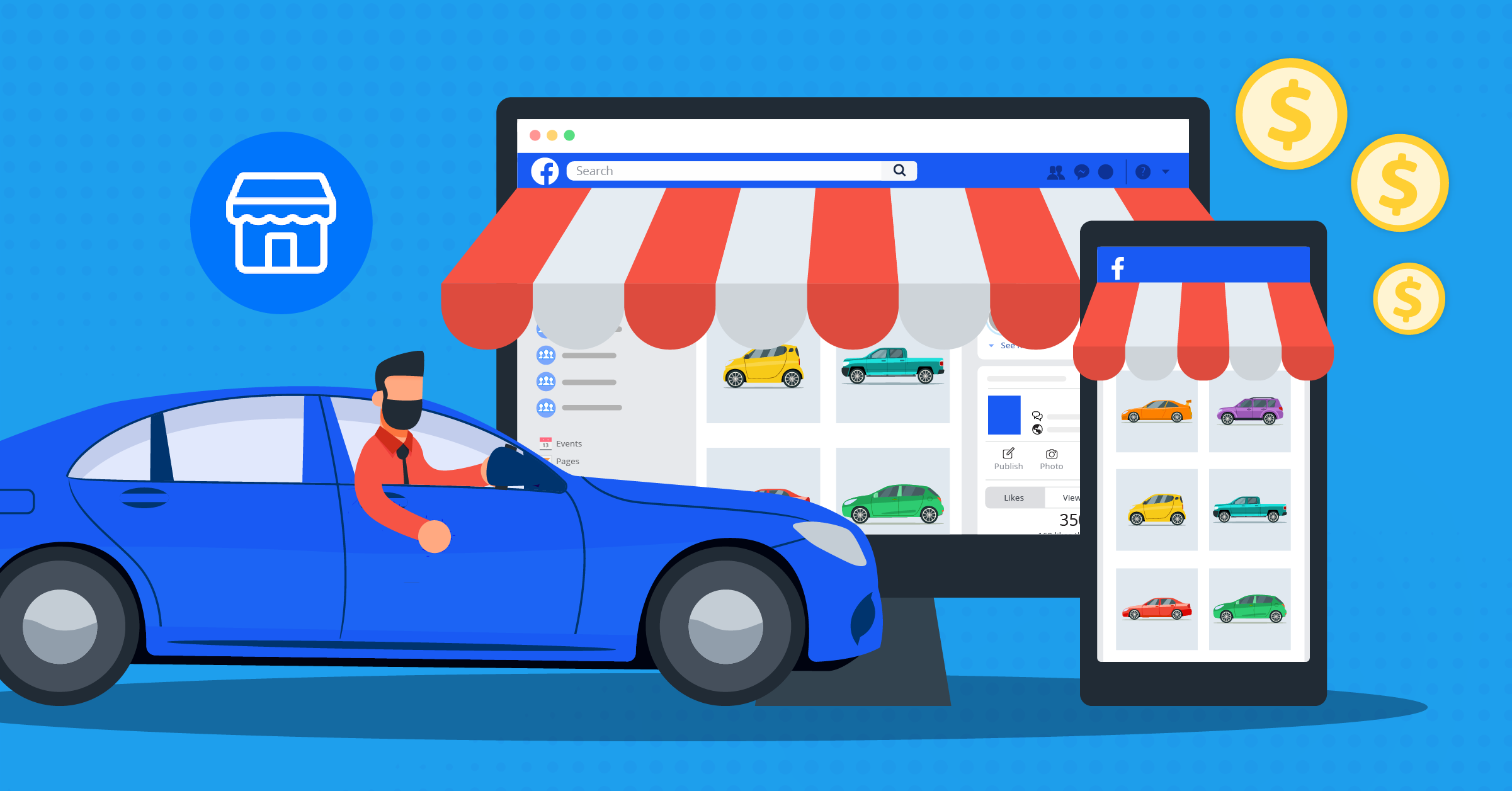 Want to know how to sell more cars on Facebook? Marketplace might be the solution.
Consider this; 78% of car shoppers in the US who plan to purchase a vehicle within three months usually have yet to decide whom to buy from. This gap in the advertising can be addressed only by implying the right Marketplace strategy for dealerships.
In this article, you'll learn how to advertise your car dealership on Facebook effectively, and use automation to grow your business by creating well-optimized dynamic ads.
We'll also talk about Facebook's advanced machine learning and the right integrations that help you capture prospective shoppers.
What Facebook Marketplace offers for car dealerships
Facebook is a specialized, mobile-friendly way to reach customers who want to research and purchase a car. With a unique set of features, it helps you get your dealership listings in front of interested buyers.
As a customer, it's reassuring to ensure the reliability of a dealership or the expertise of a salesperson. That's why Marketplace is designed for giving essential exposure to users who want to research, reach and connect with auto buyers.
As a car dealership, all these features help reduce friction in the car purchase process, target your audience more accurately, and achieve more car sales.
Car dealerships on Facebook Marketplace: How to increase sales
Is ​​Facebook Marketplace any good for car dealerships? The answer is a big YES!
We are looking at a dynamic platform that offers many advantages. It helps you:
Kickstart your car dealership journey;
Use specialized tools to run ads and optimize audience targeting;
And above all, access to a popular platform.
Statistics show that 87% of people who purchased a vehicle within the past six months used a discovery platform, the majority (80%) of whom used a Facebook property for this research.
Before discussing how to create a Facebook Marketplace listing, let's talk a little more about its specialized features for car dealerships.
What is Facebook dealership?
Marketplace aims to connect buyers and sellers. The general idea behind Facebook Dealerships is to let car dealers create vehicle listings directly from their Page.
This way, the list will show up within the Vehicles tab of your dealership Page. Once set up, your dealership listings are displayed together with individual sellers' listings on Marketplace.
As a user-centered design, it lets buyers filter between dealerships or individual listings during their search. For example, they can search based on the car model they are searching for, or the dealership in their area. By default, Marketplace displays listings within 40 miles of the user's location.
Marketplace best practices for car dealerships
Focus on the local market
Marketplace tends to display listings that are geographically accessible to people who are searching for car dealership services.
Also, most people prefer to see a car in person before actually paying for it. That's why it's best to target your audience locally if you want the highest ad returns.
Offer an authentic experience
Receiving an authentic experience makes users prefer your services over car supermarkets.
You can present a genuine image of your dealership's authenticity in several ways: themed content during the holidays, posting success stories of your past clients and testimonials, or creating posts that show the faces of your employees.
This is not a direct sales strategy but can make your business both more relatable and reliable.
Include high-quality images
Using low-quality and unappealing images do nothing but repel a purchase-ready customer_ even if you are offering irresistible deals.
Today's audiences have an eye for genuine marketing ideas and great content. Make sure all of your images have high resolution and are correctly formatted.
Do not underestimate your ad's text. A good copy catches the attention of likely customers. It should also include informative descriptions that can answer all your buyer's questions and potentially close a deal. Test out different copies to see what works best for your ads.
Add attractive finance-related offers
A discount or an offer helps your audience get through decision fatigue and nudges them toward a purchase.
Leaving room for negotiation also encourages people with genuine interest to get in touch with you.
You can also consider adding the price for the new vehicle, the second-hand vehicle trade-in fees, and financing options (such as monthly payments, loans, etc.), if applicable. For someone in need of a new car and a tight budget, this might be the clincher.
How to import your vehicle listings on Facebook
The import data for each vehicle should include the vehicle make, model, year, mileage, price, and some photos. You can do this either manually or automatically.
Manually
We run imports from your dealership's internal system using Google Sheets. If you do this manually, you'll need to download this data in CSV format and upload it to your Facebook ad account. However, the process is somewhat complex and calls for developer-level skills to import your vehicle catalogue into Facebook.
Automatically
You can also streamline your imports using automation. Building seamless data bridges between Facebook and automotive CRM (and other marketing tools) offers many advantages. Connecting the entire marketing stack lets you create an accurate profile of your target audience, optimize your ad campaigns, reach more qualified leads, and keep your listings updated automatically.
Learn more about how automation makes a difference for the automotive industry.
How to sell a car on Facebook Marketplace: Top strategies
Using the following strategies, you'll know exactly how to sell more cars on Facebook Marketplace with maximum efficiency.
Create relevant content
Relatable content initiates a strong connection with potential customers and also helps generate leads. First, create a content strategy that reflects your company's values and is aligned with your marketing objectives. Then, publish your posts consistently to keep your target audience engaged.
However, you'll need to always make sure to:
Create original content
Target your local market
Use videos
Leverage community/seasonal-oriented content
Remain consistent and relatable to your audience
Setting up a Marketplace catalogue
Facebook offers single-image and catalogue (multi-image) formats. While the single-image format is still a go-to for many marketers, the catalogue version is more suitable for the dealership.
These ads are essentially made up of multiple images that can offer an in-depth view of the car you are offering. Besides, it lets you use a longer description compared to single-image ads.
Set up a budget
On average, car dealerships can expect to pay around $25-$50 per lead through their Facebook ads.
But the marketing budget is always determined by your business's objectives and limits. For instance, you should adjust your budget depending on the size of your business and the number of leads generated.
There are also other factors you can control in order to get the most out of every dollar you spend. By creating an optimized landing page, targeting the right audience, and creating great content, you can still get high-quality leads at a lower cost.
Leverage Facebook's algorithm
In addition to costs, another reason that you should target your audience more accurately is Facebook's algorithm. This way, you can help the platform's machine learning to discover which audience segments respond best to your ads and expand your reach.
Avoid adding too many interests to the targeting and keep your custom audience lists updated. Likewise, adjust your content according to your audiences' wants and needs.
Set up two campaigns simultaneously
Use the same ad content to set up two campaigns simultaneously; one for targeting the immediate geographic location of your dealership (within 15-20 miles) and the other for targeting the broader locations (across your state or region).
Run remarketing campaigns
Remarketing shows ads to users based on their past interactions/displays of interest in your brand or previous marketing campaigns. This could be a request for a test drive or a quotation. In any case, remarketing focuses on offering people ads for automobiles that are most relevant to them. These include:
Dynamic Remarketing (based on the SRPs and VDPs that a person visited).
In-Store Remarketing (based on physical visits to your dealership).
Post-Purchase Remarketing (focusing on converting one-off customers into lifetime customers).
Facebook Inventory Ads
Facebook Automotive Inventory Ads are exceptionally high-performing for car dealerships. This feature makes selling both new and used car inventory much more efficient.
Target a broad audience
In addition to other campaigns, you can also run ads with no interests or a single interest, such as "car" or "used cars". This helps both Facebook's algorithm and users with better searchability.
Run A/B tests
A/B tests could be performed for testing a variety of elements: your copy, images, target audience lists, and so on. Test to find out what works and what doesn't, and use these results to optimize your future campaigns.
Use automation
Whether you want to focus on Facebook's machine learning or connecting with users with genuine interest, it's vital to boost your audience targeting using cutting-edge automation integrations. As an official Meta partner, LeadsBridge helps you to build high-performing ads by targeting your ideal custom audience.
Learn how to create more effective ads by targeting your ideal custom audience through automation.
How to set up your Marketplace catalogue
Step 1: Forming your vehicle listing
To get started with listing vehicles, you'll need to accomplish the following.
a) Create Listings
We already talked about Facebook allowing you to create listings directly from car dealerships' Facebook pages. Under the Vehicles tab on the dealership Page, you can find and edit your listings.
Once displayed, the content of your posts encourages buyers to click on them, at which point they'll be redirected to your Page and DM you for more info.
You can choose to create your listings by:
Manually typing in the details of each vehicle
Use automated data bridges to sync your information to Marketplace seamlessly
Set up a catalogue for your inventory ads using Sincro or Naked Lime.
Please remember that using a Facebook inventory partner to import the existing catalogues (a way to upload listings previously, is no longer an option. More on that below.
b) Add high-quality images & descriptions
You can upload up to 10 best high-quality images that show different angles of the vehicle. Get the help of a professional photographer to create elegant and descriptive images.
Include all the necessary details in your ad's copy, such as brand, model, color, etc. Then, use the right tags and keywords to improve your ad's SERP rankings as well as alternative searches.
c) Manage your inventory
Facebook Marketplace lets you create, list, manage, and advertise your inventory. Moreover, you can consider adding filters to your listing and get more results by changing your ad's CTA to the 'View inventory' option.
Step 2: Improve the reach of your vehicle listing
After creating your listing, you'll need to improve its visibility in order to reach more potential customers. You can:
a) Consider using the 'boost the listing' feature
Select the 'boost the listing' feature in your dashboard (on the Facebook marketplace cars and trucks page) to increase the impressions of your listing.
Here, you can customize the display duration, define target audiences, and add a budget. Facebook then uses this info to filter through the audience list and bring you in touch with more potential buyers.
b) Inventory ads
Facebook ads need no introduction when it comes to lead generation and getting better visibility. Once your ad campaign is active, Facebook enables you to reach new people and retarget customers who have already bought cars or trucks from you.
Step 3: Conversions & transaction
Like any other form of advertising, the final destination is the bottom of the sales funnel. At this stage, you are dealing with high-quality leads who are likely to be sales-ready. To make a successful sale, you'll need to keep a few things in mind:
Make sure to leverage speed-to-lead by getting in touch with interested users/potential buyers.
Stay transparent. During your communication with them, mention any applicable registration or shipping costs involved distinctly.
Before finalizing the deal, ensure the authenticity of the buyers by checking their credentials and Facebook profiles.
New changes announced by Meta for vehicle listings
Facebook's automotive advertising policy in 2021
On September 13, 2021, Facebook announced new changes to automotive advertising intending to support auto dealers. These features helped reduce reliance on other third-party dealers to eventually enhance the end-user experience by removing any middleman.
Following these changes, third-party partners could no longer import vehicle lists to stop them from creating parallel Marketplace listings, which often led to duplicate inventory across the Marketplace. These duplicate lists only made the vehicle available at higher prices, nonplused buyers, and made attribution difficult.
Mata's automotive advertising policy in 2023
Meta did not stop at partner listings, however. It has now decided to take down free business listings in order to clean up the Facebook Marketplace advertising space of fake or misleading ads.
According to their new announcement, business pages will not be able to create free listings for vehicles and real estates; Starting from January 30, 2023, all the existing listings created by business pages will be permanently deleted.
This means that as a business owner on Facebook, you should download your vehicle (real estate) listings before the end of January 2023. After this time, Meta is going to close down the "Vehicles" and "Manage Inventory" tabs from Facebook business Pages.
Please note that non-business users can continue to sell their vehicle or property on Facebook Marketplace by accessing it through their personal profile.
Facebook Lead Ads for car dealership lead generation
Generate leads from customers who want to sell their vehicles. These are users who have:
Expressed an interest in selling their car
Been considering a trade-in
Shown signs of likelihood to buy or sell a car soon.
Then, all you have to do is manage your leads and run the right Facebook Lead Ads follow-up campaign.
Below, you can find some more tips you can use to generate leads for your automotive business.
Lead generation tips on Facebook ads for car salesmen
How to sell more cars on Facebook? Don't overlook the potential of Facebook Lead Ads.
Follow these simple tips:
Create an optimized landing page
Well designed, SEO optimized, and easy to navigate.
Include a form where potential customers can provide their contact information.
Mobile friendly and includes a Meta pixel.
Consider video content
There are many reasons why you should use video content. Mostly because they:
Are more engaging than text-based content;
Make the advertising more trustable by showing the dealership or salesperson;
Help reach a larger audience with its ads;
Could become viral if you use catchy and creative ideas;
And have higher content engagement.
Push a variety of ad content on Facebook
We recommend testing different variants of your content to target a broad audience; Use different ad objectives to target both Lead Generation and Lead Conversion.
Also use automation integration to streamline your lead data management.
Run Events
Facebook ads for car salesmen are perfect because they also allow running events to attract customers and help show off the dealership's inventory and generate leads. This helps Facebook algorithm to highlight your services for those interested in your dealership.
Types of events that dealerships can run:
Car show
Car swap meet
Car auction
Cookouts
Here are 15 car dealership event ideas you can use all year long.
Automate automotive campaigns with LeadsBridge integrations
LeadsBridge integrations help you leverage the full potential of Facebook Marketplace ads.
These data bridges let you create highly-targeted custom audiences by syncing your CRM segments, email marketing contacts, or customer lists with Facebook in order to retarget or exclude leads at every stage of your advertising funnel.
Benefits of using LeadsBridge for your car dealership
Using automation, you are able to:
Communicate with your potential customers in a timely manner
Build real-time data syncing between Facebook and your favorite automotive marketing tools
Cut out CSV files and manual export and import
Generate and reach better-qualified leads
Send automatic welcome emails and SMS
Define more accurate target audiences
Get easy and fast-tracked access to the Meta products using official partner assistance
Choose from self-service integrations and managed services based on your company's needs
Handle data securely and remain GRDP compliant
LeadsBridge solutions for dealerships on Marketplace
Higher conversions ad better lead nurturing
To maximize Facebook Marketplace ads for your business, you'll need to optimize them for the best performance. By creating automated data bridges, We help you streamline your data transfer between Facebook Marketplace and your favorite CRM, autoresponders, or automotive app.
These data bridges allow you to funnel your leads from Facebook directly to your marketing apps and provide a timely response to your potential buyers.
Accurate audience targeting
You can also integrate your data stack with Facebook Custom Audience and Lookalike Audience for more accurate targeting.
By creating a Facebook Custom Audience from your customers' list on your CRM or autoresponder through LeadsBridge, you can enhance your audience targeting and retargeting on Facebook Marketplace and maximize your ROI. Moreover, you can create a variety of high performing campaigns through Lookalike Audiences.
Final takeaways
By creating a vehicle inventory listing on the Facebook Marketplace cars and trucks, you are ready to target your audience. Once you have figured out how to advertise your car dealership on Facebook, you can improve your campaign by using the best automotive strategy and best practices, such as uploading high-quality visuals and optimized audience lists.
Using LeadsBridge, however, you can build a seamless connection between Facebook and automotive CRM. This allows you to better optimize your ad campaigns efficiently, and increase the quality of the leads you generate and get in touch with them as they come in.
We are an official Meta partner that offers integrations with the top automotive tools available on the market, such as ADF/XML, VinSolutions, DealerSocket, lead, Velocify, ProMax, etc.
Discover over 380 integrations with the leading automotive apps by LeadsBridge.