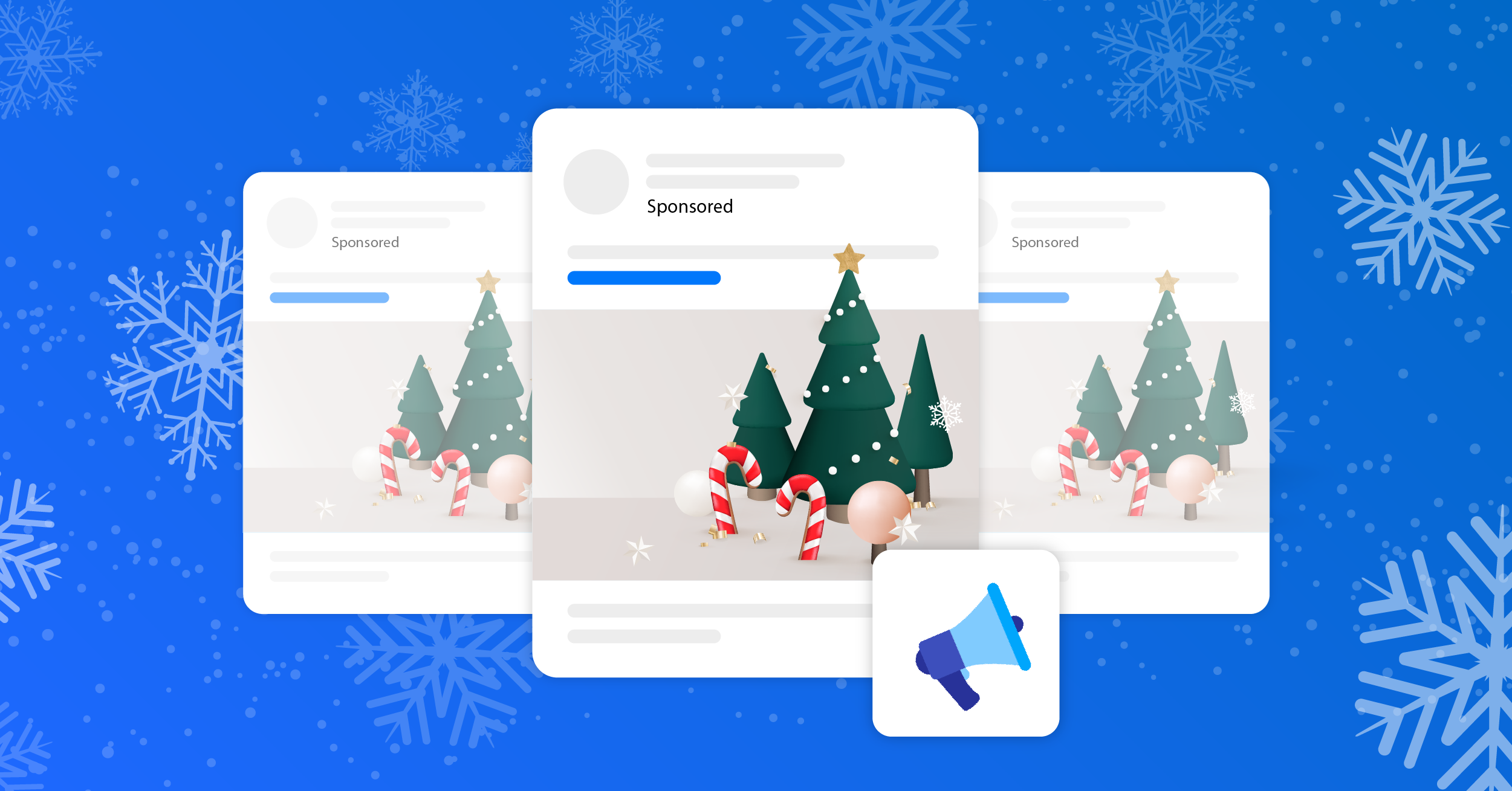 Christmas time is here! It is a season of love, giving gifts, and a lot of merriment. It is also a season you can use to build brand awareness through your social media campaigns. Therefore, it is important to keep your social media Christmas campaign in top gear.
A survey revealed that businesses use social media platforms to raise brand awareness as shown below.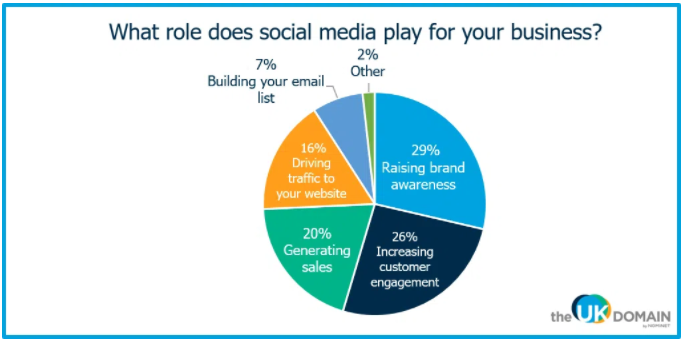 Source: TheUKDomain
As you build your brand awareness with a social media Christmas campaign, you will also attract a number of sales to your business. Statista revealed that in 2020, retail e-commerce sales worldwide amounted to $4.28 trillion and e-retail revenues are projected to grow to $5.4 trillion in 2022.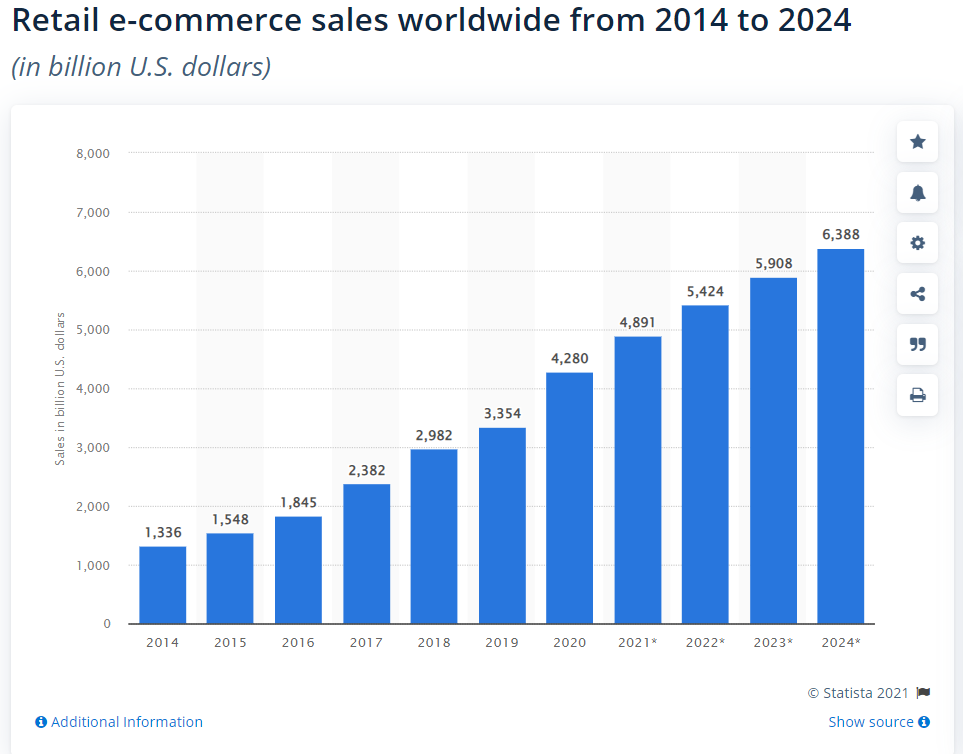 Source: Statista
The question is:
How do you create a profitable social media Christmas campaign to grow your brand awareness?
Below are some ideas you can use!
Let's get started.
1. Decorate your social media profile with themed images
It's the Christmas season! This means it is time for your brand to wear the Christmas look.
How? Simple!
What better way to show your brand is in the mood of the season than to decorate your social media profile section with themed Christmas images? This is a great idea because your cover page is like a billboard: It is the first thing social media users see on your page which makes it the right place to reinforce your branding.
A survey revealed that, in 2021, approximately 28 percent of shoppers planned to use these platforms to search for or purchase holiday products.
Show your customers that you're in the holiday spirit by transforming your brand for the season. Decorate your brand profiles with themed images, such as photos of your office in holiday decor or adding Christmas elements to your brand logos.
Most businesses have more than one social media accounts, so you should upload the same Christmas-themed images on all your social media networks to enable your followers to identify your brand easily on all social media networks.
Below are tips that will help to create effective social media Christmas campaign profile images.
a. Use the common colors that depict the Christmas season such as red, green, and white.
The color should also blend with your brand color.
See Ferreiras's social media profile colors below: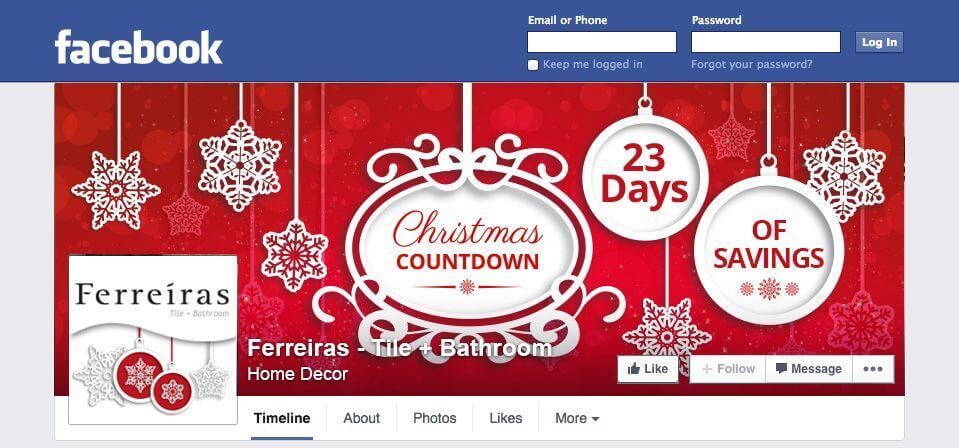 Source: Taggbox
b. Use several images that show your products or office and arrange them together.
c. Use images that provoke emotions. Find an example from Kodak below: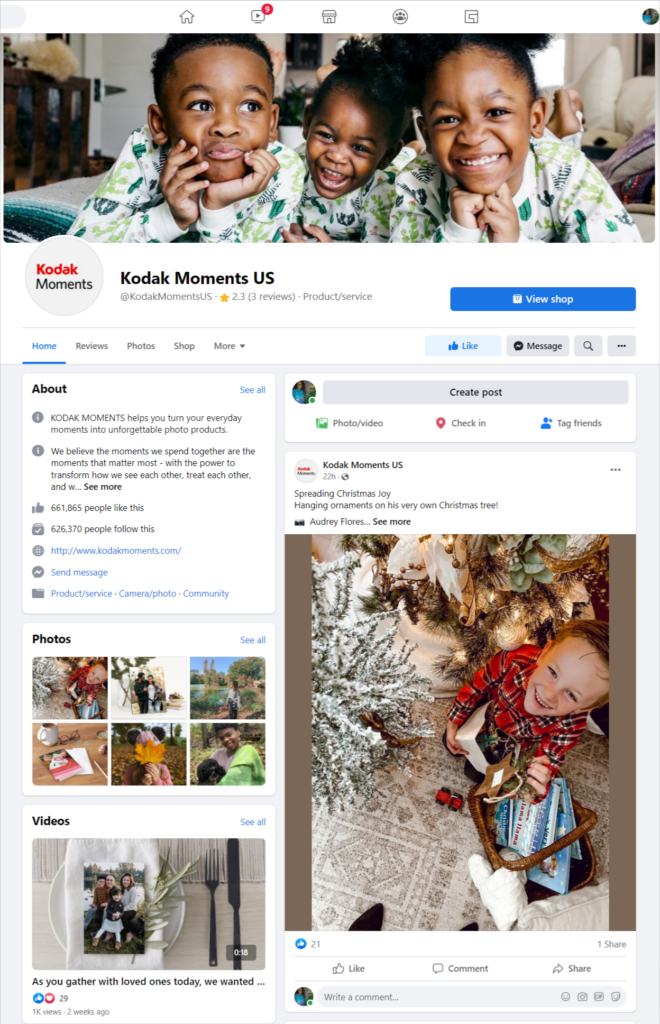 Source: Kodak Moments
The joy on a child's face on Christmas morning is indescribable.
d. Create appealing and attractive images that engage your audience's senses.
The image of the product will want to make your fan touch or taste it. Find an example below from Coca-Cola.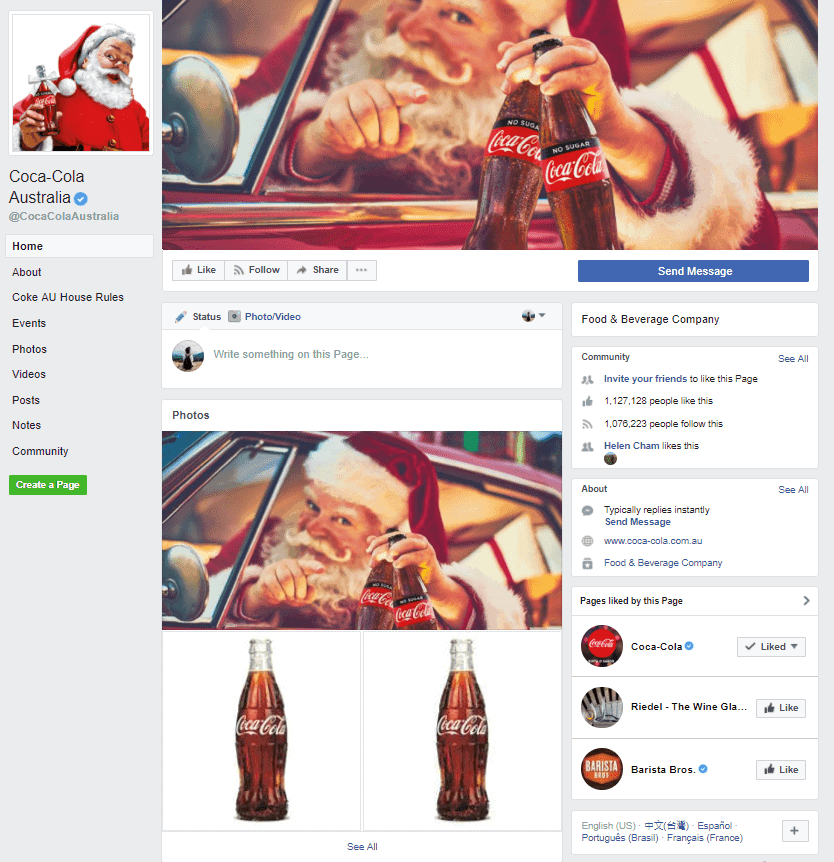 Source: Mavsocial
2. Leverage the season's emotion
The second social media Christmas campaign idea you can use to grow your brand awareness in this season is to leverage the seasons' emotions.
The Christmas season is a season of joy and love. Leveraging this emotion to create social media Christmas campaign posts on your social channels will get your fans excited about your brand. There are different social media Christmas campaign posts you can create for this purpose. Let's look at a few below.
a. User-generated content campaign
The user-generated content campaign is an essential part of a social media Christmas campaign where you ask fans to create content related to your brand. You can ask them to add a custom brand hashtag to their post when submitting the content. Find an example below from Sun-Maid.
Source: Sun – Maid
Sun-Maid asked its fans to share a family favorite Sun-Maid holiday memory which can be a story, a photo, or both using the hashtags #12DaysOfSunMaid and #Sweepstakes. The winner gets one of the 12 daily gift packages.
b. Create posts with holiday tips
Another idea you can use for your social media Christmas campaign is to teach your audience how to do something fun during the holiday season such as decorating their home and wrapping gifts. Make it brief and use bullet points to show the tips as shown below: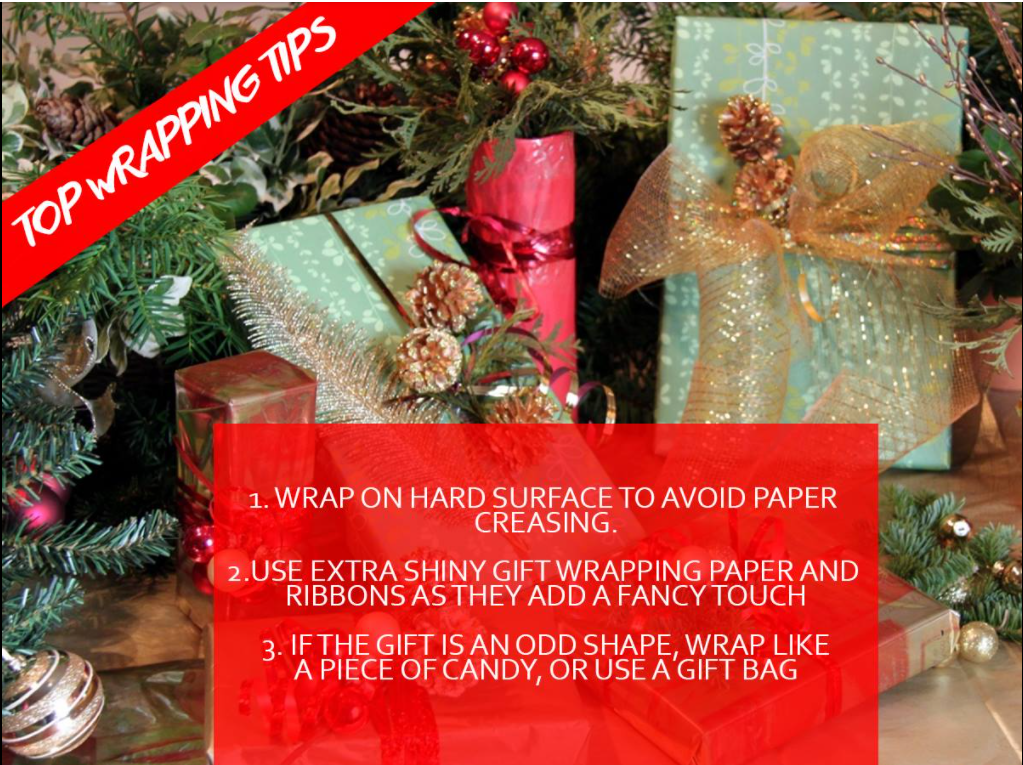 Source: Jumia
3. Create a "comment and win!" contest
The third social media Christmas campaign idea you can incorporate into your holiday campaign is to create a comment and win contests.
Brands that create contests during the Christmas holiday see an increase in engagement during the season. This social media Christmas campaign idea is great, especially on Facebook because the Facebook algorithm loves comments over likes. If you can get up to 20 comments, the post will appear in more users' newsfeeds.
The "comment to win" social media Christmas campaign idea boosts engagement, builds brand awareness, especially with a branded hashtag, builds credibility, and gives you a loyal audience. It also allows your fans to help you promote your brand this Christmas period. For the best result, incorporate your product into the contest.
There are different comments to win posts you can create such as:
a. Fill in the blank comment post
This kind of post can get up to 182 percent more engagement than other status updates. Ideas you can incorporate include:
My favorite Christmas song is __________. Post the title of your favorite Christmas song and winners will be selected shortly.
I learned the truth about Santa Claus at age ______. Fill in the age when you found out Santa Claus wasn't real. Winners will be selected.
b. Ask an open-ended question
You can ask your fans an open-ended question about a popular Christmas story, food, fun activities, etc and reward the winner with a gift. Find examples below from a local church.
See an example below from Starbucks.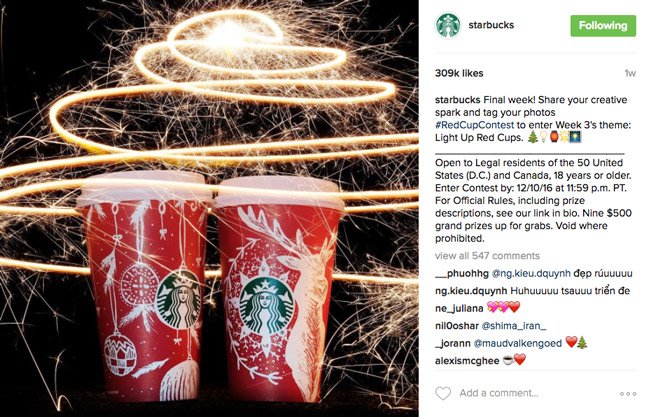 Source: Crello.com
And another one from Xpelair At Home.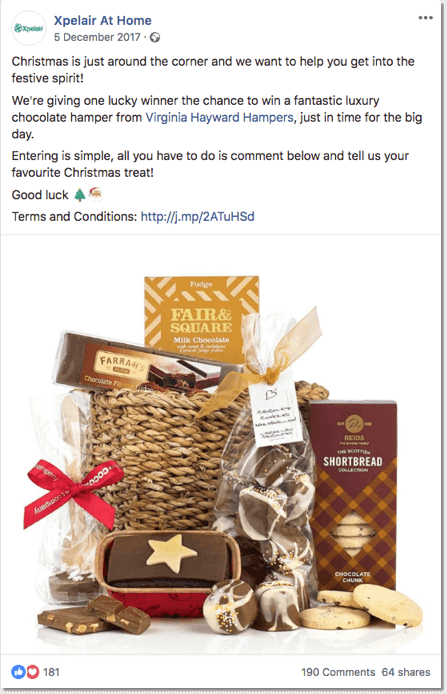 Source: Medium
c. Multiple Choice option
This involves providing different options (usually 4 to 5) and asking your fans to choose the one they like best. It is a great way to get to know what your fans like and also increase engagement.
4. Holiday gift guide
The holiday season is a time where people buy and share gifts in the season's spirit. Creating gift guides with your product or services will help your fans make the shopping process easier.
The gift guide is easy to share, hence giving your brand more exposure. If the products are on discount, you can let them know. With a creative gift guide, you can stay on top of a prospect's mind throughout the season. Increase your conversion rates by segmenting the products into different categories of product types and prices.
You can also re-engage with customers who have previously shown interest in your product and reach them through remarketing ads (sent to segmented lists of customers). This can be done by using Facebook Custom Audiences.
The Facebook Custom Audiences tool allows you to target potential customers with relevant ads. You can create it from CRMs, visitors to your website, app and email subscribers, and customers from your retail store. It becomes easy when you integrate your CRMs with Facebook Custom Audiences through LeadsBridge. This will help you to create the Custom Audiences automatically from your list. Find examples of Facebook Custom Audiences integrations below.
a. Facebook Custom Audiences integrations with Zoho CRM
b. Facebook Custom Audiences integrations with ActiveCampaign
c. Facebook Custom Audiences integrations with HubSpot
Below is an example of a holiday gift guide from Zara Home.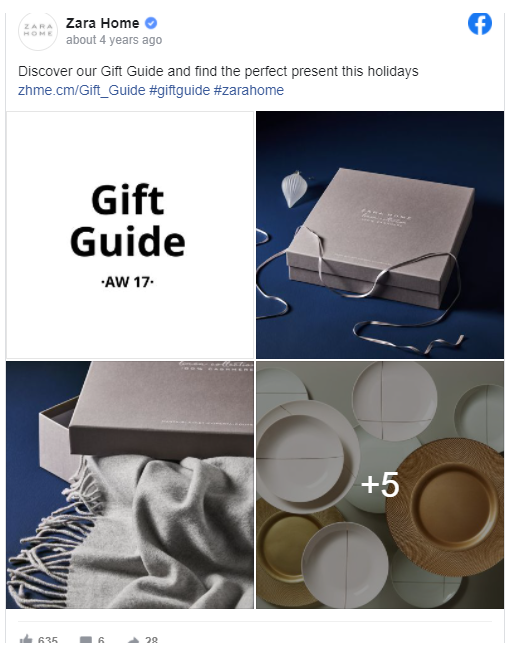 Source: Zara Home
Christmas social media post ideas
1. Run a Poll
The first Christmas social media post idea you can utilize for your social media channel during the holiday is to run a poll. Polls are especially great for creating fun during the holiday period. This is a good example of a Christmas Facebook engagement post. This is because it creates enormous engagements for brands. For example, Netflix created a post asking followers to compare two products and tell them the best. See it below: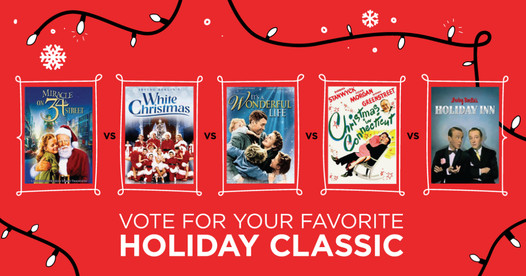 Source: Bloggingmomof4
2. Wish your followers happy holidays
One of the best Christmas social media post ideas is to wish your followers happy holidays. Create a post to wish your customers and prospects happy holidays and a new year filled with joy. Below is a great example from Dove Chocolate, where they wished their customers a happy holiday and subtly advertised their chocolate product.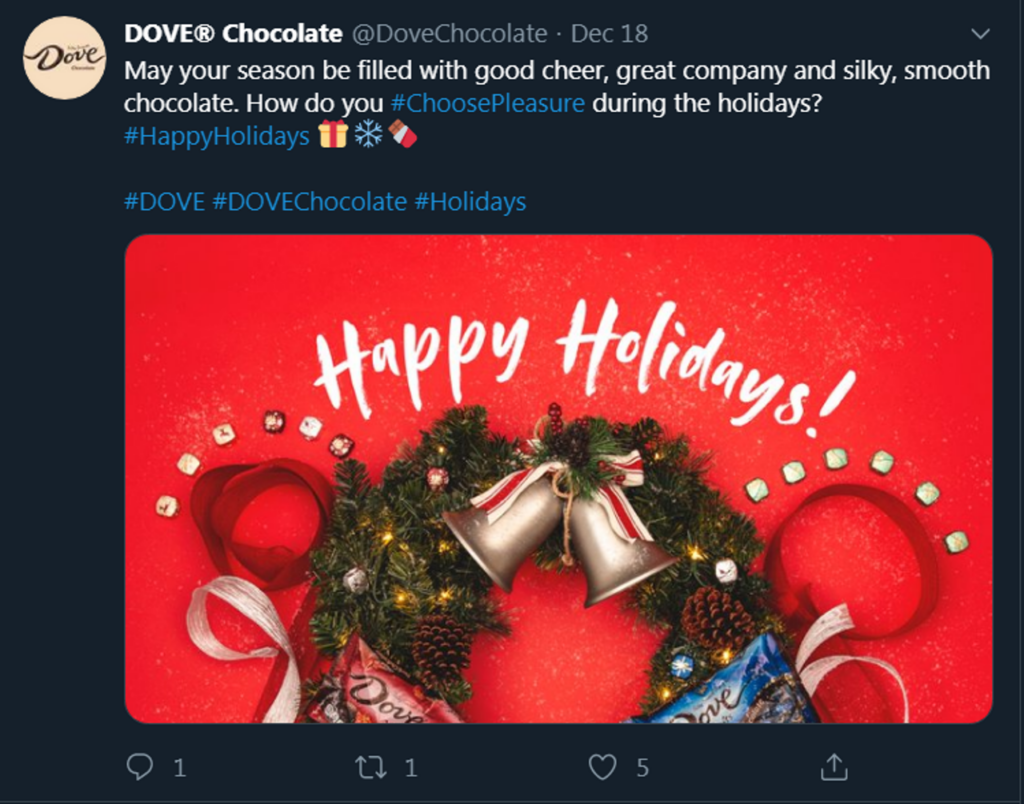 Source: Dove Chocolate
3. Create interactive posts
Interactive posts draw in people to engage and interact with them. This is unlike the passive content where someone can read and move on. Creating Christmas interactive posts on your social media channel will help draw your fans to your posts. Examples of Christmas interactive posts include creating questions, quizzes, making a choice, and taking action. Find an example below from Phillips Island Nature Parks.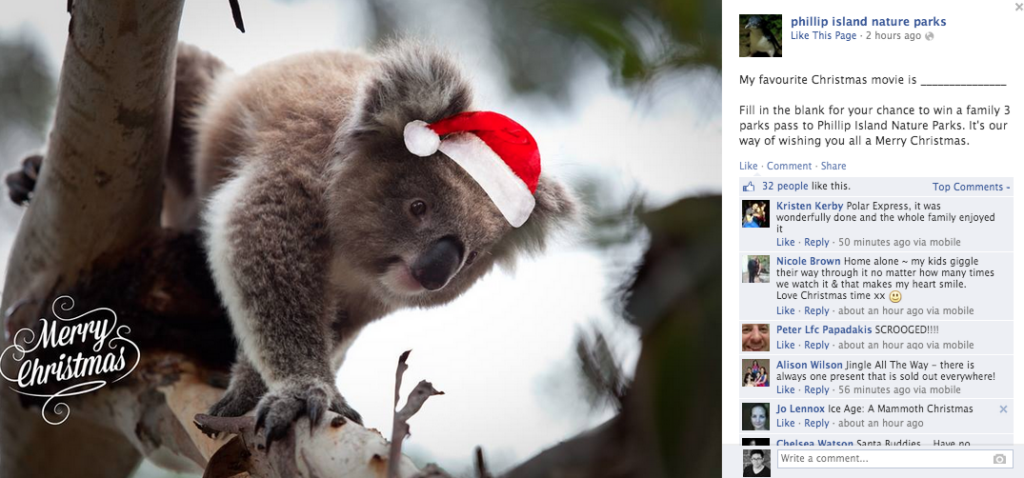 Source: Postplanner
Conclusion:
Above are some ideas you can use to create the right social media Christmas campaign to grow your brand awareness. Discover LeadsBridge integrations for ads and conversion today.
Do you want to read more topics like this? Read our Guide on Christmas advertising ideas for real estate.