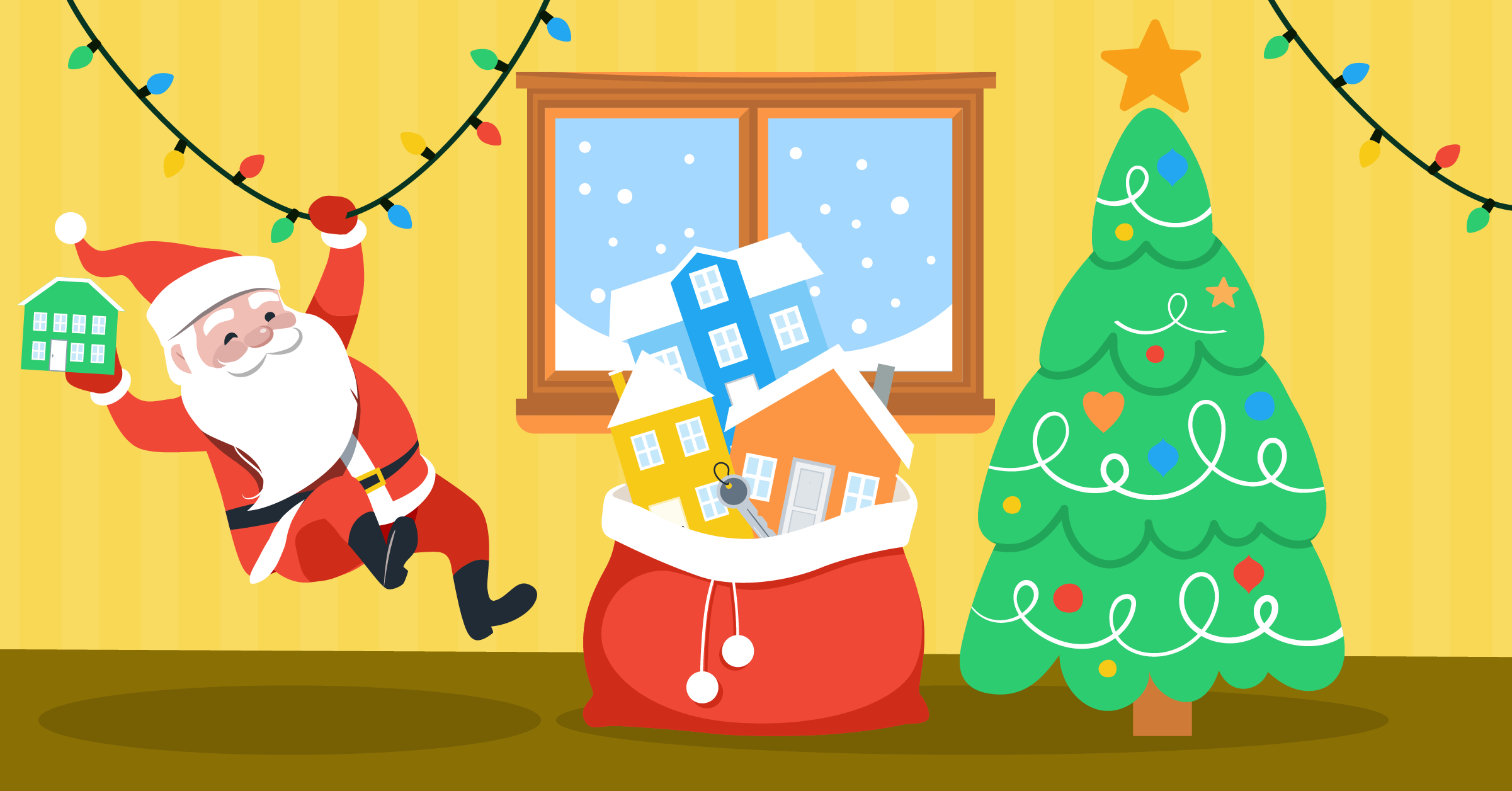 With the Christmas season just around the corner, it's time to strategize around effective ideas and boost your Christmas real estate marketing.
Many advertisers and companies like Tesco are expecting a boom during this Christmas season. Besides these market predictions, people who search for houses to buy in December are traditionally serious buyers with strong intent. According to statistics, 80% of these shoppers have been influenced by online Christmas advertising.
All these facts bring us to a single conclusion: the importance of well-planned Christmas advertising ideas for your real estate business which let you capitalize on this information.
In this article, we'll talk about the top 14 Christmas advertising ideas to improve your Real estate marketing.
We'll also introduce a few integrations that let you run your marketing campaign on autopilot and enjoy a bit of Christmas festivity yourself _ all without worrying about managing your marketing tasks manually.
The advantage of Christmas marketing ideas
Your winter real estate marketing ideas should revolve around past clients and existing prospects. Considering that 90% of real estate buyers/sellers would use their agent again or suggest their agent to others, you should not let this opportunity slip away.
The first step in creating these campaigns is to define your marketing goals. What do you intend to achieve with your campaign? The objective can be to send a reminder to prospects about your sales-ready property lists, increase brand awareness, or generate more leads.
Setting the right goals will enable you to know how to optimize your campaigns during the holiday season and achieve the target outcome.
The holiday season's marketing is somewhat different. This is because to capitalize and maximize the potential of this season, you'll need to create an effective marketing campaign that gets people's attention.
That's why we present to you our top 14 tested-and-tried Christmas marketing ideas you can use this year.
1. Create a themed real estate Christmas marketing campaign
This shopping period is the right time to promote your business to past clients and prospects using the occasion's cheerful essence. That's why themed campaigns are a popular Christmas advertising idea for real estate agents.
Show your Christmas-sy spirit by adding visual elements associated with Christmas to your office decor, landing page, social media channels, emails, and anywhere else possible.
2. Participate in your local community's Christmas event
With this community-centered celebration, among the first Christmas marketing ideas that come to mind is participating in your local community's Christmas event.
By taking part in these events, you can engage your local community and show that you support important community causes. This may mean even sponsoring the Christmas event to help promote your brand and grow your reputation.
Your contributions will associate your brand's name with goodwill and fellowship among your local community and prospective customers.
Here are some ways you can participate in your local community Christmas event:
a. Offering giveaways
Giveaways are a way of saying thanks to your community. And a great Christmas real estate marketing idea would be handing out gift cards for grocery store shopping, a staycation ticket, or even a dinner voucher.
b. Running a contest
To complement people's festive spirit, what's more fun than running a contest to engage both adults and children?! These marketing ideas could be offline or online, something like organizing a local bake-off competition for the best decorative cookie or a hashtag challenge on TikTok.
Discover more about how to use TikTok for real estate marketing.
c. Collect donations for a charity
During Christmas time, charities can give kids everything from toys to Christmas trees. If you sponsor the Christmas event, you can use it as an opportunity to collect donations for a charity. Alternatively, you can take the initiative and make financial donations to a local charity yourself.
3. Advent calendar giveaway
Offering an advent calendar giveaway as a Christmas marketing idea is a time-tested technique. In the 19th century, a marketing agency in Germany offered a fun and engaging way for people to count down the holidays instead of using the traditional chalk marks.
In addition to real estate agents, many other advertisers use this calendar as part of their Christmas marketing idea.
With the new technology available, you can use an advent calendar giveaway designed for social media, especially Facebook and Instagram. You can share a gift or a prize for each day to build an engaged and vibrant community of followers.
Below are some tips to create an effective advent calendar giveaway for your real estate business.
a. Use relevant giveaway options
To get the best out of this giveaway Christmas marketing idea, you need to choose the right giveaway options:
Run a different giveaway for each day.
Give a final prize draw for users who commented on the post each day.
Run daily giveaways with a final prize.
b. Use free resources as giveaways
Use attractive and original giveaways that won't break the bank. With the free options, you can make it a ritual to let your fans know the giveaway for each day and whet their appetite.
4. Renovation Pictures Contest
Looking for a different Christmas marketing idea? Showcasing pictures of your client's (and audiences') properties that have been renovated might just be the thing. You can use the before and after technique to highlight the differences. People are often proud of their achievements, especially creative ones like home renovation.
Run your "best renovation contest" on your social media networks like Facebook. On this platform, users can easily post pictures of the recent renovation they did on their homes or property. Then, choose the top pictures and offer a special gift to the winner.
Besides a happy winner and engaged audience, this Christmas marketing idea helps generate awareness for your brand. With innovative images, the contest winners will get lots of comments or likes on their pictures, which lead to better visibility for your brand.
5. Display current property listing pictures
Our fifth Christmas marketing idea is to display current property listing pictures on Facebook. The real estate business thrives on pictures of property listings and you can create sponsored posts or ads for them.
These listings help to spark interest in prospective buyers, and there's no way you can describe a real estate listing without the photos. This is why pictures drive a lot of engagement on social media networks.
Another reason why this Christmas marketing idea works is that people find images more engaging than text. By hosting a voting contest on your property listing, you can ask your fans and followers to vote on the property they love the best.
Then, pick the winning picture and give the winner a relevant gift. The winning pictures are great for creating real estate adverts on your social media campaign and help you drive more interest.
To get even better results from this idea, use the Facebook Custom Audience for your ad. Facebook's Custom Audiences tool helps you create a list of audiences from your autoresponder or CRM, website visitors, app and email subscribers, and offline customers. These people are already familiar with your business and need specialized campaigns to nudge them down your advertising funnel and toward a final conversion.
Discover more about quick and easy Facebook post ideas for real estate agents.
6. Host a winter-related seminar/webinar
We all know about the massive benefits of hosting a professional gathering when it comes to lead generation and establishing a brand's credibility. But who's going to attend a webinar or seminar, you may ask?
Anyone with concerns about their property during the winter months, including homeowners thinking of selling. In return for some expert advice and solutions, you'll get your name in front of home sellers and get leads into your system.
Learn all you need to know about real estate lead management here.
7. Using themed holiday cards
Are you searching for Christmas card ideas for realtors? This is an excellent theme for your real estate clients. Holiday season, especially Christmas, is the right time to let your clients and prospects know how much you care for them. It's also a way to remind them you are available.
One way to demonstrate this is by sending them real estate Christmas cards. A study revealed that 2 billion physical and 500 million electronic holiday cards are sent around the country every year. That's huge and you can get in on this well-established culture and use it as a marketing idea.
To get effective results, use words and pictures that resonate with your customers and also capture their emotions. It can be pictures of your staff in holiday dresses or a holiday-themed brand logo for the card. Send the real estate Christmas card before the holidays, so your prospects can get it in time.
8. Offer winter-related property care advice
Create seasonal property care advice about ways your clients can take care of their homes during the winter seasons. This information is much welcome since there can be damages to properties due to the harshness of winter weather.
You can use this winter real estate marketing idea as a blog post or through an email to your subscribers. Give them tips on how to deal with pipeline issues, leaks, heating, and insulation problems, etc.
9. Use automation tools to reach your clients
Aside from sending greeting cards, you can also send holiday messages directly to your clients' and prospects' inboxes. The best part is that you don't need to be in the office to send your Christmas wishes. All you need is to set up segments in your CRM that trigger automated messages to your subscribers during the holidays.
Avoid sending sales-related notes and listing information; your holiday message should reflect the holiday spirit. At the end of the message, you can also let them know that you are available for them throughout the holiday period should they need your services.
Here's how you can integrate automation into your real estate business.
10. Create a holiday season guide for your neighborhood
A holiday season guide for your neighborhood will help educate the people that live in your neighborhood and also drive targeted traffic to your website; A type of who, what, and where guide such as "the ultimate guide to the New York holiday season" or "Honolulu's Best Holiday Lights".
Provide background information about the city, neighborhood, and great places to go for fun during Christmas. Promote the post on your social media channels and also provide a downloadable PDF to collect their emails.
11. Maintain relationships with partners
Marketing to buyers and sellers is an obvious choice, but relationship building with your partners and suppliers is also important. For example, use this off-season period to give a shout-out to contractor companies for working on client repairs or home renovation. You can share these posts on social media and tag your partners' marketing channels.
In addition to maintaining your relationships, these real estate campaign ideas help you to receive credibility through these associations or professionals.
12. Improve your performance by content audit and update
While most agents focus on real estate promotional ideas, you can take a step further and upgrade your system with the latest marketing techniques.
The off-season is the ideal period to measure the results of your campaigns in the past year and think of ways you can improve them. Test out new real estate marketing ideas and strategies and plan accordingly to optimize your real estate's lead management, SEO ranking, follow-up email campaigns, Facebook or Google ads, etc.
13. Upload seasonal blog posts
For every season, keep your content up-to-date and show prospective clients that you respond to their evolving needs. Use season-specific topics that your readers are looking for to keep them engaged this Christmas. Here are some examples:
Best gingerbread decoration guide
How to maintain your home through the winter
Neighbor–friendly Christmas home decorations
The best winter real estate discounted lists
14. Start a Christmas decor group on social media
Holiday decorating is a nostalgic practice that entices positive emotions and you can contribute to it by creating decorating ideas or DIY group boards. Whether on Pinterest, Facebook, or Instagram, you can start expanding your network with unique and in-demand home and office decor ideas.
With this real estate campaign idea, not only can you build brand awareness, but you also associate your brand with nostalgic sentiments.
Holiday gift ideas for real estate clients
As a real estate agent, you may want to share gifts with special clients. This is great to show you appreciate them for their patronage during the year. Below are some holiday gift ideas for real estate clients to help them celebrate Christmas and a happy new year. Also, don't forget to publish a post about thoughtful gifts on your social media page.
1. Hand out gift baskets
A gift basket is a great holiday gift idea for your real estate clients. Wow your clients by combining different gifts that suit the occasion like bottles of wine, ginger snap cookies, themed chocolates, etc. The basket is also valuable as it can be reused after the holidays.
2. Coasters
The holiday season is about family gatherings and parties, and coasters are much sought after in every household. That's why artisanal coasters are great Realtor gift ideas for clients; you can order generic or even personalized sets.
3. Cozy blankets
Super cozy and soft blankets make great realtor gift ideas for clients. With the cold weather, blankets are a go-to for just about anyone. Personalize your gift with the family's initials or a simple line like "Snuggly Winter". You can also include your brand logo somewhere.
4. Throw pillows
Another great holiday gift idea for real estate clients is the throw pillows, suitable for people of any age and interest.
5. A branded welcome mat
A really grounded holiday gift idea for real estate clients would be a welcome mat. The holiday season's excess of rain and snow makes a good doormat really valuable. However, this gift remains useful for your real estate clients well through the year
You can also personalize it. For example, inscribe the company's logo and the name of the client.
LeadsBridge for real estate agents
Creative strategies and ideas go a long way in Christmas advertising, but the right tools can help you rise against the growing competition.
By automating the data sync to and from your marketing platforms, CRM, and email management tools, you can scale and measure your performance. Moreover, you are able to use this data to optimize your marketing strategy.
Find out how LeadsBridge can make that happen for your real estate business:
Platform integrations
As an official partners with the major advertising platforms, LeadsBridge offers a variety of in-demand integrations for real estates. These data bridges help you automate your data management process so that you can focus on the impactful tasks at hand.
CRM audience sync
We provide specialized integrations to help you keep your CRM contacts synced with Facebook and Google Ads. Using real-time data sync, you can increase the effectiveness of your campaigns and finally hit your target ROIs.
This includes creating an audience from your sources, then designing an ad to target them. With this, you get more qualified leads for your real estate business.
Lead generation
Lead generation is the lifeline of many businesses, including your real estate firm. By creating automated data bridges, you can streamline the leads that you are generating from real estate promotional ideas and across the board. This allows you to sync your newly acquired real estate leads to your CRM or email marketing software and reach out to them instantly!
Custom integrations
Looking for or have specific automation bridges to integrate your internal marketing system? LeadsBridge has just the solution for you. Using our managed services, you can build custom integrations that are specially designed for your business's specific needs. Book a call to find out more.
Final thoughts
While most marketers overlook the real estate holiday marketing ideas, Christmas offers a great opportunity. It's an ideal time to use themed marketing strategies to establish your brand and even get more leads and future customers.
There are several Christmas advertising ideas you can use for your real estate business. Give it some thought and choose the one that best suits your local community, target audience, and your marketing objectives.
In addition to these ideas, leverage the right automation tools to streamline your communication and follow up with them in a timely manner, especially in case someone is interested in your property listings.