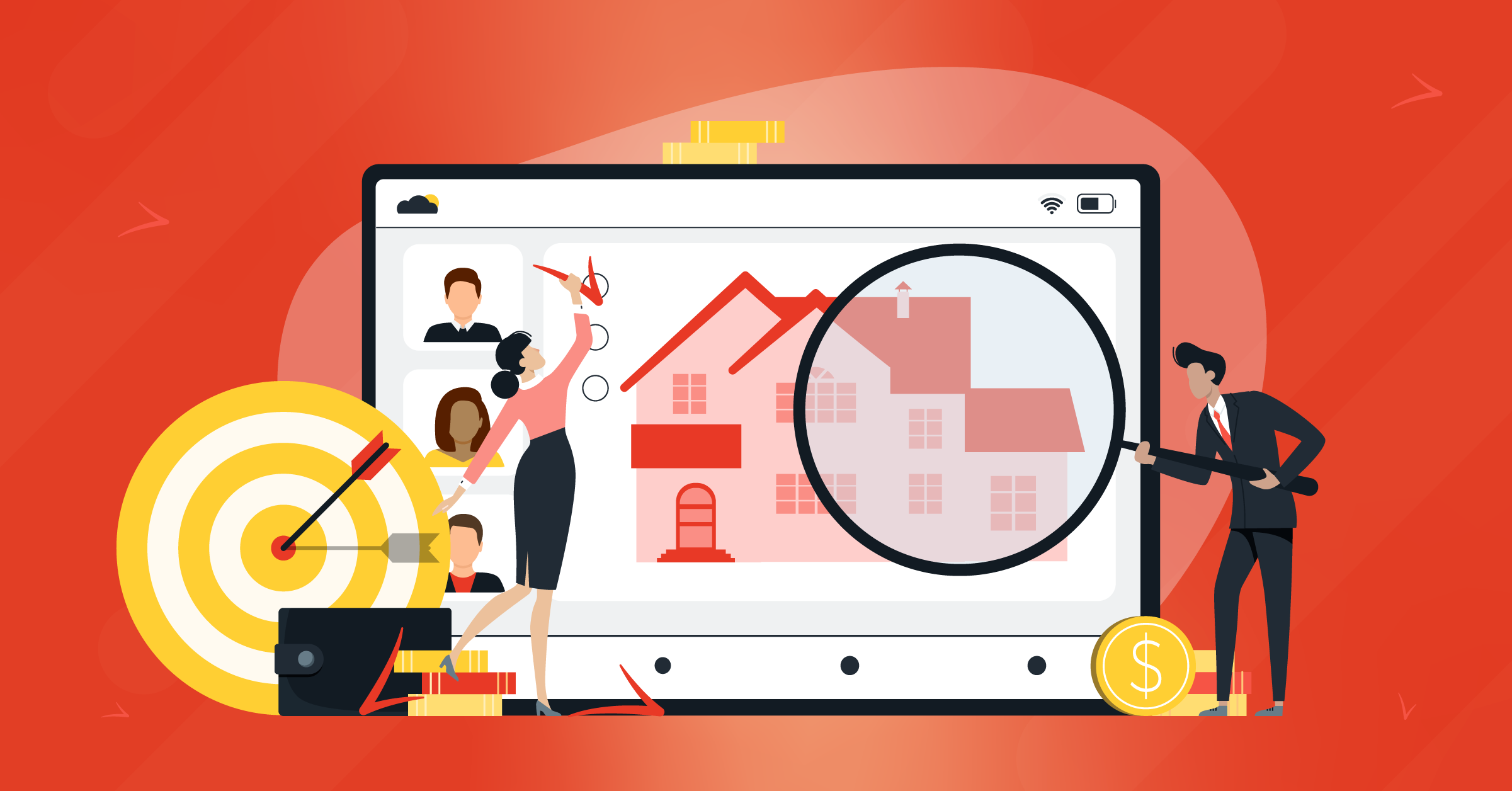 Real estate agents, more so than most in other industries, will constantly have leads coming and going. When someone buys a house, they'll typically stay there for 10-13 years on average.
You get to make money off of them once in most cases (even if it's a great buy-sell combo with a hefty commission), but then it may take several years or several decades before they need you again.
It's a fast-paced market, but it's essential to be able to keep up with all your incoming leads so you can capitalize on the opportunities for more sales when they present themselves.
Lead management for real estate agents can be complex, so in this post, we're going to go over everything you need to know about real estate lead management, including different software and CRM options that can help and how to organize your leads for best results.
​​We'll also examine the best automation integrations for streamlining your lead management processes and leveraging the full potential of your campaigns:
What are leads in real estate?
Real estate lead management involves keeping track of all leads, which are considered anyone who gets in touch to inquire about the market, including buying, selling, or renting.
Qualified leads, of course, are preferred. Qualified leads are high-intent customers who have taken certain steps to buy, sell, or rent. This may be having their paperwork in order for renters, or being pre-approved by a lender if they're buying. These are high-value customers who are much more likely to complete a purchase.
If you are unsure of how to find a legitimate lead source to work with, worry not, as this guide on the best places to buy real estate leads can help you identify some of the most reliable players in the real estate industry.
Source: Neil Patel
How to manage real estate leads
Most real estate agents have multi-touchpoint sales funnels and ad campaigns running at all points that are designed to help continually bring in new leads. This might include organic social media campaigns, advertising through platforms like Realtor.com, or having a formal referral network.
As your leads come in, you need to have a central place to store, manage, and track them.
Source: Wiki Memoirs
We highly recommend implementing real estate lead management software through a CRM that works in conjunction in some way with your real estate lead generation software.
To make choosing the best option for you easy, LeadsBridge has launched a Freemium Plan. It lets you integrate your lead generation software with your lead management software for free to create an automated real estate lead follow-up system. Below, you can see some of our popular integrations for running real estate lead generation software (free plan).
This ideally would look something like this:
You get leads from Facebook Ads, which are sent via a platform like LeadsBridge to your HubSpot CRM 
Your sales team is notified via the CRM through email, Slack, or in-app notifications about new leads 
Data in your CRM regarding leads in audience segments is pushed to your email software for follow-ups 
It's important to have a CRM that works for your business with real-estate-centric features. We'll take a look at five specific CRMs that we recommend in just a few sections.
What counts as real estate lead management software?
Real estate lead management software is any SaaS tool that makes it easier for you to keep track of your leads.
This typically includes a CRM with lead management options (which we'll look at next). Ideally, it will also include automation software to help push lead information from place to place. This is what LeadsBridge can help you with.
It's important to choose lead management software for real estate agents that come specifically with realtor-focused features in mind. This means that the tools aren't product-centric, but instead focus heavily on consumer relationships and allow you to enter in customer data.
Ideally, they'll also integrate natively or through third-party tools to real estate platforms. LeadsBridge, for example, offers several integrations for Zillow, such as:
The best real estate CRMs & real estate lead management software
There are plenty of great CRM tools on the market, but not every single option out there will be a good choice for real estate agents. Some are designed to focus on product sales, which limits their usefulness for real estate agents who are tracking incredibly detailed customer data.
There are some free real estate CRMs at low prices (like HubSpot on its base plan), and some come with paid plans after their initial trial.
These are our five favorite real estate CRMs (and links to our integrations for them):
HubSpot— If you're looking for a free real estate CRM tool, this is one to look at; they have a basic plan that's completely free with fairly extensive features. It's not real estate specific, but it's got plenty of versatile features and can be used by agents as well. See how our HubSpot integration works here. 
Top Producer— Another real estate-specific CRM. It gives you social insights on clients and MLS insights on individual properties to make your job easier and more efficient. See how our Top Producer integration works here. 
LionDesk— It's not one of the most well-known CRMs on the market, but it is one that has impressive real estate features, including the ability to manage transactions, generate leads, and more. See how our LionDesk integration works here. 
FollowUpBoss— One more real estate CRM and lead management software option that we have to mention. Pull and manage leads from over 200 sources, and get analytics to know where they're coming from. See our Follow Up Boss integration here. 
Follow up boss integration with Facebook Custom Audiences (not for freemium)
How to organize real estate leads
Source: Software Suggest
Even with all the right tools to manage your real estate leads, it's important to understand exactly how to classify and qualify them. This is what can help real estate agents identify high-value targets that are most likely to convert and spend their time accordingly.
Let's look at a few different options for how to organize real estate leads.
Categorize by qualified vs. not qualified
One of the most direct options when it comes to how to organize real estate leads is to look at qualified vs. not qualified leads.
If leads are qualified, it means that they've taken steps to be pre-approved for a home. A lender has given them the all-clear; they're not just window shopping.
And when it comes to real estate lead management, this may be one of the most immediate signals of whether or not a buyer and/or seller is ready to move (literally and figuratively).
As a result, make sure that you ask about this when you first make contact with clients (and ideally on any lead forms). Then, they can tell you how much they're approved for so you can log that into your CRM right away, and if they're not qualified yet you can introduce them to your favorite lenders to get them moving on the process.
Categorize by intent & engagement
In your CRM, you can add labels to different contacts for easier real estate lead management. One of the labels you can add yourself is what their intent level seems to be and how engaged they are.
Are they actively reaching out and sending you listings to ask about attending a house showing?
Are they wanting to get on your radar for next year, or "just wanting to see what's out there?"
Someone who asks for a quote on what their house would be worth may not be as engaged as someone who has asked for a list of what to repair before listing and has a firm timeline for when they'll need to relocate.
Categorize by need
Different types of customers will need different things and different amounts of following up.
Someone who is selling will need help getting their home prepared, but then may not need much aside from you taking offers in a hot market like today's.
Meanwhile, someone who is buying is going to need to go to multiple listings and be ready with rapid-fire offers.
Residential vs. commercial or buying vs. renting also have different needs.
And don't forget to segment by cost ranges and specific needs like a fenced-in yard or a senior living community. These make a huge impact on helping you find what your clients need while assisting multiple clients all at once.
Final thoughts: Keep your leads engaged
While you're focusing on real estate lead management, remember that keeping leads engaged will be crucial to success.
Here are a few quick tips to help:
Reach out regularly. Send them updates unsolicited, whether it's a house to look at or a change in the market that you think they'd like to know. This is important for relationship building and also good for staying at the top of their mind.
Have a real estate lead follow up system in place. LeadsBridge, for example, offers real estate marketing automation using integrations so that if users take an action on Zillow, you can follow up immediately through your email software like Mailchimp. We help you follow up with leads right away before a competing agent can snag them.
Always follow up even after a sale. Your work isn't over after a sale is made, because many customers will readily refer their friends and family your way. I know this is true; we found my agent through a friend. She's used the realtor's services twice, and had heard about her from a friend. Referrals can be invaluable, so keep reaching out and consider staying in touch over social media like Facebook.
No matter what market you choose to specialize in, remember that relationship management is essential for real estate lead management. With that in mind, and with the right tools, you'll start earning more commissions in no time.
Want to learn more about how the right tools can streamline your real estate lead management? Check out LeadsBridge's real estate software integrations.