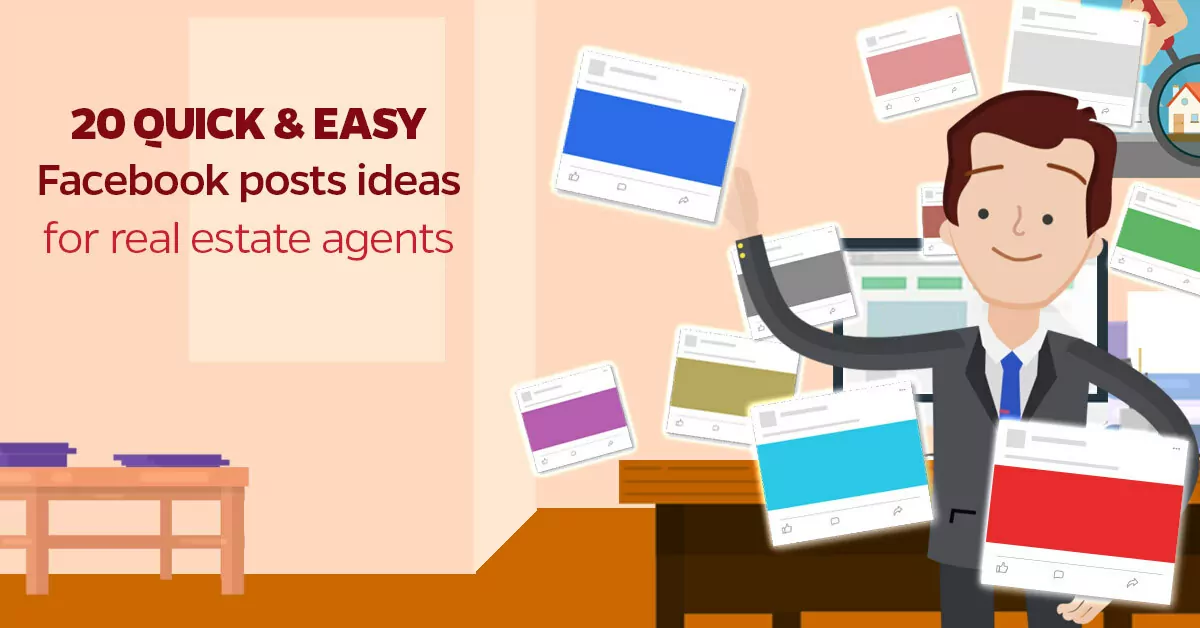 Searching for realtor Facebook posts ideas that will bring leads for your real estate agent business is tough. But not to worry, I have done research to discover viral real estate agent Facebook post ideas you can use to generate leads for your business.
In this article, we will look at 20 quick and easy realtor Facebook posts ideas for real estate agents and 17 Facebook post ideas for small businesses.
Before starting with the reading our post, do you know that here at Leadsbridge we're helping thousands of real estate agencies to generate high qualified leads with Facebook? Curious to know how we are making the difference in the real estate industry? check out here.
Now, let's get started!

1) Facebook post idea for real estate agents: Facebook leads ads
The first Facebook post ideas for your real estate agent business is Facebook lead ads. A large percentage of real estate market has moved online. The industry no longer relies on cold calling and traditional marketing.  It now relies on Social media, especially Facebook.
Facebook is a major lead generator for real estate businesses, specifically the lead ads.  The Facebook lead ads is an ad that enables you to capture buyer leads within Facebook. It's your first time with this Facebook tool? Don't worry we've prepared an in depth guide on this topic that you can read here!
Why is Facebook lead ads a good idea for your real estate agent business?
With Facebook lead ads you don't need a landing page. It is easier for customers to submit their information on the pre-filled form fields of the lead ads. From there you can download the leads into your CRM software . Once you do that, you can quickly send emails to them.
Facebook lead ads are easy to set up and it generates tangible results.
Facebook post ideas for your lead ads can be a blog post, a newsletter opt-in, request for free home valuation, neighborhood open house event, sales you've recently closed, etc.
Find an example below:
The first image (A) shows the Facebook lead ads of B.Holt & Partners Realty Group. Once a Facebook user clicks on "Get deal now", it takes them to B where they are required to add few details and click submit.
Once the form is submitted, it takes them to C to agree to terms and conditions. Once the submit button is clicked, it takes them to D.
You can see how fast it is to generate leads with the Facebook lead ads. Furthermore you can easily sync your Facebook lead ads campaign with your CRM software through our dedicated Facebook Leads Ads sync tool that will help you to sync your lead quickly and send an automatic welcome email  to start a profitable conversion with them. Lead nurturing in fact, is a vital step in a sales funnel. Check out our detailed post on this topic to get some fresh idea on how to nurture your leads!
2) Facebook post idea for real estate agent: Blog posts
As a real estate business, you should have an active blog on your website.
According to research done by Traffic Generation Cafe, blogging can increase your lead generation by up to 67%. Blogging will help to get traffic from the search engine and turn the traffic into customers.  Also, it will establish you as an expert in the real estate business.
Getting the right blog post idea that your fans will like and share is difficult. You can, however, write articles on market predictions and statistics, tips for homeowners, how to buy or sell houses and posts about the neighborhood or community you have properties for sale.
Below is an example of blog posted on the Facebook page of ERA Real Estate.
3) Facebook post ideas for real estate agents: Videos
Video generates lots of views, likes, and shares on Facebook. A video is a great medium to communicate with your fans and educate them about your business.  You can share inspirational and educational videos.
Apart from the regular videos, you can also use Facebook live videos to attract leads to your business. Your fans will share it with their friends, especially on their mobile devices. This is why videos go viral.  It is a great way to gain attention and increase your conversion.
Below is an example of a Facebook video for a real estate agent company.
4) Facebook post ideas for real estate agents:  Photos
Photos drive more engagement than blogs posts, tips & tricks, listings, property tours, etc.
The truth is people, love photos. According to research, the brain processes images 60,000 faster than text.  This is why people are likely to remember a post with image than one that has none. For your photos to attract likes and shares, it needs to be appealing. You can post pictures of the houses you have for listing, pictures of family and friends, pets, cars, workplace or office, etc.
Below is an example of a real estate agent (The Corcoran Group) that uses photos and got lots of likes and shares.
5) Facebook post ideas for real estate agents: Quotes
Everyone loves quotes, especially motivational quotes. Using quotes as a Facebook post idea for your real estate business is a great idea.  This is because quotes can help edgerank and increase your Facebook reach.
Facebook edgerank is an algorithm that shows what appears on people's news feed. When your fans engage with your quotes, they will see the next content you will post. Quotes are easy to create.  You can use Canva to design them.  You can also curate them from Pinterest, Tumblr, Google, Instagram, etc.
6) Facebook post idea for real estate agent:  Business testimonial
Testimonials are very important to your business. Your fans want to hear about your success such as how many people you have assisted to sell their house and your progress in the real estate business. Testimonials strengthens your brand and makes your fans to trust you more. Once they develop their trust in you, it will be easy for them to do business with you.
7) Facebook post ideas for real estate agents:  share a tip on home purchase/maintenance
Another realtor Facebook posts ideas for real estate agents is about sharing tips on home maintenance. This idea will go a long way to educate your fans about home purchases.  Many people do not know what is involved until they are ready to sell.  Posting tips on home purchases, selling and maintenance will educate and prepare them for when they will need the information. You can also share tips on space-saving, decorating tips, etc.
8) Facebook post idea for real estate agent: Humor
The eighth Facebook post idea for a real estate agent is posting content that can make people laugh (humorous). It is a good way to connect with your fans. It will generate lots of likes and shares because people love sharing funny updates. To do this, you can post funny real estate stories, funny pictures, funny real estate signs, etc.
9) Facebook post ideas for real estate agent: Holiday and seasonal posts
Holiday and seasonal posts involve sharing a holiday event, a local event that supports your community, astronomical events such as Eclipses, super-moons, meteor showers and a local news report on your community.
Take a look at how Remax showcased this home and directed it towards people looking for a home during the Thanksgiving season:
It is a great way to bond with your community and show you are interested in the happenings around the world.
10) Facebook post ideas for real estate agents: Photos of houses you are showing:
You can display the pictures of the house you want to show or even the ones you have sold to your fans. This is a great Facebook post idea you can use to show your fans what house you are offering. It will create awareness and also help you build trust for your real estate business.
11) Facebook post ideas for real estate agents: Share photos of happy customers
We talked about how important testimonials are above, but sometimes a good old-fashioned photo can do the trick for real estate Facebook posts. Improving customer relations and strengthening your brand sometimes requires a simple approach.
Often, when a buyer finds their dream home, real estate agents will simply post photos of the home. What goes unnoticed is the joy that comes from the new homeowners. Potential buyers can't relate to someone else's dream home, but they can relate to the joy that comes with it.
For this reason alone, a simple photo of the new homeowners holding the keys to their new home, removing the for-sale sign from the front yard, or even the smile that's on their face as they sign the contract can go a long way.
12) Facebook post ideas for real estate agents: Virtual open houses
Open houses can be big lead generators for a lot of real estate agents. However, open houses are limited to people in the area, and only if they're available that day.
Virtual open house tours have become quite a trend in recent years. They allow potential buyers to see the home without having to clear their schedule. At the very least, these virtual tours help generate leads by reaching more than one prospect at once.
Virtual open house tours are a quick way to reach a large audience. With that said, to maximize the exposure of a specific property, consider doing a virtual tour.
13) Facebook post ideas for real estate agents: Share some home décor inspiration
Selling homes doesn't have to be your entire focus. Home décor is a big deal for a lot of potential buyers, and oftentimes a deal-breaker. A quick and easy way to open the eyes of your clients to new and inspiring designs is to post about home decor on your Facebook page.
With just a few images, you can give a home some real potential. Especially in the eyes of new and wandering homeowners.  Just like the image above, you can even try a few different styles to really get the minds of potential buyers rolling. Changing out some curtains, a rug, or move furniture around.
14) Facebook post ideas for real estate: Showcase the neighborhood
When buying new homes, buyers look at a lot of different details. One of those details being the surrounding neighborhood. Unsurprisingly, the neighborhood matters a lot for most families.
Take a look at this aerial view of this beautiful neighborhood from Bayleys Real Estate for example:
After seeing this view, who wouldn't want to live here?
If the neighborhood has a community pool, a lake, or even a really aesthetic view, it's worth showing in a Facebook post. Especially if the neighborhood is still being built. It's a quick and easy way to draw attention while really highlighting some of the best features that the buyers will be able to take advantage of.
15) Facebook post ideas for real estate agents: Showcase DIY projects
Going along with the home décor theme, you could also post some client DIY projects. This will not only get extra engagement on your page but increase customer relations as well. It's a very simple, user-generated tactic, but the results can be huge.
Anything from before-and-after paint jobs to custom-built cabinets in the kitchen can work. Just make sure you get some high-quality images, and your next Facebook post will be golden.
16) Facebook post ideas for real estate agents: Highlight price-drops
One of the biggest, if not the biggest deciding factor for buyers is the price. Of course, this comes as no surprise, but you might be surprised at how many people are unaware of price drops on houses that they really like.
It's common practice to lower the prices of houses if they don't sell. Significant price drops are worth posting about on Facebook for real estate agents.
17) Facebook post ideas for real estate agents: Show your personal information
One thing that often gets overlooked is simply posting your contact information. You'll want to do it in an aesthetically pleasing way, but it can go a long way in lead generation. Take a look at what Avery Harrison did on the EXP Realty Facebook page:
Post your office hours, location, phone number, and so on. You'd be surprised at how information like that sticks with people, even if they don't click on the post.
18) Facebook post ideas for real estate agents: Repost older listings
When a house doesn't sell, it doesn't necessarily mean that people don't want it. It might mean that not enough people have seen it. A good way to maximize exposure is to repost older listings.
Every couple of weeks, as long as the house isn't selling, you should consider reposting it. All it takes is 1 customer to make the purchase. You never know when that 1 customer is browsing through Facebook.
19) Facebook post ideas for real estate agents: Shout out other agents
There are quite a few ways to show some recognition for other real estate agents. Of course, you definitely don't want to be posting about your competition, but there is always a time and place for it.
As a real estate agent, you will most likely make other real estate agent friends. Share their Facebook real estate listings, and add your name as a reference. This could be an easy way to earn some extra credit and money.
Or, if you find some useful real estate articles to share, give the author a shout-out. You never know what could come of it. 
20) Facebook post ideas for real estate agents: Mix it up
At this point, we've gone over quite a few ideas for real estate agent Facebook pages. But, perhaps the best tip anyone can give you in this regard is to mix up the content as much as you can by using a combination of everything we said above for your realtor Facebook posts.
Find some real estate articles to share, optimize your Facebook real estate listings, and dive deep into some Facebook group ideas for realtors to increase your engagement online.
Unless someone is specifically looking for real estate Facebook posts, they can easily be overlooked. You need to do whatever you can to not only grab their attention initially but to keep it until the client finds their dream home.  
In the spirit of mixing it up for your Facebook real estate listings, make sure you share your contact information frequently in a single post, and at the end of every post. You never know when someone might find something that you shared useful, so make sure it's there for when they need it.

17 Facebook post ideas for small businesses
Content creation can be quite daunting and crafting the perfect post to keep your small business' followers engaged with your Facebook page is very important.
Here's a list of 17 post ideas to get you inspired.
1) Tell a story
The activity of telling and writing stories is ancient and has been used as a means to pass on information, traditions, to engage and share; people love to hear stories, to feel involved in your experiences, and be part of what you do. That's why using stories as an idea to implement as part of your Facebook posts does wonder for your small business.
Let's take Humans of New York as an example, the page is filled with short and long stories that keep their followers engaged and this formula has helped the brand grow.
2) Give them a behind the scenes sneak peek
Giving your followers and customers an idea about what happens behind the scenes in your small business humanizes your business and allows them to empathize and relate to your activity through your Facebook content.
3) Ask your followers to chip in on your decision making
Of course, you shouldn't base a big business decision on your social media following but asking them about some details, like a small change to your e-commerce or whether or not you should participate in something is a great way to engage with your customers and get their insight.
4) Showcase your product being used
Give your followers a good idea about the products you're selling by showcasing them through photographs or videos of them being put to use.
Here's an example that not only shows the product entirely and its the center of attention but also the details around it make you feel warm, as the season and the usage of it should make you feel. Like this ad from Green Chef:
5) Memes and GIFs
Memes and GIFs have become an essential part of the internet culture, understanding and using them is the internet's version of being part of the cool kids as they've become quite popular, so give it a try if your brand is playful and allows for this kind of content.
As a small business, you should keep in mind that any image could be copyrighted, a great approach to memes for your Facebook post ideas is to mimic them by creating your own pictures and adapt the message to your own.
6) Holiday posts
Holidays and festivities are essential all over the world, they may change topics or dates, but they're very relevant to the culture and life of your customers so consider making them part of your content as a way to further bond with them.
7) Facebook posts with brand identity elements
You may make good use of the posts to enforce your brand positioning, making content regarding your logo, your brand's colors, or anything regarding your brand identity. Creating creative content that shows this kind of material about your small business will help get your following familiar with your brand and enforce your presence in their minds.
8) Share the spotlight with your fans
Followers come to your brand because they like your product, identify with your mindset, or are interested in your content, anyway they are there because they've engaged with you in some way so you may increase that bond that ties you by sharing the spotlight.
Kooh-i-noor, in this example, shared the work of an artist that used their products to do it, achieving a great sense of community while putting their product on the front of the Facebook post.
9) Social proof
People like to know what they are buying is legit, that the product does what it says and that they'll get their money's worth. Getting your customers involved in your small business and collecting reviews or testimonials is a great way to build trust with your following.
A Facebook post idea would be to create pictures highlighting excellent reviews or making video testimonials from customers, you may even do small takeovers with loyal customers where they reply to the questions of potential buyers.
10) Post behind-the-scenes videos
Yeah, behind the scenes anything is trendy as curiosity is part of human nature, so people love seeing this kind of content. Below is a screenshot of a short video showing the artist's process to create a lettering piece, it showcases both her artwork and her method to her small business followers.
11) Show your small business' culture
As I said before, we're all curious about what happens behind the scenes and understanding how everything you do happens. Another great way to give your small business following an insight is by sharing information about the things that are part of your company's culture that make it so great, maybe you have a slide in the office, you make great retreats, or celebrate accomplishments in a peculiar way that you may show through a Facebook post.
12) Post photos of the team
Let your followers get to know the team that makes it all happen, putting faces to your hard work humanizes you and creates empathy, which helps create a stronger bond with your customers; just simple pictures in your Facebook posts or LinkedIn profile here and there would work wonders.
Take this photo taken of the LeadsBridge team posted on our LinkedIn profile. It helped us engage with our audience, as well as helped our customers get to know us a little more.
13) Get the community involved
Every relationship is a two-way street so making things about not only your customers but also the community you belong to is a great way to engage with your followers, this kind of Facebook post may show the values and mindset of your small business.
In the example below, ModCloth did a series of photographs showcasing the fantastic women in San Francisco empowering and supporting them.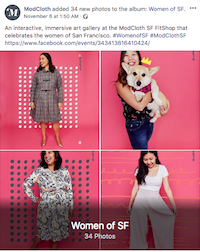 14) Activities and shows
Show the activities you participate in and tell your following about it, keep them in the loop about what's going on, and they'll have a way to be even more involved with your small business.
Again, you can see an example of something we did and posted to the official LeadsBridge LinkedIn profile. The main point of doing this was to maintain full transparency with our audience, and show them how we like to get involved in any way we can.
15) Ask a simple question
Another excellent post idea for your small business is to post questions about whatever relevant topic you come up with and either get the opinion of your followers or open up the dialogue and have an idea exchange that will strengthen your relationship with them.
16) Quick tips and ideas
Bite-size content is perfect to maintain an active presence on Facebook, you may create posts that contain tips, tricks, ideas, advice, or any other kind of valuable information for your customers. This type of content tends to be quicker to create and will allow you to keep up the interest in your business's Facebook page.
17) Your blog posts
Blog posts are hard work and if you're already using resources to have one then put those blog posts to good work by creating Facebook posts with them, this way you form a loop of information and make the best out of what you have.
We always share our blog posts with our followers so they may get the information we work on and follow everything we make.
Conclusion
Above there are real estate Facebook posts ideas for real estate agents you can use to increase your leads. Are you still looking for some Facebook ads ideas? Make sure to check out our related post: 18 successful real estate Facebook ads examples! 
Make sure you try all the Facebook post ideas for real estate agents on your Facebook page and document your results. Want to share more Facebook post ideas for real estate agents working for you?  Share with us in the comment section below.
If you are looking to set up successfully your first Facebook Lead Ads campaign I suggest you this free guide, that will help you to accomplish this goal. If you're ready to take the plunge and automate your lead generation process, we're here to help! We offer loads of integration solutions for real estate agents and agencies alike, all available at the click of a button.