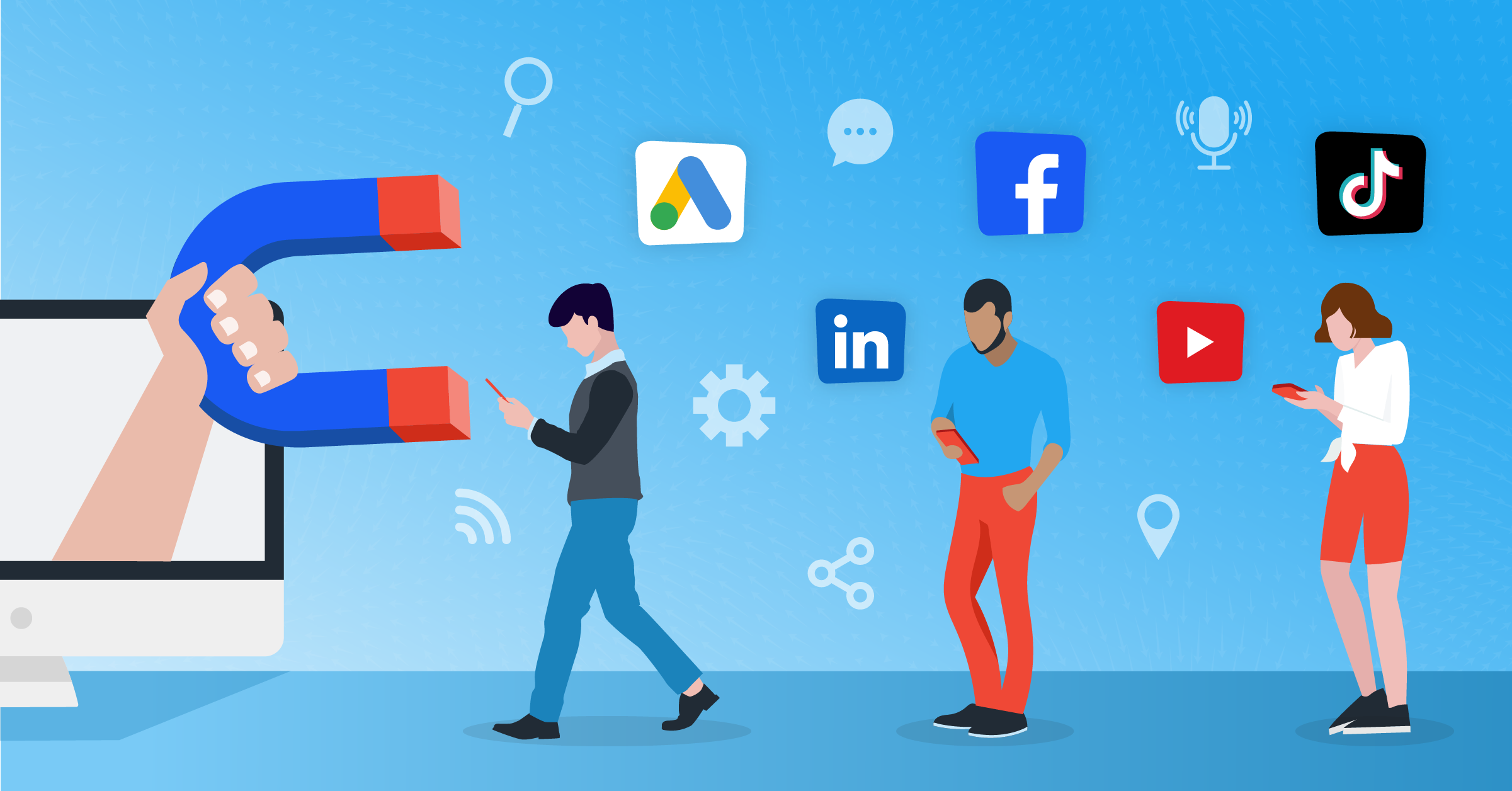 Lead generation is an imperative facet of any business, enabling you to garner the interest of prospective customers and convert this into sales through targeted action.
By multiplying your lead sources, your business can expose itself to a broader audience and scale more effectively.
However, deciphering which lead generation strategy to choose can be challenging. With a vast pool of options available across multiple platforms, decision fatigue can quickly rear its head.
Keeping this in mind, we have compiled a list of 101 generation tactics that you can easily implement across your marketing channels to increase your customer base.
Website traffic
Website traffic is one of the most invaluable sources available to your business to generate qualified leads. Regardless of a user's purchase intent, their display of interest in your product offering grants you an opportunity.
By making a few simple adjustments to your website, you can turn this intrigue into insight, which can then be used to create informed targeting strategies.
These include;
1) Slide-in scroll boxes
A slide-in scroll box is one of the less invasive sales tactics used to acquire customer data and expand your database.
Usually placed in the bottom right corner of the page, this display encourages leads to submit their email address to join your mailing list, all without disrupting their user experience.
2) Call to action A/B testing
How can you determine the efficacy of your landing page?
By A/B testing your call to action, you will have the opportunity to clearly ascertain which are most effective in pushing the user towards purchasing, as well as what deters them.
Even minor changes in your CTA's can be impactful in influencing customer behavior, be it color, copy or placement.
3) Safe copy
A customer may be one single step away from completing an action, but remain slightly hesitant to fully commit. This hesitation can present itself for a variety of reasons.
However, one way to combat this is to include safe language in your CTA's. This acts as an added layer of reassurance, boosting the users confidence in their decision.
An example of safe language for an email sign-up would be "You can be 100% confident that your information will not be shared."
4) Security seals
Security is an ever-growing concern for leads in today's online climate. From sign-ups to completed transactions, users need to be assured that their personal data is being handled appropriately at every stage of the funnel.
This is why adding security trust symbols to your website should be a non-negotiable factor of your lead generation strategy.
Whether it is an SSL or Verisign certificate, the inclusion of these seals can be influential in your rate of conversions. According to an article published by Yieldify, a staggering 61% of people abandoned their purchase because the website did not display any trust badges.
5) Improve website design
The layout of your website bears great importance in a user's perception of your business, with 94% of first impressions being based upon design.
Therefore, one of the most effective lead generation tactics is to focus on ensuring your website is as aesthetically pleasing and cohesive as possible for the customer. To achieve this, it's worth exploring the features and capabilities offered by a top web builder, which can empower you to create a visually stunning and user-friendly website that captivates your audience and drives conversions.
This provides a perception of credibility, increasing the likelihood of a conversion.
6) Landing page simplification
An effective landing page can be a major asset to your business, but what does that actually look like?
Your landing page should feature concise call-to-action copy, designed to incline users toward purchasing. Within the business services sector, landing pages with less than 100 words convert 50% more than pages featuring more than 500 words.
Additionally, a landing page should be easy to navigate. This means that you should eliminate unnecessary fields or low priority elements that distract the user from completing the desired action.
7) Navigation menu removal
Another marker of a polished landing page is the absence of a navigation menu.
Although this may seem like a juxtaposition, excluding this menu and eliminating unnecessary distractions and useless clicks will enable the user to place greater focus on the call to action.
8) Exit intent popups
Approximately 70% of abandoning visitors will never return to your website. Having read this statistic, you should be questioning how to attract more leads to remain on your site and complete a desired action.
One way to combat this loss is to implement exit intent popups. These will appear on the screen when it seems that a user is likely to leave your website, and submit an offer in an effort to redraw their attention.
9) Full screen CTAs
It is worth considering adding full-screen CTA's to your website in order to capture a user's attention more effectively.
10) Highly visible floating bars
Including a floating bar on your website can be one of the most effective sales tactics in persuading a user toward an action.
Put simply, this is a bar that can be stuck to the top, bottom or side of a web page, and remains in place no matter where the user scrolls on that specific page.
Their primary function is to prompt a user to undertake a desired action, and their highly visible nature renders them extremely effective.
11) Mobile specific campaigns and CTAs
Presently, the majority of website traffic comes from mobile devices. Examining Facebook alone, there are 2.85 billion monthly active users across the globe. Of this 2.85 billion, 88% is represented by mobile users.
Therefore, it is imperative that all of your campaigns and CTA's are optimized for mobile devices. Failure to do so can result in the alienation of users, and subsequently the loss of sales opportunities.
12) Products reviews
Displaying client reviews on your business' website can work wonders in regard to cultivating user confidence in your service. Showcasing the satisfaction of existing customers highlights your value and can encourage prospects to follow through with their purchase intent, making this a valuable inclusion in your lead generation strategy
13) Display testimonials
Making client testimonials available for leads to read is another lead generation strategy that can foster brand confidence. These act as an advocate for the quality of your offering and service.
14) Success Stories
Mentioning successful collaborations with those who possess a positive reputation can build trust amongst leads. New leads feel reassured when viewing a multitude of positive interactions with your brand, particularly when these span across industries.
Accompanying these success stories with case-study results and highly-visual percentage displays can leave a lasting impression.
Advertising
Advertising across social platforms is one of the most effective lead generation tactics that your business can partake in. As well as this, it is also cost-efficient, with many channels affording you the opportunity to take full control of your advertising spending.
Online platforms provide a plethora of lead generation possibilities, as each of them possesses a rich database of users who are searching for engagement.
By developing an understanding of these users' wants and needs, matched with a highly-targeted campaign, businesses can generate qualified leads who are likely to convert.
The most useful advertising channels you can leverage include;
15) Facebook ads and landing pages
Creating a Facebook ads campaign, designed to send people who click on your ads to your optimized landing page, is a highly effective way to boost your lead generation strategy and increase your database.
Having your ad campaign completely tailored to complement your landing page will encourage the completion of a desired user action.
16) Facebook Lead ads
Facebook Lead Ads are specifically designed for lead generation efforts, enabling advertisers to capitalize on a larger audience and yield greater campaign conversion rates.
When a user clicks on your ad, they will instantly be shown a registration form that collects their data. This lead information can then be molded into targeting strategies by you, and used to take marketing action that encourages conversions.
17) TikTok Lead Generation
Similar to Facebook Lead Ads, TikTok Lead Generation allows businesses to seamlessly interact with prospective customers directly on the platform.
This ad objective allows your potential customers to share their contact information, without having to go to a different landing page. This way, you can publish an in-feed video ad that is connected to an Instant Form. This form is pre-populated with some of the basic user info – gathered from their TikTok profile.
18) Instant articles and pre-filled forms
A great way to leverage promotional content and enhance your lead generation strategy is to use Instant Articles with integrated pre-filled forms. This allows you to distribute your website content on the Facebook platform. By including an opt-in form within the instant article, you can acquire user data without the lead having to leave the original page.
Within this lead generation strategy, users can submit their form whilst they are currently engaging with your content.
19) Messenger Ads
Messenger ads work by being delivered to placements that possess the highest likelihood of conversion. These ads are visible within the 'Chats' tab in the Messenger app, and display a CTA that brings users to a predetermined destination of your choice, such as a landing page.
In order to maximize the efficacy of this format, you should consider using messenger ads for custom audiences. This may include users who have visited your landing page but abandoned it before they took an action.
As well as this, consider using conversational copy that will encourage a lead to engage and click. You can view this as a type of ice-breaking, making the user more comfortable to continue.
For further inspiration, MobileMonkey has created a detailed article of Messenger ad tips to make your campaign more effective.
20) Facebook ads to Messenger
Facebook Ads to Messenger represents a prime opportunity for your business to open a line of communication with leads and enhance engagement.
The strength of this tool lies in its ability to take a user from a feed ad to a chatbot within Messenger, designed to cater to different lead goals. This may be to offer a discount or retarget leads who abandoned a page.
21) LinkedIn Lead ads
LinkedIn Lead Gen Forms is a tool that affords advertisers the opportunity to include a lead generation form within their ads. These are pre-filled with user information, taken from their LinkedIn profiles.
These forms are fully optimized for mobile navigation and eliminate the need for leads to manually fully multiple fields. Both of these qualities give way to an improved user experience, all whilst allowing your business to acquire the necessary data.
22) Twitter
Twitter is one of the lead generation tools for small businesses that cannot be overlooked. By advertising your offering on this platform, you can increase your brand visibility amongst industry professionals and passive consumers alike.
The broad reach amongst the vast pool of users that Twitter offers means that you can grow your lead generation exponentially in a short period of time.
23) YouTube
Currently, YouTube has 122 million daily active users. Therefore, advertising on the video-sharing platform ads can be an effective way to engage your audience and acquire a greater number of leads.
24) SMS Advertising
Text message is one of the most direct channels of communication available today. Despite being specific to a mobile device, SMS marketing is viewed as completely separate from the daily barrage of social media notifications that the average mobile user receives.
As it is a permission-based activity, leads are required to opt-in to receive communications from your business. This makes this action seem more personal than other forms of marketing promotion.
25) Remarketing/retargeting
A wealth of your total website visitors leave before taking the action you would like them to, whether that be subscribing to a mailing list or purchasing a product.
However, this does not necessarily mean the abandoned user no longer has an interest in your offering. It is possible that they may be experiencing doubts about a product that is deterring them from committing to a purchase, or maybe they do not currently have time to complete the transaction.
By installing tools such as Facebook Pixel on your website, you can create an audience that you wish to retarget, and specifically advertise to them on Facebook. Similarly, you can coordinate your Facebook advertising with your email campaigns to double down on audience engagement and maximize your lead generation strategy.
26) Email marketing
Boasting more than 4.26 billion active users, email advertising is a factor included in every sales tactics 101 across the globe. This powerful marketing channel allows businesses to send creative, content-rich emails to users worldwide.
You can send personalized communications to leads, in a cost-effective manner by taking advantage of email capabilities.
27) Quora
Although not a social platform that would immediately spring to mind, Quora can be a fantastic source of users looking for solutions to business and industry specific issues.
Implementing a Quora advertising campaign can increase your brand visibility amongst a pool of engaged users in search of a solution. In addition to this, passive users may take note of your offering, and join your mailing list as a preemptive action for future business needs.
28) Instagram
Instagram offers endless opportunities for your brand within the realm of advertising. This platform is renowned for its ability to facilitate brand story-telling, accompanied by an easy-to-use advertising system.
81% of Instagram users research products and services on the platform. Therefore, your business can expose itself to lucrative lead generation opportunities by committing to create engaging, shareable marketing content. Additionally, you can leverage the power of Instagram Threads, a newly launched platform, to further enhance your business's lead-generation efforts.
29) Google Ads and landing pages
Although Google Ads is a little more expensive than some alternative advertising platforms, it can be advantageous for reaching customers that are searching for solutions that a business such as yours offers.
When a user clicks on your ads, having been targeted through specific keywords according to their needs, they will be directed to your landing page. Having pre-optimized your page to drive a user toward a particular action, you can watch your rate of lead generation increase.
Explore the potential of Google Ads suite for better ad results and higher conversions by accessing our free webinar.
How to find your target audience
Regardless of your business objective, it is imperative that you find your target audience and plan your actions around the needs and wants of this specific group.
Establishing this target group will enable you to ascertain where to find the leads that are searching for the solution you offer. The more knowledge you have regarding these users, the more informed your decision making will become. In turn, your marketing will take on a greater efficacy and your rate of conversion will increase.
There are three ways that you can better determine your target audience. They are as follows;
a) Create detailed ideal customer descriptions
Firstly, you must decipher the factors that your ideal customer deems most important. You can do this by conducting surveys, examining customer reviews of competitors and analyzing existing market research pertaining to your industry.
Developing a better understanding of your ideal customer's pain points will enable you to clarify your unique selling point and discover how to present your product as the solution.
b) Examine demographics
Now that you have gained this basic understanding of the wants and needs of your ideal customers, you can begin to add weight to your findings and examine more personal information.
Research the demographic influences associated with your ideal customer, be it age, gender, location, etc. Think about why your ideal customer would be motivated to purchase your product and what the deciding factors of this purchase would be.
Uncovering the answers to these questions will help you to gain a better understanding of how to differentiate yourself from others and stand out to buyers.
c) Place yourself amongst your customers
In order for your business to be visible amongst the right audience, you must position yourself where they can view your offering.
You must ensure that you are present in the same locations as your customers, both online and offline. In order to achieve this, you have to research where they hold a presence online and what type of content they find most engaging.
Lead Magnets
Lead magnets are free resources that you can create and give away in order to generate new leads. The primary objective of a lead magnet is to offer value to new leads in order to kickstart a customer relationship with them.
Although there are multiple types available to choose from, the best examples of lead magnets include;
30) Templates
A template is a pre-designed model that is used to produce a more effective, appealing and professional output. These are highly enticing to users due to their easily customizable nature, making them a clever addition to your lead generation strategy.
Additionally, templates cut down on the amount of time that a user has to spend ideating a design, layout and other technical aspects, simplifying the experience. This makes this a clever lead generation strategy. Examples of these templates include resumes, infographics, cover letters and professional emails.
31) Whitepapers
Whitepapers, in-depth reports regarding a specific topic, are popular lead magnets amongst industry professionals who are in search of a solution to a problem or answers to related questions.
32) Toolboxes
A toolbox is a list of resources required to increase a prospect's ability to enhance their business or professional life. These may include a collection of free online tools, software or subscription services that may be needed to facilitate this.
33) Mind maps
A mind map is a concise method used to visually organize information and aid a person's understanding of a process. These are typically used as a tool to discuss something's structure, be it an event or a procedure.
34) Cheat sheets
Typically a one page document, cheat sheets are a set of notes that can be used for reference. These lead generation strategy features are enticing for leads, as they help to simplify specific processes and eliminate jargon and unnecessary steps associated with certain tasks.
35) Ebooks
A classic lead magnet, Ebooks are offered to share insights into specific topics or offer a collection of valuable information.
Many businesses choose to create free e-books based upon their most popular blog posts or transcriptions of their webinars.
If you have the opportunity to offer your audience an ebook regarding a topic they are passionate about, this can be one of the most effective lead generation tactics you can partake in.
36) "How-to" checklists
Including How-to checklists in your lead generation strategy can attract user attention, as the easy-to-use format offers a list of actionable points that can be used to enhance an aspect of their life, from business affairs to more personal matters.
For example, online marketers are likely to avail of a "How to grow your email list" checklist, as this will provide value.
37) Blog post checklists
The majority of website visitors simply do not have the time to scroll through the entirety of your blog catalog, despite the fact that it may offer invaluable insights.
Therefore, creating a single page checklist that summarizes each blog post into easily consumable key points is an enticing lead magnet that can capture user interest.
38) Early bird discounts
Do you want to know how to attract more leads? Offer a discount.
Early bird discounts are a huge incentive for users to subscribe to a mailing list or make a purchase, as people generally will not turn down an opportunity to make a saving.
39) Free trials
Free trials allow you to address leads who are genuinely interested in your offering, and provide them with the opportunity to gain better insight into its value before purchasing.
You must ensure that this trial offers a positive initial user experience in order to acquire an end purchase.
40) Demos
Creating a demo or test for your target audience is an effective, low-commitment method of capturing interest. This enables you to understand the level of lead intrigue regarding your product/service, and generate quality feedback that can be used to advertise.
Social media contests
Social media contests have been increasingly used by marketers as a tool to raise brand awareness, engage with their audience and generate new leads. In fact, they create an opportunity for the users to gain something they desire, in exchange of their data or social engagement.
The following is a list of competition incentives that you can implement to boost customer engagement, as well as examples of social media contests;
41) Quizzes
Quizzes are one of the most interactive and engaging sales tactics that you can feature within your lead generation strategy.
Appealing to an individual's competitive nature allows for the request for their data to appear as a fair exchange in return for the ability to take part in the game and test their knowledge.
42) Sweepstakes
Creating sweepstakes, much like a lottery, can incentivize prospective customers to input their data in return for a chance to win a desirable prize.
For example, Men's Health, the fitness and lifestyle magazine, offered a home gym giveaway where users were required to submit their entry via the Men's Health website. This sweepstake saw a major increase in website traffic for the brand, as well as a huge uptake in new subscriptions.
43) Discount coupons
Discount coupons are an effective method of persuading leads to enter your marketing funnel by way of a purchase. The idea of making a monetary saving is a long-standing incentive that can prompt even the most hesitant buyer.
The ideal audience for this kind of social marketing is comprised of users that have previously visited your website landing page, but left before finalizing a purchase.
44) Photo contests
Photo contests are initiatives that encourage users to submit personal photos showcasing a specified subject, such as an image of a lead using your product. These photos are then voted on, with the winning image receiving a prize of some variation.
Not only does a lead generation strategy such as this encourage users to purchase your product in order to take part, it gives way to the creation of highly-shareable social content that can be used across multiple campaigns.
45) Hashtag photo contests
Sharing a similar premise to the photo contest, a hashtag photo contest allows you to create an entire social initiative upon a hashtag that you wish to promote. This marketing promotion can be implemented prior to the launch of a new product or event.
46) Video contests
Video contests are a highly-engaging way of encouraging leads to participate in your brand activations. By implementing criteria specific to your campaign goals, competitions such as this can lead to the creation of creative, shareable content that aids your brand visibility.
47) Trivia contests
Trivia contests, which consist of asking trivia questions to your audience on social platforms, are a great way to boost engagement and acquire lead data.
In order for a user to be in with a chance of winning a prize, they must submit their email address after answering trivia questions.
Generally, people will not be able to resist the urge to answer a question they know, particularly if they can win a prize for doing so. In return, you will gain a multitude of new lead data that you can shape into a database.
Content Marketing
Content Marketing is a tactic that, if implemented correctly, can have a hugely positive impact on your lead generation strategy.
This type of marketing consists of sharing valuable content regarding your offering with your target audience. This content stands to attract and engage prospective customers, with the aim of retaining that interest over a period of time.
Building authority and fostering trust are two of the key drivers in generating new leads. By publishing high-quality content, you can facilitate these qualities amongst your following.
Let's take a closer look at what this type of content includes:
48) Blog posts
Writing consistently informative and high-quality blog posts on your company's website is one of the most effective strategies to build authority and trust with your readers. Once they become familiar with your work, they begin to see the value of the knowledge you have to offer.
The higher they value this knowledge, the more likely they are to become qualified leads and enter your sales funnel.
49) Videos
Since we are now operating in the attention economy, it has become crucial to understand how to engage with your audience. Video marketing is one of the most effective content formats used to engage with an online audience.
Therefore, it is important to note this is a non-negotiable factor of your content marketing strategy.
50) Webinars
Hosting live webinars can be an incredible asset for your business, as they are a demonstration of your authority and create an opportunity for direct communication with your audience.
A webinar can be informative, educational, or promotional. If this event is based on a relevant topic within your market, it can be an extremely effective method of generating qualified leads.
51) Live Q&As
Live Q&A events are based on the questions your users may have regarding your products, offers or pricing plans. This format of content is valuable for your audience as it offers a space to clarify any doubts or questions that have been unanswered about your business.
A Q&A can be hosted through a "Live" event on Facebook or Instagram, Snapchat or any webinar software.
52) Podcasting
Podcasts have become an increasingly popular way to create content and deliver value to your customers. Recording a podcast can be highly effective in converting passive listeners into devoted customers.
53) Guest blogging
Collaborating with other experts in your market and publishing guest blog posts on your website is a strong strategy for increasing your social proof and authority in the eyes of your audience.
54) Infographics
As people's attention has become increasingly challenging to bid for, it is essential that your business is distributing content that is visually engaging in order to be a contender.
Well-designed infographics that contain valuable data-analysis surrounding a topic related to your niche can be popular amongst leads.
55) SlideShare presentations
SlideShare presentations are one of the many methods in which you can share your knowledge with prospective customers. They are simple and intuitive for the users to digest, and they typically contain key insights in short, useful checklists.
56) University
An alternative, but increasingly popular, way to generate new leads is to offer educational content through an online university on your website.
Either free or costing a specific fee, leads can enroll and begin learning about topics that your business specializes in. This is fast becoming one of the leading sales tactics for building authority.
Indirect marketing
Indirect marketing is a more subtle form of marketing, placing an emphasis on building a sense of trust amongst leads toward your business.
These methods appear to be substantially less self-serving, as you are focusing more on creating discussions and nurturing relationships, rather than instantly making a sale.
Prime examples of indirect marketing include;
57) Quora answers
Quora is a community in which users can search for answers to their most burning questions amongst a group of peers.
By optimizing your business' Quora profile, you can generate qualified leads by writing valuable answers to queries, positioning yourself as a solution and linking to your landing pages.
58) SEO
Search engine optimization is used to attract new visitors from search engines, such as Google, and drive them to your website. It is then hoped that the content displayed on your website will entice these visitors to become leads.
In order for this to happen, your ideal audience must be targeted using specific keywords related to their search intent and your product offering.
In regard to your website, making the relevant optimizations can enhance the user experience, which has a direct impact on their likelihood to become a lead. This includes page loading speed, copy and images.
59) Medium
As a social media platform, Medium is steadily gaining the spotlight as a place for marketers to share their content and demonstrate their expertise. The power of the platform lies in its minimalist design and the quality of content produced.
Sharing articles on Medium can help you to gain greater visibility, acting as a gateway to increase your lead generation sources.
60) Communities and forums
Aside from well known social media platforms, there are many other online forums and communities that are valuable places to engage with users.
By discovering the alternative online locations of your niche and targeting them here, you can differentiate your business from competitors and build a stronger, more diverse lead generation source.
61) YouTube channel
YouTube is not only an entertainment platform but it's also one of the most popular search engines in the world. To create value in this space, you should consider publishing videos and curating video playlists regarding useful industry topics.
This will draw a lead's attention toward your business channel, where you can then direct them to landing pages with links.
62) Comments
This is the action of leaving valuable comments on relevant blogs, posts or YouTube videos within your niche market. Again, this is a way to position yourself in a user's range of visibility, attracting indirect visitors to your website.
63) Guest blogging
Guest Blogging on other companies' blogs offers a range of benefits. Aside from granting greater visibility and enhancing your authority, the goal of a guest post is to direct people to your website through backlinks.
As well as link building, you can use guest posting to generate quality and targeted leads for your business. In your author bio, make sure you include your website URL and your social media networks. This way readers can follow you back to your website.
64) Influencer marketing
Influencer power in today's market is undeniable. If a particular content creator states that something is valuable, their loyal following is extremely likely to trust that opinion.
Reaching out to relevant influencers in your niche market to leverage their audience is one of the most efficient ways to generate new leads for your business, and can be a lucrative lead generation strategy to consider.
65) Tag influencers to start a discussion
One way to increase your visibility and attract more potential leads is to tag influencers in your blog posts or social media activity. The goal of this action is to start a discussion amongst a desired audience around a topic related to your offering.
66) Cold emails
Cold email, the act of sending unsolicited emails to leads, is considered to be overly pushy by many people. However, when orchestrated in an appropriate manner, this tactic can work.
Once you have gathered the email of leads you wish to target, either from social platforms or LinkedIn profiles, you can focus on sending personalized communication that offers value.
By doing this, you can initiate the beginning of a relationship and follow-up with warm emails.
67) Facebook groups
By creating your own Facebook group or joining an existing one, you can engage a range of leads that you may not have had previous access to. By consistently contributing within these groups, you can showcase your authority and foster confidence amongst potential clients.
68) LinkedIn groups
Similar to Facebook groups, LinkedIn groups can be advantageous B2B facing companies. By choosing groups that are relevant to your industry and niche, you can share your knowledge and product offering as a means to draw new eyes toward your website.
69) Twitter
Twitter is a social media that you can use in different ways such as sharing your content, driving engagement for promotional activities, networking or branding. Like all the other social media platforms is one of the many channels to reach your targeted audience, in particular through the usage of niche hashtags.
70) Instagram
Instagram is one of the most popular social media platforms in the world, with 1.44 billion active daily users. Loved by its users, it has been leveraged by hundreds of brands to promote their business.
Even if your product is software and you wouldn't know how to post a picture of it, you could still use it to share your team's values and culture for example, in order to increase transparency and trust with your leads.
Practical Tools
As previously mentioned, creating a successful lead generation strategy is a multifaceted process. One aspect of this process is to ensure your business is utilizing the appropriate software tools.
Having a collection of tools and software that can be integrated in order to maximize your marketing efforts and simplify your workflows can significantly enhance your lead generation efforts.
To help you establish this seamless system, take a look at this list of practical tools;
71) Conversions Tools
Conversion tools are solutions that are designed to aid the process of acquiring conversions.
Having mentioned some of the most popular choices, including Facebook Lead Ads, TikTok Lead Generation, LinkedIn Lead Gen Forms, it is imperative that you consider utilizing the value that these tools offer to simplify the conversion process.
LeadsBridge offers a broad range of conversion tools that your business can optimize to ensure your lead generation capabilities are being maximized.
72) Facebook Conversions API
Facebook Conversions API is a tool developed by Facebook that lets you track the offline conversions that happen as a result of a Facebook Ad, in order to understand which campaigns are generating more results.
These tools is especially powerful for businesses that generate sales out of the Internet (eg. car dealers, real estate, consulting firms and so on). When a new client signs a contract, you add them as usual to your customers' list in your CRM. If that person was exposed to one of your Ads, Facebook matches the data and tracks the conversion.
To discover more, you can schedule a demo.
73) LinkedIn offline conversions
The LinkedIn Offline Conversions tool affords your business the opportunity to attribute your offline data, including phone calls and in-person transactions, to your LinkedIn ads.
This can facilitate a more accurate measure of your marketing campaign efficacy, as you will have access to better, more well-rounded insights. With this knowledge, you can optimize your performance accordingly and improve your return on investment.
74) Custom Audiences
By creating a custom audience, you will have the ability to segment your leads according to their common traits, and retarget them at every stage of the funnel. You can create better targeted ads, that are more effective in engaging your ideal audience.
LeadsBridge offers a variety of custom audiences tools, across a range of platforms, that you can integrate to optimize your advertising and achieve greater conversion rates.
75) Google Sheets/Excel Files
Even if technology evolves constantly, sheets remain a great asset for most of companies in the world. The convenience of excel files or Google Sheets is high as the organization they give to your work, and that's why many companies use them to sort out their leads. But – as simple as they are – using these tools might cause you to forget to (or take too much time to) store your leads in your CRM.
76) Calendars / Appointment Scheduler software
There are many calendars or appointment scheduler software (e.g. Calendly) that can help your business organize calls or demos with your potential client. When someone books a call with you, that's a clear demonstration of a strong interest in what you sell. Generating leads from your calls is incredibly valuable for your business, but it can happen that you forget about adding them to your pipelines if your calendar is full every day.
A solution to this problem is leveraging to sync your calendars and appointment scheduler software with your CRM so that you can just focus on making the most out of your demos. Also, you always can sync outlook calendar with salesforce to expand your opportunities in your business.
77) Facebook Pixel
The Facebook Pixel is a plugin that you can install on your website to be able to track your website visitors' behavior and then run advertising campaigns to convert them into prospects.
The pixels can also be used to evaluate the effectiveness of your ads once they are shown a second time to the targeted group.
Engagement tactics
Engagement tactics are tactics used to boost engagement on your website and increase the likelihood that a visitor will convert into a lead.
78) Gamification
Gamification consists of adding gaming concepts to your strategy or content that creates an interactive experience. One example is the use of points, awards, or win/loss systems that create competition amongst users.
Using the game mindset makes people engage with your strategy and accomplish the objective that you set for them.
79) Add social buttons to your email newsletter
Adding a social button to your newsletter allows your readers the possibility to share their favorite piece of news on their favorite social. Making this easy and fast for your subscribers will boost the awareness of your brand.
80) Chatboxes
Making the user immediately comfortable on your website is a key factor to succeed in your lead generation strategy. A good solution is to add to your page a smart chat box that will allow the user to engage with you at any moment.
81) "Call Us" telephone number
A very effective engagement hack for your website is to display a "call us" button, with a clear phone number your visitors can call for any sort of doubts or questions.
82) Referral programs
Having a discount or getting a bonus is always cool. So why not create a referral program for your users? Giving them some benefits for inviting a friend is a smart way to build your brand in your customer network.
83) Affiliate programs
Affiliate programs are a great way to recruit partners for your brand. With the right incentives in your affiliate program, you can begin to gain extra advocates from across the world, making a huge eco for your product or service.
84) Beta testers
Are you launching a new product and you are still in doubt about some aspects? Opening your products in an early stage to a close group of people is a great way to collect some feedback and correct some bugs before opening it to a larger scale.
85) Networking events
Attending conferences and meetings can help you to network with influencers, who can become useful resources to promote your product in the future. You can also think of speaking at conferences in order to add value to your brand. This kind of event can give you huge exposure.
86) Streaming events
Are you doing something cool and you want to show it to your audience? Having a live streaming event can be a great idea to engage with your users from a new perspective. You can show some cool stuff of your everyday life or use it as a buzz for a launch of a product.
87) Giveaway licenses to Influencers
The best way to get free promotion and additional leads is by giving away licenses to industry experts. Making them try your product can lead to positive reviews with backlinks and exposure within their social media network.
88) Webinar plugin
Displaying a small box on your website with the upcoming webinar events shows to the visitors a sense of liveliness and involvement around your work and it instantly gives them an opportunity to engage with you.
Psychology
Marketing psychology refers to all those techniques used by marketers to persuade their audience to make a certain decision. They are based on subconscious social dynamics and human behaviors and they can truly make a difference in your lead generation strategy. Some of these techniques are;
89) Exclusive content
Exclusive content could be offered as access to some video series you created, to your mindmaps, productivity tips or anything that adds some extra value to whatever information you already shared with everyone. Many people will find this appealing in order to gain a competitive advantage over the other people who just have access to the free information.
90) Membership areas
Creating a private social group (es. on social media) or in a separate area of your website can be an effective lead generation strategy, since people's natural desire to be part of a community they admire.
91) Emoticons & gifs in your communication
Using Emojis helps you communicate with your leads much more effectively, as they are familiar and easy to understand for everybody. The less time it takes to understand the message, the more effective your marketing message will be, the more chances you have to seduce a lead.
92) Scarcity/Countdowns
The element of scarcity is one of the most powerful marketing techniques that you can include in your lead generation strategy. This is for one simple reason: our brain is wired to make us survive. This means that it constantly looks for opportunities to expand the likelihood of survival in an increasingly competitive and scarce economic scenario.
That opportunity can be a special course you offer or a webinar about a relevant topic to them. To make the subscription even more compelling, use a countdown to communicate the urgency of making a decision.
93) Social proof
People don't like to be associated with products or services that are not approved by others too. If you lack social approval, they may think that something is wrong with your service, which decreases the chances they want to be associated with you in any way.
That's why you should get social proof as soon as possible on your website and through your reputation around the web. It might be through client reviews, displaying the brand of companies using your products or services, awards or achievements you gained, and so on.
94) Use color psychology to evoke emotions
Color psychology studies have revealed that particular colors affect a person's perceptions and behaviors. Therefore, it can be beneficial for your business to implement persuasive palettes on your website, across social channels, and in promotional material.
As an example, red is often the color of choice for call-to-action buttons, as it is associated with a sense of urgency in the mind of the consumer. For more information on how you can use this, check out this HubSpot color psychology article.
95) Money back guarantee policy
Offering a money back guarantee on your products is a psychological technique used by many marketers to help the most doubtful visitors relieve some of their fears of a bad purchase and go through with it. It instills trust because it is a clear sign that you stand behind your product.
96) Use sound on your pop-up chat
A little trick to capture your website visitors' attention and get them to interact with you is to use a pop-up chat that makes a curious sound and asks them a question.
97) Persuasive copywriting
Persuasive copywriting is a way of writing that allows you to influence your readers' behavior.
There are many aspects to it, but a very common example is found in pop-ups form, where you ask your visitors a question, you give them two options of which one is positive and the other negative, but the negative is posed in a way that creates a conflict with their personal goals. (e.g. "Do you want more followers? Yes, please. / No, followers are not important to me.)
Key takeaways
Congratulations on making it to the end!
Although it can be overwhelming to try and decipher which marketing action is best suited to your business, this article stands to prove that there is a lead generation strategy that can be molded and reformed to meet any objective.
Whether it is via social media advertising, website optimization or psychological marketing tactics, your business can avail of the boundless opportunities to expand its reach and create an engaged customer base that progresses toward conversion.
Discover the full range of integrations to facilitate your lead sync here.