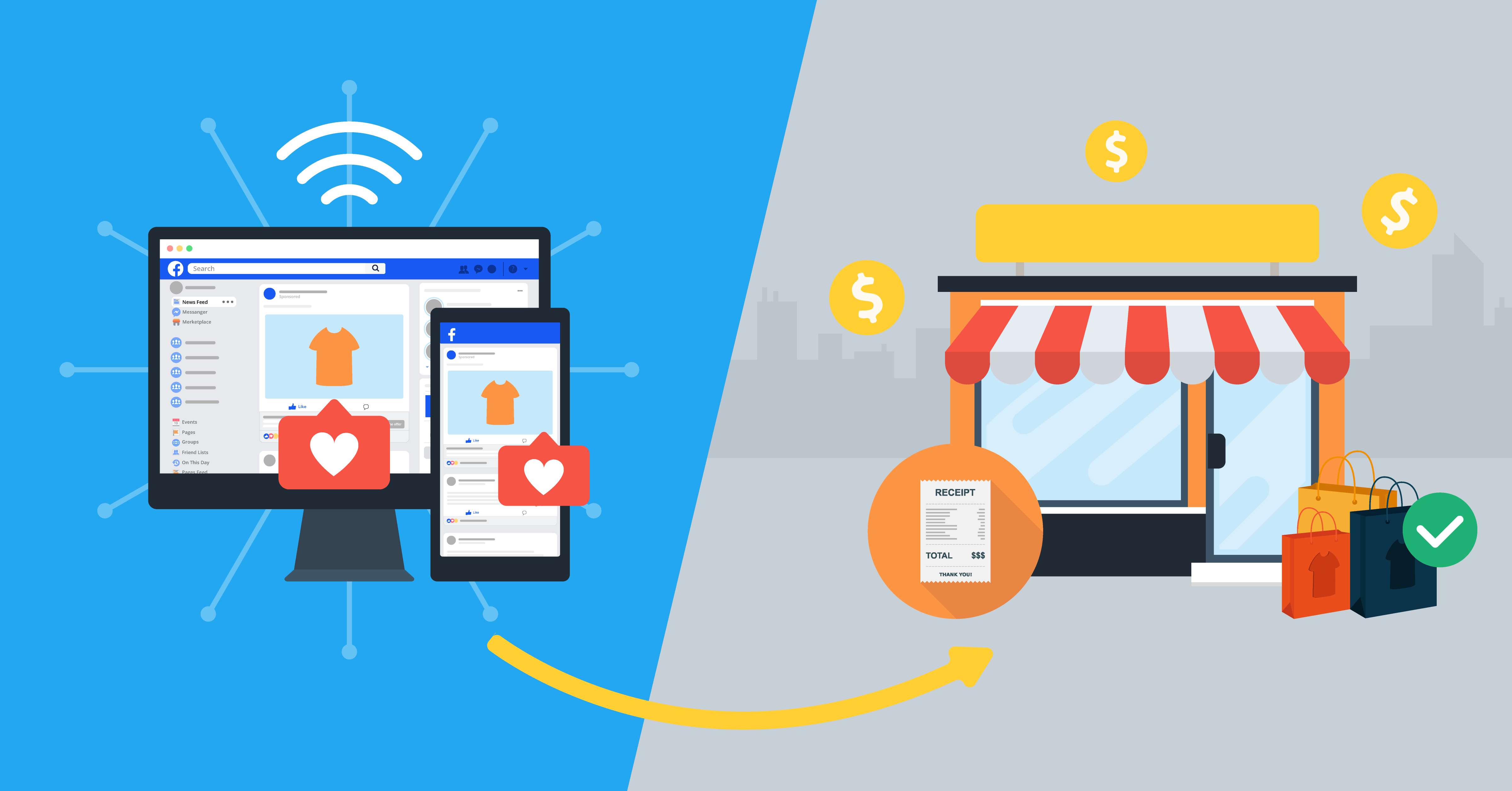 In 2020, a study revealed that an estimated 81% of shoppers carry out online research before making purchases, and 90% of retail purchases in the U.S. still happen offline. To corroborate this fact, The ROBO economy (Research Online, Buy Offline) revealed that 82% of smartphone users consult their phones on purchases they are about to make in-store.
Considering these statistics, advertisers must be able to track their offline conversions, such as in-store visits, phone calls, and consultations, and match this data with their online marketing efforts. But this is easier said than done.
In recent years, advertising platforms have been rolling out new tracking tools, such as the Facebook Offline Conversions tool to track your offline conversions influenced by people viewing your Facebook ads. These tools help answer certain questions like, how would they know when it drives foot traffic to their brick-and-mortar store? Or, the number of sales that occur as a result of the ad?
Facebook introduced the Facebook Conversions API to use with a tracking pixel to help boost the performance of your Facebook ad campaigns.
Facebook Conversions API
The Facebook Conversions API helps businesses deliver personalized advertising experiences to customers and audiences while maintaining data privacy. This is carried out without the reliance on browser-based tools like cookies. Instead, the Facebook Conversions API tool uses the data your users are willing to share and nothing more. While offering a GDPR compliant solution, you won't have to worry about any data getting lost due to a browser crash or an ad blocker.
Facebook recommends that advertisers use the Conversion API together with the Facebook pixel for accessing comprehensive insights into actions that take place on the website and in order to perfectly track the full funnel metrics and data sharing. Doing so also helps with cookies, ad blockers, and low funnel conversions. This way, you don't have to lose data and can get as much data as you need to back your advertising efforts.
The Facebook Conversions API also gives you better control over data sharing. It means you can use it together with Pixel and decide what data to share and when you want to share it. Interestingly enough, this process isn't possible through the Pixel, as it only sends events in real time.
Using this tool, advertisers can share data directly with Facebook through their server instead of the browser. This implies that even if a customer uses a privacy tool for other activities unrelated to Facebook, their actions will be extended to data sent through the Conversions API.
Additionally, you can track things like Leads, affiliate payments, find locations, phone calls, form submissions, purchases, email subscriptions, and subscription changes.
To get the Conversions API, you will need to develop it in-house or use a Facebook partner like LeadsBridge.
With LeadsBridge, you can integrate the Facebook Conversions API with your favorite CRM.
For more information about the Facebook Conversions API, read this post – Everything you need to know about Facebook Conversions API.
What is Facebook Offline Conversions?
Facebook Offline Conversions enable you to upload your sales data to Facebook and match the transactions that take place offline with people who have seen or clicked on your Facebook ads. If there is a match, Facebook attributes the sale to your Facebook ads.
According to Facebook "With offline conversion measurement on Facebook, you can track when transactions occur in your physical retail store and other offline channels (ex: orders made over the phone) after people see or engage with your Facebook ad."
There are many reasons why Facebook Offline Conversions can benefit businesses.
For example, a car dealership business can set up Facebook Offline Conversions to know the number of people who bought or serviced their cars as a result of seeing or clicking on a Facebook ad.
How does Facebook Offline Conversion tracking work?
Offline conversion tracking is possible by uploading customers' information such as the names, email addresses and phone numbers from company CRM, POS or payment system to Facebook. Facebook will match the information with the data of users who saw or clicked on the ads. If there is a match, Facebook attributes the sale to an ad. This tool allows advertisers to find out whether or not their marketing efforts are having an impact.
Likewise, if you are a retailer, you can use the Facebook offline conversion tool to know the number of people that bought or sold something as a result of your Facebook ads.
With this information, you can create better ads that will convert more and be able to see how many offline sales your Facebook ads generate.
However, it's worth noting that Facebook has a recommended period of 28 days between ad interaction and offline conversion. Facebook requires advertisers to upload customers' data within 90 days from the day the user engages with an ad.
Why does tracking offline conversions on Facebook matter?
There are three major reasons why you need to track your offline conversions on Facebook, which we also discussed in the video below.
In summary, you need to track offline conversions on Facebook because:
It helps you to measure the effectiveness of your campaigns
It enables Facebook to optimize the campaigns for you.
It gives you a better understanding of your advertising strategy.
How to set up Facebook Offline Conversions
There are different ways you can set up your Facebook Offline Conversions. You can set it up through the offline event manager, the Facebook API, or, for the best performance, use a Facebook partner such as LeadsBridge integrations. However, a few factors must be considered before setting up Facebook Offline Conversions.
What you'll need to set it up
1. Offline event customer data sets
Before you can use the offline event tool, you need to gather your customers' details, such as the customer's name, email, and conversion data (i.e., purchases, appointments, and phone calls) for Facebook to see. To get this information, you have to export the transaction history from your CRM, text, or CSV file. If you don't have those file formats, you can copy and paste the data. In the case of using a POS, you could also export the details.
Your file must contain four specific info criteria, including:
The event time: This is the time the offline conversion took place.
Event name: This is the name you choose that matches your Facebook event, such as Purchase, registration, consultation, and lead.
Value: The value of the offline conversion.
The currency: The currency you receive from the value i.e., USD for U.S Dollars.
Facebook allows you to add up to 17 identifiers in your set of converters. This includes the name, surname, email address, phone number, postcode, city, state, country, etc.
2. A Facebook ad account
It is obligatory to have a Facebook ad account before you can set up the offline conversion tracking tool. However, if you don't have one, you can create your ad account here.
3. A Facebook business manager account
After opening a Facebook ad account, you also need a Facebook business account to enable you to share and control access to the Facebook ad accounts and pages.
Now that you have all the requirements in place, let's set up your offline conversion feature.
1. Set up Facebook Offline Conversions with the offline event manager
The first way you can set up Facebook Offline Conversions is by using the offline event manager.
How to create an offline event set?
1. Connect data sources.
Click on the "Add Data Source" to create a new offline event set. Find the green + button on the left sidebar.
Then, you are presented with the "Connect Data Sources" window. Select "Offline" and click "Continue".
2. Create an offline event set
Add a "Name" and "Description" for your offline event set. Click "Create".
3. Connect your ad account
To get tracking reports and performance metrics, you need to configure the "Assign ad accounts and set tracking" section. Turn on auto-tracking to streamline the process.
4. Configure user access and permissions
Here, you can select who can access your offline event set, configure the connected accounts, event management, and much more. Once completed, click "Assign".
5. Congratulations! Your offline event set has been created. Click "Done".
Start automating data sync between your google sheets and Facebook Offline Conversions right away:
How to upload customer offline event data
After creating an offline event set, you need to upload your data sheet. You can also use this process to add new data to an existing offline event.
1. Go to business settings
Go to the "Business settings" and find "Data Sources" on the left sidebar. Then, click on "Offline event sets".
​​
2. To edit your event, click on "My Shop Sales", and click on "Open in Event Manager".
3. Find the "Upload Event" button and click on it to upload the requested data file.
4. Once uploaded, click on "Next: Map Data".
5. Here, you can provide a name for your offline event set and edit other details. Then, click "Next: Review".
6. At this point, you have finished creating the offline event set. It is now time to upload your offline event data.
After reviewing, either return to the last menu to make modifications or proceed by clicking on "Start Upload".
For instance, preview the data table and check for errors. If there are errors, ensure you resolve them. This can be missing data, incorrectly mapped, or formatted data.
7. Now that you've finished uploading your events, you would want to see the outcome. However, it takes about 15 minutes for Facebook to populate the data. After that, you will see the leads that are attributed to your Facebook ads.
Please note that to see the results, you can go to the "Ads Manager". Find the "Offline Conversions" column under the "Campaigns". There, you will be able to access the reports.
Now, the second method you can use to set up Facebook Offline Conversions is through Facebook Partner integrations.
2. Set up offline conversions through a Facebook partner
The second and most recommended method you can use to set up offline conversion is by using partner integrations. Facebook built partnerships with trusted companies to help advertisers use the point of sale (POS) and customer relationship management (CRM) directly with the offline conversion tool. Using the services provided by these partners makes the process of offline data upload easy and error-free.
By transferring your data automatically, you can reduce the manual tasks and errors that might occur during the process. Here at LeadsBridge, we take pride in being the very first official Facebook partner.
We developed data bridges to help you connect your CRM and email marketing software to Facebook Offline Conversions. The tool is called – Conversion Sync. It is an automated tool you can use to track offline transactions and know the performance of your ads. Moreover, this integration helps you to streamline offline customer data uploads to Facebook and removes the possibility of errors when matching your customer data on the platform.
How offline conversions work with LeadsBridge
the process is quite similar to how Facebook Conversions API connects your marketing platforms to Facebook:
The first step shows when users view or click on your Facebook ads, which can lead to offline purchases. Then LeadsBridge automatically bridges the gap between your CRM and the point of sale inventory with Facebook.
Then, Facebook matches your ads data with your purchase data, which you can access in your dashboard. These reports include all the offline sales that happen as a result of your Facebook ads. Very simple!
Our platform also allows you to streamline complex data processes while avoiding leaks. We offer a variety of integrations to meet all your marketing needs and keep our integrations up to date with Facebook policies.
Check out this video by Facebook to discover why you need to use LeadsBridge for your offline conversion management.
The third way to set up Facebook Offline Conversions is through the Facebook API.
3. Set up Facebook Offline Conversions with API
The third way you can set up Facebook Offline Conversions is with the API. The Application Programming Interface allows you to send your offline conversion events such as sales, consultations, and phone calls data to Facebook using the offline conversions API or through partner integration.
You need to have a Facebook business manager, a Facebook app, a system user, an access token from the system user, and an offline event set to use offline conversions API. However, this method is somewhat complex and requires a well-developed knowledge of programming.
The accuracy of offline conversion tracking imports
The three methods enumerated above are the ways you can set up Facebook Offline Conversions for your business. Comparing the results, automated offline conversion tracking is the most efficient way to track the performance of your Facebook ad-offline sales.
What's more, offline events cannot be used to totally measure the conversions you get. It is an estimation of how many people saw your Facebook ads online. The success of the tracking depends on a lot of elements, such as the match rate, the time allotted for conversion, and other factors. The thing is, you may have much higher conversions than those specified by Facebook. However, the offline events offer you an outline of how your conversions are taking place.
Discover more about Facebook Offline Conversion API here.
A case study: Improving sales with Facebook Offline Conversions
Netatmo is a company that designs and sells outdoor cameras, smart thermostats, and air quality monitors to homes through its webstore and a network of resellers. The company wanted to scale its Facebook campaigns in order to drive sales. So they decided to measure the online and offline conversions of their Facebook ad campaigns, using the Offline Conversion API.
The results?
They identified a 91% match rate between the Facebook ad campaign and the offline sales, 75% of total attributable sales were made offline and 80% of total attributable sales in the Nordic region were made offline.
Final thoughts
The offline conversion tracking tool is a robust feature for companies to increase their return on ad spend (ROAS). With it, advertisers can decide what Facebook ads are driving offline purchases, store visits, phone communication, consultation, etc. They can also use these details to further enhance their marketing campaigns and generate more return on investment.
The best way to go about tracking your offline conversions is through an official Facebook partner like LeadsBridge. Using our tools ensure you have up-to-date lists on your Facebook account by providing a much more accurate process to track your offline conversions.
Discover all the possible Facebook Conversion API integrations here.