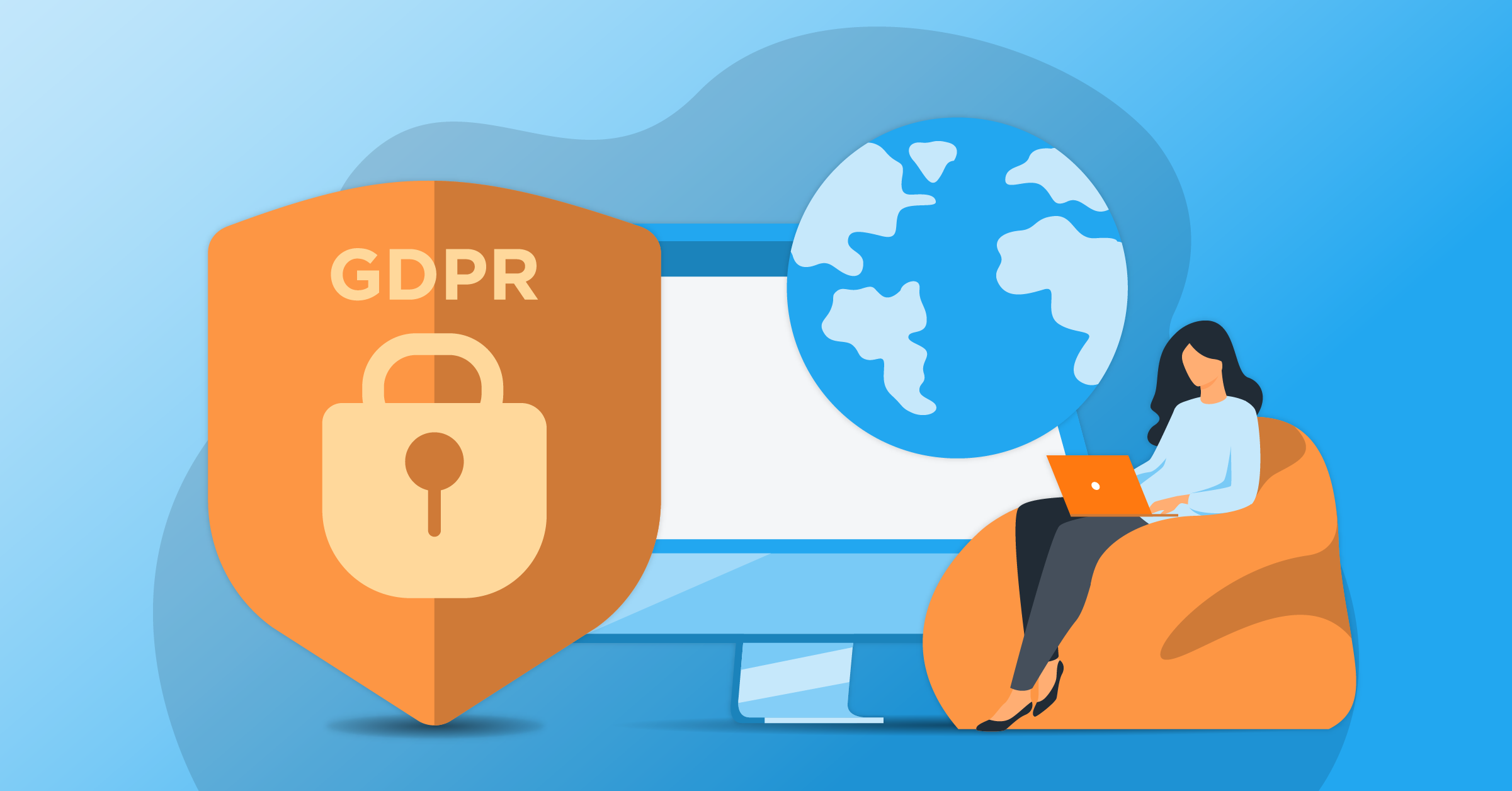 The European Union's General Data Protection Regulation (GDPR) is legislation that is designed to protect the data of EU citizens. GDPR implementation affects every single organization and business that interacts with an EU resident, regardless of where they may be located.
Even if your company is registered in the United States as a Limited Liability Company, GDPR regulations will apply to you if you deal with residents of the European Union.
However, ensuring that your business is abiding by the full scope of ordinance established within this legislation can seem somewhat daunting.
Throughout this article, you will discover how to initiate GDPR implementation within your company and how you can prepare for this. Additionally, we have compiled a referential checklist of aspects that will work toward your data protection compliance.
What is the General Data Protection Regulation?
The General Data Protection Regulation was enforced across the European Union on May 25th, 2018. The goal of this legislation is to protect the information and privacy of all individuals that reside within the European Union, requiring businesses to offer greater transparency into how a person's data was collected, used and stored.
The entire premise of this mandate was built upon the requirements of the 1995 Directive, which set out the framework for the processing of personal data and the GDPR implementation.
However, the existing regulation has undergone developments to feature stricter conditions and harsh punishments for violations of these.
How to implement GDPR in an organization
Now that you have gained a brief understanding of the severity of compliance deviation, you may be wondering about how to implement GDPR in an organization.
To help with this, we have collated four main actions that you can take to kickstart this obedience of regulations. They are as follows;
1. Raise awareness
In order to achieve GDPR implementation, you must first ensure that everyone within your organization has a strong understanding of what data protection is and its importance.
To achieve this, you should consider offering training sessions to all employees, followed by a concise, mandatory exam on completion. This can include a comprehensive understanding of the topic, best practices and scenario based activities. By doing this, you can directly measure a person's understanding of the concept and improve upon specific areas.
It is imperative that all employees have a comprehensive understanding of the consequences for non-compliance, both individually and on an organizational level.
2. Create a data inventory
Gaining an understanding of the data that your organization collects and processes is an important step in ascertaining the risks associated with information processing, storage and transferral.
Establishing an inventory of the data in your possession can help towards curating an effective GDPR implementation plan.
Once the list of data types has been compiled, including customers, employees, suppliers, etc., you should begin to map each set of data's end-to-end journey throughout your business infrastructure. This way, you can successfully identify all the physical and virtual places where this data has held a presence.
These lists can then be distributed to departments within the company, and stakeholders, in order to ensure that all data types and location have been correctly recognized.
3. Risk evaluation
Having taken inventory of your data and processes, it is now time to evaluate the risk associated with your practices and compare these to the existing GDPR requirements.
In doing this, remember to include all third-parties involved in your organization, such as vendors or suppliers.
To undertake a risk evaluation, consider these questions;
Where do the gaps in our compliance exist?
What areas are at threat of non-compliance in the future?
What are the immediate needs that must be addressed in order to progress our GDPR compliance?
4. Develop a roadmap
Now that you have identified all the potential shortcomings in your compliance, you can begin to develop a detailed roadmap to accompany your GDPR implementation plan.
This will outline the entirety of the processes and system changes that need to be made in order to achieve full conformity with regulatory requirements.
What are the consequences of non-compliance with GDPR requirements?
The initial consequence for companies that fail to abide by data protection ruling will be monetary. There are two tiers of maximum administrative fines that exist as penalties for non-compliance, which are
Up to €10 million ($10,997,800) or 2% of annual global turnover
Up to €20 million ($21,991,900) or 4% of annual global turnover
These fines concern both large and small-medium companies. In the first preliminary report on GDPR implementation, the European Data Protection Board reported that the average GDPR fine had stood at around €66,000.
However, 2022 saw a record year in penalties, with a staggering €2.92 billion ($3,21 billion) imposed throughout the year.
Aside from a financial perspective, failing to comply with GDPR requirements can have a substantially harmful effect on a brand's image, resulting in a tarnished reputation and loss of faith amongst consumers.
Recent research carried out by LXA showed that 79% of respondents indicate that they are concerned about how companies are using their personal data, with 48% stating that they switched companies or providers because of their data policies and sharing practices.
In short, failing to follow the GDPR compliance requirements will force your business into a problematic situation and ultimately damage your organization. The punishments are intentionally harsh to ensure that all organizations follow a GDPR implementation strategy.
How can I prepare my organization for GDPR implementation?
In order to make it easier for your business to follow the GDPR compliance requirements, it's essential that you start planning ahead of time while you still can. To help you prepare for GDPR implementation, we have outlined several of the most important points to follow.
1. Audit and analyze your data
Data regulations should not be seen as a curse for businesses, but rather as an opportunity to improve the quality of the data collected.
Although many suspected that GDPR would have major repercussions against operations, in actuality, this practice has helped to foster trust and confidence amongst consumers towards businesses.
Marketing Managers across organizations can leverage this moment to rethink their marketing strategy around what data really matters to drive sales and what is the best way to collect it. At the same time, they can let go of collecting nonessential data points.
Many organizations seem to think along these lines: according to a research carried out by the IBM Institute for Business Value, 59% of surveyed executives say that GDPR is an opportunity "to spark for new data-led business models".
Smart GDPR implementation means looking at the data you have and trying to understand it, why you have it and what it is being used for. Ask your team how the information is collected and with whom it is shared. Identify the different types of data you have and the relationships it has with other sites, companies or even services. This is an incredibly strenuous task so it does require you to comb through every single piece of data in your system to ensure that it stays within the GDPR compliance requirements.
Here are a few questions you should ask yourself:
Who are we collecting data on? Who has access to this data? Who is the one that sorts it and compiles it into usable data?
What are we collecting? What kind of safeguards and mechanisms do we have in place to protect personal data so that it isn't leaked into the wrong hands?
When are we collecting data? How long do we plan to keep it for? Are we going to share the information we have with others?
Where are we keeping data? Is it stored and compiled automatically, or do we transfer it all to a third party?
Why are we collecting data? Do we feel that the information we collect is useful? Is it being used for a good reason?
How are we collecting data? How do we plan to process it in the future? How long do we keep our data for?
These questions should form the basis of any organization's GDPR implementation strategy.
2. Inform customers about GDPR
Another important step towards safely managing personal data is to be transparent with your own customers. GDPR can be used as a source of differentiation for your organization, as it is viewed as a positive attribute by the public.
Transparency is critical in building trust between companies and consumers.
Customers have become knowledgeable about data protection rights and the risks associated with the misuse of their information. Therefore, you should consider making it common practice to reassure customers of how you go about effective GDPR implementation.
Consent based marketing is a practice that every company should undertake. This involves solely communicating with customers that gave their prior written consent to be contacted.
This form of marketing can be advantageous for your funnel, as it offers the opportunity to verify that prospective customers meet your targeted criteria before you make contact with them.
Learn more about consent-based marketing here.
3. Review privacy notices
The GDPR compliance requirements contain a list of requirements that all privacy notices must meet should you collect data. This includes the following:
Indicate the processing activities taking place anytime you collect personal data
If personal data isn't being obtained directly, then inform what processing activities are taking place
Notices must be present whenever personal data is collected and at all points
Data must include the identity of the controller and of the data protection officer, how long it will be kept for, the rights that the consumer has, the right to file a complaint, the recipients and transfers of data, a statement that the consumer has the right to withdraw consent at any time, and also an explanation of why you or third-party wishes to collect the data.
4. Understand consumer rights
To follow the GDPR compliance requirements, it's also important to understand the rights that the consumer has over their data.
When GDPR implementation is active, you must demonstrate that you're able to do the following:
Confirm the identity of whoever is requesting the data
Give consumers the ability to request their personal data
Respond to requests for access to personal data
Trace and search for a consumer's personal data and deliver it within 30 days
Request rectification and rectify any personal data collected
Request the deletion of a consumer's personal data
Understand which additional controllers data has been transferred to
Upon a data breach, contact those entities to delete the data
Requesting the restriction of data processing and showing how and when this is done
Requesting copies and transmitting personal data
Find personal data and compile it into machine-readable formats
Give consumers a way to object to their data being collected
Stop all data processing and demonstrate their compliance
These are the standard rights that must be understood by all organizations that follow the GDPR compliance requirements. Failing to do so will result in heavy fines, so make sure you understand these points.
5. Learn how to run GDPR-compliant marketing campaigns
An important aspect for companies is to align with the new GDPR guidelines and responsibilities on the major advertising platforms, such as Google and Facebook.
If your organization runs marketing campaigns on Google, you should examine in-depth your responsibilities as a data processor or data controller.
In regards to Facebook, you can learn everything you need to know to keep advertising safely on Facebook in our extensive guide, where we discuss how GDPR regulations impact Facebook's most important advertising tools.
In particular, Facebook Conversions API is a tool that can help your business advertise to users whilst effectively maintaining data privacy standards. This objective allows you to deliver personalized experiences without relying on cookies and other browser-based tools.
The conversions API affords you the opportunity to share data based exactly on your needs. Facebook Pixel offers insights into specific actions that occur on your website, such as page views and purchases. When combined with CAPI capabilities, you can achieve a heightened visibility of the customer journey, including actions such as off-website purchases.
Companies using Conversions API can share the most important data with Facebook through their server. This way, if a customer is using a privacy tool for non-Facebook activity, their activity will be extended to the data sent through the Conversions API.
The customer opts-in to have their data recorded on your website, with their consent being passed through to Facebook when the conversion activity is uploaded via CAPI. If the lead decides to opt-out, a new event is created within the API and they are removed from the audience.
LeadsBridge can help to automate online-to-offline conversions tracking by connecting your marketing stack with a range of integrations, including;
A lot has changed for advertisers using Facebook: for example, companies need to ask the users consent to collect their personal information both when they use the Facebook Pixel or when they target specific segments as a data controller with Facebook Custom Audiences, whereas the use of Facebook Lookalike Audiences remained untouched by new GDPR requirements.
Meta and Cambridge Analytica
It is worth keeping the Meta Cambridge Analytica case in mind. This case was based on a dispute that accused Meta's Facebook of allowing third parties, including Cambridge Analytica to access Facebook users' personal data.
The complaint was filed on behalf of a large proposed class of Facebook users, whose personal data on the social network was released to third parties without their consent.
The firm obtained that information without users' consent from a researcher who had been allowed by Facebook to deploy an app on the platform which harvested data from millions of its users. It was believed that the data of approximately 87 million people was improperly shared with the political consultancy.
The scandal prompted government investigations into Facebook's privacy practices, leading to lawsuits and a high-profile US congressional hearing in which Meta CEO Mark Zuckerberg was questioned.
To resolve the issues, Facebook owner Meta has agreed to pay $725m (£600m) to settle legal action over a data breach linked to political consultancy Cambridge Analytica.
How LeadsBridge ensures safe practice
Here at LeadsBridge, your privacy matters. Our platform is secure by design and fully compliant with LinkedIn, Google, Facebook, GDPR, CCPA (California Consumer Privacy Act) and PCI DSS (Payment Card Industry Data Security Standard) regulation.
That means that there is no lead data storing, and partake in complete and total privacy law compliance, all whilst undertaking advanced security measures. In fact, we undergo regular security audits, including extensive penetration testing by a third party.
Using LeadsBridge, you can begin segmenting your lead data in real time from a variety of sources, including Facebook Lead Gen Ads, Instagram Lead Ads, LinkedIn Lead Ads, Google Ad Lead Form Extensions, and YouTube TrueView Lead Form Extensions, using our lead sync feature.
With our audience targeting tool, you will have the ability to automatically create custom audiences. This can be achieved by syncing your CRM segments, email marketing contacts, or customer lists with platforms such as Facebook, LinkedIn, and Google, to retarget or exclude leads at every stage of the funnel, while always maintaining GDPR compliance.
Additionally, LeadsBridge's online-to-offline tracking features allow you to attribute offline conversions to your online advertising to achieve accurate omni channel campaigns. Using this tool, you can experience a secure and resilient solution to the limitations of third-party cookies, using a server approach.
After all, the ethos of LeadsBridge is built upon consent based marketing and we aspire to make this the most scalable, efficient, and safest method for customer acquisition.
6. Keep your audiences updated based on consensus
One of the requirements for companies to be GDPR compliant is to make sure that the audiences targeted for marketing purposes are always updated according to the user consensus to be targeted.
This must be ensured both for new contacts and for contacts who expressed their consent before May 25th, 2018. In fact, according to the GDPR "if the consent provided by a person prior to the application of the General Data Protection Regulation (GDPR) is in line with the conditions of the GDPR, then there is no need to ask again for the individual's consent."
Users have also the right to withdraw their consent at any time, and companies should respect their decision by excluding them from any marketing campaigns. This can be challenging especially for large organizations that deal with high-volume audience segments in hundreds of active campaigns, which could never update the audience's files manually every time people withdraw their consent.
In this regard, the best way for companies to keep track of the users' consensus and update the targeted audiences accordingly is to sync their audiences and campaigns automatically through trusted third-party software such as LeadsBridge.
LeadsBridge operates by converting personal data in HASHED keys in real-time (in VCPU memory) without storing any sensitive data in any place, offering companies a privacy-safe solution to keep their audiences constantly updated on users' consensus.
7. Improve privacy-related internal procedures
The implementation of GDPR and generally any data-protection regulation also affects companies' internal procedures. In fact, as regulations around personal data management increase, companies experience longer bureaucratic internal procedures, with 34.7% of managers finding roadblocks in siloed organizational structures and poor data-sharing protocols.
Usually, in large organizations, data protection is regulated by the legal department and by CRM managers who make sure to meet quality standards and data hygiene.
Despite being important, these bureaucratic processes are often bottlenecks for Marketing teams who need to wait weeks to use customers' data for their marketing campaigns. This is a problem for companies, considering that most of today's marketing is based on the timing and relevance of the marketing message.
However, this problem can be solved by managing data through in-house or third-party software that meets the legal requirement and protects customers' data with high-level encryption.
8. Appoint a Data Protection Officer
Another means of how to implement GDPR is to appoint a data protection officer. This is required in any company that processes information and data on a large scale. They will need to do the following:
Maintain audit trails and demonstrate accountability and compliance
Maintain an inventory of data that categorizes consumers
Maintain auditable trails of the processing activity
Carry out data protection impact assessments
Monitor compliance with data protection laws
Liaise and assist supervisory authorities.
Failing to follow these GDPR compliance requirements could result in harsh punishment, so you'll need to either hire a new employee or assign an existing one to this role. Because of the training required, it will be wise to do this as soon as possible as part of the GDPR implementation process.
9. Enabling data transfers
The GDPR compliance requirements state that consumers must have the ability to transfer data to themselves whenever they want. This means that you will need to return their personal data at any given time, so you must be fully capable of compiling the information you have on each consumer into a machine-readable format. This way, you can easily transfer their data to another data controller.
If your consumers want their data, then you need to oblige and send it to them in a simple and readable format that they can understand. You will need to speak with any software engineers or technology consultants you hire in order to build a GDPR implementation strategy that allows for this easy transfer of data. Failing to follow this could breach the GDPR compliance requirements and result in a fine.
10. Planning for data breaches
Data breaches can create huge legal, financial and reputational upsets that could damage an organization and must be avoided when developing a GDPR implementation strategy.
As such, it should come as no surprise that data security is an important consideration in the GDPR and it requires that you follow the appropriate procedures when learning how to implement GDPR compliance.
You must be able to provide mechanisms to pseudonymize, encrypt and secure personal data
You must implement additional security measures
You must be able to confirm ongoing confidentiality, integrity, and availability of personal data
You must provide mechanisms to restore access and availability of personal data
You must be able to facilitate regular testing of your security measures
You must be able to notify the data protection authority within 72 hours should you experience a data breach incident
You must be able to notify the affected consumers should a high-risk data breach take place
Data breaches can create huge legal, financial, and reputational upsets that could damage an organization and must be avoided when developing a GDPR implementation strategy. As part of your data security measures, it is essential to establish and maintain an internal audit process to regularly assess and evaluate the effectiveness of your data protection measures, identify any vulnerabilities, and ensure compliance with GDPR requirements.
These are all incredibly important points that must be followed should you agree to the GDPR compliance requirements. 
What are the GDPR audit requirements to consider?
Understanding the requirements and present processes of effective GDPR implementation is imperative. By deciphering this, you can identify any gaps that are present in your compliance.
Conducting an audit is a streamlined, concise method of assessing these factors, and should be conducted in order to maintain standards.
The following headings should be viewed as GDPR audit requirements that must feature;
Data governance
Risk management
GDPR project
Role and responsibilities arrangement in your organization
Scope of compliance
Analyze the procedure
Personal information management system (PIMS)
The rights of data owners (subjects)
Information security management system (ISMS)
Carrying out your audit under these headings is the most effective means of proving the GDPR compliance of your company.
What should be included in a GDPR audit checklist?
You must keep in mind that any audit will be dependent on a number of factors, which can include the scale of your operations, the type of data you collect and the results of your data protection impact assessment.
Having established the requirements of your compliance analysis, let's take a look at the key components of a GDPR audit checklist
Personal data and data subjects categories
You must list the categories of personal data and data subjects that you have collected.
This includes employee data (both previous and current), customer data (including sales information), information from within your marketing database and any CCTV camera footage that you may have collected.
Personal data elements included in data categories
It is mandatory to list each type of personal data that is included within singular personal data categories.
This includes names, addresses, banking details, videos, images, browsing history and purchasing history.
Personal data processing purposes
You are required to list the purposes of personal data collection and retention within each data category.
This includes research, systems integrity, HR proceedings, advertising, marketing, product development and service enhancement.
Legal basis for each processing purpose
For each purpose that personal data is processed, you are required to list the legal basis on which the process is based.
This includes consent, contract and legal obligation
Special categories of personal data
If there are special categories of personal data that are collected and retained, you must establish the details of the nature of this data.
This includes health, genetic and biometric data.
Legal basis for processing special categories of personal data
It is mandatory that you list the legal basis on which special categories of personal data are collected and retained by your organization.
This includes explicit consent and a legislative basis.
Retention period
For each category of personal data, your organization must list the period for which the data is intended to be kept.
It is important to note that there is a general rule in which data must not be retained for longer than is necessary, considering the purpose of why it was collected.
Action required to be GDPR compliant
Finally, you must identify any actions that are required to be undertaken in order to ensure all personal data processing operations within your business are GDPR compliant
This may include deleting data that no longer serves a purpose.
Key takeaways
GDPR has changed the business landscape considerably in the last five years, and will continue to do so into the future. Although initially perceived as a limit to operations and hindrance to data collection, data regulation has brought about the opportunity to foster relationships of confidence between businesses and consumers.
As long as companies commit to maintaining requirements and learning how to implement GDPR compliance, they can continue advertising safely to consumers who are confident in the use of their information.
Discover more about the LeadsBridge platform and the importance of GDPR and CCPA compliance.