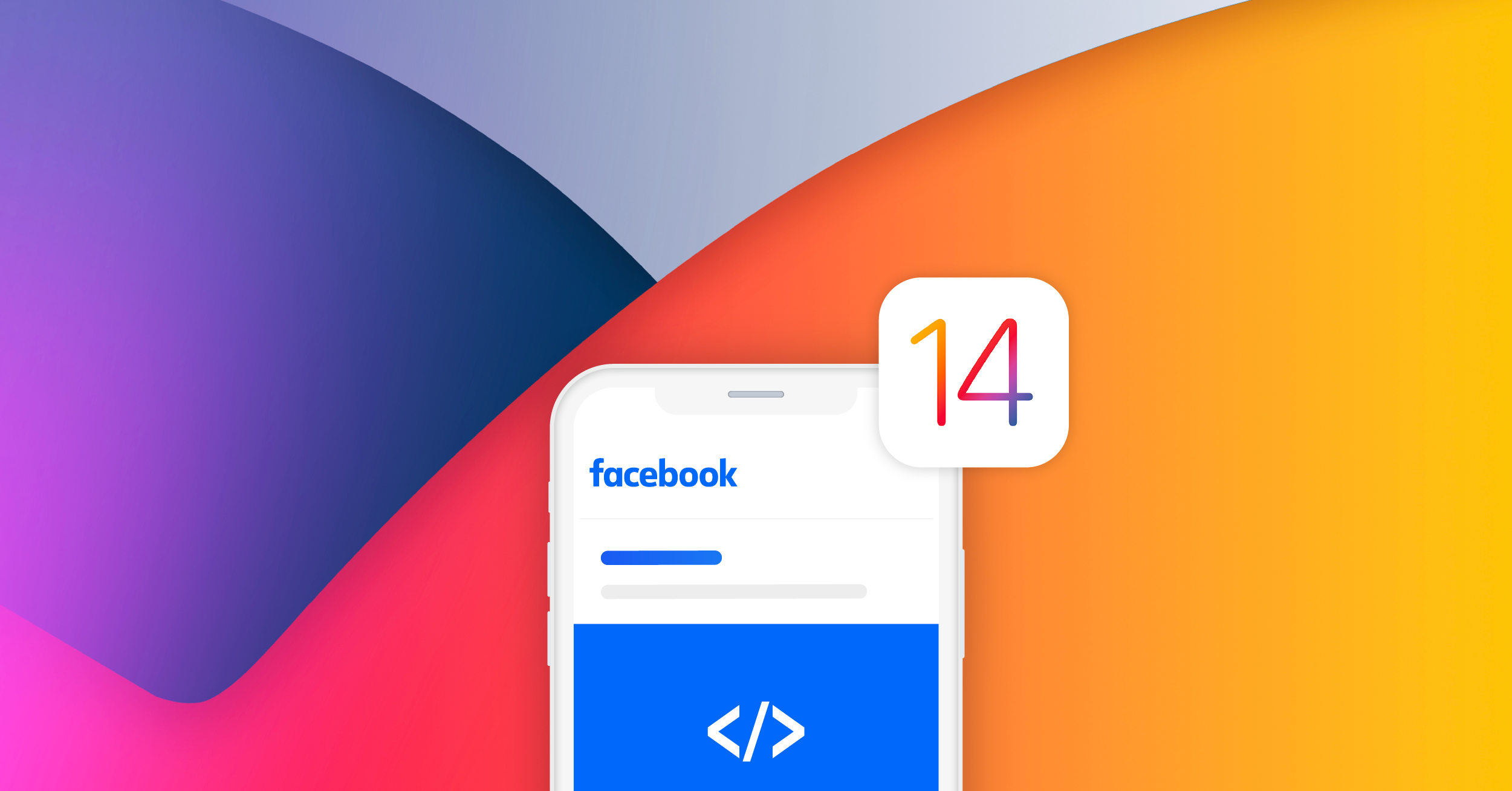 Due to the recent iOS 14 update, Facebook advertisers, publishers, and app developers have had to quickly adapt to a new way of doing business. If you didn't already know, Apple changed their iOS 14 data tracking permissions back in January of 2021 and has gradually implemented new updates since. As you can imagine, this has made a huge impact on Facebook conversion tracking.
Although there is still a lot that's unknown about how this will affect marketing and advertising in the long run, there's still a lot of buzz flying around this topic that's worth diving into right now.
Essentially, these changes to iOS 14 pose a massive threat to the effectiveness of advertising data, and consequently the advertisers that use Facebook and target through iOS 14.
Facebook is clearly concerned about this change and has adjusted many aspects of their platform in order to meet the requirements that have been set by Apple. If you think about how marketing works in general, you can break it down pretty simply. If advertising is less effective, then advertisers will spend less time and money on Facebook. If there's less money being spent on advertising on Facebook, then Facebook themselves lose money.
All in all, it's a massive change, and it's here whether we like it or not. So with that said, let's take it head-on and talk about what we know so far.
What is the Facebook pixel iOS 14 update?
It's important to understand exactly what Apple is changing so drastically that it even has Facebook concerned. The focus of this update revolves around privacy and data usage.
For this new update, each app must display how they use the user's data right on their product page. The developers will now also now be required to display their privacy policies, the exact data they're collecting, and their intentions for said data's use.
Seems harmless enough, right? Well, in actuality, it is. The issue that Facebook advertisers and developers will have with the new iOS 14 update is the permissions set in place by Apple themselves.
From now on, apps will be required to get full permission from a user in order to use their data, and track how they use their phone in order to accurately target.
The issue with asking for permission for a lot of advertisers and developers is that they can't just bury the agreement in a giant contract, or flash some fancy button that makes people want to click without reading. The permission request must be apparent and easy to understand.
iOS Facebook tracking — What is Facebook's plan?
This update has thrown everyone off, to say the least. As Facebook continues to come up with ideas to make this new update work for everyone, there are still a lot of unanswered questions.
Typically speaking, Facebook allows you to opt-out of data sharing, giving you the option to be alerted when your data is collected. To do this, however, requires you to visit the privacy settings, and enable/disable the feature there.
With this new update, Apple will prompt Facebook, making it clear that your data is being tracked, and giving the explicit ability to allow it or not allow it on the users' behalf.
This prompt will come up any time a user is using any iOS app, including those in the Facebook family (Instagram, WhatsApp, and Messenger). It's easy to see how this could negatively affect Facebook conversion tracking.
In light of these new changes, Facebook has created a page for you to voice your opinions, and give business owners the opportunity to oppose. There's even a new toolkit made specifically for those who want to share posts and videos to voice their opinion on the matter.
Facebook's claim is that small businesses will be the most impacted. Their claim has a significant base, as big companies with deep pockets are already well known, and can sink a seemingly limitless amount of cash elsewhere.
What sort of data tracking needs permission?
With the update sending everyone into a whirlwind of emotions, there's one big question that stays on advertiser's and developer's minds: What EXACTLY will we need permission for?
To make it easier on everyone, this information was made very clear in Apple's announcement. But, just in case, we'll summarize below:
You need permission to display targeted ads based on user's data that was collected from other apps and websites.
You need permission for sharing device locations and email lists with data brokers.
You will need permission to share email lists, ad IDs, and other IDs with third-party advertising networks that use that information for targeting and retargeting.
You will now need permission to place third-party SDKs in an app if it combines data from users from your app with data from users from other apps in order to target advertising or calculate effectiveness. Even if you don't use an SDK for this purpose, it will still require permission.
Essentially, as long as the user's data is being used, no matter where it comes from or how you get it, you will need permission to use it in any way. As data privacy has become a rising issue as of recently, it's safe to assume that many people will opt-out of data usage and collecting completely, if given the chance.
The good news is that as this update has had time to settle with users, there has been a noticeable increase in the percentage of people that have opted-in. Take a look at the graphs below.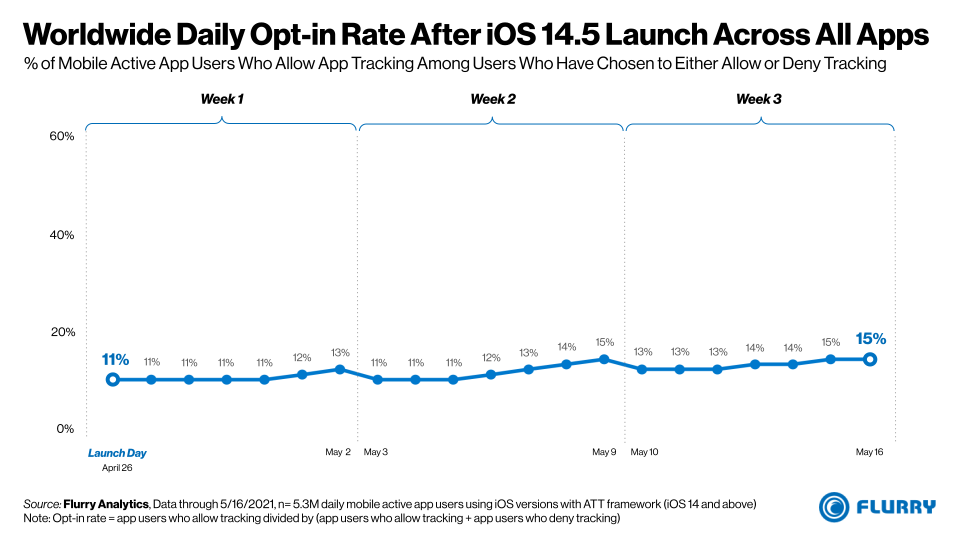 Within the first few weeks of the update, opt-ins went from 11% to 15% globally. Although 15% still might seem low, it is an improvement.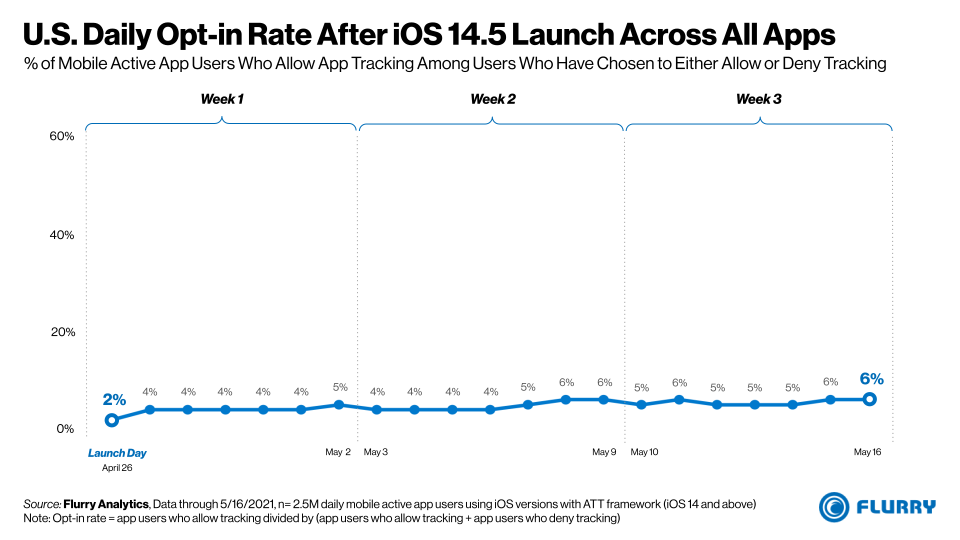 In the US market, we've seen the numbers rise from 2% to 6%. Again, not huge, but still an improvement. Ideally, as time goes on, we will continue to see the number of opt-ins increase globally.
How does the iOS 14 update affect Facebook marketers?
Basically, anyone who advertises mobile apps, and those who optimize, report on, and target web conversion events will be impacted. Since Apple is changing the way Facebook is able to both process and receive data, tools like Facebook Pixel will need to change altogether.
This means that the data that is collected will be far less effective and worth far less, resulting in less effective advertising. This will in-turn force companies big and small to reconstruct their Facebook advertising strategies.
An additional change that will most likely have a significant impact is the attribution window. When the new update arrives, the new attribution window will be 7 days by default. This is quite the change from the 28 day model that we're all used to.
As you can see in this image above, for view, we had the option for 1 day, 7 days, and 28 days. With this new update, the only option we will have is 1 day. For click, we had the same options, but the 28 day window will be removed.
iOS 14 tracking with Facebook
The biggest question everyone has when it comes to the Facebook Pixel iOS 14 update is how will it affect Facebook conversion tracking? As we've discussed above already, this update will undoubtedly lead to less effective tracking, and therefore less effective ads. But, what about else is going to change?
The new iOS 14 update will affect the way we track on mobile. Because of the way this is going to affect Facebook tracking pixel and everything associated with it, this means that mobile app ads will be affected negatively, too.
The bottom line is that people will have to move more towards server-side tracking, instead of relying on cookie based events to give them the data that they need in order to market effectively.
Although the impact may be small to begin with, data privacy and the concern surrounding it is a fast moving train that can't be stopped at this point. It all started with the implementation of the GDPR, and it shows no sign of slowing down any time soon.
How to prepare for iOS 14
Although the update is already here and not going away anytime soon, it's still helpful to understand the changes and preparations needed to deal with iOS 14.
In a recent post from Facebook for developers, they outlined some of the steps they're making in order to prepare for the big change. In the post, they indicate a lot of change, but that the new update will hit businesses that advertise on mobile and across the web the hardest.
While the rest of the world still scrambles to figure out how this is going to affect their marketing strategies, and what they need to do to prepare, Facebook has already outlined how they're preparing for the iOS 14 update.
Prepare for 'Events' to change
Facebook mentions a few changes that they're going to be making for the events that happen on iOS and Apple devices. The first of those changes is the permissions prompt, which Apple is now forcing Facebook to show.
Facebook goes on to mention something called Aggregated Events Management, defining it as a tool that will "help you measure campaign performance in a way that is consistent with consumers' decisions about their data."
On top of that, Facebook has mentioned that advertisers are now going to be limited to 8 conversion events per domain. This will include pixel events and custom conversions.
Facebook also claims that zero changes will need to be made through Facebook tracking pixel or CAPI (Conversions API), Instead, you'll have to begin configuring your 8 events in Ads Manager.
Embrace the new attribution model
Apple is implementing SKAdNetwork as an additional source of attribution, all while maintaining data privacy. If you plan on using this ad network API, it's best that you start learning ahead of time, and take a look at their SKAdNetwork guidelines.
If you don't plan on changing your strategy much, then you might want to consider shortening your attribution window ahead of time, and seeing how it affects the way you operate. As of right now, however, the only 'fix' for the smaller window is Apple's own solution with their ad network API.
Start running tests on user consent
With the way users' value data privacy, this change could have either a positive or negative effect. The best way to figure out how iOS 14 will work for you is to test.
Run an A/B testing campaign where you test multiple designs for an opt-in pop-up. Although the whole consent thing is likely to deter some people, you can optimize your chances by taking these steps now.
Test wording, dark/light designs, font sizes, white spaces, and anything else you can now so that you can have the upper hand when it really counts.
Apple vs Facebook privacy
This massive change has left a lot of people referring to the situation as a war between Apple and Facebook. The truth is this Apple Facebook privacy dilemma was never really about one product over the other. It is simply about providing privacy where needed, and abiding by increasing privacy regulations that are being put into place.
It's clear that Facebook was not happy about this change, as they've scrambled to find an easy solution for months now. Although nothing was immediately affected, it has left a lot of app developers in the dark as to what they're going to do when the changes actually roll out.
With this change, you can expect your Facebook ads to be less effective than they were before iOS 14. On the other side of things, if you rely on Facebook Ads to direct you towards goods and services that you might want to buy, you can expect them to be far less relevant.
Since the announcement, Facebook has urged Apple to find another solution as they explained in their articles in the Wallstreet Journal, The Washington Post, and New York Times, that it will harm small businesses and even consumers worldwide.
The immediate solution? Facebook's Conversion API
Although Facebook wasn't very happy with Apple's announcement, that didn't stop them from rolling out the big guns. Now, with tools like Facebook's Conversion API, Facebook Tracking Pixel and Facebook conversion tracking is potentially more effective than it's ever been, all while abiding by all data privacy laws.
While this tool needs a more tech-savvy operator, there are platforms out there to make it easier. Our platform allows you to seamlessly connect Facebook CAPI to your marketing stack for easy and accessible lead data. With a few clicks, you can get back on track with lead data and conversion tracking. It's almost like iOS 14 didn't even affect anything at all.
If you're interested in integrating Facebook's Conversion API with one of your other marketing tools, then we highly suggest checking out our article on How to setup Facebook Conversions API. The article has every little bit of information that you might need to get started today.
What to take away from this
The iOS 14 update is a massive wake-up call for a lot of marketers around the world right now. Everyone, including Facebook, is trying to scramble to find a workaround so that we can all get back on track.
In truth, nobody really knows how this is going to affect marketing and advertising in the long run. All we can do for now is prepare as best we can, and be ready to adapt very quickly.
The most obvious solution is to begin a full transition towards server-side tracking and abandoning cookie-based tracking entirely. Although these two methods are completely different, they are both out to accomplish the same thing: track user data. So while this may be a big shock for a lot of people initially, tracking isn't going anywhere, and both Facebook and Apple know that.