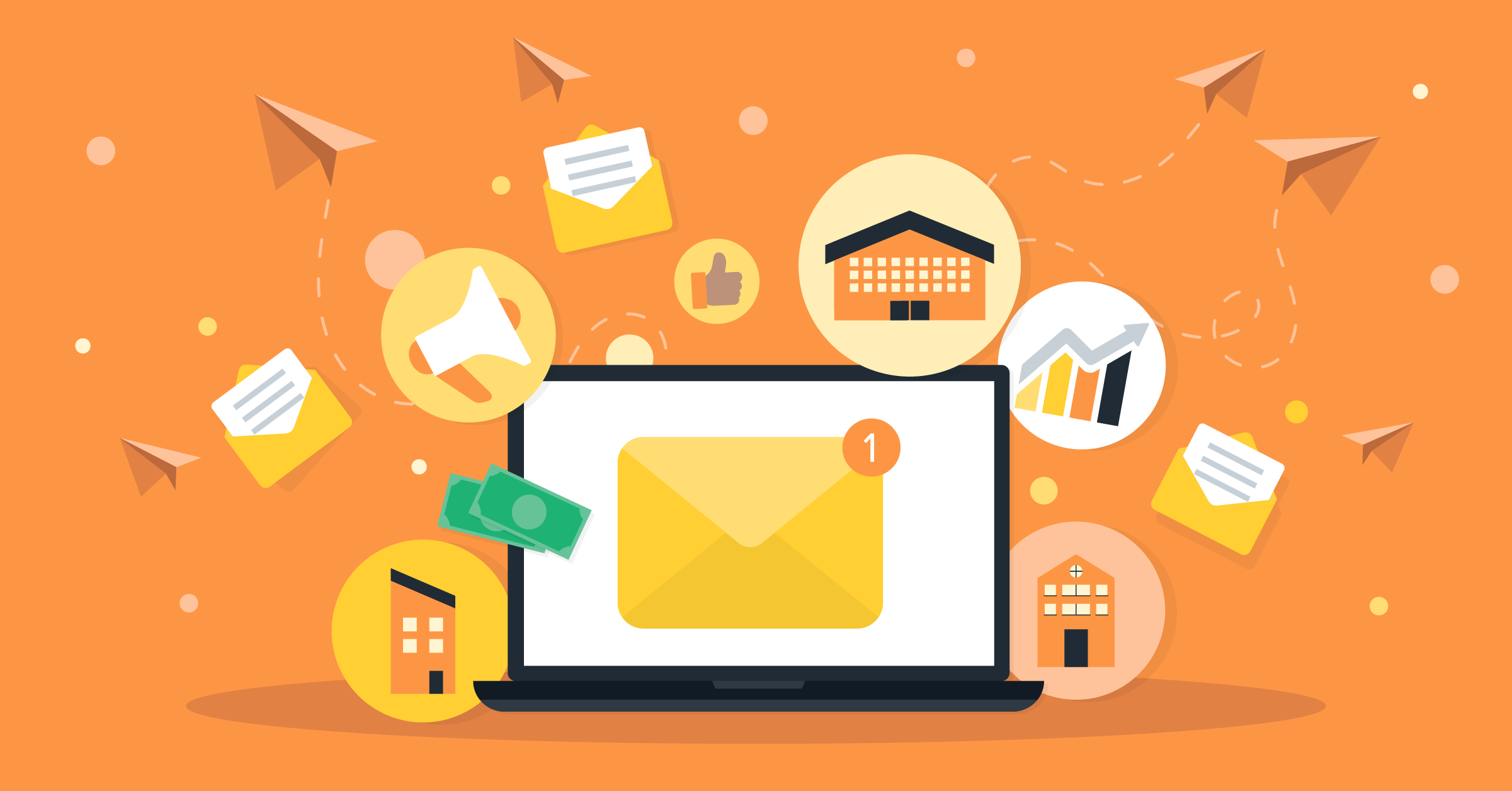 Outreach plays an important role in the real estate world.
Competition is fierce, and to attract new clients you have to constantly be networking and putting yourself out there.
Cold outreach is the bread and butter for many real estate agents. It's often the way to find new clients and increase awareness of your services. But outreach doesn't stop once you've sent the initial email. In fact, follow up emails are often more successful than initial outreach emails.
Research shows that 44% of agents give up and stop sending emails after one "no" and 22% give up after two "no's". That means two-thirds of agents never follow up a third time which means they could be missing out on a ton of custom. Studies also show that 80% of "non-routine" purchases (like a home) are made after at least five follow ups, showing the power of sticking around and being consistent.
Implementing a real estate follow up system will help you reach more buyers and ultimately get more sales. For example, you can automate your email marketing flow and reach your new leads as soon as they come in from your lead generation campaigns on social media. Try these integrations to follow up with Facebook leads or TikTok leads:
Here are some real estate follow up email examples for your inspiration.
7 real estate follow up email examples
Following up as a real estate agent can lead to more business and ensure you stay front of mind. Even if someone isn't ready to buy a house or sell their home just yet, they might be ready at some point in the future. And, if you're regularly showing up in their inbox, you'll be the first agent they come to.
1. The post-open house follow up
Open houses are the perfect marketing tool. They show prospective buyers what a property looks like in real life and gives them the chance to imagine themselves living there. Don't let leads go dead once the day is over, though. These are people who have actively taken time out of their day to look around your property, which shows they are potentially very warm leads.
Instead of going dark after an open house, follow up with every prospective buyer who came to visit.
This email politely thanks people for coming and addresses some of the comments the lead made during their visit. Personalizing the follow up email example in this way makes it easier to connect with buyers, plus the act of going out of the way to get more information for the buyer increases this agent's credibility and trust factor.
Tip: personalize real estate lead follow up scripts and answer any questions buyers might have had during an open house.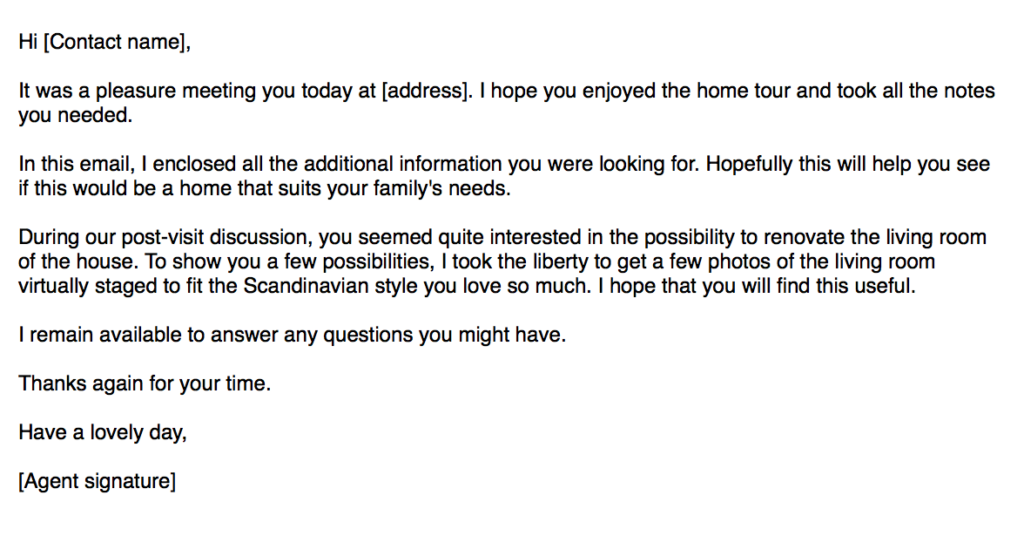 2. The "not interested" follow up
While open houses are a great marketing tool, not every visitor is going to be interested in the property on show. But this doesn't mean they aren't interested at all. In fact, this just paves the way for you to promote other properties on your list that are more aligned with their wants and needs.
This real estate follow up email example acknowledges that the lead wasn't interested in one particular property and thanks them for coming before going on to suggest another way they can work together.
Tip: offer a way you can continue to work with buyers who weren't interested in an open house to show you care and are invested in their home buying journey.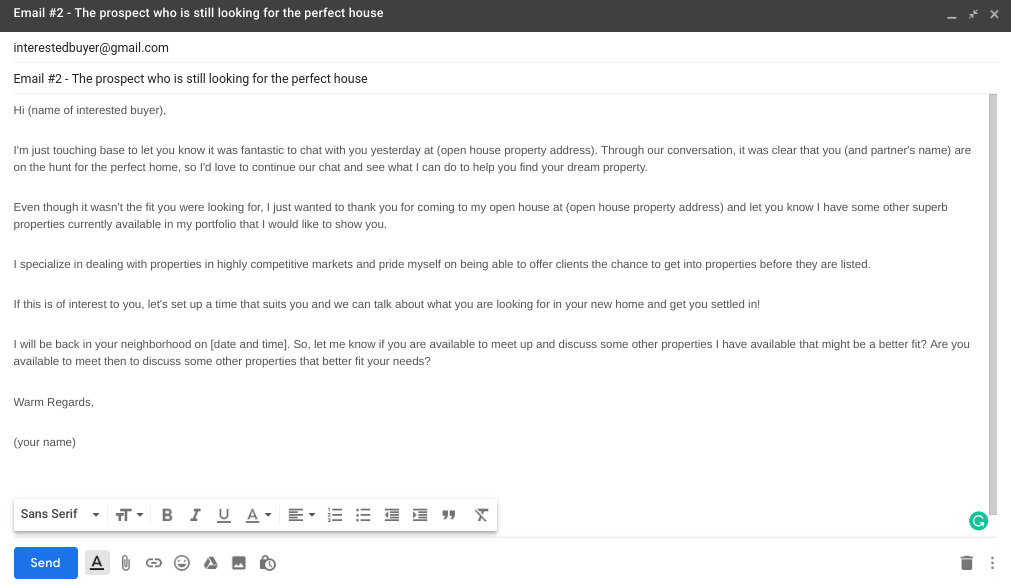 3. The "keep leads warm" follow up
Follow up emails are great at keeping prospects warm. They continue to remind buyers about your services so that you stay front of mind. They might not be ready to buy a property just yet, but popping up in their inbox will ensure you're their go-to agent when they do decide to buy or sell.
This email recognizes that the prospect was interested in buying a property at one point and goes on to invite them to an open house. The meat of the email, though, is the personalized question at the end that encourages leads to respond. Getting a response is crucial if you want to nurture client relationships, which is why the question doesn't have to necessarily be about houses.
Tip: Drop into prospective buyers' inboxes regularly with open house invites and personalized questions that aim to incite a response.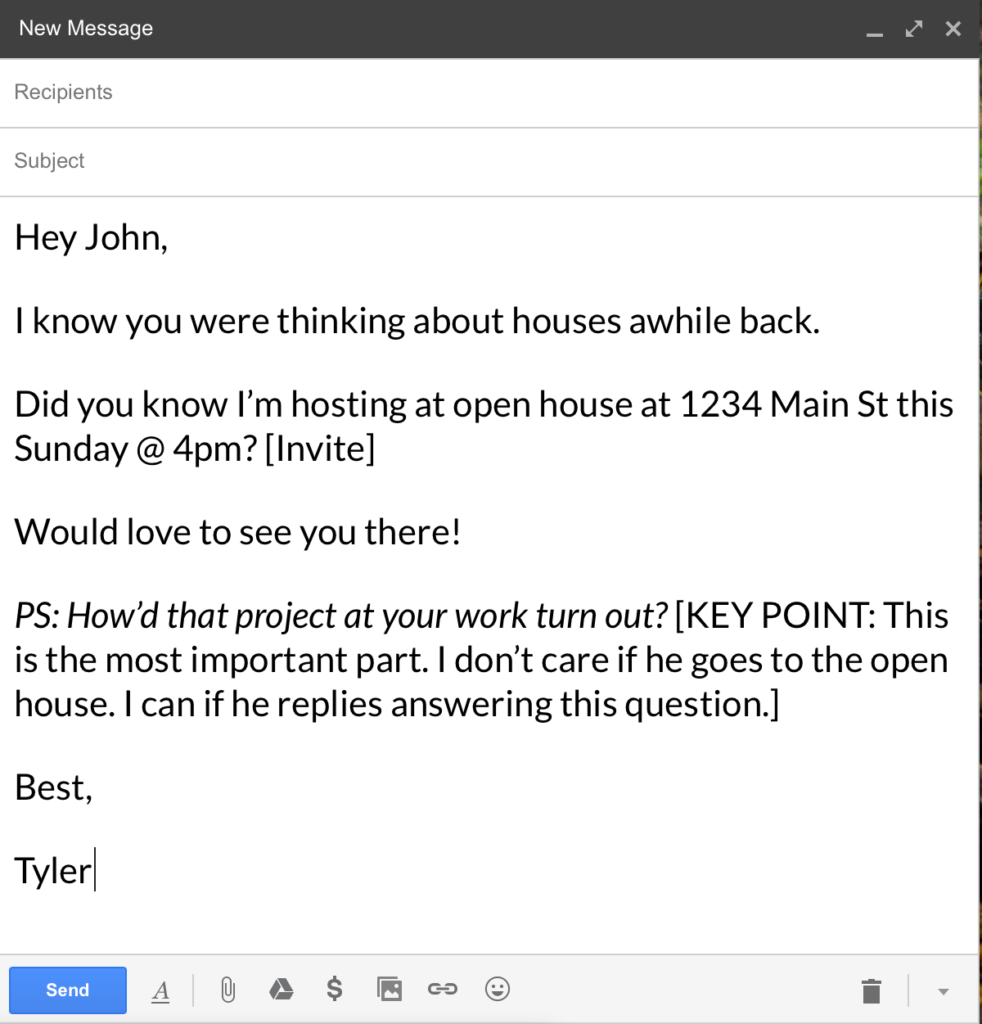 4. The "we didn't get it" follow up
Unfortunately, not every prospect is going to be successful in their buying journey – it's the nature of the game. But the relationship doesn't end when they don't win the bid on their favorite house. In fact, this is a chance to serve them other relevant properties and continue to build the relationship by finding out more about what they want and what they're willing to do to get the home of their dreams.
This follow up email example commiserates with the recipient before giving an explanation for the failed bid. The agent then goes on to recommend other similar properties before asking the buyer to "team up" and come up with a plan of action, which will ultimately deepen the client relationship.
Tip: Tap into the feelings of your buyers by celebrating or commiserating with them in your follow up emails.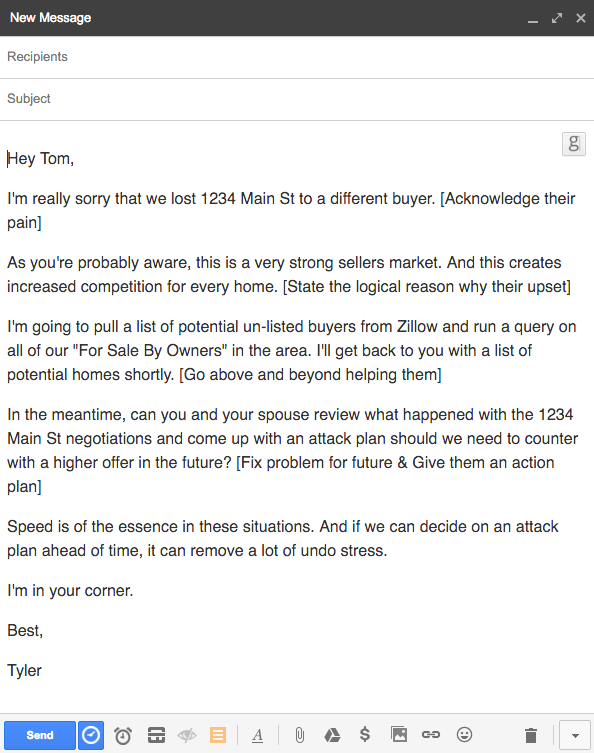 5. The "just touching base" follow up
Again, a prospect might not be in a position to buy right now, but they may well be later down the line. Real estate follow up email examples don't have to come after a big event or a failed bid, they can also act as a bridge to keep you connected to potential clients.
This real estate lead follow up email example touches base with clients and encourages them to schedule a call which can be a great opportunity to convert a client into a buyer or learn more about their needs.
Tip: Be consistent with your follow up emails and ensure you drop into a buyer's inbox when they've asked you to follow up. Use this opportunity to learn more about them and deepen the relationship.

6. The "can you recommend me" follow up
Realtors rely on recommendations – they come with in-built trust, especially if a past buyer has had a particularly enjoyable experience working with you. Real estate follow up scripts are a great way to ask for referrals from prospects who have bought with you in the past.
In this real estate follow up email example, the agent congratulates the buyer on their one-year anniversary before asking if there's anyone they know looking to buy a home. This also keeps prospects warm – who knows when Steve might want to move again?
Tip: Don't be afraid of using your follow up emails to ask for testimonials or referrals from your best buyers.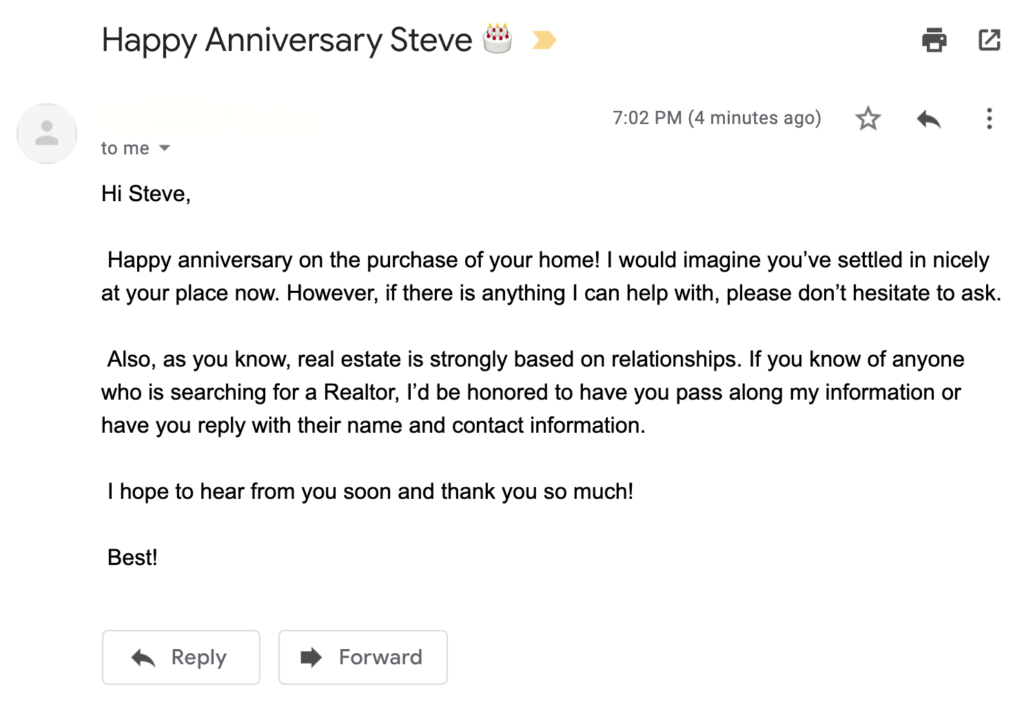 7. The "how can I help" follow up
Gaining a deep understanding of each buyer's unique wants and needs is critical for being a good real estate agent. Take the opportunity to get to know each lead better through your real estate lead follow up emails and make it easy for them to share their requirements.
This real estate follow up email example thanks the recipient for coming to an open house before asking more about their individual requirements. The very clear call to action (CTA) at the end makes it easy for leads to take the next step.
Tip: Make it easy for leads to share their preferences with you by clearly outlining what steps they can take next.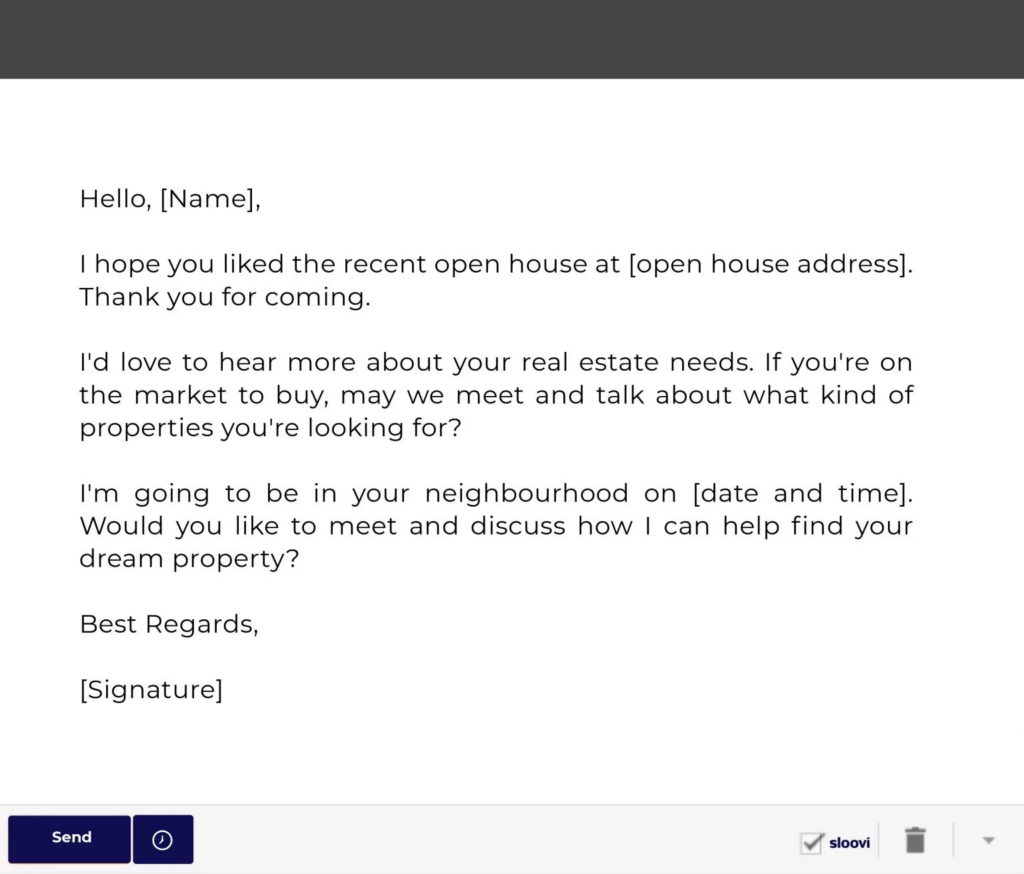 Top tips for creating a real estate lead follow up plan
Keep it short: Email copy between 50 and 125 words gets a higher response rate than longer emails. Make your follow up emails precise and get to the point quickly.
Personalize emails: Buying a home is a big, personal purchase and is tied to emotions. Speak directly to each buyer's unique wants and needs to build a deeper connection and establish trust.
Give clear next steps: Make it easy for leads to take the next step with you by clearly outlining what actions they can take – should they call you? Set up a meeting? Come to an open house next weekend?
Create an email sequence: Write a series of follow up emails for every possible occasion so that it's easy to send a response or a check-in to a potential lead.
Automate the process: Use LeadsBridge to automate the follow up process. Use the tool's powerful integrations for email marketing and real estate to get in touch with high-intent leads at exactly the right moment.
Automating your real estate follow system can take a load off your plate. You can work on other parts of your business while the tool does all the work for you – plus, you won't forget to send that all-important follow up email.
LeadsBridge is the perfect automation tool for your real estate lead follow up plan because it powerfully integrates with the rest of your tech stack. It's not limited to follow up emails; it can also automate remarketing campaigns, workflow management, and real estate lead generation to increase conversions and make your life a whole lot easier.
Grow your real estate business with follow up emails
Building a roster of leads is essential to the success of your real estate business. Ensuring you regularly check in with buyers will keep you front of mind and ensure you're the go-to agent when they're ready to buy or sell.
Follow up emails are the perfect way to stay in touch and personalize your communication with each buyer depending on their unique needs. Let LeadsBridge help with its seamless integrations for the real estate industry. You can send automated emails to Facebook leads that engage with your Facebook ads, and manage your leads.