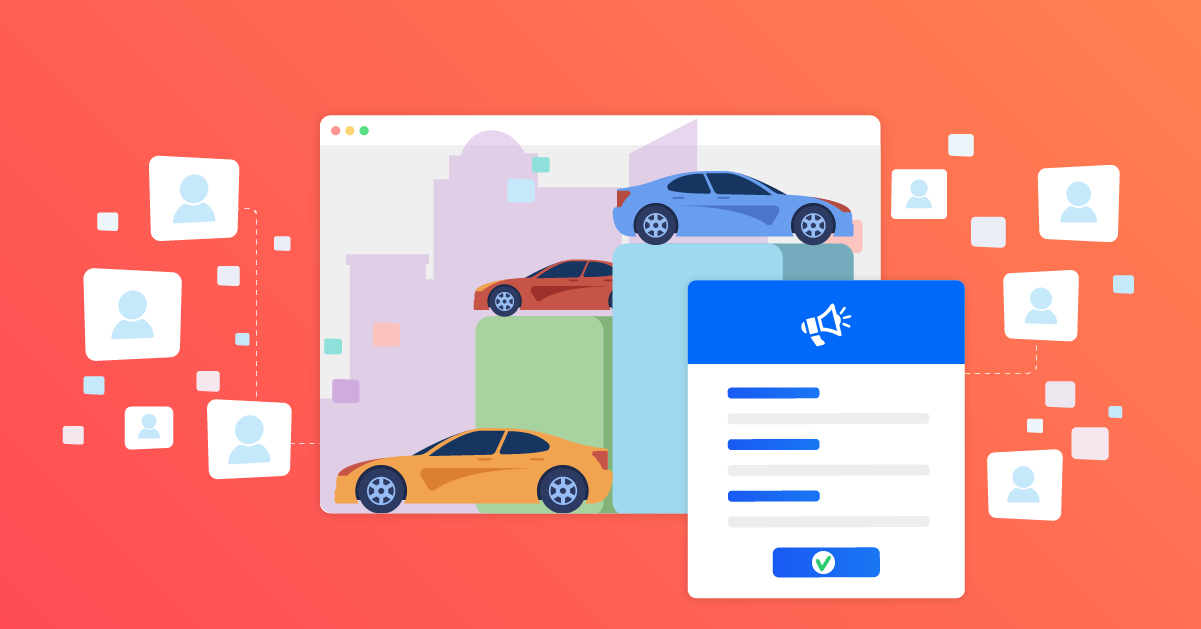 Leads are everything for car dealerships and auto shops. Without them, it's impossible to sell any products or keep the business going – it's simple math. But many dealers don't know how to generate leads. They might try a handful of outdated methods from yesteryear that don't get the results they'd hoped for and so they go back to aggregate sites and old-fashioned mailouts.
Learning what automotive lead generation strategies to implement and – more importantly – how to implement them is crucial for attracting new customers and providing a great experience.
So, where do you even start?
Automotive Lead Generation Strategies for Dealerships
1. Valuable Content in Exchange for an Email Address
Consumers come in all shapes and sizes, but there's one thing they all have in common: they want value before they give you their details. It's highly unlikely a potential lead will hand over their email address without an incentive, like a discount, a free guide, or a complimentary test drive.
Relevant and useful content works well for this. Consider creating ebooks, whitepapers, and quizzes that can only be accessed when a prospect gives you their contact information.
Once you have that, you can nurture them via email and over the phone. On top of this, you can find out a lot about your target audience by the content they download, which means you can provide even more personalized experiences moving forward.
This dealership offers a free ebook about car finance.
2. Ads and Retargeting Ads
Ads help you reach people who might not have heard of you. This is crucial if you're up against a ton of competition in your local area, or if there's a competitor that dominates your market.
Both Google Ads and social ads offer laser-focused targeting capabilities and allow you to run specific campaigns for specific groups of people. Get the best results by segmenting your audience and serving them ads based on their unique needs, like:
The type of vehicle they've shown interest in
Whether they are a new customer or a returning customer
Their demographic information, like age and location
You can use lookalike audiences to target people who are similar to your existing customers as well as retarget leads on your email list with relevant offers and content to help you stay front of mind and ramp up your automotive lead generation efforts.
3. Sync New Customers With Your Lead Management Platform
Managing your leads can be a nightmare, especially if they're all coming from different sources and contacting you in different formats. Make sure you don't send a message to the wrong person or miss a potential conversion by managing your leads in one place with car dealer lead management software.
By integrating a car dealer lead management platform like Vinsolutions, DealerSocket, or Elead through LeadsBridge, you can update customer preferences based on their interactions with you, and take note of their interests and behavior so you can provide a personalized experience.
4. Run a Referral Campaign
There's nothing quite as powerful as a recommendation from a friend or family member. This is what makes referral campaigns so effective. By giving existing, loyal customers an incentive for recommending you to someone they know, you cement their trust and get a new lead at the same time.
Offer a discount, a free test drive, or a freebie as part of your referral campaign.
Nissan offers customers a few freebies if they refer a friend.
5. Double Down on the Best Third-Party Site
It's tempting to spread yourself too thin across every third-party site going – the more visibility you have the better, right? But not all third-party or aggregate sites are the same and spending time and energy making it work on them could be time better spent elsewhere.
Instead of throwing spaghetti at the wall and seeing what sticks, identify which third-party sites are bringing you the most leads and focus specifically on those.
6. Practice Local SEO
The majority of leads will come from your local area. People tend to buy cars from dealerships near them, which is why it's important to optimize your site for local searches. 
Start by claiming your Google Business profile and populating it with reviews, your opening times, and key information about your dealership or store. Doing this will give you a good chance of showing up in the top three results when someone local searches for a brand like yours.
Businesses that have a high star rating and lots of company information tend to show up the highest on local searches.
7. Offer Online Chat Support
Customers who are in buy mode often have last-minute objections, particularly when making a large purchase like a car.
Don't make them work to find the answers to their questions or you risk them going elsewhere. Instead, implement a live online chat (or a chatbot) that is set up to send answers to common questions or that can tackle in-the-moment objections and collect pre-warmed leads.
8. Run Re-Engagement Campaigns
Existing customers are often your best customers.
Not only do they spend more, but they're more likely to refer you to their friends and family (see the referral program we mentioned above). Instead of letting customers disappear off into the sunset after they've bought from you, create re-engagement campaigns to keep them warm until the next time they need something from you. Start by sending re-engagement email marketing campaigns to remind them about your services, offer a discount to returning customers, or suggest another incentive that will have them coming back for more.
Arnold Clark gives customers a freebie if they claim a test drive to re-engage those on their email list.
9. Cross-Promote With Local Businesses
Local businesses are your best friend as a car dealership. Customers that shop at other places may also need your services at some point, so it's a good idea to team up with organizations in your local area and promote each other.
You can offer a discount code to customers that come to you via other businesses or run a referral program that provides other incentives.
10. Attract Leads on Social Media
Showing up on people's feeds on the platforms they're already hanging out on can be a great way to attract new leads and stay relevant.
Sharing regular content that links to a lead gen form on sites like LinkedIn, Facebook, and TikTok will increase brand visibility and increase your chances of reaching new customers. In fact, the automotive industry is said to be an industry that can benefit the most from TikTok's new lead generation feature. LeadsBridge offers integrations for LinkedIn, Facebook, and TikTok, making it easy to optimize automotive lead generation on social media.
Use LeadBridge's social media integrations to generate fresh leads on the platforms your customers are already present on.
Car Dealer Lead Management Solutions
Struggling to manage a new influx of leads? Use these tips and solutions to organize your prospects and increase your conversions:
Use a CRM: LeadsBridge provides multiple different integration options for automotive lead generation in the automotive industry
Sync customer's data: Make sure you're keeping customer information up-to-date and changing customer data depending on preferences and interests
Automate customer management: Connect up your marketing data with your CRM to monitor customer behavior and create personalized experiences
Sync new leads: Turn social media followers into leads by syncing up your new leads with your CRM
Lead generation in the automotive industry is crucial. You need a constant stream of incoming prospects to keep business going and to increase your conversion rate and revenue.