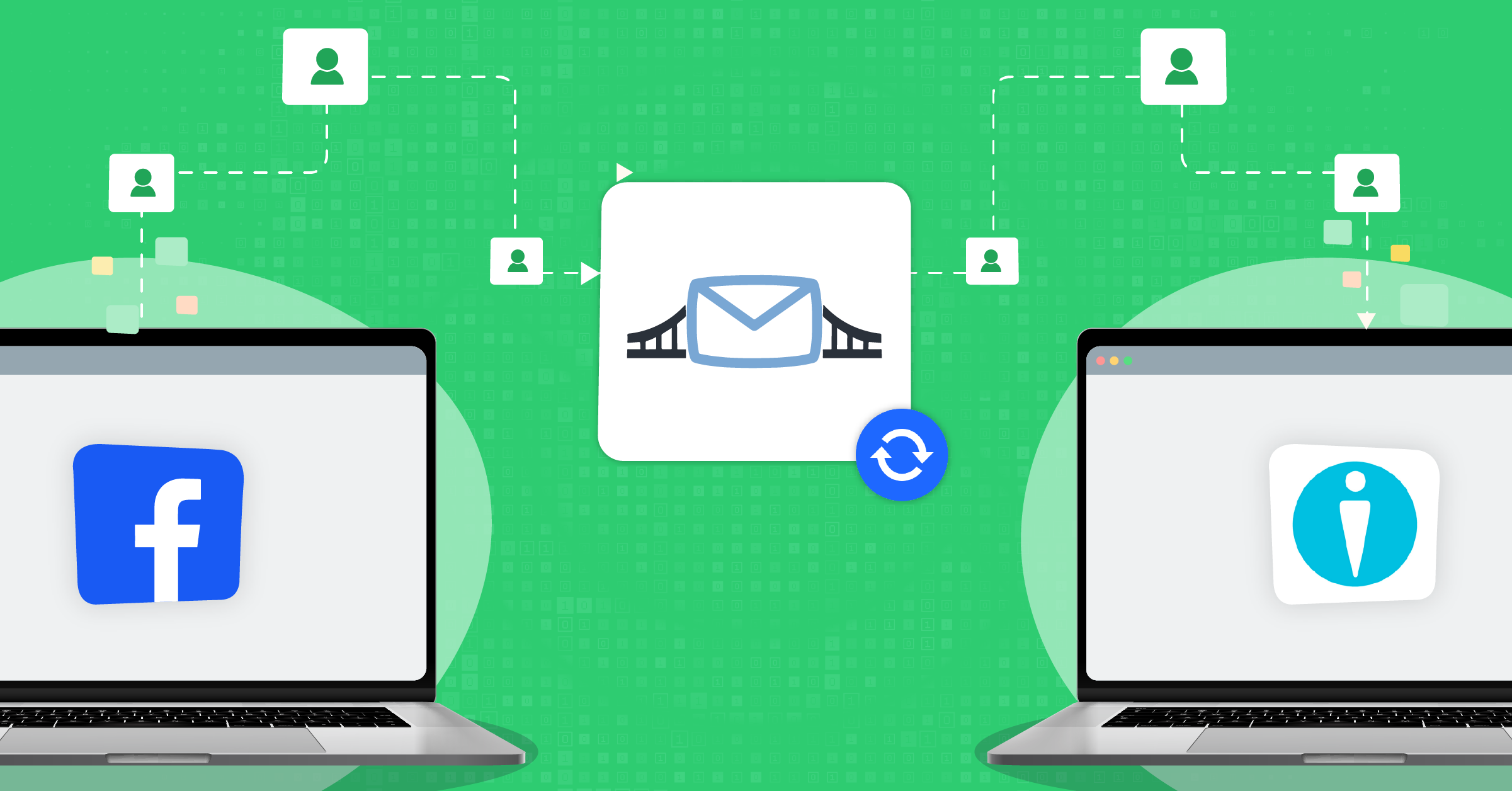 Organizing the operational processes of a dealership can be challenging in itself. When you include manual lead generation efforts and the management of according data, it is easy for tasks to become tedious and sales opportunities to be missed.
This is where the value of a VinSolutions CRM-Facebook integration presents itself. This integration lets you streamline workflows between both platforms and watch your productivity levels and sales opportunities increase.
Benefits of a VinSolutions CRM Facebook integration via LeadsBridge
Facebook Lead Ads are a tool specifically designed to acquire leads. This advertising system differs from the traditional methods of driving users to a company website, instead using the Facebook platform to source interested prospects.
This is carried out by presenting a user that clicks on your ad with a registration form, with an opt-in system offering automatically pre-populated data fields. In a few simple clicks, a lead can submit their form without even having to leave the Facebook platform.
VinSolutions is an automotive industry-specific customer relationship management system. This cloud-based platform boasts a broad range of operational features that can enhance your lead targeting and nurturing practices. With its automated outreach solution and detailed reporting, your dealership can better identify sales opportunities and increase conversion rates. Take a look at this automotive lead generation ideas article to get inspired.
Using LeadsBridge, you can maximize the full capabilities of this CRM software, as highlighted within our VinSolutions guide. This can be further enhanced by seamlessly creating a VinSolutions CRM-Facebook connection and begin automating your data sync between the two.
Combining the power of both of these tools enables your dealership to maximize its advertising efforts and drive greater sales through;
Enhanced lead tracking and customer visibility
Informed strategies from greater user insight
Improved customer experience with automated outreach
Although establishing a VinSolutions integration with Facebook may seem complex, LeadsBridge allows you to bridge the data gap between these two platforms with just a few simple clicks.
How to set up your VinSolutions CRM Facebook integration: The step-by-step tutorial
Before you start
Before creating your Facebook Lead Ads-VinSolutions integration, you'll need to log in to your LeadsBridge account. If you do not have an account yet, you can sign up for free here.
After logging in, you'll have access to your personal LeadsBridge Dashboard.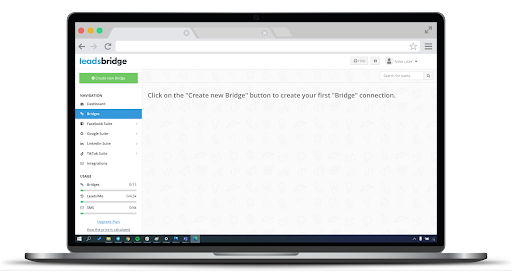 Step 1: Add the main information of your bridge
Follow these simple steps to connect Facebook Lead Ads to VinSolutions.
1. On the left side, find the "Create new Bridge" button. Click on it to create your first "Bridge" connection.
2. Fill in the necessary information.
a) Select "Facebook Lead Ads" as the Source for your bridge and VinSolutions as the Destination.
b) You can also name your bridge by clicking on the pencil icon ✎ at the top (i.e., Facebook-VinSolutions bridge).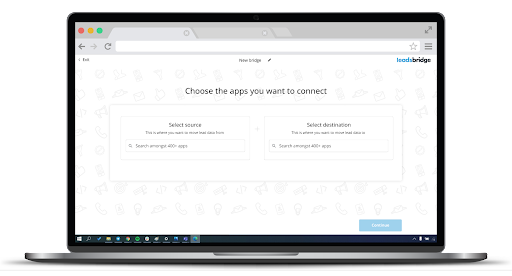 Step 2: Connect your accounts
1. Here, you'll need to follow these simple steps to connect your accounts in order to authorize LeadsBridge to build a data bridge between the two.
a) Click on the drop-down menu and add Facebook Lead Ads as your source.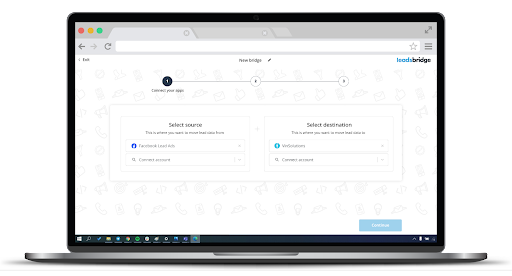 b) Authorize the connection by logging in to your Facebook account. Remember, use the account that is linked to your Facebook ad account.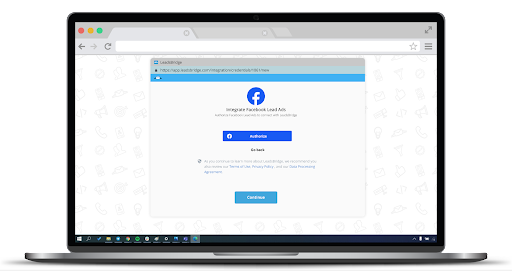 c) After getting the following message, click "Continue".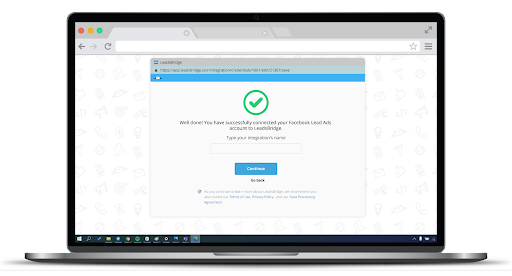 d) "Choose settings" by selecting your Facebook Ad account.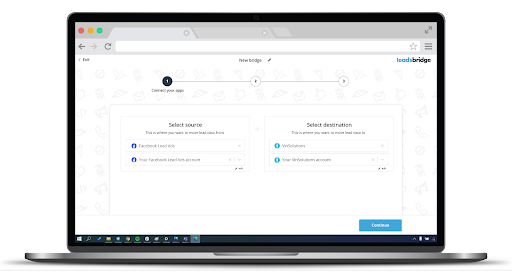 e) Once completed, click "Continue".
2. At this point, you'll need to integrate the destination app by connecting your VinSolutions account.
a) Fill in the requested information by typing in the integration's name in the dedicated field and entering the CRM import email where you want to send your leads.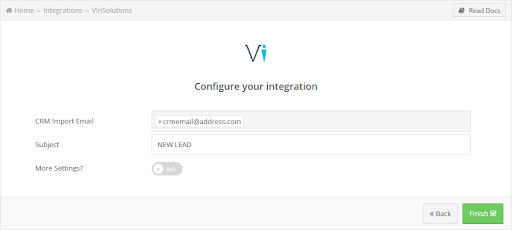 b) To obtain the email where you need to send the leads, you should ask VinSolutions support.
c) Click the "Next" button to select the destination segment and start transferring your leads.
d) You may also choose to receive an email receipt for each incoming lead.

e) Type the address(es) where you'd like to receive the receipt.
f) You may also modify the subject line of the email
g) Click on the "Next" button.
Step 3: Fields mapping
1. Here, check if all data fields are mapped accurately to ensure your VinSolutions Facebook Lead Ads integration operates flawlessly.
2. Use the "Showed unmapped fields" button to add or edit the information manually and pass it as a static value. These functions are used to customize information like reformatting dates and times or modifying text, phone numbers, etc. You can also leave specific fields blank if you don't want to consider them.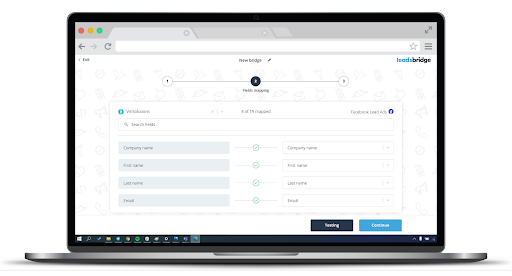 Step 4: Test
At this point, your bridge is almost ready. However, you can run a simple test to see if the configurations work correctly.
a) Under the Fields mapping setting, select "Test connection".
b) Type in the necessary information, such as name and email address.
c) Click on "Run test".
d) You can "Go back" to edit the fields if necessary. However, if the test shows that the bridge is working properly, you'll receive the following message.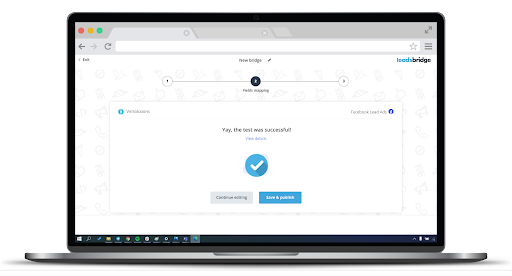 e) Click "Save & publish".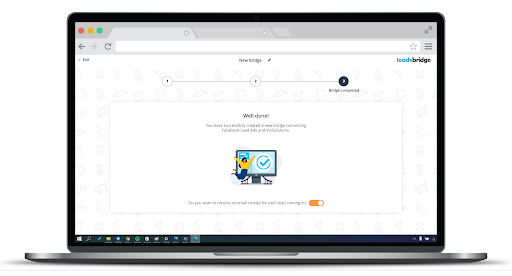 That's all! Congratulations, your bridge is now active.
Additional popular VinSolutions integrations
LeadsBridge offers a variety of tools that can help to optimize your dealership lead management campaigns, as well as increase your reach of potential customers.
Choosing Google Ads Lead Form extension as one of your main VinSolutions integrations is an excellent tactic, as this platform is well-suited to facilitating automotive marketing strategies. With targeted keywords, you can drive leads directly from mobile search result pages.
By connecting your CRM with Jotform or Google Sheets, you can easily create lead capture forms filled with actionable user data that can be utilized to form actionable strategies.
Get more information
Learn more about how to implement a VinSolutions CRM Facebook integration through LeadsBridge by requesting a demo.
You can also find more information about the VinSolutions integration with LeadsBridge here.