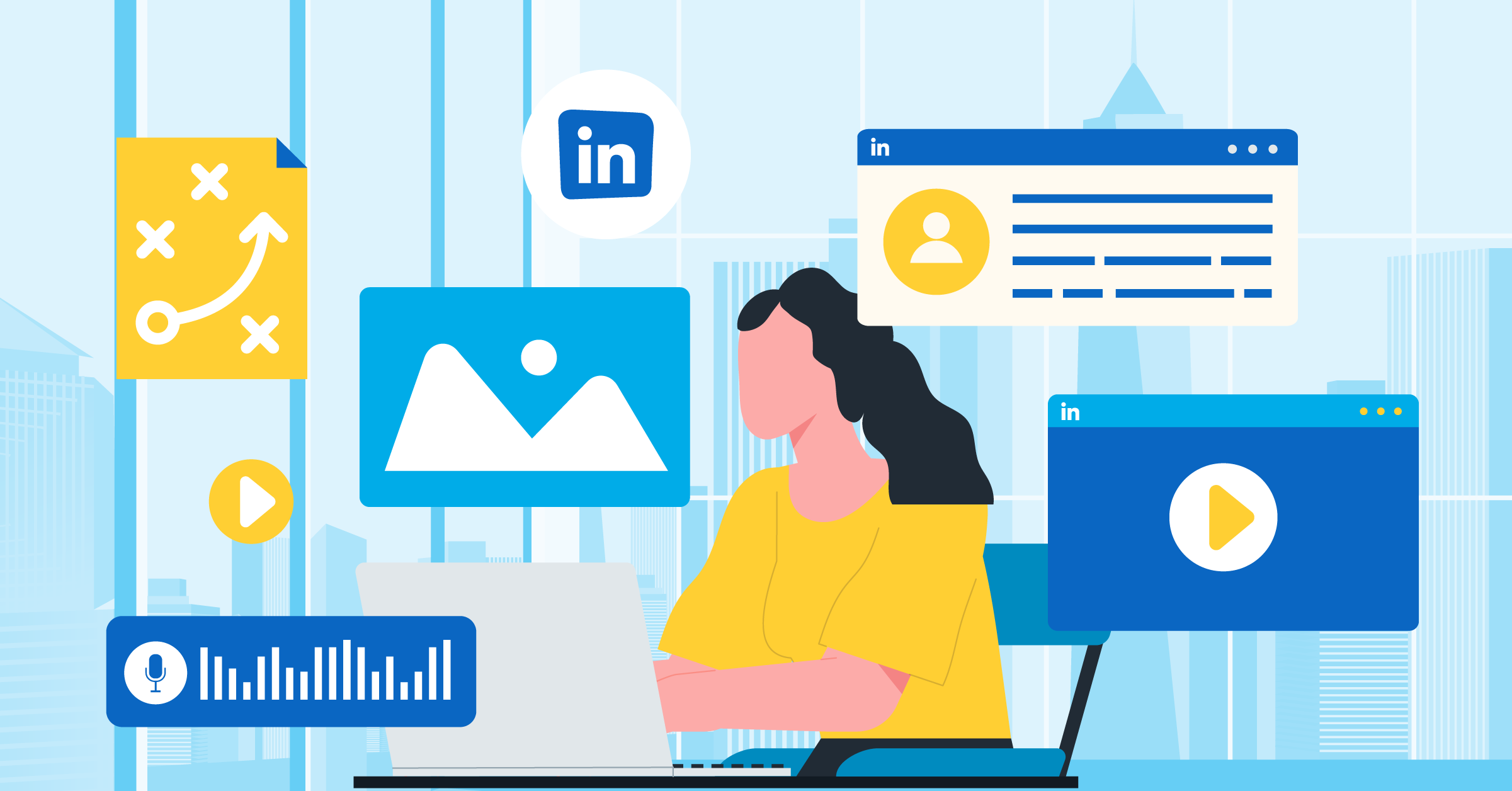 The business social network LinkedIn is focused on finding professionals and making connections. LinkedIn has 660 million registered people from 200 countries and about 30 million companies worldwide. Most of the users are from developed western countries. With LinkedIn, you can find candidates, employers, business partners, clients, and even investors.
You can also set up and run ads here: LinkedIn provides several effective ad formats. However, without LinkedIn ads examples, it is difficult to understand everything. This article will discuss the process of creating LinkedIn ads with the anatomy of a LinkedIn ad.
Anatomy of a LinkedIn ad: Types and formats
Native LinkedIn advertising promotes posts published on a company's page. It is otherwise known as sponsored content. This type of LinkedIn ad is placed in the feed, which is its advantage over other LinkedIn ads appearing at the top of the page or in the sidebar.
With it, you can pay for clicks per 1,000 impressions. Also, native LinkedIn advertising allows you to use larger images and bulky text to interest your audience. Sponsored LinkedIn ads can and should be used if you have set a "Conversions" goal.
The primary purpose of LinkedIn text ads is to attract traffic to your website or company page on LinkedIn. The Setup of LinkedIn ads is similar to Google Ads: you need to write two lines of text of up to 75 characters and a headline of up to 25 characters. In addition, you can include a 50×50 pixel image. You will also need to specify the target URL – where people will come after clicking on your ad. As you can see, LinkedIn ads specs don't significantly differ from Google ads specs.
The essence of Sponsored InMail (Message Ad) is sending personalized emails to representatives of the target audience through Messenger. Advertisements are shown as in normal InMail. Messages include:
Customizable subject line
Main text
Call to action
Each user can only be sent one such message once every 45 days. Sponsored InMails are sent only when the user is active on LinkedIn. Thus, it is more likely that these emails will get noticed and stand out from the others. The budget for Sponsored InMails is based on a "price per send" model.
Dynamic LinkedIn ads tend to change depending on who sees them. These ads deliver and display personalized messages. So, this LinkedIn ad type is great for businesses targeting a broad audience.
Lead generation forms are advertising forms where users submit their information to receive, for example, an offer or any other valuable content. With LeadsBridge LinkedIn lead generation forms integration, you can build a base of contacts and create a mailing list. Also, you can avoid the manual download of your leads and sync them with your CRM or email marketing platform in real-time, as soon as they come in, for an immediate follow-up.
How to create an ad in LinkedIn?
LinkedIn advertising is more expensive than other social networks and irrelevant to all niches and companies. LinkedIn offers high advertising prices because it focuses on the B2B market, where costs are higher than in the B2C sphere. But LinkedIn advertising has the advantage of reaching an audience that doesn't see your competitors' ads.
LinkedIn is the optimal social network for launching advertising if your product is aimed at Western markets. The social network is prevalent in Europe, the United States, Australia, and Canada.
LinkedIn ads can be tailored to specific audiences, such as people who work in a particular job or profession, live in a specific region, or have a certain age or gender. You can also set up LinkedIn ads for people who work for a company of the right size or even for people-employees of a particular organization. LinkedIn ad sizes differ based on the type you choose. So let's discuss the process of creating LinkedIn ads.
Creating LinkedIn ads: Set up campaign groups
To set up a LinkedIn ad campaign, go to the account you want to use. You'll first need to create a campaign group and name your campaign. This name is internal and will not be visible to the audience.
The purpose of the name is to allow you to group many ads in a single setup. You can group up to 15 ads per campaign. Describe the purpose of each ad unit so that you can find the right ads and distinguish them later.
Creating LinkedIn ads: Choose a goal
LinkedIn ads' goals correspond to the funnel's three stages: brand awareness, attention, and conversions. There are seven types of goals to choose from on LinkedIn:
Brand awareness. These LinkedIn ads drive a large number of impressions.
Website visits. These LinkedIn ads are shown to people who likely will click on the link and go to the website.
Engagement. Advertising with such a purpose increases the number of actions with content (likes, comments, subscriptions).
Video views. This LinkedIn advertising is aimed at viewing the video and interacting with the target audience.
Lead generation. These LinkedIn ads encourage leads to fill out a form.
Website conversion. These LinkedIn ads target leads to get them to go to the website and take targeted actions.
Job applications. These LinkedIn ads are shown to those most likely to be interested.
The next step is to choose the audience.
Creating LinkedIn ads: Set up the audience
It is essential to set up the parameters correctly and precisely not to drain the budget and start showing ads to the wrong people. You can target people according to many parameters, which allows you to achieve high conversions because the ads will be targeted and relevant. Targeting parameters:
Geography
Company name, industry, size
Job title
School, university, fields of study, degrees
Gender, age
Years of experience
Company connections and followers
Member groups
LeadsBridge offers audience targeting integrations. With it, you'll be able to automatically create the best audiences by syncing the CRM segments, email marketing contacts, or customer lists with Facebook, LinkedIn, and Google Ads. LeadsBridge also offers LinkedIn Matched Audiences that enable you to retarget website visitors and promote your product and services to contacts from your CRM databases and marketing automation platforms.
Creating LinkedIn ads: How to write a LinkedIn ad?
Writing LinkedIn ads is the most vital part of LinkedIn advertising. As you may notice, most ads on LinkedIn are text ads. So, to write a successful LinkedIn ad, you should:
Define the features of your product/offer. In a separate document, write down which audience you're targeting, which pains you can cover, what's unique about your product, and how it differs from your competitors' offerings.
Write headline options based on the previous step. The headline is half the success. It helps decide whether or not your ad will be read. Moreover, it has limited characters, so you need to catch attention in the shortest possible wording. Therefore, when creating a headline for the LinkedIn ad, be specific and concise.
Write the text of the ad using the benefits and CTA. Your CTA in LinkedIn ads should be accurate and informative. On LinkedIn, there's no time for fluff, complicated thoughts, and lengthy descriptions, especially when characters are limited. Keep in mind the high competition for attention.
Pay great attention to your LinkedIn ad text. Your success depends on it. If you have no experience, you can always turn to a writing service or any expert copywriter and order texts for LinkedIn ads. This option is much better than creating ads with poor text.
Creating LinkedIn ads: Set the budget and schedule
Then, configure your budget, bid settings, and ad dates. LinkedIn will automatically select the current campaign start date; you can also modify the start and end dates manually.
Setting a small maximum daily budget for the first LinkedIn ad campaign is advisable. In this case, the budget loss will be small if the campaign is unsuccessful. LinkedIn offers a range of rates based on your daily budget and the competition for your ads. So naturally, the more advertisers trying to reach your target audience, the higher your rate should be.
You can customize the budget flow of your choice:
CPC
CPM
Sending price – suitable for Sponsored InMail type of advertising.
You can test one way of spending your budget first to see the effectiveness and then another.
Creating LinkedIn ads: Launch and optimize
The final step is to load the LinkedIn ad itself after setting up the ad, add payment details, and view the order. Enter your payment details and click "View". If you are satisfied and need no adjustments, run the ad campaign.
Typically, ads are manually reviewed by LinkedIn's moderators, which can take two days. After that, LinkedIn will bill you depending on how you set your budget: daily, weekly, or monthly. If the daily budget is exceeded, LinkedIn advertising stops. Additionally, you only pay when a user from your target audience clicks on the ad.
How to automate advertising on LinkedIn?
If you are looking to maximize your campaigns' efficiency, LeadsBridge is your way to automate LinkedIn advertising. LeadsBridge fulfills your integration needs, focusing on bridging gaps between advertising platforms and sales funnels, and delivering tailor-made integrations made to your business needs.
Our platform is suited for any company that wants to streamline its advertising activities by integrating the marketing technology stack with Facebook & Instagram Ads, Google Ads, TikTok Ads, and LinkedIn Ads.
Conclusion
LinkedIn is aimed at the B2B sphere and is used mainly to find the right specialist or career opportunity. Many LinkedIn users fill out their profiles in detail, presenting them as resumes and portfolios: they include as much information about their education, skills, and abilities as possible. And that's a real treasure trove for audience targeting. You can only show ads to targeted people, simultaneously attracting high-quality and high-conversion traffic.
Advertising costs vary greatly depending on the type of campaign. For example, text ads with a PPC budget are more expensive than media ads that pay per 1,000 impressions. Clicks can cost anywhere from $2 to $6: the spread depends on your budget and keyword competition.
Explore all the available integrations by LeadsBridge right now!