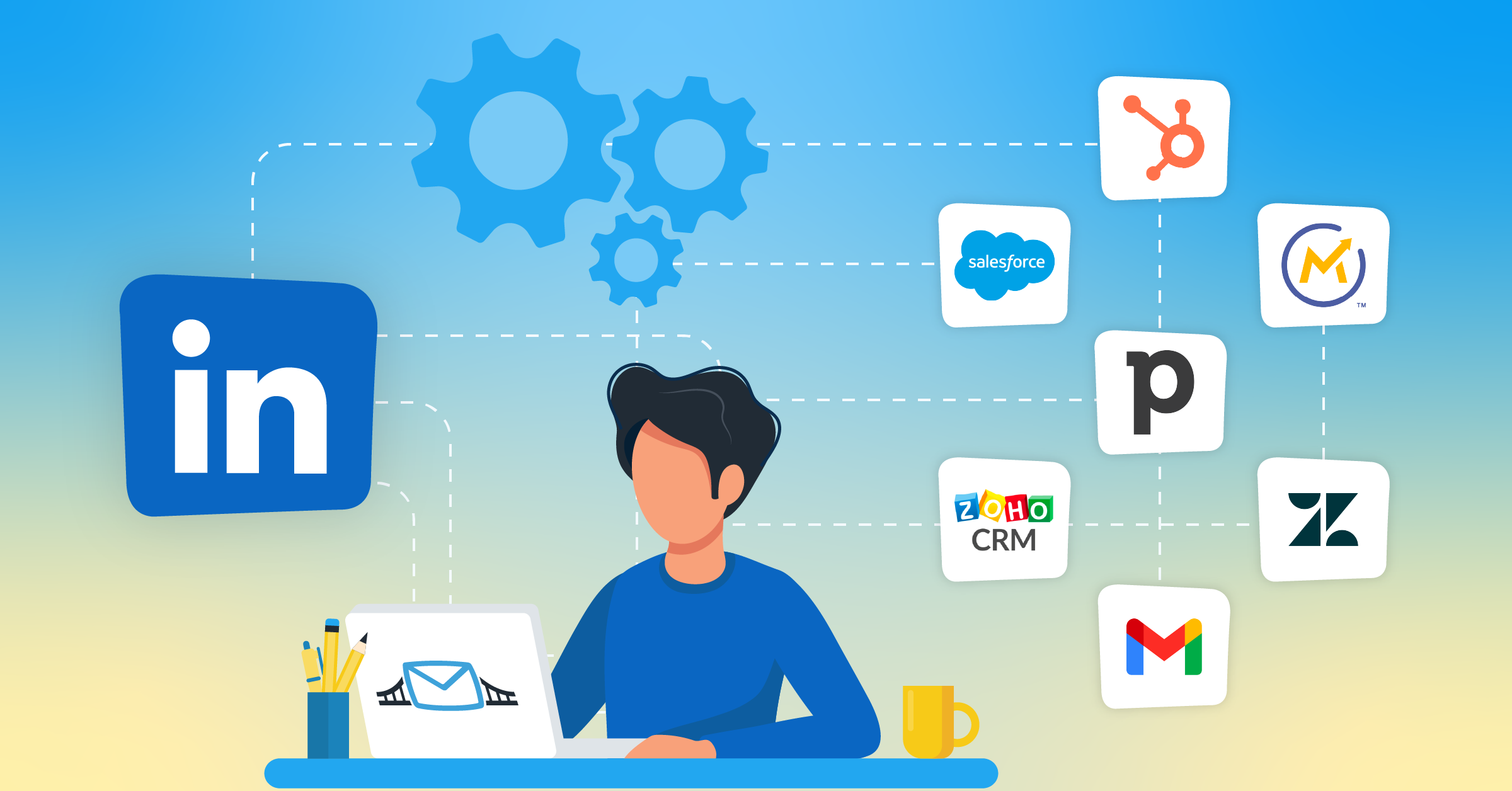 With 875 million active users, LinkedIn is one of the most powerful social media platforms for businesses. The platform initially started as a networking website for professionals, but it's now used to promote businesses, share industry thought leadership posts, and look for jobs.
LinkedIn is consistently adding new features to help marketers boost their businesses. In 2022, LinkedIn Marketing Solutions exceeded a record-breaking $5 billion annual revenue. This was a result of an increased number of ad impressions as LinkedIn Ads reached over 22 Million more users.
Another great thing about LinkedIn is its ability to integrate with different third-party products. The platform has partnered with specialized marketing tool providers such as LeadsBridge to bring trusted solutions to any business.
In this article, we'll talk about LinkedIn ads and the best LinkedIn-CRM integrations, while introducing each of these native tools and CRM software.
Types of LinkedIn products available for integrations
There are a few major advertising features on LinkedIn available for integration — LinkedIn Lead Gen Forms, LinkedIn Matched Audiences, LinkedIn Events Ads and LinkedIn Offline Conversions.ù
LinkedIn Lead Gen Forms
LinkedIn Lead Gen Forms are similar to Facebook Lead Ads forms; they help you generate top-quality leads from your Sponsored Content Campaigns on LinkedIn. These Ads create effective campaigns because of their click & submit forms and compatibility with mobile devices.
According to LinkedIn, the average conversion rate for Lead Gen Forms ads is 13%, thanks to pre-filled forms with users' data.
Other perks of using these forms are the ability to:
Generate high-quality leads with accurate LinkedIn profile data
Easily be submitted with just a couple of clicks
Measure the ROI of your lead gen campaigns
Efficiently manage your leads
LinkedIn Lead Gen Forms integrations
With LeadsBridge, it is possible to integrate LinkedIn Lead Gen Forms with different CRM and third-party apps. This allows you to automate your data sync processes to get in touch with the leads as soon as they opt in and increase your conversion rates even more.
Here's how to integrate LinkedIn Lead Gen Forms with Pardot. The process is the same for connecting Lead Gen forms with any other CRM and third-party app through LeadsBridge.
LinkedIn Matched Audiences
LinkedIn Matched Audiences is a tool you can use to build audiences from your email lists, website traffic, and high-value LinkedIn accounts.
With LinkedIn Matched Audiences, you can upload a list of companies or contacts for targeting, retargeting, and also creating a Lookalike Audience. This feature helps to accelerate the buyer's journey from awareness to conversion. With it, you can retain your customers and also improve their lifetime value.
Other advantages of LinkedIn Matched Audiences are:
Improving the targeting of decision-makers and companies
Better contact targeting
Creating robust integration for connecting LinkedIn to your contact management platform
Building retargeting segments to deliver personalized content
Reduced advertising costs
LinkedIn Matched Audiences integrations
Using automation, you scale audience-building, streamline your data sync processes and keep your audience list up to date. This is particularly necessary if you run a large company with massive CRM segments.
As an official partner, LeadsBridge also keeps your LinkedIn audience targeting practices secure and compliant with GDPR regulations.
LinkedIn Event Ads
LinkedIn recently introduced the "LinkedIn Registration Forms". This feature facilitates the process of creating and joining professional events (webinars, meetups, online workshops, seminars, etc.). By using LinkedIn Event Ads, LinkedIn members can achieve several benefits. This includes discovering and joining communities, developing their businesses, networking, growing their marketing reach, and learning new skills. Here's all you need to know about LinkedIn Event Ads.
LinkedIn Event Ads also:
Help build and nurture relationships with target audiences
Drive awareness and collect valuable attendees by hosting events
Offer better organic discovery and attracting the right audience
Improve audience engagement before, during, and after the events
Provide access to a free event tool in a professionals-only environment
LinkedIn Registration Forms integrations
LeadsBridge offers LinkedIn Registration Forms integrations that help manage all the lead data you collect throughout_ whether before, during, or after the event. This way, you can automatically run this data through your lead score system and nurture them accordingly.
LinkedIn Offline Conversions
As a robust marketing tool, LinkedIn Offline Conversions allows you to track and scale your campaigns' performance using additional data. This information could be in-person transactions, phone calls, or existing CRM segments offering a bird-eye-view of your campaign's impact on lower-funnel results. Regardless of the source, you'll want to track any of these conversions, whether they are online, offline, URL-generated, or event-specific conversions.
Using LinkedIn Offline Conversions offers many benefits, including:
Obtaining critical metrics to measure and optimize your campaigns
Better management of your offline leads
Reducing friction for both lead generation and lead nurturing
The ability to accurately measure your ads' efficiency and ROI
LinkedIn Offline Conversions integrations
With LeadsBridge's integrations for LinkedIn Offline Conversions, you can leverage the full potential of your ad campaigns. These data bridges let you track offline conversions by automatically importing the offline data into aggregate reporting on ad conversions.
9 Best LinkedIn CRM integrations through LeadsBridge
1. Salesforce® LinkedIn integrations
Salesforce® stores the leads coming from your forms in a CSV file. Then, you have to manually download and upload your LinkedIn data to one of the best CRMs for LinkedIn, like Salesforce®, to be able to segment and nurture these leads.
Using an official partner service provider like LeadsBridge, however, LinkedIn lets you automate the entire process. Automation is an effective method for scaling audience building through streamlined workflows. Consequently, you can provide a seamless and smooth experience that will increase your conversions.
Whether to nurture leads, run targeting and retargeting campaigns or manage your event leads with Salesforce®, these integrations let you create flawless and multi-touch workflows. Additionally, it streamlines sending email addresses as they come into your Salesforce® account so you can keep your audiences engaged.

Here's a step-by-step guide on how to connect LinkedIn Lead Gen Forms with Salesforce® via LeadsBridge.
2. Hubspot LinkedIn integration
You can automate your lead data sync between Lead Gen Forms and HubSpot. Also, it allows you to upload your contacts from HubSpot to create LinkedIn Matched Audiences.
Connecting your HubSpot CRM-LinkedIn integration through LeadsBridge helps create an interconnected marketing stack. This way, you can automatically send the leads data collected from your Lead Gen Forms or Event Registration Forms to your HubSpot CRM_ where you can quickly and easily start nurturing them with emails. Creating these connections also helps you convert them to customers before they get cold.
When is the right time to get in touch with your leads? Discover the lead management best practices here.
Additionally, HubSpot integration with LinkedIn Matched Audiences and LinkedIn Offline Conversions lets you pull your audience segments from your CRM and feed them back to LinkedIn.
3. Mautic LinkedIn integration
Mautic is an open-source email marketing automation tool that helps integrate and personalize all your marketing platforms in order to create a smooth customer experience. With Mautic, you can deliver a high-performing campaign and content to achieve higher ROIs.
Using LeadsBridge, you can integrate Mautic with both Lead Gen Forms and Matched Audiences. The Mautic and Lead Gen Forms integration enables you to create and update new Mautic contacts in a segment with LinkedIn Lead Gen Forms. You can establish a similar workflow for your event-specific leads.
Moreover, the LinkedIn Matched Audience and LinkedIn Offline Conversions integrations with Mautic automatically sync your existing lead data in Mautic back to LinkedIn, for tracking offline attributes, creating retargeting campaigns, building accurate audience lists, and more.

4. Zendesk LinkedIn Integration
Zendesk is a leading customer engagement, support, and sales software for businesses of all sizes. This automation tool helps marketers to improve processes, productivity, and pipeline visibility.
To automate your data management processes, you can connect LinkedIn Registration Form data and LinkedIn Lead Gen Form with Zendesk through LeadsBridge. With this integration, you can automatically sync your leads from a LinkedIn form into a new Zendesk ticket (or support request), where you can easily communicate with them, create engagement and build a long-lasting relationship.
[events + zendesk
Using LeadsBridge's email receipt feature, you can also get notified when a lead is added to your list. This option is available for all our integrations and for free.
Integrating LinkedIn Matched Audiences and LinkedIn Offline Conversions with Zendesk facilitate more complex data management. These integrations enable you to send offline sales information, as well as your customer user base from Zendesk to LinkedIn.
5. LinkedIn Gmail integration
Gmail is one of the most popular free email providers associated with Google products. It lets you send emails through browsers, android apps, or iOS apps. With it, you can send an email with up to 50 megabytes of attached files, and organize your emails in different folders and tabs.
LeadsBridge helps you bridge the gap between LinkedIn Lead Gen Forms and Gmail, so that you can add LinkedIn leads from the Lead Gen Form to your Gmail list of contacts.

While you might argue that Google is not the best CRM for LinkedIn, it still can be used as one. Here's how to use Google Sheets as a CRM.
6. LinkedIn integration with Zoho CRM
Zoho CRM is a customer relationship management software that is an all-encompassing tool with several functions. It offers specialized tools for sales and marketing, email and collaboration, finance, IT and help desk, customer service, and custom solution apps to empower your marketing and support clients. Zoho helps you create automated follow-up and workflow for leads, automation rules, segment your audience, etc.
Connecting your LinkedIn Registration Forms and Zoho CRM and LinkedIn integration allows you to funnel the incoming leads directly to your Zoho CRM segments in real-time. Then, you can use this data to run a variety of campaigns and nurture your leads toward conversion.

You can connect LinkedIn offline Conversions with Zoho to pull your offline data from your CRM back to your ad account. So in order to get a full view of your campaigns' impact both offline and online, you must choose a CRM that integrates with LinkedIn. Additionally, integrating LinkedIn Matched Audiences with Zoho helps sync LinkedIn Matched Audience leads of Zoho CRM to your LinkedIn ad account.
7. Pipedrive LinkedIn integration
As a web-based Sales CRM and pipeline management solution, Pipedrive is one of the most popular software out there that allows businesses to organize and manage their sales activities and deals. To convert potential customers on LinkedIn into successful sales, however, you'll need to connect both platforms.
LeadsBridge is official partners with both Pipedrive and LinkedIn, offering best-in-class integrations to streamline workflows between the two. The Pipedrive-LinkedIn integrations allow you to run your LinkedIn lead-generation campaigns and events from Pipedrive while enriching your CRM data.
To draw a map of your customer behavior, you can integrate Pipedrive with LinkedIn Offline Conversions to attribute your offline or offsite data to each of your campaigns. Moreover, Pipedrive- LinkedIn Matched Audiences integration through LeadsBridge allows you to improve your targeting, segmentation, and sales workflows, and get detailed reporting.
8. Capsule CRM LinkedIn integration
Capsule CRM is a CRM solution for small to medium businesses that sits on the budget-friendly side of the market. This ideal CRM for LinkedIn enables you to maintain engagement and manage customer relationships through email marketing, website personalization, social media service, automated reminders, etc.
By connecting LinkedIn with Capsule CRM, you can define triggers that automate workflows in lead management, lead nurturing, retargeting and more. By streamlining the data sync between these platforms, you can boost your productivity and create a robust system.
For running retargeting, contact targeting, account targeting, and lookalike targeting campaigns, you'll need to streamline the data management processes between your CRM and LinkedIn Matched Audiences. Moreover, you'll want to offer better-personalized ads and track your offline events to improve your marketing strategy even more. This can be achieved by integrating Capsule CRM with Matched Audiences.
9. Agile CRM LinkedIn integration
Agile CRM is the perfect management software for small to midsize companies. It integrates sales, service, marketing, social media, and other teams to create one centralized hub for all customer management and marketing activities.
Agile CRM helps you score your leads in the various stages of their journey, or your sales funnel based on user behavior and demographics. Then, you can use this information to prevent bottlenecks that prevent your leads from getting stuck in the funnel.
Through LeadsBridge, you can integrate LinkedIn with Agile CRM, so funnel your leads into your CRM segments as soon as they come in. By automating this process, you'll minimize friction between your leads and your sales and marketing team, who can quickly contact your leads before they lose interest.
Integrating LinkedIn Offline Conversions with Agile CRM gives you insights about valuable actions that you know have been influenced by your ad spending. Then, you can use these insights for retargeting, upselling, and more. Agile CRM-LinkedIn Matched Audiences help build a rich marketing strategy by targeting the ideal audiences.
Takeaways
LinkedIn allows businesses to connect the platform's native advertising tools with their favorite marketing and sales platforms through official providers such as LeadsBridge. By automating your advertising through the best LinkedIn CRM integrations you can stand out from the competition and increase your ROIs significantly. However, we recommend understanding the basics of LinkedIn advertising before moving ahead with more sophisticated workflows.
Besides high performing and easy to use integrations, LeadsBridge has a direct line with LinkedIn's team of engineers, hence offering the best CRM integrations for LinkedIn. This also allows you to access Partner Engineer Support, insider tips and the most recent updates_ so you'll have all the information and support that you need, to set yourself apart from the rest.
Streamline your B2B marketing with LinkedIn integrations via LeadsBridge.