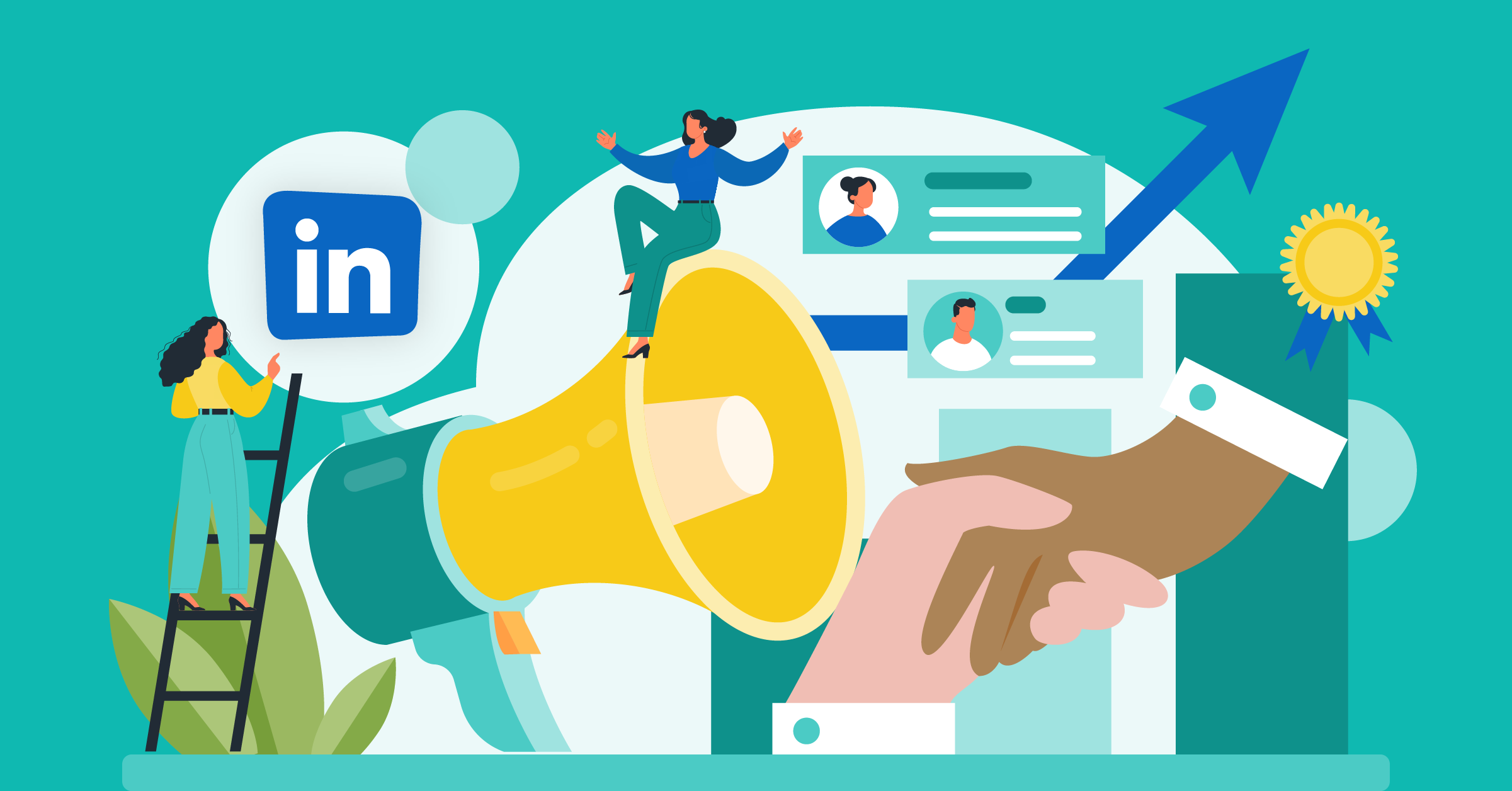 LinkedIn recently released a new feature called "LinkedIn Registration Forms," which allows LinkedIn users to easily create and join professional events – such as webinars, meetups, online workshops, seminars, and more – directly on the platform. LinkedIn Events Ads allow users to find and join communities, grow their businesses, network with others, expand their reach, and learn new skills.
And, of course, LeadsBridge – as a trusted LinkedIn partner – is there to build an integration for this new feature. Try it yourself! All you have to do is type your desired destination below.
Keep reading to learn everything you need to know about LinkedIn Registration Forms, how to create an event on LinkedIn, and how to build a LinkedIn Events Ads integration with LeadsBridge, to connect this tool with the rest of your marketing stack.
What is LinkedIn Events Ads?
LinkedIn Events Ads – properly known as LinkedIn Registration Forms – is a newly released feature that allows LinkedIn users to run both digital and in-person events on the platform, giving them the opportunity to collect and download attendees' data (such as Name and Email) for their lead generation purposes.
LinkedIn Registration Forms are a great way to:
Connect with LinkedIn users who are interested in your product and operate in your niche.
Share your expertise and build an emotional bond that drives trust.
Create hype around your product by getting lots of people to attend.
Scale and optimize your efforts. Instead of running 100 demos for 100 people, you only run one demo for 100 people.
LinkedIn Events Ads is a truly powerful tool that allows you to generate business leads directly on the platform.
How to create LinkedIn Events Ads
Creating an event on LinkedIn is extremely easy. Follow the steps listed below to create one.
First, go to the homepage of your LinkedIn profile and look for "Events" at the bottom left of your screen. Then, click on the + sign to create a new event.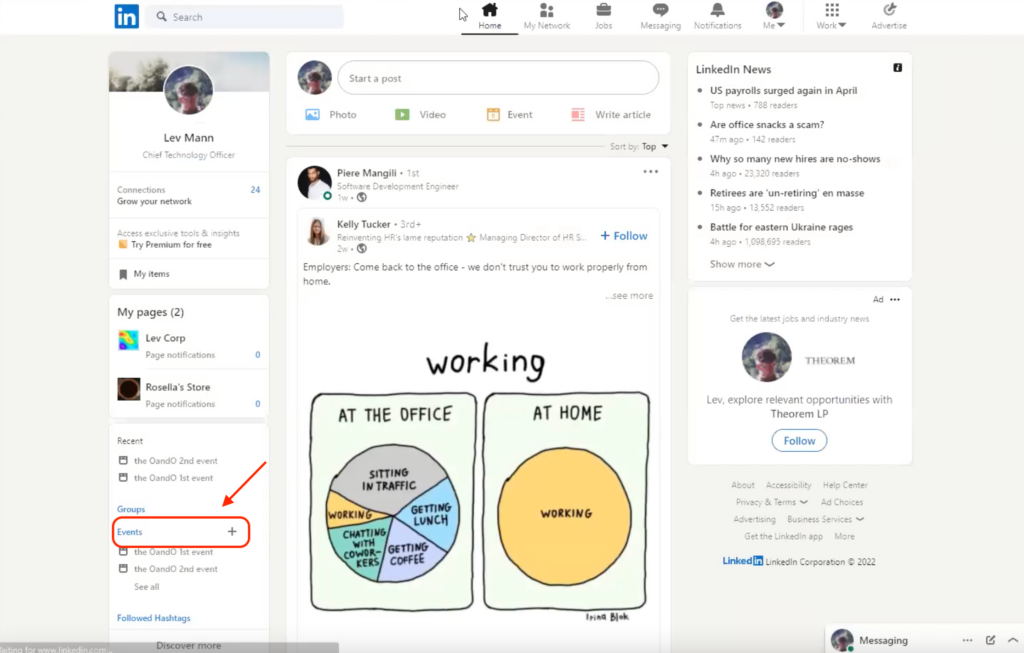 In this pop-up window, you will be able to customize your event details. You can pick a cover image, choose an organizer, specify if it's a virtual or in-person event, choose an event name, pick a time and a date, draft a description of the event (max. 5000 characters), and share the event's speakers.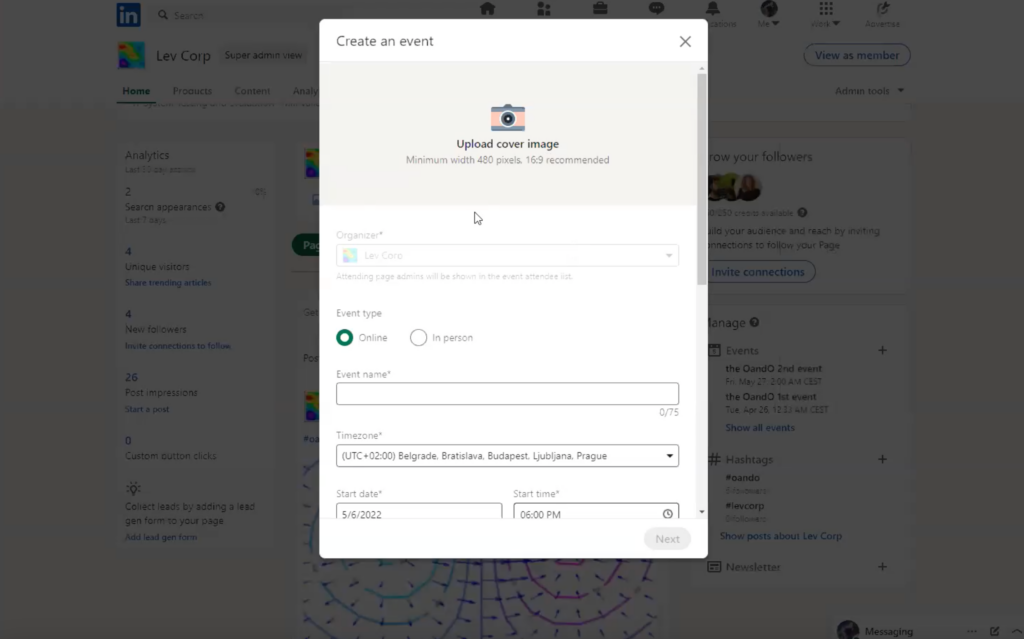 Most importantly, here is where you can choose to use a LinkedIn registration form to easily collect emails and questions directly from your audience within the LinkedIn platform. In order to do this, you will only need to add a link to your privacy policy. And voilà, your event is created!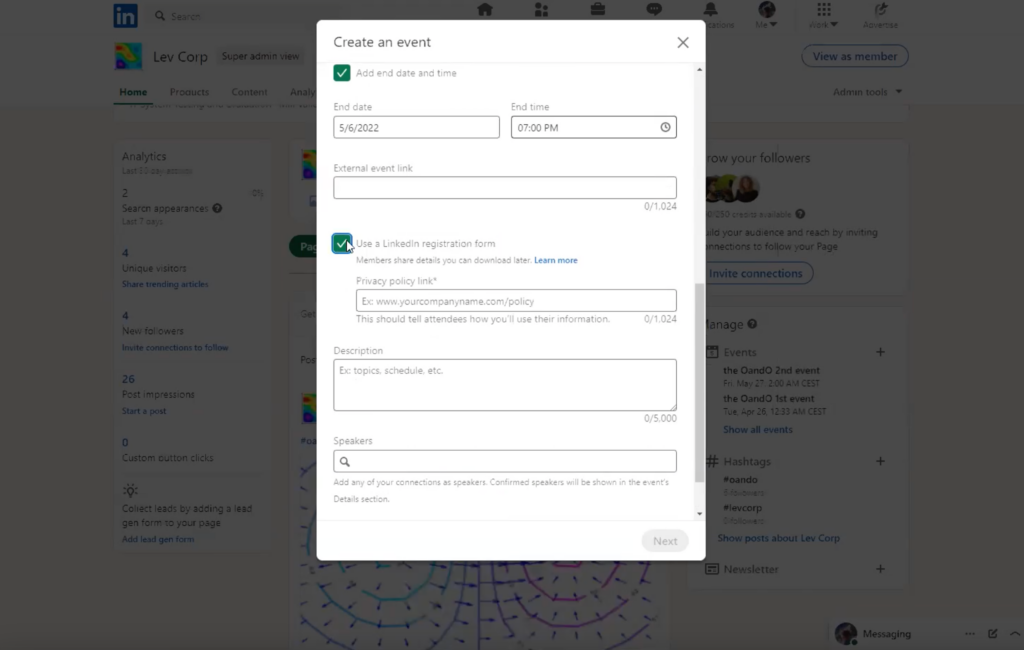 As an organizer, you can manage the event details at any time, and your attendees will be notified about the changes.
How to attend a LinkedIn Event
On the other hand, joining an event is just as easy as creating one. Just search for your desired event and click on "Register".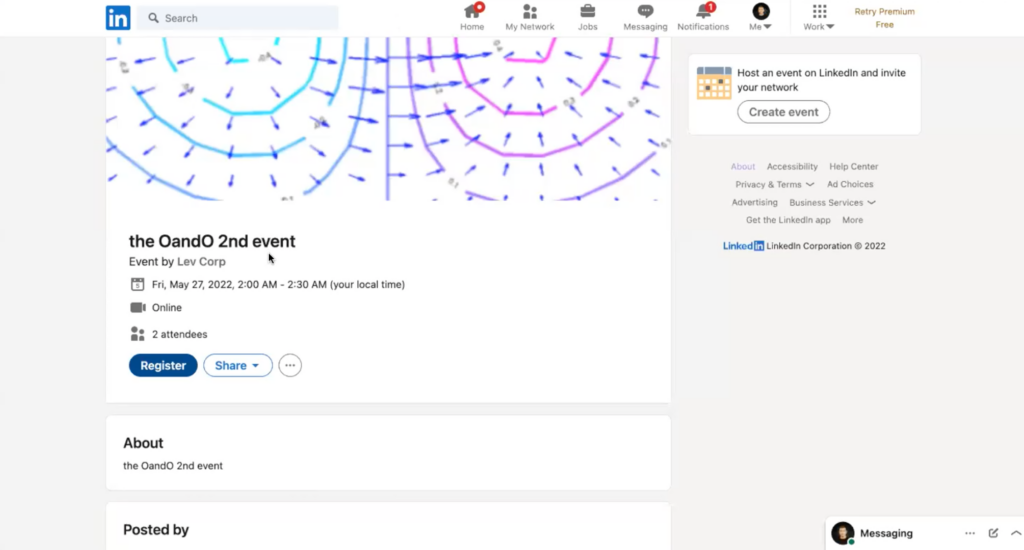 Inside this pop-up window is where you can see all the event's details and a recap of your personal information, retrieved from your LinkedIn profile.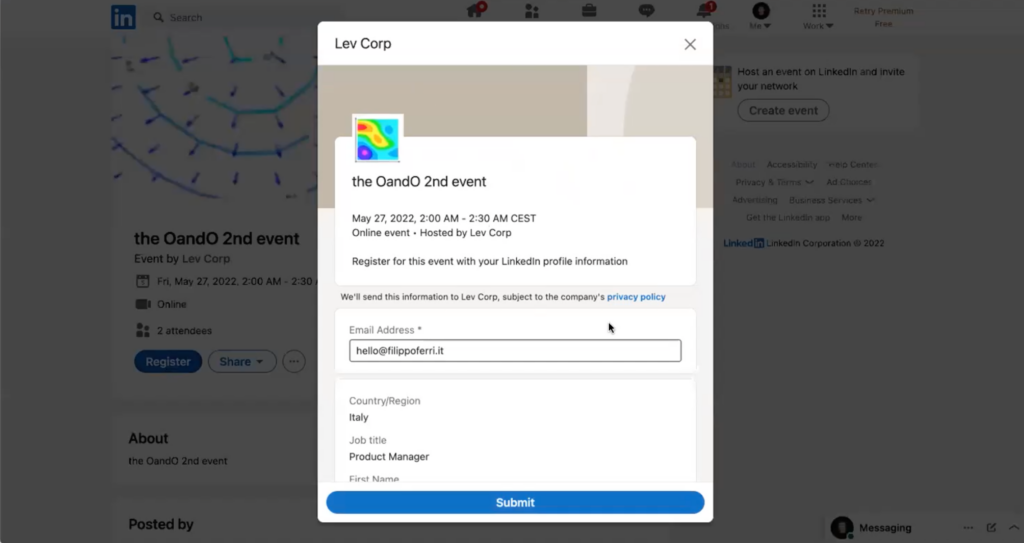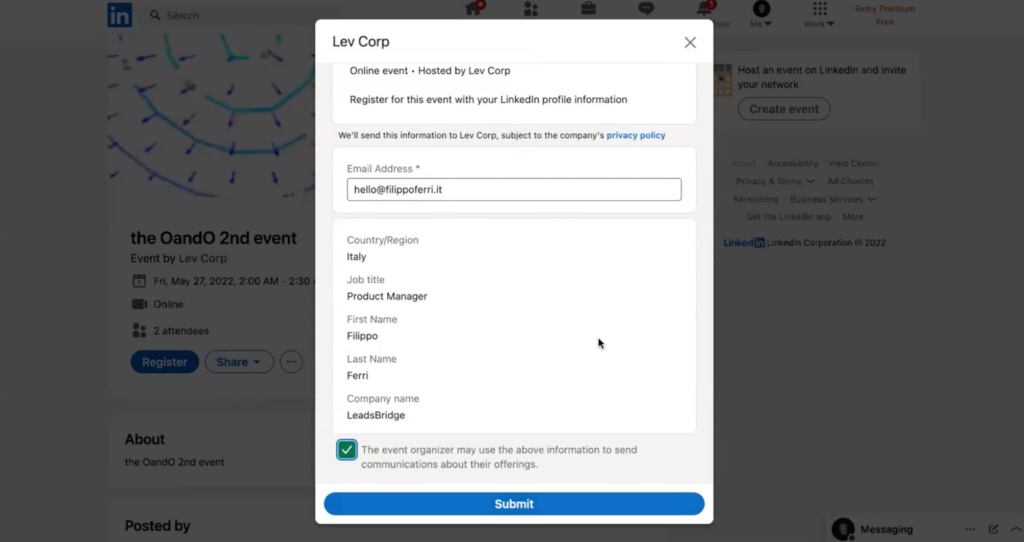 Before you submit and register for the event, you have to willingly allow the event's organizer to use your information to market their products and services.
And you're all set! Now, you can even add the event to your calendar as a reminder.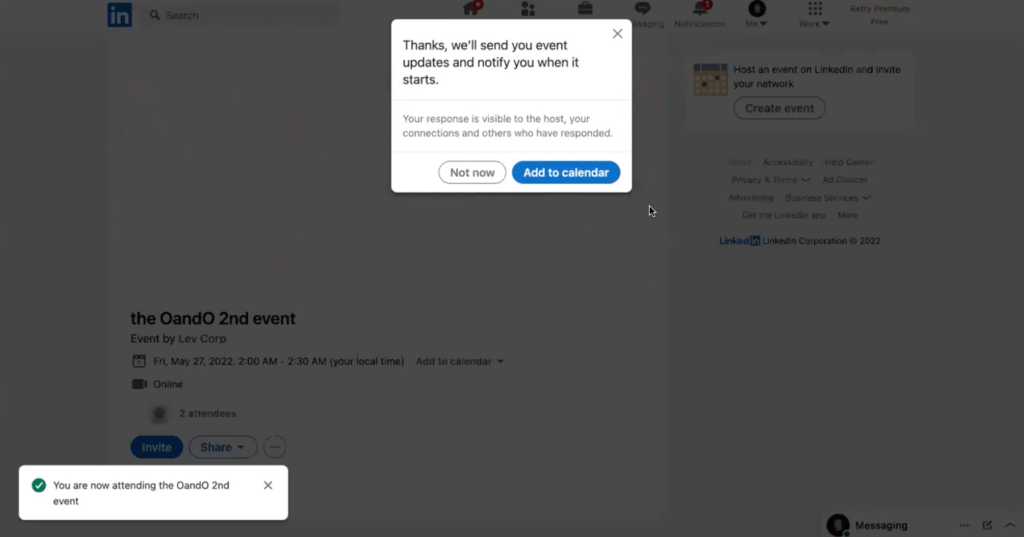 Both organizers and attendees can invite connections to attend an event, but only the organizer can withdraw an invitation or remove an attendee at any time.
Once you are registered for an event, you can access the list of all the LinkedIn members who will be attending with you. This is a great place to start looking for interesting connections and interacting with other attendees, by inviting them to connect before the event takes place.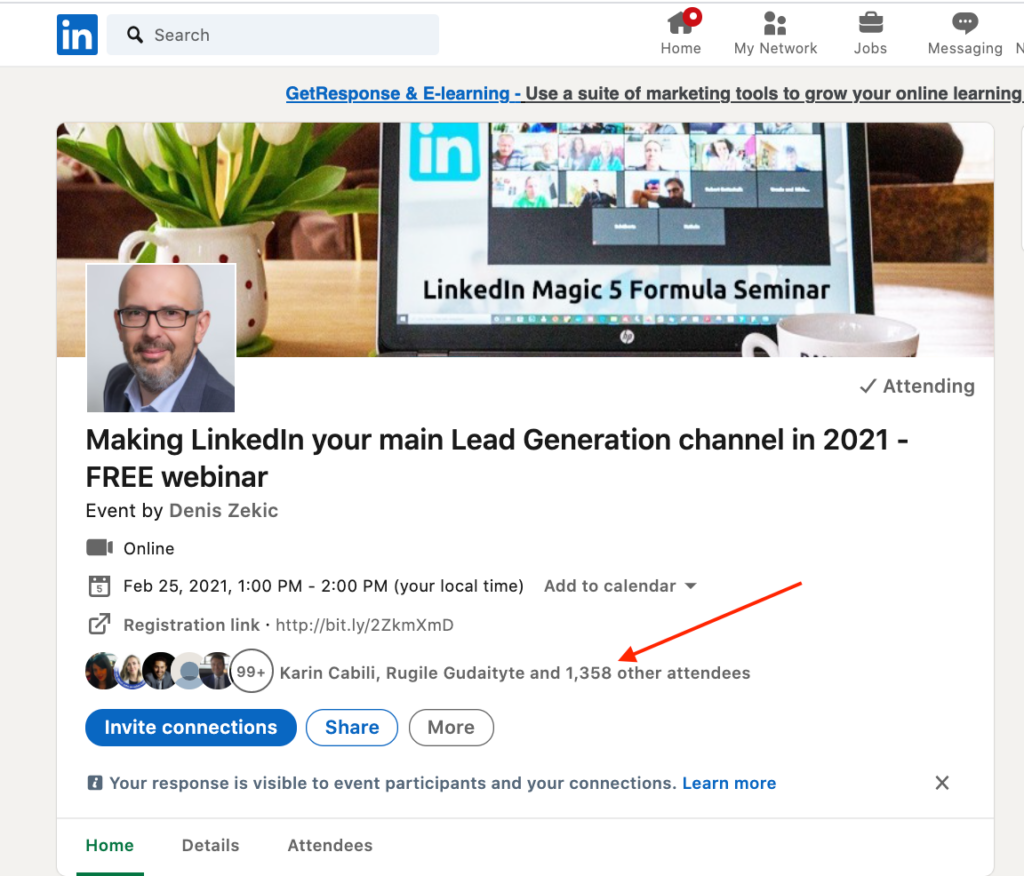 LinkedIn Events Ads integrations
When you create an event on LinkedIn, all attendees' personal info gets collected within LinkedIn, and – in order to access this information – you have to manually download a file filled with lead data. As you can imagine, this process is not only tedious and time-consuming, but also at risk of errors.
So, why rely on manual work when there is a LinkedIn Events Ads integration that allows you to automate the entire process of transferring lead data from LinkedIn Events Ads to any of your marketing tools?
With LeadsBridge, you can connect LinkedIn Events Ads with your CRM, email marketing software, autoresponder, or any other of your marketing tools, to seamlessly move lead data automatically and in real time, while always maintaining CCPA & GDPR compliance.
This automated connection – or bridge, as we call it – allows you to get in touch with your newly acquired leads right away, work on them with your offer, and move them through the funnel as soon as they register for your event.
Thanks to our LinkedIn Events integration, no time needs to be wasted on manually downloading and uploading sheets filled with data.
Below you can find a few of our most popular LinkedIn Events Ads integrations.
If you'd like to look at all available integrations for LinkedIn Registration Forms, you can check them out here.
How to connect LinkedIn Events Ads with your marketing stack
Creating a bridge is extremely easy, and it only requires three quick steps. Let's go over how to create a LinkedIn Events Ads integration with LeadsBridge.
Go to your LeadsBridge account and click on "Create new bridge" at the top left of your screen. If you don't have one, you can easily sign up here.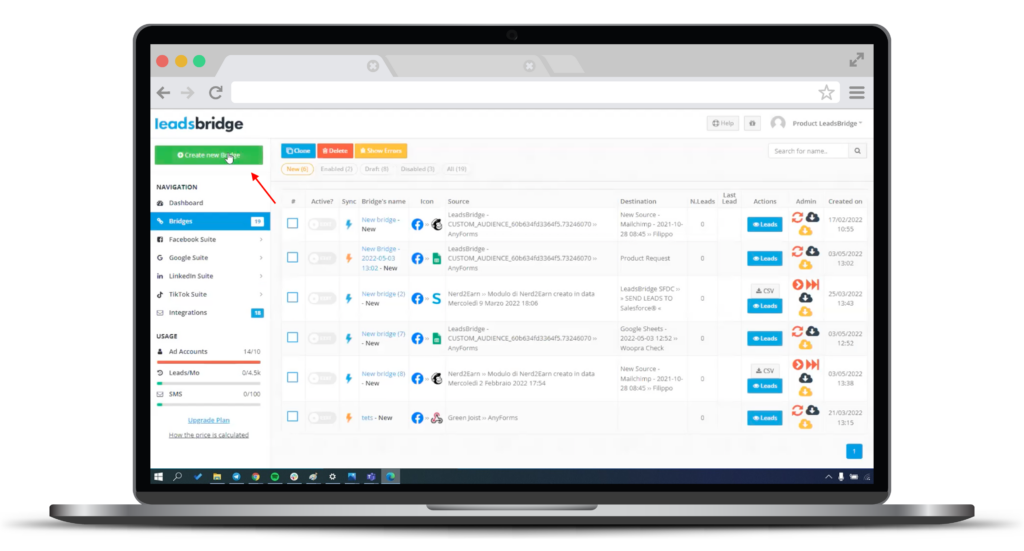 Then, you can proceed by typing in the search bar your source – which in this case is LinkedIn Registration Forms – and your desired destination – which is where you want to move your leads. For the sake of this article, we will use Google Sheets as our destination. When you're done, click on "Continue".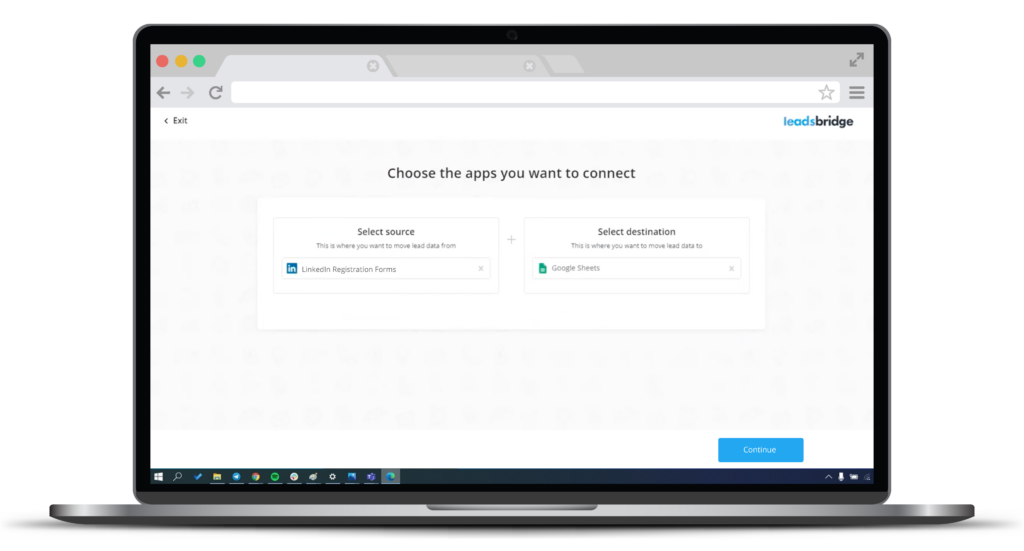 Now, it's time to connect your LinkedIn account. You can either choose an existing one or connect a new one. Click on "Add new" and connect a new LinkedIn account.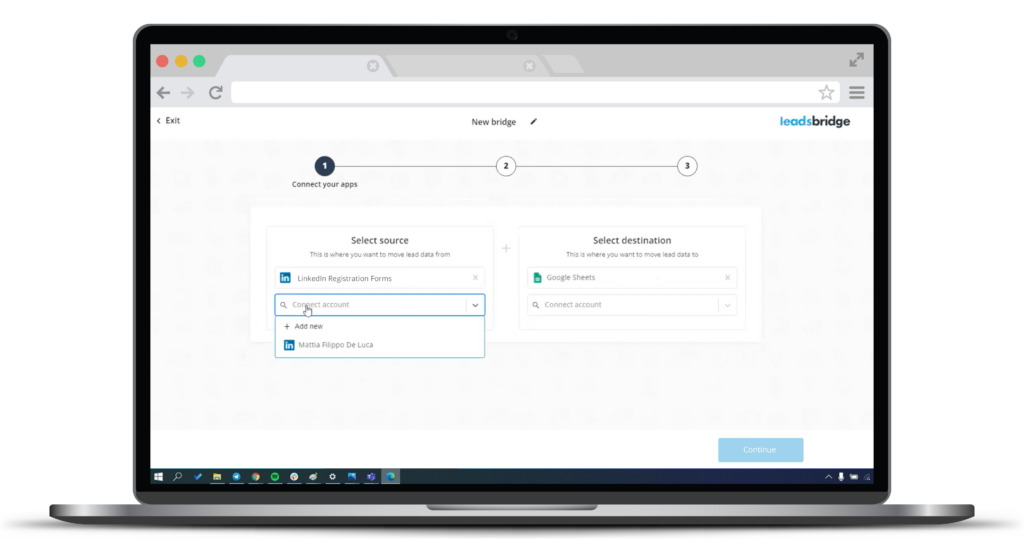 You will be redirected to LinkedIn and asked to follow a path to give permission to LeadsBridge to connect to your LinkedIn account. Follow the steps required by LinkedIn and click on "Authorize".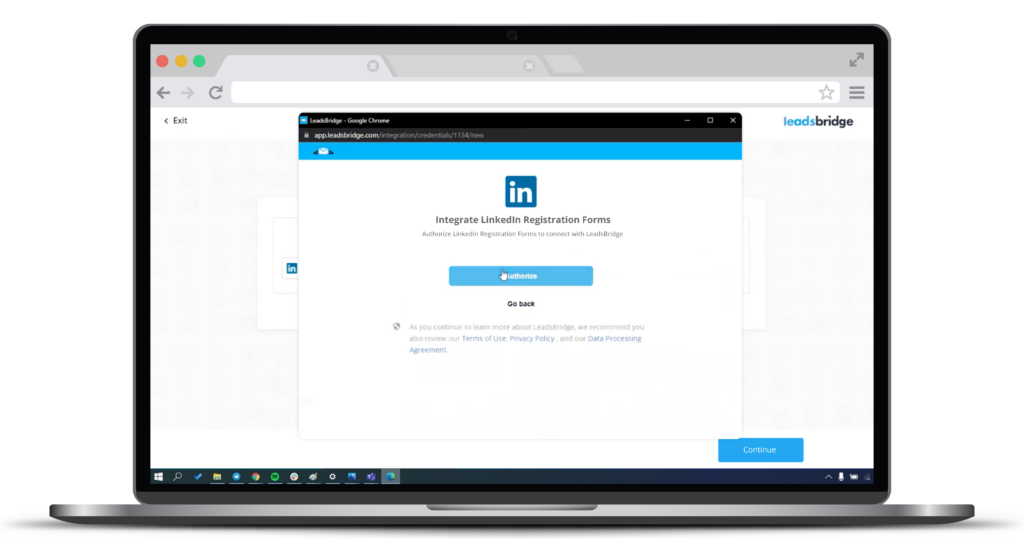 Now, you can proceed with connecting your organization profile (which is also the one hosting the webinar) and the specific event.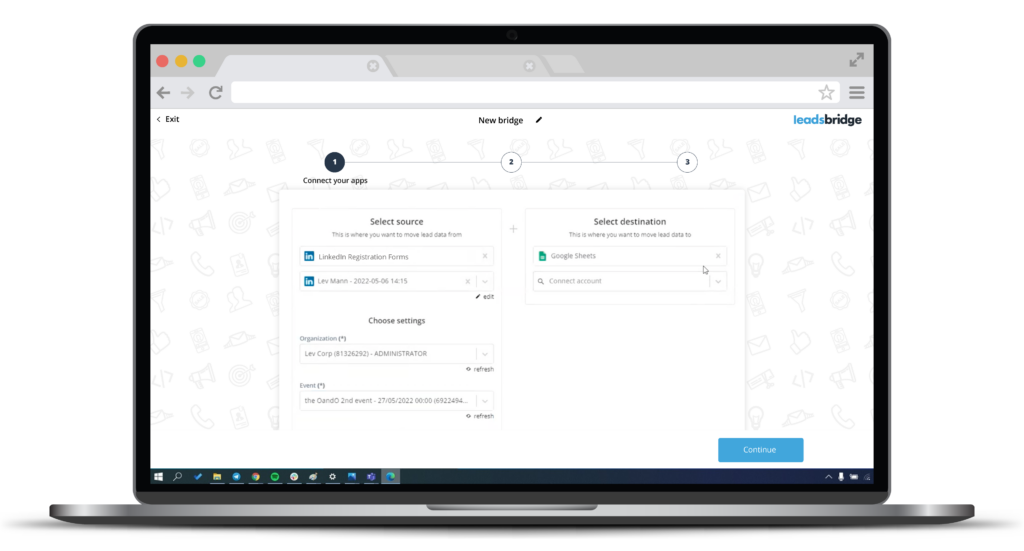 Then, you can proceed by selecting your Google Sheets account and spreadsheet. Click on "Continue".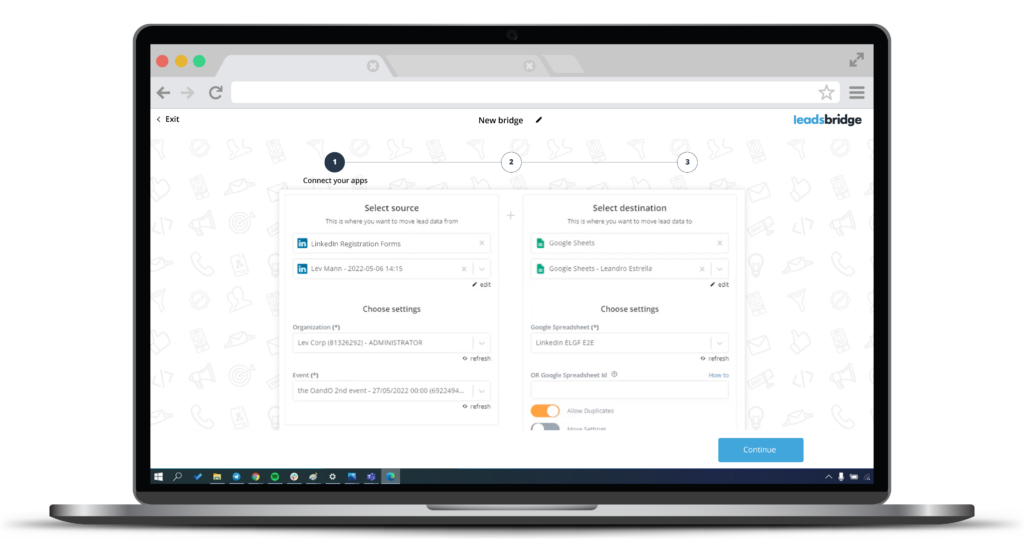 Now it's time to match fields between source and destination. You can decide to show all unmapped fields or only the ones that are mapped. Make sure everything is matched correctly, and click "Save & publish".
Your bridge is up and running! All your LinkedIn Events attendee's information will be automatically added to your Google spreadsheet in real time.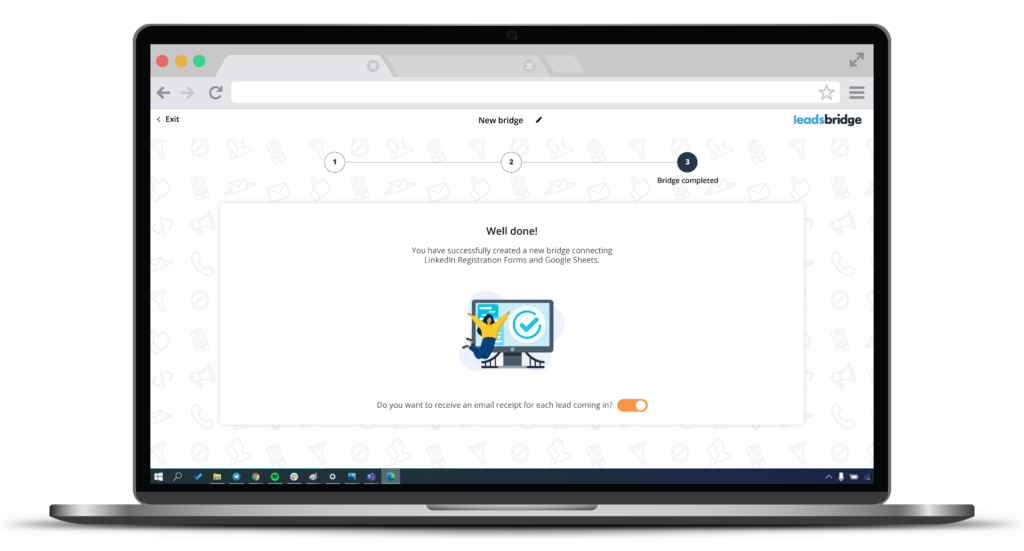 If you'd like, you can choose if you want to receive an email receipt every time you get a new lead. This real-time notification allows you to effectively keep track of your lead generation efforts.
Final thoughts
LinkedIn Events Ads are a great way to bring your professional community together and expand your reach to other LinkedIn users who might be interested in what you have to offer. On top of that, automating the process of moving lead data from LinkedIn Events to the rest of your marketing stack truly allows you to skyrocket your lead generation activities. Try LeadsBridge for free now!