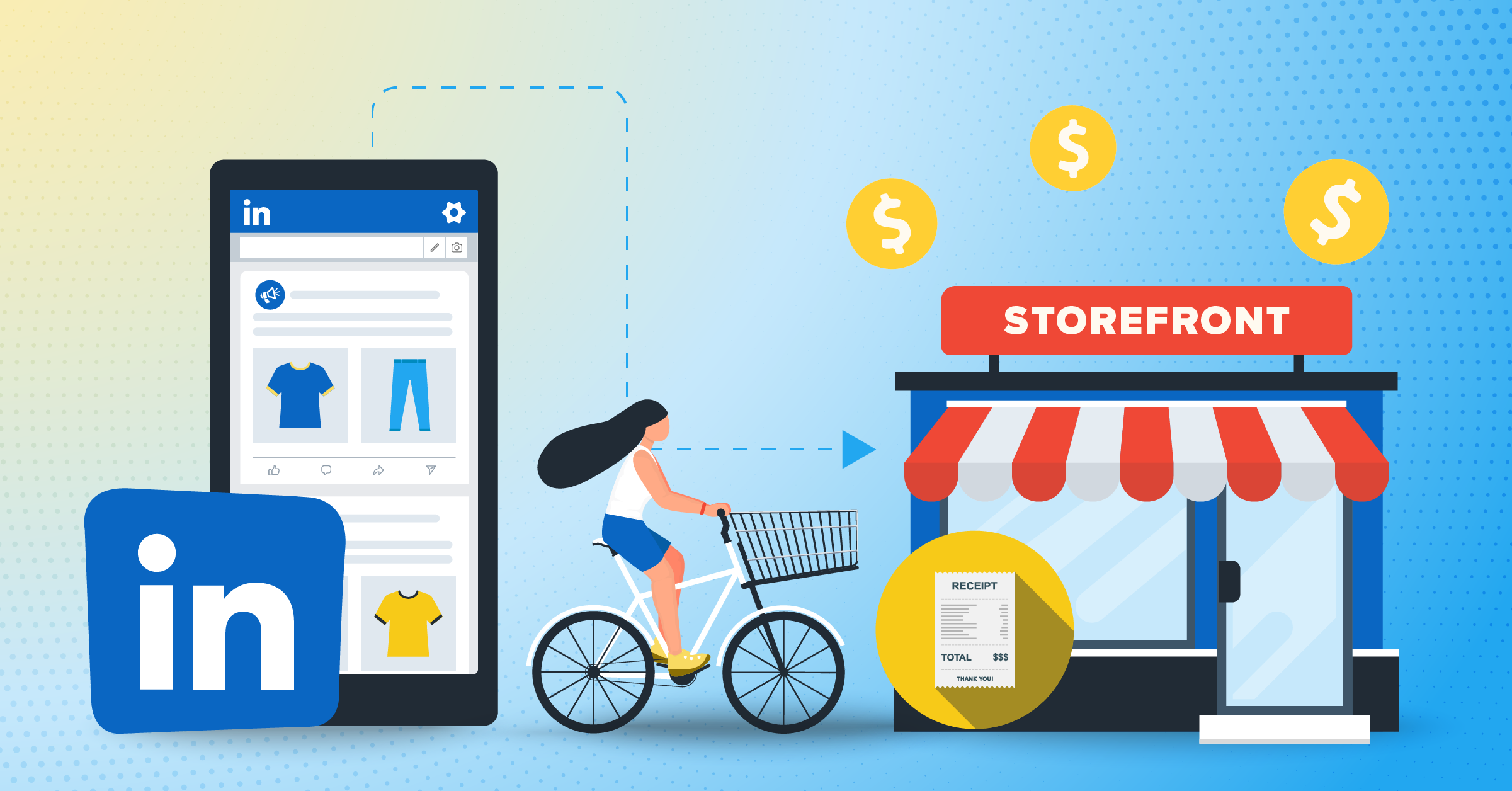 LinkedIn introduced LinkedIn Offline Conversions to enable advertisers to understand their campaigns' effectiveness using additional performance data, like in-person transactions, phone calls, or CRM segments.
To leverage the full potential of this new feature, however, you'll need to integrate your other marketing and sales tools directly with LinkedIn.
But what's the most ideal way to do this?
The best way to track offline conversions is to add the offline data into aggregate reporting on ad conversions using automation.
Among the new upgrades, LinkedIn announced a few partners, including LeadsBridge, for automating offline conversion data sync. Our integrations allow you to streamline the entire data management processes to and from LinkedIn, reduce friction and seamlessly track your campaigns.
What's LinkedIn conversion tracking about?
Conversions are valuable actions to your business that are done by a potential customer. No matter if conversations happen online or offline, you'll want to track them. These insights allow you to get a complete view of your campaign's impact on lower-funnel results as they happen.
As a marketer, you can define specific conversions to be added to your LinkedIn campaigns, then evaluate the outcome using tracking tools.
These tools collect data and deliver it back into the LinkedIn conversion tracking system. This way, you can get insights about the impact of your campaign and strategies, and how to resonate better with your audience.
Types of LinkedIn ads conversion
Online conversions happen directly on your website or advertising platforms. For example, when a user clicks on an ad that leads to your website.
Offline conversions take place 'off' of your website or offline, for example, directly from a sales representative.
URL/Page conversions allow you to track conversions that happen when a member lands on a specific page on your website, such as on a 'Thank You Page'.
Event-specific conversions happen when a member clicks on a specific event on your website. For instance, when they click submit on a form available on your website, where there is no 'Thank you Page'.
What's LinkedIn Offline Conversions
Offline conversions is a conversion tracking practice allowing marketers to assign offline behavior data (i.e., in-person transactions) to their LinkedIn campaigns. For better traceability, you can use conversion names to specify key conversion behaviors.
Campaign tracking is a time-sensitive practice and helps understand the impact and success of the down-funnel efforts through insights.
Why use offline conversion tracking on LinkedIn?
Adding more data to your LinkedIn campaign measurement and optimization process improves the campaigns' accuracy and your response times. Using data matching, you can understand what works, and better focus LinkedIn's targeting on the right elements.
With the new LinkedIn Offline Conversions feature, you can:
Get key metrics to optimize your campaigns;
Manage your offline leads by reducing friction;
Measure the impact and ROI of your ads;
Obtain the full value of your marketing budget;
Tailor more effective campaigns in the future.
A cookieless solution for retargeting & campaign tracking
People actively search for brand information before making a purchase decision, influenced by media ads, the opinion of people close to them, and their personal experiences. So when running digital campaigns that target new users and returning audiences, offline conversions are very useful.
Customers often leave their contact details over a call, SMS, or WhatsApp. But most online advertisers are unable to connect to or track these leads, which results in a hindered understanding of a campaign's effectiveness. That's where the LinkedIn Offline Conversions feature comes in handy, allowing advertisers to fully leverage offline data.
Needless to say, this is a cookieless tracking solution that increases your business's data resiliency. To learn more, read this article about how to move past cookies with server-to-server tracking.
How LinkedIn conversion tracking work
When setting up conversion tracking, you can choose how to measure both your online or offline conversions for a birds'-eye-perspective of your marketing efforts.
If you are new to LinkedIn advertising, use this step-by-step guide to create your first LinkedIn advertising account.
LinkedIn ads conversion tracking online
Online conversions help track activities that happen on your website using LinkedIn Insight Tag and image pixel.
Before creating an online conversion, you'll need to determine how to define your conversions. Then, choose any of the following options:
Insight Tag:

Page load is used for sitewide tracking, where conversions are counted when LinkedIn members visit pages on your website by setting URL parameters.
Event-specific are conversions calculated through LinkedIn members' actions on your website. You can track them by adding an event-specific code to your website link or CTA button.
Image pixel on LinkedIn:

Image pixel lets you count your conversions when LinkedIn members take specific actions on your website. You'll need to install an event-specific LinkedIn pixel, which is triggered by actions that are defined as LinkedIn ad conversion.
Setting up LinkedIn offline conversion tracking
You can set up LinkedIn Offline Conversions in a few simple steps.
1. On your LinkedIn homepage click on "Advertise" and go to "Campaign Manager".
2. Choose the right account from the upper-left corner of the page by clicking on the name from the dropdown.
3. On the left, find "Analyze" and select "Conversion tracking".
4. Click "Data sources".
5. On this page, select "Add a data source", then choose "Offline data".
6. Name your conversion and upload your list.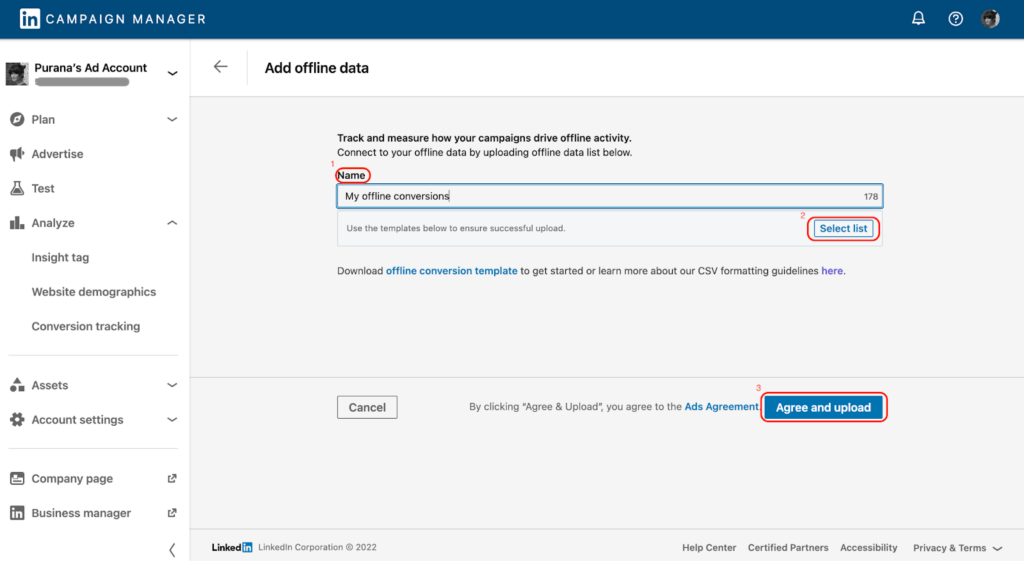 Make sure your lists match the LinkedIn Ads offline events template. You can download it in CSV format by clicking on the link that reads "offline conversion template".
7. Then, adjust the settings, such as:
The conversion type;
Conversion time windows for clicks and views;
An attribution model specifies how each ad interaction will be considered a conversion.
8. Click on the "Next step" button and then select campaigns to track conversions: Here, choose the checkboxes next to the campaigns where you want to apply your conversion.
9. Again, click "Next", then select the Offline Conversion data to start matching offline activity.
10. Finally, click "Create".
Offline Conversion automation Vs. manual management
You can choose to manually upload and download your data using a CSV document or automate the data sharing through one of LinkedIn's Official Marketing Partners like LeadsBridge.
Automated offline conversion tracking on LinkedIn is superior to manual in many ways. It assists your marketing growth and performance, and the possibility of high customization (including campaign personalization). Once it's set up, it'll be also much faster since everything runs on autopilot.
Remember_despite the method you use_ the offline conversion data must be available in your Campaign Manager before setting up Offline Conversions tracking.
Manually uploading your Offline Conversions data
As we already discussed, you can use our CSV template to manually upload offline conversions data directly to Campaign Manager. Manual uploads are:
Best for handling small volumes of conversions.
Require regular updates (daily or weekly) using the CSV template.
Easy to manage and have no need for developer resources.
When setting up your offline conversion on LinkedIn, your data format must match your LinkedIn's recommended CSV format. Any discrepancies can lead to turndowns. Also, the currency used in the template should be identical to your ad account currency.
Automation to connect your Offline Conversions data
You can also use the services of an official partner, such as LeadsBridge, to automatically send your offline conversion data to the Campaign Manager. Automated uploads are;
Ideal for large volumes of conversion data;
Highly convenient, and enable you to sync data in near real-time and leverage the full potential of your LinkedIn campaigns.
Designed for robust data security.
Used to connect an entire marketing stack for a seamless advertising experience.
When using LeadsBridge, you can set up Offline Conversions in Campaign Manager yourself, or book a call directly with our experts.
LeadsBridge integrations for offline conversions
Marketers use different methods to collect and import offline conversion data across the top marketing platforms. LeadsBridge delivers an all-in-one automation solution for any of your data management needs.
In addition to LinkedIn, our platform offers other integrations for tracking offline interaction connected to Facebook or Google, and getting a complete picture of your marketing campaigns' impact.
Learn how to bridge the gap between your online and offline conversions across all platforms.
Facebook Offline Conversions
After collecting your lead's data in an offline setting, you can use Facebook's offline conversions feature to understand the actual impact of your ads.
First, you'll need to feed this data to Facebook. After that, the platform will try to determine whether the customer has a Facebook account or saw your ad natively and when. That's why you'll need to create an offline event set in Facebook's Events Manager before you begin uploading the data.
This option enables you to enhance your campaigns, but above all, you can use it to upload your sales data to Facebook and match the transactions that take place in an offline setting.
Another feature to track user activities is Facebook Conversions API. It's a complex feature, and to set it up correctly, you'll need an in-house developer team or a Facebook partner like LeadsBridge.
Discover more about Facebook Offline Conversions and how to set it up.
Google Ads Offline Conversions
Google Ads are designed to help you capture leads. However, Google Ads Offline Conversions allows you to collect identifiable data and record your offline conversions accurately.
To do so, you'll need to obtain a GCLID (Google Click Identifier), the tracking parameter attached to your Google Ads URLs.
Source: Majortom
LeadsBridge offers several integrations to connect Google and the marketing sales platforms you use every day.
Join the waiting list to get notified about our upcoming LinkedIn Offline Conversions Tracking integration.
Additionally, learn more by reading this article about how to get the most out of your Google Ads Offline Conversions.
LinkedIn Conversion Tracking
LinkedIn Offline Conversions
You can connect your offline data to LinkedIn to measure the effectiveness of ad campaigns on down-funnel outcomes.
Moreover, your leads' data can be used to create ongoing marketing campaigns. For instance, you can run a campaign for visitors who visit a certain store and send them targeted offers to increase conversions. LeadsBridge helps you to automate your data sync across LinkedIn and your marketing platforms:
Other LinkedIn Integrations
LinkedIn Matched Audiences
With LinkedIn Matched Audiences, you can reduce advertising costs and keep your brand top of the mind of your audience. Automating your audience data sync helps you save valuable time so that you can achieve better ROI with LinkedIn advertising.
LeadsBridge integrations for LinkedIn Matched Audiences facilitate creating relevant audiences for your campaigns in real-time.
LinkedIn lead generation forms
LinkedIn Lead Gen Forms are mobile-optimized advertising forms that allow advertisers to collect leads directly on LinkedIn without diverting the users to a landing page. This feature reduces friction for better collecting B2B leads using easy form submission.
Integrating LinkedIn Lead Gen Forms with other marketing and sales apps helps you reach out to your leads as they come in and nudge them toward conversions.
Find out all you need to know about LinkedIn lead generation forms here.
Final thoughts
LinkedIn Offline Conversions feature allows advertisers to track offline conversion data and measure their online performance on LinkedIn (including the LinkedIn leads, feed ads, and LinkedIn Audience Network inventory).
This tool offers numerous benefits. But it mainly provides insights on how your LinkedIn campaigns drive offline conversions so that you can optimize your ad spend or customer experience.
Using LeadsBridge Offline Conversions integrations, you can perform all of these processes automatically. These data bridges feed offline data to LinkedIn and help you track your ads' outcomes, such as in-store purchases, product demos, bookings, etc.
Discover all the possible integrations by LeadsBridge to bring offline conversions to the online world.