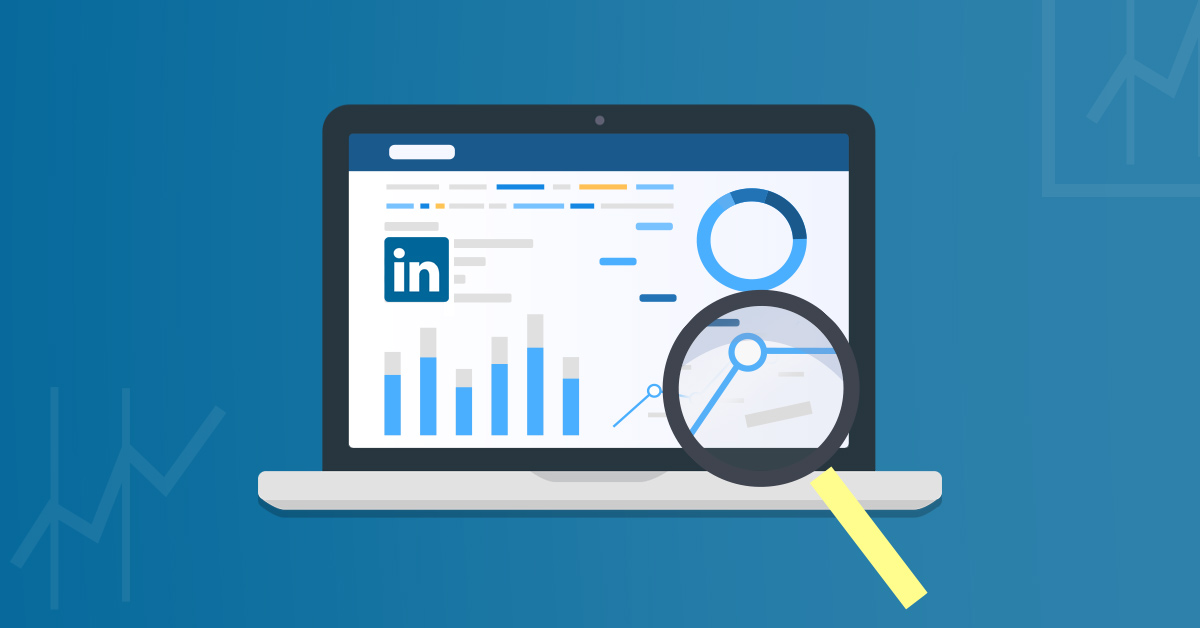 With over 575 million users in nearly every country around the world, LinkedIn is the world's most premium B2B platform. That's nearly 14% of the population of the planet, all gathered on a single platform.
If you're familiar with LinkedIn, you would understand how the basics work. You connect with colleagues, industry experts, and in some cases, maybe even with someone from whom you aspire to learn. 
LinkedIn is also an incredible platform for advertising. That's right! The world's largest brands and industry leaders use LinkedIn every single day to promote and push new products and services. 
For these businesses, and any other business running an advertising campaign, it's important to keep up with LinkedIn metrics, in order to maximize the platform's potential, and ultimately bring better business. All these metrics and even profile performance can be analyzed in detail from the analytic dashboard. 
How? 
Luckily, it's fairly simple. 
In this article, you will learn about LinkedIn engagement insights, LinkedIn Metrics, how to measure LinkedIn engagements, and much more. 
LinkedIn engagement insights: Targeting the right audience
Before going into the LinkedIn key metrics, how companies track them for advertising campaigns, and all the nitty-gritty details in between, it's important to note one thing about this platform: engagement matters.
From an advertising standpoint, your LinkedIn insight engagement will almost directly influence the way your LinkedIn metrics are tracked. You want people, no matter who they are or what industry they come from, to engage with you. Otherwise, it's all for nothing. 
In order to better track your audience engagement, LinkedIn decided to partner with Amobee, Annalect, Hootsuite, Ogilvy, and Sprinklr to integrate with a comprehensive API that's nothing to shake a stick at. 
These 5 platforms integrate with LinkedIn's Audience Engagement API to bring you better insights. From an advertising standpoint, here's what you can expect:
Audience discovery simplicity
This LinkedIn engagement insight will allow you to single out audiences that have a high engagement rate with content from your industry. This is very important for scoring those high-valued prospects.
High-value content recommendations
With these new integrations, you can identify content and topics that your customer personas are engaging with most. This will allow you to focus more on meaningful ads that are easier for your audience to engage with.
Up-to-date industry benchmark data
The best way to test the performance and strength of your metrics is to compare them to others in the same industry. Yes, your competitors. With LinkedIn engagement insights, you can not only see how your ads are doing, but you can compare them to your competitors, too. Not only that, but you can see what kind of content your competitors are using, and what kind of audience they're attracting with it, too. This is a massive advantage for marketers and advertisers.
What can you do to increase engagement? 
Although LinkedIn Engagement Insights are helpful, there are a few things that you can do to help the engagement process in your advertisements. Here are a few tips that you can utilize in your advertising:
One of the biggest trends in marketing right now is being personal with your customers. Although it may seem like a small effort, replying to comments made on your ads will help drive engagement.
Most people love to watch a video than read a wall of text. It's why audiobooks are so popular, and why video ads on LinkedIn typically perform very well and drive engagement.
Use your ad budget to reach specific audiences
LinkedIn engagement insights can help you single out target audiences by identifying what audiences engage most with content coming from your industry. The biggest tip anyone can give you in this regard is to use your ad budget to target those audiences. It may seem obvious, but it's worth mentioning.
As much as targeting the right audience helps, it may not amount to much if the copy or content of your ads isn't working well with the audience. For this, there could be quite a bit of A/B testing to see what sticks and what doesn't. Some audiences may appreciate a professional and informative tone, while others may enjoy a friendly and relaxed tone more. Either way, you'll have to test a few different styles in order to get it right.
LinkedIn provides many tools to help you make the most of the platform. One of those tools being LinkedIn Matched Audiences. This tool allows you to track and target audiences that would make a good fit for your brand, thus making your advertising campaigns much more effective. 
Targeting audiences that you know will be interested in what you're selling is an easy and quick way to increase engagement. Instead of focusing your efforts on people who may or may not even care about your brand, retargeting allows you to single out those who will have a higher chance of engaging and converting.
These are just some of the ways that you can increase engagement on LinkedIn. Of course, depending on your goal, there could be many ways in which to do so. But, from an advertising standpoint, these 4 tips are probably going to be the most helpful.
LinkedIn key metrics and objectives
As soon as you enter your company page, you have basic page traffic displayed on the left. From here, you can gather the following Linkedin Key metrics:
Number of visitors

Number of impressions

Number of follows
While these metrics are important to track for your LinkedIn page, they don't necessarily help when it comes to tracking ads. For that, you'll want to use a tool called Campaign Manager.
Tracking metrics is pretty easy thanks to Campaign Manager. With their very own solution, you can track LinkedIn key metrics and gather other LinkedIn analytics for your advertising campaign with ease. 
All of these LinkedIn key metrics can be seen in the Campaign Manager console, and can even be downloaded as performance reports.
Based on the ad format and the objective, you can track the following LinkedIn key metrics in Campaign Manager:
The average CTR is the percentage of chargeable clicks corresponding to the impressions. This is simply the total clicks divided by the impressions.
The reactions metric is the number of positive reactions your ad received.
These LinkedIn key metrics are simply the number of comments you get per ad.
The metric for shares is calculated based on the number of shares your ads get.
Follows are calculated based on the number of additional clicks to follow your LinkedIn page
The Follows LinkedIn key metric is a little more complex than the simple explanation above. Here's a more in-depth explanation of what this LinkedIn key metric can include:
Follow clicks are tracked when other members click the follow button on your sponsored content, in order to follow your LinkedIn company page. To enable the follow button on your sponsored content, select the

Engagement objective

in Campaign Manager for that campaign. 
Follow clicks are considered to be both paid and social clicks. Both are counted under the

Clicks

and

Total Social Actions

column in your Campaign Manager. It's important to note that

Follow

clicks will not be counted again in the

Total-engagement

column.
The

Follows

key metrics in your Campaign Manager are different than the

Followers LinkedIn 

metrics that you can find directly on your page. Your LinkedIn page will keep track of all the followers you have for your profile. Meanwhile, the

Follows

metric in Campaign Manager will track the followers gained through the Follow button on Sponsored Content.
Other

clicks on your ad can include the following: see more description, see social count, view all comments, see list of likes, and more.
Total Social Actions

is the volume of social engagement your ad receives. This includes comments, reactions, follows clicks, and of course, shares.
Total Engagement.

This includes all interactions between members and your ads.
Engagement rate.

This LinkedIn key metric is counted every time a member engages with your ads. This is calculated by taking the total number of paid and free clicks and dividing it by the total number of impressions.
These LinkedIn metrics can be used in a variety of ways for businesses. One of the major uses for them, however, are companies evaluating the success of an ad campaign. But,  more about that in the next section.
Campaign Manager is a powerful and thorough tool. As far as LinkedIn ad campaigns go, you can get pretty much every bit of information you need in order to determine whether your campaign was successful or not. 
Evaluating the success of a LinkedIn strategy
Evaluating the success of a LinkedIn strategy comes down to how you measure engagement. Given the information above, that can be done in a number of ways. 
Still wondering how to measure engagement on LinkedIn? Find more information about it below.
How to measure engagement on LinkedIn
In this section, you will learn how to measure engagement on LinkedIn. As we stated above, LinkedIn will measure your Engagement rate in Campaign Manager automatically. LinkedIn analytics are incredibly accurate and they take a lot of stress out of calculating your own LinkedIn metrics. But, some might consider it to be incomplete.
If you want to get more complete LinkedIn metrics, the formula is quite simple. All you have to do is take the total number of comments, likes, and clicks on the ad, and then divide it by the total number of impressions.
The resulting number will be a more accurate engagement rate that will prove to be a much better LinkedIn metric to track. 
Based on your LinkedIn metrics calculations and the goal you set yourself prior to the implementation of your strategy, you can use this final number to determine whether or not your campaign was a success or not. 
In fact, depending on the goal of your implemented strategy, complicated LinkedIn metrics may not matter at all. Your goal might simply be to gain more connections. In this case, the Campaign Manager isn't needed at all. 
All that being said, as an advertiser, you can also learn how to measure engagement on LinkedIn by evaluating your click-throughs, conversions, sales, and overall engagement. Since you can use LinkedIn engagement insights to see what your competitors are doing, you can even use that to evaluate your own success.
LinkedIn use cases and success stories
Most people know about LinkedIn and how it's used for job hunting, hiring employees, and so on. There are quite a few use cases in that regard.  
But, this article is aimed at advertising and how brands and companies can use LinkedIn to their advantage. So with that said, if you take a look at LinkedIn's very own success hub, you'll find a number of success stories that are sure to get you motivated. Find some notable ones below.
Adobe
That's right, Adobe! Adobe needed a platform where they could achieve more relationship-based sales, and improve their customer's lifetime value.
As you guessed it, LinkedIn provided that platform for them. In 2018, Adobe shared that 42% of their closed deals were influenced by LinkedIn campaigns.
Cisco
Prior to the launching of their LinkedIn campaign, Cisco Canada wanted to lower the cost of customer acquisition. 
Thanks to LinkedIn, not only did they see an impressive improvement in lead acquisition costs, but they also were able to use targeting for enhanced precision in their campaign.
Audi
For their latest flagship model, the A8, Audi needed a platform where they could gain a deeper understanding of their audience.
In doing so, their hope was to generate more high-value leads through higher quality engagement.
As you may have already guessed, Audi found their platform on LinkedIn. After the campaign was launched, Audi boasted an impressive 35% view rate and a completion rate of 22%!
LinkedIn Lead Gen Forms
Although Lead Gen Forms aren't a metric, they're still worth noting in this article. They are a very important part of many companies' campaigns on LinkedIn, and are therefore an essential aspect of getting your advertising campaign really soaring. 
We don't need to go into much detail in this article, as we've already covered everything you need to know about LinkedIn Lead Gen Forms in another article. 
But, what we will say in this article is that LinkedIn Lead Gen Forms is a tool used by advertisers to incorporate forms into their ads. Doing this through LinkedIn means that many of the fields on the form are pre-filled, requiring less effort from the viewer, resulting in more leads and potentially conversions.
Wrapping it up
With everything said above, it's easy to understand why LinkedIn metrics are important to track. In fact, based on LinkedIn's very own research, LinkedIn ads have 2x the buying power of the average buying audiences. 
LinkedIn is the #1 platform for B2B lead generation, and it is an advertiser's dream come true. If you're not already utilizing LinkedIn's built-in metrics and the many benefits that come with them, then consider this your official invitation to start.
With more and more professionals joining the platform each and every day, we're certain to see this platform evolve into something even bigger than it already is. You can benefit from this opportunity by following this short guide and tracking your own LinkedIn metrics.