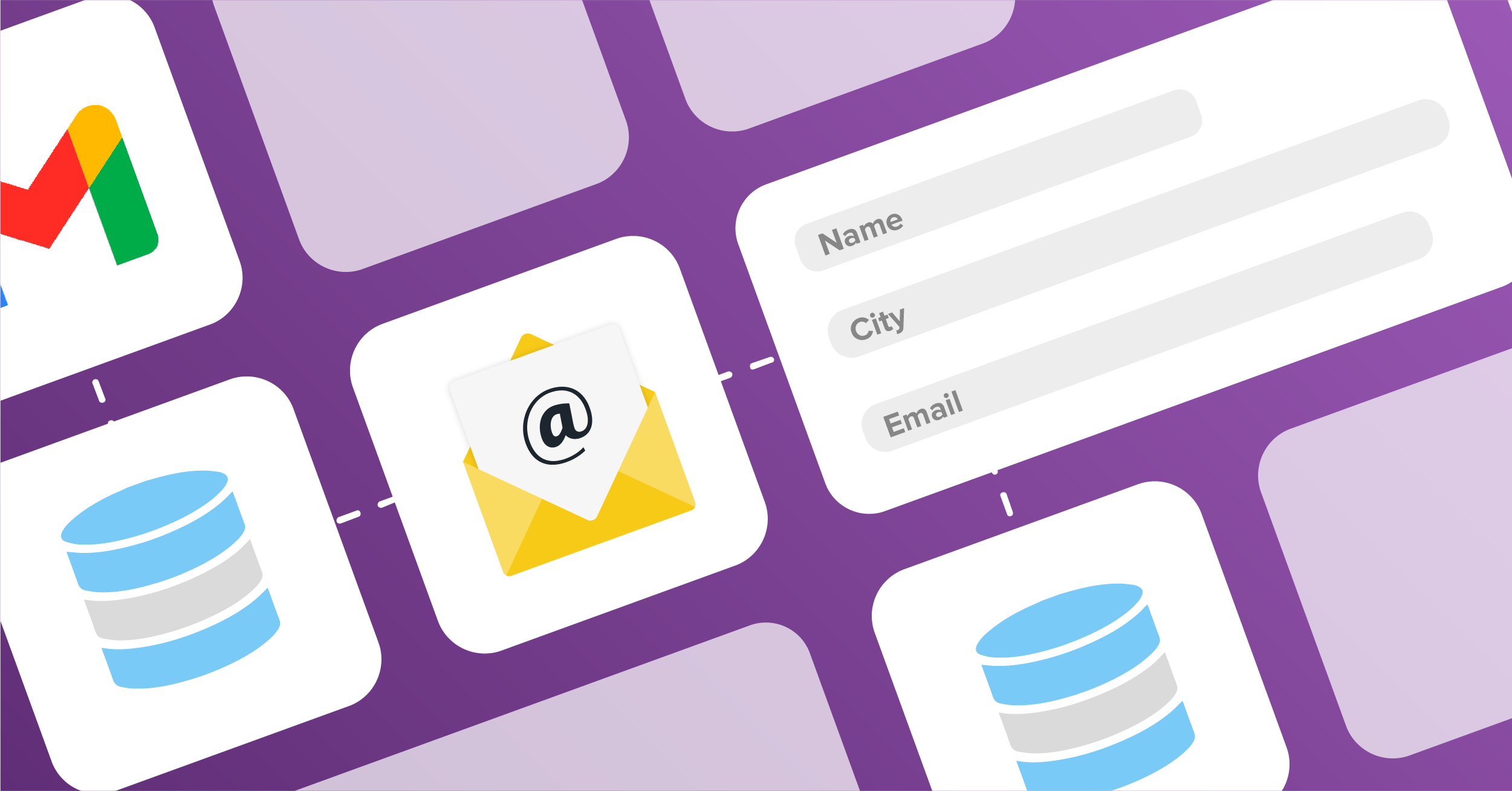 In this day and age, there's an app for everything. For some, that means a calendar that counts their calories, but for others, it means an email organization app like an email parser.
Picture this – You made a sale on your ETSY account. You get the email notifying you that you made the sale, followed by an email from your bank saying that you've got the money. Mixed up in the chaos of your flooded email box, you also have notifications with your take-out order, your monthly invoice from your cell phone provider, and all the other tiny notifications tied to everything we do online. Needless to say, it's a lot to take in and manage.
Whether you're a hobbyist just selling knicks and knacks, or a full-blown business that relies on that income to put food on the table, it's so much easier to have a way to sort through all of these emails. You could, let's say, organize them in a database or spreadsheet, but that takes time and a lot of copy and paste.
The data that emails provide are vital to the success of any business, which is why email parsers are a go-to application for a lot of companies around the world and are essential for email marketing of any significant size.
What is an Email Parser?
The exact definition of an email parser is a software, service, or tool that extracts data from emails and creates a structured data object with that information. Typically, this is done through a tool, or by creating your own email parser with Python or SQL (Which isn't easy).
Basically, an email parser collects information from the emails you receive and puts it into a comprehensible and useful form so that you can quickly and easily collect the information that you need.
If you're familiar with web scraping, imagine email parsing like a web scraper made specifically for emails. They gather text data, just like a web scraper would, except exclusively from emails in your inbox.
With an email parser, you can train it to find and extract the information that you deem important. For example, prices, dates, and other various keywords can be sought out by the application. Additionally, you can tell an email parser to ignore everything else that you deem unimportant.
Why is email parsing software important?
Email parsing software is important, just as your time and effort are important. Email parsing software helps you automate your workflow in ways that most people don't even think about.
Imagine it like this. Let's say that you're a travel agency that gets hundreds of emails per day. Some of these emails from clients that are in need of some specific information like prices, dates, and other package details. With an email parsing software, you could automatically sort through the emails, arrange them based on the different categories of questions being asked, and assign the question to someone capable of replying quickly.
Using email parsing software in this way allows you to cut down on manual and tedious labor and maximize on serving the customer.
The ultimate email parsing service
To access our email parser, it's very straightforward. To start, of course, you need a LeadsBridge account. If you already have one, go ahead and sign in and navigate to the "Bridges" section on the left-hand side.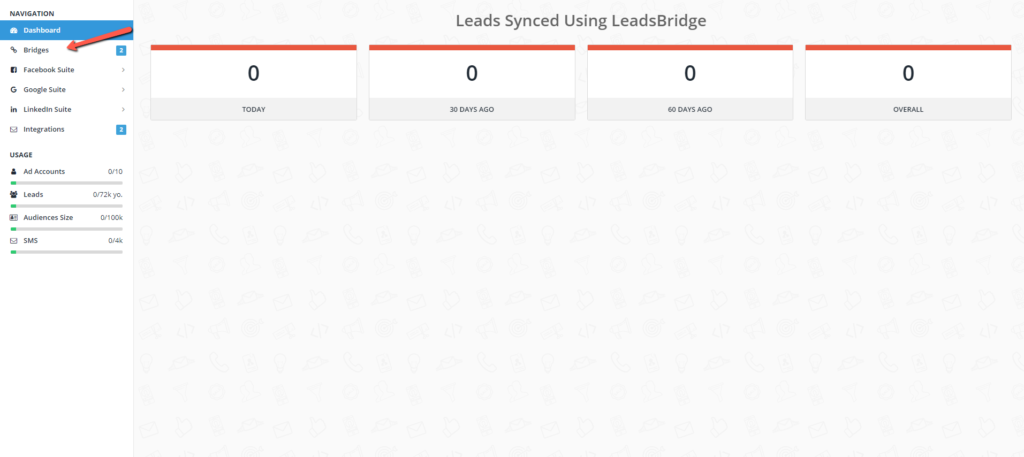 Next, click on "Add New." Now, we'll begin creating the integration.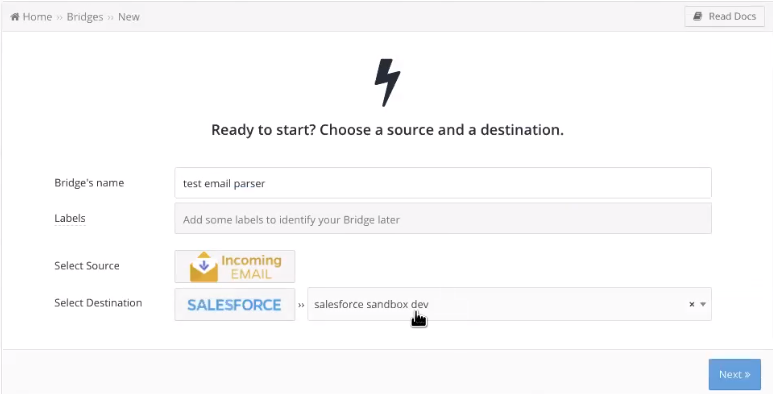 For this integration, you'll want to click on Incoming Email as the Data source. There are plenty of CRMs to choose from out there, but for the sake of this article, we'll use Salesforce as a destination. Once done, click "Next."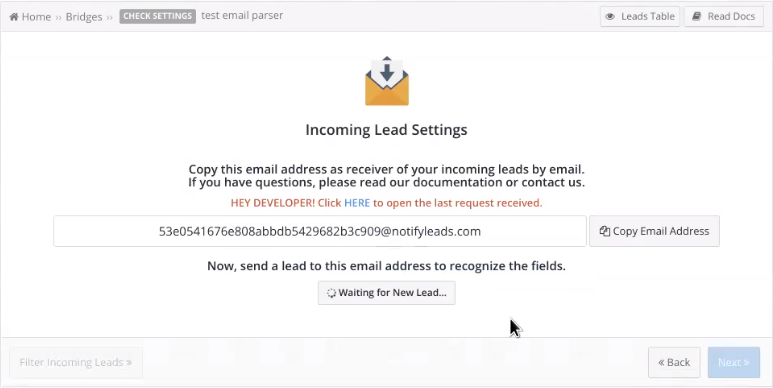 Because we're using the email parsing service and selected Incoming Email as the data source, an email is automatically generated. You will need to forward all the emails you need to be parsed to this newly generated email. This is necessary to sort through the emails. Bear in mind that this email is only available for your account. No one else will have access to it.
If any email is sent to this address (don't worry, emails will be forwarded automatically to this address once the integration is complete), it will sort through and find the keywords that we will put in place in just a bit.
To test this address, simply send it an email from any account like Gmail, and wait for the data to display below where it says "Waiting for New Lead."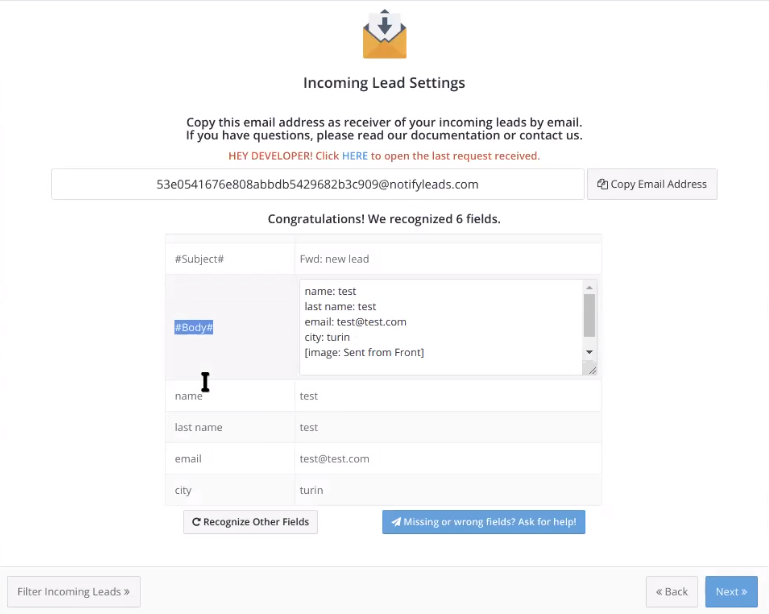 As you can see from this image, sending an email with information such as name, last name, email, and city, the email parser was able to pick it up and sort it out. Of course, you also have the option to make the email parser recognize more fields, but this was a simple test. Our Parser will try to find a pattern in the body of the text in the email. Typically, it is recommended to format the body of the email by including key-value pairs either by writing down each pair on a new line (like in the example above) or even by formatting everything in an evergreen JSON.
Once everything is tested, and you are happy with the fields selected for the data source, it's time to tie the fields together with those of the destination. In our case, this will be Salesforce.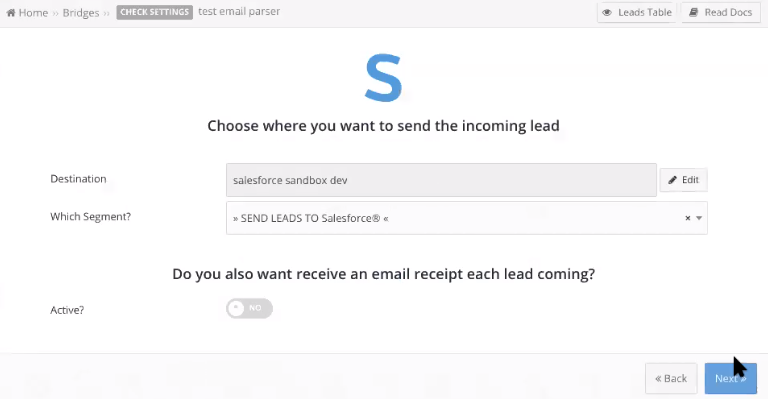 For this case, we'll use the sandbox in Salesforce as the Destination.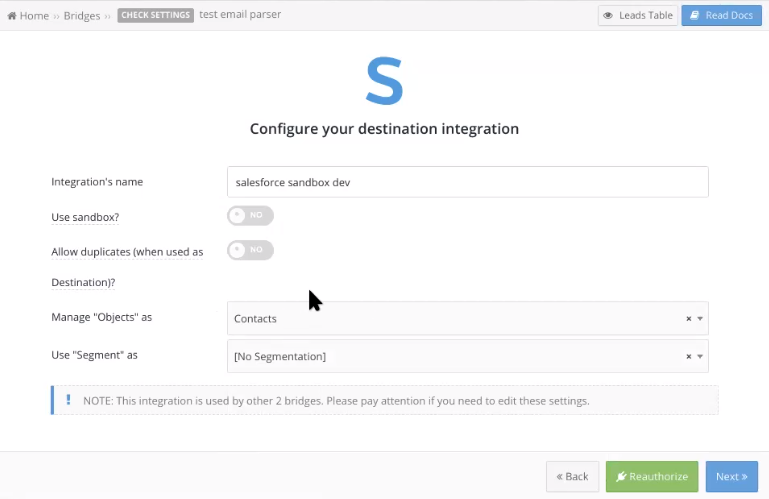 Here, you can see that the "Objects" are set to contacts. This means that with every new email, Salesforce will try to create a new contact based on the information given in the incoming email. This is a great example of how email parsers can be so useful.
Once this is mapped, you can choose to segment it if you need it. Otherwise, the incoming contact will be sorted with every other unsegmented contact.
Now that this is done, you can map the fields for Salesforce.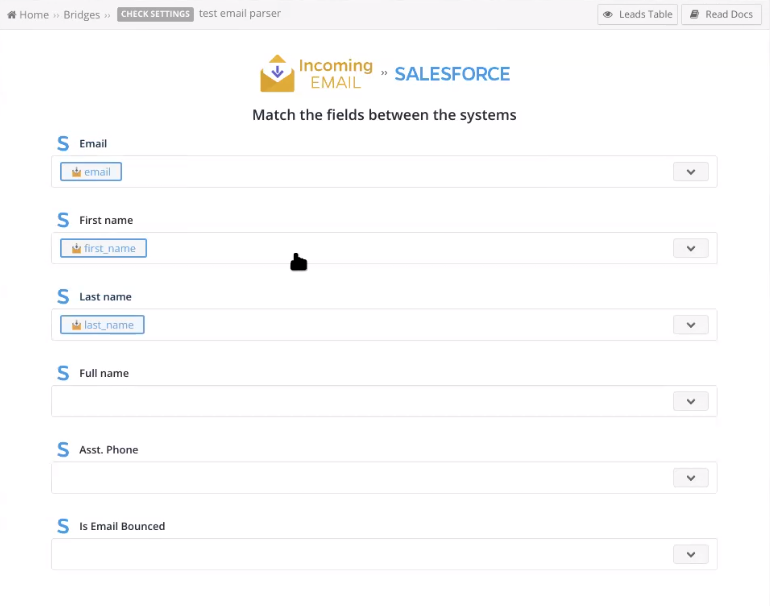 As you can see here, there are a lot of choices for mapping fields between your two systems. Your contact in Salesforce has an email field? Then you can map it with the email field that you receive in the email.
Once you're done with the fields mapping, hit next, and it's time to test.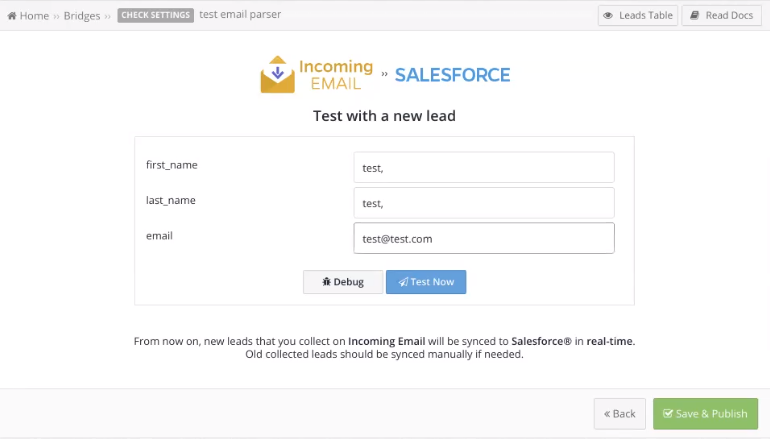 With this test, we'll keep it simple with first_name, last_name, and email. These are probably some of the most common fields and the most vital for creating a new contact.
This test will allow you to input any information into the given fields, create a contact in Salesforce (in this example), and see if the email parser picks up your designated fields. Once the test is complete, hit "Save & Publish," and your integration will be complete.
Possibly the best part of this whole thing is that the email parser will work automatically after this point. Once the connection is made, there's no need to maintain it or really ever think about it again. The same goes for all of our integrations. Once you've completed the steps, you're free to focus on improving your ads and marketing workflow. Forget about CSV files and the laborious, repetitive tasks that come along with them. With our platform, you can truly get a taste of what automation is meant to be.
How to parse Gmail emails
One of the most popular email providers on the planet is none other than Gmail. For a lot of people, the need to parse emails coming through Gmail is huge, which is why we provide a simple integration for that, too.
The way this works is nearly identical to the steps above, just with Gmail instead of Salesforce. That being said, connecting Incoming Emails to Gmail is a quick and easy process.
Step 1
To start, simply head over to Bridges in your main menu sidebar and click "Add New", just like before.
Next, you'll input your Bridge's main information (Name, labels, choose Incoming Email as the source, and choose Gmail as the destination). Once done, click "Next."
Step 2
Now, set up your Incoming Email source. To do this, copy the newly generated email and decide where to put it in your system (as a recipient of your system notifications or as a cc in the emails you receive to extract the data from the email body).
Now you should trigger a test email notification or forward the email containing the desired information.
The system will recognize all fields that contain data and display them. It should look something like this: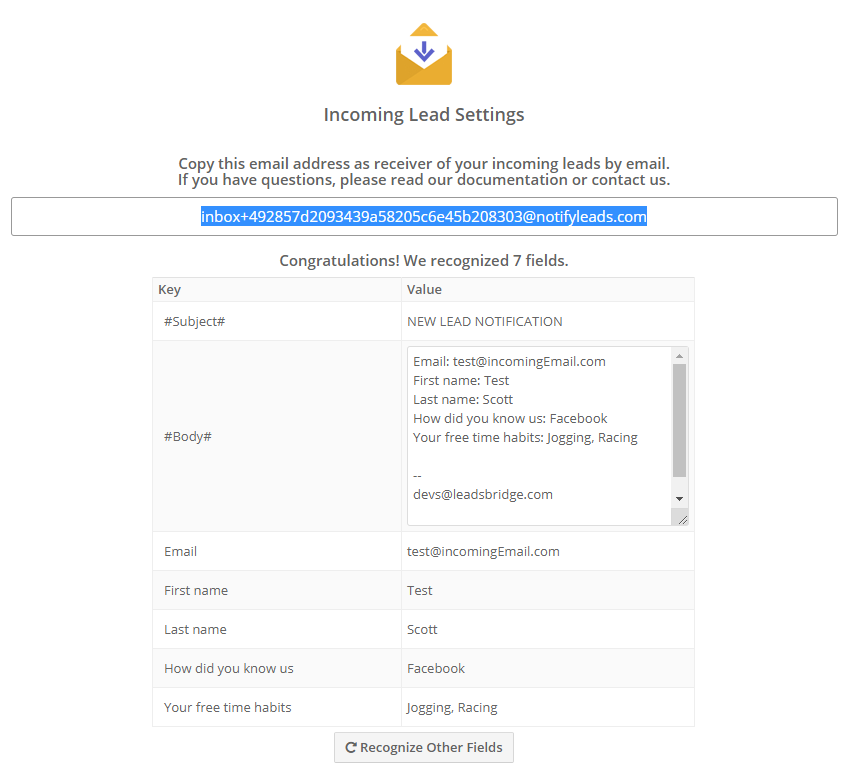 Now everything is ready to go.

You can combine the various fields recognized by the system to send them to your destination during the step of the fields matching!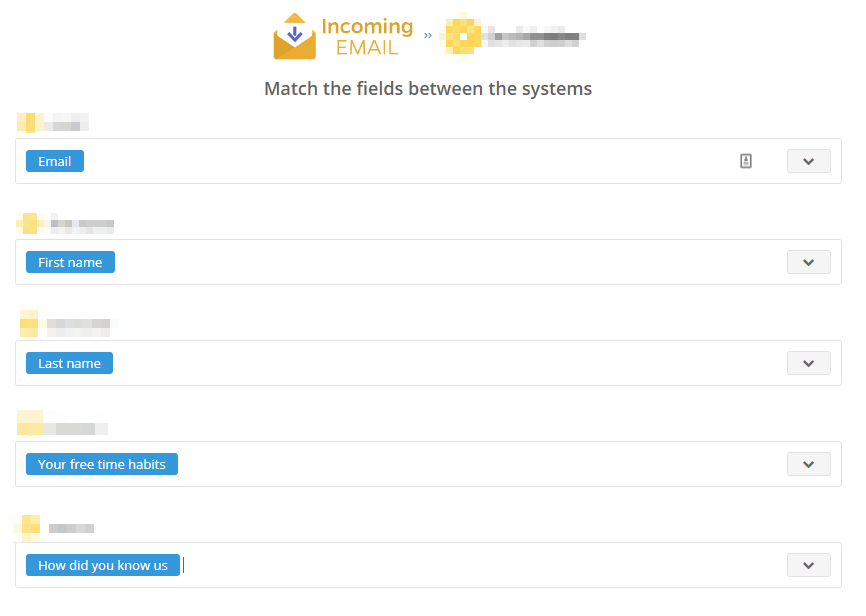 Import note – Don't forget to send a test lead from Incoming Email. This will allow the system to recognize all the attributes that you'd like to put in place and offer them as presets in the next steps of the setup.
Make sure the LeadsBridge screen is saying "Waiting for New Lead…"
Go to Incoming Email
Submit a test lead
Once done go back to LeadsBridge and verify that your test was sent successfully
You should see the information processed correctly by the app
Click on the Next button
Step 3
Now that the source is set up, it's time to set up the destination – Gmail. Start by typing in the destination's name in the designated field. Below that, select "To Receivers" for where you want to send your leads.
Click "Next", and you'll be able to select the destination segment to send your leads to. After that, click "Next" again.
Step 4
The last step before the test is to do some fields mapping. For this, you'll need to map your source information with your destination information.
You'll see a field name with the destination integration's logo at the top, this indicates the name of the field on Gmail.
Underneath there's a box where you may add the information you'd like to send.
Check each of the Gmail fields available
Match the information you wish to pass along from Incoming Email
You may type the information manually and pass them as a static value
Use the functions to customize information like reformatting dates and times or modifying text, phone numbers and so on
You may also leave blank the box of a field's information you don't want to send through
If you'd like to add custom fields, that possible, too:
If you'd like to add more fields, just look at the bottom of the page
Head over the "Don't find a CRM custom field?" box
Select the field you'd like to add from the dropdown list
Click the Add Custom Field button
Step 5
The final step of this integration process is to test it. To do this is pretty simple:
To create a new test lead, fill in the required information when prompted
Click Test Now
To test with a real lead, switch the toggle to "Test with existing lead".
Click Sync Now along with the lead you'd like to send
If you did everything right the button will turn green, meaning your lead was synced successfully and the integration is ready
Click Finish to save your settings and turn active your bridge
Once all that is done, you're done, too! You'll be redirected to the "Bridges" section of your dashboard where you will see your new integration in action, and get a green "Success" message, letting you know that everything is working properly.
Email Parser use cases
For us, one of the most popular requests for email parsing software is for auto dealers. If you think about it, selling cars is the perfect reason to use some sort of email parsing service.
Let's say that you have someone looking for a specific car brand, color, model, mileage, or anything else related to the condition of a car. With our email parser, you can easily divide and conquer, creating contacts for those looking for certain cars, and following up with them as soon as possible with the right deal. This greatly improves the automotive customer journey as it cuts out all unnecessary back-and-forth.
All-in-all, there are many reasons for any business to want to use email parsing software. For most, it's all about creating leads and gathering contact information.
The conclusion
when using an email parser, there are many things to consider. For one, you have to find a reliable and trustworthy service that you know can handle your as well as other's information.
That's why so many others choose our platform. We are a safe and reliable platform with advanced data hygiene solutions that provides higher matching rates thanks to our secure data validation process. The email parsing service is just an added bonus! With just a few simple clicks and inputs, you can automatically sort through and segment your emails according to priorities and customer needs. It really is that simple.
Discover all our Incoming Email integrations today, and start properly email parsing.