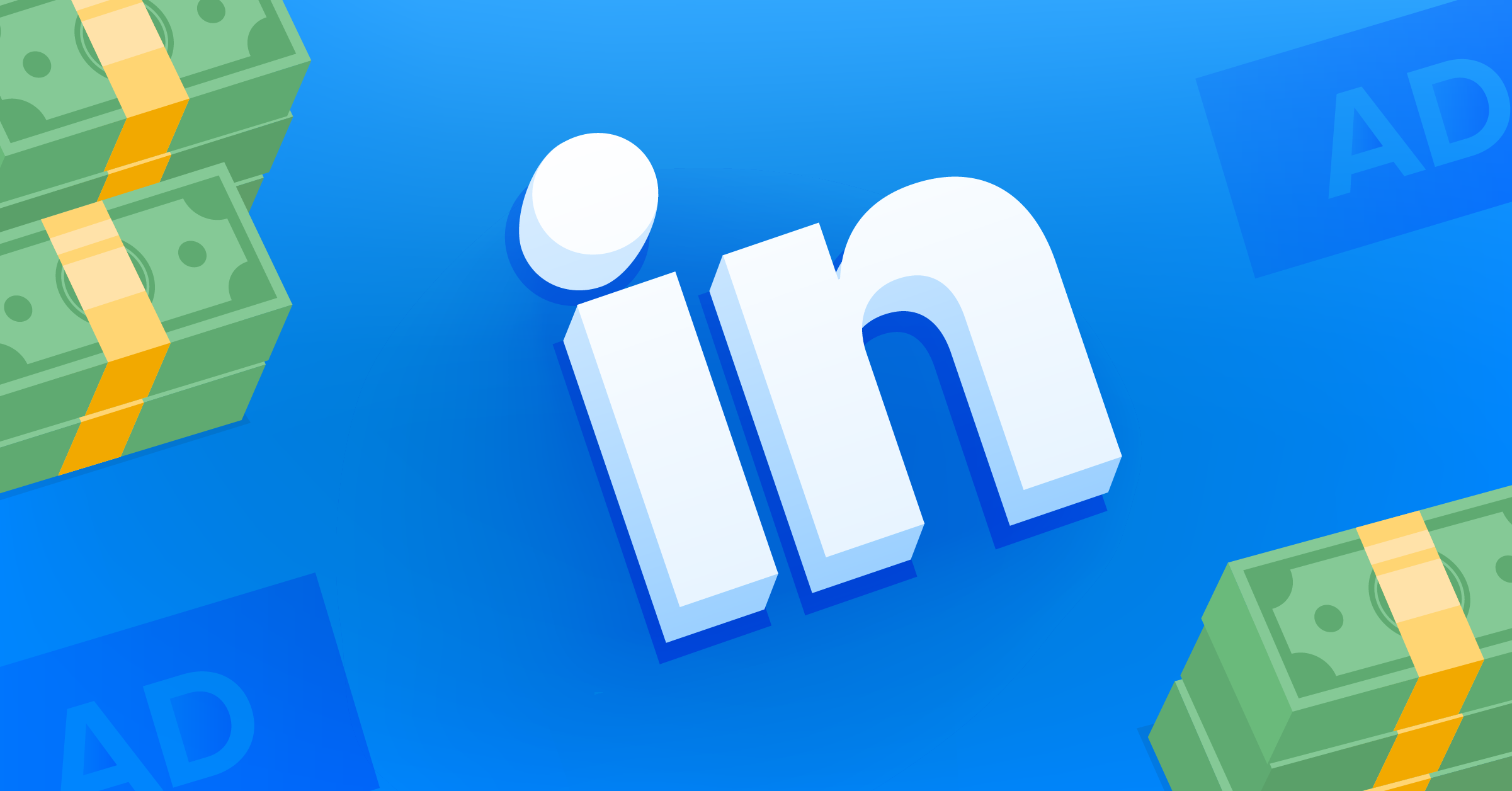 With over 900 million users across 200 countries, LinkedIn has quickly become the most valuable platform for B2B marketers in the world. In fact, according to data, 92% of B2B marketers leverage LinkedIn over all other platforms, and 80% of all B2B leads are generated from LinkedIn.
This social media giant has become an essential part of every marketing strategy, but very few companies are optimizing their LinkedIn ads budget to the fullest extent. If you came here wondering, "How much should I spend on LinkedIn advertising?" or, "How much should I budget for LinkedIn ads?" you are in the right place.
Here are five tips to help you optimize and get the most out of your LinkedIn ads budget.
5 tips for B2B marketers to optimize their Linkedin ads budget
1. Design your budget around established objectives
Every LinkedIn ad campaign should have a clear objective. LinkedIn defines an objective as the action you want your customers to take after seeing your ad and breaks down objectives into three categories: awareness, consideration, and conversion.
Awareness campaigns (top of the funnel)- Maximize your brand's voice through interactions and impressions.
Consideration campaigns (middle of the funnel)- Increase engagement by encouraging consumers to take action and learn more about your business via a landing page, or a redirection to your website.
Conversion campaigns (bottom of the funnel)- Focused on lead generation and the tracking ability provided by whitepaper downloads or lead generation capture.
Your chosen campaign objective will influence your budgeting strategy, and while most marketers will run more than one campaign at a given time, the recommended budget for LinkedIn ads should not be divided evenly between campaigns.
A recommended budget for LinkedIn ads should initially focus only 30% of your campaign budget on top/middle funnel strategies to help build awareness and increase engagement. The remaining 70% should be dedicated to bottom-funnel strategies to increase conversions.
As your campaigns progress, adjust your 70/30 balance as needed if one campaign is underperforming. To determine if a campaign is underperforming, it is important to establish key performance indicators.
2. Set specific KPIs
Keeping track of campaign successes and failures is one of the most essential steps in optimizing your LinkedIn ads budget. However, be sure you are monitoring the correct metric based on your chosen campaign strategy.
LinkedIn offers three pricing KPI options: cost-per-impression (CPM), cost-per-click (CPC), and cost-per-send (CPS). These pricing options should be aligned accordingly with the three campaign objectives:
Awareness: CPM to increase visibility
Consideration: CPC to increase engagement.
Conversion: CPS to increase leads
These three KPIs will help you track the success of each campaign and keep your ad spend efficient. We encourage tracking with as many metrics as possible, but these three pillar metrics are the most vital to monitor.
3. Use A/B testing ads to limit wasted spend
A/B testing is one of the most efficient ways to identify the highest-performing ads and the highest-performing ad combinations.
Implementing A/B testing can help you track the performance of different headlines, CTAs, visuals, and landing pages. By identifying and aligning the most effective combinations, you can refine your advertising strategy and maximize your ROI.
4. Calculate audience bidding
LinkedIn audience bidding allows advertisers to compete for a desired audience based on the combination of a bid amount and previous ad performance. While LinkedIn's Campaign Manager can suggest bid amounts and help guide your spending, remember these three best practices when bidding for an audience.
Spend more early to learn more quickly
LinkedIn suggests a frontloading strategy as it pertains to advertising spend so you can quickly identify which ads are the highest performing. From LinkedIn: "Set your daily budgets higher earlier in the month or quarter to generate more activity and collect data. Then you can capitalize on the data, optimize your campaign, and do more with less to beat the competition at the end of your time frame."
Be specific
Use the targeting tools provided by LinkedIn to narrow down your ideal consumer based on job title, department, company size, etc. Specific ads targeted to the relevant audience will be more engaging and boost overall ad performance. Even if the refined audience requires a higher bid, don't be scared off. Reaching the right people will always help your initial ad spend go further and maximize your ROI.
Understand trial and error
Once your LinkedIn bidding strategy is off the ground, be sure to monitor the performance of all your ads and establish benchmarks for future campaigns. What worked in the past won't always work in the future, and you must be flexible with your campaign strategies through a continuous process of trial and error.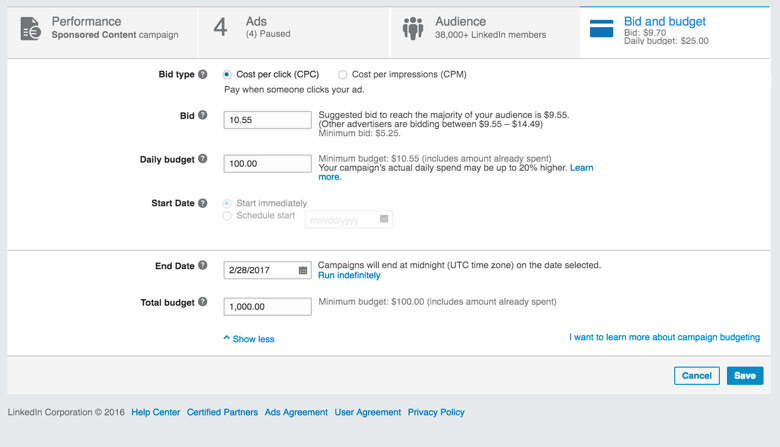 Source: LinkedIn
5. Use marketing automation with LeadsBridge
LeadsBridge's automation capabilities can optimize all of your LinkedIn lead generation strategies and help maximize your subsequent ad budget. With conversion tracking, you can enable Leadsbridge's Online-to-Offline Tracking and Event Tracking features. The immersive conversion data can help optimize campaigns for better results and help allocate future budgets toward the best-performing ad sets.
If you choose to utilize LinkedIn's Lead Gen Forms, LeadsBridge can save you time, effort, and money with over 100 available integrations to efficiently and safely transport all of your leads directly into your CRM.
If you use LinkedIn Matched Audiences as part of an efficient retargeting campaign, LeadsBridge can streamline your data sync processes and keep your list up to date, especially if you are working with high-volume CRM segments.
To ensure you are getting the utmost value from these automation options, LeadsBridge offers a FREE plan so you can experience the benefits for yourself. These automation options will help you save time, effort, and most importantly, money. Without automation, no budget can be truly optimized.
Final thoughts
While these tips will help get you started, it is important to be adaptable and analytical based on your own ads' success. Once you have enough data to analyze, you can adjust accordingly to ensure your campaigns are always running at an optimal capacity.
With the help of LeadsBridge integrations, you can automate your campaigns to help increase conversions and always retain an interested lead.
Let the data create a roadmap for your LinkedIn ads budget and let LeadsBridge do the work for you. Seamlessly connect your favorite CRM and marketing tools with the power of hundreds of LinkedIn integrations.