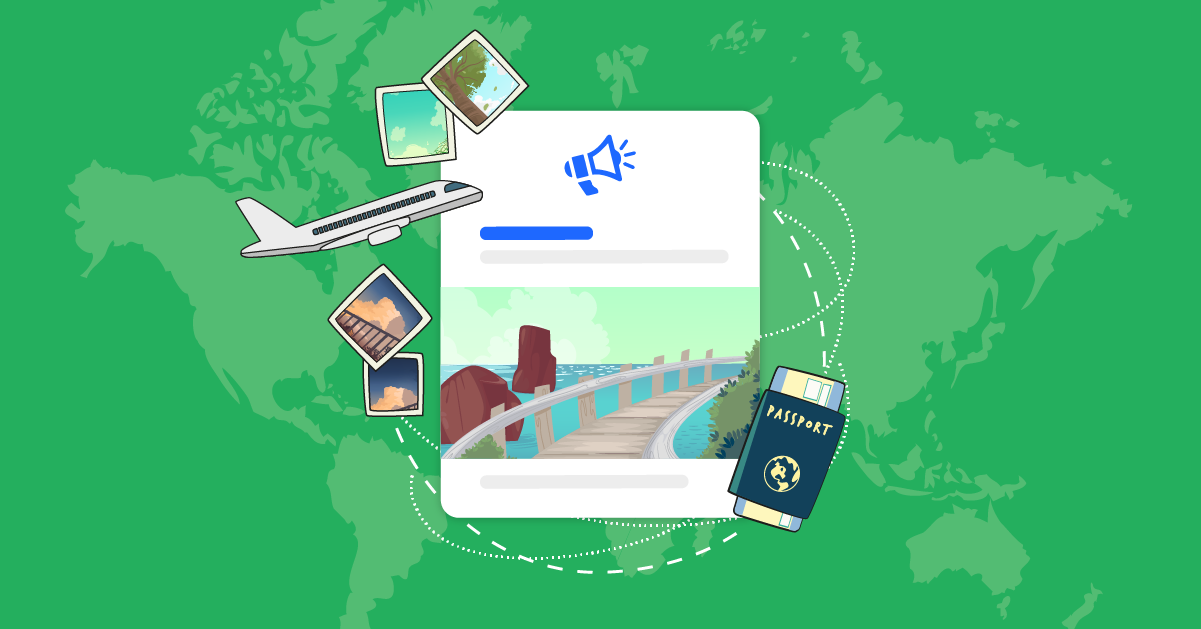 At a first glance, it would seem easy to get users to click on an ad for a travel agency that promised easy access to gorgeous white sand beaches and stunning snow-capped mountains. In reality, though, many businesses struggle to create strong travel agency ads that manage to snag both the click and the conversion.
Lead generation is the name of the game when it comes to travel agency ads, as you just need to get a user's name and email in order to start sending them great offers tailored to their travel preferences.
Looking for some ad inspiration? In this post, we'll go over some of the best travel campaign ideas and real examples from travel agency ads, along with how to get the most out of ad integration.
What Your Travel Agency Advertisements Need to Accomplish
A common mistake with plenty of travel agency ads is relying exclusively on gorgeous vacation images and videos in an attempt to attract users. While you can leverage this to your benefit, it's not enough to get most users to click.
Even if they do click, they almost certainly won't be enough to land the conversion. People typically will expect to see a landing page for that hotel, cruise, or vacation tour, not an agency.
Keep in mind that your travel agency ad doesn't need to convince people to go on a vacation; most people are already very inclined to do so already. You need to convince them to hire you to take that vacation.
Many people who work with travel agencies do so for very specific reasons. They might be unfamiliar with international travel, need special accommodations, or be busy with work and just need someone else to book business accommodations. You need to tap into those reasons and highlight how you can help remedy the pain points that they have.
Ready to get started? Let's take a look at some of the best travel marketing campaigns and ads to draw inspiration from.
6 Example Travel Agency Advertisements to Get Inspired By
Both search platforms (like Google Ads and Bing Ads) and discovery-based platforms (like Google's Display Network, Facebook Ads, and Promoted Pins) are incredibly valuable for travel agencies.
You can use search platforms to show ad campaigns to users who are searching for services like yours, and discovery platforms to proactively reach out to users who are in your target audience to let them know that you're there. Both have their place in marketing, and you can even set up a funnel using Google ads lead form extensions to find high-intent traffic, and discovery ads to retarget to them. LeadsBridge also offers lots of integrations for Google Ads Lead Form Extension. Find some of them below.
a. Google ads lead form extensions integrations with HubSpot
b. Google ads lead form extensions integrations with Gmail
c. Google ads lead form extensions integrations with MailChimp
Travel Agency Campaigns on Google Search Ads
Search-based ads should immediately convey value and highlight your brand USP to stand out from the rest.
Travel Leaders
The below ad from Travel Leaders does several things well.
They first stress that they have local agents with award-winning expertise. That's a stand-out feature. They also mention that the agents can get you exclusive deals and put together personalized vacations.
Finally, they use Google Ads Lead Form Extensions wisely to add links to high-intent pages like specials, deals, "why us," and inspiration. These might all appeal to users at different stages of the sales funnel, increasing their clicks overall.
Go Wheel the World
Remember how we mentioned earlier that audiences work with agencies for highly specific reasons?
Go Wheel the World has a specialized service for a very specific need: Accessible travel.
This ad goes all in on talking about accessible travel and how people within the disability community can be sure confident that they'll enjoy a vacation of a lifetime without running into issues that other agencies may not be familiar with.
Third Culture Travel
This ad from Third Culture Travel also focuses on a single reason why people may be getting in touch with an agency: Stress-free, budget-friendly family trips.
There are custom trips, perfect for your family (and your budget), all included with a flat planning fee and a free consultation to boost. The free consultation is a good call to mention, as it can appeal to budget-conscious clients.
Travel Agency Campaigns on Paid Social Platforms
Paid social platforms include Facebook Ads, Instagram Ads, Twitter Ads, and Promoted Pins. These platforms surely have travel campaign ideas you can learn from. You can target cold audiences, or use custom audiences or the Facebook Conversions API to retarget warmer audiences. Checkout out LeadsBridge's integrations for Facebook Custom Audiences and Facebook Conversions API below.
a. Facebook Custom Audience Integration with ActiveCampaign
b. Facebook Custom Audience Integration with Pipedrive
c. Facebook Conversions API Integration with Pardot
d. Facebook Conversions API Integration with Aweber
Muscatine Travel
The ad below from Muscatine Travel is casting a wide-reaching net, letting users know that they offer family vacations, business travel, honeymoons, destination weddings, and more. This can help capture as many potential members of their audience as possible, and they use a "learn more" to shoot for a seemingly low-risk, no-pressure click. This is placed right above "70 years of experience" to establish credibility and trust.
When creating such ads, you may also use free LUTs to give your photos an instant one-click makeover.
Levon Travel Bureau
This is a great example from Levon Travel Bureau of how you can use a gorgeous image while still placing the focus on your agency and not the destination.
This ad has a very specific offer, focusing on Armenia trips in particular. They highlight the personalized expert live agents. They also put an emphasis on "shop local" from Armenian-American businesses, which is important to a decent percentage of the population.
DiMaria Travel Agency
This ad's idea (which comes from DiMaria Travel Agency) is a great one to be inspired by, though we'd tweak the execution some.
Here, the agency is linking to a resource that is relevant and timely right now: A Guide to Travel During COVID-19. This is interesting, and plenty of users are bound to click, wanting to know what's different. Using content as an outbound strategy is an excellent way to capture potential warm users early on.
In order to improve this ad, however, we'd do the following:
Don't include the link in-text, but have a standard CTA that encouraged users to click to see it
Use more conventional ad copy that explains the value of what people will learn from reading and why the guide is usefulÂ
Test running the campaign as a lead ad, where users receive the PDF in exchange for submitting their lead information
Testing sending them to your blog, and then creating a custom audience to retarget later with Facebook lead forms Â
Facebook Travel Ads
Facebook travel ads are effective and can drive a boatload of customers to your tourism business. This is because there are over 2.91 billion monthly active users as of the third quarter of 2021. That's a lot of reach for your business. Moreso, research revealed that the average click-through rate for the travel and hospitality industry is 0.9% which gives the industry an average cost per click of just 63 cents.
Facebook created the Facebook travel ads for businesses in the travel industry. The ads are customized for travel businesses. It helps advertisers to create and present offers that show the availability and pricing of travel locations to users based on where they are traveling to and when they want to travel.
These ads help advertisers to reach potential users who want to travel, drive conversions through retargeting ads and expand their audience.
Below are examples of Facebook travel ads and Facebook tourism ads.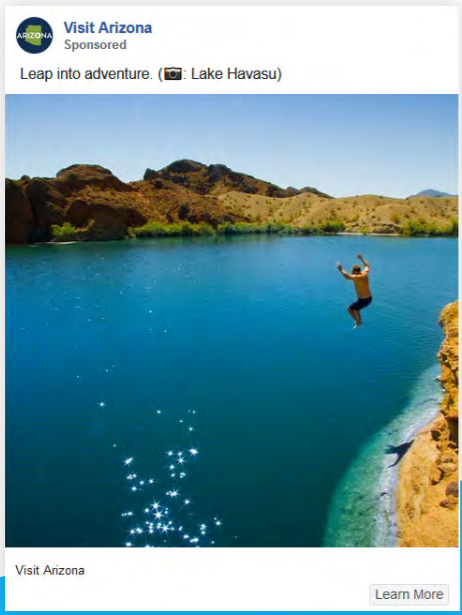 Source: HubSpot.net
The pic below is an example of a Facebook Tourism ad.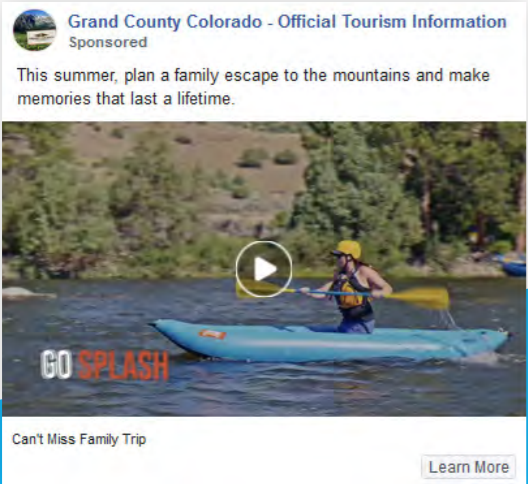 Source: HubSpot.net
How to Advertise Your Travel Agency: Final Thoughts
When running ads for your agency, it's always important to keep the following tips in mind:
Focus on user pain points. Think about what types of clients you have and why they come to you. Base your ads and your targeting around this. 
Highlight the value of what you can offer. There's something unique about the business that gives you an edge; find ways to highlight what makes you great, along with anything that's trust-building or value-offering.  
Set up integrations to capture lead information quickly. It's not enough to just get lead information; you'll want to act on it right away. Make sure you have integrations set up so that all new Facebook lead information is sent straight to your CRM and sales team. CRM software assists salespeople in optimizing their daily schedules and prioritizing tasks so that customers are not overlooked and key prospects are contacted on time.
Ready to automate your sales funnel with travel agency ads and automated integrations? Check out the travel software integrations we offer here.