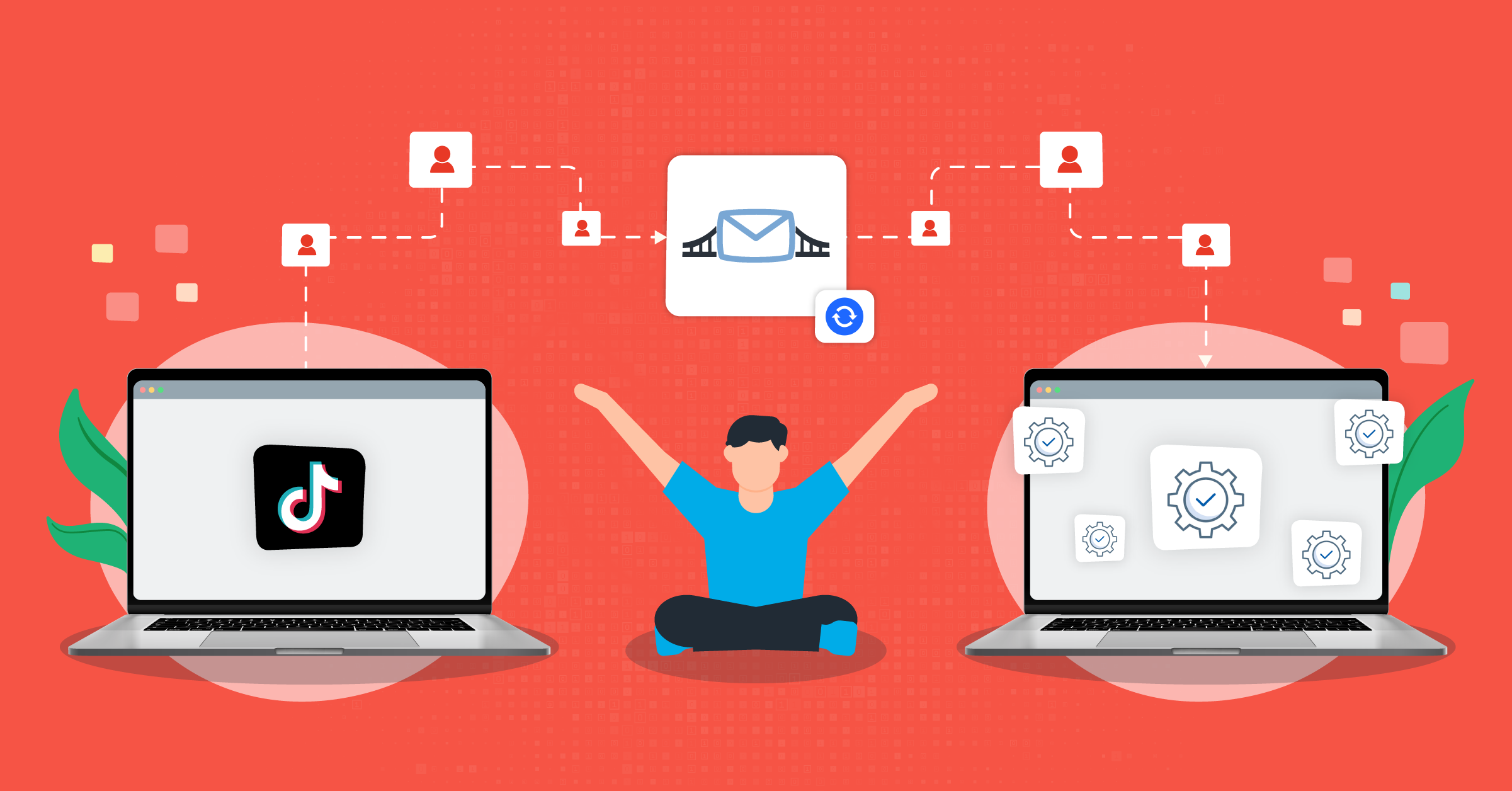 In this article, you'll learn how to connect your LeadsBridge account with TikTok Lead Generation and create a TikTok-CRM integration.
What is TikTok Lead Generation?
TikTok's Lead Generation features allow you to create seamless interactions with your leads and prospects in order to convert them. When users see your TikTok videos and are interested, they can get in touch with you by filling out a simple form.
The Instant Form within the TikTok app is designed as a Lead Generation feature. It enables your audience and existing customers to discover and learn about your brand, and answer your questions right on the TikTok platform.
The form is often pre-populated using the users' info and includes questions such as name, email, phone number, etc. Before this feature, users were redirected to another landing page, where they had to fill a form manually and from scratch.
Benefits of integrating TikTok Lead Generation via LeadsBridge
TikTok Lead Generation integration allows you to seamlessly sync leads from TikTok Lead Generation into your CRM or other marketing apps. By doing so, you bypass the process of manually transferring the lead data, maintaining CSVs, and following through with repetitive workflows. Additionally, it enables you to create immediate follow-ups with your new and existing leads, which boosts your conversions significantly.
Besides seamless data transfer, you'll be able to create automated workflows. This way, you and your team have enough time for more productive and important tasks.
How to set up your TikTok Lead Generation integration: The step-by-step tutorial
Before you start
Before creating any integrations, we recommend connecting your TikTok account to LeadsBridge first. However, you'll need to
1. Have a TikTok Advertiser account. If you don't have an account, you can create a TikTok for Business account here.
2. Build an Instant Form; to use this service, you'll need to have at least one form.
Then, to start integrating your TikTok Lead Generation with your favorite marketing app, you'll need to log in to your LeadsBridge account. If you are not a registered user yet, you can create an account for free here.
Once you have logged in, you can access your personal LeadsBridge Dashboard.
Step 1: Setting up your TikTok Suite
Once you are on your LeadsBridge dashboard, follow these steps to complete connecting your TikTok account:
1. Navigate to the TikTok Suite » Ad Accounts on the left sidebar.
2. Click "Add New".
3. Then, you'll need to authorize your account. Click "Confirm" to grant access to LeadsBridge.
4. At this point, you'll be redirected from the TikTok platform back to LeadsBridge. Click "Save" to continue.
Remember that if you skip this step, you can still connect your account while creating your bridge. However, you'll need to go through a longer process to establish your TikTok-CRM integration.
Step 2: Add in the main information of your bridge
Following these steps, you can learn how to create any TikTok Lead Generation integrations to a CRM, autoresponder, or other marketing tools.
1. Click the "Create new Bridge" button to create your first "Bridge" connection.
2. Fill in the required information.
Select the source and destination of this data bridge. Here, we choose "TikTok Lead Generation" as the source for your bridge and your favorite marketing app as the destination.
You can also name your bridge by clicking on the edit pencil icon at the top.
Step 3: Connect your accounts
Here, you'll need to connect your accounts to access each platform through LeadsBridge.
To connect your TikTok account, just follow these simple steps;
a) Choose TikTok Lead Generation as your source.
b) Then, authorize the connection to your TikTok For Business account by logging in.
If you have not connected your TikTok advertising account, you'll need to go through the authorization process mentioned in step 1.
c) Once completed, click "Continue".
d) "Choose settings" by selecting your TikTok Ad account and form.
e) Here, you'll also need to integrate the destination app by connecting the specified account. Additional steps might be involved depending on the app you choose.
Step 3: Fields mapping
1. Ensure all data fields are mapped correctly to create a flawless TikTok – CRM integration.
2. You may edit the information manually and customize information like reformatting dates and times or modifying text, phone numbers, etc. If needed, leave some of the fields blank to avoid sending specific data.
3. Cross-check all the data fields, and match the information you wish to pass along from the TikTok Lead Generation to your marketing app of choice.
Test
At this point, your TikTok-CRM bridge is nearly connected. However, you can run a simple test to see if the configurations work properly.
a) After going through the Fields mapping setting, click on "Test connection".
b) You'll be redirected to the testing page. Fill in the lead information such as name, phone number, address, etc.
c) Click on "Run test".
d) You'll receive the following message if all data fields are configured correctly.
4. Click "Save & publish".
And that's all! Your bridge is now active.
New to TikTok for Business? Learn all you need to know about TikTok Advertising here.
LeadsBridges's Email receipt feature
LeadsBridge offers an email receipt feature that helps our users track their lead generation efforts. You can choose to use this feature for any of our integrations.
Once you have completed the bridge, you see a button at the bottom of the page that reads, "Do you want to receive an email notification for each lead coming in?" Then, you can push the switch button next to it to activate the feature. At this point, you'll start receiving notifications about incoming leads in your mailbox.
No matter if you use TikTok for a small business, or an established organization, this feature can give you head start on your follow-ups.
Actions
By creating a data bridge between two platforms, you can streamline tasks through LeadsBridge. These bridges create workflows called Actions; they perform routine tasks by pulling data from a source, TikTok Lead Generation in this case, and complete rule-based mapping to reach a specific outcome. Some of the most popular bridges to connect TikTok Lead Generation to marketing apps include:
Get the most out of your leads from TikTok Ads
With LeadsBridge's TikTok Lead Generation integrations, you can streamline the data management processes, create instant follow-ups, create TikTok Custom Audience, optimize your campaign and ultimately increase your ROI.
Read this article to learn how to master TikTok Lead Generation and get more leads.
Need more information? Please take a look at the common questions on our LeadsBridge Help Center, or request a demo.