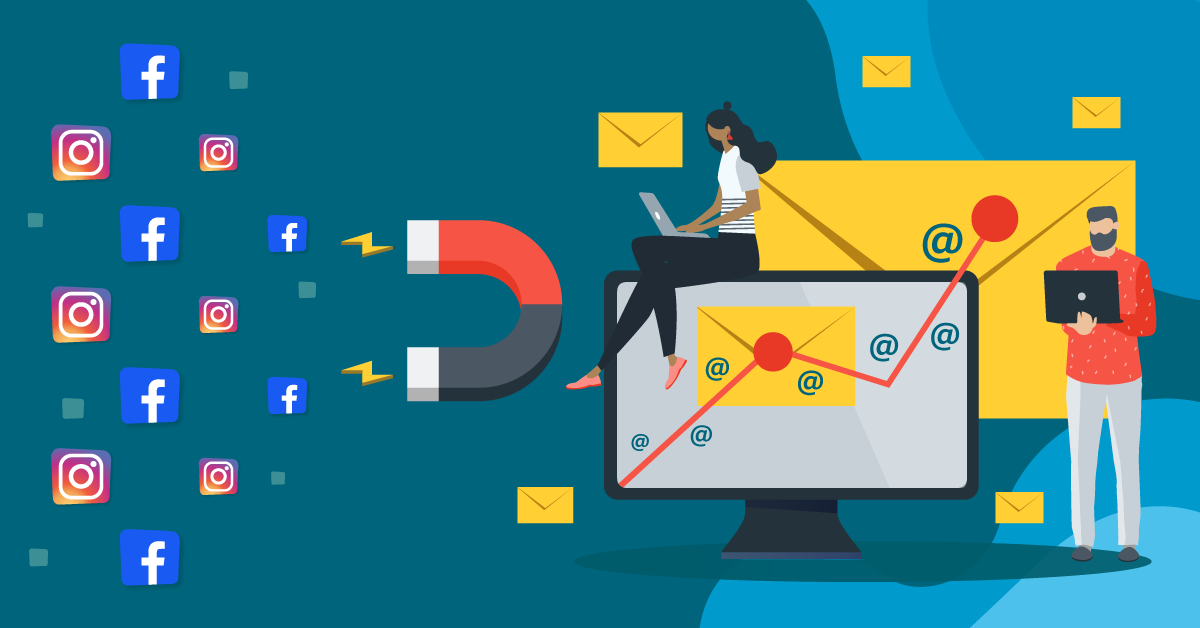 Facebook and Instagram are outstanding social media platforms in their own right. They've got great reach, and gaining followers on the platform can be exceptionally beneficial for relationship-building and brand building.
While these benefits are great to have, eventually most brands want to take things a step further with the ability to go off-platform by getting a user's email address.
Email allows you to directly reach users in their inbox. You can also send more personalized messages and maintain more frequent contact.
In this post, we're going to look at how to build an email list with Instagram and Facebook, with 6 different strategies for how to generate emails from Facebook and Instagram that include both free and paid options.
Use a "Sign Up" CTA button on Facebook
Facebook Pages allow you to set clickable CTA buttons that appear at the top of your Page just under the cover photo. These can encourage users to take specific actions, like Shopping on your store or (in our case) signing up for your email newsletter.
The "Sign Up" CTA button should be your go-to choice here. It takes users to a landing page where they can sign up for your newsletter.
In order to choose the "sign up" CTA button, click on the "Edit CTA" that you see when you view your brand's profile Page.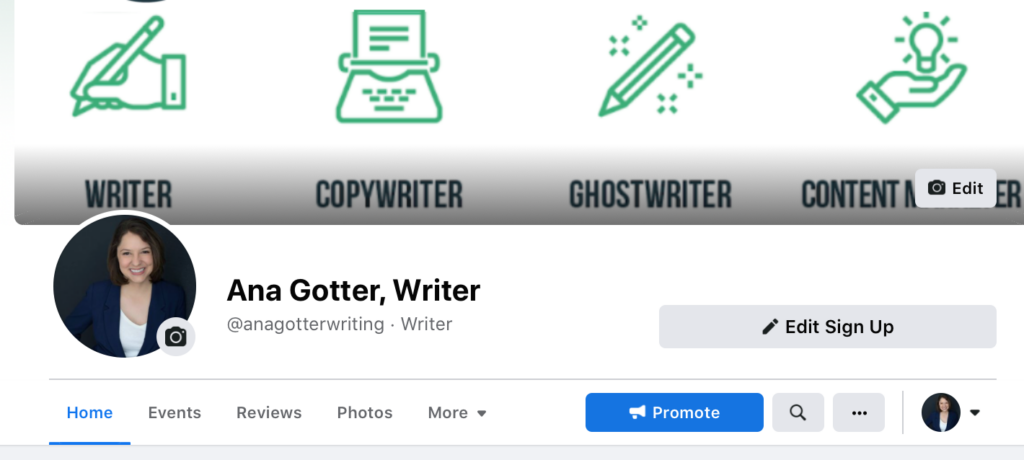 You'll see a long list of different options. Find "Sign Up" and then enter the exact site address that takes users to the page where they can opt-in.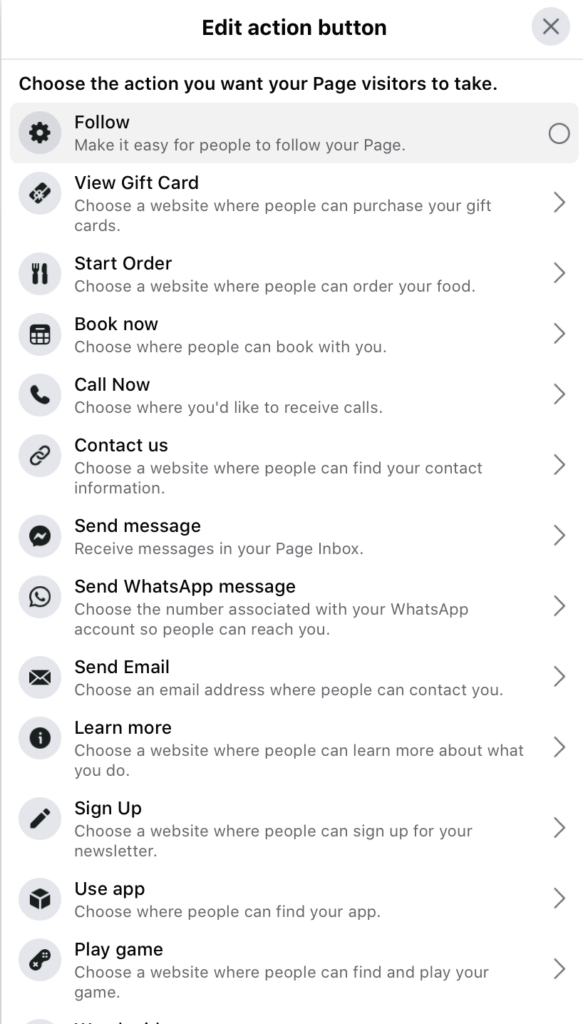 This is a great way to ensure that the customers who want to be signed up to your list will do it. Marketing experts recommend using this effective method when you're trying to decide how to generate leads from Facebook. Moreover, it allows you to capture existing audience members who may not be subscribed to build your email list on Facebook, as well as capturing new users who discover you on-platform.
Use the swipe up link for Instagram Stories Lead Generation
Until recently, you needed 10,000 followers on Instagram in order to have the ability to add links to Stories. That's no longer the case: The feature is now available to everyone, making it a great option when you want to collect email addresses from Instagram.
Instagram Stories is a strong platform with high reach and engagement. It's an optimal place to share content and let users know what they can find out more by subscribing to your newsletter.
Adding a link to your Stories is easy. When creating the Story, click on the "sticker" option, and search for "link." This will give you the option to add a Link sticker to your Story, which you can use to send users to the subscriber opt-in page.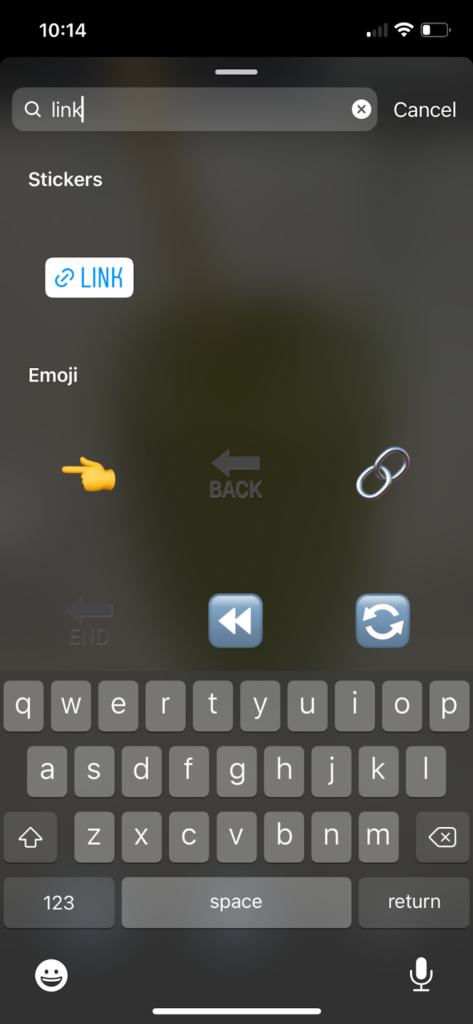 When it comes to Instagram Stories lead generation, this is the way to go. Make sure that you're letting users know what they get out of subscribing. This could include:
Announcements that you've teased in Stories
Exclusive access to products or sales
Tips or resources that they can use
Encourage users to sign up in posts
It's common to have customers and leads following you on one platform but not another. You may find, for example, that some of your customers are following you on Facebook or Instagram but have not yet subscribed to your email.
If that's the case, remind them that your email opt-in is there and waiting for them! It may just be something they haven't come across directly yet but would be interested in- especially if you give them a reason to. Use this to collect email addresses from Instagram and Facebook.
Share a post on Facebook and Instagram letting customers know where they can go to sign-up for the newsletter and what they get out of it. Again, leverage that value: What's in it for them to sign up?
You can see an example of this from BigDaddy's Farm here.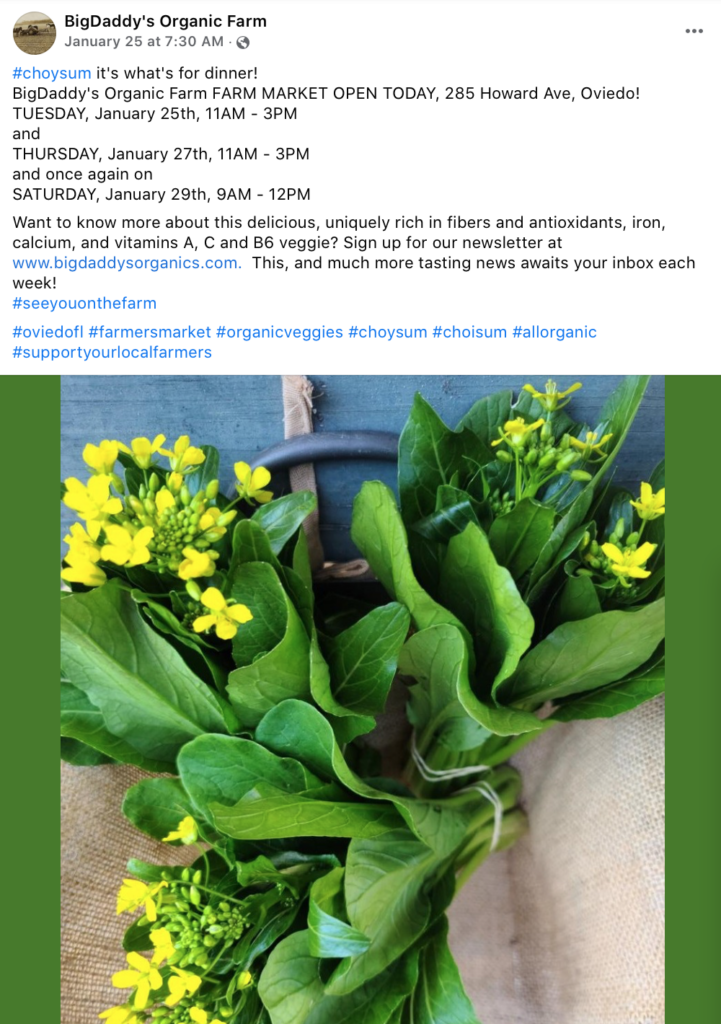 Facebook allows you to post links in each post, so you can even share snippets of newsletter updates and link to the sign-up page for more information.
Instagram does not allow you to add links to individual posts. You can either use Stories to drive users to the sign-up page or mention that users can sign-up through the link in your bio. This is a great way to build an email list with Instagram and Facebook, and the posts may show up in relevant searches, too.
Set up social media contests (with landing pages)
Social media contests using third-party contest software can be one of the best ways to build email lists on Facebook and Instagram. These tools allow you to create mobile-responsive landing pages that capture lead information like their name, email address, and whether or not they've purchased from you before.
Examples of contest software include WishPond and ShortStack, but there are plenty of options out there to choose from. Plenty even offer sophisticated features, like built-in contest rule recommendations or random winner selection.
Contests are highly effective when you want to build email lists on Facebook or Instagram because they don't just generate email addresses; they generate excitement and conversation, too.
Everyone loves the chance to win something, and contests often get plenty of shares. Photo contests and caption contests are great options, but you can also have a general giveaway or sweepstakes that sends users to that landing page to enter.
Share the link on Facebook, and use your Instagram bio link and Stories links to drive users to the landing page. Promote the contest heavily while it runs, and ideally have most run for at least a week to gain enough traction that you walk away with some solid new leads for your email list.
Lead magnets
When you're looking at how to generate emails from Facebook, promoting lead magnets is always going to be a good option.
Lead magnets can include industry reports, ebooks, webinars, and even free consultations. Any free resource that you can put behind a "paywall" and require users to enter their name and email to access will do the trick. See an example here: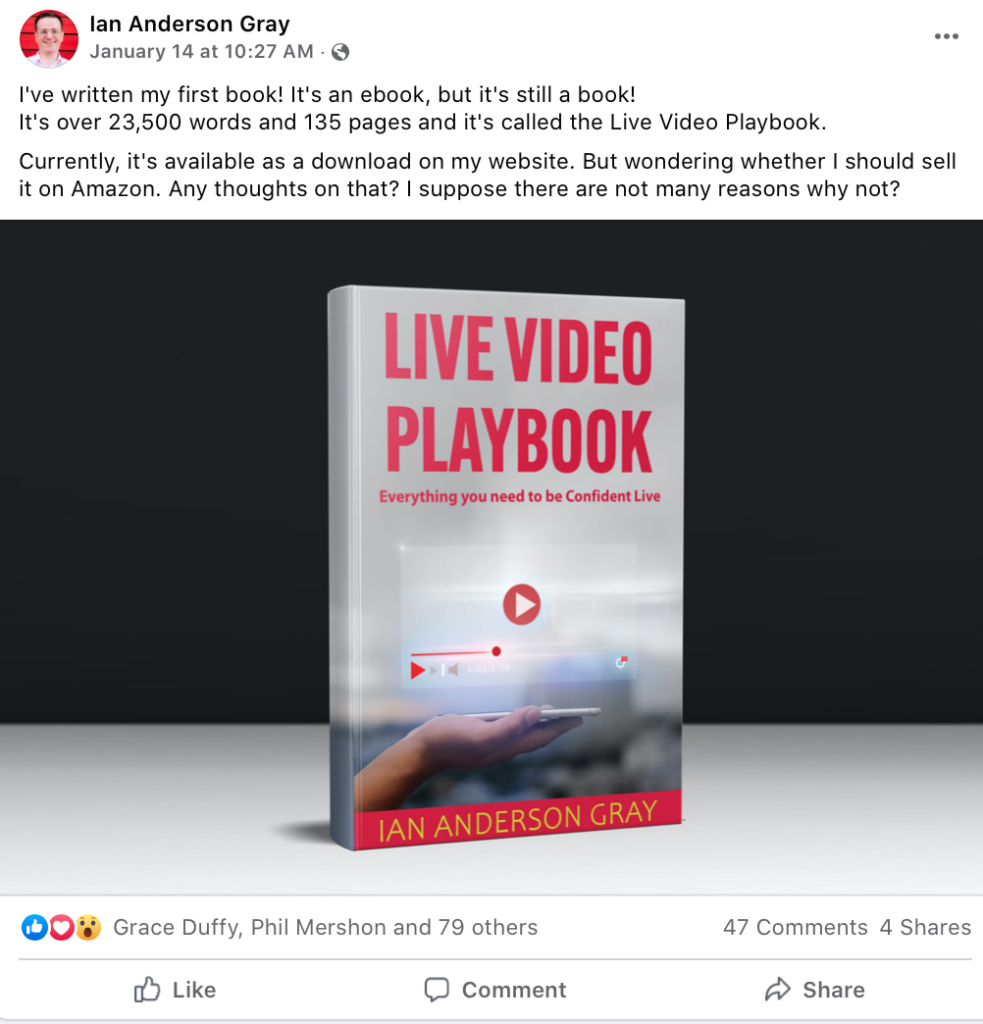 Lead magnets can be more effective when it comes to building email lists on Facebook than just promoting your newsletter because users get an immediate, clear, and specific benefit. They learn how to do something or gain access to high-value data. This may make them more likely to hand over their email address.
Remember that lead magnets need to be free, and the only cost should be their email address. This is a quick investment that makes it easier to build an email list with Instagram or Facebook.
Instagram & Facebook Lead Ads
Want to generate emails from Facebook and Instagram fast? You can leverage Instagram and Facebook Lead Ads to build your email list in rapid time.
Lead Ads are mobile-friendly, on-platform ads that will auto-fill all relevant information fields so that it's exceptionally easy for users to convert. They're available for Facebook and Instagram, and you can even create Instagram Stories Leads Ads.
They work best near the mid-stage of a digital sales funnel (after you've run an introductory ad or two to establish product value and brand awareness). This also allows you to target users based on interactions they've had on other ads that they've viewed or clicked.
When you're using Lead Ads, it's essential to utilize automation so you can get those email addresses immediately. You want them added to your email list promptly so you can start reaching out, and if you offered a lead magnet in exchange for form completion, you'd want to get it to users right away. Downloading lead information fast is crucial.
LeadsBridge can help with that, offering automation for all of the following:
Push Facebook lead ads to email marketing software (don't forget to secure your mailing process using a DMARC report)
Give your team Facebook lead ads notifications of new contacts (allowing your team to follow up through email marketing)
Push new Facebook leads to Gmail
Below, you can see our Facebook lead ads integrations and our Instagram lead ads integrations for more information. LeadsBridge also offers great integrations with free CRMs for Facebook leads, which can help push Facebook leads to email free.
Facebook Lead Ads integration with HubSpot CRM
Facebook Lead Ads integration with Mailchimp CRM
Facebook Lead Ads integration with Google Sheets
Instagram Lead Ads integration with ActiveCampaign CRM
Instagram Lead Ads integration with Email Notification
Instagram Lead Ads integration with Zoho CRM
Want to see how to create Instagram Lead Ads and Facebook Lead Ads? Check out our guide on lead ads to see how to build your email list with Instagram and Facebook.
Final thoughts
As you're finding new ways to generate emails from Facebook and Instagram, remember that marketing and automation tools should be your go-to.
LeadsBridge can help you, automatically sending captured emails straight through to the CRM and email marketing software of your choice, and all it takes is a quick setup to integrate the tools.
This includes syncing data from lead ads to your email software so that you can get in touch fast, striking while the iron is hot.
Learn more about our Facebook lead ads integrations and Instagram lead ads integrations to see how they can benefit you.