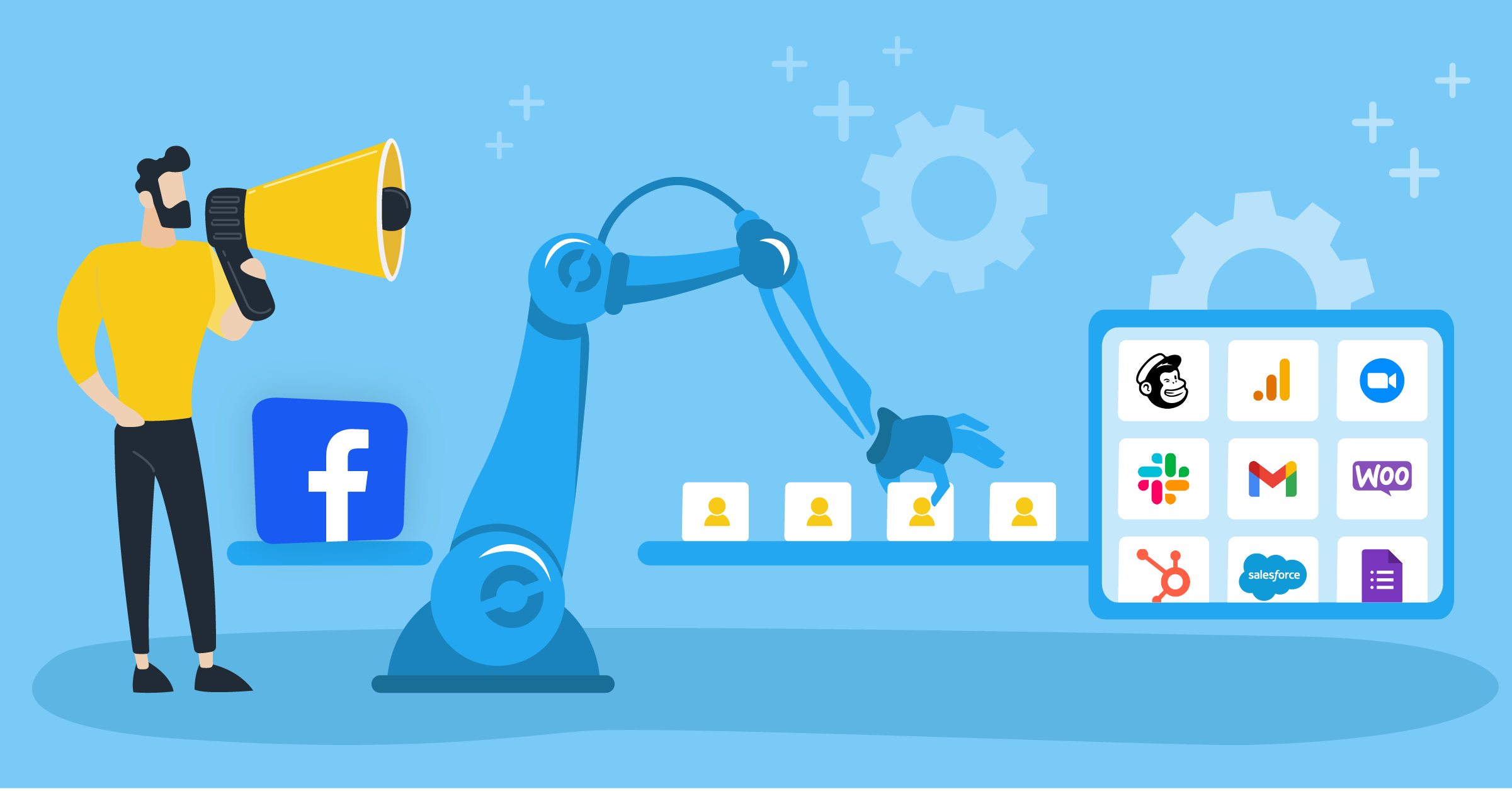 Over the years, Facebook has had no shortage of helpful integrations and automation. For advertisers and marketers, possibly the most helpful tool that Facebook has ever released is Facebook Lead Ads.
For a while, it was very time-consuming to gather Lead Ads data from Facebook and upload it into any given marketing tool or software. Now, however, there are plenty of ways to automate this process.
For example, LeadsBridge creates a Facebook Lead Ads automation that connects your Facebook Lead Ads to your marketing software to help you transfer new lead data coming in from Facebook directly to your CRM or email marketing software automatically and in real time. See it for yourself by typing in your desired source below.
Before diving too deep into Facebook Lead Ads automation, there are a few basic bits of information that need to be covered.
What is Facebook Lead Ads automation exactly?
Facebook Lead Ads are useful for both advertisers and prospects, as they don't send users to external landing pages. Instead, users can stay on the platform (Facebook) and submit their lead form. Facebook lead automation software is simply the process of automating this.
The reason this is helpful and very useful is simply that users don't have to leave Facebook whatsoever. It speeds up the process and doesn't leave the user feeling like they're playing cat and mouse. So if this process is automated, it becomes much easier for both the user and the advertiser. And let's not forget that the process of automation can include retargeting.
Without going too much further into detail, it's easy to see and understand how advertisers and businesses in general really get excited about Facebook Lead Ads. If you'd still like to learn more about Facebook Lead Ads, check out this article from our blog.
How to Automate Facebook Lead Ads
The word "automation" may lead some people to believe that they don't have to lift a finger. Unfortunately, that's not entirely true, but there are some ways to make the process of gathering and nurturing leads from Facebook a lot easier.
Focus on target audiences
The first and most important step in any ad campaign will always be targeting a specific audience. After all, you want to make sure that the people that are seeing the ads are people that are interested in what's being advertised. How do you do that?
Luckily, Facebook lead automation software makes this process fairly straightforward to follow. In fact, it's really as simple as targeting specific characteristics of individuals through Facebook's very own platform. You can target anything from age and occupation to even their hobbies and interests.
Create ads based on the stage of the funnel
Based on their stage in the sales funnel, you can optimize ads through Facebook according to their needs. For example, if they're at the top of the funnel in the awareness stage, the best bet would be to use simple ads that are directed toward specific problems.
Moving further along, perhaps the user is at the consideration stage, and they need more details about each product in order to move on and make a decision. At this stage, it would be wise to include some more detailed ads that not only address the problem the user is having but explain a little further how the problem can be solved.
After some trial and error, you can create a structure for Facebook Lead Ads that allows you to show leads in a specific stage of your funnel the perfect ad, all based on the information that you've already gathered.
It would be a good idea to create multiple ad sets for each stage of the funnel. Since Facebook Custom Audiences singles users out based on certain criteria, you can rest assured that they will continue to see your ads. This will give you more than one chance to convert the lead.
You can further automate this process by creating rules for your ad sets. This can easily be done with Facebook Ads Manager, and it's fairly straightforward.
With these rules, you can essentially make it to where once your ads meet certain criteria (CPC rising, etc.), then it will activate a trigger. These triggers can be anything from increasing daily ad spend to adjusting the time range for the running ad.
Regardless of the need, Facebook has built-in capabilities to help advertisers narrow in on their target audience and automate Facebook Lead Ads in general. All that being said, there are some downsides to Facebook Lead Ads. With Lead Ads, advertisers need to download the CSV files from Facebook in order to manage their new leads. This is a time-consuming process and can ultimately impact the quality of the leads. This, however, is where integrations and further third-party automation comes into play.
Facebook Lead Ads integrations
As stated just above, Facebook has lots of unique tools and features built right in that make the lives of advertisers a lot easier. With that said, Facebook Lead Ads integrates with many CRMs in order to manage leads.
Integrating a CRM with Facebook Lead Ads will help further automate the process. You can jump on leads as soon as possible and nurture them before it's too late.
We've gone over many helpful Facebook Lead Ads integrations for marketers before, and in that article, there were 2 ways mentioned for integrating Facebook Lead Ads with a CRM:
Custom Integrations – Custom integrations are exactly as they sound. They involve setting up custom tools to help you synchronize leads by using Webhooks and Facebook API.
Third-party integrations – Third-party integrations are generally regarded as the fastest and easiest method for integrating Facebook Lead Ads with a CRM. For example, LeadsBridge is a great third-party platform that makes it essentially effortless to bring Facebook Lead Ads and your CRM together.
CRMs like Salesforce, HubSpot, Mailchimp, and Gmail are among some of the most popular integrations for Facebook Lead Ads, all of which are ready to be integrated through LeadsBridge. Below, you can find some of our most popular integrations for Facebook Lead Ads.
If you're looking for any other specific integration, here is our full integrations list.
How to automate Facebook Lead Ads notification Leadsbridge
With LeadsBridge, there are a few ways that you can set up your notifications for Facebook lead automation. These notifications all rely on one thing: setting up a bridge. For the most part, each bridge will be set up the same way.
In this example, we will show you how to automate Facebook Lead Ads notification with LeadsBridge by connecting Facebook Lead Ads with Email Notification:
Before you start
First of all, log in to your LeadsBridge account or – if you don't have one yet – create one for free. Once you're inside the LeadsBridge app, click on the Create new bridge green button at the top left of the screen.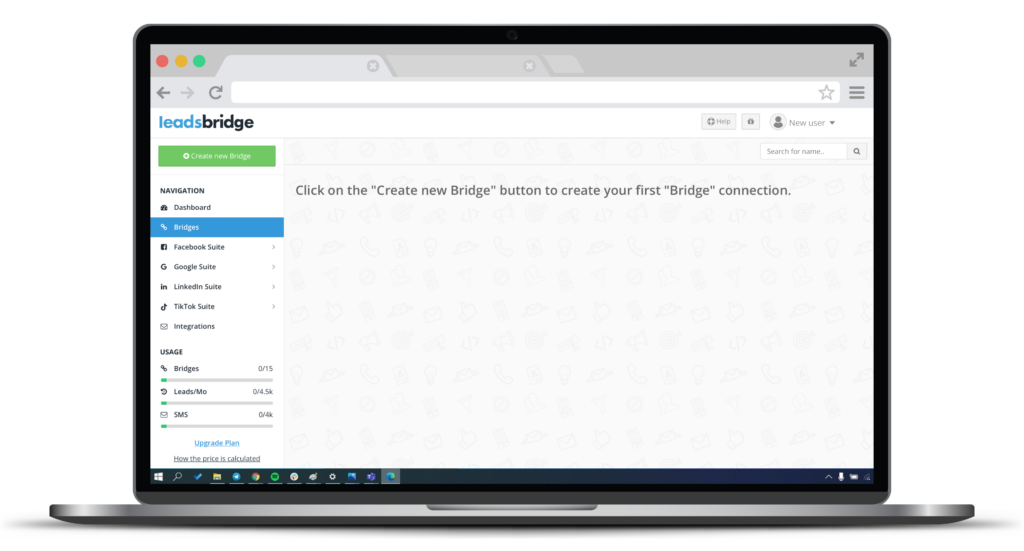 Step 1: Creating your bridge

On this screen, you can select your source – which is Facebook Lead Ads – and your destination – Email Notification. In order to do so, go to the search bar and simply type in your desired apps. When you're done, click Continue.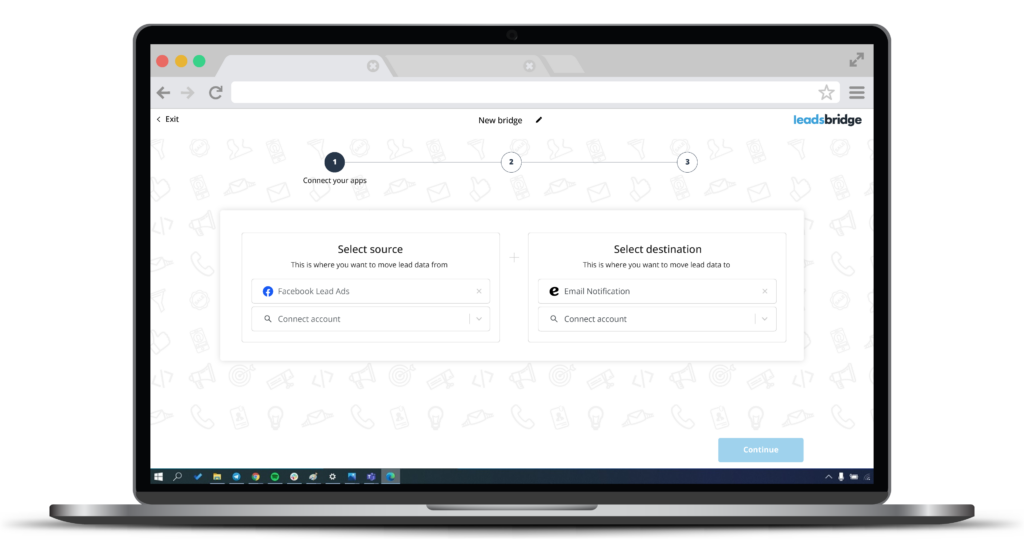 Step 2: Account authorization
Here, you're required to connect your Facebook and Email Notification accounts to let LeadsBridge have access to your platforms.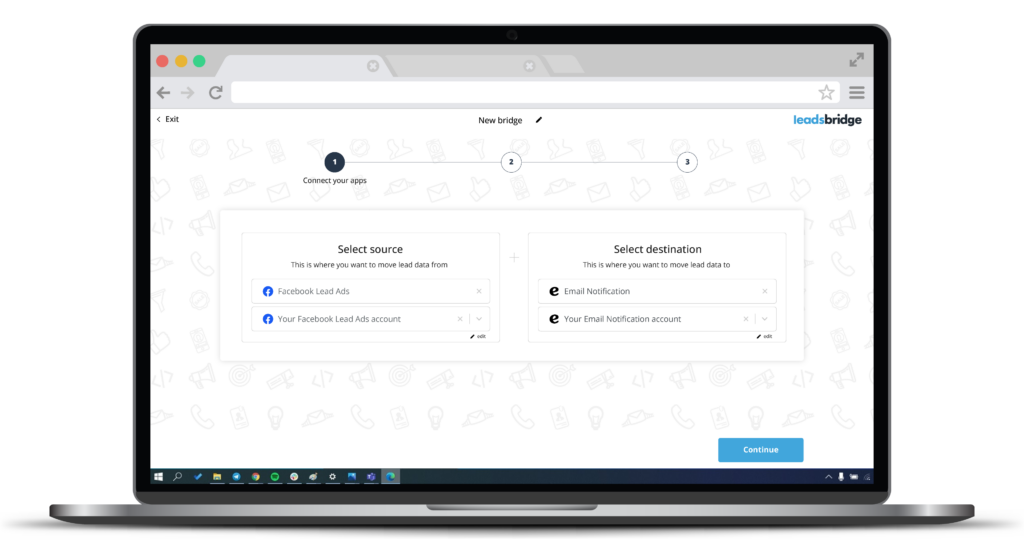 Step 3: Fields mapping
Once you've connected your accounts, you can start matching fields. Make sure that all your Facebook Lead Ads fields match with the ones required by Email Notification to guarantee a perfect data transfer.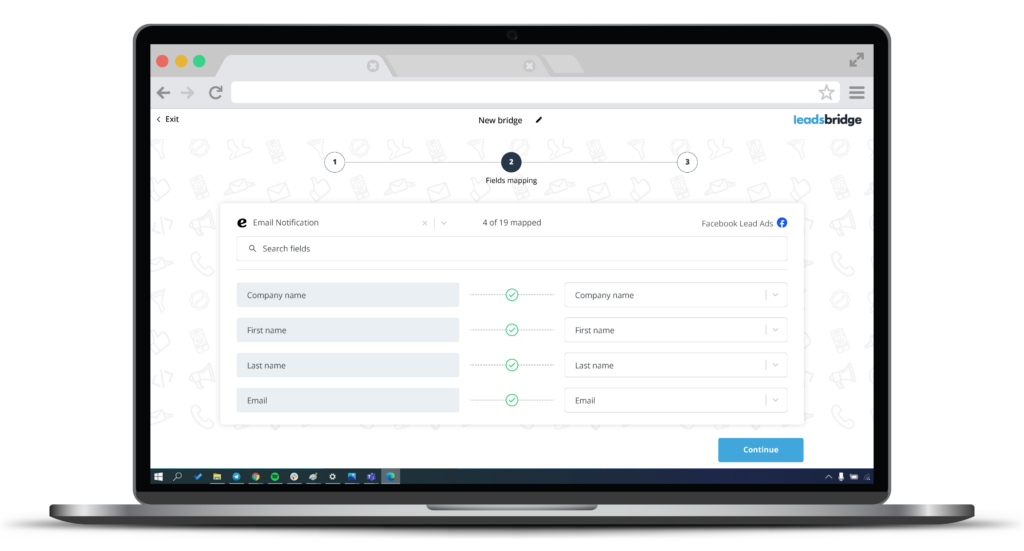 After ensuring that the fields have been matched, you can click Save & publish and tadà! Your bridge is successfully completed and will start running data automatically & in real time.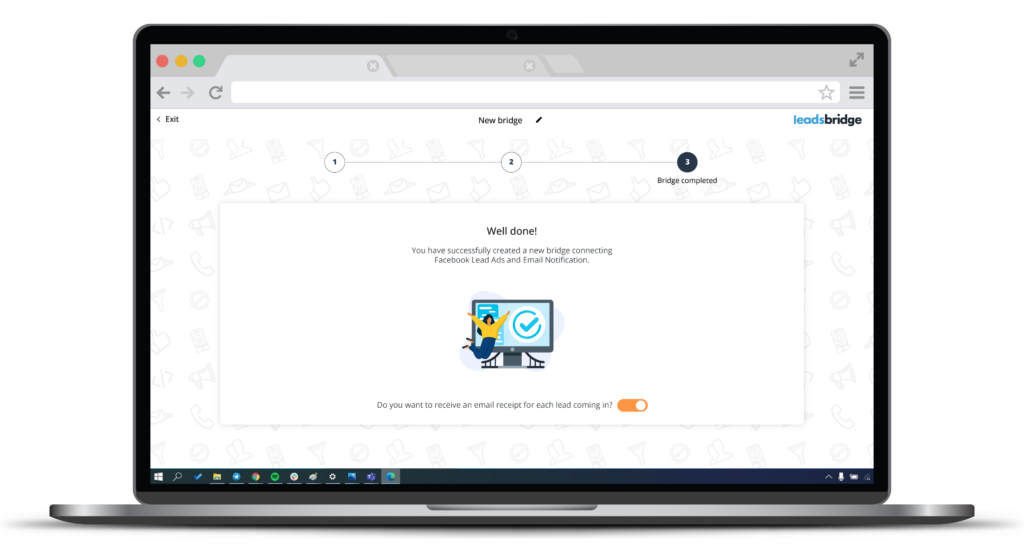 Our top integrations
The best automation that advertisers can leverage include:
The ability to sync new leads with a CRM / email software
The ability to send welcome emails to new leads
The ability to send an email or SMS notification to the sales representatives
All of this is possible through LeadsBridge.
LeadsBridge also makes it possible to track conversions that occur offline through Facebook Conversions API. Here, automation exists in the advertiser's ability to sync the CRM data with the advertising platform. This will allow the advertiser to understand the impact of campaigns not only in terms of how many leads are being gathered but how many conversions are made, too.
Below are some of our most popular integrations for Facebook Conversions API.
Benefits of Facebook Lead Ads – CRM automation
Just like you set up automatic payments for your phone bill or your Netflix subscription, a Facebook Lead Ads – CRM automation is just as essential. The ability to send lead data directly to your marketing software – automatically and in real time – frees you from a colossal waste of time and effort.
Without a Facebook Lead Ads – CRM automation, you'd have to remember to check new leads coming in every few days to manually download them from your Ads Manager and upload them into your CRM.
This operation is not only time-consuming and at risk of errors, but it's also the cause of many lost business opportunities. Why? Because today a fast time to lead is essential to guarantee a successful conversion. Many times, the first that follows up with the lead is the one that ends up with a new client.
Now you understand how manually transferring lead data is just not sustainable for a successful business.
Instead, LeadsBridge Facebook Lead Ads integrations allow you to automate the process of moving leads across platforms for an immediate follow-up with your newly acquired leads.

Below are some of our most popular integrations with Facebook Lead Ads.
If you'd like to learn more about how to connect Facebook Lead Ads, read this article.
Conclusions and takeaways
When it comes to Facebook lead automation, there's a lot to know. Many tools and software easily integrate with Facebook Lead Ads, but it's not always easy creating your own custom integrations.
This is where tools like LeadsBridge come into play. Not only does it make it easier to connect these valuable tools, but it also makes it easier to collect and nurture leads in all stages of the sales funnel.
According to Meta, more than 3 billion people are currently using their platform. That's the opportunity of a lifetime for any business. It's all about finding the right audience and automating the process.
If you create custom audiences for each stage in your sales funnel, you can essentially completely automate the process even further by automatically finding the right people for the product or service.
Facebook lead automation is made easy for most people to use. Thanks to Meta, there are lots of tools out there for any marketer or advertiser at any stage of their career. Once you find the right ads to show to the right audience and the right time (which will take some trial and error) and connect it with your favorite CRM, you can truly take advantage of what Facebook Lead Ads has to offer.