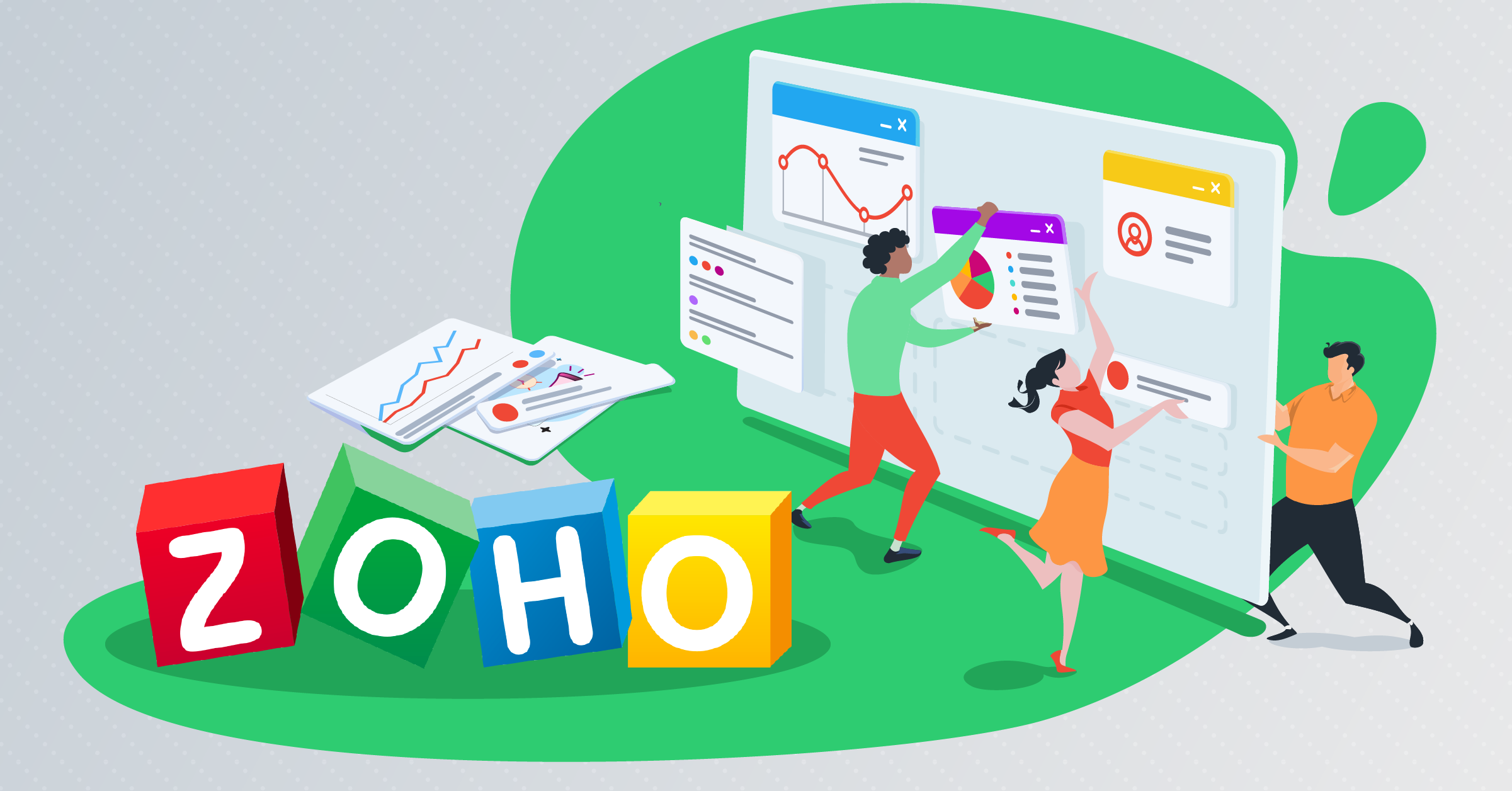 Customer relationship management (CRM) is a critical aspect of every business, regardless of its size. With numerous CRM tools available in the market, however, it can be challenging to identify the most suitable CRM provider for your business.
This article provides a review of Zoho CRM and summarizes its benefits for small businesses. Additionally, we'll talk about how LeadsBridge can be integrated with Zoho CRM to streamline your marketing efforts, such as lead generation and management processes.
What is Zoho CRM?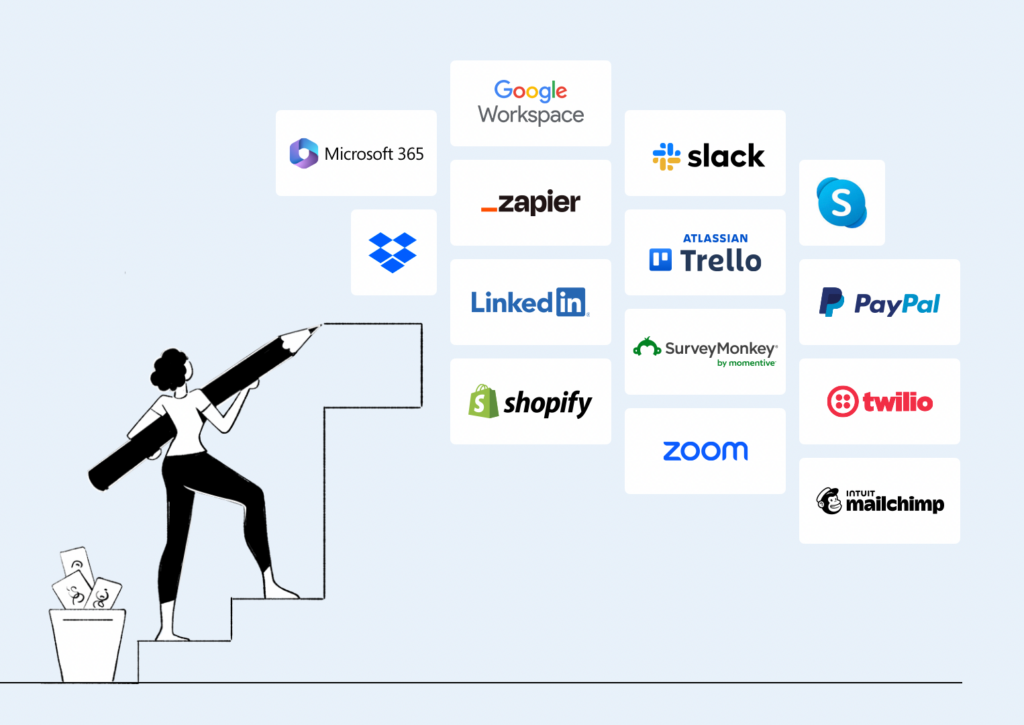 Zoho's CRM is a powerful customer relationship management tool that allows you to manage your lead contacts base affordably. It enables your team to increase sales volume, empower sales and marketing teams, and support customers.
One of the major advantages of Zoho CRM is its extensive integrations with various third-party tools, including Mailchimp, DocuSign, Google Drive, LinkedIn, Google, Facebook, and more. With LeadsBridge, you can integrate this CRM with your favorite tools in order to streamline workflows and improve productivity.
Zoho CRM Review: Features, benefits & more
Below you'll find the most important features of Zoho CRM, the ones that make this tool a great ally for your business.
How to use Zoho CRM effectively?
1. Zoho CRM segments help build better engagement with your audience across multiple channels.
Zoho CRM offers powerful segmentation features that allow you to engage with your audience across multiple channels, including social media networks, email, phone, and live chat.
This means building stronger relationships with customers and improving engagement across multiple channels by understanding the prospects' requirements and interests. Then, they can use this data to create optimized strategies to capture leads and close more deals.
Additionally, Zoho CRM's email channel helps businesses nurture their audience with relevant content throughout the buyer journey. Learn more about the importance of lead nurturing here.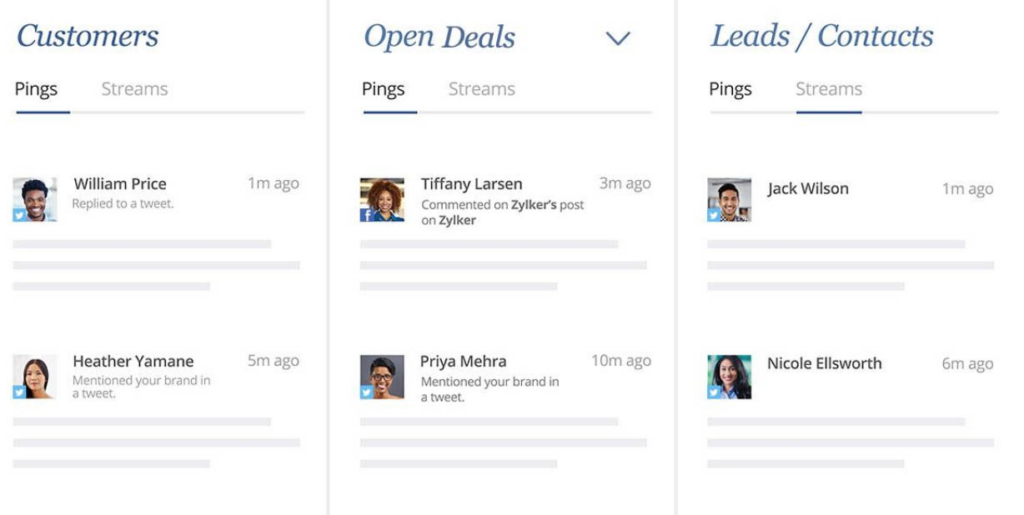 2. Use Zoho CRM to run automated follow-ups.
Follow-up emails are crucial to better introducing your business to leads, nurturing them toward conversion, and promoting similar products or services even after they've completed a purchase.
However, sending emails at the right time can be challenging for small businesses. With Zoho CRM's effective automated follow-up system, businesses can save time and become more productive by using workflow rules to set conditions for sending emails, following up with leads, and updating fields.
Zoho CRM also helps automate repetitive actions like sending emails, updating records, or creating tasks.
3. Use Zoho CRM analytics to measure your performance.
Measuring campaign performance is essential to track progress and identify areas for improvement. You can access performance data using analytic tools. Then you and your team can use this information to personalize your campaigns, optimize customer experience, and grow your business.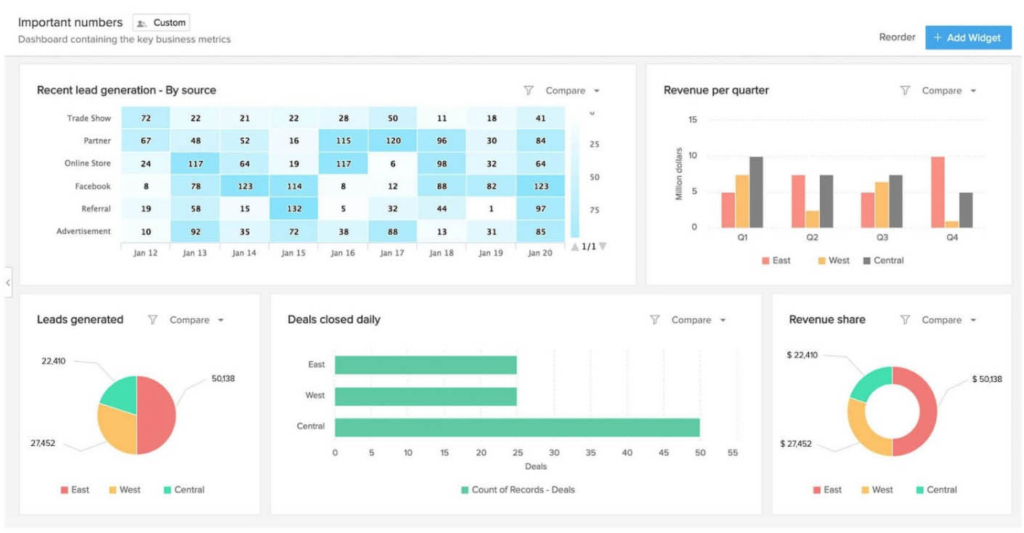 Zoho CRM's analytics reports and forecasting help businesses access specific metrics like campaigns, sales trends, and team performance. These metrics also offer an overview of other aspects of the sales cycle, such as sales numbers, leads generated, deals closed, revenue share, and more.
4. Use Zoho CRM to better manage your leads
Effective lead management is crucial for all businesses since nurturing leads can build trust and increase sales opportunities. With Zoho CRM, you can efficiently capture, score, and follow up with leads. This process can facilitate moving them through the sales cycle and ultimately converting them into paying customers.
According to studies, lead nurturing is the most valuable feature of automation software, and businesses that consistently nurture their leads experience a 20% increase in sales opportunities.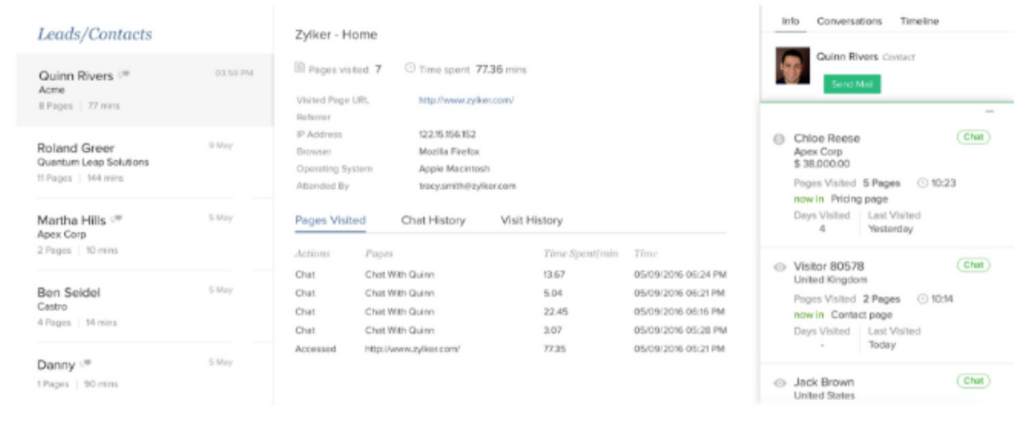 How to set up Zoho CRM?
To set up Zoho CRM, you'll need to follow these simple steps:
Sign up for a Zoho CRM account: You can choose a free or paid plan depending on your requirements.
Customize your CRM: Add customizations to your CRM dashboard by adding your company's logo, setting up your work hours, and configuring other settings.
Add team members: You can add other team users to your CRM account and assign roles and permissions to each user.
Set up your sales process: Customize your sales processes based on your business strategy by setting up stages for your sales pipeline, adding custom fields, and creating automated workflows.
Import lists of contacts and leads into your CRM: Import your existing contacts and leads into Zoho CRM. You can do this manually or through automated data bridges such as:
Consolidate with other tools: Integrate your Zoho CRM with other tools, such as email marketing platforms, social media platforms, and other CRMs.
Train your team: Introduce your team to how to use the Zoho CRM system effectively by running in-house training sessions or providing them with access to Zoho CRM's training resources.
Top Zoho benefits
While it might not be the best CRM out there, Zoho CRM offers a range of benefits to your business. For starters, Zoho CRM is affordable, making it a cost-effective solution for companies looking to manage their customer relationships affordably.
What's more, Zoho CRM's user-friendly interface makes it easy for anyone with little to no tech-savvy knowledge to adopt and integrate it into their existing workflows. It also provides customizable features and integrations with other popular business tools.
This robust CRM offers all the basic features businesses need to efficiently manage customer interactions, track leads and customers across their journey, and gain valuable insights.
Pros & Cons of using Zoho as a CRM
Pros:
Zoho CRM is a cost-effective solution.
It is highly customizable and allows businesses to configure the CRM according to their needs.
Zoho CRM integrates with numerous third-party apps and tools.
It is easy to use.
It offers a scope of features to manage workflows and leads across all sales funnel stages.
Cons:
It has limited reporting capabilities, which is a limitation for businesses that rely on in-depth analytics.
It delivers limited third-party support, compared to other CRM tools.
Zoho CRM's automation features are less robust than some other CRM tools.
There are occasional reports of slow customer support.
Why use LeadsBridge to integrate Zoho with other tools
An interconnected marketing stack allows your business to run smarter and more streamlined strategies. This practice leads to improved marketing efforts and increases the effectiveness of the lead generation and management process.
Integrating Zoho CRM with other marketing tools and platforms through Leadsbridge allows you to capture and manage leads more efficiently. Additionally, these integrations can improve data accuracy and reduce errors by automating the lead transfer process. What makes LeadsBridge stand out is its ability to sync your lead data in real-time, reducing the likelihood of delays.
Moreover, LeadsBridge offers a centralized hub for managing and monitoring all your integrations across a variety of tools and advertising platforms and automating your workflows across the board. Check out some of the most popular integrations with Zoho CRM:
Here's more on LeadsBridge integrations and how they can help your business.
Zoho CRM pricing plans
Zoho CRM offers several pricing plans to meet the needs of businesses of all sizes:
Free Plan: Zoho's flagship CRM software is available in a fully-featured free edition, including robust features for sales and marketing, powerful integrations, and secure cloud storage.
Paid Plans: There are three paid plans allowing users to choose the best option according to the features and user base: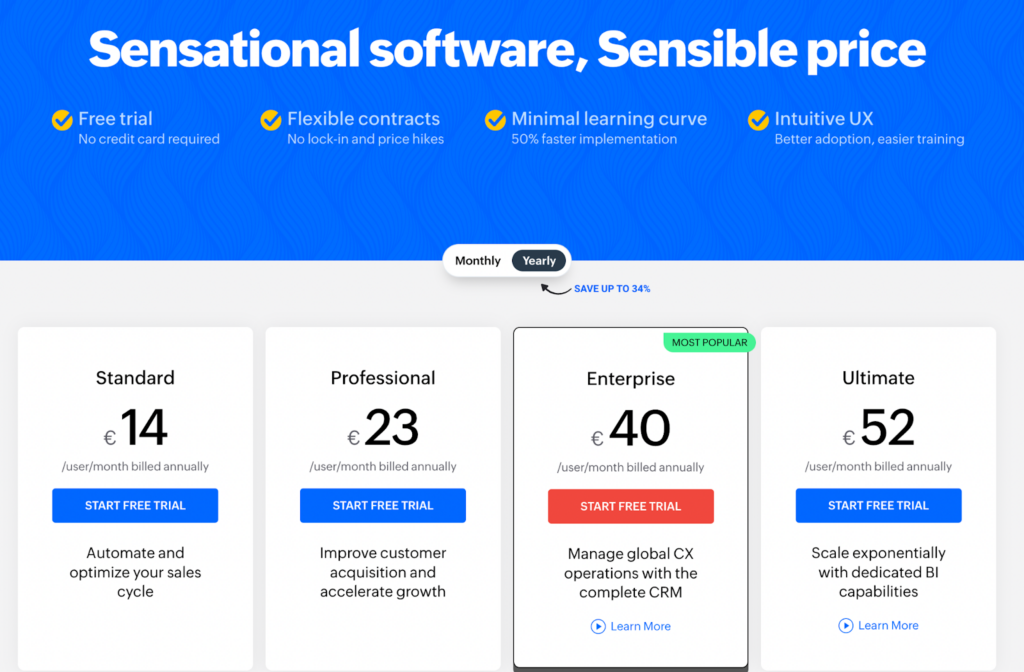 Final thoughts
The review of Zoho CRM highlights important features for taking small businesses to the next level. Integrating Zoho CRM with the rest of your marketing stack via LeadsBridge helps reduce the need for manual CSV downloads, streamlines your workflows, and helps you leverage the full potential of this CRM. If you haven't already, it's time to start integrating Zoho CRM with your favorite lead generation tool, such as Facebook Lead Ads, to enhance your lead management process.
Explore all the possible integrations with Zoho CRM through LeadsBridge.