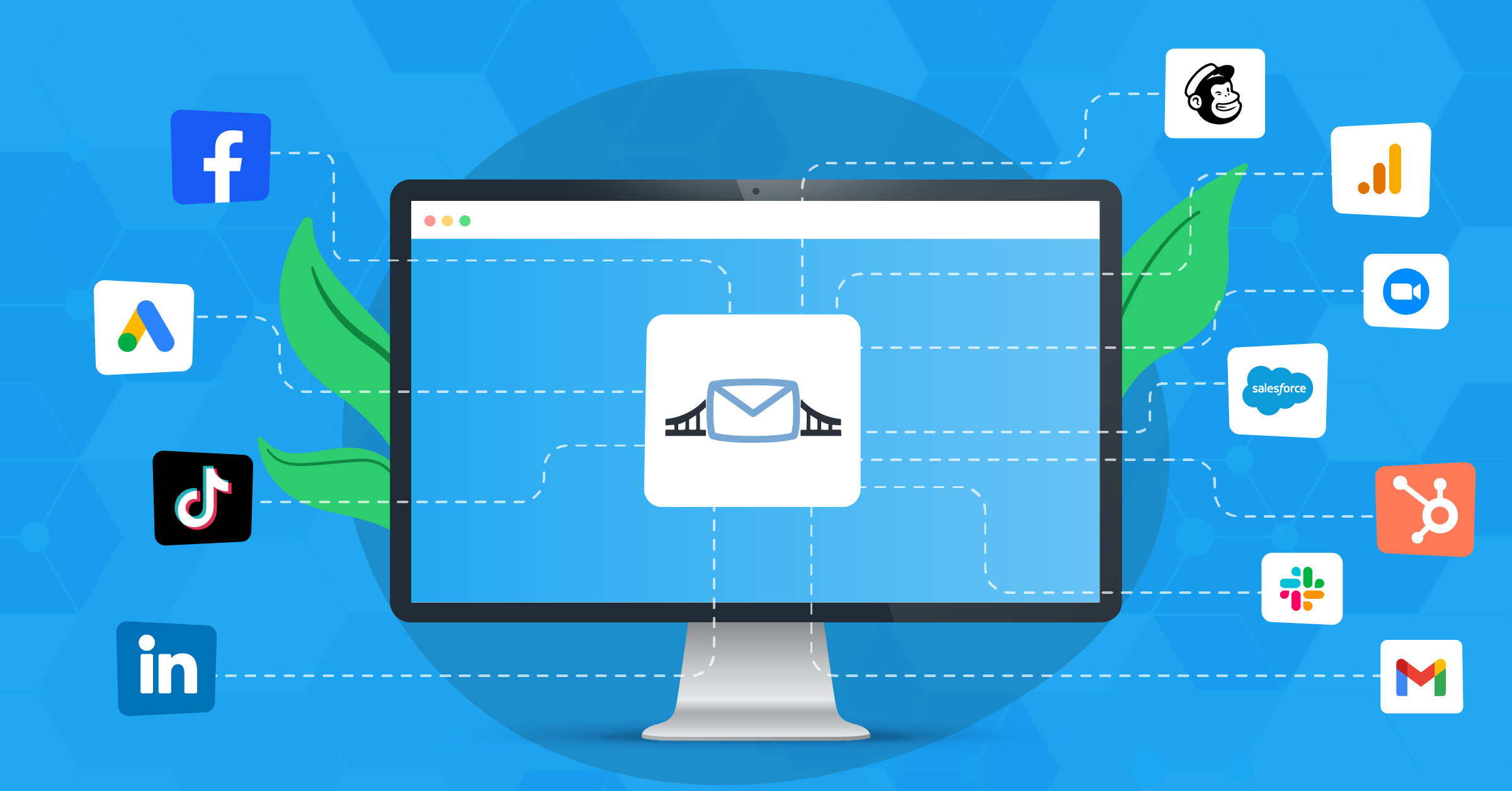 Navigating the frenzy of the advertising world can be challenging. It requires lots of different tools, which can be hard to manage. Can you imagine how much easier your life would be if you could build your own interconnected marketing ecosystem? If all your platforms could share data with each other automatically? With LeadsBridge, you can do that.
If you're a new marketer or are just new to the LeadsBridge world and are looking for some insights, here is everything you need to know about LeadsBridge integrations, what LeadsBridge is, and what it is used for.
Keep reading to take a closer look at our products, available integrations, and pricing plans, and learn how LeadsBridge can help you turn your advertising campaigns around for better results.
What is LeadsBridge?
LeadsBridge is an iPaaS automation solution that enables marketers and advertisers to enhance their omnichannel strategy by allowing them to build their own interconnected marketing ecosystem.
LeadsBridge integrations focus on bridging gaps between top advertising platforms – Google, YouTube, Facebook, Instagram, LinkedIn, and TikTok – and main marketing tools – CRM, email marketing software, data warehouse, autoresponder, and so much more.
LeadsBridge is also equipped to develop tailor-made integrations based on unique business needs.
The LeadsBridge platform is specifically designed for companies – big and small – that want to streamline their advertising activities by integrating their marketing stack with Facebook & Instagram Ads, Google Ads, YouTube Ads, LinkedIn Ads, and TikTok Ads.
Thanks to LeadsBridge's 380+ available integrations, you can easily connect your favorite software with your advertising platforms, seamlessly synchronizing data for your marketing workflows.
What is LeadsBridge used for?
If manually downloading sheets filled with lead data from your ad platforms and uploading them into your CRM or email marketing software sounds like a nightmare…that's because it is.
This is what LeadsBridge is used for: automating manual work so that you can focus on more important tasks. By building automated connections between your favorite tools, you are automatically able to move lead data across platforms in real time.
By doing so, you not only reduce the risk of human errors, but you also save time – which you can devote to other more important tasks -, and enhance the timeliness of your outreach to new potential customers, therefore increasing the chance for conversion.
To recap, LeadsBridge integrations allow you to:
Move leads across platforms automatically & in real time to get in touch and move them through the funnel right away.
Send automated welcome emails as soon as leads fill out your website form or interact with your ad.
Avoid manual downloads and uploads of leads from one platform to another to reduce human error and save time.
Sync lead generation platforms to your marketing tools
With LeadsBridge integrations, lead data flows from a source into a destination of your choice automatically and in real time, while always maintaining CCPA and GDPR compliance.
Here are all LeadsBridge products and everything you can do with them.
Bridge your CRM with Lead Sync
With Lead Sync, you can automatically move lead data from any advertising platform – Facebook Lead Ads, Google Ads lead form extensions, LinkedIn Lead Gen Forms, TikTok Lead Generation – to your favorite CRM, email marketing software, data warehouse, autoresponder, or any other marketing tool of your choice.
Real-time lead data syncing allows you to interact with your incoming leads instantly, moving them through the pipeline faster and more efficiently.
To see how Lead Sync works, watch this short video.
Below you can find some of our most popular integrations for Lead Sync.
Click here to see all our available integrations.
Custom Audience sync with Audience Targeting
Thanks to Audience Targeting, you can automatically create the ideal custom audiences by syncing your CRM segments, email marketing contacts, or customer lists with advertising platforms such as Facebook, LinkedIn, and Google, to target, retarget or exclude leads at every stage of the funnel, while always maintaining GDPR compliance.
One thing you should know about LeadsBridge is that it's consent-based, which is fundamental to supporting advertisers by having their custom audiences always updated and law compliant.
Here's how it works: We keep your audiences synced and updated at all times in order not only to add new contacts coming in but also to remove the ones who need to be excluded from the audience.
For example, if a contact decides to opt out of your list, LeadsBridge will automatically remove it from the custom audience, keeping your audience always on target and, most importantly, GDPR & CCPA compliant. This way, LeadsBridge makes it easy to both not target users you do not want to target anymore and users who do not want to be targeted.
If you'd like to see how Audience Targeting works, watch this short video.
Below you can find some of our top integrations for Audience Targeting.
Click here to see all our available integrations.
Online-to-Offline Conversion Tracking
Online-to-Offline Tracking allows you to track your offline transactions and understand the overall performance of your online campaigns, with sales happening both online and offline.
LeadsBridge offers this service on Facebook through Facebook Conversions API and on Google by using Google Offline Conversions.
Thanks to LeadsBridge integrations, you can upload your sales data to Facebook or Google and match the transactions that took place offline with the users who have interacted with your ad online. This kind of conversion measurement allows you to really understand the true impact of your online campaigns and adjust them accordingly.
If you'd like to see how Online-to-Offline Conversion Tracking works, watch this short video.
Below you can find our most popular integrations for offline conversions.
Click here to see all our available integrations. If you'd like to take a look at Google Offline Conversions integrations, click here.
Tailor-made integrations
It's very common – especially for big companies – to have specific and customized ERP/CRM, which is why LeadsBridge offers them the option to outsource the development of a tailor-made integration with a dedicated team of specialists and predictable costs.
This service is particularly suitable for companies with unique integration needs that are not available on our integrations list.
Click here to request a customized integration.
How to automate Facebook Lead Ads notification with LeadsBridge
The process of creating a bridge – aka syncing your lead generation platforms to your marketing software – is extremely easy and only requires a few steps. Below, we are going to show you how to connect Facebook Lead Ads to Email Notification to move new incoming lead data instantly and automatically.
Once you're inside the LeadsBridge app, you have to click on the green button Create new Bridge at the top left of your screen.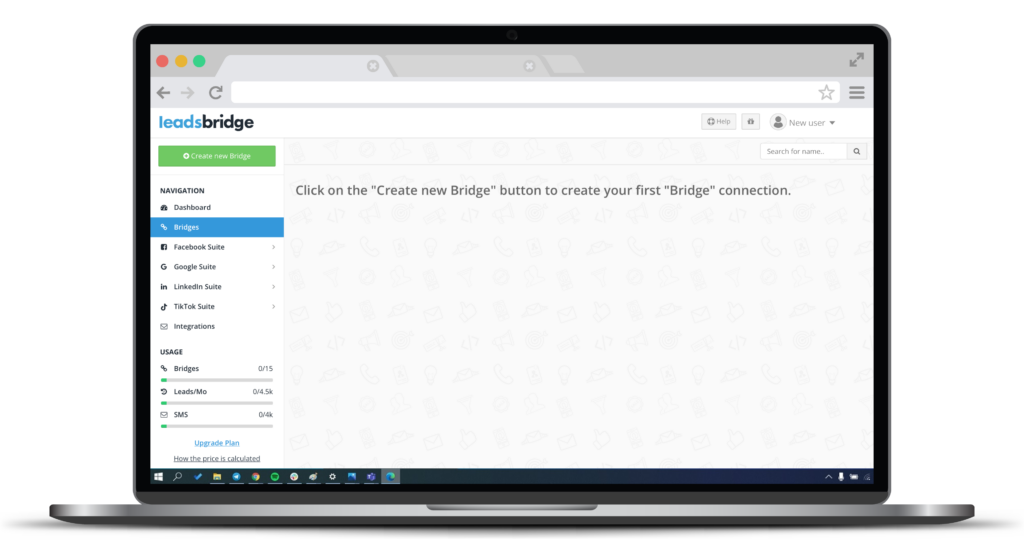 Now you just have to type inside the search bars and select a source – where you want to move lead data from – and a destination – where you want to move lead data to. In this case, they are respectively going to be Facebook Lead Ads and Email Notification. When you're done, click Continue.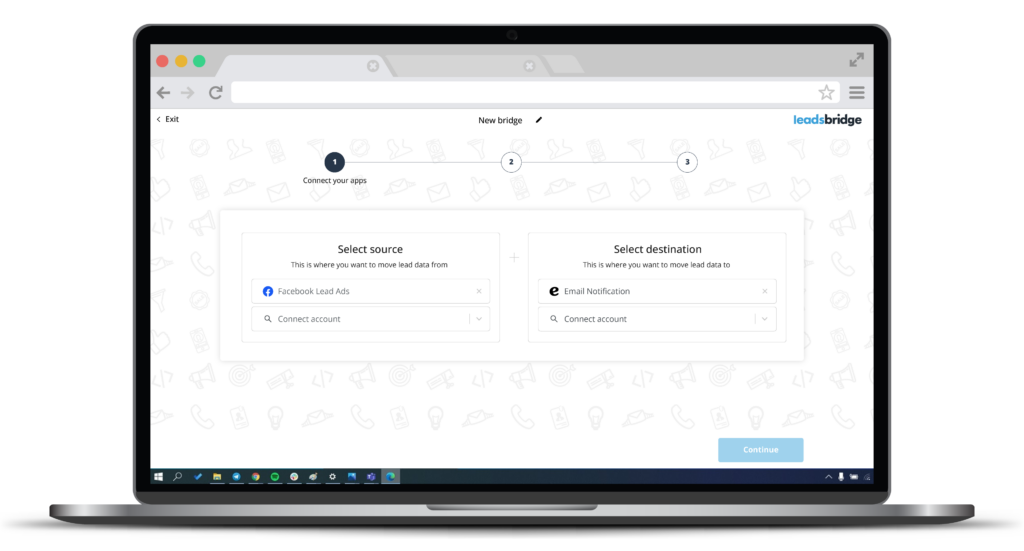 Here you're required to connect your Facebook and Email notification accounts, in order to allow LeadsBridge to access your lead data. To do that, just follow the steps provided by each platform and then click Continue.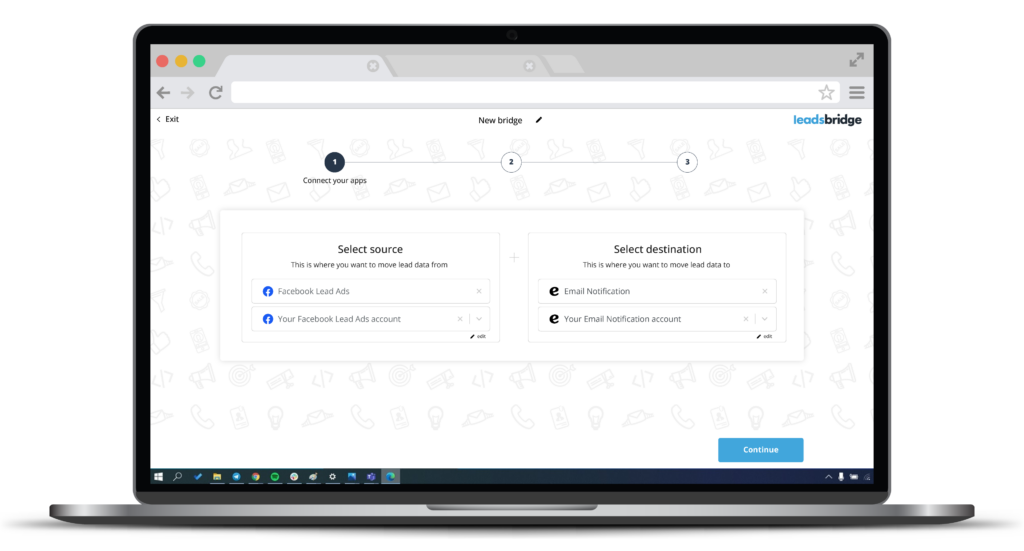 Now just make sure all fields are matched correctly between source and destination for maximum data transfer accuracy, and then click Continue.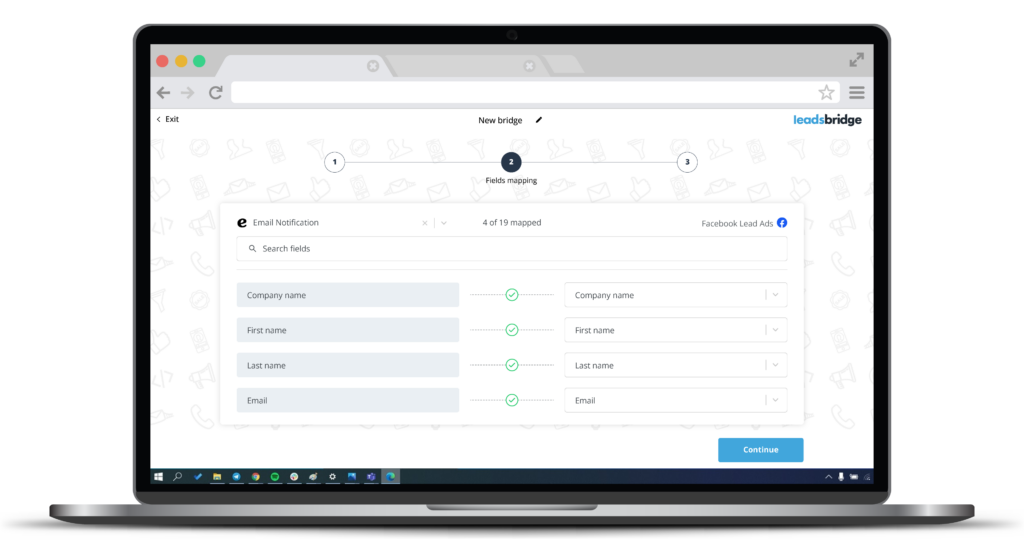 That's it, you're all done! Your bridge was successfully created and now it will start moving lead data from Facebook Lead Ads to Email Notification automatically and in real time.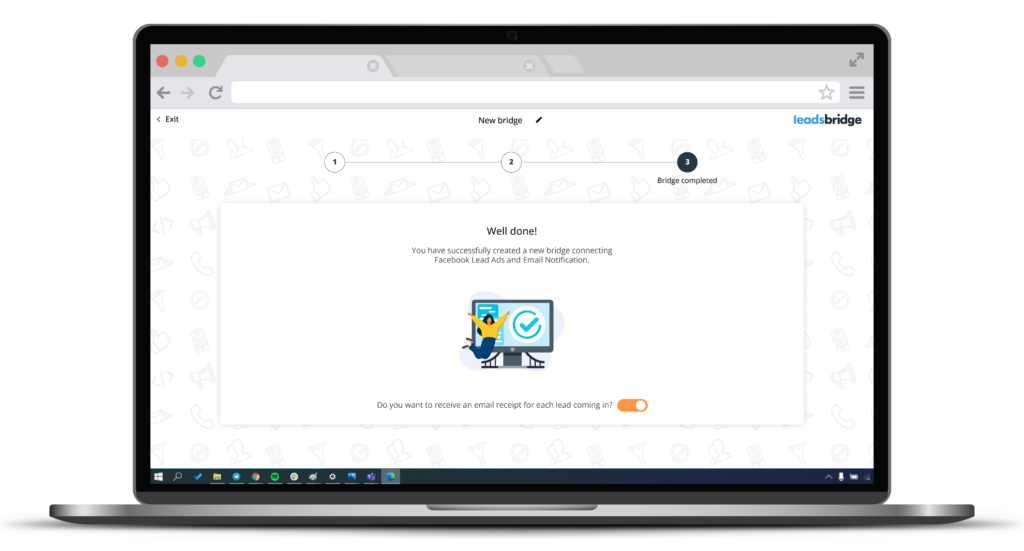 To learn more about how to automate Facebook Lead Ads notification via LeadsBridge, you can check out these two articles from our blog:
Benefits of LeadBridge integrations
LeadsBridge integrations have many great advantages:
Increase revenue and profits, by moving leads through the funnel automatically and in real time;
Keep data secure and compliant with all privacy-related regulations, reducing risks & errors;
Take advantage of premium partnerships & direct support from top advertising platforms;
Eliminate manual tasks & save time, to make your team more efficient;
Choose an easy, reliable tool, specific for advertisers.
LeadsBridge is also a great way to have full visibility of your – or your customers' – sales funnels. One single LeadsBridge account can be shared between 10 users, which makes it perfect for marketing agencies and companies' marketing teams, where each user can access the same LeadsBridge account with their own email.
You can also share access with your clients, to give them more visibility on their advertising performance and have them unlock more budget for you to run their campaigns.
LeadsBridge integrations use case example
Imagine you're an advertiser who wants to run a Facebook Lead Ads campaign. If you're running an international campaign, leads might be filling out your form even while you're sleeping, forcing you to download and upload them manually into your CRM hours after they've interacted with your ad.
This is a great disadvantage for you, not to mention a huge waste of time. With LeadsBridge you gain outreach timeliness by automating the entire process.
LeadsBridge pricing plans
LeadsBridge has 3 different pricing plans:
The Free plan, a self-service free forever plan.
The Pro plan, a self-service paid plan.
The Business plan, a managed paid plan.
Free plan
Our Free plan allows you to move leads from all the top advertising platforms – including Facebook, Instagram, Google, Youtube, LinkedIn, and TikTok – to your favorite marketing tools, automatically and in real time, for free.
This plan includes 1 running bridge and allows you to move 50 leads every month. What do we mean by "running"? It means that inside your LeadsBridge account you can potentially have more than one bridge, but you can only have one bridge active and running data at a time.
The Free plan is the best fit for all marketers who are approaching the advertising world for the first time.
Pro plan
If you're a seasoned marketer who needs to transfer loads of lead data by using complex bridges and formulas, or just need to have more than 1 bridge running at the same time, the Pro plan is your best option.
The Pro plan starting point includes 3 bridges and 800 leads per month, for $22 a month (paid annually). From there, you can fully customize your plan with as many bridges and as many leads as you need, up to a maximum of 500 bridges and 300K leads. The monthly fee will adjust accordingly.
Everything that is included in the Free plan is also included in the Pro plan. Plus, you will have access to all complex automotive CRMs (such as ADF/XML, VinSolutions, DealerSocket, elead, and more), Gym & Fitness apps (such as Mindbody), Custom Audiences, and Online-to-Offline Tracking.
You can try the Pro plan for free for 14 days, no credit card required, to see if it works for you.
Business plan
If you can't find the integration you need inside our integrations list, or you have to integrate your own CRM, we are perfectly equipped to develop an integration, specifically for you.
With the Business plan, you can rely on our team of developers to build a custom integration that fits your business needs and handle everything for you. This way, you won't have to hire developers or devote your own developers' time to building and monitoring the integration.
With the Business plan, you have a dedicated LeadsBridge Customer Success Manager, who supports you and guides you in setting up and managing your account, with immediate access to a Partner Solution Engineer.
Takeaways
LeadsBridge integrations are a great solution to help you automate your marketing workflows and reduce your ad spend, for a faster time-to-lead and optimized advertising campaigns.
Its features – Lead Sync, Audience Targeting, and Online-to-Offline Tracking – enable you to move lead data across your marketing stack in real time, which allows you to reach your new potential customers right away, as soon as they fill out your form or interact with your ad.
By immediately working on your prospects with your offer, you gain a huge advance over your competitors.
Our advice is to start small with the Free plan to test and experiment with your ad campaigns. Whenever you feel ready to scale or just realize you need more than one bridge or to move more than 50 leads per month, you can easily switch to the Pro plan.
What are you waiting for? Start moving leads across your marketing & advertising platforms for free, now!