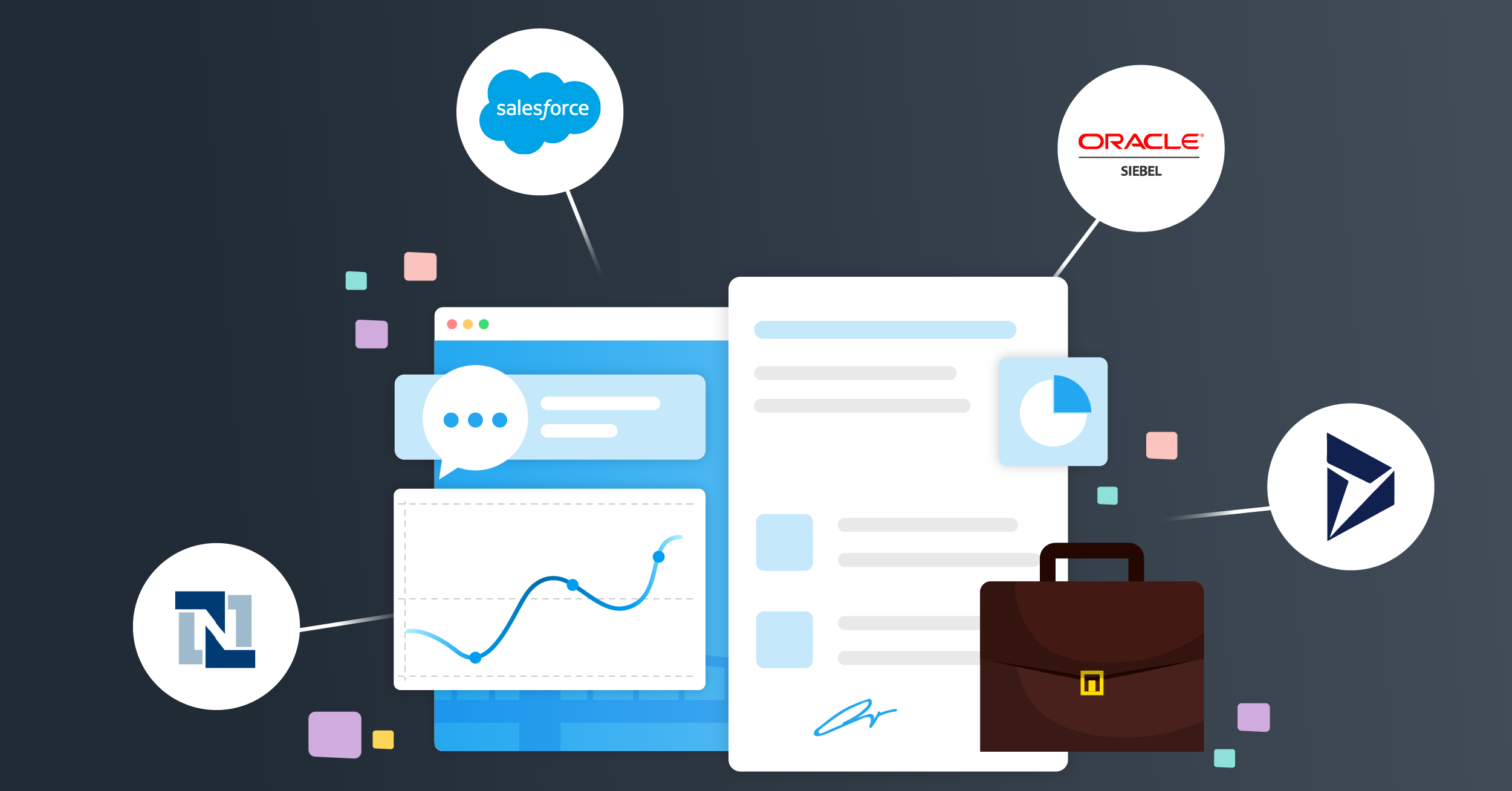 There are CRM tools now available for practically every industry, making it easier for businesses to find tools that are made specifically for their needs.
Need a CRM that was designed for the financial industry? There are options for that. Education-based CRMs are around, too.
While industry-niche tools can be useful, one issue that large corporations have run into is finding tools that scale. They specifically need to find enterprise CRM tools that work at the capacity that they need.
In this post, we're going to take a look at corporation-friendly tools in terms of the best enterprise CRM software you can choose that will help your business excel, instead of holding you back.
Why Enterprise Corporations Need Specialized CRM Tools
Enterprise companies aren't limited to razor-thin budgets; they can invest more in high-value tools that come with the kind of features they need to help them automate processes, improve teamwork, and better serve their customers.
This often means more advanced features you won't find with other tools and the capability for an enormous team to work together.
The tools are also often more analytic-based, automated-focused, and data-based, with capabilities to potentially access more data utilizing third-party integrations. Plus, they have strong task-management features.
And when it comes to integrations, enterprise CRM tools often allow companies to create custom integrations.
Here at LeadsBridge, for example, we offer a custom integration service so that we can help you automate and integrate multiple platforms. Your tools should work for you, not the other way around! This gives you a massive amount of flexibility and customization to benefit your team. You can learn more about our custom integration options here.
What to Look for In Enterprise CRM Software
When you're choosing enterprise CRM software, it's important to know what to look for. These are the qualities we recommend prioritizing:
Highly secure. The last thing any large company wants is to have a data breach, sharing customer information or private messages. Opt for Cloud-based tools with features like two-factor authentication.
Automation features. You can set up some CRM tools to have new help desk messages -for example, automatically be assigned to different team members to prevent the messages from being missed. Small automation features can mean massive time-savers.
Teamwork-friendly functionality. Having certain team members assigned to specific conversations or tasks is essential, and you want to be able to have tools that allow your sales and support staff to work seamlessly together while still tackling their individual jobs.
Advanced analytics. More data is going to be useful. Learn more about your buyer's journey and sales pipeline, see what types of sales promotions work, and how to improve the customer experience. Find tools that offer an abundance of actionable analytics.
Strong integrations with other tools. Your CRM tool becomes much more valuable if all new Facebook Lead Ads forms are immediately added to your customer database, or if your team members receive an email that a follow up is needed. Integrations with third-party tools (including our custom integration options!) are a game-changer.
The 4 Best Enterprise CRM Tools in 2021
Ready to dive deep into an enterprise CRM comparison? In this section, we're going to look at the best enterprise CRM tools in 2021, including what they're capable of and why we recommend them.
NetSuite boasts a true 360-degree view of every customer relationship that you have, always updated in real time as more information becomes available. The idea is to have the best and most relevant information possible so that your team can better nurture leads, drive sales, and resolve customer concerns.
Some of their standout enterprise-grade features include:
Tools to merge one business into yours during an acquisition
Standardizing processes and applications across departments at scale
Analytics that help you break into new markets quickly
LeadsBridge's NetSuite integration can expand the tool's functionality further, with automated processes like the following:
Add new Facebook leads into your NetSuite database automatically
Upload a list of new employees from Google Sheets into NetSuite
Create segmented audiences in email tools like MailChimp based on activity in NetSuite
You can learn more about the integration here.
Salesforce is a popular CRM for businesses of all industries, shapes, and sizes. The tool is all about data and improving the sales pipeline, and it's got incredible features to help with that.
We want to look specifically at their Enterprise edition, though, which offers the ability to automate standard business processes with just a few clicks. This is a feature only available with their Enterprise or Unlimited solutions because it allows for more customization while also streamlining your business processes. 
You also get access to specialized features, like the option to add specific collaborators to each lead, specialized sales console apps, and access to their web services API.
There are great Salesforce Facebook integrations, and LeadsBridge's Salesforce integration comes with additional features, including the following:
Automatically update Facebook Custom Audiences from your Salesforce database
Update lead sources in Salesforce from email tools like MailChimp
Organize leads based on deals in Pipedrive and integrate the data with Salesforce
See more about how it works here.
Microsoft Dynamics is an all-inclusive, extremely -enterprise-grade-friendly tool. It has internal chat options for your team members to communicate, HR and finance features for your team to use. It also has strong CRM tools that can help you track and improve every part of the customer journey.
Microsoft Dynamics has some unique tools that other CRMs may not have, including the option to track not only whether a lead is "cold" or "hot," but whether it's a "good" relationship, and "steady" or more unreliable. There are incredible relationship analytics for each individual user, which is something you don't find in many other tools.
The Microsoft Dynamics tool is an exceptional choice for enterprise CRM software (and HR software, finance tracking, and more). Our Microsoft Dynamics integration takes it a step further with features like the following:
Send new leads from platforms like GoToWebinar or Facebook Ads as new contacts in your CRM
Push out emails (e.g. from MailChimp) to contacts in your CRM through your email software, using segmentation features as you deem fit
Integrate with marketing tools like ActiveCampaign for a better look at the full customer funnel
See how to set up this integration here.
Oracle is a highly powered CX tool, and their Siebel CRM is no different. The focus here is on the customer experience across every part of your business, including marketing, sales, and customer service.
There are features here you won't find anywhere else. This includes analytics on your business's mobile experience for improved optimization, advanced sales forecasting, sales territory segmentation, task-based UI, and incredible help desk features.
Our Siebel CRM integration can extend the features of this tool further with the following functionalities:
Start nurturing leads from third-party platforms like Facebook Ads in Siebel's CRM right away
Merge data from existing CRM tools (such as HubSpot) into Siebel's when you're ready to upgrade
Update lead information from your email marketing software like MailChimp
You can join the waitlist for this integration here.
Final Thoughts
Choosing a CRM for your company is a huge deal because it can impact how your team works, what data they have available, and even how you optimize and improve the customer journey.
LeadsBridge can help sync up the CRM of your choice with third-party tools that you're already using. And if you want to build a custom integration in-house, we can help with that, too! When deciding on a tool, look for enterprise CRM software with automation capabilities and a long list of integrations so that the tool can work for you.
Looking for more enterprise-grade solutions for your business? See our recommended list of tools here.