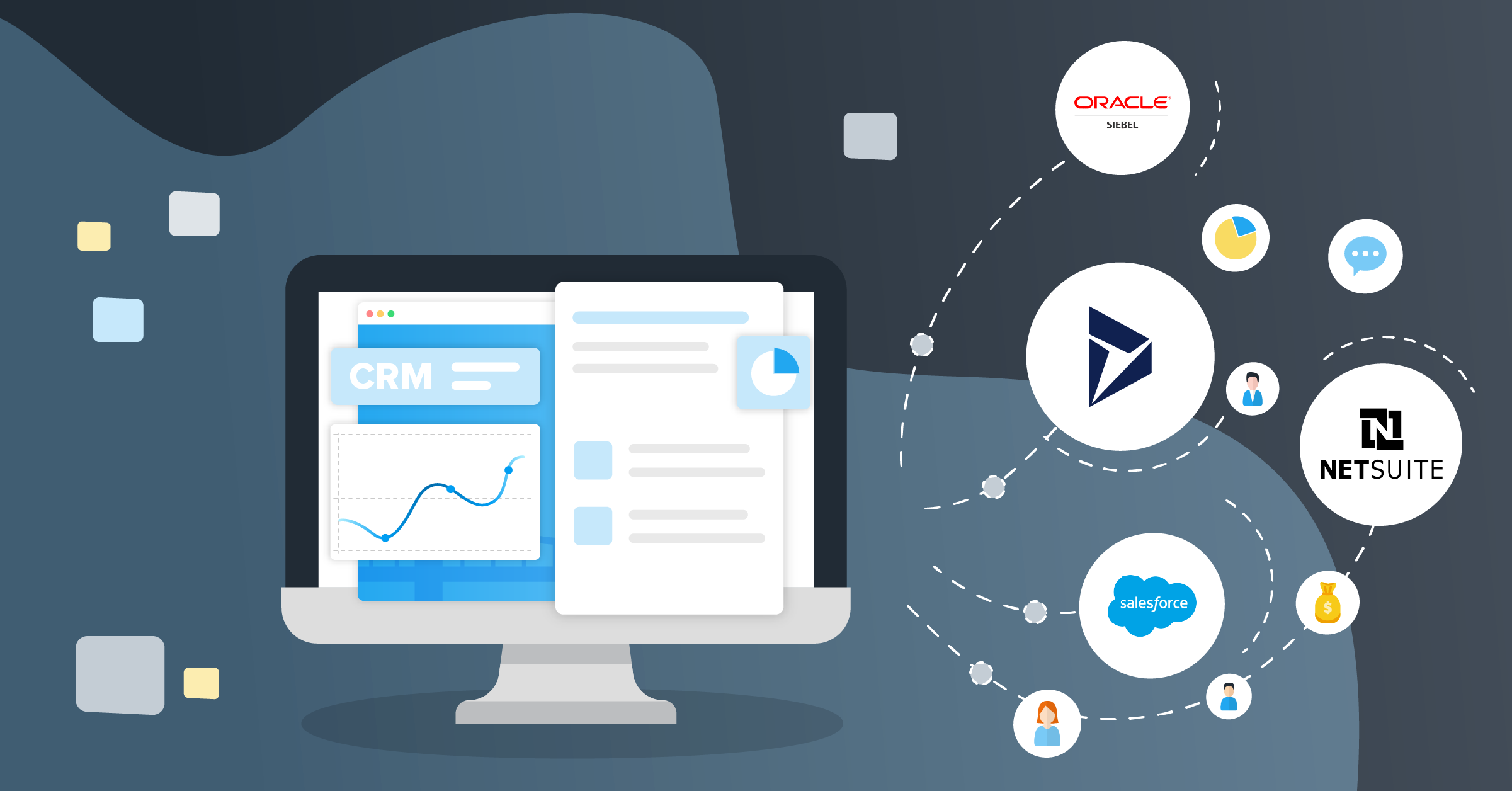 There are specialized Customer Relationship Management (CRM) tools available for every industry, making it easier for businesses to find tools that are made specifically for their needs. It could be CRMs designed for the financial industry, education-oriented CRMs, or any other specialized CRM solutions.
These niche-focused tools can be extremely useful. However, large corporations still struggle with finding tools that scale and work at the capacity that they need.
In this post, we're going to take a look at the best enterprise CRM software you can choose that will help your business excel, instead of holding you back. Additionally, we'll discuss some of the top integrations that allow you to build an interconnected marketing stack through automation, such as:
Implementing specialized CRM tools for enterprises
The spending plans of Enterprise companies are more extensive than those of small startups. It enables them to invest more in high-value tools that come with unique features to facilitate automating processes, improve teamwork, and establish a better user experience.
These tools offer better analytic capabilities by focusing on the metrics that are meaningful to that specific industry. Most advanced CRMs also have robust task-management features.
Find out more about essential enterprise marketing automation platforms here.
System automation with CRM integrations
Enterprise companies also handle complex workflows with multitouch data processing systems. Accordingly, enterprise CRM tools enable streamlined data management through third-party integrations and often allow companies to create custom integrations.
When it comes to integrations, you'll need to look for reliable services. Here at LeadsBridge, for instance, we are official partners with top advertising platforms and the certified app for leading CRM solutions like HubSpot. These strong partnerships allow us to deliver data bridges that fill the gap between your ads and sales funnels, using best-in-class integrations.
Using a bespoke enterprise solution
Choosing the right CRM for your enterprise is great, but you'll need an optimized system to leverage its actual benefits. An enterprise manages a huge amount of data every day through sophisticated workflows. That's why more than standard integrations may be required.
With tailor-made enterprise CRM solutions, you can create a system that meets your requirements. If you want to create these systems yourself, however, you'll need a dedicated team to build those features from the bottom up. This will cost you significant time and budget to hire and train employees and then create and maintain your ideal solutions.
LeadsBridge delivers custom-built integrations to fulfill all your enterprise's data automation needs with tailor-made integrations built just for you. With our dedicated solutions, you can map out data strategies, create intricate workflows, enhance your team's efficiency, and more. All these unique features push most enterprises to choose building in-house CRM over the standard variety, which helps manage complex workflows through personalized solutions.You can find out more about our custom integration solutions here.
Besides creating a well-rounded marketing strategy, LeadsBridge allows enterprises to implement better time management with one-step integration connection setups. Our data bridges also deliver a safe and secure transfer between any point of your data technology stack.
Click here to directly request a custom integration.
What to look for in enterprise CRM software
When you're choosing enterprise CRM solutions, it's important to know the features that can actually offer value. Some of these qualities include:
High security: A data breach or accidentally sharing sensitive customer information or private messages could well mean hefty legal penalties. Try choosing cloud-based tools with high-security features.
Automation features: Set up some CRM tools to offer automated workflow processes, such as creating a new help desk ticket in case a user reports an issue by filling in a survey form.
Team workflows: Having certain team members assigned to specific conversations or tasks is essential, and you want to be able to have tools that allow your sales and support staff to work seamlessly together while still tackling their individual jobs.
Advanced analytics: Collecting more data means learning more about the buyer's journey and sales pipeline, better understanding the advertising campaign performance, improving the overall UX, and more. Find tools that offer an abundance of actionable analytics.
Robust integrations: Your CRM tool should allow integration with third-party tools is a must-have feature_ including our best-in-class custom integration options.
Application orchestration is important in enterprise CRM software because it enables different applications and systems to work together seamlessly, improving overall efficiency and productivity. With application orchestration, data can flow smoothly between different software applications, reducing errors and streamlining processes. This can ultimately lead to better customer experiences and increased revenue for the organization.
Top advantages of CRM integrations
There are many benefits of CRM integration to enterprises, but some of the core advantages include:
1) Conversion flow transparency
Having a 360 view of the lead data and their journey through the funnel helps you track the progress of existing conversions. So your sales reps can more easily keep the marketing team in the loop on the campaign's performance and continue to scale their objectives.
2) Getting inventory updates
When handling a complex system, you'll need to keep everyone on the same page about the inventory, which is particularly important for support and sales teams. Integrating your CRM with the rest of your marketing apps, including your digital inventory, helps you do that effortlessly.
3) Adequate scheduling & internal management
You can streamline various internal management areas by creating an enterprise CRM integration. It could be managing time-off requests, following up workflows, and seeing how your employee's performance affects a major marketing campaign, for instance.
4) Accessing accurate marketing insights
Of course, an advanced CRM allows you to plan marketing campaigns. However, a CRM integration can facilitate more marketing insights based on financial data, as well as the info pulled from your advertising platforms and other marketing tools.
5) Improving cross-team collaboration
Syncing data between your CRM and other systems can promote better cross-team collaborations. By accessing a centralized data hub and better workflow visibility, they are able to work together more efficiently and even find ways to boost overall performance.
6) Replacing manual tasks with automation
With reliable data bridges, LeadsBridge helps companies improve data consistency and reduce manual tasks such as data imports and exports between your CRM and other apps you are using.
The 6 best enterprise CRM tools in 2023
1. NetSuite CRM
NetSuite offers a true 360-degree view of your customers' and prospects' behavior, while offering always-updated user segments (if integrated properly). This approach allows your team to improve lead nurturing, drive more sales, and resolve customer concerns.
Some of their standout enterprise-grade features include:
Tools to merge one business into yours during an acquisition
Standardizing processes and applications across departments at scale
Analytic reports that help you break into new markets quickly
LeadsBridge's NetSuite integration can expand the tool's functionality further using automated processes.
2. Salesforce® CRM (enterprise edition)
Salesforce® is a popular CRM for businesses of all industries and business sizes. This tool is all about data and improving the sales pipeline, and it's got incredible features to help with that.
The Enterprise subscription allows you to automate standard business processes with just a few clicks. This is a feature only available under the Enterprise or Unlimited solutions, allowing better customization while also streamlining your business processes.
You'll also get access to specialized features, like the option to add specific collaborators to each lead, specialized sales console apps, and access to their web services API.
LeadsBridge delivers a variety of Salesforce® integrations.
Here's how to set up a Salesforce® LinkedIn integration with LeadsBridge
3. Microsoft Dynamics 365
Microsoft Dynamics is an all-inclusive tool, which is also well-adapted for enterprises. It has internal chat options for your team members to communicate, as well as unique HR and finance features. It also has a robust CRM section that enables you to track and improve every part of the customer journey.
Other unique features that make this CRM stand out include the option to track leads based on the quality (whether a lead is "cold" or "hot"), their journey and the relationship they have with your brand. This is done through incredible relationship analytics for each individual user.
All these factors make the Microsoft Dynamics tool a centralized hub for enterprise CRM solutions, including features for HR software, finance tracking, and more. Additionally, our Microsoft Dynamics integration allows you to fully leverage these features.
4. Oracle Siebel CRM
Oracle Siebel CRM focuses on creating an impeccable customer experience across departments, including marketing, sales, and customer service.
This CRM tool also offers unique features, such as analytics on your business's mobile experience, advanced sales forecasting, sales territory segmentation, task-based UI, and a set of incredible help desk features.
Our Siebel CRM integration can feed real-time data to your CRM and take your customer experience to the next level.
5. HubSpot CRM (enterprise plan)
HubSpot's CRM makes an excellent choice for enterprises presenting sophisticated tools for marketing, sales, service, operations, website-building, and more, all on a single dashboard.
With its unique features for enterprise companies, you can create an easy-to-use system that focuses on better customer experiences and business growth.
What's more, it allows you to seamlessly connect your sales and marketing tools to bring all your important data in one place, increase your workflows' efficiency and implement automation to free up your team's time by removing manual tasks.
LeadsBridge is a HubSpot-certified app with official ties with the top advertising platforms, allowing you to take your data orchestration to the next level while giving you premium access to partner engineers.
Want to get more out of this platform? Here's how to create a HubSpot workflow and run your tasks on autopilot.
6. Zoho CRM (enterprise edition)
Zoho CRM Plus includes the Zoho CRM Enterprise edition allowing its clients to get the most out of the Zoho CRM system. In addition, the CRM Plus has eight additional programs that are designed to facilitate better sales and production capacities, including Campaigns, Desk, SalesIQ, Social, Projects, Surveys, Analytics, and Zia.
As a result, you can access a set of truly unique features that facilitate end-to-end consulting, customized CRM implementation, and turnkey business solutions. Ultimately, you can optimize your workflows and granuòatly use every single piece of data you sync into your enterprise CRM tool.
By automating your lead data management, you can optimize your lead generation, lead scoring, and macro and micro conversions using Zoho CRM integrations. In addition, LeadsBridge helps you streamline your data sync so that you can ensure timely follow-up to push your leads down the sales pipeline.
You can find our integrations on Zoho Marketplace or explore all the available integrations for Zoho CRM here.
Integrating your Zoho CRM with your favorite advertising platform takes only a few clicks. Here's how to integrate Zoho CRM with Facebook Lead Ads using LeadsBridge.
Final thoughts
Choosing a CRM for your company is a huge deal because it directly impacts your team's performance, the processing quality of your lead data, and even your ability to optimize and improve the customer journey.
In 2023, the likelihood of succeeding for any business without an interconnected marketing stack is extremely low. When selecting a tool, make sure to look for enterprise CRM solutions with the ability to automate workflows and integrate with your other marketing tools.
LeadsBridge allows you to sync data between your CRM of choice and your favorite marketing, advertising, and sales tools. And if you want to build a custom integration in-house, we have you covered.
Streamline your enterprise's lead generation processes with secure, reliable, and compliant custom integrations.