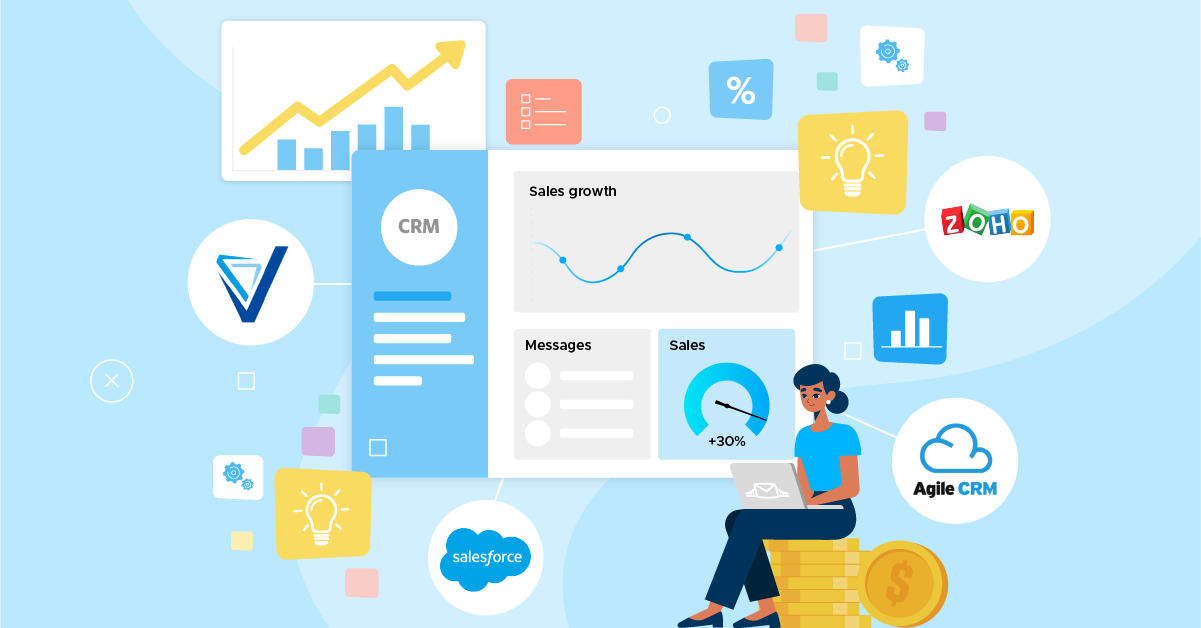 As their client list grows, most businesses in the financial services industry find themselves needing a Customer Relationship Management (CRM) tool to help them manage prospects, leads, and existing clients.
CRMs can be essential in helping you to identify and nurture leads and best service clients. You can do everything from see when to follow-up, track client concerns, and even record information about their financial profile, their desired risk level for their portfolio, or even the names of their two kids for relationship-building purposes.
Not all CRMs work well for the financial services industry, however. These businesses work with specialized and sensitive information, and many benefit directly from CRMs that directly suit their needs.
If you're in need of a CRM for financial services businesses, you're in luck. We've done all the research so you won't have to. Let's discuss the best CRM for financial services options in 2021, including CRMs for financial advisors, banks, and finance brokers.Â
Why Financial Services Need CRMs
If you work in the financial services industry and are wondering if you need a specialized CRM, the answer is yes. And you can trust us on that; we're not a CRM company, so we have no leg in this race.
Every client that you work with will be so individualized when you're looking at finances.
You could have two clients looking for advice about buying a $500,000 house, for example, but one is a married couple who wants to have kids in a few years that would put that price out of reach and another is a single small business owner who makes 250k a year. Same goal but very different clients.
Keep in mind, too, that many CRMs are cloud-based and highly secure as long as you're enabling two-factor authentication while using strong passwords. This is true even when your team members are working from remote locations.
Whether you're approving clients for loans, helping them manage their retirement portfolio, or even just helping them to set up their first accounts, you want to have the full client picture when you're assisting them. That's why you need a CRM for financial services specifically.
See the value? Awesome. Let's take a look at some of the best options when it comes to CRMs for financial services.
Zoho is one of the most popular CRM tools on the market today
In addition to being able to view leads based on factors like whether they've accepted a deal, their last activity date, and their general email sentiment, they have an integrated suite of features for businesses in the financial industry
As you can see in the image below, you can use this software to track a client's annual revenue, stocks purchase, investment analysis, and more. This is information you can keep on file to reference, while also scheduling meetings, responding to questions, and sending emails to the client.
There are exceptional customization options, including the following:
Your team can the ability to assign activities or contacts to different team members
Set task deadlines will ensure your clients are always cared for promptly
View open and past activities, deals, invoices, and sales orders
Like all the tools on this list, Zoho CRM syncs up with LeadsBridge and our other integrations. Some possibilities include the following:
Integrate Zoho CRM with Facebook Lead Ads
You can connect Zoho CRM to third-party email software for enhanced and automated email marketing campaigns such as Mailchimp.
Integrate Zoho CRM With HubSpot.
You can see how to set up the integration here.
SalesForce is another one of the big names in the CRM field, and like Zoho CRM, they offer specialized CRM tools for the financial industry, including banking CRM software and wealth advisor CRM features.
Some of their standout features include the following:
Collecting and analyzing the information needed for improved wealth management advice for their clients
Streamlined loan application processes, including easy-to-analyze risk areas and options to educate borrowers
Security designed to adhere to strict industry requirements
Salesforce, like Zoho CRM, has multiple integrations through LeadsBridge, including the following:
Get an email when you receive a new lead in Salesforce
Sync HubSpot with Salesforce
Sync Mailchimp with Salesforce
See how to set up this integration here.
Velocify is specifically a mortgage sales CRM, which prioritizes streamlining the mortgage application and underwriting process for both the loan applicant and the lender. This can help convert mortgage leads quickly.
Some of the standout features of this tool includes:
Gaining access to leads from over 1400 different sources
Automatically distribute new leads, or reassign existing leads based on workload
Deliver automated texts and emails to encourage users to complete their loan applications
Incentivize referrals from existing or past clients
Some of Velocify's most useful integrations through LeadsBridge include:
Upload new leads automatically from sources like Google Sheets, Facebook, and more
Send automated text messages through text or push-notification services like PhoneWagon
Check out how to set up this integration here.
Agile does not offer CRM features specifically for businesses in the financial services industry, but it's still a highly resourceful tool that we're happy to recommend for these users, especially those who are small, private businesses.
Many financial advisors, after all, don't need enterprise-level software if they're working independently or on a small team. They need affordable CRM software that will wear multiple hats, so to speak.
Some of their standout features include the following:
End-to-end business management, so you can use the tool for customer support, lead tracking, and marketing automation
Get actionable data to everyone on your team, including the ability to view every customer interaction in real time
50 different sales automation features to streamline the digital sales funnel and lead nurturing process
Marketing features like a social suite, dynamic web forms, and email marketing
Some of LeadsBridge's most popular integrations with Agile CRM include the following:
Automatically send meeting alerts and invitations through Google Calendar after they're made in Agile CRM
Add new contacts in Agile CRM after they've signed up for or attended a webinar in GoToWebinar
Upload lead information captured through quizzes (like "how much house can you qualify for) created with LeadQuizzes to Agile CRM
You can take a look at how to set up this integration here.

Final Thoughts: How to Choose the Best CRM for Financial Advisors & Services
When you're using a CRM for financial advisors, brokers, banks, or lenders, it's important to choose a tool that will work for you both now and long-term.
Look for a CRM for financial services that will scale alongside your business. This can include offering extensive integrations for automation and improved functionality (you can see more integrations available through LeadsBridge here), along with the capacity to handle the number of leads, clients, and contact data you want to store.
And finally, invest in a high-quality, well-known CRM tool that's certain to be highly secure. Privacy and security should be of the utmost concern when you're handling clients' financial and personal information.
All of the tools discussed above meet these criteria, and they all offer free trials or demos. Take a look and see what works for you!
Looking for more services to help you scale your business in the financial sector with automation? See LeadsBridge's financial services and solutions here.