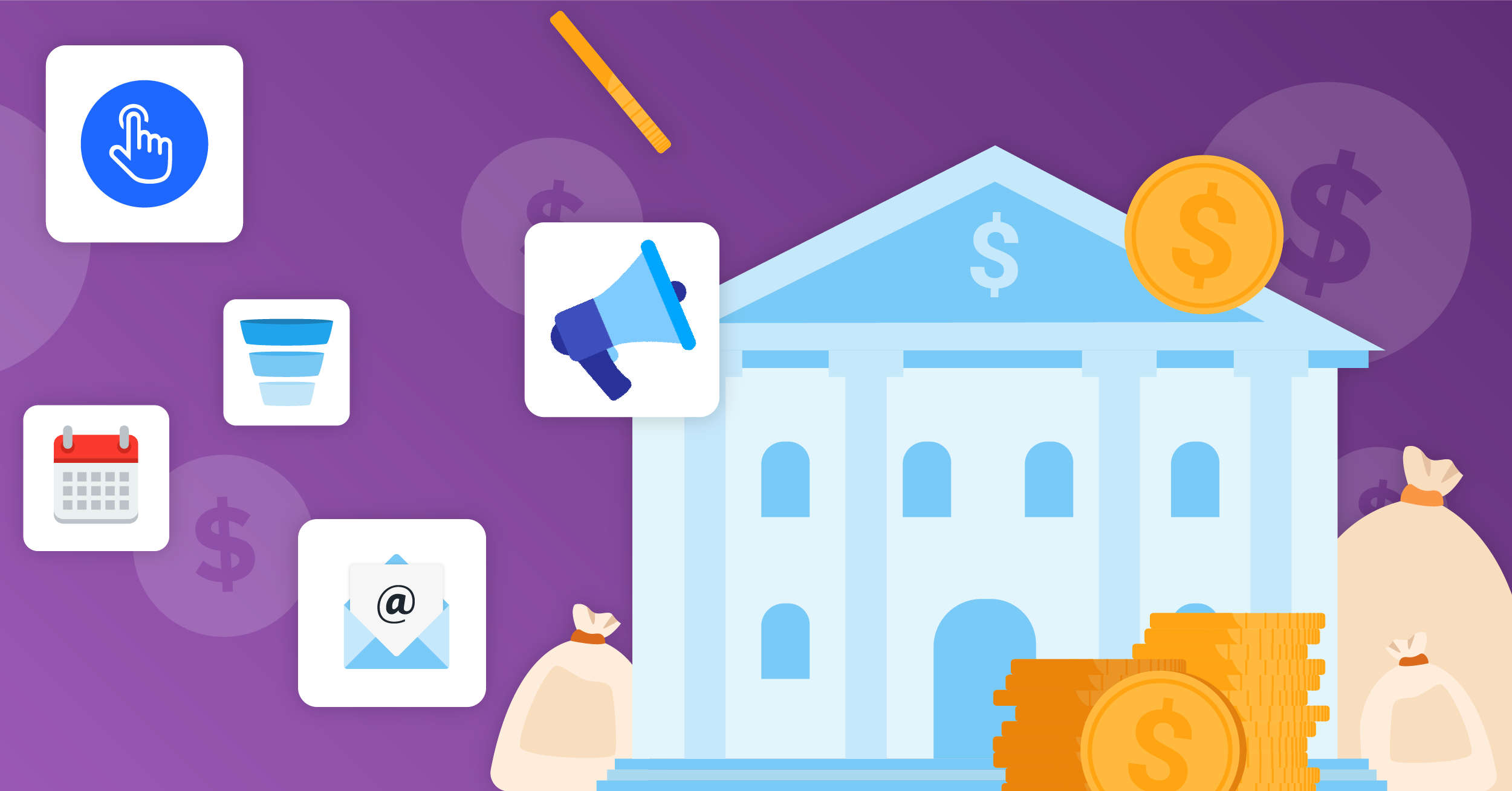 Financial advisor marketing strategies are completely different from the strategies that B2C brands use to try to convince users to subscribe to their once-a-month sock box, or even for substantial purchases like a new refrigerator.
Financial advice is high-stakes. Bad advice can derail someone's entire financial future and even prevent them from being able to retire.
As a result, marketing for financial advisors is going to look a little different, too. It's going to focus on trust-building while using a combination of the right marketing platforms and automation to act fast when someone is interested.
In this post, we're going to take a look at eight of the most effective financial advisor marketing strategies to help you attract the kind of clients you're looking for.
Lead Generation for Financial Advisors: Leverage PPC Lead Ads
PPC Lead Ads allow you to generate leads in a low-pressure environment for users. The entire focus of the ad itself is a mobile-friendly, on-platform, and auto-filling lead form that can be used to send their information to a brand. They may do this to get more information, request an appointment, or even to access a free resource like an ebook.
This is a good trust-building move. Because it's on-platform, users aren't needing to try to figure out if they trust the brand right away. They also know they're not signing up for paid services on accident. There's no risk for them, and it gives financial advisors the opportunity to reach out right away (thanks to automation tools like LeadsBridge) to continue the trust generation process.
When it comes to different platforms and options, the best lead generation for financial advisors through ads are: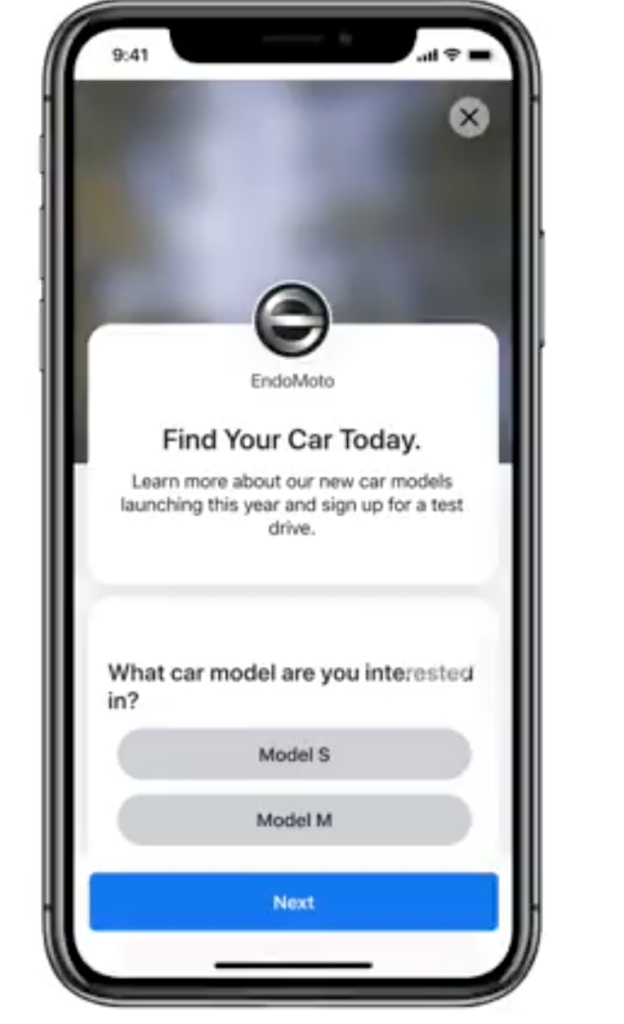 Take advantage of our Facebook Lead Ads integration to automatically send new leads to your CRM (see how it works here). See some samples below:
a. Facebook Lead Ads integration with MailChimp
b. Facebook Lead Ads integration with Zoho CRM
c. Facebook Lead Ads integration with Salesforce
LinkedIn Lead Generation Ads. LinkedIn Lead Gen Forms is an exceptional platform for financial lead generation. It targets a professional audience and it allows you to use profession-based targeting as a result.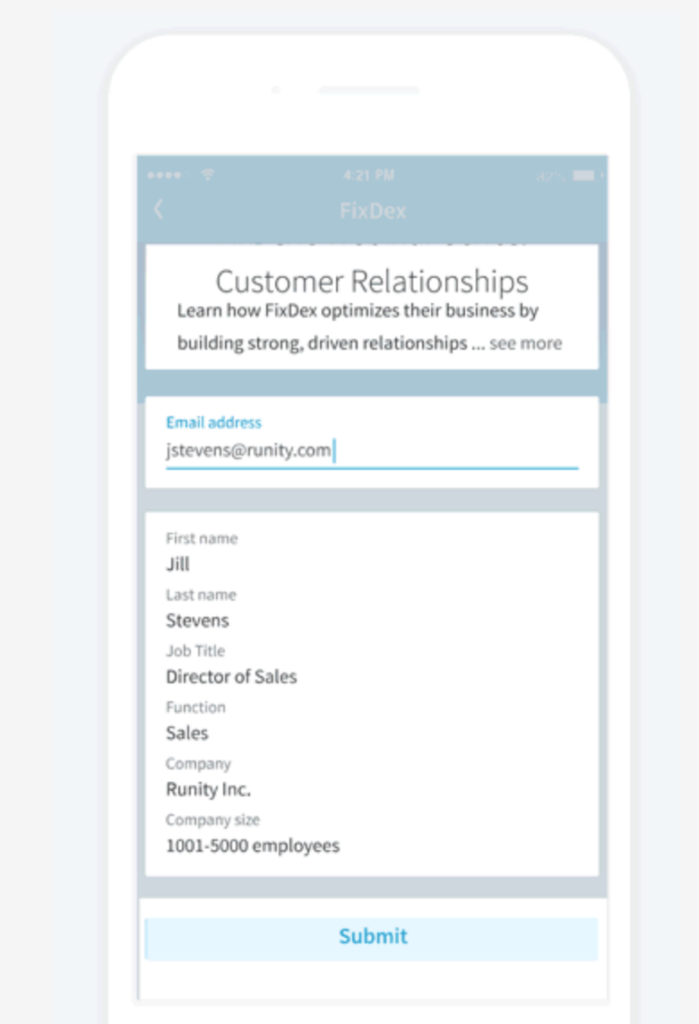 We also offer a LinkedIn Lead Gen Form integration to push new leads to other tools of your choice (see how it works). See some samples below:
a. LinkedIn Lead Gen Form integration with Klaviyo
b. LinkedIn Lead Gen Form integration with GetResponse
c. LinkedIn Lead Gen Form integration with Facebook Custom Audience
Google Lead Forms. Google Lead Form Ads work similarly to the other two, but in search ads instead of on social media and they're only available on mobile devices. They allow you to capture high-intent users looking for services like yours, which is invaluable. See our Google Lead Form Ads here (and how it works here).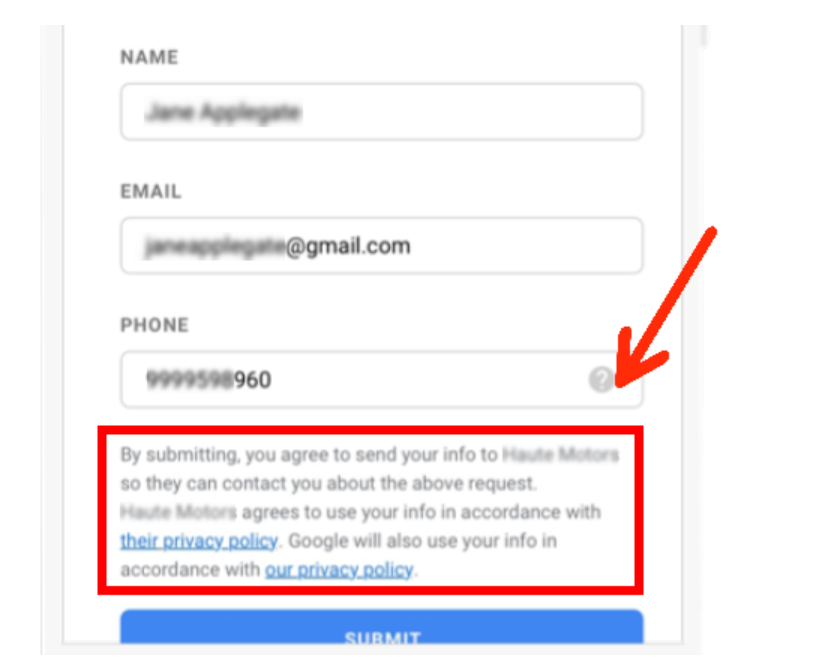 Image source: LeadsBridge
See some examples of Google Lead Form Ads integrations below:
a. Google Lead Form Ads integration with Marketo
b. Google Lead Form Ads integration with HubSpot
c. Google Lead Form Ads integration with ActiveCampaign
Share Content on LinkedIn
LinkedIn, as we mentioned above, is a great platform for financial advisor marketing. You can post valuable, long-form or short-form content that educates your audience about what you do, the industry itself, and what makes you different.
Let's look at an example. Scissortail Wealth Management posted about the fiduciary duties of their firm, and they explained what that means for their clients. It is a great trust-building move that educates clients and can win them over at the same time.
When creating content from your personal profile, you can also make a name for yourself as an individual, so that prospective clients won't just want to work with your business; they'll want to work with you. Treat it like content marketing and see what works for you!
Have an FAQ on Your Site
This is one of those often-overlooked financial advisor marketing strategies that can actually go a long way in helping you gain new clients.
Include a dedicated "FAQ" page on your site to answer commonly-asked client questions about both your business and the industry overall.
Think "What is a fiduciary" and "What types of consulting can this firm help me with?"
This gives you a chance to answer questions directly, which can build trust and show that your firm is compatible with the client searching.
It can also help you potentially rank in Google Featured Snippets or have your answer appear in the "People Also Ask" section, which can generate a ton of traffic and potentially land you clients that way.
You can use keyword research tools like Semrush (which has a "questions-only" keyword feature) to find what questions you should ask and answer on your site.
Have a Clear "About Us" On Your Site
Lead Generation Ads aside, almost all potential clients are going to come to your site in order to make first contact. This means that your site has to be in good working order, and one of the most crucial elements that a financial advisor marketing strategy needs to consider is an "About Us" page.
It's imperative to have a strong "About" page that talks about how your firm works, what makes you different, and introduces clients to members of your team. You can share your experience, your methods, and your values.
You can see an example of this here from the Stonebridge firm:
One thing to note is that they have multiple individual pages under the "About" section. The first, which we looked at above, introduces clients to the firm and different team members. They also have pages about their core values and the process they use.
This is vital for building trust and increasing the likelihood that potential clients will get in touch.
Set Up a Referral Program
Sometimes your most powerful marketing strategies can come directly from your existing network… including clients that you've already converted.
Referral programs are a great way to leverage your existing client network, and they have consistently high success rates. They cost less than other types of customer acquisition, and in many cases, they lead to longer retention (by up to 37%) of higher-value clients.
Have a formal program set up. Let clients know that if they send someone your way who becomes a client, they can get a discount on their regular service fees or a free upgrade, like an add-on consultation. Make sure that you're marketing this so they know it's available, and since they're likely to be friends with other members of your target audience, be ready for new leads to show up quickly.
Network With Other Professionals
Just as you want to use your client network to connect with new leads, you can also network with other professionals as a core financial marketing strategy.
Realtors or mortgage companies, for example, may direct their clients to a financial advisor to determine how much the individual can actually afford long-term while accounting for additional factors like a growing family or saving for retirement.
A CPA may direct clients to financial advisors to determine the best options for retirement strategies now and in the future.
These customers coming to you already trust you, because they were sent by some they trust.
Getting to know individuals within your field's periphery and setting up formal referral systems can be invaluable, as you can direct clients back and forth.
Take Advantage of Marketing Automation & Integrations
One of the biggest financial industry marketing trends right now is to take full advantage of automation and third-party integrations to help facilitate the lead nurturing process.
We've already looked at a few LeadsBridge integrations for the financial industry so far, but there are many more ways to leverage automation for financial advisor marketing. These include the following:
Sending leads from a number of different platforms to the best CRMs for financial services
Syncing new contacts in your CRM with your email marketing software so they can be added to your newsletter list (take a look at the best free marketing software tools you can use)
Getting notifications in your email or Slack when new leads reach out so you can follow up quickly
We integrate with hundreds of different tools, including several that are specific to the financial services industry. Take a look at our integrations here.
Final Thoughts
Marketing for the financial advisor industry is no easy task, and a huge portion of it centers around building trust and demonstrating your expertise. No one wants to put their financial future in the hands of someone they don't trust explicitly.
The financial advisor marketing strategies discussed above— and the tips we shared for lead generation for financial advisors— can all help you grow your client base quickly. Try them out and see which works for you.
Ready to scale your financial advisor firm quickly with these marketing strategies? Take a look at our integrations for financial services to get started.