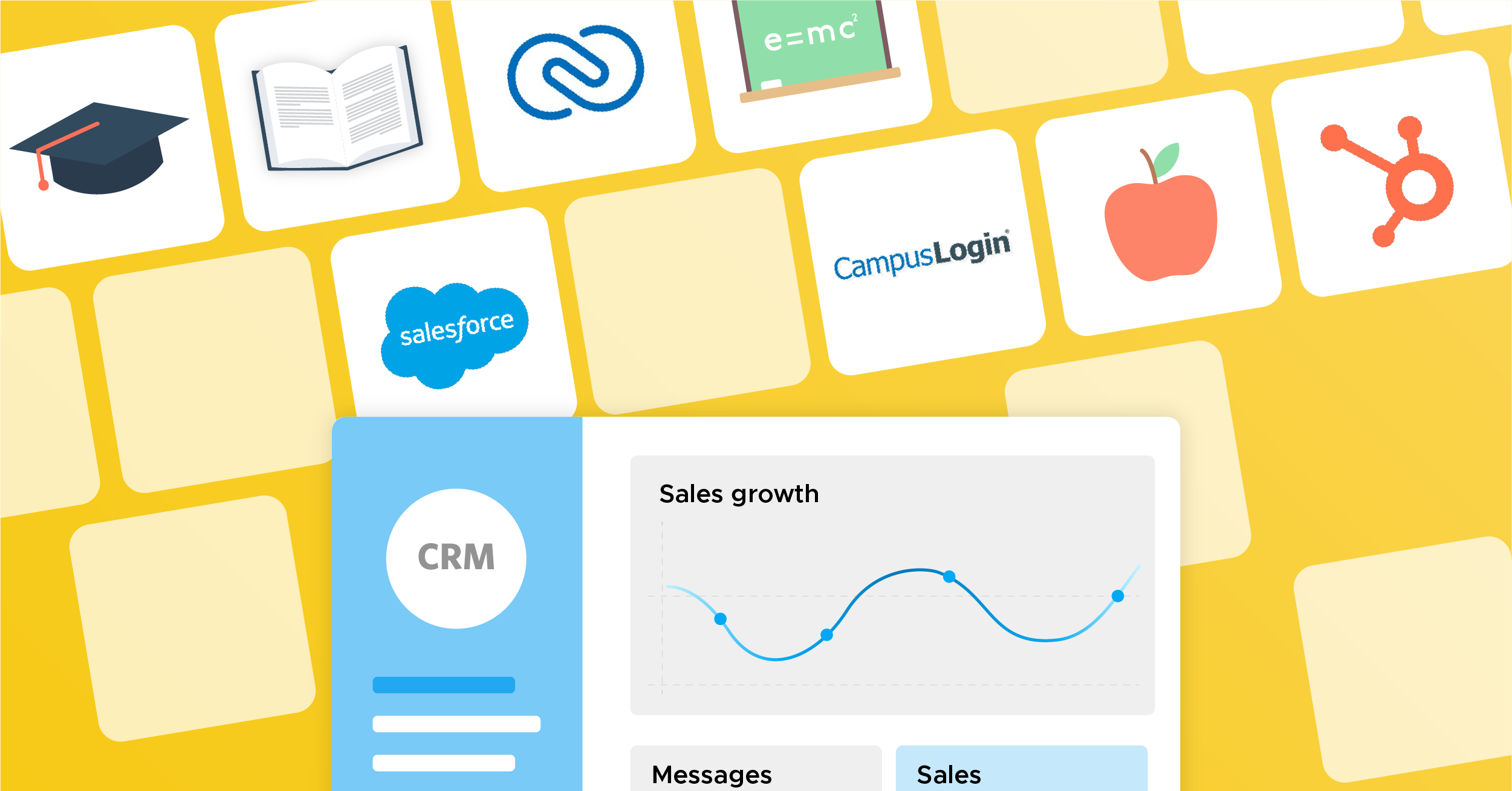 Educational organizations have massive amounts of data that they need to take in, store, and access on a regular basis, even going beyond student grades.
Higher education's admission departments need to keep track of prospective students who are considering applying or who already have, for example, while grade schools need to carefully track parent information, vaccination status, contact info, and more.
All schools also need to keep track of vendors, staff, teachers, and all of their associated data.
This is why CRM tools for education organizations are so crucial. In this post, we're going to look at the best Education CRM options in 2021, so you can find a tool that's right for you.
What School CRM Software Needs to Accomplish
When you're choosing education CRM software, you need to look for a tool that offers the following:
Outstanding security features to protect student data and teacher data. Keep in mind that many education organizations have private information, like a student's social security number and medical records, that they must protect.
A significant capacity to scale to enormous volumes.
Strong CRM integrations for easier automation and syndication across multiple tools if needed, such as syncing leads from school advertisements on Facebook Ads to your CRM effortlessly.
The ability for multiple team members to access data securely and collaborate.
Strong and reliable customer service so that if there ever is an issue, it will be resolved quickly.
Safe and reliable bulk file upload tool.
To make your job easier, we've searched far and wide to find the best CRM for higher education organizations, for teachers, and for school administrators that meet all of the above criteria.
The Best Education CRM Tools
If you want to find a high-powered CRM for higher education organizations and grade schools alike, take a look at these four outstanding education CRM tools. Some offer industry-specific tools or features, while others simply adapt well to the needs of an educational organization.
Zoho is a strong and well-rounded CRM tool that offers advanced and specialized features for organizations in the education sector.
Their CRM allows educators to use an entirely digital and Cloud-based application that allows your team to do the following:
Store staff and student details
Automatically track lead generations and register new admissions
Organize and host events
Manage courses
Collect fees and payments
This isn't just a CRM that educators can shoehorn into fitting their needs; it already has everything you're probably looking for.
LeadsBridge offers extensive Zoho CRM integrations that are valuable to the education industry, offering features like:
Like Zoho, Salesforce is an advanced CRM and sales tool that serves a large number of industries but that offers specialized features for the education industry.
Here, you can merge student, faculty, and staff data into a single database that was designed for higher education organizations in particular. It can help you get a better and more holistic look at student and lead retention, which allows you to improve the lead and student journey along the way.
Salesforce has top-tier analytics and extensive features, making it a solid choice.
It's also massively scalable, with over 4,000 integrations.
LeadsBridge can help simplify and streamline the Salesforce integration process, as we offer Salesforce integrations that can:
Import new leads from a variety of sources (such as Facebook Lead Ads) into your CRM.
LeadSquared Education CRM is a complete admissions platform for schools and colleges to track applications and map student journeys.
The platform comes along with a student portal, student activity tracking to gain visibility into the enrollment funnel, and extensive reports that increase counselor efficiency. And don't forget to check out the easy-to-use marketing automation features to shoot up your admission rates.
LeadSquared can be easily integrated with 150+ software and websites, making it the perfect CRM solution for over 2000 organizations.
CampusLogin is truly an education CRM, as it was built exclusively with schools in mind. This means that every aspect of the tool is tailored to education organizations.
There are detailed lead and student profiles, data-tracking for materials like lead generation and email marketing to see how effective your campaigns are, and the ability to manage high school campaigns designed to help you track which ones draw in the most interested potential students. There are tools here to help with your website, marketing, lead tracking and converting, and student tracking.
Like the other tools on this list, LeadsBridge offers extensive integrations for CampusLogin:
streamline data syncing across multiple platforms, such as from HubSpot to CampusLogin. See how it works here.
Hubspot is another famously well-known CRM tool that offers a specialized suite of features for educators and educational organizations.
Their CRM is designed specifically for higher education organizations, allowing schools to target and track prospective student journeys through the admissions process. There's a major focus here on using inbound marketing that brings students to you, like social media, SEO, and blogging, and then converting them accordingly through email marketing.
HubSpot is one of the most popular CRMs on the market, so it's no surprise that there are plenty of Hubspot integrations that can automate and improve your school's workflow.
With LeadsBridge, you can set up integrations to:
Connect HubSpot to multiple other databases and email marketing tools such as MailChimp
Final Thoughts
Choosing the right Education CRM can help your staff improve the efficiency of their marketing campaigns and even streamline the admissions process across the board. This can result in your school offering a superior student experience before they even set foot on campus to start their learning, giving you an edge when they're choosing which program to attend.
Remember to choose a CRM that's designed with educators and education organizations in mind — meaning they are secure, data-driven, scalable, and with plenty of integration options available. This can help the tool work best for you so you can work at your best for your students.
Looking for more education-focused automation-based tools to help your school run more effectively behind the scenes? Check out LeadBridge's education integrations here.