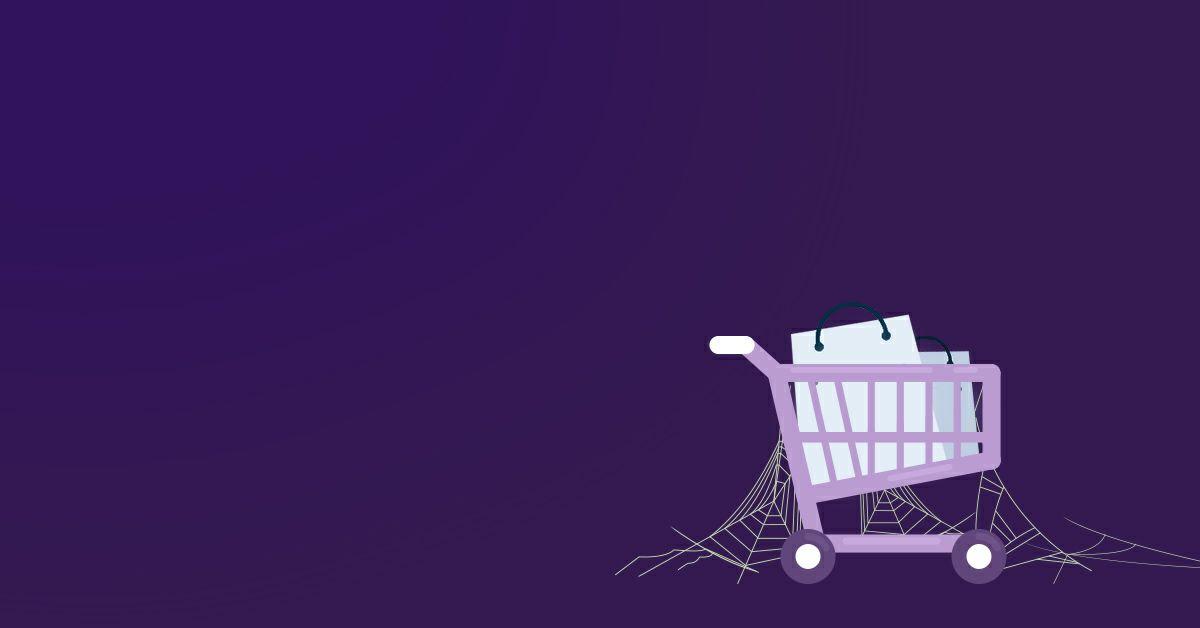 Cart abandonment is a sad fact of life for eCommerce retailers, especially when U.S. retailers spend approximately $28.23 billion per year to drive traffic to their eCommerce websites, plus 3.1% respect past years.
The following statistic represents the annual shopping cart abandonment rate worldwide from 2006 to 2019.
In the last period under consideration, 69.57% of digital shopping carts and baskets were abandoned and the purchase failed.
Index of content:
As a result, many retailers are constantly struggling with this problem in search of the right solution.
In this article we will see:
What is eCommerce cart abandonment?

How to reduce eCommerce cart abandonment

Cart abandonment retargeting

How Shopify, Woocommerce, Magento tackle the problem of cart abandonment
What is eCommerce cart abandonment?
Cart abandonment occurs when a potential customer initiates a checkout process for an online order but aborts it immediately before completing the purchase.
Any product that enters the shopping cart but never passes the transaction is considered "abandoned" by the buyer. This phenomenon is an important aspect of the online shopping process that retailers pay particular attention to.
There are many reasons that provide a cart abandonment for example:
Additional shipping fee and taxes

Incompatible payment process.

Credit Card/ Debit card denial during check-out.

Brand credibility issues
Anyway, the most important thing to do is to understand why your customers abandon their shopping cart and avoid it.
The shopping cart abandonment rate is calculated by dividing the total number of completed transactions by the total number of transactions initiated. This percentage is used to identify the percentage of users of a site who signal the purchase intention by adding an item to the cart, but not completing the purchase.
The cart abandonment rate is a very important metric to track for eCommerce sites because a high abandonment rate could signal a poor user experience or a broken sales funnel.
Reducing shopping cart abandonment leads directly to more sales and revenue, so optimizing cash flow is a central focus area for many online retailers.
How to reduce eCommerce cart abandonment
There are many possible causes of shopping cart abandonment, which make it a complex problem to address. The first useful step in tackling the eCommerce cart abandonment is to create hypotheses about why visitors abandon their carts. This can be done by examining analytics data, identifying abandonment points, conducting user research and surveys, or comparing the payment flow with competitor sites.
Once a hypothesis is generated, different solutions can be tested on the site via A / B testing to determine if a proposed solution will improve the cart abandonment rate.
For example, a common problem that many online stores face is the problem of trust. Although users have become more comfortable providing their credit cards on the web thanks to new privacy and security regulations, many users are still reluctant to give their financial information to eCommerce websites.
To avoid this problem, some eCommerce sites have implemented a secure and encrypted payment system. It provides maximum security to all users.
Suppose the theory is that lack of trust leads to abandoned carts. In that case, several solutions can be implemented to increase confidence, such as including reviews and testimonials, incorporating trust seals, highlighting images of real people, and offering money-back guarantees. These can be tested on the site to determine if it has a statistically significant impact on the cart abandonment rate.
In another example, a business might notice that 25% of its shoppers abandon the second page of their online shopping cart. Once the problem area is identified, they can implement several features to encourage users to complete the purchase.
For example, they might try adding a progress bar to give shoppers a visual indicator of where they are during the checkout process. Or they might offer a limited-time offer to incentivize buyers to complete the transaction immediately. Otherwise, users could opt for a website redesign to streamline and speed up the payment process.
Cart abandonment retargeting
Cart abandonment retargeting is a form of online advertising that targets users based on their previous actions on the Internet, in situations where those actions do not result in a sale or conversion, like cart abandonment.
In web marketing, conversion means when a user takes a specific, measurable action necessary to the business. This form of behavioral marketing helps keep the brand visible to users after they leave your website.
For most sites, only 2% of web traffic converts on the first visit. Remarketing is a strategy designed to help companies reach 98% of users who have not immediately carried out the desired action (purchase, contact, registration).
Basically, there are two main goals to achieve using cart abandonment retargeting:
Recover as many abandoned shopping carts as possible

Save time by increasing your revenue as efficiently as possible
Today, there are multiple strategies for recovering abandoned cart shoppers. The most popular and powerful tools for an abandoned cart recovery campaign include retargeting Ads and automated email campaigns.
Ideally, resellers implement both tools as part of an integrated campaign.
Either way, the most common tactic for recovering abandoned cart shoppers is through automated email campaigns.
Strategically sending messages to shoppers' inboxes helps convert and retrieve consumers nearly 15% of the time. From the right timing and number of emails to design and customization.
But even the Ads are useful. Cart abandonment retargeting allows advertisers to show Ads only to users who have previously interacted with the brand online.
Thanks to this technique, it is possible to implement different strategies. For example, advertisers can offer Ads to anyone who has been to a company's website and left. Or it's possible to run Ads only for cart abandoners or people who have spent time browsing specific product pages.
Retargeting Ads are highly effective at all stages of the purchase funnel, and successful retargeting strategies can incorporate many different forms of targeting.
However, after a consumer leaves a shopping cart, it's an incredibly important time to implement retargeting, as these users are likely on the verge of a purchase.
Even a generic cart abandonment retargeting Ad that only featured a company logo and offered to all bounced site visitors are also very useful in improving cart retention rates. But even more significant are segmented campaigns that personalize Ads based on where a shopper is purchasing funnel. Shoppers who have abandoned a cart may see an ad highlighting free shipping or other bonuses with segmented campaigns.
For even more personalized Ads, retailers can turn to dynamic retargeting. Dynamic retargeting can generate real-time Ads featuring abandoned products. For example, a shopper ditches a pair of shoes; thanks to cart abandonment retargeting it's possible to automatically start showing them Ads with those shoes.
If an online store can offer an extensive catalog, it will publish Ads for its users with complementary products and the products that the user has considered.
With the right retargeting strategy, cart abandonment can only be part of the purchase funnel.
How Shopify, Woocommerce, Magento tackle the problem of cart abandonment
 As has been said, the problem of eCommerce cart abandonment is very widespread and for this reason, the main platforms in the sector offer different solutions for their customers.
Whether they are third-party software (plug-in) or native (in-app) solutions, Magento, Shopify, and WooCommerce offer excellent solutions to reduce eCommerce cart abandonment.
WooCommerce
WooCommerce is an open-source WordPress plugin aimed at business merchants to provide improved functionality and flexibility. WooCommerce quickly gained popularity because of its simplicity and ease of use, this tool is used by companies aiming to grow their e-stores worldwide by selling all types of physical and digital goods. This plugin also offers many other useful features such as inventory management, tax management, shipping cost calculations, discounts, and more.
The way WooCommerce works is that it adds the functionality of essential product management along with order processing and easy-to-use checkout.
Being WooCommerce, an open-source WordPress plug-in software offers its users additional plug-ins that are installed at WooCommerce.
These plug-ins aim to help users recover all cart abandoners by reducing the abandonment rate rate and successfully converting them into sales.
To do this, there are some type plug-ins (plug-in name) that offer native integration with Email Software such as Mailchimp, thus giving users the possibility to carry out Cart abandonment retargeting campaigns.
Let's see two examples: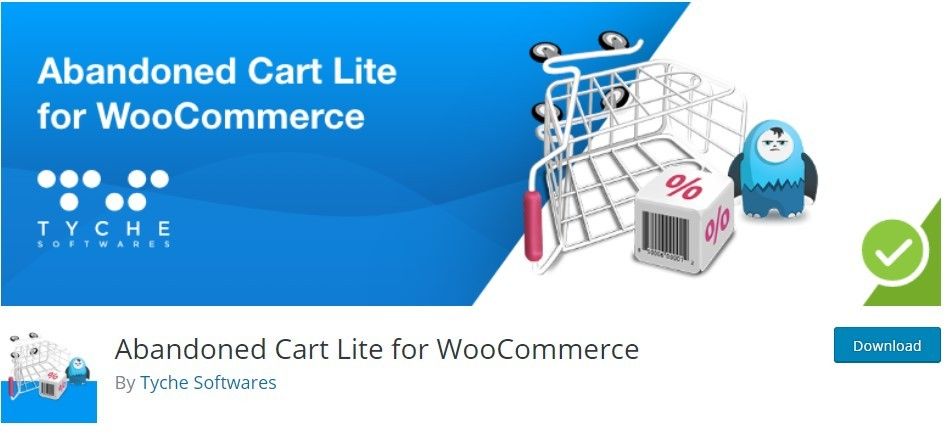 WooCommerce Abandoned Cart Lite plugin allows users to reach customers who haven't completed checkout. The cart recovery plugin sends email notifications to logged-in customers and guest users when they abandon their online cart. The cart recovery email is more like a polite reminder asking customers to complete their purchase.
Main benefits:
Send automatic cart abandonment email notifications
Identify the details of the abandoned cart, including abandoned products.
After the customer completes the purchase, the cart recovery email notifications are automatically stopped.
Customers can retrieve their abandoned carts from the shared link in the email.
Retainful is one of the best WooCommerce cart abandonment recovery plug-ins. It allows customers to retrieve lost carts in a single click and complete their purchase, thus avoiding elaborate configurations.
Retainful allows users who use it to create custom email templates that can be automatically sent in sequence.
Besides offering the WooCommerce cart abandonment recovery via cart abandonment retargeting through email, the plugin also allows users to send coupons for the next order.
In this way, it is possible to incentivize repeat purchases by providing unique and disposable coupons for customers' next purchases.
Main benefits:
Automatically send abandoned cart reminders to customers when they leave something in the cart.

When the cart is retrieved, it automatically stops sending emails.

View carts in real-time, i.e. the carts of customers who are shopping on the site right now.

Notify store admins when a cart is retrieved (so they can thank the customer for coming back).
Shopify
Shopify is an eCommerce website builder that allows companies to create their online store and sell what they want (goods and services). With Shopify, it is possible to organize products, customize the appearance of the shop, accept payments online, and with credit cards, track and respond to orders.
This tool is a fully integrated eCommerce solution that offers ready-made online stores to edit and customize based on your content. Shopify can be feature-rich and ready to use, but not at the expense of drag times. Payment plans are based on recurring billing, but for anyone running a profitable store, these should quickly become negligible costs.
This tool offers all users, in any plan, their native solution for the Shopify cart abandonment.
This means that it is unnecessary to install any plug-in, as the software will already have this function on board.
Cart abandonment Shopify offers a quick and easy solution to recover and convert abandoned carts into sales by sending potential customers strategically scheduled emails after leaving their cart without buying.
The recovery of abandoned cart orders that Shopify offers, provides users with a hassle-free solution to send up to 3 emails on each abandoned cart in 5 minutes, with fully customizable templates in just a few clicks.
Shopify also provides statistics on abandoned cart emails, so users can view how many emails have been sent, opened, and clicked, seeing the effectiveness of these emails, bringing customers back.
Magento
Magento is an eCommerce solution by Adobe aimed at helping users create eCommerce sites. The platform provides rich out-of-the-box features, enhanced customizability, and various integration options to build online marketplaces.
This tool offers a drag-and-drop page builder to help build interactive sites from scratch or by using the available library of pre-built templates. Magento also offers intuitive features for customizing the shopping experience of each contact visiting the user's site by displaying custom content based on the visitor's age, gender, location, order history, cart items, wish list items, their lifetime purchase value, and several such factors.
Even Magento cart abandonment, like WooCommerce, is based on external plug-ins to manage cart abandonment better.
Magento plug-ins allow users to register abandoned carts in an Engagement Cloud program, allowing them to execute an omnichannel strategy or send a series of abandoned cart emails.
Let's see two examples:
dotdigital Engagement Cloud is a plug-in for B2C and B2B eCommerce marketers who want to increase online orders and increase customer lifetime value while saving time and resources.
The dotdigital Engagement Cloud features are designed for eCommerce brands. Merchants can seamlessly connect their Magento store data with dotdigital Engagement Cloud to create customized omnichannel customer journeys quickly, easily, and globally.
The advanced range of eCommerce tools, from AI-powered product recommendations and live chat to abandoned cart emails and RFM segments.
Main benefits:
Automate abandoned shopping and cart recovery processes, as well as send personalized coupon codes to improve the customer journey.

Integrate all customers, orders, products, and business data from Magento into the Engagement Cloud in just a few clicks.

Report on opens and clicks, conversions, and ROI. This will make it easier for companies to have a greater focus with easy, printable reports that show where to optimize.
CreativeMinds Magento Abandoned Cart Recovery extension helps users recover abandoned carts by sending the buyer an abandoned cart email containing a link to the customer's cart and an optional Magento coupon code that gives users an incentive to complete the cart purchase. Cart abandonment Magento recovery is made easy for buyers with one-click recovery.
Magento recovery system cart abandonment emails are automated, making it easier for eCommerce stores to send personalized cart reminders and recover sales. The admin can also monitor their cart recovery strategy with reporting capabilities.
Abandoned cart reports track how many cart recovery emails led to a sale and when they were sent.
Doing a few minutes of setting up the abandoned cart extension, it will automatically send the abandoned cart emails based on the admin's settings.
The Abandoned Cart Extension allows the admin to customize a cart recovery strategy. All abandoned cart email alerts, including follow-up alerts, will be sent with predefined delays set by the site admin, who can also define the number of follow up alerts with a different delay time for each one.
Main benefits:
CreativeMinds reduce Magento shopping cart abandonment and increase sales.

Users can create custom abandoned cart reminder emails that will be sent automatically when an abandoned cart is detected

Thanks to the coupon users can generate coupon codes exclusive to the specific shopping cart

Customers can easily recover abandoned carts with one click
As told before, these are just two examples of Magento's plug-in. If you want to obtain more information about this tool you can check this article: 7 Highest-Recommended Magento Extensions, and Integrations for Business Growth.
Conclusions
 This article has dealt closely with the problem of eCommerce cart abandonment and the solutions that can be used to reduce the abandonment rate.
In particular, it has been seen how cart abandonment retargeting is a handy tool for:
Recover as many abandoned shopping carts as possible.

Save time by increasing your revenue as efficiently as possible.
Additionally, the three main eCommerce tools were analyzed: WooCommerce, Shopify, and Magento. By showing near how they empower their users to tackle the eCommerce cart abandonment problem.
As for WooCommerce and Magento, the plug-ins most used by users were also analyzed.
WooCommerce plug-in:
Abandoned Cart Lite for WooCommerce

Retainful – WooCommerce Abandoned Cart Recovery emails & Next order coupons
Magento Plug-in:
dotdigital Engagement Cloud

CreativeMinds
LeadsBridge offers numerous integrations available to connect, Automate and Sync leads & contacts with over 370 tools, including WooCommerce, Shopify, and Magento, thus providing reliable support to all those companies that need this service.