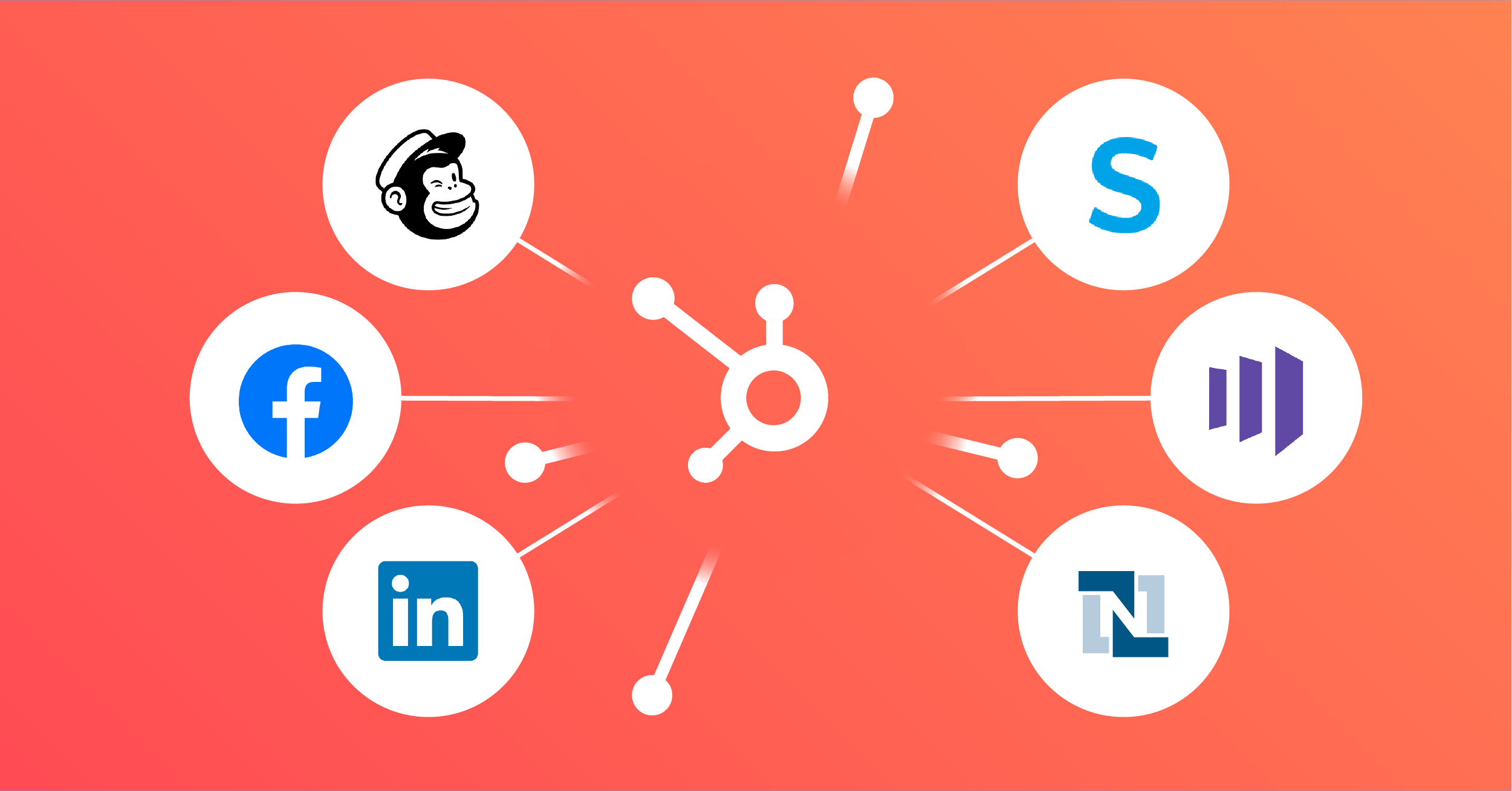 Gone are the days of having to run all your business processes manually. Automation and powerful integrations make it easy to streamline processes and carry out key business activities quickly and efficiently.
HubSpot is the most powerful and comprehensive marketing software out there. It has more than 100,000 customers in over 120 countries and allows businesses of all shapes and sizes to streamline their marketing, sales, and customer service operations.
Its ability to automatically nurture and convert leads, and create a friction-less inbound marketing experience makes it the perfect tool for getting new customers and increasing revenue.
This is particularly important when research shows that the average business uses a staggering 91 different tools just for their marketing efforts, while the average enterprise leverages more than 1,200 cloud services. Keeping track of all the different campaigns and data isn't easy when you're going back and forth from one platform to another.
Why Use HubSpot Custom Integrations
One of the best things about HubSpot is its easy integration with other tools, software, and platforms. Marrying up the systems you already use means you don't have to continuously log in and out of platforms and switch tabs to get data and information. LeadsBridge offers many integrations with HubSpot, which lets you create your own custom integrations toolkit.
On top of this, using HubSpot's integrations:
Creates a better customer experience through personalized communications
Speeds up processes to save you time
Tightens up advertising and content marketing to deliver better results
Accesses deeper analytics for a more comprehensive view of how your business is doing
Generates more leads through built-in lead generation tactics
Builds customer loyalty through automated nurturing
6 of the Best HubSpot Integrations for Speedy Growth
HubSpot integrates with a lot of different platforms. Chances are, the channels you're already focusing on can be integrated with HubSpot. While HubSpot has its own integrations with a range of different tools, the ones we mention here can be implemented through LeadsBridge.
Here are some of the best HubSpot integrations this year.
1. HubSpot MailChimp Integration
MailChimp is one of the most popular email marketing platforms around. It lets you add subscribers to your list with branded forms and send automated emails and newsletters.
Integrating your MailChimp account with HubSpot unlocks a host of automation capabilities and lets you sync up your CRM data with your email marketing efforts to help you grow your list, nurture leads with drip campaigns, and run email marketing on autopilot.
What You Can Do With the HubSpot MailChimp Integration
Create new subscribers from your CRM list
Update MailChimp subscribers from your HubSpot dashboard
Set and automate campaigns from one central place
2. HubSpot Netsuite Integration
Netsuite is a comprehensive business management software that tackles everything from accounting, procurement, supply chain management, customer service, and literally everything in between from one place.
The HubSpot Netsuite integration makes it easy to manage your entire business organization process, automate and optimize financial, asset, revenue, order, supply chain, and inventory management without having to leave HubSpot.
What You Can Do With the NetSuite HubSpot Integration
Access advanced and detailed performance and forecast data
Scale process management
Customize your management and organization process in just a few clicks
3. HubSpot Marketo Integration
Adobe-owned Marketo is all about creating a super slick buyer journey. Customer experience is the name of the game, through features that encourage engagement, nurture leads, and take the friction out of the sales cycle.
When HubSpot and Marketo join forces, you can quickly build strong engagement levels among customers and leads, convert potential clients into subscribers and nurture them, send more relevant, personalized content, and increase audience engagement on social media.
Enhancing every touchpoint in the buyer journey improves your chances of conversion – and even better, with the HubSpot Marketo integration, you can do it all from one place.
What You Can Do With the HubSpot Marketo Integration
Optimize your sales funnel to speed up purchase decisions
Manage and automate email marketing campaigns
Automatically create segments in your email lists
Integrate and manage your preferred social media channels
4. HubSpot Salesforce Integration
Salesforce is perhaps the best-known CRM platform in the world. It's a full-service management platform, with features that let you automate and monitor your marketing efforts, your sales, customer service, commerce, and analytics.
Integrating HubSpot with Salesforce can lead to an improved relationship with customers, but it also helps you move seamlessly between your marketing and sales database and offers easy integration with mobile apps and Web 2.0 applications.
What You Can Do With the HubSpot Salesforce Integration
Have consistent, up-to-date information on your leads
Combine sales and marketing data
5. HubSpot LinkedIn Integration
LinkedIn is, as you probably know, a professional networking platform. As well as allowing users to connect with peers and colleagues, it has a robust advertising network with laser-focused targeting options.
Combining HubSpot with LinkedIn means you can pull all your LinkedIn leads into your CRM platform without having to lift a finger. This lets you drive high-quality leads from your sponsored campaigns and get more information from leads to create personalized campaigns moving forward.
What You Can Do With the HubSpot LinkedIn Integration
Automatically sync leads from your Sponsored Campaigns
Request and collect lead data and add it to HubSpot
Access detailed data on leads to serve them more personalized communications
6. Facebook Lead Ads HubSpot Integration
Like LinkedIn, Facebook lets business owners run highly targeted ad campaigns to boost their email lists and lead count. Users can access a huge amount of data through each campaign, which can automatically be transferred into HubSpot to segment leads and personalized communication.
Combining HubSpot with Facebook Lead Ads lets you manage customer relationships by automating the internal and external communication process, and customize and optimize your lead flows for better results.
What You Can Do With the Facebook Lead Ads HubSpot Integration
Detailed A/B testing for better performing ads
Advanced audience segmentation
Detailed reporting and analytics
Create an online form builder to attract more leads
Make the Most of the Best HubSpot Integrations
Creating your own set of HubSpot custom integrations means you can create a workflow that suits your business needs.
Do you use MailChimp to send out emails? Make sure that's part of your integration toolkit, and if you use Facebook to run targeted ads, connect your HubSpot account to your Facebook Lead Ads with custom integration.
LeadsBridge helps you activate and manage your integrations to improve your lead syncing, hone your audience targeting, and track your marketing efforts through your chosen platforms.