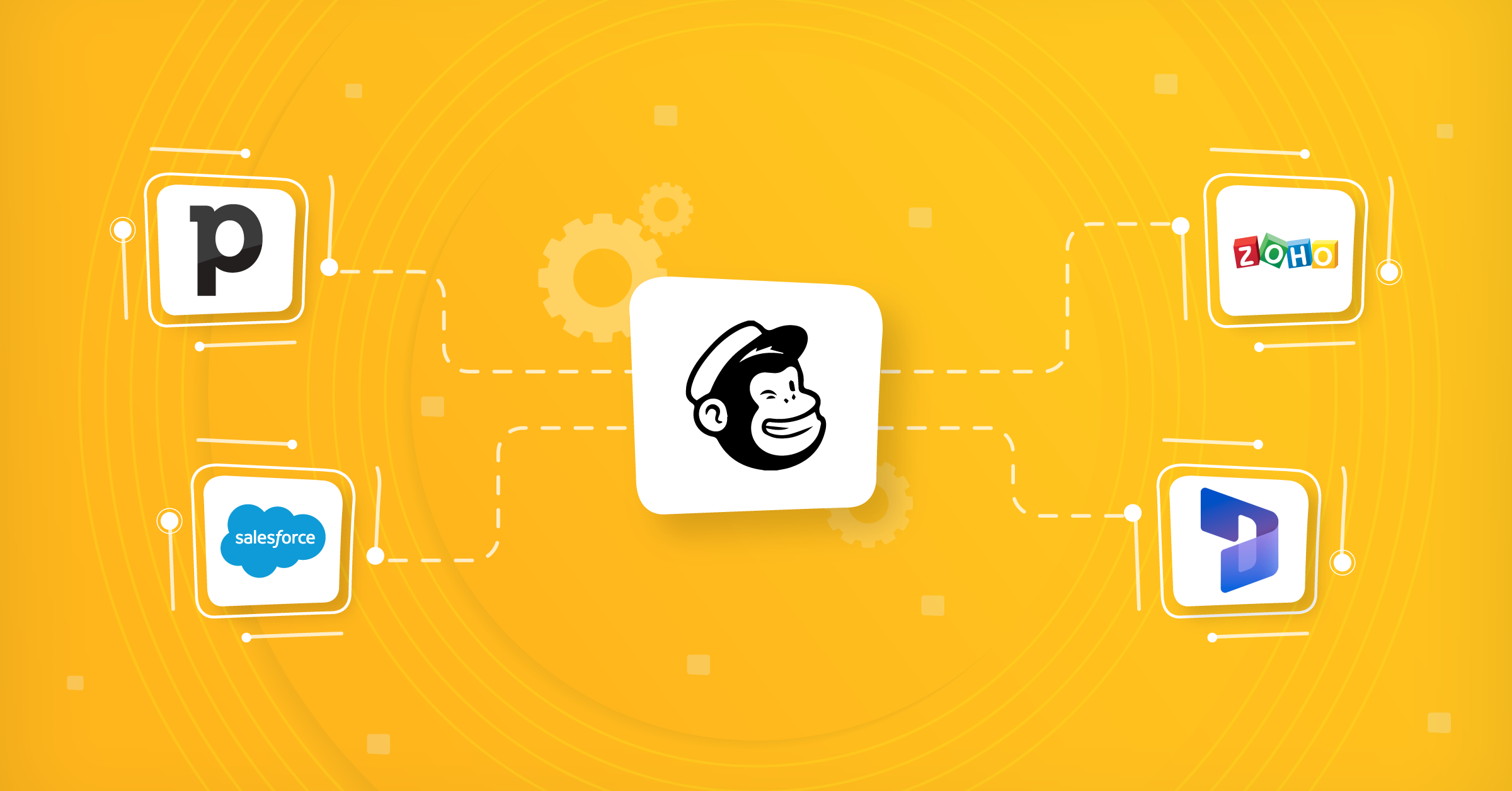 Mailchimp is one of the most popular and effective email software options on the market right now. It's accessible for businesses of every size (especially thanks to their fairly extensive free plan), and it has strong features, including automation, audience segmentation, and free templates.
And while Mailchimp comes with its own detailed analytics for email performance, it's going to be most effective when you're using integrations to sync it with your CRM for a full flow of data back and forth.
Here, we walk you through the most useful Mailchimp integrations from LeadsBridge that you can try using our Free Forever plan.
Wondering why you need Mailchimp CRM integrations and which ones you should consider using? Keep reading; we're about to go over all that and more.
Why you need Mailchimp CRM integrations
Mailchimp is, as we've already mentioned, an exceptional tool.
It does come with plenty of great analytics and data-storing features. It gives you detailed information about metrics like open rates and click rates… but that data exists in a silo.
And meanwhile, your CRM is accumulating plenty of data about customers including their activity on your site, their purchase history, and their interactions with your brand. It may be collecting data from integrations connecting it to your CMS, your sales software, your customer service help desk, and more.
Mailchimp CRM integrations are vital, therefore, because they allow you to connect these two invaluable platforms and data sources— your CRM and your email— so that you can create stronger sales funnels and a better user experience.
Your data becomes more fleshed out, and it becomes more actionable.
And keep in mind that there's so much information constantly swirling around your business, with so many leads coming in and out as customers move from one segment to another. That's a lot to keep track of.
There are so many different individual use-cases for Mailchimp CRM integrations, including the following:
Automation in transferring data between your CRM and email software
Improving data hygiene
Adding new leads and data back and forth so that all data is up to date
Removing users promptly when they unsubscribe
Sharing relevant information about customer behavior with your CRM, giving your sales team different indications about specific audience members
Is Mailchimp a CRM tool?
This is something that users may wonder: Why do I need a Mailchimp CRM integration if Mailchimp has its own CRM features?
The answer is simple: Mailchimp can be marketed as a CRM, but it's an email marketing platform with some analytics capabilities first and foremost. It doesn't have the kind of complex contact tracking that other platforms may offer.
Most CRMs will be focusing more on tracking users across the entire sales funnel and your entire digital presence— not just email. This includes site activity, email response, phone calls, customer service tickets, and so much more.
You need both an email marketing platform and a CRM. And ideally, you need to integrate both to get the most out of each.
The 5 best Mailchimp CRM integrations
Wondering which Mailchimp CRM integrations you should be considering?
There are plenty of options out there, but let's take a look at the 5 best Mailchimp CRM integrations you should consider today.
LeadsBridge's Mailchimp integrations
Looking for a free CRM with Mailchimp integration? Take a look at LeadsBridge's different options, as we have some of the best CRM integrations with Mailchimp available— and we've got a new Free Forever plan.
Our Mailchimp integrations connect with individual CRMs that you're likely already using (and we're going to take a closer look at those shortly), giving you plenty of options to choose from. These integrations are designed to streamline the process of syncing data from the two tools, giving you more of that actionable data that you need.
Interested in taking a look at all the integrations we offer for Mailchimp? See our Mailchimp integrations (or check out how they work here).
Mailchimp integration with Dynamics 365
Microsoft Dynamics 365 is one of the most popular CRMs out there right now, and it's become increasingly popular with enterprise-grade customers.
LeadsBridge's Mailchimp integration with Dynamics365 comes with the following potential automation options you can set up as you see fit:
Create new leads in static lists Mailchimp based on data from Dynamics 365
Create new leads in Mailchimp with dynamic lists
Use Mailchimp to create new customers or leads in the Dynamics CRM
Sharing data about user engagement from Mailchimp to the CRM
Check out how this integration works here.
Salesforce® and Mailchimp integration
Salesforce® is perhaps one of the most advanced and customizable CRMs and sales-focused tools on the market today. It can store an exceptional amount of data on each individual user.
The Mailchimp and Salesforce® integration, therefore, is a powerful tool.
A SaaS tool can automatically add users to a list after they submit a customer support ticket, allowing Mailchimp to send a follow-up autoresponder email to ensure that the issue was resolved.
And an eCommerce brand can use this integration to track which emails users opened so that they can create additional email sequences and help your sales team identify high-sales potential opportunities.
You can share data back and forth between the two platforms. See how it works here.
Zoho CRM and Mailchimp integration
Zoho CRM can be an enormous asset for brands, and it even offers specialized features from brands in specific industries (like those in the financial industry, for example). Leverage these specialized features with email marketing software using our Zoho CRM and Mailchimp integration.
The same capabilities that we've discussed with the other integrations apply here. You can create new groups in Zoho CRM based on their activity in Mailchimp, and add segments of users from Zoho as new lists in Mailchimp.
And with the integration, this will all happen automatically— including removing users once they no longer belong to a set segment, keeping all of your campaigns relevant.
Want to see more? Check out how it works here.
Pipedrive integration with Mailchimp
Pipedrive is a CRM and pipeline management software, designed to help you nurture and convert more leads in an effective way. And as we all know, email marketing is an essential part of lead nurturing.
LeadsBridge's Pipedrive integration with Mailchimp can help you automatically sync your data back and forth, moving users to different stages of the buyer's journey in segments on each platform accordingly. This is high-value data that's always being updated based on real-time information, making it easier for you to reach users with the right messages at the perfect moment.
See how this integration works here.
Final thoughts
When you're trying to determine which is the best CRM integration with Mailchimp, the answer could very easily be the integration with the tool that you're already using.
LeadsBridge works with a large number of different CRM tools, giving brands more flexibility to integrate with the tools already in their tech stack. The four individual integrations we've discussed are some of the best options, but we've got plenty of other Mailchimp integrations that can offer incredible value.
If you're unsure which is right for you, don't forget that LeadsBridge has a Free Forever plan so you can test out your favorite integration while you're trying a few different CRM tools to see which is best for you.
Want to get the most out of Mailchimp? Take a look at all of our Mailchimp integrations.