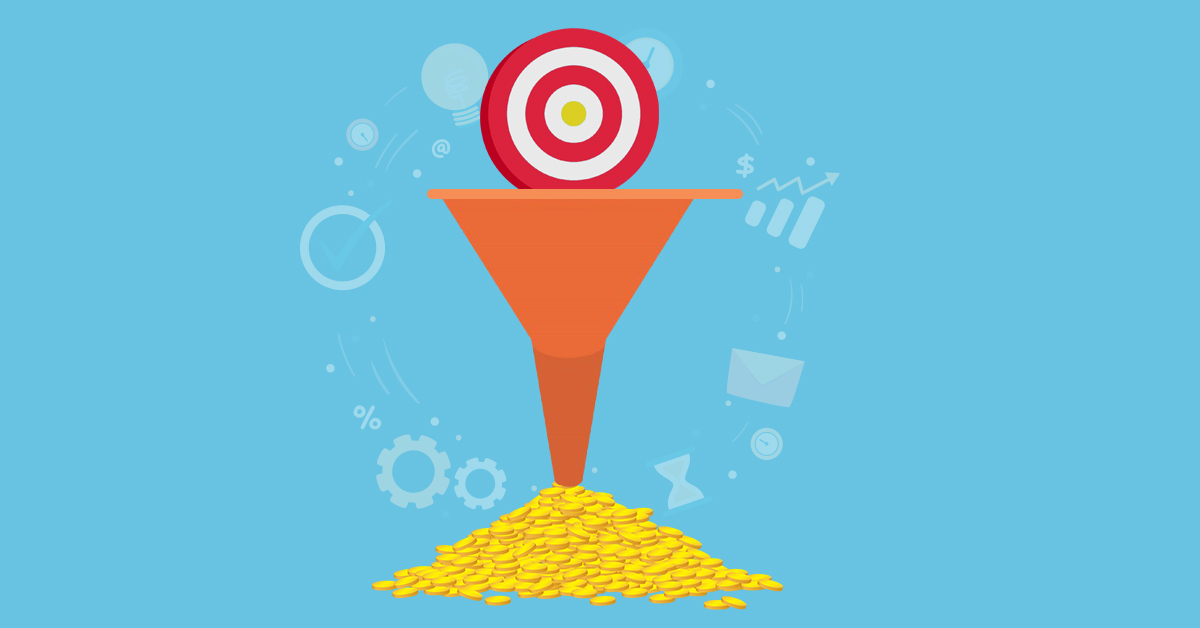 Having a good understanding of conversion funnel optimization is like having a map to a destination. A map makes it easier to not only get to where you're trying to go, but to visualize the entire trip from start to finish. A good conversion funnel will ultimately make it easier to optimize your marketing efforts across the board thanks to those clear and drawn-out directions.
The trick here is optimizing the conversion funnel in such a way that the rest of the marketing efforts follow almost naturally. Of course, this is easier said than done.
The goal of this article is to go over the ins and outs of conversion funnels. This is everything that you need to know about conversion funnel optimization.
What is a conversion funnel?
The importance of tracking conversions in every channel
How to optimize a sales funnel
Awareness stage conversions
Top of the funnel marketing
Interest stage conversions
Preference stage conversions
Loyalty stage conversions
Bottom of the funnel marketing
Facebook Ads Funnel
Top of Funnel (TOFU)
Middle of Funnel (MOFU)
Bottom of Funnel (BOFU)
Optimizing the Facebook Advertising Funnel
Takeaways and conclusions
What is a conversion funnel?
In order to understand advanced concepts, we must first go over the basics. With that being said, what exactly is a conversion funnel?
A conversion funnel (aka sales funnel) is a term used for visualizing and understanding the journey a potential customer takes to the desired action, starting at the first point of contact.
This is referred to as a funnel because it's the process of "guiding" the customer to the end goal: the desired action. This could mean a purchase, signup, or even a PDF download. No matter what the situation is, the idea is that the customer starts at the top of the funnel, and finishes at the bottom.
In general, a customer should never feel lost or confused, and they should have a very clear understanding of the next steps they need to take in order to reach the end of the sales funnel.
Now that we understand the idea of sales funnel/conversion funnel marketing a little better, it's time to fully dive into how to optimize a sales funnel. But before that begins, it's important to remember one thing: Conversion funnels can vary tremendously depending on their application. A proper sales funnel can range anywhere from a few simple steps, to multiple levels of actions that the customer needs to take in order to reach the final action.
The importance of tracking conversions in every channel
When it comes to conversion funnel optimization, conversion tracking should be the biggest focal point. It is vital that no channel goes un-tracked. In fact, most marketers will tell you that it is vital that you use every single channel available to properly track conversions. This is one of the basic principles of conversion funnel marketing
The reason really isn't all that complicated. For some users, they prefer one channel more than others. If you take into consideration that most businesses have thousands upon thousands of users, that means that they will also have dozens of different channels to keep track of, too.
Even leaving out just one channel could drastically alter your conversion numbers, so be sure that conversions are being tracked at all times and in all channels, even offline.
For many businesses, conversions can happen in an offline setting. Whether that be a customer who saw an add online and went to the physical store to make the purchase, or perhaps a successful sales call, there's a lot to consider when tracking offline conversions.
Unfortunately, tracking conversions is becoming more and more tricky. With new data privacy laws and regulations, the way marketers use cookies is changing. That's not to say it's all bad, though. With tools like Facebook's Conversions API, there's still hope on the horizon. When combined with an easy CRM integration with LeadsBridge, Facebook's Conversions API is a powerful tool. Not to mention, it's fairly easy to setup.
Tracking these conversions (online or offline) is very important for understanding an audience and evolving a business. Therefor, when it comes to tracking conversions, leave no stone left un-turned.
How to optimize a sales funnel
As mentioned just above, the steps in a sales funnel can range from just a few to quite a lot. Ideally, the goal of any conversion funnel should be to increase conversion rate. In short: the goal should be to bring a person from a prospect or lead to taking that final action in as few steps as possible. Depending on the goal or final action, the conversion funnel will look different.
That being said, there are quite a few things that anyone can do in order to optimize a sales funnel. Here are some:
1. Awareness stage conversions
The first step in anyone's progress towards conversion funnel optimization is to increase those conversions in the awareness stage.
What is the awareness stage? In conversion funnel marketing, the awareness stage is the point at which a potential customer knows about the brand. Basically, they are made aware of you as a contender on the market. This is called top of the funnel marketing, as the focus is put on the first step of the funnel. But, we'll dive more into that in the next section.
This is important for one simple reason: They can't begin their journey through the funnel if they don't even know about your business. The best way to get this ball rolling is to make yourself known and establish your name in the industry. This is where conversion funnel optimization will always begin. Here are a few ways to optimize:
Blogs are a proven method for brands to get their name out there and associated with keywords that are popular in their field.
For example, if a brand sells fishing rods, it's very likely that the visitors of the website would be interested in good spots to go fishing. The blog is the perfect opportunity to lead these prospects to the information that they're looking for, all while promoting the brand's product line. Since you can be sure that the visitors are interested in fishing, you can also be sure that they are most likely interested in a fishing rod.
This is just one of the millions upon millions of examples out there. The key here is to have a blog with a keyword strategy in place that will attract the right prospects and make them aware of the brand.
Networking on social media
For any business, no matter if the goal is to optimize the conversion funnel, having a presence on social platforms is essential. With a social media presence, businesses can interact with customers on a closer level, and answer questions in a timely manner.
Sometimes, nothing beats a classic TV advertisement, direct mail, or printed publication. In fact, there are quite a few customers out there who might prefer it. Even more so nowadays, text marketing has proven to be a very effective strategy.
Even in an offline setting, most prospects have quick and easy access to some sort of mobile phone. This has allowed marketers to really expand their reach beyond a computer screen. Here are a few numbers to back up that claim:
In the 18-34 age bracket, text is the preferred channel for notifications from a businesses
83% of millennials open text messages within 90 seconds of receiving them
75% of millennials favor text communications for deliveries, promotions, and surveys over phone calls or face-to-face interactions
31% of consumers respond to text surveys, with an average response time of around six minutes
Pay-per-click campaigns allow businesses to pay the website that is hosting the advertisement on a per-click basis. Basically, the business only has to pay when a prospect clicks on their ad, or based on the number of impressions that the ad receives.
PPC campaigns are a fairly efficient and cost-effective method to increase conversions at the awareness stage of the conversion funnel.
Top of the funnel marketing
As mentioned above, top of the funnel marketing is conversion funnel marketing that is focused on customers in their first few stages of the conversion funnel. Because this marketing strategy focuses on the top of the funnel, it generally isn't directly responsible for any sales. Although it can eventually lead to a sale, the focus is more about securing valuable leads and promoting products, services, and the business in general.
Top of the funnel marketing is a very important marketing strategy for businesses looking to find new customers that have yet to discover them. This also makes it a very good point for conversion funnel optimization.
2. Interest stage conversions
In the interest/consideration stage, the main goal is to get the potential customer's email address. This is an essential step for conversion funnel marketing. That's how they go from a simple "potential" customer to a lead.
Now that they are aware of the business, it's time to interact and engage with them. Even before anything is purchased, try encouraging them to make small commitments. Something like signing up for an email newsletter.
A good way to do this is to use some sort of lead magnet. A lead magnet is simply something (maybe a PDF document, webinar, etc.) that offers a solution. In return, all they need to do is provide their email address.
There are a few ways to really interact and engage with the audience. Here are a few of the most common ways brands, big and small engage with their customers every day:
Contact forms can be powerful tools, and can generate a lot of leads. A good practice for a contact form is to make it easy for the customer to receive your newsletter if they want. Provide a simple link to sign up. Some sales funnels end with a simple CTA like this in order to complete a form.
The goal is to offer something that helps the prospect solve an issue that they're having. Landing pages are designed to provide content that addresses a specific issue while utilizing specific keywords. If setup correctly, landing pages can capture email addresses and potentially lead the viewer to make a sale.
Before any page on a site is complete, it needs to have a specific call to action in mind. You must stop and think about what the landing page is being designed for and what the viewer needs to do once on the landing page itself. Complete a form? Watch a video?
No matter what the action is that the reader needs to take, the call to action must be clearly visible and easy to understand. Additionally, consider adding it multiple times to the page, and not just in one place.
3. Preference stage conversions
The goal in the preference stage is to pre-qualify the prospect. This is done after you've done the steps above, and have the attention of the prospect.
Now it's time to show the prospect why they should choose your brand over others, hence the name "preference" stage. By educating them, you are helping them understand their needs and if your product is right for them. Based on the information gathered, the business will understand if they truly are interested, and they will be pre-qualified to move on to the next few stages of the conversion funnel.
Here are the preferred methods for educating prospects:
Emails are quick and typically pretty easy to scan. This makes them ideal for educating prospects on new products, features, and so on.
If you're unfamiliar with drip marketing, here's the rundown: Drip marketing is a strategy that sends "drips" – a series of emails – to prospects and customers a given amount of time. If done correctly, a drip campaign can help send prospects directly to the purchase stage by bypassing multiple stages in between.
There are tools out there to help with this sort of marketing style. There are also LeadsBridge integrations for Drip, just to make the process a little easier.
CRMs are an essential tool for tracking interactions with customers. Basically, it gives an overview of where the prospects are currently in the sales funnel. Using a CRM, you can decide which email campaigns should be received through cookie detection and CRM retargeting. 
We've recently gone over the future of cookie and browser based tracking, as it is changing. Be sure to check that out.
If you're interested in automating your conversion funnel a little further, LeadsBridge also offers integrations for lots of different CRMs. If you don't see your CRM on that list, there's always the possibility to create a tailor-made solution, too.
4. Purchase stage conversions
In the purchase stage of conversion funnel marketing, the goal is very clear: make a sale. It's time to present the prospect with an offer that they can't refuse. On average, however, the customer needs to have 7 or more offers presented to them before they finally follow through with a purchase.
In order to optimize the purchase stage conversion rate, here are a few things to keep in mind:
No matter what product is being sold, it has to be clear at all times that it is indeed for sale. Never assume that a customer will just automatically know about it and find their way to it.
The best strategy for this situation is to promote and clearly advertise products and services at all times. Make it simple and easy for customers to find the products that they need by providing things like live chat support and nicely labeled navigation buttons. If there's a special offer like free shipping, make it known throughout the entire purchasing process.
Again, email is a great opportunity to promote such special sales and promotions. Many customers look forward to emails that offer special discounts, so make sure this format is utilized often. If needed, send reminders to those customers that haven't followed through with a purchase when the sale is coming to an end.
Many eCommerce platforms integrate with CRMs and other email marketing platforms to make it easy for brands to send emailed promotions to both prospects and existing customers.
Using these integrations, it can be fairly simple to set up a targeted email campaign for those prospects that have reached the end of a drip campaign. In these cases, offering something as simple as free shipping or even a small discount can make a massive difference, and turn a would-be customer into a full fledged customer.
5. Loyalty stage conversions
Customers who have entered the loyalty stage of the conversions funnel have already made a purchase. The reason they are still in the funnel is that they are still incredibly valuable. In many cases, they are even more valuable now than they were before they made the purchase.
You may think to yourself that at this point, there's no more room for conversion funnel optimization, but that simply is not the case.
In short, an existing customer is more likely to make another purchase than a new customer is to make their first purchase. On the same note, it has taken a lot of time, effort, and money to get said customer to this point, so giving up on them now would be a terrible choice. This is called bottom of the funnel marketing, and we'll discuss it in more detail in the next section.
Keeping an existing customer is very important for brand loyalty and word-of-mouth marketing. Here are a few ways that you can keep a loyal customer on board:
A loyal customer is more likely to make a purchase. Likewise, they are very likely to tell their friends about their experience with a brand. Using this mentality, ask a customer if they know of anyone that could also benefit from the product or service that they've already purchased. In return, offer some sort of reward like a discount on their next purchase.
Offering a referral program like this helps in many ways. The most obvious is that if they refer a friend, and they become a new customer, then you've gained a new loyal customer. But, by offering the referee a reward, you've opened the door for another purchase from the existing customer down the road.
Offering an existing customer a product that they've already bought (given that the item is something that they would need to purchase again) is a good way to increase sales and further optimize the conversion funnel.
Brands like Amazon have been doing this for years, and even have automated the process almost completely by keeping track of customer's purchases, and offering a quick checkout method for them to re-purchase.
Up-selling and cross-selling
Loyal customers are easier to up-sell. If they've already made a purchase and are happy with it, then it wouldn't take much convincing for them to make a more expensive purchase. This is often an overlooked step in the conversion funnel optimization process.
This is usually done during the checkout process, just before the final click. Offering them an "upgrade" can yield some good results, especially if it's a similar product or service.
Thanking customers for their purchases and loyalty can only yield good results. Customers like the personal touch and to know that the brand that they made a purchase from genuinely appreciates them as a customer. Brands have also taken this opportunity to send coupons and discounts for future purchases.
Bottom of the funnel marketing
As the name suggests, bottom of the funnel marketing focuses all marketing efforts on the end of the sales funnel. Essentially, bottom of the funnel marketing is any marketing material (content, ads, etc.) that are designed specially to make a sale.
Of course, not all prospects, customers, and leads are suitable for this style of marketing. It takes a very special and detailed strategy to really hit this nail on the head. But, if bottom of the funnel marketing is executed correctly, the strategy can yield some nice results, as they're responsible for making direct sales, and boosting those sales numbers.
Facebook Ads Funnel
With that explanation of what a conversion funnel is and how it can be optimized, it's important to understand what a Facebook Ads funnel is, too. As a company, being successful on Facebook means that you have a powerful advertising funnel set up and optimized.
In truth, a Facebook Ads funnel is set up much like a standard conversion funnel. When creating a Facebook sales funnel, you have three basic steps: Awareness, consideration, and decision, as well as micro-steps that you can optimize.
For example, much like a regular ad funnel, you have 3 basic stages:
Top of the Funnel (TOFU)
Middle of the Funnel (MOFU)
Bottom of the Funnel (BOFU)
In these 3 stages, you will have a variety of different approaches for making a conversion. Of course, there are far too many to go over, and not enough time, but we'll go over a few examples based on the stage the lead is in.
Top of Funnel (TOFU)
The top of the funnel is basically designated for acquiring prospects. Through Facebook advertising, this means targeting a new audience. The best approach here is to raise awareness for your brand. This may sound familiar, and it's because, in a normal funnel, this is what's known as the awareness stage.
Remember, the goal here is to simply make the audience aware of your business. A good, well-made ad on Facebook has the potential to reach any number of people that use the platform. You don't necessarily have to shoot straight for a conversion right of the bat. Come up with some creative and unique ads that help you stand out, and let the rest of the Facebook Ads Funnel do the rest.
Middle of Funnel (MOFU)
The middle of the funnel for Facebook advertising is all about acquiring the lead's details. These leads will be the warm-up audiences from the first stage. Now, we're in the Consideration stage.
The overall goal and best-case scenario is that the lead makes their way to your main website or landing page and sees your best offers. Ideally, this is where they would leave you their contact info, and you score the lead. However, we all know that this is not always the case.
This middle of the funnel, consideration stage is a good place to be slightly blunter with your offers. if the goal of the first stage is to simply make the prospect aware of your existence, then this stage is dedicated to showing them something that you believe they would be interested in and offering a little incentive.
With the ad example above, there's no purchase necessary, but you are required to give up your contact information for the download. This is a great tactic used by most businesses.
Bottom of Funnel (BOFU)
Now, it's time to turn leads into customers. Here is where you bring out the big buns and offer the lead something they can't refuse.
In this Facebook Ad Funnel example, you can see that there's basic information, some listed benefits, and the discount. For someone looking for a tool like that, this ad looks pretty good. Definitely clickable.
In the final stage, you must highlight what makes you as a brand stand out. pricing, shipping options, free gifts, saving amounts, and much more can and should be added. This might be your final shot at landing this lead.
Optimizing the Facebook Advertising Funnel
The best way to optimize your Facebook advertising funnel is to integrate the suite of tools with your marketing stack. Gathering and sending leads directly and instantly to your CRM is the best way to stay on top of your incoming lead data, and even understand where you need some optimization.
With a tool like LeadsBridge, integrating Facebook Lead Ads, Facebook Custom Audiences, and Facebook Conversions API is really as easy as a few clicks. Once the connection is made, you no longer have to worry about the time-consuming task of dealing with CSV files.
We have a step-by-step guide for creating integrations between your CRM and many of the Facebook tools. Through LeadsBridge, Facebook Custom Audiences integrations, Facebook Conversions API integrations, and Facebook Lead Ads integrations are all as simple as a few clicks to get set up.
LeadsBridge truly is the next big step for optimizing your Facebook Ads Funnel, and it's definitely the easiest, too.
Takeaways and conclusions
When it comes to conversion funnel marketing, there's always room for optimizations. As time moves on, and goals change along with the business, so will the methods of optimization.
All-in-all, there are 5 areas of focus for funnel optimization, each with its own subcategories:
The awareness stage
The consideration stage
The preference stage
The purchase stage
The loyalty stage
Although most companies have different procedures and policies, it is typically pretty standard for marketing and sales teams to exercise the strategies that we've discussed here today. The key for those teams, however, is to focus on conversion funnel optimization in such a way that it increases conversion rates for their brand
Research is a key element for conversion funnel optimization. In most cases, there will need to be a lot of A/B testing in order to achieve the best results. With some time, effort, focus, and research, any business is capable of seeing an increase in sales and conversions.