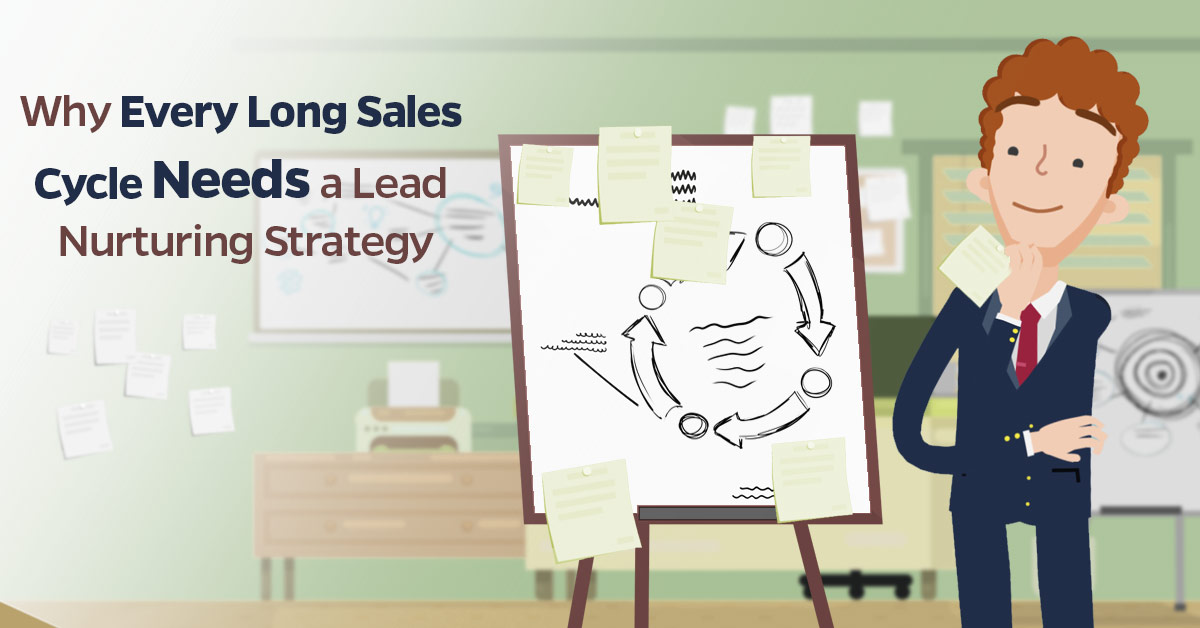 Everyone loves the sweet, sweet commissions that come with big-ticket products and services.
But not everyone loves the daily cold calling it takes to get there.
Any time you're looking to close a deal in the five- to six-figure (and above!) range, you're looking at a group of prospects with a much greater need for information, due diligence and internal sign-off. And that means a much longer sales cycle.
For example, a prospect who's looking to purchase their dream home or make a huge strategic decision about the type of software their company uses, isn't just making a decision for themselves — they're making a decision for their entire family or workforce.
There are more choices to be made, more people involved in the decision-making process, and more questions and objections to be armed and ready for. At this level of the game, there is no free lunch.
But it's not all bad, either.
Long sales cycles can come with some serious perks for determined sales reps — and we're not just talking one-off commissions. Let's take a closer look at the pros and cons of longer sales cycles and how a lead nurturing strategy can help.
The pros and cons of a long sales cycle
Sales cycles that stretch on for months or even years can be a major burden on your time and resources. The more work you have to do to close a deal, the more time and money you inevitably spend.
But the real kicker is the uncertainty. In real estate for example, a new agent might make dozens and dozens of cold calls every single day and still only close five deals their first year.
You can have all the money in the world, but if you don't have the absolute unwavering determination it takes to keep making calls when you haven't had a single bite in months, you're never going to seal those deals.
On the flipside, no breed of salesperson is more focused, driven and successful, than the one who shows up every day to play the long game. These salespeople are sharp, perceptive and (seemingly) fearless. And they've got the recurring revenue to back it up. Because the truth is, leads with long sales cycles are definitely more discerning, but they're also more loyal, more likely to give you repeat business, and more willing to send you high-quality referrals.
At the end of the day, time spent chasing up long-cycle leads is time invested, not wasted.
The cons of a long sales cycle:
Uncertainty
Costs
Increased chances of a competitor coming in
Greater potential for the lead to lose interest
The pros of a long sales cycle:
Better commission
More opportunities to outperform the competition
Increased lifetime-value of the lead
Increased number of quality referrals
How lead nurturing can help close leads faster
Since uncertainty is the #1 challenge in managing a long sales cycle, your best chance at winning is to simply eliminate uncertainty wherever you can. And what's the opposite of uncertainty?
It's trust.
That's exactly why lead nurturing is a must for every long sales cycle.
Lead nurturing keeps leads engaged over time. At FollowUpBoss, our real estate CRM, we see it all the time – Quite simply, those who nurture leads close more leads. Done right, it can help you offset the uncertainty that comes with the territory when dealing with multiple lead types, activity and behaviors and move leads further down the sales funnel by simply providing the right information at the the right time. Like any good friend would.
With the right approach, lead nurturing can even shorten your sales cycle. In fact, according to a study from Forrester Research, organisations who use lead nurturing can generate 50% more sale-ready leads, at  33% less cost. They also found that marketers see an average of 20% more sales opportunities from nurtured vs. non-nurtured leads.
"Most agents are way too short sighted when it comes to converting leads. They get pissed if the lead doesn't demand to start making offers on homes on Day 1. That's like going fishing and getting pissed that the fish aren't jumping into the boat!" says Dustin Brohm, Salt Lake City Realtor® and Founder of Search Salt Lake. Dustin followed up with a potential home seller lead every 3-4 months for 3 years before they reached out saying, "we're ready to sell, and you're our guy."
Consistent lead nurturing is what makes deals "fall from the sky" and into your lap. But most salespeople simply don't have the stamina to keep pursuing leads when things start to feel impossible. A smart lead nurturing strategy makes it easier to keep going by cluing you in to what your leads need and want, and allowing you to give that to them at scale (without working 15 hours a day).
What makes a good lead nurturing campaign
Not all lead strategies are created equal.
And in this day and age, it's easy to hit the wrong note. Automation tools are great, but relevant content is what sells — and canned, robotic follow-ups just won't cut it.
In fact, a study by Experian found that personalized emails generate 6x more revenue over generic emails. In order to deliver the kind of personalized experience that gets those results, you're going to need a smart lead nurturing system.
A great nurture strategy will let you:
Create relevant email workflows based on where leads are in the buyer's journey
Alter your nurture strategy based on how leads interact with your content
Segment and track your leads (remember leads can jump stages, can your system keep up?)
Pass leads from marketing to sales as leads get closer to conversion
See where your bottlenecks are so you can refine your content and make sure no lead falls through the cracks
When you're ready to get started with lead nurturing, look for a CRM that ticks the above boxes while giving you the right balance between human-focused content and automation wizardry. Because reaching more leads, more often is certainly the name of the game — but it won't mean much without that personal touch.