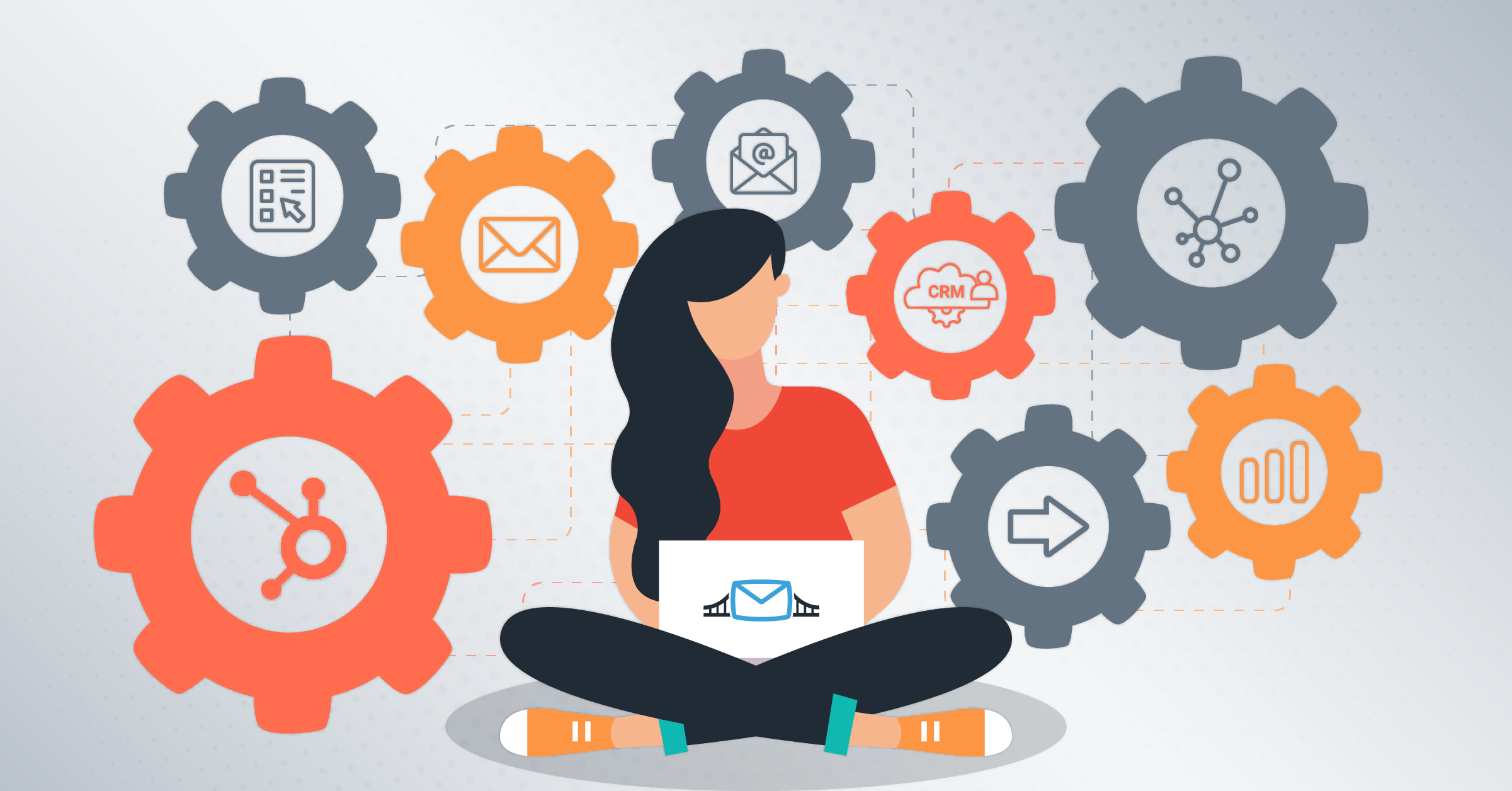 Most businesses share common workflows, such as; maintaining a customer database, managing marketing campaigns, and lead scoring and running nurturing campaigns. Orchestrating so many workflows together can be a headache. But it doesn't have to be!
A centralized data hub brings all these tasks into a single place, giving you the efficiency to run a successful business.
As a robust marketing and sales tool, HubSpot unifies all your business initiatives through automation. The result? You'll establish better online marketing, sales, customer service, and operations.
In this article, we'll talk about how to create the best HubSpot workflows, and how you can take your marketing automation to the next level with integrations from HubSpot-certified apps like LeadsBridge.
HubSpot & innovative marketing
HubSpot is continuously innovating to offer the best possible UX to its users. These innovations are reflected in their customer education, products, and all other services.
For instance, it adopted the Flywheel model to replace the linear structures of the sales and marketing funnels. Instead, it focuses on the momentum you gain when you instrument the efforts of your entire organization toward furnishing an excellent customer experience. The flywheel sales model is known to leverage the full potential of every single initiative in the long run.
The same state-of-the-art basis is behind the features of HubSpot workflows.
To top it off, this automation software lets you customize your experience based on your needs, where you can leverage your up-to-date data using HubSpot workflows. This means employing multi-layered automation to help your business improve marketing efforts and productivity, simplify inbound lead generation, facilitate lead data processing, and boost time management.
What are workflows in HubSpot?

A HubSpot workflow is an automated set of tasks or actions. The platform lets you streamline these trigger-based actions, improve your efforts' efficacy, and grow your business.
In your CRM segments, there is much valuable data about your users' behavior. Workflows enable you to leverage this information and define triggers that automatically set off certain tasks.
So, what exactly can trigger a workflow? A workflow is a type of action that is performed by defining an enrollment trigger;
A workflow type could be anything like contacts, companies, sales deals, tickets, quotes, conversations, and user feedback.
The enrollment trigger determines the action that initiates the workflow. For example, when a contact (type) subscribes to your newsletter, they must receive a welcome email. The email subscription here is your enrollment trigger. HubSpot lets its users choose between the manual and automatic setup for the enrollment triggers. But we'll get to that in a few paragraphs.
Benefits of creating a HubSpot workflow
It's common knowledge that automation saves time and optimizes processes. But there's more to the advantages of HubSpot's workflows than that.
HubSpot workflows also help;
Improved customer service: A smooth customer experience means satisfied customers, and workflows give you the means to create that.
Reduced friction: Your workflows help create better organized, resourced, and operated in departmental silos, resulting in achieving efficiency and accurate insights.
Higher growth and development: Robust workflows supplement the performance of your marketing, sales, and customer service teams and increase profitability.
Optimized lead generation and nurturing: Granular audience targeting lets you generate high-quality leads, and back these campaigns by running nurturing campaigns to stay on top of your leads.
Better time management: Whether cultivating customer engagement and interest or providing customer support, workflows shorten your response time.
Optimized campaigns: Workflows let you create campaigns quickly, improve conversion rates and gain more insight into your marketing initiatives_ hence, higher ROIs.
Reduced costs: Workflows help lower your costs with shorter time-task rations, better marketing forecasts, optimized ads, and cutting off extra expenses by using a single tool instead of many.
Learn more about the importance of lead nurturing practices.
Examples of HubSpot automation workflows
A unique characteristic of HubSpot workflows is that you can design them based on your business needs. Besides streamlining your tasks, this gives you accurate insights into your ideal audience, customer journey, and performance to better optimize your growth and development.
The best way to go about this is by using automation. For example, statistics show that lead nurturing sales automation increases conversions by 200%, accompanied by 10-15% improved productivity.
Here are some HubSpot automation workflow examples you can use to automate your across-the-board initiatives. Additionally, we've included relevant integrations you can set up with just a few clicks.
LeadsBridge is a HubSpot-certified app and official partners with the top advertising platforms_ Facebook, TikTok, Google, LinkedIn. So our platform allows you to get the best of both worlds. These integrations help automate your lead data sync between any of these two platforms and other third-party apps.
HubSpot marketing workflows
Every advertiser wants to manage their leads quickly and efficiently, move them down the sales funnel, constantly forge new interests with minimal effort, and track their process while doing so.
HubSpot's marketing automation workflows offer an all-in-one solution for all these demands: personalized messaging, building campaigns, instant lead scoring, tracking multi-stage and complex journeys, and updated contact records_ to name a few.
Examples of marketing automation workflows
Welcome emails, e.g., sign up for your blog or newsletter.
Lead nurturing emails, e.g., after downloading eBook, sending promotions.
Reminder emails, e.g., an event time reminder for an attendee.
Running re-engagement campaigns, e.g., inactive app users.
Payment reminders, e.g., due subscription.
Themed campaigns, e.g., users' anniversary with your company, Christmas, etc.
Automating marketing data management, e.g., lifecycle stage and lead scoring, etc.
Event data management, e.g., syncing contacts to webinars for virtual events.
Updating your lists for privacy regulations, e.g., removing opt-out based on the opt-in types a lead has chosen.
Multi-touch workflows, e.g., listing a contact into different workflows based on their journey.
LeadsBridge & HubSpot marketing workflows
There's much you can do with HubSpot workflows for marketing, given that you pull your lead data from the advertising platform and keep your contact lists up to date.
Lead generation and data management: LeadsBridge integrations allow you to seamlessly sync your leads to your HubSpot database in real-time. By building this data bridge, you'll reinforce your HubSpot for boosting all your workflows, such as scoring your leads, transforming leads into sales, managing your bulk data, and nurturing them with timely nurturing campaigns. All these integrations are available under our free plan.
Looking for some more free marketing tools? Check out these free automation apps you should start using today.
Targeting your ideal audience: With LeadsBridge, you can transfer your audience segment in your HubSpot CRM to your favorite advertising platform by upgrading your campaign's performance. With optimized audience targeting, the right people get to see your ad and your marketing budget can be focused only on high-quality audiences.
Creating a unified team structure: By building an interconnected ecosystem, your sales team can get internal notifications, manage their tasks for sales follow-ups, and run other operations that will help your organization.
HubSpot sales workflows
HubSpot can build sales-oriented workflows staff by creating better communication among team members and the right tools to nurture and engage the customers.
Here are some of the top sales automation workflows you can use:
Automating data entry and administrative tasks.
Scoring and rotating sales-qualified leads, e.g., those who request a demo.
Organizing tasks for your sales reps in Task Queues.
Creating customer service tickets.
Building internal notification triggers, e.g., when a sale is approved.
Updating the leads' status and lifecycle automatically.
Create sales predictions, advanced analytics, and other performance reports.
Designing custom surveys.
Setting payment notifications.
Learn more about lead qualification strategies you can use today.
LeadsBridge & HubSpot sales workflows
Tracking offline sales: LeadsBridge's offline tracking solution takes your advertising beyond simple ad clicks. Instead, it lets you track the entire customer journey for offline sales, how they were related to online campaigns, and many other insights that help craft high-performing ad strategies.
Integrating your payment platform: LeadsBridge helps you to eliminate the need to manually enter sensitive customer information for transactions.
HubSpot customer service workflows
From ticket routing, help desk automation, surveys, to recording and tracking customer communications, HubSpot uses automation to unify all customer management operations, prioritize urgent tasks, and more.
Here are some examples of workflows for customer service automation:
Categorizing your customers into different classes.
Setting communication triggers. e.g., sending emails to customers in different stages of trial offers, subscriptions, and renewals.
Defining customer onboarding workflows. e.g., product training.
Defining troubleshooting and customer resolution workflows, e.g., assigning customer service representatives.
Customer updates for new product and service announcements.
Setting trigger emails for customer polls and surveys.
Automated tickets generated based on collected feedback e.g., sending emails with feedback collection forms> analyzing troubleshooting issues in the responses > generating automated tickets.
Prioritizing tasks and internal notifications, e.g., follow-up notifications for ticket owners.
LeadsBridge & HubSpot customer service workflows
Streamlining spreadsheet data import and exports: With automated data bridges, you can instantly transfer raw data from their existing format into another application using a format required by that specific app.
Unifying form builders and feedback responses: Improve your data management to streamline your form responses in your HubSpot workspace, automate workflows around customer feedback, or optimize your customer service responses.
HubSpot operations workflows
The Operations Hub in HubSpot offers an efficient way to manage and analyze data, in order to optimize their business objectives and adopt the best Revenue Operations Models.
It allows you to combine all data required by your RevOps team, processes, and technology to get a bird-eye perspective of your performance and use this info to scale your business.
The Operation Hub offers Data Sync, Programmable Automation, Data Quality Automation, Datasets, and Snowflake Integration.
Some of the top operations workflows are:
Editing contacts database, e.g., names or email addresses.
Saving time by keeping your database clean.
Streamlining data sync from multiple data sources.
Collecting reports and customizing dashboards for a frictionless user and customer experience.
Running and creating prediction reports, e.g., calculating commission for sales partners.
Building webhook triggers, e.g., to send POST or GET requests.
Creating customized API code, e.g., for validating email addresses.
Managing the current workloads, e.g., analyzing the capacity of the logged-in agents for ticket assignment.
LeadsBridge & HubSpot operation workflows
LeadsBridge integrations help you connect all your individual silos of technology into HubSpot, reinforcing the platform's functions like data syncing, cleaning, quality control, as well as automated insights.
How to create a HubSpot workflow
Creating a workflow in HubSpot helps you to keep all of your marketing initiatives in a centralized hub. For example, creating automated email series, automated lead CRM segments, viewing your marketing performance reports, following up with customer support tickets, and more_ all on a single dashboard.
Once you have created your workflow, you can find it in the workflows dashboard under the "Created in workflows" tab.
The same logic works for other workflows; forms, emails, tickets, or deals will display in the "Created in other tools tab". Let's go through the step-by-step process of building a HubSpot workflow.
Step 1: Choose your workflow's object and type
The object and workflow type depends on the selected setup. First, you'll need to:
Log in to your HubSpot account.
Find "Automation". Then, click "Workflows".
Choose to create a workflow from scratch or use a template to make one. Then, follow the relevant steps accordingly.
How to create a HubSpot workflow from scratch
For a new workflow, follow these steps:
Find "Create workflow" in the upper right, and select "From scratch".
Then, click "[object]-based" in the left panel. Next, you'll need to determine your workflow object, which specifies the type of records that can be enrolled in the workflow.
Available objects include:
Contacts
Companies
Deals
Quotes
Tickets
Custom objects
Conversations
Feedback submissions
Subscriptions
Payments
3. Once you have selected the object, it's time to specify the type:
Find "Choose type" in the right panel to choose your workflow type. It could be:

Blank workflow: It lets you add in your own enrollment triggers, actions, and delays.
Scheduled workflow: This option is available only for Operations Hub (Professional and Enterprise only). Here, you can add your own enrollment triggers, actions, and delays. But you'll also have access to a premade schedule you can use for your workflow to occur and recur.

Specific date/Contact date property: This is available only for contact-based workflows that let you add actions that run according to a given date.
4. Once completed, click "Next".
5. Name your workflow by clicking on the pencil icon. Here, you can also add a description (optional).
6. Click "Save" to finalize your workflow creation.
Use a workflow template aligned with your goals to streamline your automation processes. Browse through the templates to explore different workflow automation options.
How to create a HubSpot workflow using a template
If you want to use the HubSpot workflow templates, click "Create workflow" then click "From template".
Go to the templates library.
In the left sidebar, filter templates by function or objective. Based on your requirement, select a "category". You can also look for specific templates by searching a keyword in the top right.
Check a template's details by clicking "Preview". Depending on your HubSpot subscription, you may be eligible to use the template or not. (find this information in the dialog box). The preview displays the "Purpose" of the workflow, the "Included triggers and actions", and any other assets to populate the placeholder actions, e.g., marketing emails.
Select the template by clicking "Use template". You'll be able to modify it further in the workflow editor.
The platform lets you edit or clone existing workflows, whether created from scratch or using the HubSpot workflow templates. Just hover over the workflow you've in mind, then choose "Clone" or "Edit" accordingly.
Step 2: Setting your workflow's enrollment triggers
Enrollment triggers are your defined benchmarks that enroll records in the workflow automatically.
You may choose to enroll records manually. Alternatively, follow these steps for the automatic setup:
Go to the workflow editor and select "Set up triggers".
Choose a "filter type" for your enrollment trigger. Once you have set up the trigger, click "Apply filter". For the records to be enrolled in a workflow, they must initially meet the enrollment triggers.
Enable re-enrollment by selecting "Re-enrollment" in the right panel. Then, switch on the toggle that reads "Re-enrollment". Once completed, choose the triggers for re-enrollment.
Here, you can also add additional enrollment triggers as you see fit.
Click "Save" to complete.
Step 3: Adding your workflow's actions
You can define a workflow's actions, such as sending a welcome email or assigning a specific record. Again, the amount or type of actions you can add depends on your HubSpot subscription. Here, the added action can also be cloned or moved.
First, find the + plus icon and click on it.
Select an action in the right panel.
Define the details of the action.
Click "Save".
If needed, click the plus icon + again to add other actions.
Step 4: Managing your workflow's settings
Go to "Settings".
Find the "General" tab. Here, specify the exact time for running the actions, enrolling contacts, and associating campaigns with your workflow.
To set up the enrollment and suppression criteria, go to the "Unenrollment and suppression" tab.
The "Notifications" tab is where you can set up email notifications to alert users and teams.
Step 5: Launch your workflow
Once finished setting up your HubSpot workflow, you'll have to turn it on to start running it automatically. Also, don't forget to complete any saved placeholder actions before turning on the workflow.
Finally, double-check everything by reviewing your workflow before launching it:
Select "Review and publish" (top right corner).
Choose to enroll records: The ones that currently meet the enrollment triggers or those that meet the triggers in the future.
Review your workflow settings, including connections and unenrollment. If everything looks right, click "Turn on".
Again, click "Yes, turn on" in the dialog box to complete and launch your workflow.
Where to find your workflow
HubSpot lets you manage and organize your workflows by arranging them into tables and groups. The following tabs contain different workflows.
Created in workflows: This tab includes all the workflows you have created right in the workflow section.
Created in other tools: This tab shows all the created workflows that have been made in other tools, including forms, emails, tickets, and deals.
Workflows with errors: The faulty workflows are saved here.
Unused workflows: Any workflows that are not used in the last 90 days or have been turned off purposefully appear here.
Recently deleted: HubSpot stores the deleted workflows for up to 90 days. However, you'll have the option to delete them permanently and instantly if you want.
HubSpot workflows vs. HubSpot sequences: What's the difference
While these terms are often used interchangeably, there are many differences between sequence and workflow in HubSpot.
What is a HubSpot workflow?
As we mentioned already, a HubSpot workflow is a set of actions that run automatically based on a certain trigger. In short, the workflows use a signal to perform a designated action. For instance, send an internal notification (Action) when a lead form is submitted (Trigger).
The workflows are used mostly by the marketing team, but other teams such as sales, customer support and operations can benefit from them.
What's a HubSpot sequence?
A HubSpot sequence is an automated task that you can use to send a series of sales emails, or create lead nurturing specialized for the bottom of your sales funnel_ hence assisting the sales process. These communications are NOT based on the users' actions. HubSpot allows defining intervals for these email sequences, so when contacts respond to the email, their data will be automatically unenrolled from the sequence.
For example, sales agents can send promotions to certain clients over a period of time and through a defined series of emails. If users respond to the promotion email, the HubSpot sequence automatically removes them from the list, so they won't receive the rest of the series. Why? Because they have taken action and the sales agent can get in touch with them personally.

The sequences aim to simplify marketing and sales emails by running several actions, such as marketing and sales emails, SMSs, data updates, notifications, task creation, etc. For instance, communicating with sales-qualified leads who didn't show up for a demo to get another appointment with them.
The sequences are mostly used by the sales department and work best when there's an existing relationship between the salesperson and the receiver.
This feature can be accessed only through Professional and Enterprise Plans, Sales or Service Professional subscriptions, or higher plans.
LeadsBridge & HubSpot: Creating your custom integration toolkit
Building your own HubSpot data bridges allows you to develop a workflow that meets your objective, run targeted ads, and more.
HubSpot allows easy integration with other marketing and sales tools, as well as advertising platforms. To merge the systems you already use to create an intertwined data stack. However, it recommends using a HubSpot-certified app.
LeadsBridge offers multiple integrations with HubSpot so that you can build your own custom integration toolkit. Combining the robust features of these two platforms lets you create the best HubSpot workflows.
LeadsBridge integrations vs. HubSpot integrations
HubSpot offers native integrations to merge your advertising platforms and third-party apps with your HubSpot CRM. However, there are some advantages in using LeadsBridge integrations to connect your favorite app with HubSpot.

Free integrations: Hubspot CRM is free to use but many of the platforms' features come at an additional cost. At LeadsBridge, you can try most of these integrations under the free forever plan, or under the 14-day trial period .
Partner engineer support: As official partners with the top advertising platforms, LeadsBridge clients get direct access to Meta, TikTok, Google, and LinkedIn's support, current updates, and best practice advertising guides.
Other notable advantages are as follows.
Benefits of using LeadsBridge integrations for HubSpot
LeadsBridge lets you improve every aspect of your business when it comes to data management. It can be enhancing your lead syncing, enriching your audience targeting, tracking your marketing efforts, and leveraging the full potential of your advertising campaigns on any selected platform.
Creating a data bridge through LeadsBridge helps you to:
Eliminate the need to log in and log out several software and platforms or import/export data sheets manually
Create consent-based audiences from users who have actively expressed their interest and given their consent are contacted.
Reduce friction using real-time lead data sync
Build a better customer experience through timely and personalized communications
Optimize your advertising and marketing efforts to supply better results
Get in-depth reports to track your performance and scale your business
Target, retarget and generates more leads
Nurture your leads and develop customer loyalty
Facilitate CRM retargeting
Discover more about consent based marketing and how it can help you stay compliant with new privacy regulations.
Learn what else HubSpot integrates with here.
What to take away from this?
HubSpot workflows can be a game changer for your marketing, sales, and operation teams. Whether you are trying to increase order value, get higher churn and conversions, or get the most out of every single marketing dollar you spend, HubSpot will back you up.
By creating a workflow template, you can embed your business's marketing goals, sales objectives, channels, and tactics into an automated and easy-to-run system.
Wondering how to stop fixing data and incorporate seamless data sync directly into your HubSpot workflows? You'll need to use LeadsBridge's HubSpot integrations. In addition to accessing best-in-class partner support, seamless data transfer to and from HubSpot CRM can boost your automation like never before.
Find the best HubSpot integration with your favorite apps and platforms.