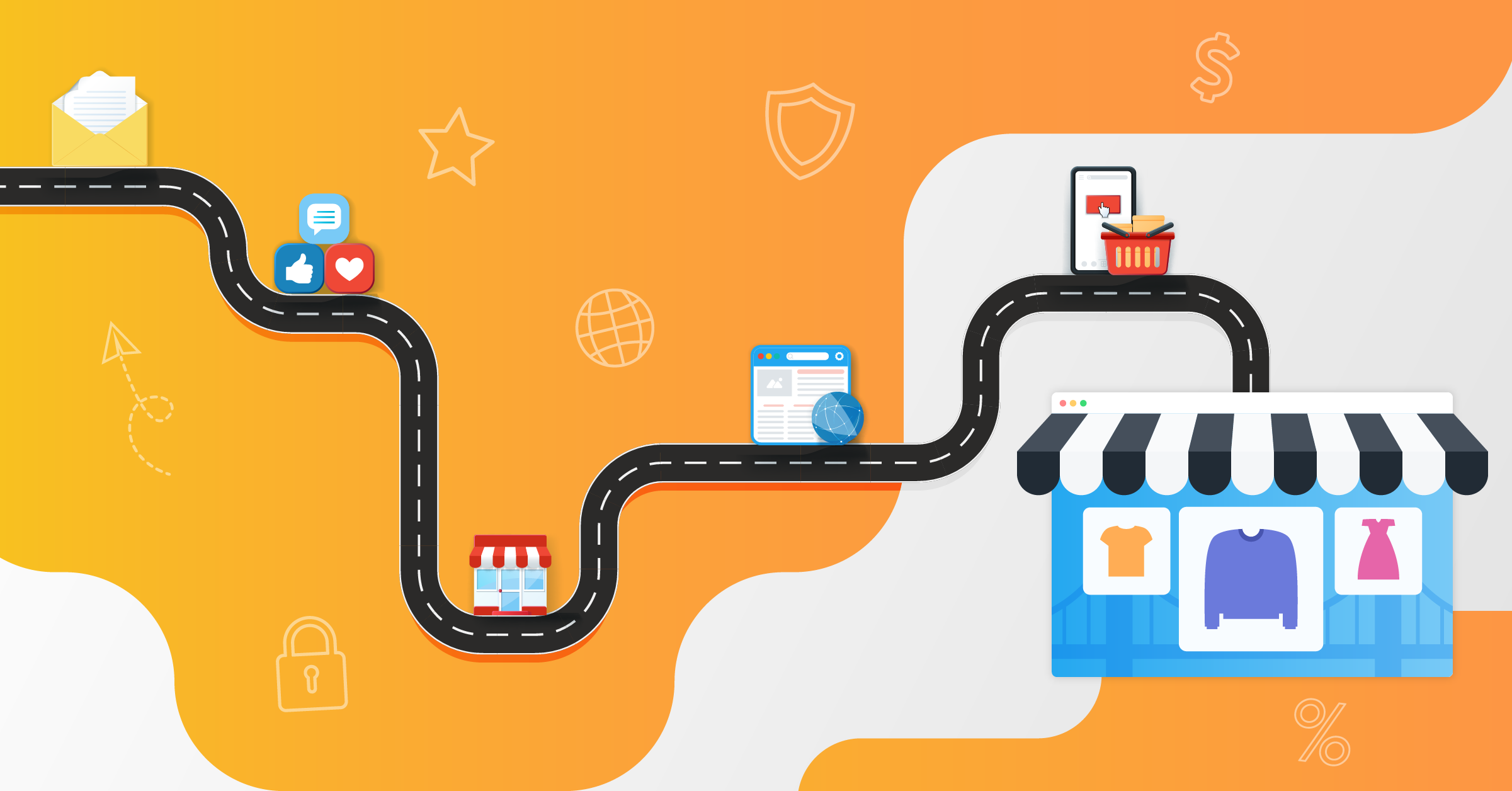 Today, customers can browse through websites and social media, compare prices online while shopping in-store, and expect immediate gratification as well as the best available deals. In return, brands have had to adopt an omnichannel approach to meet these expectations and provide the shopping experience that their customers desire.
But that's not a one-way street. According to Google, omnichannel shoppers generate 30% higher lifetime value than those who use only one channel. This means brands that have fully embraced this approach have higher customer retention rates and lifetime value.
Read on to learn more about establishing a robust and automated customer journey strategy that helps you foster loyalty for long-term growth.
What is an omnichannel customer journey & why it matters
An omnichannel customer journey strategy is the practice of integrating multiple channels and touchpoints to provide a seamless and consistent customer experience.
Integrating this approach into your marketing mix allows you to leverage personalization, retargeting, and segmentation for converting, retaining, and ultimately monetizing your leads and customers.
With the right tools in place, an omnichannel strategy creates a data feedback loop that furnishes your team with in-depth insights into customer behavior and preferences. They can, in turn, use this data to refine brand messaging and run targeted and personalized campaigns.
Multichannel vs. omnichannel
Despite sounding similar, "omnichannel" and "multichannel" have different implications. A multichannel approach uses several channels simultaneously but without coordination. It essentially means a business runs a number of disconnected, single-channel campaigns to reach customers.
Alternatively, an omnichannel approach integrates all channels to eliminate silos and ensure that no matter which one of these channels a customer prefers, they receive the same level of service. Its goal is to create a seamless customer journey that prioritizes a customer-centered approach.
Building an omnichannel customer journey strategy
How an individual interacts with your brand, product, or service throughout their journey as a customer can significantly impact their overall experience. The customer journey encompasses all the touchpoints that start from the initial encounter with your brand and continue beyond the final purchase.
The customer journey typically involves several stages, each presenting an opportunity to further improve the relationship between the customer and the brand.
Let's have a look at a brief outline of how to create an omnichannel customer journey:
Defining a target audience: Understanding who your target audience is and their preferences, behavior, and demographics.
Identifying touchpoints: Highlighting any point of contact or interaction that a customer has with your brand and can include social media, email, websites, offline advertising, AI-powered customer service, etc.
Tracking customer behavior: Analyzing your customers' interactions, preferences, and challenges at each stage of the journey. Then, using this data to build highly-targeted nurturing campaigns.
Personalizing messaging: Leveraging customer data to create personalized messaging that speaks to the customer's specific needs. This could mean using dynamic ad content or running targeted nurturing campaigns based on customers' attributes.
Optimizing the customer journey: Mapping out the customer journey and creating a messaging strategy to optimize the journey for the best possible results.
Tracking performance metrics: Monitoring performance metrics across all customer journey advertising channels, including click-through rates, conversion rates, and return on investment (ROI), to identify areas for improvement.
Retargeting: Using customer data and insights to retarget customers who have shown interest in the brand or product (but have not yet converted).
Conversion tracking: Incorporating development strategies to increase conversion rates using personalized communication, retargeting ads, and optimizing landing pages.
How to map the omnichannel customer journey
An omnichannel approach aims to merge all channels into one to meet the minimum expectations of a modern digital user; search and order online, contact the customer service center with a few clicks, or manage post-purchase options from their mobile devices.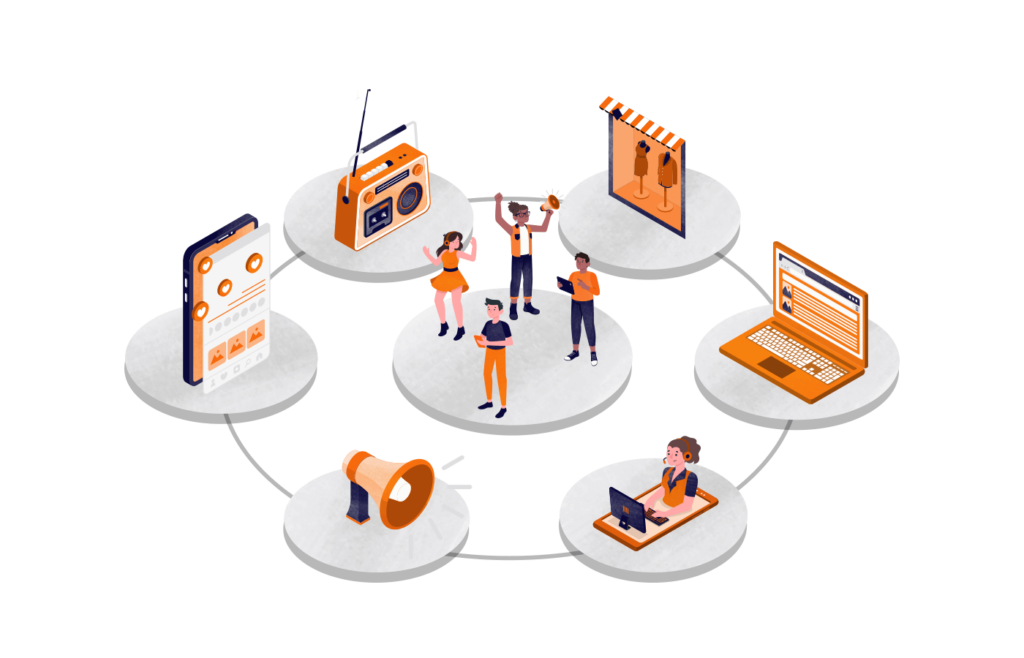 However, many brands struggle to deliver on this expectation due to the increasing diversity of selling, engagement, and user experience. They often owe this shortcoming to incorrect or inaccurate mapping.
Creating your omnichannel customer journey map requires precise identification of all touchpoints through which customers interact with your brand. Here's how to get started:
Begin with analyzing the data that give you reliable and detailed insights into your customer behavior. This implies gathering and synthesizing customer data from various sources, such as website analytics, customer surveys, social media insights, sales data, etc.
Next, use this data to create a visual representation of the customer journey. It should include each stage of your funnel, the key touchpoints, and customer behaviors and actions.
With an accurate customer journey map, you can identify improvement areas, experiment with new strategies, track performance, and ultimately optimize your customer experience.
Importance of customer journey automation
It is no secret that automation has the potential to significantly enrich customer-brand relationships. SCV-enabled software allows you to track customer behavior and facilitate targeted messaging to the right audience at the right time. Nevertheless, many businesses are either uninformed about the advantages of automation software, face difficulty in managing their data efficiently, or are hesitant to make the required investment.
Full-scale customer-centric automation permits your brand to leverage a real-time single customer view. Then, you are able to seamlessly communicate with customers across channels, which leads to offering a personalized and cohesive experience.
Automation solutions bring in several advantages, including:
Creating a seamless connection between the online and offline experience
Running adaptive email campaigns and communication
Robust customer relationship nurturing
Orchestrating communication and advertising channels and the rest of your data technology stack
Implementing an omnichannel strategy comes down to automation. With automated data bridges in place, you can connect different applications and tools, including CRM, email marketing, social media, and marketing and advertising platforms, to create a unified experience for your customers.
Additionally, an interconnected marketing stack gives you an integrated view of your customer as well as audiences. You can use these insights to better target them and offer a more effective engagement experience.
Integrating channels with LeadsBridge
A successful omnichannel strategy requires automating the entire customer journey, from initial contact to post-sale follow-up and more. Solutions like LeadsBridge can help automate data management processes at every stage of the customer journey.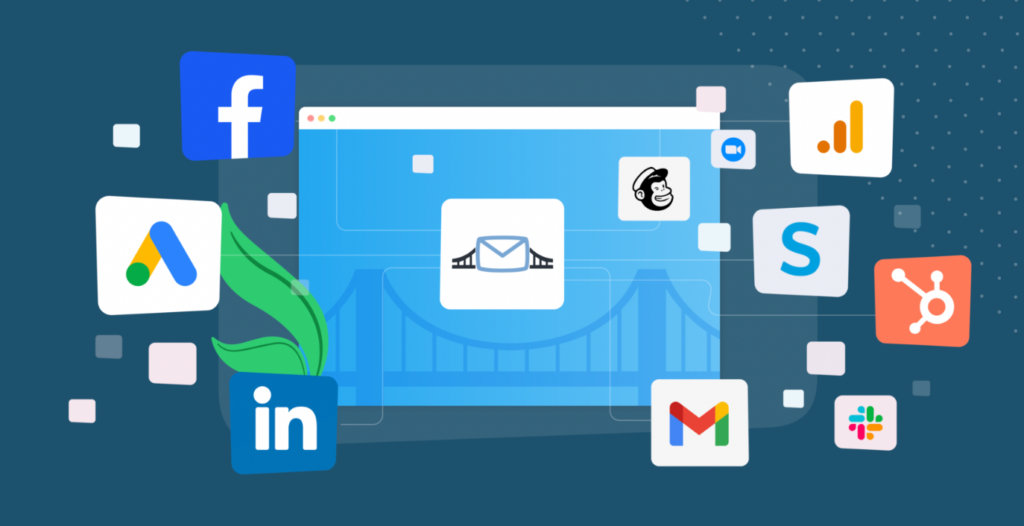 Awareness stage: Lead generation
If you are on board with the benefits of unified customer journeys, Google Ads and Facebook Ads must be on your advertising platform list.
LeadsBridge integrates with various lead generation tools, including Facebook Lead Ads, Google Lead Forms, and LinkedIn Lead Gen Forms. Once you've captured new leads, these integrations help sync the data in real time with your CRM or email marketing software. Then, you can send out welcome communications, which establishes a strong foundation for a high-quality lead or potential sale.
Consideration stage: Lead nurturing
After your lead data is transferred and segmented in your CRM, nurturing them with targeted communications is the next step. LeadsBridge offers integrations with the top email and marketing automation tools, such as Mailchimp, ActiveCampaign, and HubSpot, to enable you to run automated and personalized email campaigns that keep your leads engaged.
With Facebook Conversions API integrations, you can automatically connect your marketing data and the platform to measure the effectiveness of your advertising campaigns.
Advertising to a B2B Audience? Discover more about LinkedIn Offline Conversions here.
Qualification stage: Lead qualification & distribution
Lead qualification starts when a lead inputs their information into your lead capture system. Once in motion, your team analyzes the process to see whether each lead matches the defined persona of your target audience.
LeadsBridge helps you locate the most promising leads based on their interests, behavior, and other attributes with the Audience Targeting tool.
Sales Stage: Conversion into customers
When it's time to convert your leads into customers, the sales team focuses on sales-qualified leads in order to close the deal and convert them into paying customers.
Tracking offline conversions to the original lead source can provide your team with a more accurate ROI analysis.
In addition to conversion tracking, automated data bridges allow you to streamline the sales processes, such as follow-ups, sales pipeline management, and personalized communication. By automating lead routing and follow-up tasks, businesses can ensure that no leads slip through the cracks.
Retention stage: Customer retention
Finally, LeadsBridge integrates with CRM tools like Zendesk and Intercom to help businesses retain customers and encourage repeat business. These automated data bridges sync customer data across platforms, which allows your brand to provide a seamless customer experience. This data can be used to create new audiences that translate into opportunities for upselling or cross-selling based on customer interests and behavior, increasing customer lifetime value.
The takeaways
Omnichannel marketing can help you stay competitive and up-to-date in today's crowded market. With the expansion of the digital world, omnichannel marketing enables you to provide your existing and potential customers with a personalized experience that has the potential to transform them into loyal patrons.
Establishing an omnichannel marketing system without automation is impractical and inefficient. LeadsBridge offers integration solutions with top advertising and marketing tools and platforms that enable building an interconnected data ecosystem.
Discover all the available integrations to bridge the gap between your favorite tools and platforms.