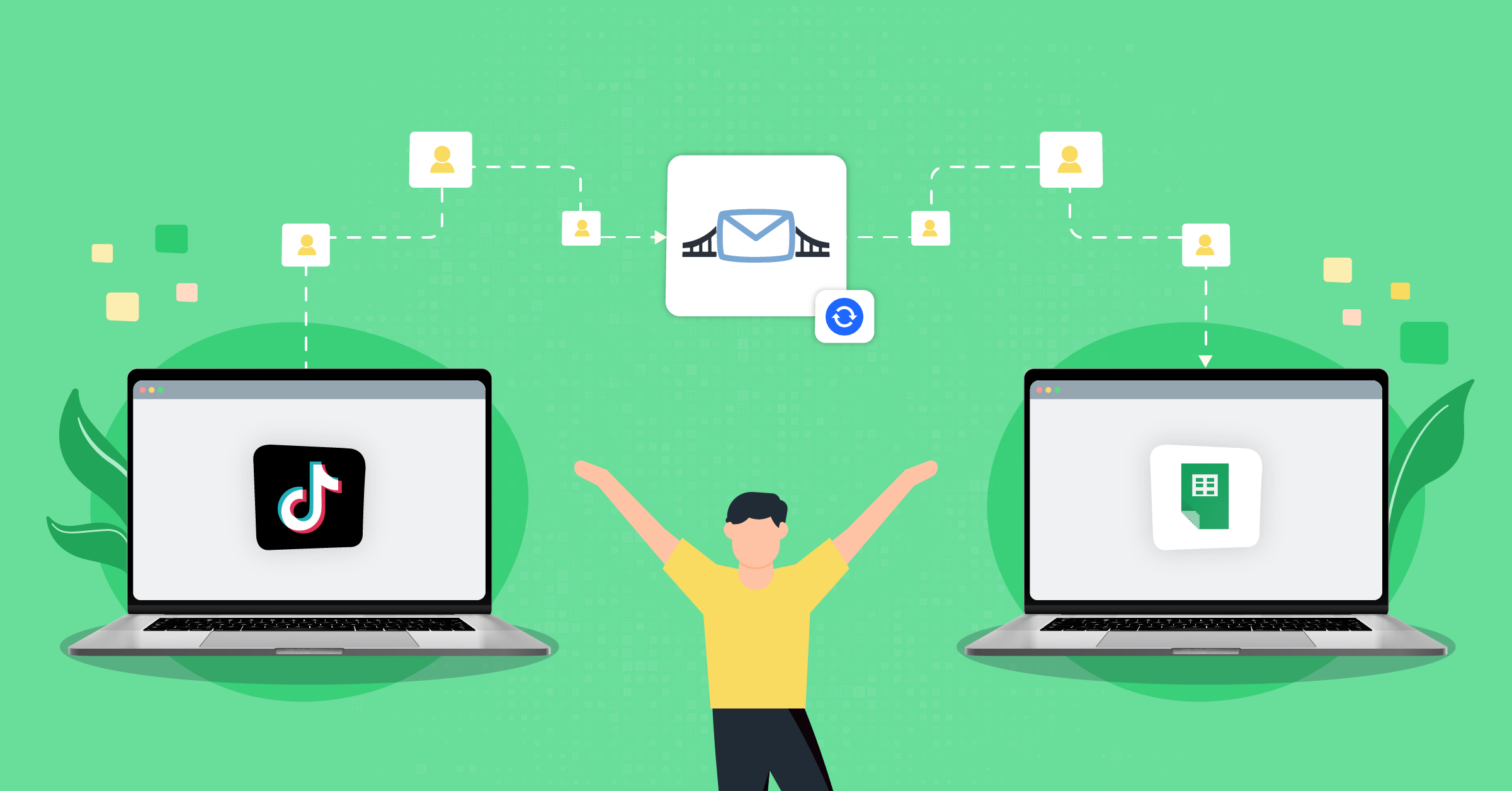 With a reach of over 885 million people globally, TikTok Ads stands out among other large advertising platforms, with the advantage of gaining a follower fan base and brand exposure.
When advertising on TikTok, however, there's so much data handled which makes manual management nonsensical. Automating the lead data handling processes, however, is the key to creating, delivering, and optimizing marketing campaigns that get it right.
That's why you need TikTok integrations such as TikTok Lead Generation – Google Sheets integration to streamline your marketing workflows.
Benefits of integrating TikTok with Google Sheets via LeadsBridge
TikTok For Business platform helps brands use creative expression through videos that make a genuine impression on their audiences.
Most brands also use Google's spreadsheet service to create workflows in Google Sheets and edit data within an organized structure. This platform offers a complete set of functions offline and online, including the ability to work with tables in real-time.
Now, as a business that uses both TikTok and Google Sheets, connecting these two platforms through automation can be a game changer.
Rule-based data transfer
Streamlining the capabilities of TikTok and Google Sheets allows you to configure the rules and run the system exactly the way you want it to work.
Staying up to date
Our TikTok Lead Generation – Google Sheets integration, for instance, lets you transmit data at specified intervals between the two. This will keep your system up to date automatically, so you can nurture your TikTok leads instantly.
Bypassing manual tasks
By syncing your leads from TikTok Lead Generation into Google Sheets seamlessly, you avoid manual data transfers and repetitive workflows.
Increasing conversion rates
Running immediate follow-ups with new leads means boosting your conversions significantly.
Automated lead data transfer helps you and your team to have the opportunity to score your leads and get in touch with them in a timely manner.
Database security & hygiene
Manual data handling is prone to error, while seamless data transfer is almost flawless every time.
All LeadsBridge integrations are secure by design and built fully GDPR and CCPA compliant. Additionally, we will never store or use your lead data for any reason; this is true for all our integrations, including TikTok integrations.
LeadsBridge's email receipt feature
You can also choose to activate LeadsBridge's Free email receipt feature. This option lets you keep track of your lead generation efforts and get notified as leads come in.
Does TikTok allow integration with third-party apps?
TikTok allows you to use your TikTok account information with its third-party partner applications. This includes the integration providers for the TikTok Lead Generation feature.
As an official TikTok partner, LeadsBridge lets you use your TikTok information to log in during the bridge creation experience, in order to provide access for seamless data sync.
Learn how to set up your TikTok Suite here.

How to set up TikTok and Google Sheets integration
Before you start
Before creating any data bridges on our platform, you'll need to log in to your LeadsBridge account. If you still need to register, you can create an account for free here.
Once logged in, you can access your personal LeadsBridge Dashboard.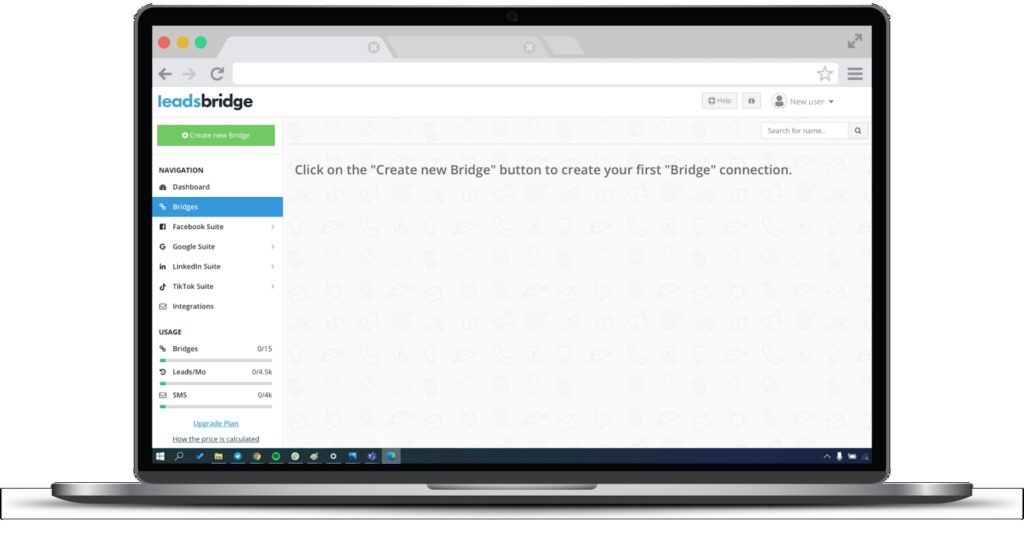 Step 1: Adding the integration's main info
1. To start creating your TikTok integration, find the "Create new Bridge" button and click on it. Then, you'll be redirected to another page where you'll be creating your "Bridge" connection.
2. Type in the required information:
a) Select "TikTok Lead Generation" as the source for your bridge and Google Sheets as the destination.
b) Name your bridge by clicking on the pencil icon ✎ at the top.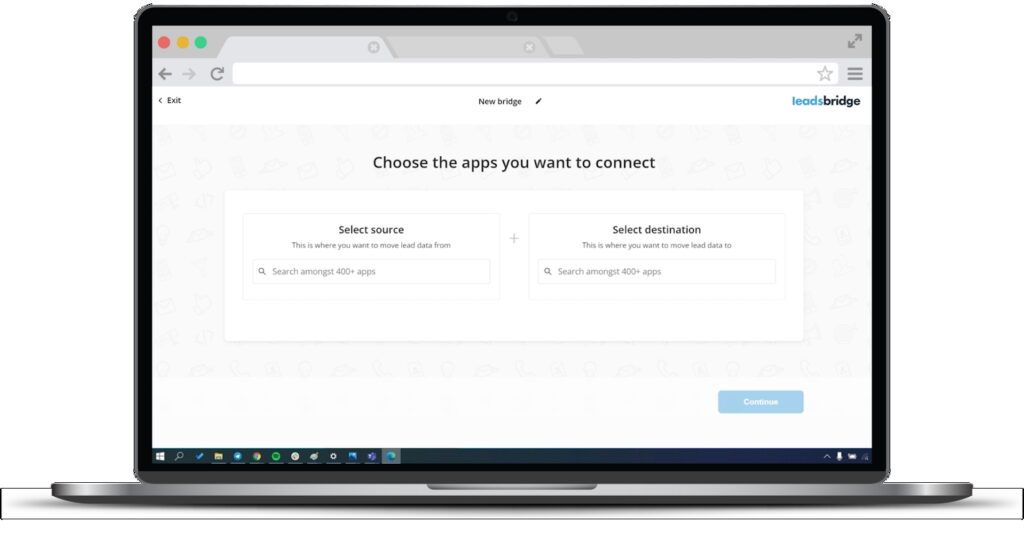 Step 2: Connecting your accounts
After setting up your source and destination, you'll need to authorize the connection by logging in to your TikTok account.
This authorization allows LeadsBridge to build a data bridge between TikTok and Google Sheets.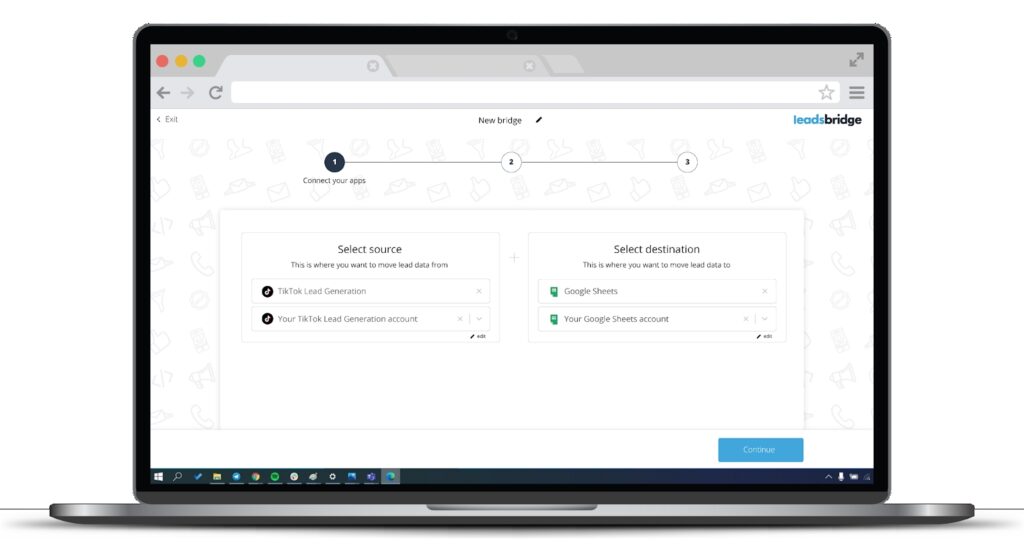 To do that, you must have:
a) A TikTok Advertiser account. If you don't have one yet, you can create a TikTok for Business account here;
b) Have an active Instant Form (at least one).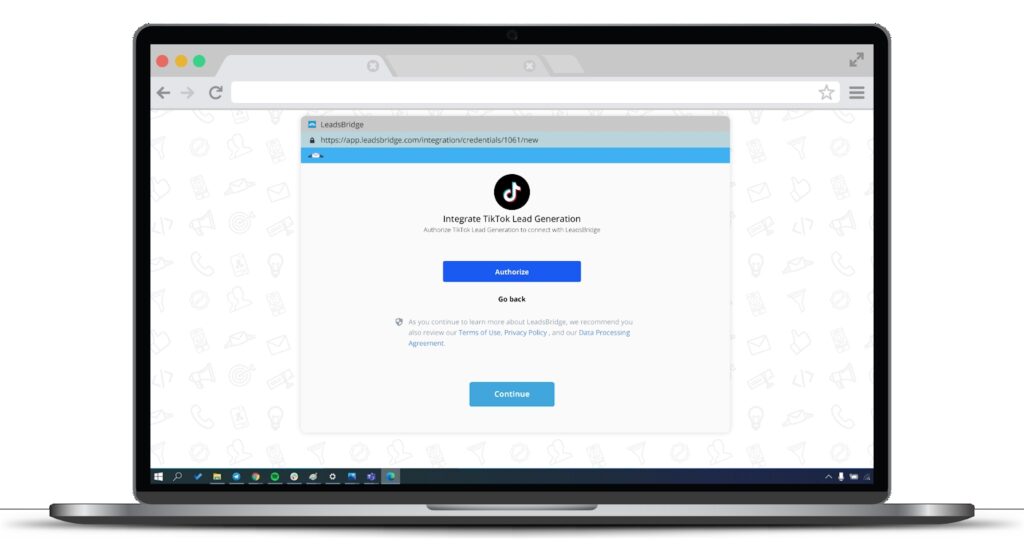 Then, you'll also need to connect your Google account.
Once completed, click "Continue".
Step 3: Fields mapping
1. We recommend that you review all data fields and see if they are mapped accurately. This is to ensure your Google Sheets – TikTok integration runs flawlessly.
2. Click on "Showed unmapped fields" to add or edit the information manually; here, you can include information and pass it as a static value.
These fields are used to customize data like reformatting dates and times or altering info, phone numbers, etc. You may also leave some of the fields blank.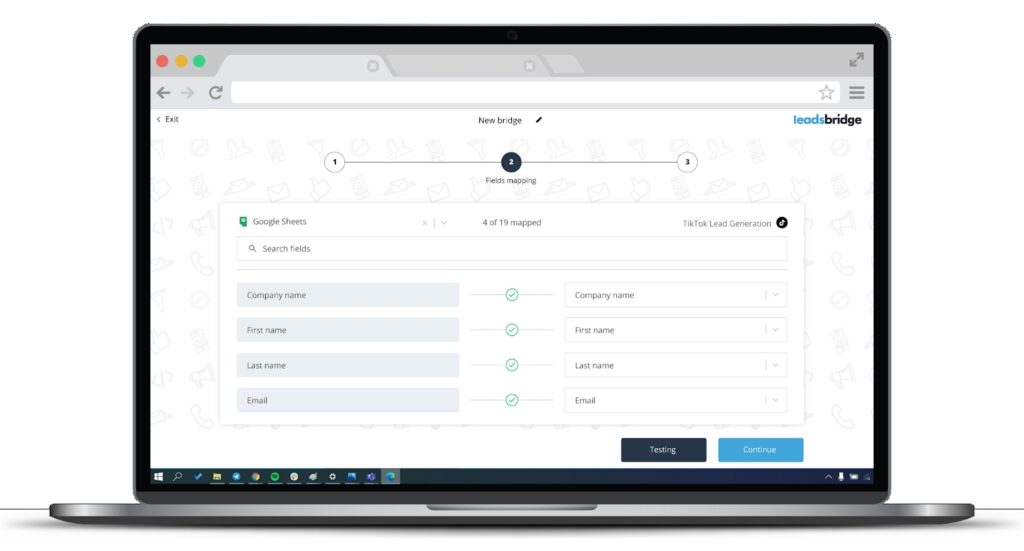 Test
Now, your bridge is almost ready. But before going ahead, you can run a simple test to see if it works perfectly.
a) Find and select "Test connection", under the Fields mapping setting.
b) Fill in the required information (name, email address, etc).
c) Click "Run test".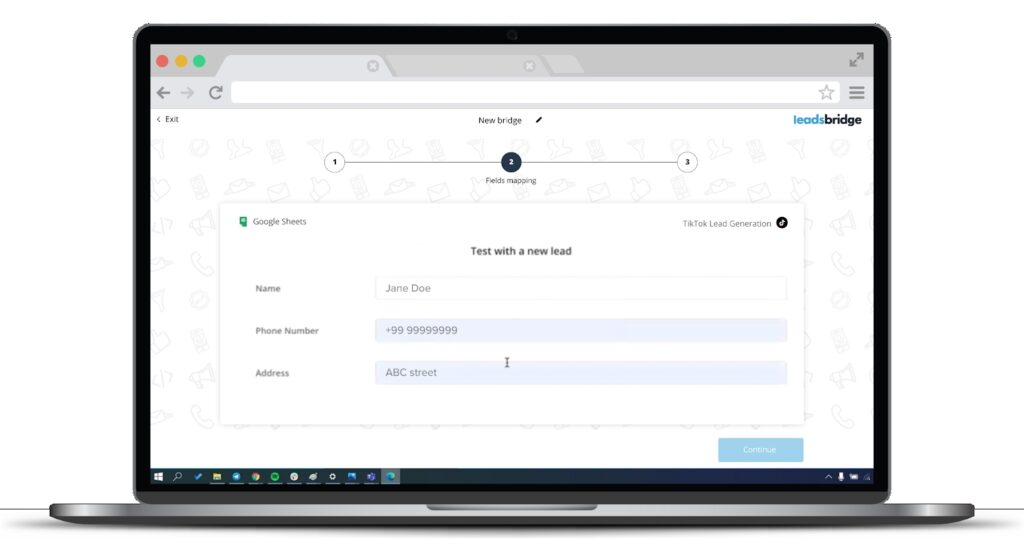 d) If necessary, select "Go back" to edit the fields.
If your bridge is set up correctly, you'll receive the following message.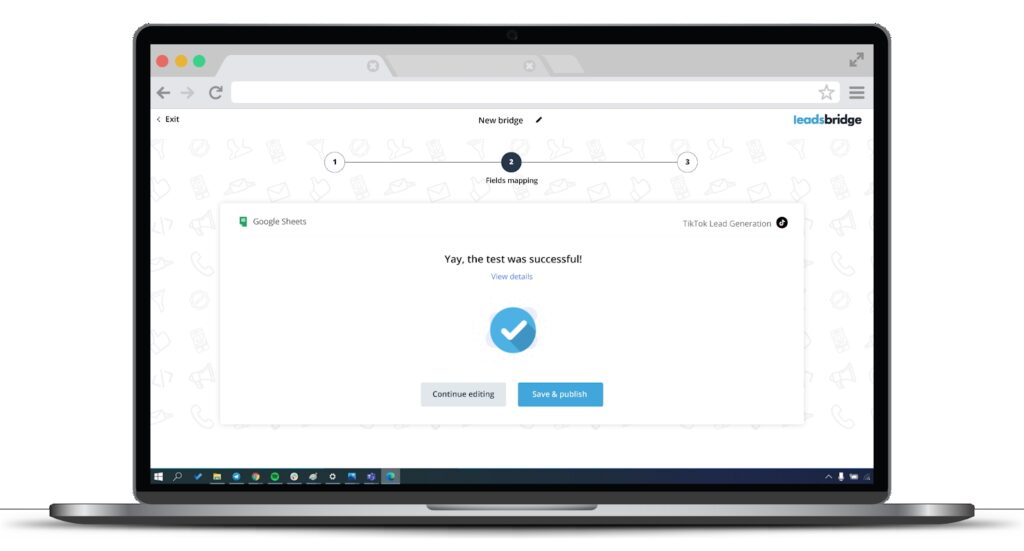 4. Click "Save & publish".
And congratulations! Your bridge is now active.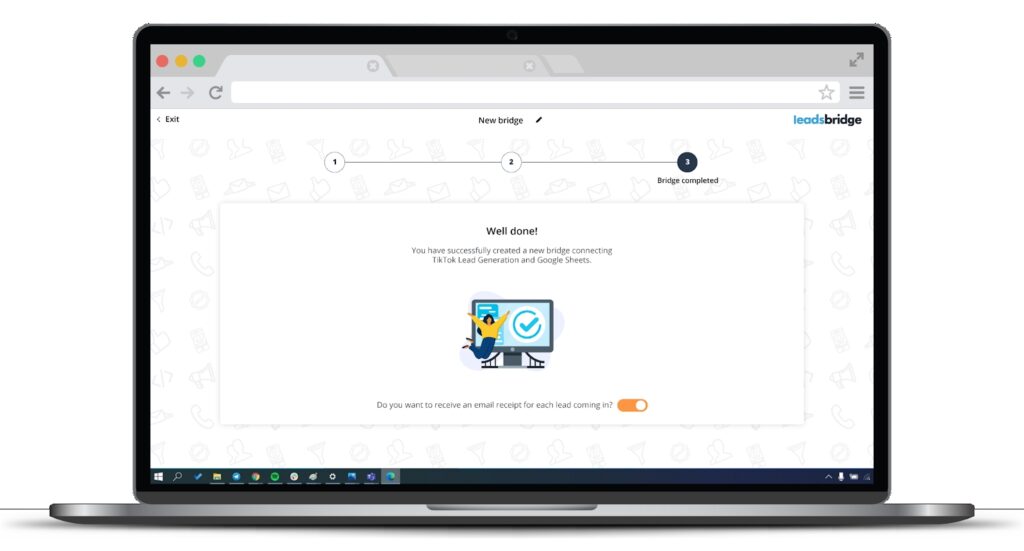 5. Activate the "Email receipt feature".
This is where you can activate LeadsBridge's Email receipt feature to start receiving notifications for your incoming leads right in your mailbox.
All you have to do is to switch on the button where it reads, "Do you want to receive an email notification for each lead coming in?"
This option is free and available for any of the integrations you create.
How to use TikTok for Lead Generation
TikTok's Lead Generation tool allows you to create seamless interactions with your leads so that you can convert them. Once a user interacts with your TikTok videos, they are given a simple form, which they can fill out to get in touch with you.
These are known as the Instant Form within the TikTok app and are used as a Lead Generation feature.
Once a user clicks on your video or ad's CTA, they are shown a form that is pre-populated using the users' profile info, including name, email, phone number, etc.
Actions
Besides our TikTok – Google Sheets integrations, you can create other bridges, aka Actions, to create automated workflows. Here are some of our popular TikTok Lead Generation integration you can use to automate your TikTok advertising workflows.
How much does integrating TikTok with Google Sheets cost?
Our TikTok Lead Generation integrations are available under our Free Forever plans. Remember that this option allows you to handle a limited amount of data transferred between the platforms through our service. For a small amount of data per month, you can use a free plan and upgrade to the Pro plan as your business grows.
Get more information about our plans.
How secure is your data when using TikTok – Google Sheets integration?
We maintain top security data standards for all our integrations, including:
No storing of your lead data at any point
Compliance with GDPR, PCI, Facebook, Google, and LinkedIn
Frequent security audits by third-party testers
Consent-based marketing for scalable and safe customer acquisition
Get more information
Discover more about how to add TikTok Lead Generation to Google Sheets using our platform, or request a demo.
Find more info about all the possible TikTok integration through LeadsBridge here.