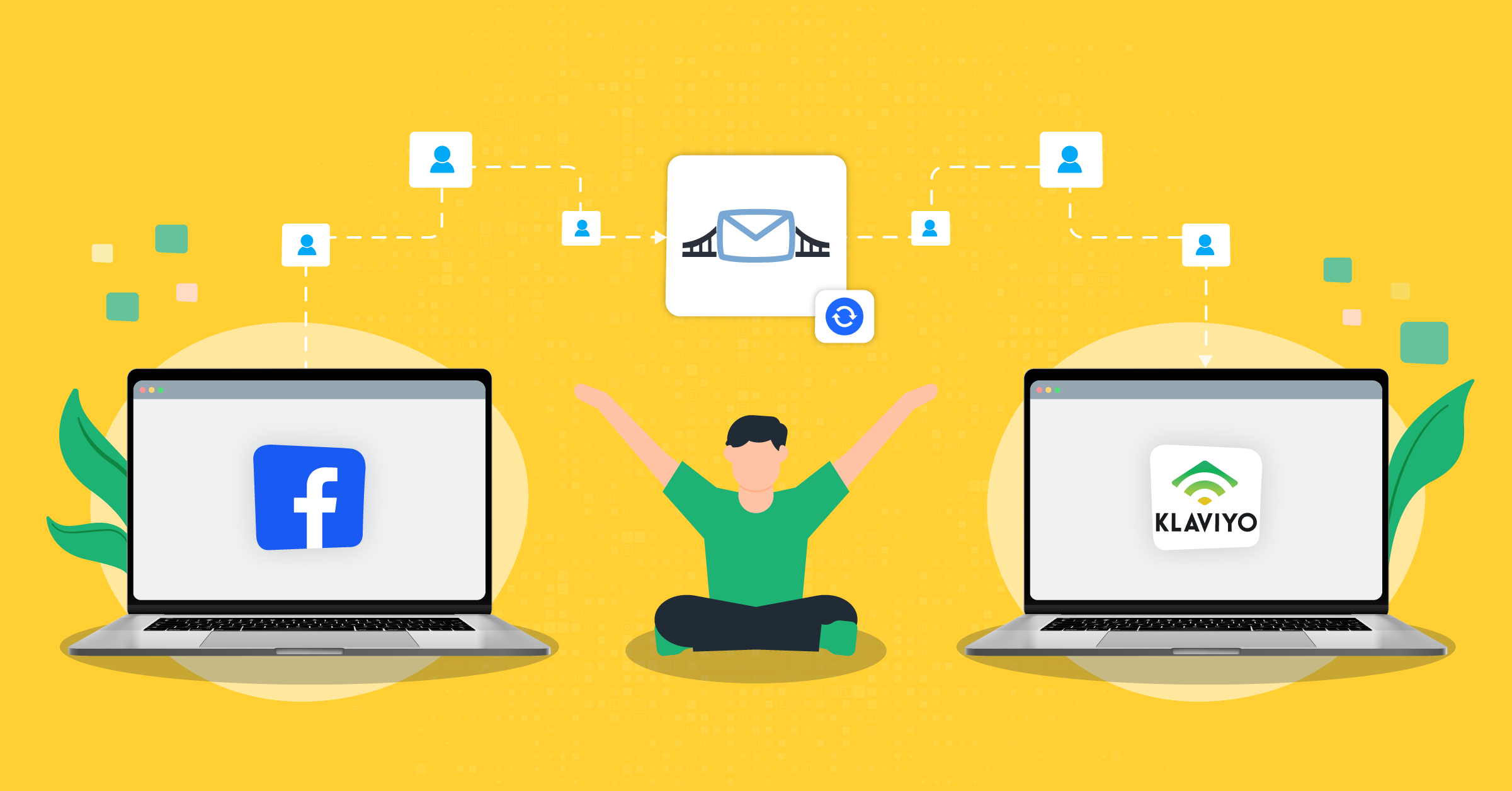 It's clear that Facebook Lead Ads are invaluable when it comes to collecting high-quality leads at a relatively low cost and on a solid scale. That's a massive asset for businesses of all shapes and sizes.
The leads, however, are only going to be as valuable as what you manage to do with them once you get them.
Knowing how to nurture and engage your leads is crucial, and the right tools and integrations can go a long way to help with that. Our Klaviyo and Facebook Lead Ads integration is a great example.
In this post, we're going to discuss why you should use our Facebook Klaviyo integration and the core benefits you can get if you do.
What is Klaviyo?
Klaviyo is an email marketing and SMS marketing SaaS tool. It's a platform that focuses heavily on automation, using action-based triggers and cues to know when to send users the right message through different channels.
It utilizes both automation and hyper-deep segmentation to increase the personalization of the messages you're sending.
It's easy to use, and it's accessible for businesses of all experience levels.
Want to learn more about getting the most out of Klaviyo? We have multiple integrations for Klaviyo, which you can check out here.
What is a Facebook Lead Ads & Klaviyo integration?
LeadsBridge's Facebook Klaviyo integration was specifically designed to link Klaviyo and Facebook Lead Ads so that you can streamline data syncing between the two.
This integration takes just a few clicks to set up to sync the two platforms, which will then allow you to have data shared back and forth between the two platforms automatically.
Read this step-by-step guide to learn how to connect Facebook Lead Ads to Klaviyo.
Your Facebook Lead data will be sent to Klaviyo automatically, so that you can follow up promptly with SMS and email campaigns created specifically for those users.
And even better— we know that you're already paying for the leads you get from Facebook Ads and for Klaviyo's services, so our integration is included with LeadsBridge's free forever plan. Sign up for free here.
5 Benefits of a Klaviyo Facebook Ads integration
There are five major benefits that marketers and businesses can experience by using our Klaviyo Facebook Lead Ads integration. Let's take a look at each one.
1. Save time by skipping single data transfers
Our Facebook Ads Klaviyo integration allows all newly completed Lead Ad forms to be sent straight to Klaviyo in real-time.
You don't need to have team members checking in once a day or more to spend a minimum of ten minutes each downloading the lists from Facebook and then uploading them to another platform, with wait times in between.
This means your team members get more time back into their days, with one less task to focus on. As a result, they can be more productive and focus on the work they need to do: Creating great campaigns to re-engage and nurture your customers.
2. There's no need for manual list updating
Besides saving time, automated data transfers offer additional benefits.
Manual list updating can be complicated. You might need to check for duplicate emails or struggle with technical difficulties.
There's also the risk that manual lists are prone to human error; your team forgets to download and upload the list for two or three days, and you very well could have leads that have already dis-engaged and become lost forever before you figured it out.
Automation is better when it comes to time-consuming and repetitive but still-crucial tasks.
3. The integration works quickly
Our Facebook Lead Ads and Klaviyo integration isn't just automatic; it's also fast.
New lead forms that come in through Facebook Ads can be sent over to Klaviyo in the blink of an eye and almost instantaneously.
This means that your new leads are getting outreach campaigns as soon as humanly possible, either through email or SMS (or both!), that are tailored to them and their customer journey so far based on the lead ad they converted on.
4. It's easier to engage leads while they're hot
The reality is that it's easier to engage leads while they're fresh off the press, so to speak.
You must connect with users while they're excited and interested. Waiting even a day might mean their interest has declined, or even that they've gone to check out a competitor who was more responsive than you.
Klaviyo has exceptional trigger-flow campaign options. You can create autoresponders specific to the lead ads that users have converted on so you can send them hyper-relevant emails and texts that feel personalized to them.
Fast, rapid responses are best. This is true whether you're sending a welcome email, an invitation to book a free consultation or appointment, or to send them a free ebook or webinar access they converted on. Timeliness is key.
5. You'll sell more & faster
Finding better ways to streamline your sales and marketing process isn't just about saving time; it also means that your entire team has the data that they need faster.
You can pull data from Klaviyo, for example, to see which emails were opened, and that data can be sent to your CRM. So not only can your marketing team optimize their messaging accordingly, but you can get valuable data about user activity.
This only happens, of course, when you're able to get in touch with leads quickly and reliably.
And with this information, your sales team can reach out on a personalized basis to engage leads. This can mean more conversions more efficiently, which is an incredible benefit that most brands will love.
Final thoughts
Facebook Lead Ads makes it possible to connect with high-value, high-quality leads quickly, and Klaviyo makes it possible to re-engage them on a more personalized basis.
Our Facebook Lead Ads and Klaviyo integration bridges the gap between the two, combining quality, speed, and efficiency from every side so that your leads can get the information they want faster. It's quick to set up, and it's included in our Free Forever plan, making it a great option for brands who use both tools.
Want to streamline your lead engagement process? Try our Facebook Lead Ads Klaviyo integration free today!