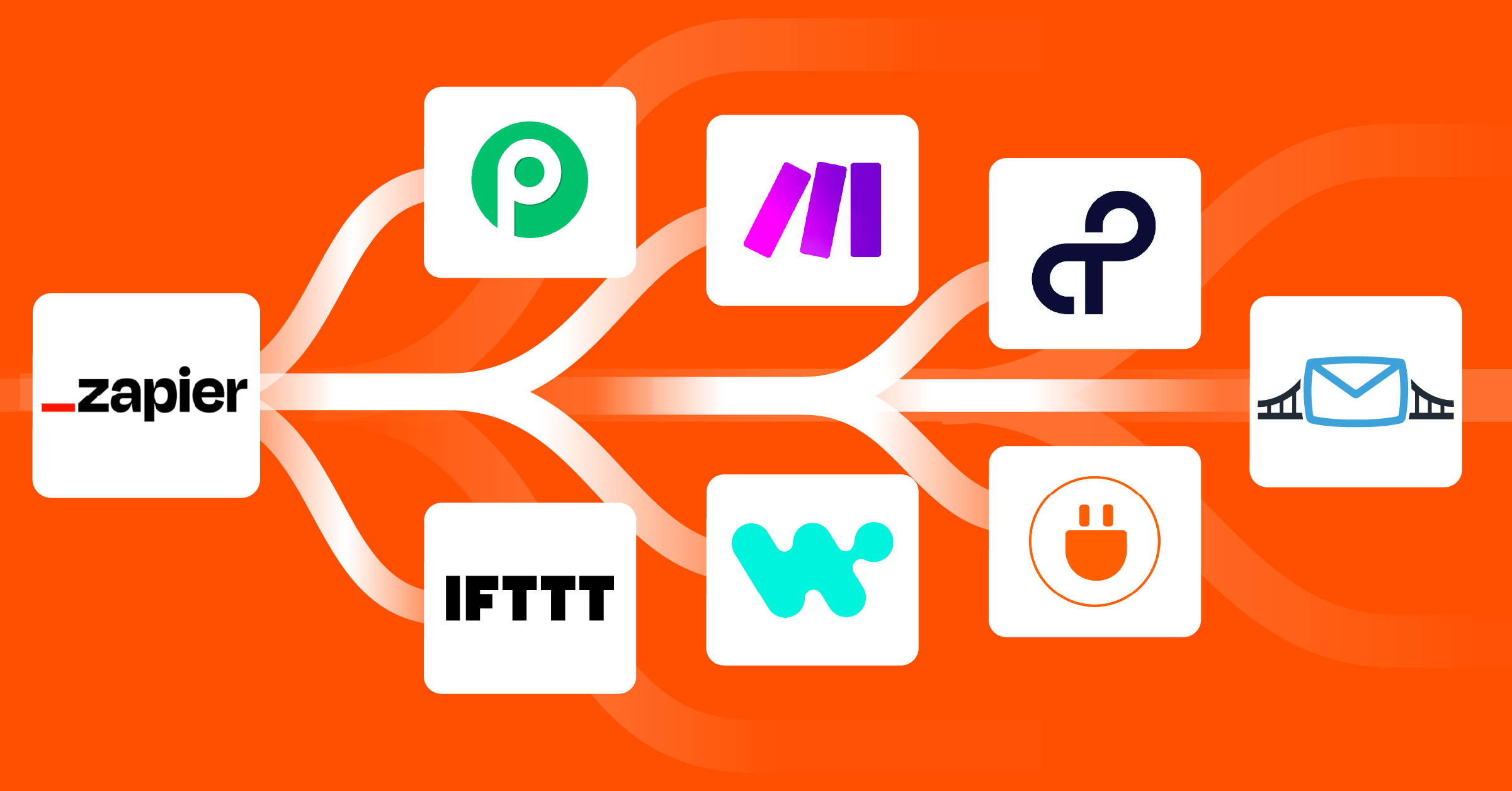 In recent years, the number of software that companies have to manage for their business has increased considerably. For this reason, a new need has arisen in the market: being able to connect the various software with each other, to improve team efficiency and productivity.
For example, check out what you can integrate with Facebook Lead Ads through LeadsBridge, for free.
If you'd like to explore more integration possibilities, you can use our Bridge Builder simulator.
Before Zapier, these integrations were created ad-hoc by experienced developers, which made it difficult – especially for small companies – to be able to access this type of service. However, Zapier was born as a generic software that often failed to meet the specific needs of some markets. That's why over time, Zapier competitors – such as LeadsBridge – have emerged, and in this article, we will go over some of the most important Zapier free alternatives.
What is Zapier?
Zapier is a web-based tool that connects apps together and automates workflows. With it, you can link web apps to share data and build processes easily without coding. Currently, Zapier has over 5,000 app integrations, such as Facebook Lead Ads, Slack, Google Sheets, Google Docs, Quickbooks, and many more.
However, if Zapier is too limited for your business needs, there are Zapier competitors you can consider.
There are many Zapier free alternatives that can help you connect your everyday business tools together and automate your task for efficiency. You can find them listed below.
Best Zapier competitors
1. LeadsBridge VS Zapier
LeadsBridge is an advertising automation platform that helps you generate quality leads, sync audiences, and track offline conversions. It is perhaps the best free Zapier alternative you can find online. LeadsBridge is the right solution when you want to connect advertising platforms – such as Facebook, Google, LinkedIn, and TikTok – to your favorite marketing tools to generate quality leads, improve campaigns, and grow sales.
LeadsBridge is suitable for companies that want to streamline their advertising activities through the integration of their marketing stack. It helps them send leads collected from Facebook, Google, LinkedIn, TikTok, to their favorite CRM, email marketing software, website solution, SMS provider, or any other marketing tool of choice.
LeadsBridge has over 380 integrations across different industries to help customers sync data in a GDPR compliant way. This includes CRMs, Email marketing services, booking systems, business management, Real estate, marketing agencies, financial services, etc.
Here are some of the most popular integrations by LeadsBridge:
If you'd like to look for a specific connection, here you can find the complete list of our integrations.
LeadsBridge is also suitable for companies that build advanced sales processes that involve various marketing channels. Through LeadsBridge, these companies can send email notifications when there is a new lead, automate retargeting campaigns to leads and customers, and implement a complete funnel tracking system for offline conversions.
LeadsBridge has a unique approach to support. We help customers choose the best suitable workarounds and the best lead generation strategies that can help companies grow continuously.
The differences between Zapier and LeadsBridge
Thinking of choosing between LeadsBridge and Zapier? The table below will help you make an informed decision.
Top LeadsBridge features
With LeadsBridge, you can automatically sync leads from Facebook Lead Ads, Google Ads lead form extensions, LinkedIn Lead Gen Forms, and TikTok Lead Generation into your favorite CRM, email marketing software, or any other marketing tool of your choice. Lead data is transferred automatically and in real time across platforms, allowing you to start working on your leads as soon as they interact with your business.
LeadsBridge helps you automatically populate your audiences from different platforms such as Google, Facebook, and LinkedIn. This allows you to create custom audiences and lookalike audiences using different CRMs or cloud files. With this tool, you can also create CRM segments and use them to populate your ideal custom audiences or exclude audiences from your campaigns.
With sales happening both online and offline, this tool helps you get a full picture by tracking your offline transactions and understanding the real performance of your online campaigns. LeadsBridge does this on Facebook through Facebook Conversions API and on Google through Google Offline Conversions Tracking.
LeadsBridge provides tailor-made CRM integrations for complex workflows. This service is especially suitable for companies with unique needs that are not available on the integration list.
Secure solution trusted by top partners
LeadsBridge is a GDPR, CCPA, Facebook, Google, TikTok, and LinkedIn compliant solution, which makes it a trusted partner of the top advertising and marketing platforms in the business.
Pricing: A new Zapier free alternative
As seen in the pricing table above, LeadsBridge's plans are affordable for both small and big businesses.
There are three plans available:
1. Free plan
This new Zapier free alternative includes 1 running bridge and allows you to move up to 50 leads per month. What does this mean? It means that inside your LeadsBridge platform you can potentially have more than one bridge, but you can only have one bridge up and running at a time. Compared to Zapier free plan, LeadsBridge Free plan allows you to move leads across platforms in real time, from a source into a destination of your choice, as soon as they interact with your business.
Take advantage of the Free plan to start testing and experimenting with LeadsBridge. Here are a few examples of our most popular free integrations.
2. Pro plan
The plan's starting point includes 3 bridges and 800 leads per month, for $22 a month (paid annually). From there, it allows you to move up to 300K leads per month and have up to 500 bridges. According to your needs, you can fully customize your plan as you wish, and the monthly fee will adjust accordingly. Everything that is included in the Free plan is also included in the Pro plan. Plus, you will have access to all complex automotive CRMs (such as ADF/XML, VinSolutions, DealerSocket, elead, and more), Gym & Fitness apps (such as Mindbody), Custom Audiences, and Online-to-Offline Tracking.
You have 14 days to test out the Pro plan for free, no credit card required, and see if it works for you.
3. Business plan
This plan is perfect for those marketers who have to integrate their own internal CRM, or just have very specific business needs that require a custom integration. With this plan, you can rely on our team of developers to handle everything for you. This way, you won't have to hire developers or devote your own developers' time to building and monitoring the integration. Also, you will have a dedicated LeadsBridge Customer Success Manager, who will support you and guide you in setting up and managing your account, allowing you to have immediate contact with a Partner Solution Engineer.
If a custom integration is what you need, you can easily request one here.
Zapier free plan
Zapier also has a free plan. However, what is included in that plan is what makes Zapier free plan fundamentally different than LeadsBridge free plan. There are 3 main differences between Zapier and LeadsBridge free plans.
Lead sync
LeadsBridge offers for free fundamental integrations that Zapier only offers in its paid plan. If you're using Facebook Lead Ads, Google Ads lead form extensions, LinkedIn Lead Gen Forms, or TikTok Lead Generation for your lead generation campaigns, know that Zapier allows you to integrate these tools only if you subscribe to their premium service.
On the contrary, LeadsBridge allows you to connect lead sync tools with the rest of your marketing stack for free, to move leads across platforms automatically and in real time. With our free plan, you can run 1 bridge at a time and move 50 leads per month, which is the best solution for small companies or freelancers who don't have to deal with huge lead volumes just yet. This allows them to automate their workflows and save budget that they can invest in other activities.
Real-time data sync
LeadsBridge only takes a few seconds to sync every single lead coming in, while Zapier free plan doesn't offer real-time sync.
Instead, Zapier has different timing options based on the kind of plan you choose to subscribe to, where the best option is a 1-minute update. Still way longer than LeadsBridge instant sync.
Email receipt
LeadsBridge offers the Email Receipt feature for free, while Zapier requires to create an additional Zap, in order to activate the email receipt feature.
On the contrary, all LeadsBridge users have the opportunity to receive a notification via email every time a lead interacts with their ad or web form, for free.
Learn more about the differences between Zapier and LeadsBridge here.
2. Pabbly Connect Vs. Zapier
Pabbly Connect is a tool that helps you to automate your integrations. With it, you can create automated workflows and move data from one app or service to the other automatically. Pabbly integrates with over 1000 applications which include CRM, marketing, e-commerce, help desk, and payment applications.
Pabbly Connect features
Pabbly Connect allows you to send emails through simple workflows and get email notifications.
It has flexible and adjustable security protocols.
It helps to integrate popular CRM, eCommerce, help desk, payments and other applications.
The formatter tool helps users to convert numbers, dates, text, and currency into desired formats.
It helps you create your integration and workflows very fast.
Pricing
Pabbly Connect has four paid plans: the Standard ($25/month), the Pro ($50/month), the Ultimate ($100/month), and the Ultimate plus ($200/month). All plans come with different sizes of operations per month, and by subscribing to the 12, 24, or 36 month package you get an incrementally higher discount on your monthly fee.
3. IFTTT Vs. Zapier
IFTTT (IF This Then That) is a tool that helps you connect your apps and devices together. Businesses can use it to create connected experiences customers love. It works with the aid of applets. The applets help to create triggers (If This) and actions (Then That).
IFTTT Features
IFTTT is compatible with top social media apps such as Facebook and Twitter. This helps you post and tweet from anywhere to everywhere.
It helps you sync across different devices.
It helps you integrate with your favorite music apps such as Saavn, Spotify, Songkick, etc.
With IFTT, you can send notifications to Instagram posts, weather, reminders, news update, etc.
Pricing
IFTTT has three plans: the Free plan, the Pro plan (€2,5/month), and the Pro+ plan (€5/month).
4. Make Vs. Zapier
Say goodbye to Integromat, and welcome to Make. Integromat recently renovated itself and transformed into a new platform that allows you to visually create, build, and automate workflows.
Make features
Make helps boost productivity across every area or team by designing powerful workflows without relying on developer resources.
Its drag and drop feature lets you automate existing workflows or build new complex processes.
It allows you to Integrate all your tools and manage your processes in one single platform.
It has 1000+ ready-made app integrations.
It helps you get started with thousands of free workflow automation templates, that you can customize to match your ideal workflows.
Pricing
Make offers 5 different plans: a Free plan, a Core plan ($9/month), a Pro plan ($16/month), a Teams plan ($29/month), and an Enterprise plan (talk to Sales to get a quote).
5. Workato Vs. Zapier
Workato is a tool that IT and businesses use for integration and automation. It uses Recipe to help connect apps to carry out specified tasks on apps, triggers, and actions. Workato integrates with over 1000 business applications. With it, you can build customized integrations for your business needs. Workato supports the major integration needs of a business such as sales, support, and marketing with over 500 connectors.
Workato features
Workato has an intuitive interface that houses the Recipe IQ, responsive and reusable integrations, and smart versioning.
Its Recipe IQ feature helps users build effective integrations and automation.
Workato has responsive integrations that make it easy to design workflows.
The reusable integrations feature makes it easy to clone and share integration recipes for quick use.
The smart visioning feature helps build integrations with automatic version control.
Pricing
Workato plans are in two phases: one for businesses and one for products. Neither of those prices is stated so you are required to get in touch with them in order to have a quote.
6. Zapier VS Integrately
Integrately is an automation platform that helps you connect over 1000 apps with pre-made automations. All you have to do is select the apps you want to connect and connect your accounts. After that, the automation is activated and ready to roll. It's ease of use make it a great Zapier alternative, even though it's not free.
Integrately features
Integrately allows you to set up automations in just one simple click.
Even though it doesn't offer a free plan, it's still significantly cheaper than Zapier.
It offers more than 1000 integrations.
When you create automations, there is a short step-by-step video within the builder that shows you how to find each application's API key. This makes it incredibly easy to connect tools even if you have no technical background.
It's possible to add more complex data modifiers in case you'd like to have "if-then" scenarios.
Pricing
Integrately counts 4 paid plans: the Starter plan ($19.99/month), the Professional plan ($39/month), the Growth plan ($99/month), and the Business plan ($239/month). What catches the attention is the fact that they are not shy when it comes to comparing themselves to Zapier. On the contrary, they make it a point to always let the user know where they stand in the comparison with Zapier and how much cheaper their solution is.
7. Tray.io Vs. Zapier
Tray.io is a tool that allows you to easily automate complex processes through a powerful, flexible platform, and connect your entire cloud stack thanks to APIs. Thanks to unique visual tools that mimic the logic and flow of processes, Tray.io allows any user to build robust, complex integrations across 600+ apps to move data quickly and easily.
Tray.io features
It has "helpers" – little enhancements – that help users build workflows faster and easier. For example, Phone Number Helpers check whether a phone number is in service, and extract that phone number into any format you like; or, File Helpers easily create a JSON file directly from an API response within your workflows.
It features an HTML DOM Parser, which incorporates HTML DOM (Document Object Model) elements into your workflows.
It has an XML Decoder, which can easily and automatically translate XML into JSON.
It allows you to force-stop a workflow at any step, including within a branch or Boolean, for incremental testing or fine-tuning.
Pricing
Tray.io offers three different plans: the Professional plan, the Team plan, and the Enterprise plan. However, none of these plan present clear pricing. The only information shared is that workflows are priced by volume so you're required to get in touch with them in order to have a quote.
Zapier Parser alternative
Zapier is not the only tool that provides an email parser. LeadsBridge is a great Zapier parser alternative, offering an automated email parser service. But what is an email parser? It's a piece of software that allows you to extract specific data fields from incoming emails. By doing so, it allows you to convert an unstructured email into easy-to-handle structured data, automatically.
Here are a few of our integrations that provide an email parser:
If you'd like to learn more about email parser, you can take a look at this article from our blog: Email Parser: What is it and how can it help your business?
Conclusion
Above are a few Zapier competitors you can use for your business. The truth is, every tool reviewed above has some unique features. For example, Zapier is easy to use and connects a lot of existing software on the market; LeadsBridge is specifically designed around the companies' advertising and marketing needs, and IFTTT is good when you or your team already have some advanced technical skills. Choose the one that best fits your needs!
If you'd like to take a closer look at LeadsBridge's platform, click here.