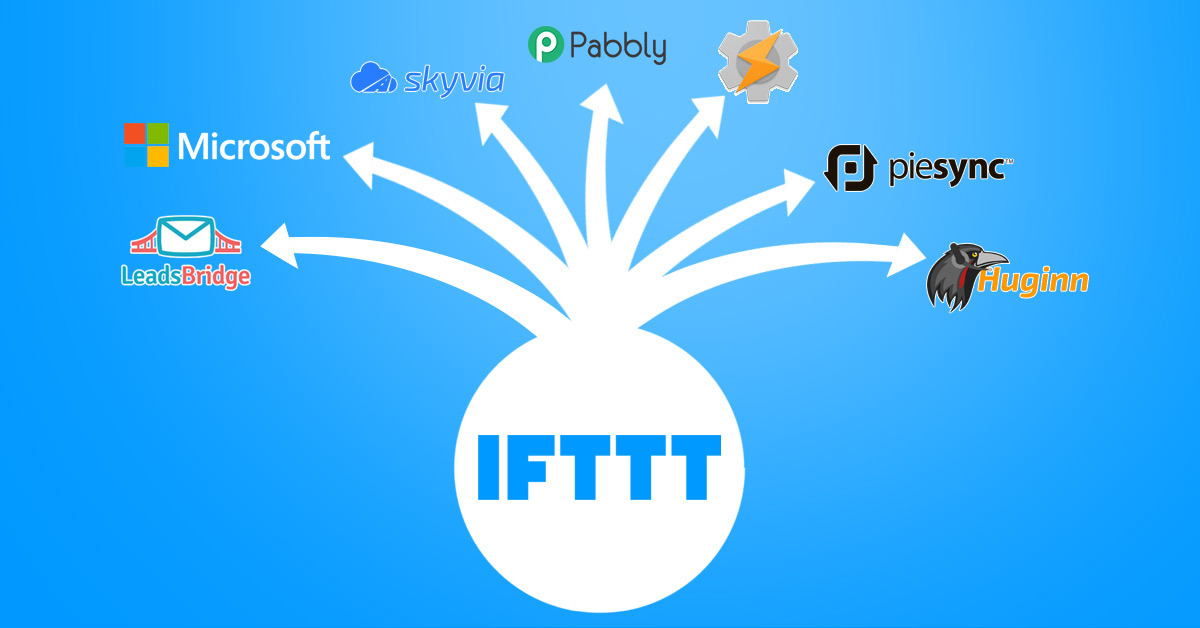 Nowadays, in companies, there is an increasing need to use different software to manage various activities.
Thus, a new need has emerged on the market: that of being able to connect the various software among themselves to improve the company's efficiency and productivity. If these procedures were carried out only by experienced technicians until a few years ago, at very high costs, now the situation has clearly improved.
In fact, there are several tools, such as IFTTT, that allow companies to fully exploit the new potential that this technology has to offer.
In this article, we will see:
What is IFTTT?
How IFTTT works?
Why companies should use IFTTT software?
7 Best IFTT alternatives
What is IFTTT?
IFTTT derives its name from the conditional programming phrase "if this, then that". The company provides a software platform that connects applications, devices, and services of different developers to activate one or more automation involving such applications, tools, and services.
These automation and the resulting combinations are called "Applets". Applets essentially automate the daily workflow, whether it is the management of intelligent home devices or apps and websites.
For example, if you have the Philips Hue smart lighting system, you can use IFTTT to automatically turn on a light whenever you are tagged in a photo on Facebook.
In another example, you can use an IFTTT connection to automatically send an email to readers when they comment on your WordPress blog.
Therefore, the applet, or recipe, is a combination of events based on two different services, devices, or platforms, called services, the IFTTT partners.
The potential that IFTTT offers its users is choosing or creating a combination of the software. In terms of choice, IFTTT offers its users a library of applets. This is because IFTTT represents an open, shared, and potentially infinite ecosystem.
How IFTTT works?
As said before, automation is realized through applets, which are a sort of macro that connects multiple apps to perform automated tasks.
You can enable or disable an applet using the IFTTT website or mobile apps (or IFTTT mobile app widgets).
It's also possible to create applets or make changes to existing ones using IFTTT's intuitive and straightforward interface.
While it's easy to see the services and applets available on the website, it's just as easy to activate applets or create new ones in the app.
On the website, users can browse the applets by category, while on mobile, it's possible to search for topics and services by scrolling through the homepage or looking at what IFTTT offers.
On the homepage, it's possible to see the recommended applets, the most popular applets, applets for newbies, and many other 'collections' (for Google, Android, voice assistants, social media, photography, car, shopping or music lovers and so on).
If you are interested in learning more about the creation of Applets, IFTTT has published a video on YouTube that explains in more detail how they are created:
Why companies should use IFTTT software?
The technology that IFTTT offers companies has enormous potential. This tool can create much automation (even complex ones) in a few steps, both mobile and web-based.
For example, thanks to IFTTT automation, a company's marketing team can automate all those performed manually by merely searching or creating the most suitable applet.
If we talk about eCommerce instead, IFTTT technology helps companies in the industry to manage better all the mechanics needed to manage an online store.
Furthermore, IFTTT technology can be used by companies to manage appointments and calendars. So you always have an up-to-date list of things to do or meetings.
Let's see what IFTTT offers in more detail:
Connect Your Social Media Accounts
IFTTT offers many ways to connect social media such as Facebook, rather than Instagram or Twitter. An incredibly exciting feature is the ability to synchronize your company blog with socials so that all blog posts can be automatically shared on socials once posted on the blog.
Receive custom email notification
IFTTT technology allows companies to create Email Notification to stay updated whenever a specific action occurs, such as a new subscriber to the email list.
Real-Time stock monitoring
This feature, useful for eCommerce, allows keeping under control of the warehouse's stock level daily in a customized spreadsheet.
Twitter hashtags. Track Brand mentions
IFTTT offers many ways to keep track of companies mention on social media platforms such as Facebook, Twitter, or Reddit. These can be automatically imported into a Google spreadsheet for tracking. You can also track specific hashtags.
7 Best IFTT alternatives
LeadsBridge is an iPaaS that support companies in their data-driven decisions, enabling data connections between business assets, and/or advertising accounts.
Being a connector of marketing tools, LeadsBridge is the perfect IFTTT alternative service – for example – when you want to connect different platforms for improving your lead generation, sales, and tracking processes.
Moreover, the platform is suited for companies that want to streamline their advertising activities by integrating the marketing technology stack with Facebook & Instagram Ads, Google Ads, and LinkedIn Ads.
LeadsBridge helps companies send leads collected by Facebook Lead Ads, Google Lead form Ads, LinkedIn Lead Gen Forms, etc. to their favorite CRM, Email Software, SMS providers, and so on. With so many helpful integrations, LeadsBridge is the ultimate tool for 'Bridging' the gap between your online tools so that you can streamline your data management.
Compared to IFTTT technology, LeadsBridge offers its users several unique features like:
LeadsBridge provides tailored integrations for complex workflows. This is suitable for companies with unique needs that are not available on the integration list. LeadsBridge helps to integrate custom or internal CRM for such companies.
LeadsBridge helps companies automatically populate their audience from different platforms like Google, Facebook, and LinkedIn. This can help you create custom audience segments and similar audience segments using other CRM's or cloud files.
This tool allows companies to monitor their offline transactions and understand the performance of online campaigns. LeadsBridge offers this service on Facebook through Facebook Offline Conversions and on Google by monitoring Google Offline Conversions.
With LeadsBridge, you can automatically synchronize leads from Facebook Lead Ads, Google Lead Form Ads, LinkedIn Lead Gen forms with your favorite CRM, and Email Marketing software.
Much, much more
LeadsBridge offers integrations between many tools specialized for a variety of industries. Anything from Health & Wellness platforms to Payment gateways can easily be integrated with your favorite data management tools.
Moreover, LeadsBridge has over 370 integrations in different industries to help customers synchronize their data. All these operations are always performed in a GDPR compliant way.
Pabbly Connect is a tool that helps you to automate your integrations. With it, you can create automated workflows and move data from one app or service to the other automatically. Pabbly integrates with over 300 applications which include CRM, marketing, e-commerce, helpdesk, and payment applications.
Pabbly Connect features
Pabbly Connect allows you to send emails through simple workflows and get email notifications.
It has flexible and adjustable security protocols
It helps to integrate popular CRM, eCommerce, helpdesk, payments, and other applications
The formater tool helps users to convert numbers, dates, text, and currency into desired formats
It helps you to create your integration and workflows very fast.
Microsoft Power Automate (formerly Microsoft Flow) is a cloud-based workflow automation solution that enables creating and managing simple and complex workflows to automate tasks and processes across multiple services or applications.
This best IFTTT alternative platform enables users to simplify repetitive tasks and paperless processes by offering seamless integration with other products, including Salesforce using hundreds of pre-built connectors. The ability to manage an on-premises data gateway enables connection to both on-premise and cloud data.
Microsoft Power Automate allows users to create complex, multi-step flows to enable multiple actions or advanced options with a single event. Advanced options allow users to customize activities performed, such as marking an email sent through the workflow as highly prioritized.
You can also add conditions to workflows to specify that actions should only be performed in certain situations. An example of use is to store Tweets received in SharePoint based on the keywords they contain, but only if the Tweet is retweeted a certain number of times.
Skyvia is one of the best IFTTT alternatives cloud data platform that allows users to fully control corporate data in various sources, such as Salesforce, Dynamics CRM, QuickBooks, MailChimp, SQL Azure, MySQL, and many others.
With Skyvia, users can integrate cloud data and relational data without encryption, back up cloud data securely and restore it in a few clicks.
This platform offers data integration based on an effortless wizard without the need for coding skills. Users do not need to be IT professionals to perform it: data integration can be automated and programmed.
Users can import CSV files and cloud data or databases into other cloud apps/databases with powerful mapping functions. Similarly, data can be exported from a variety of cloud applications and relational databases into CSV files.
With this App similar to IFTTT, users can create a replica of cloud application data in a database and keep it automatically updated. Users can also synchronize databases and cloud applications in both directions, even when they have a different structure.
Tasker is an automation application where users can create a list of actions, called tasks, that can be executed according to different contexts.
This App, similar to IFTTT, offers tasks like IFTTT applets, and both services have a wide variety of plugins. IFTTT has broader service support and cross-platform usability, but Tasker can do more on Android devices that it touches with more complex actions.
Actions in Tasker's tasks can be as simple as turning a setting like Bluetooth on or off or as complicated as sending app-specific media and control commands through third-party plugins. The contexts can be multiple, from automatic profiles or plugins to shortcuts, or open the App and press play.
The first IFTTT alternative is PieSync, recently acquired by HubSpot, which is a cloud-based data synchronization platform that automatically synchronizes data between applications, including email, CRM, customer service platform, and more.
PieSync features include 360-degree customer viewing, 2-way synchronization, application integration, task dashboard, workflow management, and growth scale. Eliminate back-office operations such as manual data entry or importing and exporting customer data between cloud applications.
Additionally, PieSync integrates with Salesforce, MailChimp, Office 365 Outlook, Nimble, HubSpot, Microsoft products, social media platforms, and other Google applications. It is available as a free trial with limited functionality, and the price of PieSync is based on a monthly subscription. Support is extended via live chat, phone, and email.
Huginn is an open-source app designed to work on the server-side and best be described as a combination of Yahoo Pipes and IFTTT.
Even if this type of software requires specific technical skills can be a better alternative to IFTTT. However, once you've configured the app, Huginn will offer you the ability to "read" the Web, monitor events, and take actions, all without ever sending your data to an external third-party app.
The app is fully compatible with the increasingly popular Docker and, because it's open-source, it's completely free.
Conclusions
In this article, we discussed the topic of IFTTT and how important automation is between different software. This because a new need has emerged on the market: that of being able to connect the various software among themselves to improve the company's efficiency and productivity.
Specifically, it has been seen:
What is IFTTT?
How IFTTT works?
Why companies should use IFTTT software?
7 Best IFTT alternatives
In addition, we have deepened the 7 Best IFTT alternatives, which are:
LeadsBridge
Pabbly Connect
Microsoft Flow
Skyvia
Tasker
Piesync
Huginn