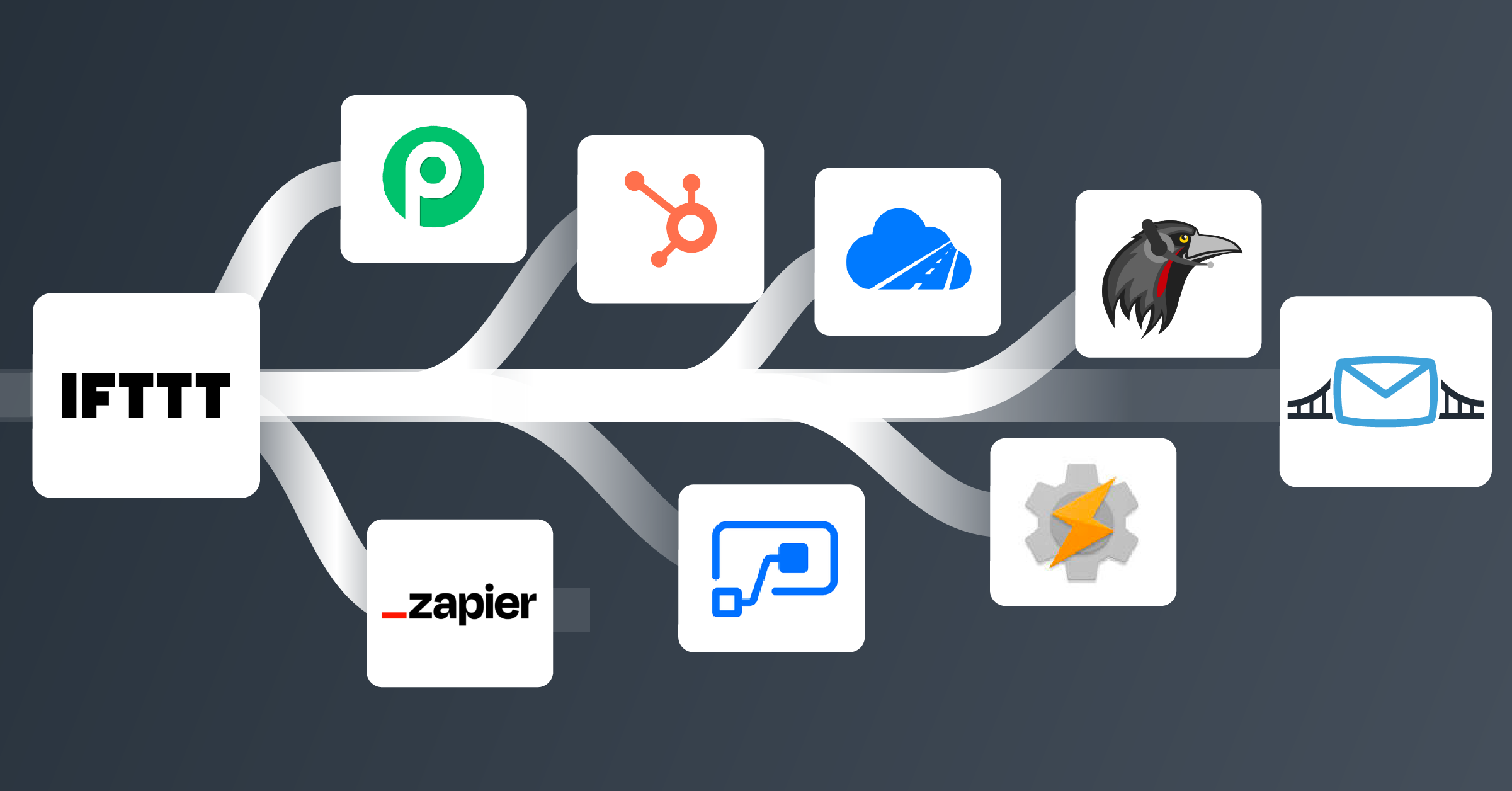 In today's business landscape, constants are few and far between. Changes are fluid, consistently occurring and pushing managers, entrepreneurs and staff alike to remain malleable in their approach to operations.
Similarly, there is an ever increasing demand for fully capable software that can manage and automate numerous activities, implement change and achieve the desired results.
The need for comprehensive software has been addressed by a plethora of companies, such as IFTTT, who have produced automation platforms that allow you to perform actions that link multiple devices and services.
Throughout this article, you will discover the nature of IFTTT and how it works, how businesses can benefit from employing this software and the seven best IFTTT alternatives available on the market.
What is IFTTT?
Deriving its name from an acronym of the popular conditional programming statement "If this, then that", IFTTT provides a software platform that connects applications, devices, and services of various developers. By doing so, automations are activated.
The IFTTT application offers over 700 apps and services connections, which when connected transform into combinations called applets. These applets allow for the performance of actions that each app or device could not carry out on their own, enabling the automation of daily operations and workflows.
For example, you can implement an IFTTT connection to automatically send an email to readers whenever they leave a comment on your WordPress blog, or remind a Slack channel about an upcoming meeting.
In the past, applets within the IFTTT system had a singular trigger followed by a singular action. However, the service has now undergone development which has resulted in applets having the ability to perform multiple actions, they can be run according to your direction and can be subject to filters and conditions.
How does IFTTT work?
As touched on above, IFTTT works by connecting various apps and devices to enable them to carry out actions together that they would not otherwise have the ability to do in a singular format.
These combinations are considered applets, which enable the automation of activities related to their capabilities.
From within the IFTTT website or mobile app, you can easily enable or disable specific applets. Similarly, you have the opportunity to establish and alter applets using the platform's intuitive interface.
On the website, users can browse the applets by category on both desktop and mobile, filtering your search according to topics, services and collections, including Google, social media, voice assistants and so on.
To grasp a more in-depth understanding of how to implement IFTTT integrations and create applets, you can browse the company YouTube channel here.
Why should companies use IFTTT software?
The technology that IFTTT offers companies has enormous potential. This tool can create even the most complex of automations in a small series of steps, which can be both mobile and web-based.
Whether it's automating a company's marketing activity, aiding companies in the efficient management of all the mechanics necessary to run an online store or managing appointments and calendar, IFTTT technology has a solution that can be advantageous for your business.
Let's take a look a more granular look at a number of these advantages;
1. Connect your social media accounts
IFTTT offers various ways to connect your business's social media accounts. One of the most exciting features of this software is the ability to synchronize your company blog with socials so that all blog posts can be automatically shared on socials once published.
2. Receive custom email notifications
This technology affords companies the opportunity to create email notifications that enable you to remain informed whenever a specific action occurs, whether that may be a new subscriber to the email list or the submission of a form.
3. Real-time stock monitoring
This feature, useful for eCommerce, allows you to keep the stock level in your warehouse under control by employing a daily customized spreadsheet to account for items.
4. Tracking brand mentions and hashtags
The technology offered by IFTTT offers numerous ways to track company mentions on social media platforms such as Facebook, Twitter, and Reddit, as well as specific hashtags. These can be automatically imported into a Google spreadsheet for tracking purposes.
The 8 best IFTTT alternatives available
Having read all of the information provided above and conducting your own research, you may have decided that IFTTT is not the platform best suited to your needs.
Having accounted for this, we have compiled a list of the seven best IFTTT alternatives that you can choose from to facilitate your automation requirements.
These are as follows;
1. IFTTT vs LeadsBridge
LeadsBridge is an iPaaS solution that supports companies in their data-driven decisions, enabling data connections between business assets, and/or advertising accounts. We offer highly specific integrations to make advertising and marketing experience seamless and headache-free. 
Being a connector of marketing tools, LeadsBridge is one of the most suitable IFTTT alternatives, facilitating the connection of multiple platforms, thus improving your lead generation, sales, and tracking processes.
This platform is best suited to companies looking to streamline their advertising activities by integrating their marketing technology stack with Facebook & Instagram Ads, Google Ads, TikTok Ads and LinkedIn Ads.
LeadsBridge helps companies send leads collected via Facebook Lead Ads, Google Lead form Ads, LinkedIn Lead Gen Forms, etc. to their preferred CRM system, email software or SMS providers
This makes the LeadsBridge solution the ultimate tool for 'bridging' the gap between your online tools in order to enable the streamlining of your data management, making your customers happy.
In compared to IFTTT technology, LeadsBridge offers its users several unique features, including;
LeadsBridge provides tailored integrations for complex workflows. This is suitable for companies with unique needs that are not available on the integration list. LeadsBridge helps to integrate custom or internal CRM for such companies.
We help companies automatically populate their audience from different platforms like Google, Facebook, and LinkedIn. This can help you create custom audience segments and similar audience segments using other CRM's or cloud files.
With LeadsBridge audience targeting, you can target new leads whilst simultaneously remarketing to existing ones from within your CRM system and custom audiences on social platforms like Google, Facebook, LinkedIn and TikTok.
With a range of new customized solutions, LeadsBridge offers integrations that facilitate a more affordable approach to audience targeting. This is due to the maximum size of the audience reached being taken into account, implace of the previous model that counted an audience each time a contact was added or removed.
Aside from allowing you to determine the size of your audience, charged at a flat fee, it gives way to greater campaign flexibility.
To find out more about how your business can benefit from this add-on, you can book a call with our sales team today.
This tool allows companies to monitor their offline transactions and understand the performance of online campaigns. LeadsBridge offers this service through Facebook Offline Conversions, Facebook Conversions API, Google Offline Conversions, LinkedIn Offline Conversions API and TikTok Conversions.
With LeadsBridge, you can automatically synchronize leads from Facebook Lead Ads, Google Lead Form Ads, LinkedIn Lead Gen forms and TikTok Lead Generation with your favorite CRM, and email marketing software.
LeadsBridge offers integrations between many tools specialized for a variety of industries. Anything from Health & Wellness platforms to Payment gateways can easily be integrated with your favorite data management tools.
LeadsBridge offers several pricing options, including a free plan that allows you to run a single bridge and sync up to 50 leads per month, a noteworthy IFTTT free alternative.
Discover all of the available pricing plans here.
2. IFTTT vs Pabbly Connect
Pabbly Connect is a tool that helps you to automate your integrations. By using this solution, you can create automated workflows and move data from one app or service to the other, automatically.
This software supports over 1,000 integrations, which include CRM, marketing, e-commerce, helpdesk, and payment applications.
Some of the most prominent Pabbly Connect, an IFTTT free alternative, features include;
Advanced workflow creation, allowing you to implement specific paths and routers that carry out certain actions based on pre-set, specified conditions.
Email Parser capabilities that automatically pull customer data from received emails, including email name, subject, contents of email body and attachments. This information can then be further processed and categorized into segments.
Ability to schedule and delay workflows according to dates, times and other specified periods.
In the question of IFTTT vs Pabbly Connect, Pabbly Connect is best suited to businesses that are looking to establish affordable integrations that require no technical skills.
3. IFTTT vs Microsoft Power Automate
Microsoft Power Automate (formerly Microsoft Flow) is a cloud-based workflow automation solution that enables creating and managing simple and complex workflows to automate tasks and processes across multiple services or applications.
This platform enables users to simplify repetitive tasks and paperless processes by offering seamless integration with other products, including Salesforce® using hundreds of pre-built connectors. The ability to manage an on-premises data gateway enables connection to both on-premise and cloud data.
Microsoft Power Automate allows users to create complex, multi-step flows to enable multiple actions or advanced options with a single event. Advanced options allow users to customize activities performed, such as marking an email sent through the workflow as highly prioritized, making it a popular choice amongst IFTTT alternatives.
You can also add conditions to workflows to specify that actions should only be performed in certain situations. An example of use is to store Tweets received in SharePoint based on the keywords they contain, but only if the Tweet is retweeted a certain number of times.
When considering IFTTT vs Microsoft Power Automate, it is safe to assume that the latter is a better choice for offices given its naturally strong integration with Microsoft tools. Similarly, the complexity involved in establishing a flow was significantly less with Microsoft Power Automate.
Additionally, Power Automate offers a free Power Apps Community Plan to anyone with a work account.
4. IFTTT vs Skyvia
Skyvia is one of the best IFTTT alternatives, as the cloud data platform that allows users to fully control corporate data in various sources, such as Salesforce®, Dynamics CRM, QuickBooks, MailChimp, SQL Azure, MySQL, and many others.
With Skyvia, users can integrate cloud data and relational data without encryption, back up cloud data securely and restore it in a few clicks.
This platform offers data integration based on an effortless wizard without the need for coding skills. Users do not need to be IT professionals to perform it: data integration can be automated and programmed.
Users can import CSV files and cloud data or databases into other cloud apps/databases with powerful mapping functions. Similarly, data can be exported from a variety of cloud applications and relational databases into CSV files.
With this app is similar to IFTTT, users can create a replica of cloud application data in a database and keep it automatically updated. Users can also synchronize databases and cloud applications in both directions, even when they have a different structure.
When questioning IFTTT vs Skyvia, it is important to note that IFTTT is more expensive to implement, but boasts a higher rating amongst users and offers a greater number of features.
5. IFTTT vs Tasker
Tasker is an automation application where users can create a list of actions, called tasks, that can be executed according to different contexts.
This App, similar to IFTTT, offers tasks that are similar to applets, and both services have a wide variety of plugins. IFTTT has broader service support and cross-platform usability, but Tasker can do more on Android devices that it touches with more complex actions.
Actions in Tasker's tasks can be as simple as turning a setting like Bluetooth on or off or as complicated as sending app-specific media and control commands through third-party plugins. The contexts can be multiple, from automatic profiles or plugins to shortcuts, or open the App and press play.
In regard to IFTTT vs Tasker, Tasker offers a more comprehensive volume of triggers, actions, and parameters that can be used in tandem with one another in a variety of ways. If you are attempting to automate tasks based on location, Tasker is the software of choice.
Additionally, Tasker is ranked in first position for android applications, whereas IFTTT falls to third place, making Tasker one of the most prominent IFTTT alternatives.
6. IFTTT vs HubSpot Data Sync
Another of the notable IFTTT alternatives is Data Sync, previously known as Piesync until recently being acquired by HubSpot. This is a cloud-based data synchronization platform that automatically synchronizes data between applications, including email, CRM, customer service platform, and more.
Given the acquisition by HubSpot, a number of Piesync's tools have now been integrated into a HubSpot tool titled Data Sync. Offering two-way sync, filtering, custom field mappings, and historical syncing, this software allows for the creation of a range of customizable integrations in a code-free package.
Additionally, Data Sync integrates with MailChimp, Office 365 Outlook, Nimble, Microsoft products, social media platforms, and other Google applications. This feature is available in free editions of HubSpot software, with additional functionality in premium editions.
In regards to IFTTT vs Data Sync, the latter is considered more usable by customers.
7. IFTTT vs Huginn
Huginn is an open-source app designed to work on the server-side and best be described as a combination of Yahoo Pipes and IFTTT.
Even if this type of software requires specific technical skills, it remains one of the most notable IFTTT alternatives. However, once you've configured the app, Huginn will offer you the ability to "read" the web, monitor events, and take actions, all without ever sending your data to an external third-party app.
The app is fully compatible with the increasingly popular Docker and, because it's open-source, it's completely free.
The most notable difference when considering IFTTT vs Huggin is that Huggin is an open source, self-hosted alternative, giving you greater control over customization.
8. IFTTT vs Zapier
Zapier, the no-code automation platform, enables businesses to connect their apps and transform activity into automated workflows.
With over 5,000 applications to choose from, you can perform the following actions by implementing Zapier, an IFTTT free alternative;
Schedule automated workflows depending on pre-specified triggers, recurring tasks and certain time periods (days, weeks or months). Should you require something to run bi-weekly or bi-monthly, you can add a filter to your schedule to enable this.
Filters allow specific workflows to run on the condition that a specific action has occurred. Using Zapier, you can set filters that are more advanced than generic email receipts and new lead notifications. These filters can be set according to location, and allow you to establish rules that cease the filter if conditions are not met.
Create workflows that perform multiple actions based on a single trigger, such as automatically adding a contact to your CRM system, adding the user to your newsletter list and notifying your sales team of their status as a lead all from the submission of contact form.
When questioning the differences between Zapier vs IFTTT, the primary disparity between the two is that Zapier has the option to automate more business-type apps, with more actions available per app than IFTTT. This makes it more suitable for an office environment.
Discover the seven best Zapier alternatives for businesses here.
Key takeaways
Now that you are armed with an array of knowledge regarding the automation capabilities of IFTTT, you can begin to weigh your needs against its functions and decide whether or not the platform is best suited to your objectives.
Should you decide to shy away from engaging with this software, you have gained more information about a range of IFTTT alternatives that may be more suitable to your operational requirements, including LeadsBridge.
Discover our full range of over 380 integrations available here.