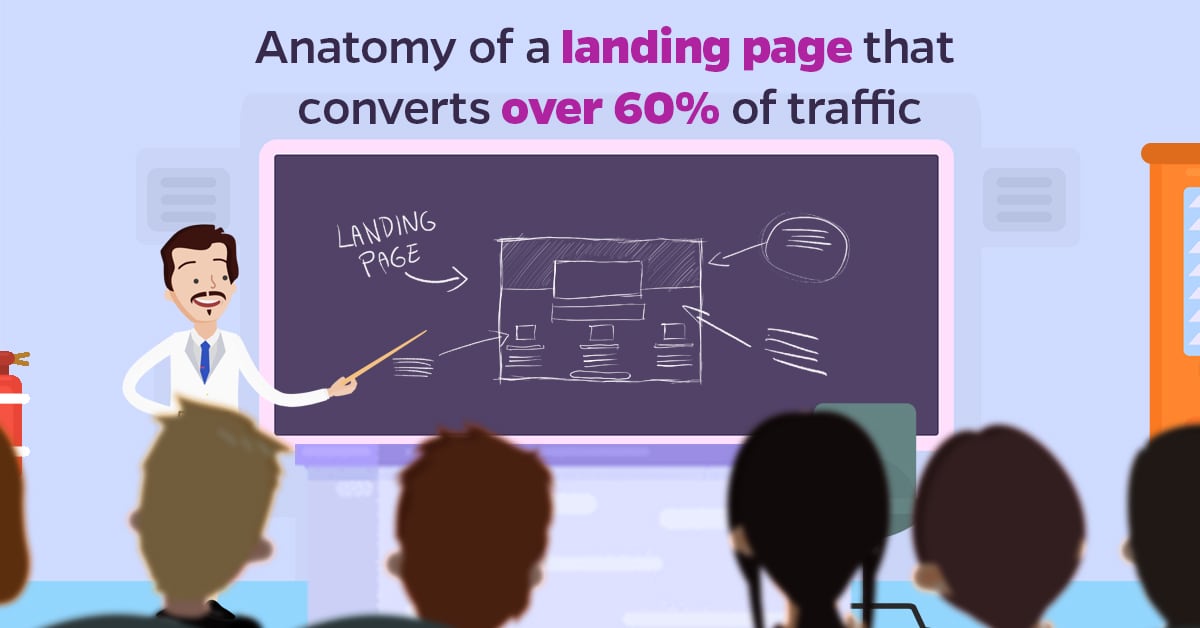 Lead generation landing pages allow you to collect visitors and potential clients? information by asking them to fill a form.
Unbounce published their Conversion Benchmark Report 2017, where they analyzed 64 284 landing pages from various industries with more than 74 million total visitors, from which the average conversion rate for a landing page is 3,96% (source)
We can also see that the percentages change quite a bit from one industry to the other, yet top performers have an average 18,28% conversion rate, and the highest conversion rate stands at 27,4%.
So we analyzed one of our landing pages.
Our webinar landing page scored an outstanding 71,50% conversion rate.
Now let?s get down to the numbers. This landing page has registered a total of 351 unique views (1) with a total of 251 registrants (2) interested in the webinar, meaning that 71,50% of the visitors completed the registration.
(1) Unique views
(2) Registrants
I know what you?re aking: ?What?s the secret to achieve this result??
Well, let?s take a look at the anatomy of our landing page!
1) The offer
Our offer consisted on a webinar with amazing and requested content. During the event, 3 brand-new products were released; these products turned LeadsBridge into an extremely powerful lead generation suite that now allows our customers to connect several lead sources with more than 200 CRMs and Email Marketing software.
A juicy offer sparks interest! Make sure you offer something that your clients are actually looking for or need.
2) The headline
The headline includes numbers and a direct benefit for the customer; making clear what information they?ll get during the webinar and that advantages come for them with the improvements to the platform.
Be clear about what you are offering and validate the information through numbers and data.
3) The Call To Action availability
The ?SAVE MY SEAT NOW? registration button is available without scrolling, which translates into easy access and keeps the call to action at hand, and on sight, increasing the chances of conversion.
The button is also available no matter where on the page a customer is, if they scroll down for further information, they will still see the registration button.
One of the most important features a landing page should have is availability, it should be easy to understand and focus on the lead generation form so potential clients will be prone to making a decision and go ahead with the conversion.
4) The faces!
Photos and information about the webinar hosts gives your landing page a personal and unique touch. People feel more compelled to participate and get this sense of closeness that brings the power of emotions into the game, for your benefit.
It also shows transparency and helps validate the information and prize offered in exchange of a registration.
5) The "less is more" approach
191 words were all it took to let our potential clients know what was in it for them. 191 words from the title and the hosts description to the bottom of the page.
Simplify and be concise, brief but comprehensive, when writing your copy; delivering your message clearly in the least amount of words will allow your customers to keep their attention focused on the message, prize and call to action, leading to more conversions. According to the Unbounce report, most lead generation landing pages success is correlated to shorter copy.
6) The loading time
Our landing page has a fast loading time, ranging from 642 ms to 4.20 seconds.
Slow loading time can make potential customers go away, as the average user doesn?t appreciate wait time. The longer it gets to load, the more people will leave without making a conversion. As our friends from Kissmetrics show us, 1 second of page load delay can make up to 7% in lost conversions.
Time is gold so check your landing page loading time and optimize the content, you may want to take advantage of the widely available landing page builders in the market that offer great and improved solutions for your lead generation needs.
7) The relevance for our audience
Know your audience and cater to them.
When creating a landing page you should keep in mind that not only should you have a great offer but it should also be relevant to your viewers. Share with them something they really want, show the value that your information has and keep the prize related to your product.
Content, in fact, is a great lead magnet and a webinar can be quite appealing since customers get a rare kind of engagement the company.
In our case, the webinar was directed towards people who already knew LeadsBridge and were looking to reduce their lead generation efforts.
If you want to improve the conversion rates AFTER the opt-in process, you definitely need to segment your audience. By using your CRM?s segmentation concepts (tags, score, etc.), you?ll be able to send relevant content and offers to each one of your leads.
We know that connecting your landing page software to your CRM is not always possible, especially if you don?t have someone who develops a specific integration for you. But we?ve got you covered!
LeadsBridge LandingLeads is specifically designed to ?bridge? your Landing Page Builder with ?your CRM or Email Marketing software!
Conclusion
Landing page conversions shouldn?t be as tricky as some people would make you believe, if you pay attention to these meaningful details you?ll be able to improve your conversion rate drastically.
After analyzing the anatomy of our webinar landing page, here?s a simple recap of key elements you should focus on:
Make a clear and advantageous offering catering to your viewers.
Find the best?headline?that attracts your audience.
Keep the CTA visible and attractive.
Deliver your message clearly and shortly.
Pay attention to your landing page loading times.
These tips will help you improve your landing page and after opt-in conversions with little but efficient effort.
Tell us about your expectations, experiences and thoughts in the comments. Will you implement these landing page optimization tips? If you have experience with these, what kind of results have you encountered?
Can?t wait to hear from you too!