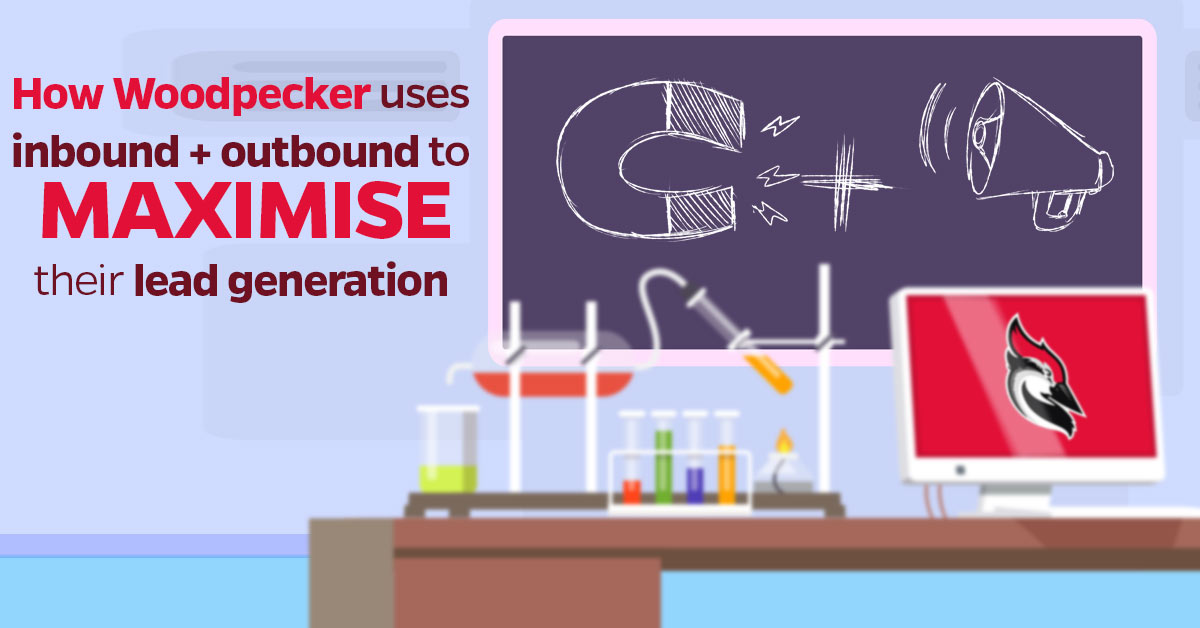 When looking for a way to boost lead gen at your company, it seems that you have a limited choice. You can pick between inbound or outbound lead gen strategies, without anything in between. But why not to vanguard the creation of something in between?
That's how we experiment with lead generation at Woodpecker. We mix and match traditional approaches of generating leads to see what catches the attention of our prospective customers and we iterate what doesn't work.
Surely, we're not the only one who does that. And that's why I'd like to provoke a discussion about what works as well as encourage those of you who haven't experimented with lead gen to give it a try.
Before you decide to mix inbound with outbound
Before we set out to do anything, we need to make sure we know who we want to reach out to. In other words, we need to work on our Ideal Customer Profile — an essence of who our customers really are.
When working on this, we found much help in Lincoln Murphy's ICP Framework that includes 7 basic characteristics of an ideal customer.
There they are
ready to solve a problem they experienced
willing to solve the problem
able to solve the problem
have success potential
have acquisition efficiency
have ascension potential
have customer-driven growth potential
As a SaaS company, the most important one is success potential for us. We want customers who are likely to convert from free to trial and stay with us the longest. Therefore, we looked into our data and checked which type of businesses have the lowest churn rate, looking for some commonalities between them.
We use the profile as our guiding factor when we looked for our potential customers online.
How to mix inbound and outbound
We're a SaaS company that offers a sales automation tool for cold emailing and follow-up software. We need leads that are educated in generating leads, because those kinds of leads have the highest success potential to convert into premium users.
To educate them, we're experimenting with reaching out to cold contacts and asking them to join a webinar we do. Then, we follow up with them, inviting them to give our app a chance.
We do it via email as this is the form of communication we have the most experience with. But if you want to test some other medium of communication because email is not your strong suit, do it. Whatever makes sense to you.
Here's a step-by-step breakdown of our strategy.
Choose a platform to find your leads on
We find a community hub or knowledge well which our present customers as well as potential leads gather around.
For a while, we just observe for a while to see how people communicate their, what language they use, and what kind of topics do they cover.
It's easy to spot some recurrent trends when you spend some time on a platform.
Do they use some slang expressions?
Are they focused on numbers or on the process?
Do they comment a lot or opt for using likes/upvotes/clasps to express their approval of the idea?
Jot down anything you can that is typical of the group you want to target.
Come up with an lead gen strategy
This strategy works best if you work in a team or in tandem with another person. Because some of you try to become a part of community.
They create content and moderate community engagement the way traditional inbound marketing operates. All in helpful, non-intrusive way, appropriate for the platform.
The rest of you do something different. They don't trouble themselves with inbound. They are on the lookout for the business professionals who fit the ICP and try to approach a given person, aiming at having a personal conversation with them.
They don't pitch our app to those people though. First, they invite them for some educational stuff. So the leads can learn about lead generation. After a time, they reach out to the leads again. At that time, trying to invite them for trial.
Our case study of targeting people on Quora
The process I described above is how we target the people on Quora. I'm responsible for marketing there, while the Business Growth team tackles outbound.
How we mix inbound and outbound on Quora
We chose Quora, because it's a community that centers around knowledge. It's full of knowledge-thirsty, growth-driven people.
It was perfect for us because we wanted to create a webinar. We needed open-minded people who wanted to gain knowledge.
We contacted people who were active in the topics connected to the one our webinar covered.
How to approach cold leads on Quora
Even though Quora has its own direct messaging system available, our team uses email to reach out to potential leads for a couple of reasons.
For starters, email is scalable. Scarcely do people reply to the first message. You need to write a couple of follow-ups in case they don't reply. Moreover, it's easier to keep track of the responses that way. Everything is in a single place – your inbox. Lastly, it's more personal. It lends itself perfectly for starting 1-on-1 personal relationship with your potential leads.
What to write in an outreach email
If you have experimented with cold email outreach, you're probably well-familiar of a combination that consists with an opening phrase "I found you on LinkedIn and decided to reach out" and is followed by some awkward pitch of a product plus a link to schedule a call.
That is something we wanted to avoid.
Instead we informed the contacts that we're organizing a webinar on the topic they expressed some level of interest in. Either they followed it, upvoted some of the answers or commented on them.
Next, we simply asked "is it something you're be interested in?" Our call to action was: "Please reply to this email and you'll receive a registration link."
Those who answered positively, received the link to the registration.
What we did after the webinar
We kept our first webinar low-key. We haven't announced it anywhere other than in those emails, because we wanted to run a test.
After the webinar, we transferred the attendees and signupees into Woodpecker and prepared an email campaign for them. We send everyone promotional material. But we invited to try Woodpecker the ones who fit our ICP.
Looking elsewhere for webinar attendees too.
We promoted the following set of webinars we held. Those webinars were about GDPR. We promoted it on Facebook, to our newsletter subscribers, Twitter and LinkedIn. Our plan was simple. We wanted to see where the highest number of people came from. We did that as an inbound strategy likewise.
We gathered a crowd. It was a lot to scale in comparison to the first webinar. We transferred the attendees from our webinar platform to Woodpecker to send them an email sequence.
Again, you don't need to use an email as a medium of communication. You can opt for a phone call, DM or anything you and your target groups feel more comfortable in. That is what we prefer to use.
Summing up
Even though it seems that you can either choose inbound or outbound while generating leads for your business, you can mix and match the approaches to move the leads further down in your funnel.
Since we're a SaaS business that offers a very specific solution, a cold emailing and follow-up software to be exact, we need educated leads, because they have the highest success potential to convert into premium users.
In order to educate them, we experiment with organising webinars and implementing other knowledge-oriented tactics to move them further through the funnel.
We found that prospecting on the platforms which bring to mind inbound strategies works fine for us. We don't shy entirely from doing inbound on the platform. We do it to show that the employees are a part of the community.
We plan on trying out this strategy somewhere else as well. Just to see what kind of results we can get with it.