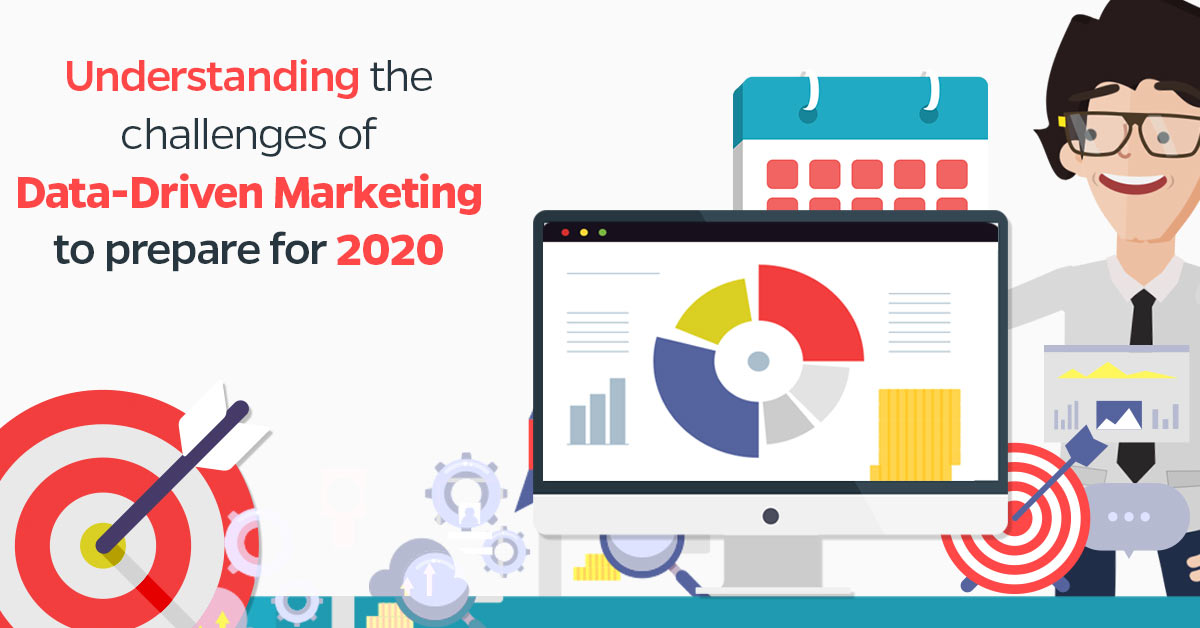 Businesses are moving towards data-driven marketing to help them make better decisions, align their marketing strategies with consumer behavior and optimize results.
A research study carried out by Invespcro revealed that businesses that use data-driven personalization delivered 5-8x times the ROI on marketing spend.
As good as data-driven marketing is, it has some challenges. In the survey carried out by Dun & Bradstreet with Adweek, marketers revealed the biggest obstacles to succeeding with data-driven marketing.
Data silos is one of the biggest challenges. These are unprocessed or unanalyzed data in different business department in a big organization. They are unreadable and mostly inaccessible. There are also new privacy regulations they need to comply with. This is where the popular GDPR comes in. These have made it difficult to collect consumer?s data.
Marketers are overwhelmed with the amount of data they have to deal with. Big data is difficult to understand for most marketers. So, 70% of CRM data is made useless because it is duplicated, outdated or incomplete. This makes it difficult for marketers to turn data into actionable insights.
This article discusses three (3) ways to overcome data-driven marketing challenges.
1. ?Learn more about ABM
In traditional marketing, b2b marketers send traffic to their websites to generate leads. They cast a wide net to catch as many users as they could as this will help to generate a sizeable amount of leads.
Then comes Account-based marketing (ABM). It is a marketing method that employs highly targeted and personalized campaigns to win a specific account. It is like removing the wide net and replacing it with a spear.
Instead of spreading your net wide to catch fishes and then singling out the one fish you want, ABM pay attention to only valuable accounts from the onset, devoting all your marketing strategies to win such a client.
Using ABM, you can track high-quality accounts with good engagements and watch the account as it progresses through the sales journey, and designing campaign tactics to convert the opportunities. The campaign messages for such accounts are highly personalized and targeted with specific products or services.
The question is, does ABM work?
ABM marketing is profitable. A study carried out by ITSMA revealed that about 85% of marketers who measured the ROI describe account-based marketing (ABM) as delivering higher returns than any other marketing approach.
Image via Slideshare.
This is why 37% of B2B marketers are currently?doing ABM and 22% have it in their plans for 2019.
Below are two examples of account-based marketing.
Gumgum, a computer vision company, uses Account-based marketing a lot. The first example is the ABM they used to get T-Mobile to work with them. They wanted to sell the computer vision technology to T-Mobile. They did their research and discovered that T-mobile?s CEO loves huge Batman, so they did it in a heroic way.? They made a comic book which promoted their product using storytelling with the picture of a batman. They sent 100 copies of the book to T-Mobile and its agencies.? The result? They won the account.
Second, they use the same method to win over another big client – McDonald's. They use the information they already have about their target audience, in this case,?McDonald's to target them.? They sent kits containing a big Mac filled with ?ingredients? that depicts the?various aspects of their service to McDonald's.
2.? Break down data silos
Data silos is one of the biggest obstacles to succeeding with data-driven marketing. It is created when one department in business keeps data from other departments or when specific users have access to data that others don?t. This stops people from accessing data that could have been merged with other departments to provide a complete picture of the insights users are searching for. This creates redundant data, storage cost and doubt with knowing the right data.
According to a 2016 survey by Aberdeen Group, data silos are the leading hurdle in customer data management.
The truth is,?few marketers (about 2%) according to research know how to share data effectively in their organization. The rest are battling with data silos. The causes of data silos according to the research are many, such as inconsistency of systems in use, different data formats, lack of coordinated data strategy, lack of technology integration, and blocking attempts to effectively share data.
To solve this problem, you need to break down data silos.? Start with creating a plan on how to connect different data across systems to a common identifier. This is where you need effective tools.
Use good tools to collaborate within your organization. Integrating data gathering and analysis tools with your CRM software will help you solve vendor lock problem which may also be the source of your silo.
A lot of companies are using automation tools to solve data silos challenges and this is why the spending on marketing technology is on the rise. According to Forrester Research?s April 2018 outlook, U.S spending on marketing technology and services is forecast to top $96 billion in 2018 and grow to over $122 billion by 2020, with data, ad tech, and marketing automation taking the most share.
Ensure that data is shared with different departments so everyone gets the data they need easily. This means you should integrate your tools through platforms like Leadsbridge.
Leadsbridge can help you connect, automate and sync leads and contacts with over 360 tools. These include Analytics, CRM, Calendars & Appointments, Call center, Chatbot, Email software, Events management, Helpdesk software, Message, File sharing, Salesforce, Webinar, etc.
When you don?t use integrations, it will be difficult to collect the right data needed for a unified customer view.
3.?Target better audiences
Today?s marketing world is becoming customer-centric. Businesses thrive by connecting to target audiences and winning them over by providing solutions to their pain points. This goes a long way to increase conversions. A study revealed that targeting better audiences made websites two to five times more effective at gaining conversions.
This is the reason you need to target better audiences that can give you good ROI. The truth is, you cannot target everyone with your marketing campaign. You need to narrow down your audience to the segment of people likely to do business with you. For instance, you need to define the category of users that are most likely to purchase your products or services. This will help you create messages that will resonate with them. To better target your audiences, you need to know their demographics (e.g. age, gender, education level, income level, and location), Behaviors (e.g. past purchases and social media activity), motivations (e.g. goals).
To target a better audience, here are questions you need to answer
When you have answers to who you should target, the next thing you want to do is use a custom audience. Custom audience enables you to target and segment your customers with high-level precision. This helps you to promote your product and services to new potential and returning customers.
The good news is that you don?t have to create custom audiences on your own. There are advanced solutions that you can use to automate the job and target your audiences efficiently.
Conclusion
The benefits of data-driven marketing are enormous, the challenges notwithstanding. Above are three tested and proven ways you can solve some challenges of data-driven marketing.