Let Facebook, Google
and LinkedIn communicate with your CRM
We offer you over 370 integrations and custom tailor-made solutions, depending on your needs. Our experts are ready to make it happen.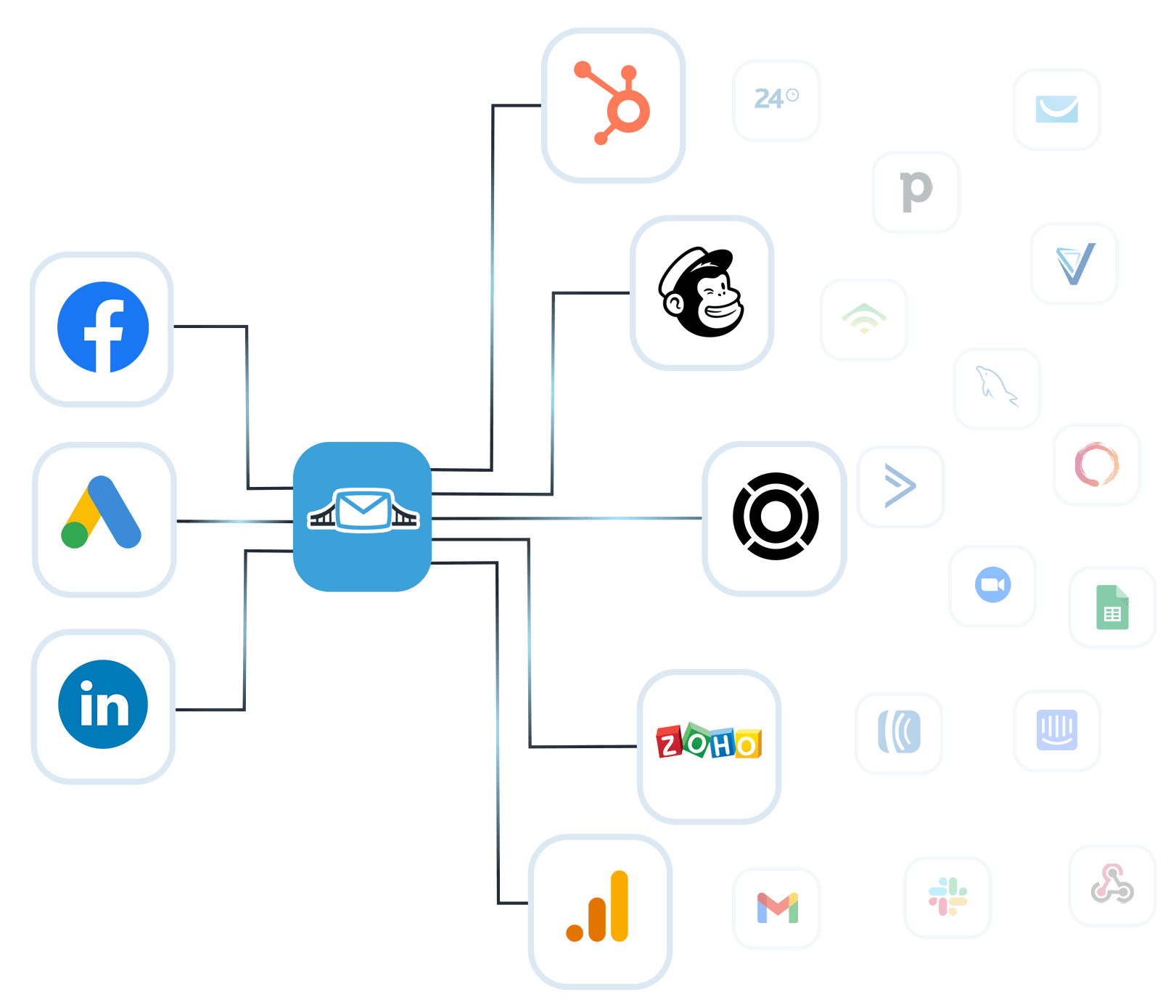 LEADSBRIDGE IS THE OFFICIAL VENDOR OF THESE AMAZING COMPANIES





Featured customers
"
"LeadsBridge is really easy to use and has integration with almost every marketing platform that exists at the moment. Will let you capture every lead and manage it according to the workflow you use in your company. We always had issues collecting the leads from our Facebook campaigns, obviously, for every Internet businesses this is a BIG problem, so we needed to be checking the Facebook manager every day to see the new leads. Now, thanks to LeadsBridge, I just got an email notification when new leads come in, and I'm also storing..."
Manny Costales
jumptoweb.
"
"I've used LeadsBridge before and I really love the program! I plan on using it for many years to come in my business! LeadsBridge was so helpful, understanding, and quick to resolve my issue. Thank you!!"
Kayla Fotta
Par Excellence Marketing LLC.
"
"I have some integrations with FB lead ads and you guys have been great. There have been a few things that I needed to know in order to get these campaigns set up properly for my agency, LeadsBridge has been very responsive and helpful, thanks!"
Jarrett Shaffer
DMNmedia.
"
"It is very simple and you can just start transferring your leads to your CRM from Facebook in minutes. Top for my Educational business, very recommended!"

What's the next step?
If you are looking for growing your R.O.A.S. give LeadsBridge a go and you'll learn what's the difference between a software and an ally!