Let Facebook, Google
and LinkedIn communicate with your CRM
We offer you over 380 integrations and tailor-made solutions, depending on your needs. Our experts are ready to make it happen.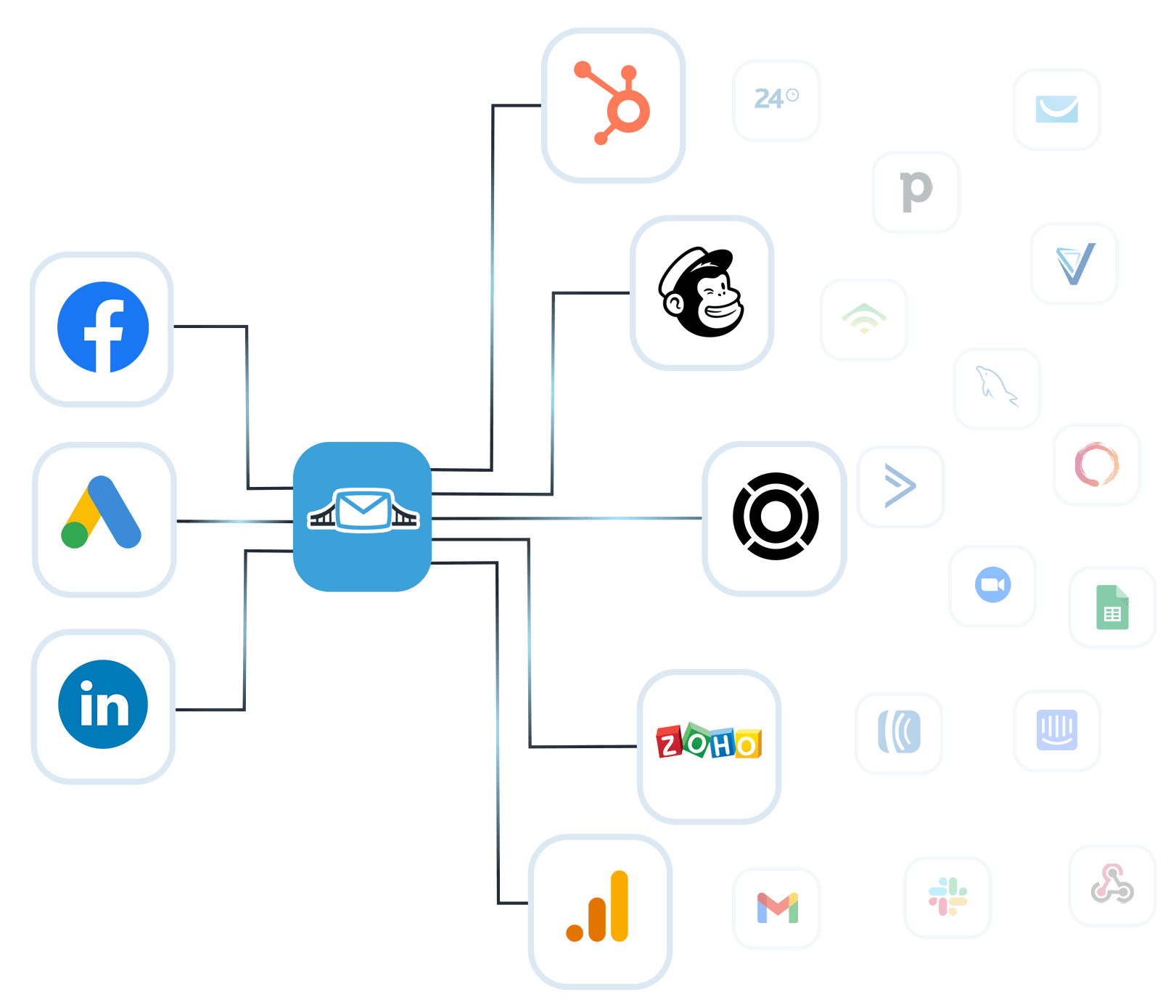 LEADSBRIDGE IS THE OFFICIAL VENDOR OF THESE AMAZING COMPANIES





Featured customers
"
"I have only pros for LeadsBridge: 1. Automatically pushes leads to CRM 2. Pushes Facebook Ad Structure Data with the Leads 3. Unlimited integration options (CRM, Email Marketing Tools, Ad Retargeting, Cloud Sharing) 4. Automatically starts capturing data, even from new campaigns not integrated 5. The support team is awesome. Very patient and thorough. 6. Great non-profit discountThis service should have been available on Facebook, out of the box. I just regret the time I lost, when I didn't know about LeadsBridge.No more battles for bigger budgets and fighting for extra time to..."
Saad Javed
YMCA of Greater Toronto.
"
"Before LeadsBridge, we had to spend hours at our agency pulling Facebook Leadgen leads data into HubSpot for our clients. LeadsBridge radically improved this process optimizing our use of time while also providing valuable insights with the reporting graphics functionality. Highly recommended."
Luis Silva-Ball
Digifianz.
"
"I have an automotive business and LeadsBridge has been fantastic for us. We have several clients who run multiple lead ads and I must say, it is such a tedious task going in and manually sending each lead to a client. With LeadsBridge, all you do is set it up and you're done. It has saved us so much time and clients are extremely happy with getting their leads in real time, as they come in from Facebook. The level of communication with the team and the ability to quickly answer questions has..."
Nick Romas
AdTorque Edge.
"
"Leads Bridge has helped us tremendously with our Facebook advertising and lead integration! It's so simple to set up and works to perfection! Highly recommend this to other online advertisers. The customer support is second to none! Well worth the price!"

What's the next step?
If you are looking for growing your R.O.A.S. give LeadsBridge a go and you'll learn what's the difference between a software and an ally!